This post may contain affiliate links. For more information, read my disclosure policy.
Chocolate Chip Cookie Cheesecakes….because cheesecake is better with chocolate chip cookies and PHILADELPHIA cream cheese. The end.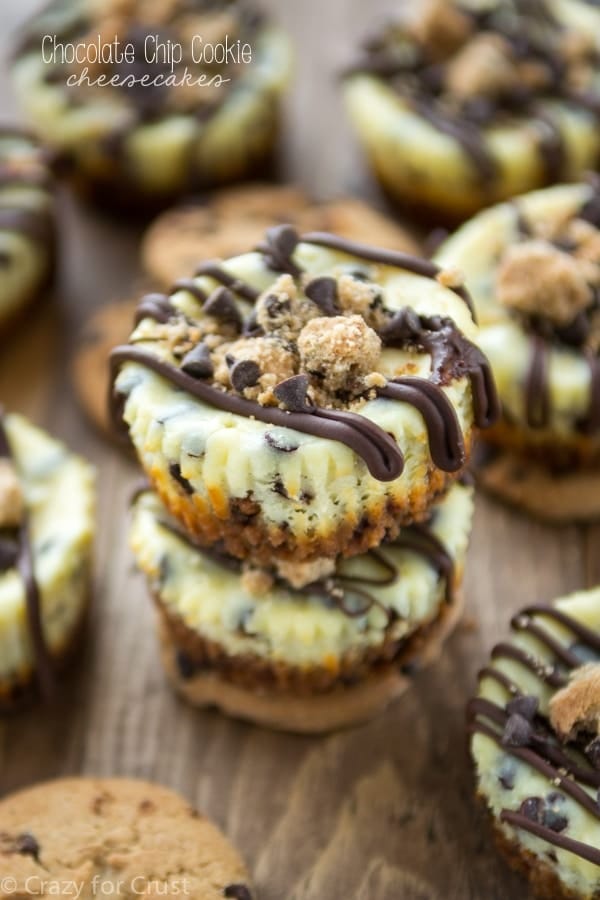 Does anyone else have this problem?
You realize the holidays are coming and you have lots of people make treats for as gifts. You make a list:
Mom: candy
Mother-in-law: fudge
Sister-in-law: something lemon
Husband: toffee bark
Jordan: sugar cookies
Then you think, oh, and I need a dessert (or two) for Christmas Eve night. And one for Christmas, for good measure.
And then you make it all and realize that holy heck, that's a lot of dessert.
Is that just me?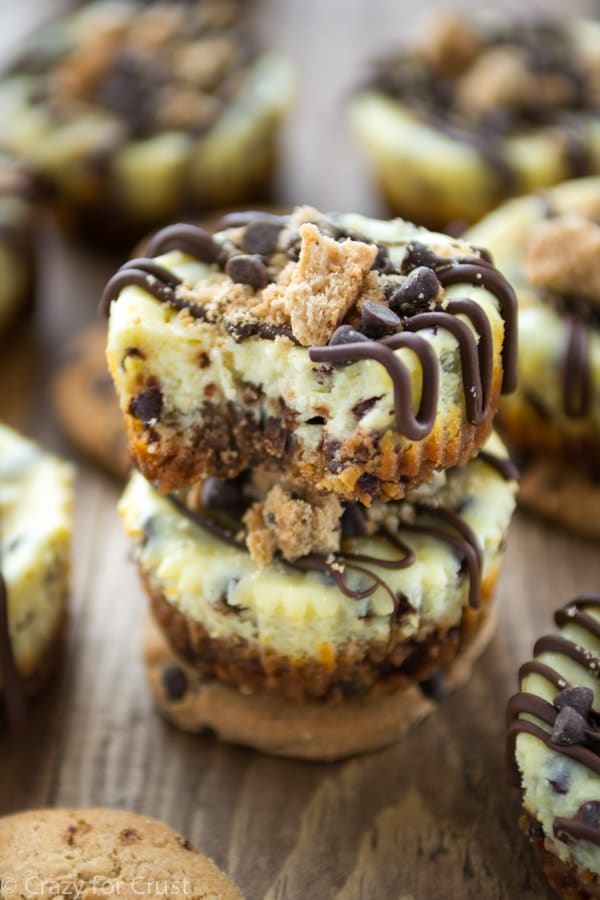 My problem with too much dessert is why mini cheesecakes are perfect for me. The recipe makes 12 perfectly sized, individual portions and if they don't get eaten they can be frozen for future use. #winning
I had the same problem at Thanksgiving that I'm having for Christmas. Here was the dessert list for our Thanksgiving celebration: Mom's Pecan Pie, Crumb Apple Pie, Gingerbread Cake Roll, and these Chocolate Chip Cookie Cheesecakes. For 8 people.
Yeah, you can safely assume we like our desserts. 🙂
Oh, and guess what? Mel ate one of these cheesecakes! And he said it's the best cheesecake ever! And he actually ate a WHOLE one not just one bite!
#MelAteIt #Mel5StarRecipe <–those are hashtags I'm totally gonna use, BTW.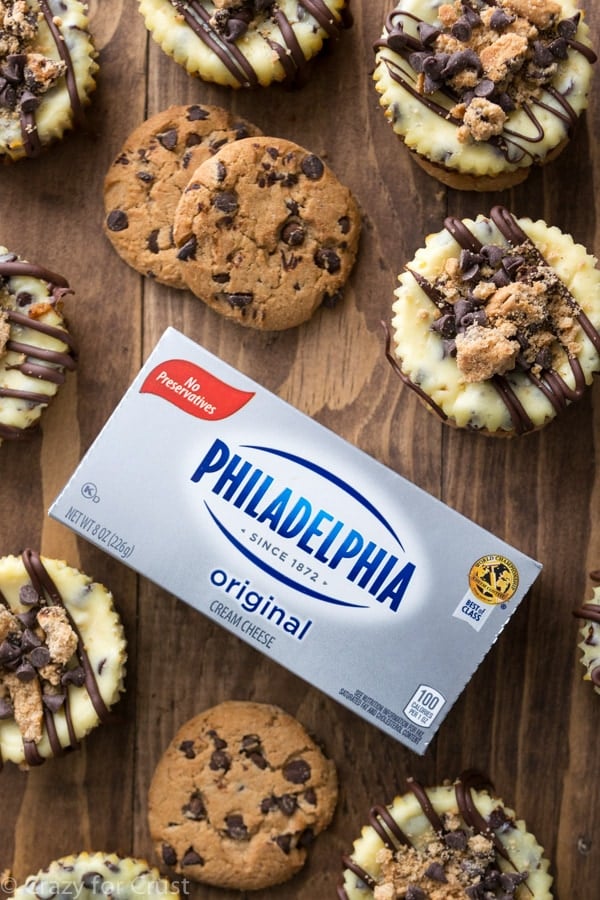 These Chocolate Chip Cookie Cheesecakes are made with PHILADELPHIA Cream Cheese, as usual. I always use the original silver package because it's the best.
PHILADELPHIA uses locally sourced milk and real wholesome cream in their cream cheese and it's farm to their fridge in just six days. There are no preservatives in the original cream cheese, which is another reason I love it so much.
Another thing I love so much about these Chocolate Chip Cookie Cheesecakes? The crust. It's a chocolate chip cookie crust!

You can use your favorite crunchy chocolate chip cookie to make the crust. The cookies are crushed in a plastic bag or in the food processor and then mixed with butter and pressed in the bottom of a cupcake pan.
Note: I always use cupcake liners when I make mini cheesecakes. It makes them much easier to remove from the pan.
On top of the cookie crust goes the chocolate chip cheesecake mixture. One trick to make sure your cheesecake comes out perfect every time? Make sure all your ingredients are room temperature. Take the cream cheese, the sour cream, and the egg out of the refrigerator ahead of time. Cold ingredients = lumps. You don't want lumps in your cheesecake!
I've also found that using a stand mixer can get out any lumps that form. You can use either a stand or a hand mixer to make these (I've used both in the past) but I just think a stand mixer does a better job.
I added a healthy dose of mini chocolate chips to my cheesecake. I like using mini chips because the cheesecakes are small and regular sized chocolate chips would be too clumpy. Mini ones are perfect, and there are a couple of brands of them available at your grocery store.
Once they're baked and cooled, you need to chill these for several hours or overnight. That allows the Chocolate Chip Cookie Cheesecakes to set. I actually made these 3 days before I served them, so you know they last!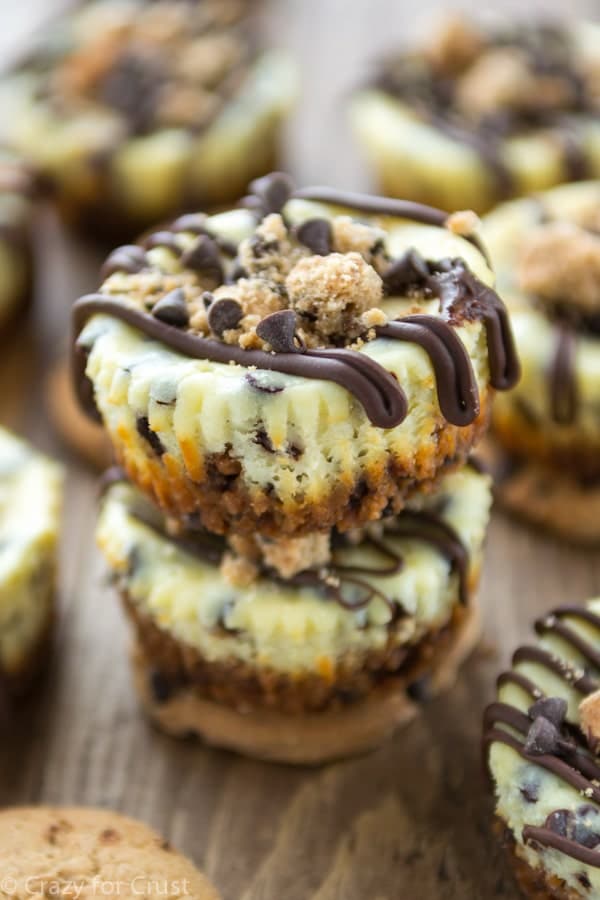 For a fun serving suggestion, try drizzling on some melted chocolate and some crushed cookies on these Chocolate Chip Cookie Cheesecakes.
I mean, more of both of those is not a bad thing, right?
And let me remind you: Mel ate one. Two actually. He ate another one the next day. Someone put a star on the calendar… 😉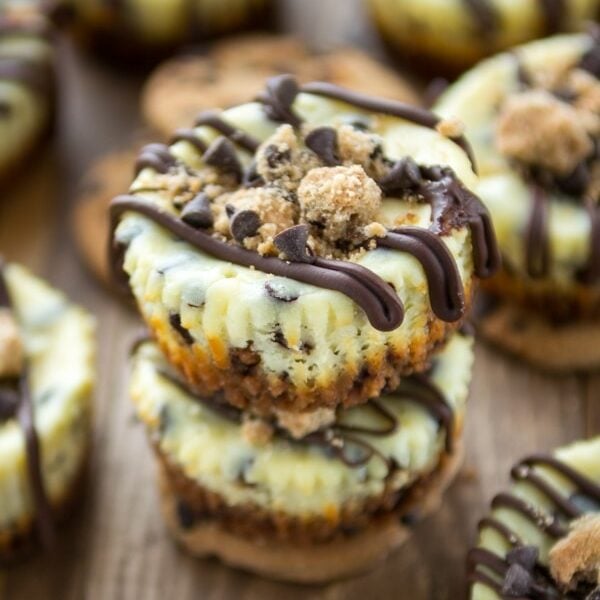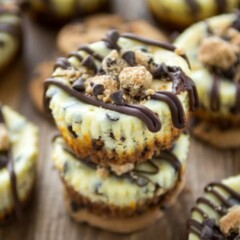 Chocolate Chip Cookie Cheesecakes
Chocolate chip cookie crust, creamy cheesecake filled with chocolate chips, chocolate drizzle...these cheesecakes are the best!
Ingredients
For the Crust:
17

crunchy chocolate chip cookies

such as Chips Ahoy

6

tablespoons

unsalted butter

melted
For the Cheesecakes:
8

ounces

PHILADELPHIA cream cheese

softened

1/4

cup

sour cream

room temperature

1

egg

room temperature

1/4

cup

sugar

1

teaspoon

vanilla extract

1/2

cup

mini chocolate chips

1

tablespoon

flour
For the Topping (all optional):
2/3

cup

mini chocolate chips

or regular chocolate chips

1/2

teaspoon

vegetable oil or shortening

4-5

crumbled crunchy chocolate chip cookies and/or additional mini chocolate chips

optional
Instructions
Preheat oven to 350°F. Line 12 muffin cup holes with liners.

Place 17 cookies in a gallon size resealable bag. Seal all but one inch of the bag and roll with a rolling pin to crush the cookies. Alternately, you can process them in a food processor until they are a fine crumb. Stir together cookie crumbs and melted butter. Press about 1-2 tablespoons of the mixture into the bottom of each muffin liner and press to compact.

Beat room temperature cream cheese with a hand or stand mixer until fluffy. Beat in room temperature sour cream. Beat in egg, sugar, and vanilla extract until (mostly) no lumps remain. (Room temperature ingredients are a must to avoid lumps, believe me!) Stir chocolate chips with flour in a small bowl, then fold into cheesecake mixture.

Evenly divide (about 2 tablespoons each) cheesecake among crusts. Bake for 18-20 minutes, until they just begin to brown. Cool completely and refrigerate for at least 3 hours or overnight.

To make the topping, melt the 2/3 cup mini chocolate chips and oil/shortening in a small bowl in 30 second increments, stirring between each. Place melted chocolate in a small sandwich bag and cut off one tip. Drizzle over cheesecake and top with crushed cookies, if desired.

Store in refrigerator in an airtight container. Cheesecakes will last up to 4 days in refrigerator or can be frozen for up to one month. Once you add the topping, eat within the day.
Nutritional information not guaranteed to be accurate
Mini Turtle Pumpkin Cheesecakes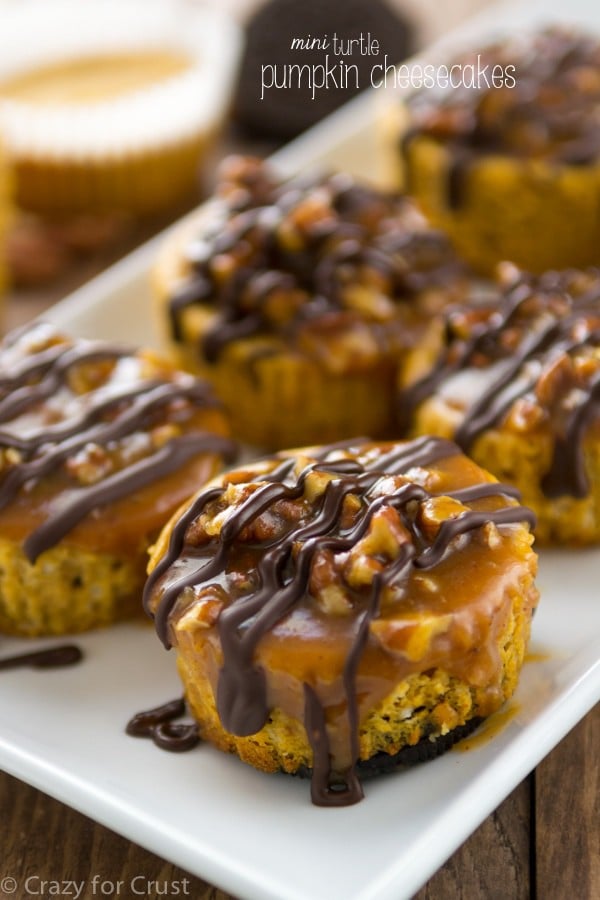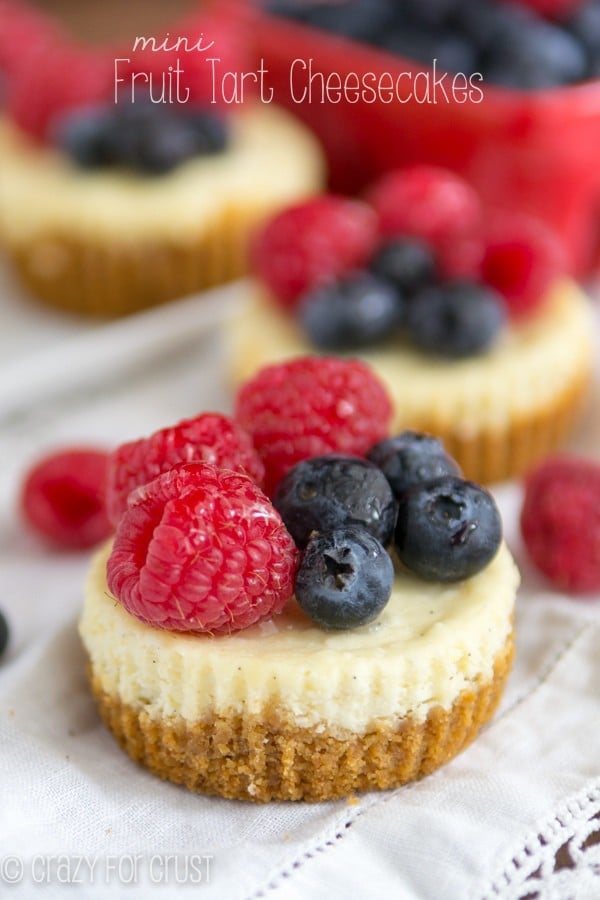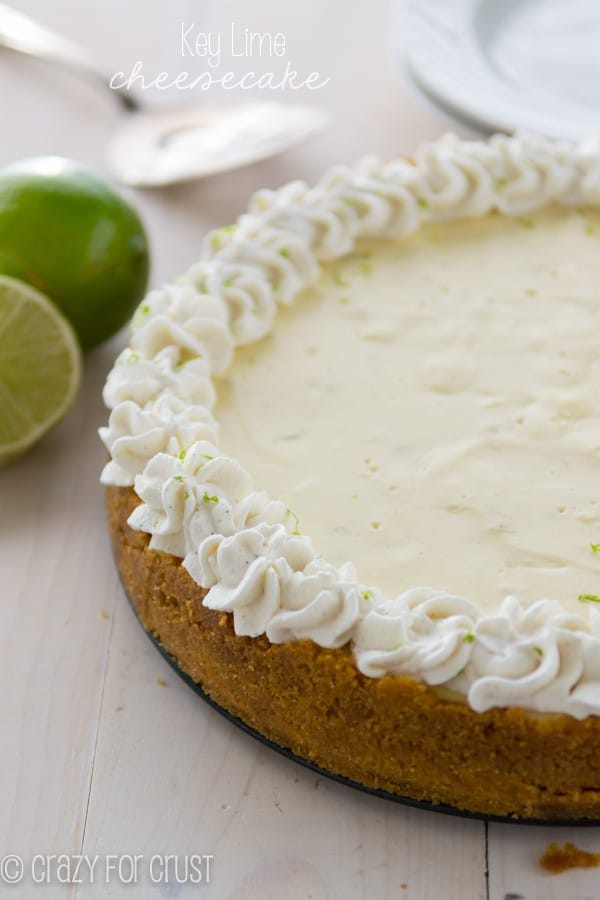 Sweets from friends:
Blueberry Cheesecake by Gimme Some Oven
Creamy Lemon Squares by Mom on Timeout
Macadamia Cookie Pizza by Shugary Sweets
This post has been sponsored by PHILADELPHIA. I've worked with them all year as a brand ambassador because I absolutely love and stand by their product. All opinions are 100% my own.
Last Updated on May 20, 2022