91
Aug 20
Caramel Brownie Peanut Butter Cookie Bars
These Caramel Brownie Peanut Butter Cookie Bars are pure comfort food!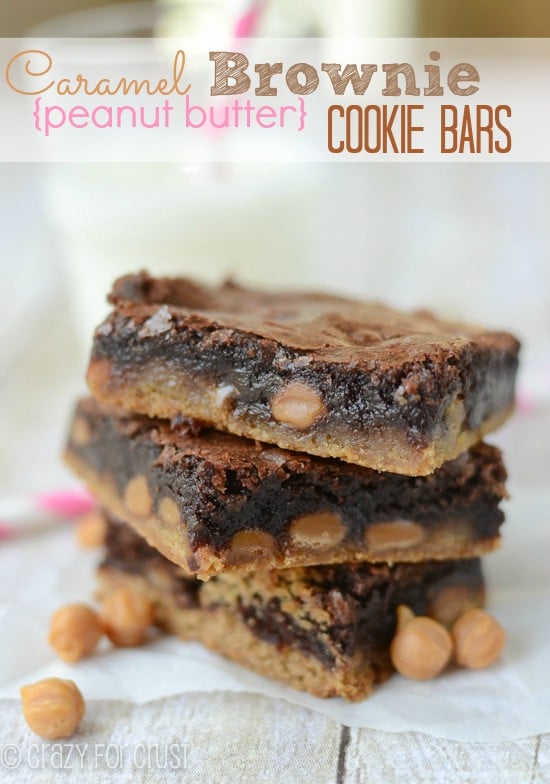 Third Grade. The year I cut my hair short, which I've regretted ever since.
The year I got my first crush. His name was Brandon and I loooooooved him.
Mrs. McCarthy was my teacher. I learned cursive and how to add and subtract four digit numbers.
We played lots of tag. Freeze tag, line tag, team tag. Melting candlestick in the witches corner tag (or something like that we made up).
it was the first time (of many) that I was "phased out" of a group of girls.
It was the year I got braces…the first time.
Third grade is the first grade I really remember. Sure, I have glimpses of second grade: my teacher, sitting next to my BFF at our shared cubby desk. First grade…the teacher is fuzzy. All I remember of Kindergarten is playing statues on the carpet.
But Third Grade? That I remember.
And it's going to be what Jordan remembers too. Starting today.
Excuse me while I go cry myself into a puddle over a plate of Brownie Caramel Peanut Butter Cookie Bars.
Hey, I deserve comfort today. As do all you moms who just sent your kids off to school.
Raise a glass of milk, and cheers to comfort bars.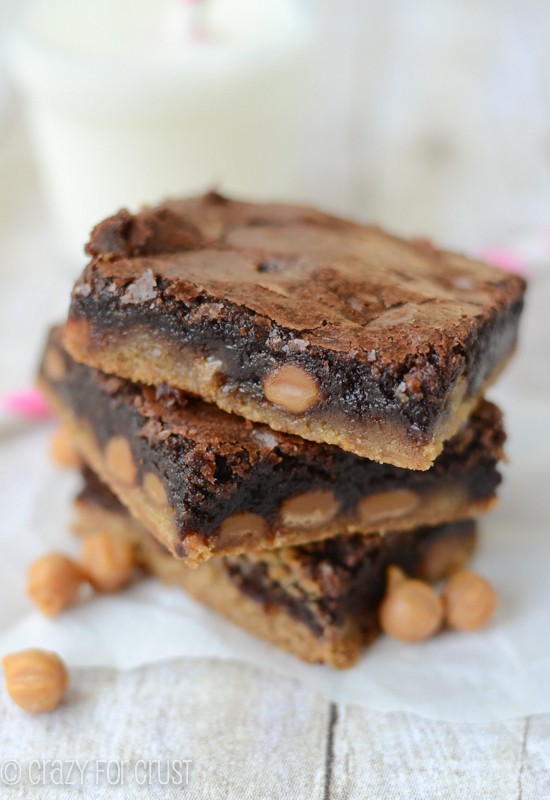 These bars are seriously comforting. A few weeks ago when I had the week that just wouldn't end, I made these bars on a whim at the end of a very long, tearful day. I saw leftover Pillsbury peanut butter cookie dough in the refrigerator and I came across a small pouch of brownie mix in my pantry. When reaching for the brownie mix, the caramel bits fell on my head, and boom.
Comfort was born.
These came together in minutes, were in the oven and being eaten in under an hour. I liked them best warm and gooey. But the next day (or the next…or the one after that) they're good cold. Or heated in the microwave.
These are the perfect comfort dessert.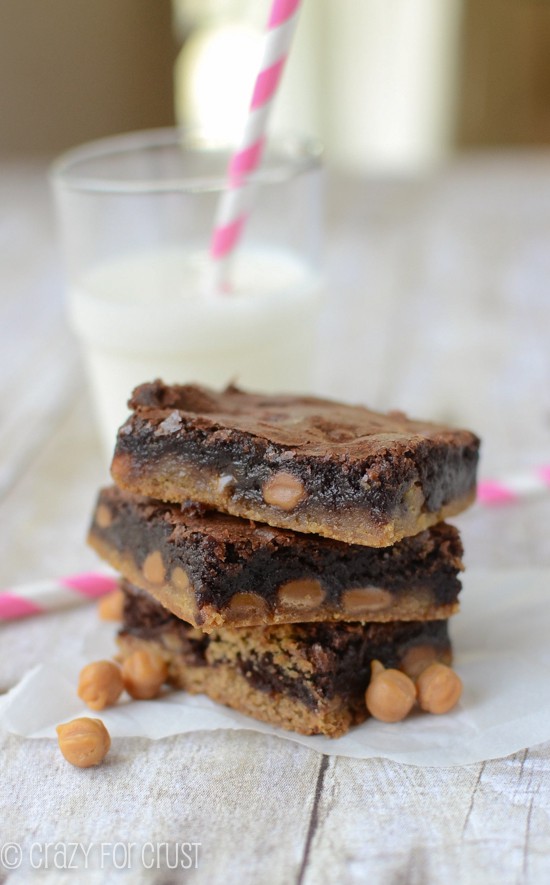 I used peanut butter cookie dough because it was what I had. You could use chocolate chip or sugar, or whatever sounds good. I used a small pouch of brownie mix (made for an 8×8 pan) but you can use a regular sized box. See my notes in the recipe for instructions.
Don't have caramel bits? That's okay. Use M&Ms. Or chocolate chips…or whatever you like. I grabbed what I had on hand, and man, they did their job. I certainly felt better after a few of these.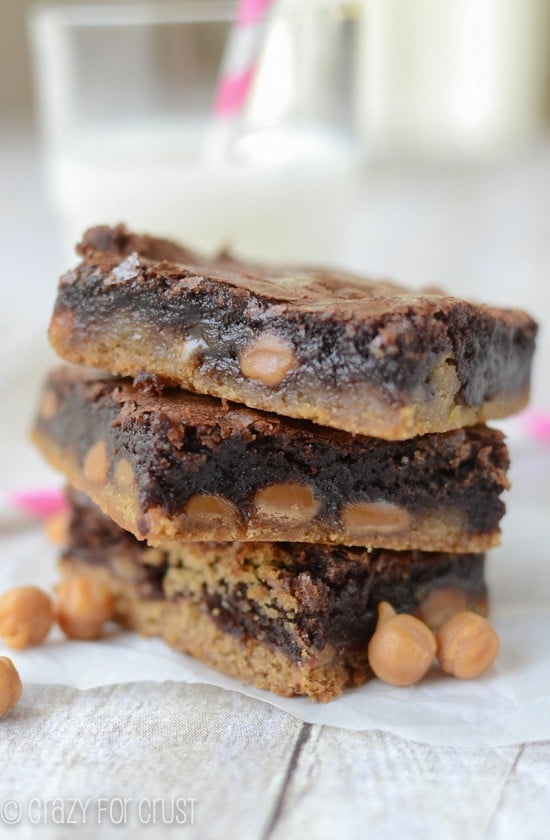 And I think I may need them again today. Third grade. How does that even happen?
#pleasefathertime #slowtheheckdown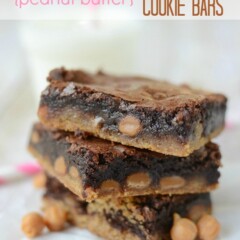 Brownie Caramel Peanut Butter Cookie Bars
Peanut butter cookies, brownies, and caramel. The best bar cookie ever!
Ingredients:


1/2 roll refrigerated peanut butter cookie dough (I used Pillsbury; use whatever brand or flavor you like-it doesn't have to be peanut butter!)


1 small brownie mix pouch (made for an 8x8 pan) plus water, eggs, and oil called for to make the brownies


1/2 cup caramel bits (Kraft brand, you can find them in the baking section)


If you only have a 9x13 pan brownie mix, see note.


Directions:


Preheat oven to 350 degrees. Line a 9x9" pan with foil and spray with cooking spray.


Slice cookie dough roll into 1/4" thick slices. Press evenly into the bottom of the prepared pan. Sprinkle with caramel bits.


Mix brownie mix according to package directions. Pour over caramel bits and spread carefully with a spatula.


Bake for about 20-25 minutes, until a toothpick comes out clean along the edge of the brownies. You can eat these after they've cooled about 15 minutes in pan, but they won't cut easily unless they've completely cooled.


You can make this with a 9x13" pan sized box of brownies. Use the whole roll of cookie dough and 1 cup of caramel bits and use a 9x13" size pan. Baking time might be affected.
Don't have a box brownie mix? Try this homemade brownie mix recipe.
© Crazy for Crust
. All images & content are copyright protected. Please do not use my images without prior permission. If you want to republish this recipe, please re-write the recipe in your own words, or link back to this post for the recipe.
Other brownie goodness: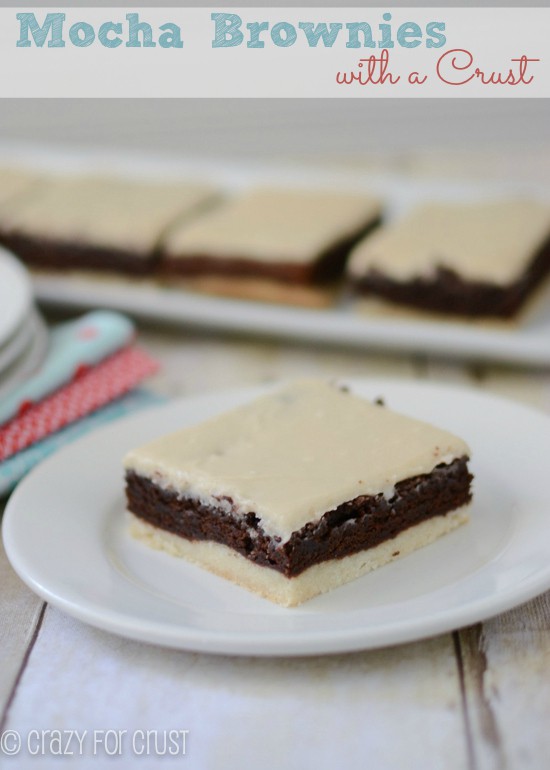 Sweets from friends:
Chocolate Fudge Brownies with Butterfinger Frosting by Sweet Treats and More
Dark Chocolate Brownie Brittle by Heather's French Press
Fudgy Chocolate Chunk Brownies by Something Swanky