This post may contain affiliate links. For more information, read my disclosure policy.
All you need is a few simple ingredients, one bowl, a spoon, and a loaf pan to make the best zucchini bread ever. You will love this easy recipe – it's freezer-friendly and can be adapted with different mix-ins, too.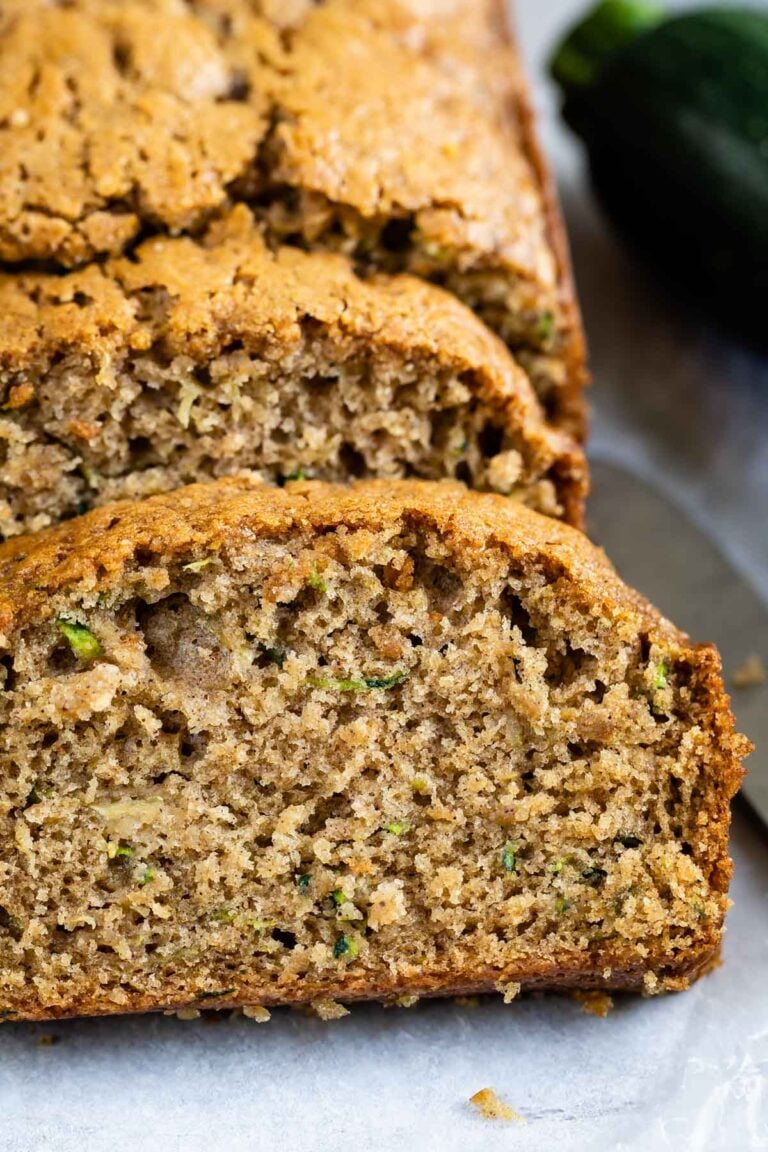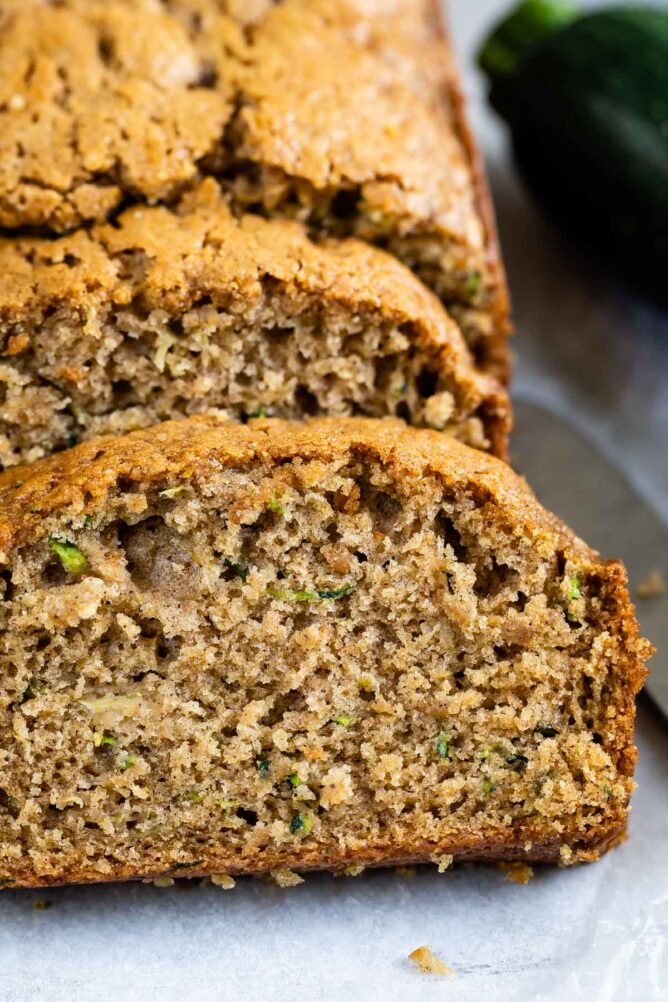 BEST Zucchini Bread Recipe
Call off the search party because you have landed on the best zucchini bread recipe! I know there are a gazillion zucchini bread recipes, but none of them are like this one. This recipe, my friends, is the best.
Quick breads are one of my favorite things to make, and there's nothing more classic than zucchini bread. I can't wait for you to try this recipe – you won't need another one after you make it.
Why my Zucchini Bread works
Wondering what all the fuss is about? I am happy to explain! I have been tweaking and perfecting this recipe for years, and there are some very specific reasons why I think this is the only recipe you'll ever need.
It's a tried-and-true recipe. I've tested it so many times, and it turns out great each time. There are no worries with this one!
It's easy to make – you don't have to wring out the zucchini, you don't need a mixer, and you only need one bowl.
It's so moist and soft. Basically, your dream loaf of zucchini bread!
I love to make a double batch of this bread and freeze a loaf for later. It's super freezer-friendly and keeps for up to three months.
It's also customizable! I'm sharing several ways to dress it up with mix-ins.
Have I convinced you yet? I hope so because you are in for a treat. Once you try this easy zucchini bread recipe, it will be your go-to, just like it is for me.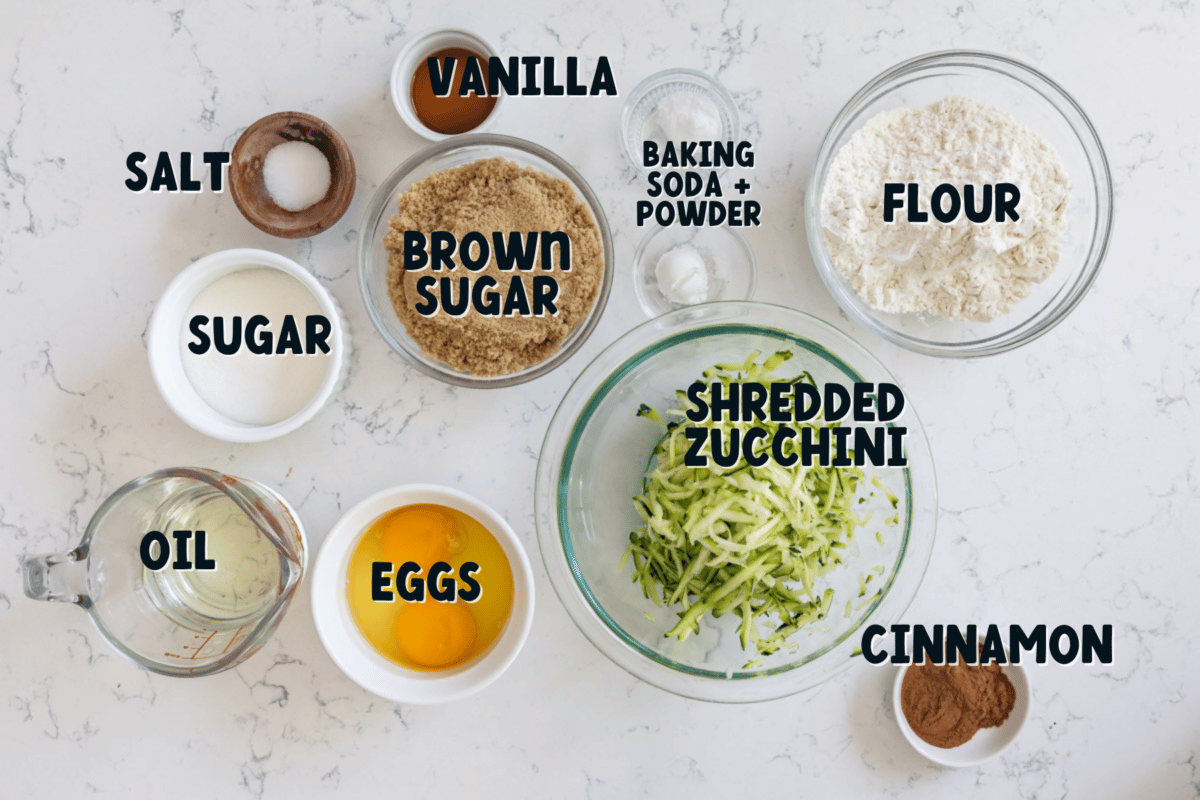 Ingredients
Vegetable Oil: Instead of using butter, I always use a neutral oil for zucchini bread. This keeps it moist and soft.
Sugar: This recipe uses both brown sugar and granulated sugar. I like the combination for the little flavor the brown sugar gives, plus the color and how the brown sugar helps keep zucchini bread soft.
Eggs: Be sure to use large eggs
Vanilla Extract and Cinnamon: For Flavor
Baking Soda and Baking Powder: The two act together to create a puffy, soft and moist quick bread.
Salt: This is needed since our fat (oil) doesn't have any salt in it.
All-purpose flour: Be sure to measure it correctly.
Shredded Zucchini: This is the most important part! Be sure to get one large or two small/medium zucchini just in case.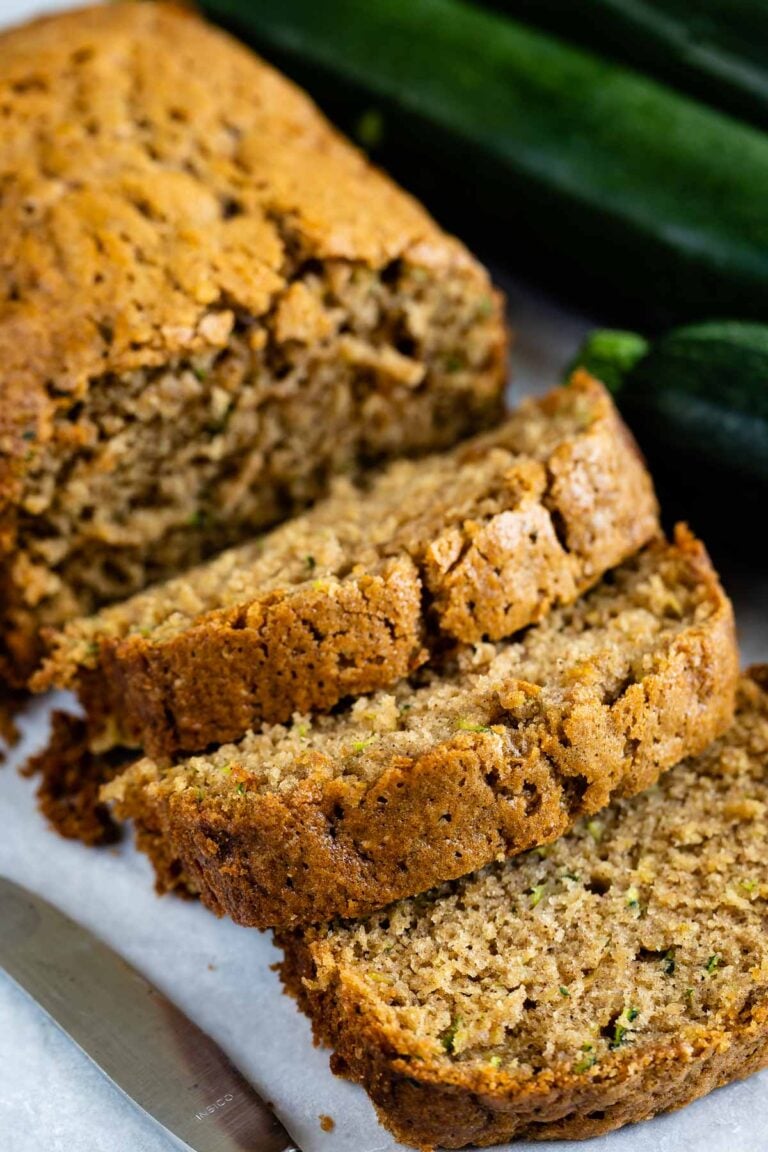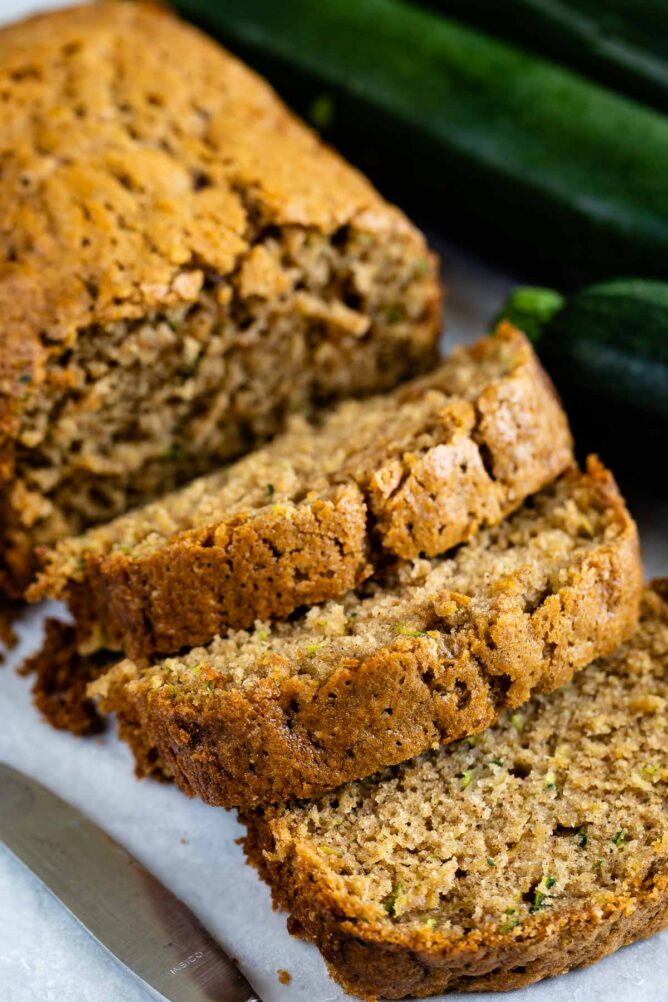 How to Shred Zucchini for Bread
My favorite way is to grate the zucchini with a box grater. Use the large holes to shred it.
If you have a lot of zucchini to grate, you can use a food processor with the shredder attachment.
You will need 1 1/2 cups of shredded zucchini for the recipe, which is approximately 152 grams, or close to one large zucchini (but remember "large" means something different to everyone, so be sure to grate enough to measure out 1 1/2 cups).
You do not need to pat the zucchini dry. The moisture from the zucchini helps keep the bread moist!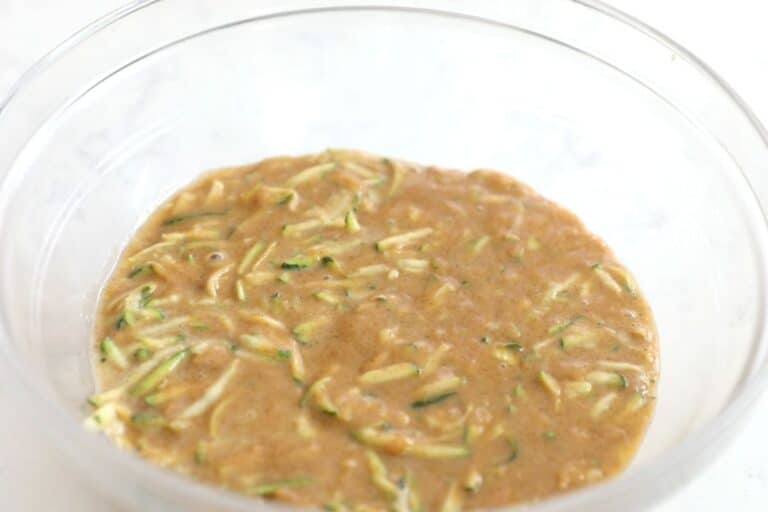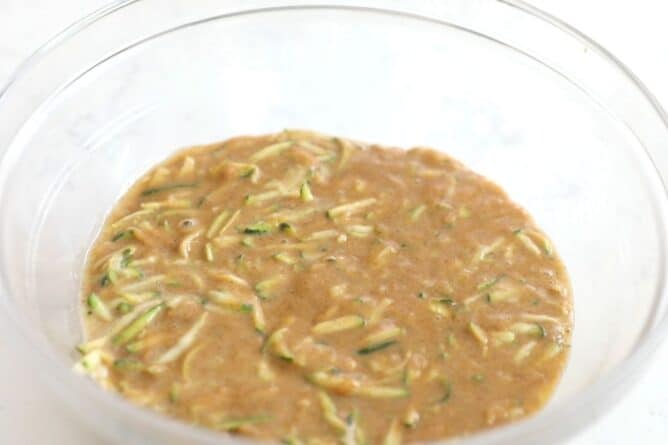 How to Make Zucchini Bread
Preheat oven to 350°F. Grease an 8×4-inch or 9×5-inch loaf pan with nonstick cooking spray or butter.
Mix the oil, both kinds of sugar, eggs, and vanilla in a large bowl. Once the batter is smooth, mix in the cinnamon, baking soda, baking powder, and salt. Mix in the flour.
Zucchini: At this point, the batter will be thick. Add the zucchini and stir. The batter should loosen up so you can pour it into the prepared pan.
Bake the bread at 350°F. If you are using a 9×5" pan, it will take 50-60 minutes. If you use an 8×4" pan, it will take 55-65 minutes. The zucchini bread is done when a toothpick comes out clean from the center of the loaf.
Cool the bread in the pan before removing it and slicing it.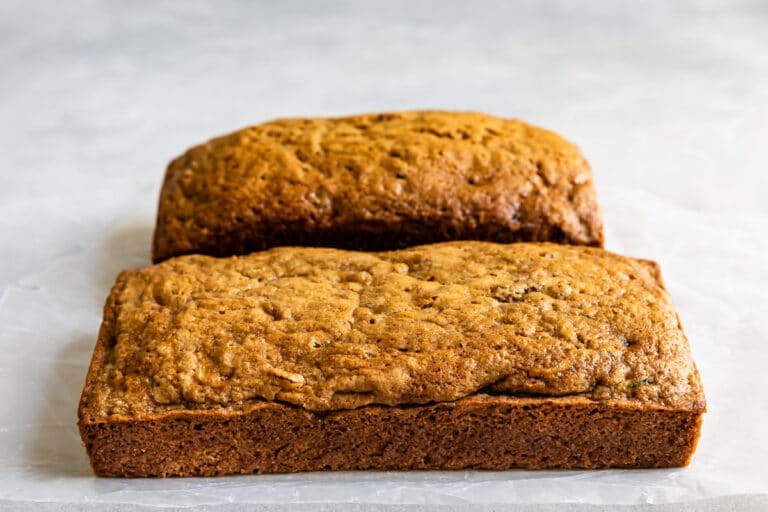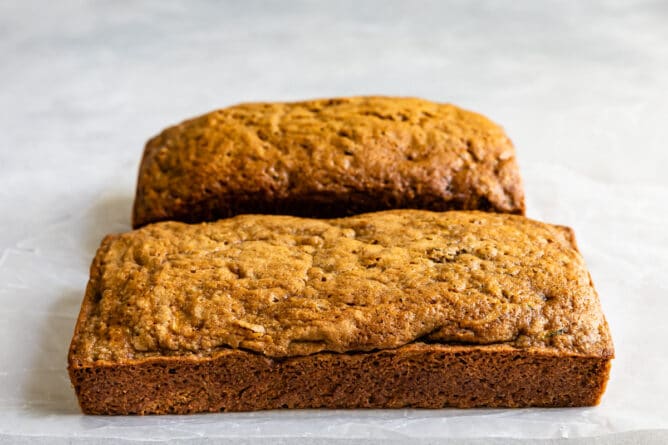 Best Pan for Zucchini Bread
You will want to use a loaf pan for zucchini bread and other quick bread recipes. There are several sizes, but the most common ones are 9×5-inch and 8×4-inch. Both will work for this recipe, but I prefer the 8×4" one.
You can see in the photo that the bread baked in the smaller 8" pan puffed up and has that nice domed top. If you use a 9" loaf pan, the bread will bake fine and taste great, but the loaf will be flatter on top. You won't get that pretty round loaf on top.
So, either will work – the only differences are the way the loaf looks and how long it will take to bake. It will take a little longer in an 8×4" pan.
Other Zucchini Bread Recipes
Once you have a great base recipe for zucchini bread, it's really easy to switch it up.
Sugar: I like brown and white sugar in this bread, but you can use one cup of granulated sugar and omit the brown sugar.
Mix-Ins: Add a ½ cup of mix-ins to give this bread a twist. Add chocolate chips, fruit like blueberries, chopped strawberries, raspberries, or chopped nuts (walnuts work well). Mix them in when you add the zucchini. See Blueberry Zucchini Bread and Chocolate Chip Zucchini Bread!
Muffins: You can also use the batter to make zucchini muffins instead of a loaf.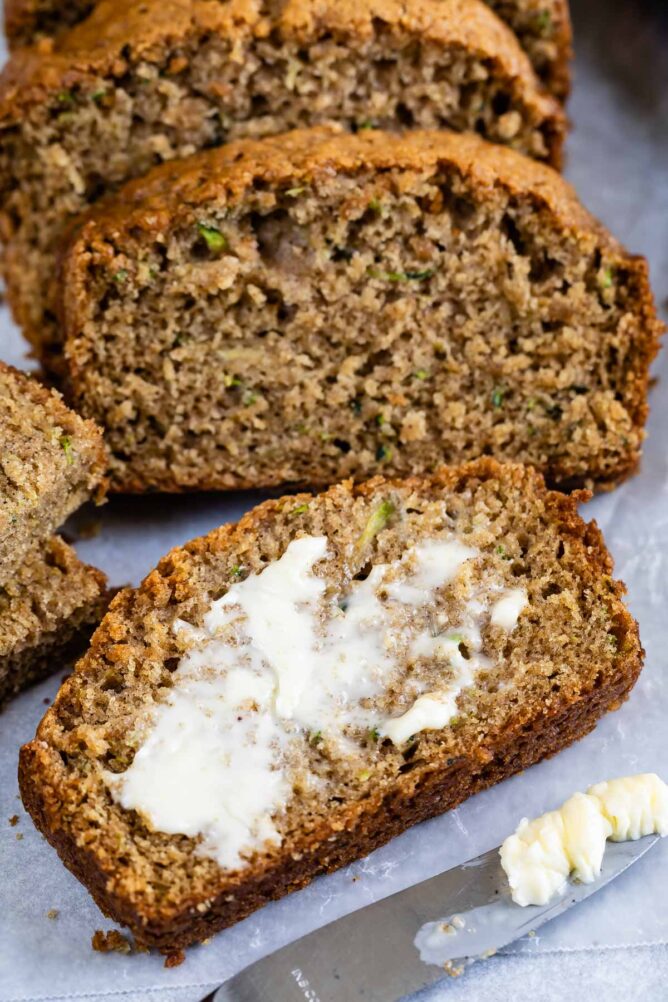 Recipe FAQs
Do you have to peel the zucchini?
No, you don't need to peel it.
Should you squeeze the water out of the zucchini?
If you are using fresh zucchini, you don't need to squeeze the moisture out. You want that moisture in the bread, so just shred and add it to the batter.
Can you use frozen grated zucchini?
You can, but you will need to thaw it first and then wring out the excess moisture. Frozen zucchini will have a lot more moisture than fresh, so you will need to take the extra step to squeeze out the water.
How long does it take to bake zucchini bread?
It will depend on the loaf pan. For an 8×4" loaf pan, it will take approximately 55 to 65 minutes. For a 9×5" loaf pan, it will take about 50 to 60 minutes. This is for an oven temperature of 350°F.
What can you substitute for vegetable oil in zucchini bread?
You can use the same amount of olive oil or butter. Both will give your bread a slightly different flavor.
How do you shred zucchini for bread?
The best way is to use a box grater. Grate the zucchini on the large holes.
Go grab some zucchini this week and give this recipe a try! When you take that warm, sweet zucchini bread out of the oven, you'll be so happy. It's the only recipe you'll ever need. Enjoy!
More Zucchini Recipes To Try
Have you made this recipe?
Tag @crazyforcrust on Instagram or hashtag it #crazyforcrust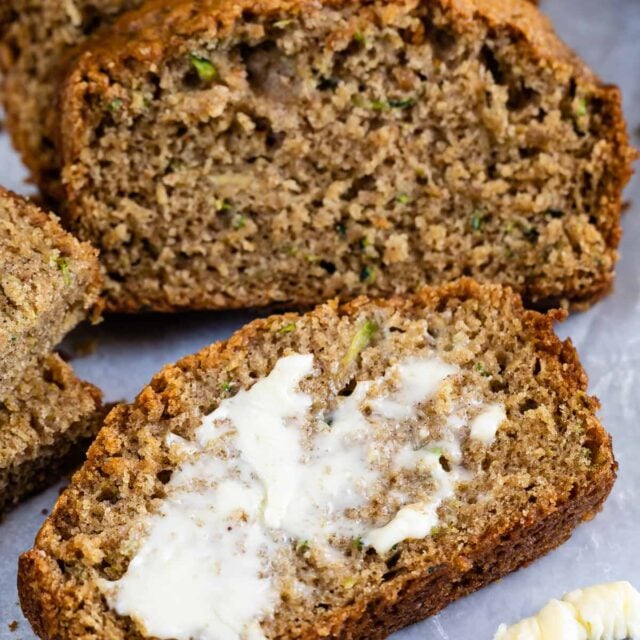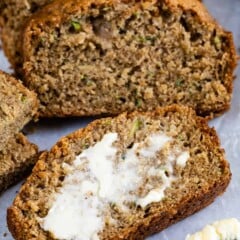 Zucchini Bread Recipe
This zucchini bread is an easy one bowl quick bread recipe that is perfect plain or you can dress it up by adding nuts or chocolate chips!
Total Time
1

hour
15

minutes
Ingredients
½

cup

(119ml) vegetable oil

¾

cup

(150g) packed brown sugar

¼

cup

(50g) granulated sugar

2

large eggs

1

teaspoon

vanilla extract

2

teaspoons

cinnamon

½

teaspoon

baking soda

½

teaspoon

baking powder

½

teaspoon

salt

1 ½

cups

(186g) all-purpose flour

1 ½

cups

(approximately 152g) shredded zucchini
Instructions
Preheat oven to 350°F. Grease an 8×4-inch or 9×5-inch loaf pan with nonstick cooking spray or butter.

Add oil, both sugars, eggs, and vanilla extract to a large bowl. Stir until smooth.

Mix in cinnamon, baking soda, baking powder and salt.

Stir in flour, mixture will be thick. Add zucchini and stir until combined – mixture will get looser and more pourable after stirring in zucchini.

Pour batter into prepared pan. Bake 50-60 minutes (9×5-inch pan) or 55-65 minutes (8×4-inch) pan, or until a toothpick comes out clean from the center of the loaf.

Cool before slicing or removing from the pan. Store covered for up to 2 days or freeze for up to 3 months.
Recipe Notes
Substitutions, Variations & Notes:
• Be sure to shred your own zucchini using the large holes of a box grater. Do not drain or squeeze liquid out of the zucchini – you need the moisture to keep the bread moist.
• Sugar: I like the mix of brown and granulated but you can omit the brown sugar and use 1 cup granulated if you prefer.
• The 8×4-inch loaf will bake more domed, while the 9×5-inch pan will be flatter.
• Feel free to add in ½ cup chopped nuts or chocolate chips after stirring in zucchini.
Recipe Nutrition
Serving:
1
serving
|
Calories:
328
kcal
|
Carbohydrates:
46
g
|
Protein:
4
g
|
Fat:
15
g
|
Saturated Fat:
12
g
|
Trans Fat:
1
g
|
Cholesterol:
41
mg
|
Sodium:
238
mg
|
Potassium:
157
mg
|
Fiber:
1
g
|
Sugar:
27
g
|
Vitamin A:
107
IU
|
Vitamin C:
4
mg
|
Calcium:
47
mg
|
Iron:
2
mg
Nutritional information not guaranteed to be accurate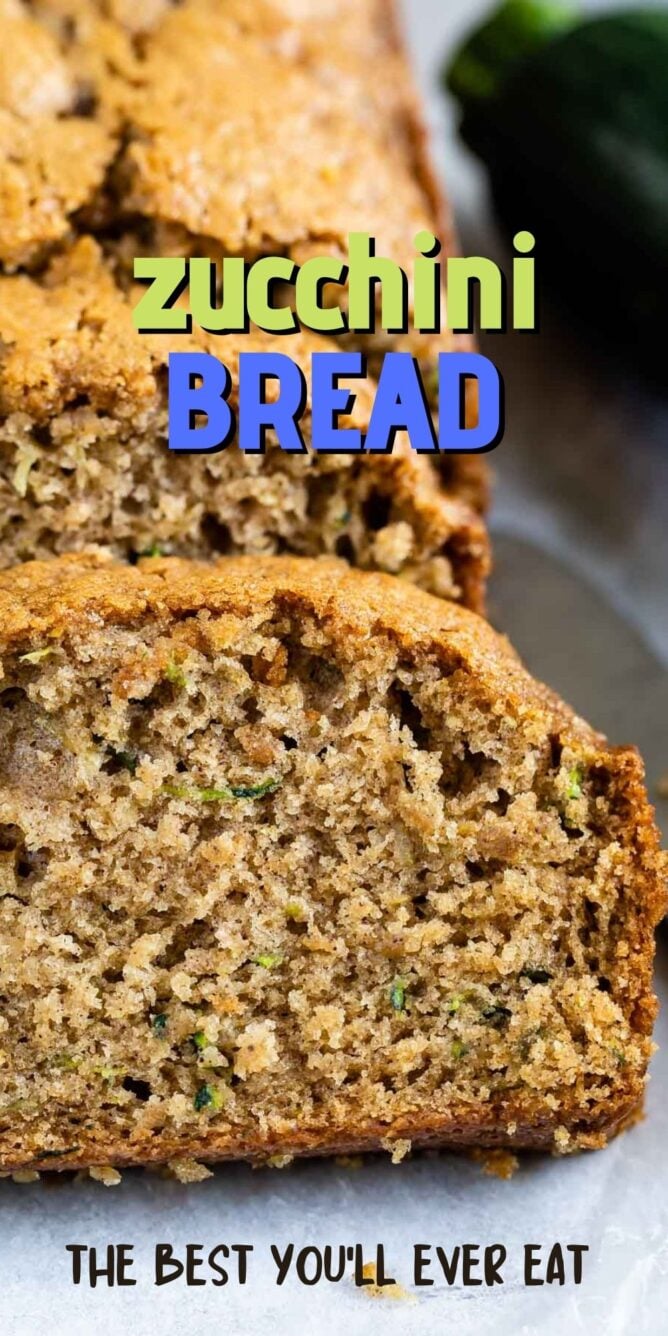 Classic Easy Zucchini Bread is the best way to use up zucchini! This simple quick bread recipe is full of zucchini and spices and we all loved every bite!
Last Updated on August 29, 2022