This post may contain affiliate links. For more information, read my disclosure policy.
This Apple Gorgonzola Crostata is the perfect lunch…or dessert! Made quick with a Pillsbury Pie Crust and CrunchPak Apples, this meal (or sweet treat!) comes together in no time at all!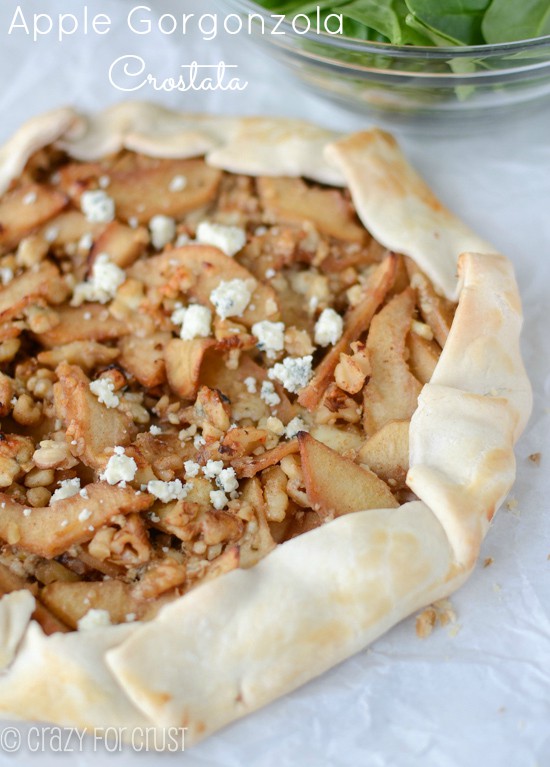 Fact: Every night after dinner, I want dessert.
Fact: Every night after dinner, I usually have dessert.
It's just the way I roll, people. I heart dessert. Probably more than I love crust, or at least as much as.
My favorite pie is apple pie. I could eat it, or some version of it, every single day and be a happy girl.
Now, what if I told you you could have apple pie for dinner and dessert? Would your head explode from the paradox, like mine?
Good, then this is the post for you.
I give you dessert-that's-dinner: Apple Gorgonzola Crostata.
This crostata (aka galette or rustic crusted pie) is made with apples and topped with gorgonzola and walnuts. The addition of the gorgonzola, one of my favorite cheeses, makes it lunch or dinner food, in my book. That's a savory element – and there ain't no savory in my desserts, yo'.
Now, there are people that would say, "Why, yes. Gorgonzola is a dessert. Have you ever heard of a cheese platter after dinner?"
To which I'll reply, "Yes, but I don't understand. Cheese is an appetizer, not a dessert. Cookies are dessert, not cheese."
BUT, for those of you that love the after dinner cheese course, this could be your dessert.
However, I highly recommend serving this for dinner or lunch. Then you can eat apple pie for dessert.
It's pie squared!
This crostata comes together so fast and easy. Just a few simple ingredients combine for a truly rich flavor.
I made this even easier by using CrunchPak Apples. I met the nice folks at Crunchpak at BlogHer Food back in June and they sent me a huge cooler full of their apple packs. Seriously, it was enough for an army. It's been several weeks, but we still have a couple of the Foodles in the fridge – and they're still good. That's why I love CrunchPak apples – they come sliced and stay good forever. Jordan lives on them during the school year because apples are her favorite. With her braces it's too hard to eat whole apples, so the ready-made slices that don't brown in her lunchbox are perfect.
You can certainly use regular Granny Smith apples for this crostata, but if you have some CrunchPak in your fridge, it saves the step of coring! I peeled them, and slice the wedges in half, so they'd cook better. You cook the apples with some cinnamon and sugar and butter, then once they've softened you mix in some lemon juice and the gorgonzola and walnuts. Add it to the crust (I used a Pillsbury Pie Crust to make this much easier and faster) and bake.
And, if you don't like gorgonzola, you can substitute your favorite gourmet cheese. Brie would be fabulous, as would white cheddar. Use what you love!
It would be the perfect lunch or dinner, alongside a simple green salad. Or, if you're that kind of person, it would make the perfect dessert too. 😉
Pie for dinner, pie for dessert. My kind of meal time!
If you love apple goodness, check out my friend Ashton today. She made an Inside-Out Apple Fritter today!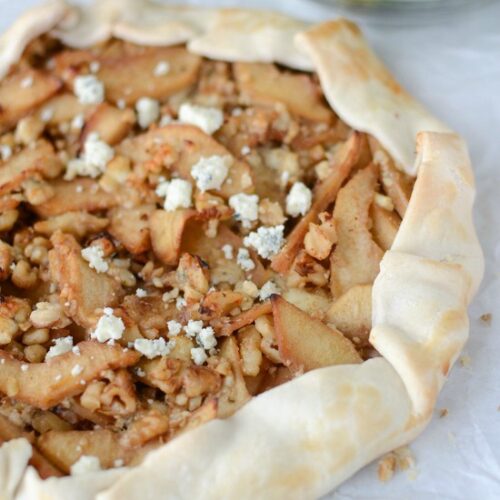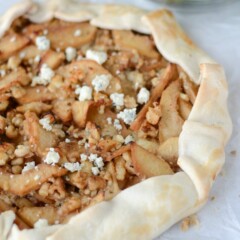 Apple Gorgonzola Crostata
Ingredients
1-14

ounce

bag Crunchpak green apples

or equivalent amount sliced apples

2

tablespoons

butter

2

tablespoons

sugar

1/2

teaspoon

cinnamon

Zest of one small lemon

Juice of 1/2 lemon

about 1 tablespoon

1/2

cup

chopped walnuts

1/2

cup

crumbled Gorgonzola Cheese

1

refrigerated pie crust

from a pack of two

1

egg

optional
Instructions
Preheat oven to 400 degrees

Peel your apples carefully. Slice them in half the long way, so you get a thinner apple slice than what cam in the package. (If you're using regular apples then you need to peel, core, and slice them thin.)

Melt butter in a medium frying pan over medium-low heat. Add the apples, cinnamon, and sugar and cook, stirring occasionally, until they just start to become transparent, but not enough that they become mushy (about 5 minutes).

Remove from heat and let sit for 10 minutes.

Unroll pie crust onto a cookie sheet lined with a silpat or parchment paper.

Stir lemon, zest, walnuts, and cheese into the apple mixture. Pour apple mixture onto the center of the crust and spread it out so that there is about a 1" border around the edge. Fold up the edge over the apples, crimping as needed to go around the circle, creating a crust.

Whisk egg with a splash of water and using a small brush or your fingers, spread some around the edge of the crust. (This will give it a golden brown look.) You won't use all the egg.

Bake for about 22 minutes, until the crust starts to get golden brown. Cool slightly before slicing and serving.
Nutritional information not guaranteed to be accurate
You might also like:
Enjoy!
I received apples from CrunchPak that I used to make this recipe. This post is not sponsored, I just really love their product!
Last Updated on May 13, 2020