This post may contain affiliate links. For more information, read my disclosure policy.
This recipe, also known as puppy chow, combines two favorite snacks in one – trail mix and addictive muddy buddies with Chex cereal.
You get the nutty goodness from the trail mix with the sweetness from the puppy chow in an addictive snack that's really hard to resist! This is easy enough you can make it twice: once now and once after you eat the whole batch.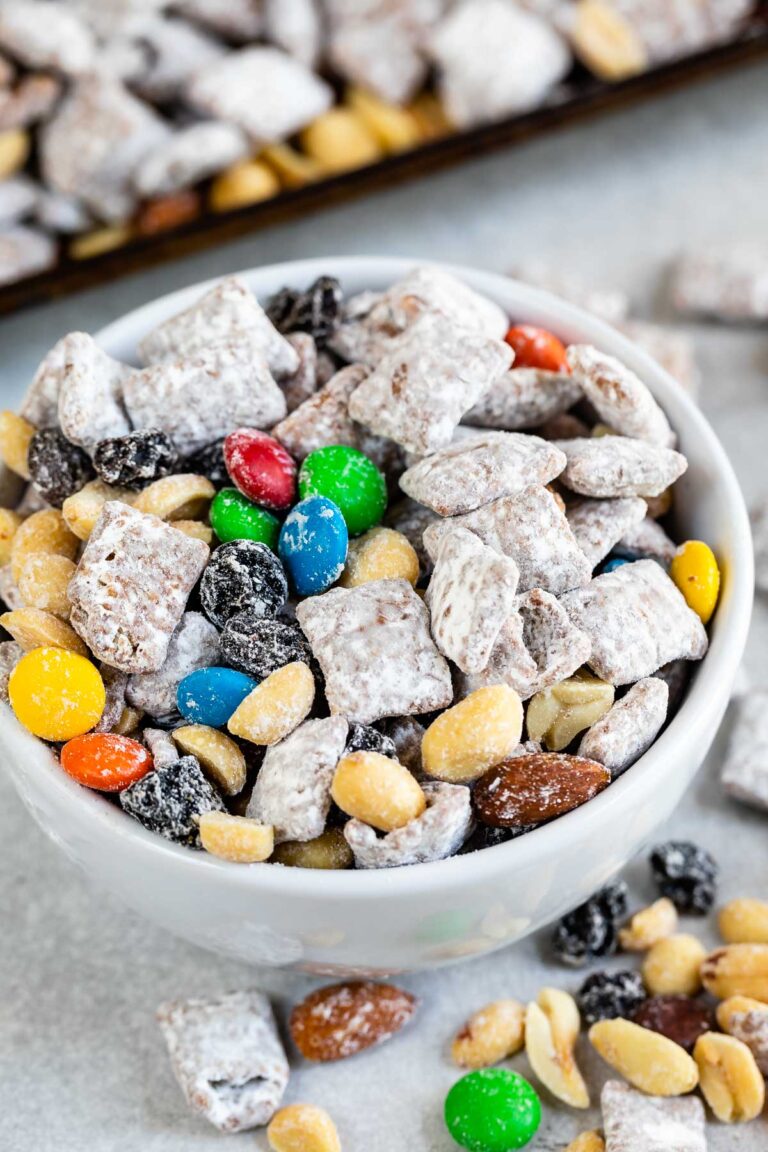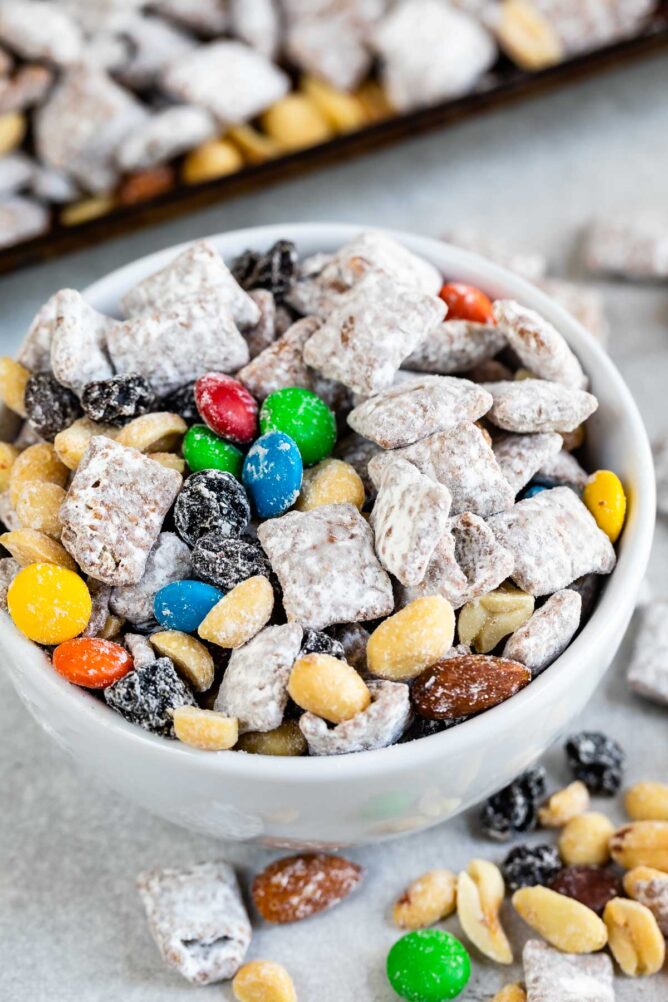 There are many things that, when placed in front of me, I can't stop eating. Two of those things are muddy buddies and trail mix so when I came up with the idea to combine the two, I knew I'd be in trouble! This recipe takes the best of both snacks and combines into one irresistible treat.
What are Muddy Buddies?
First things first – maybe you're wondering. what the heck are muddy buddies? It's a homemade snack that's made with a few simple ingredients that is completely addicting.
They're so easy to make with peanut butter, chocolate, and butter. Once the cereal is coated, you just shake it in powdered sugar. It's not a nutritious snack, and it's messy, but it's so good!
How to make Muddy Buddies Video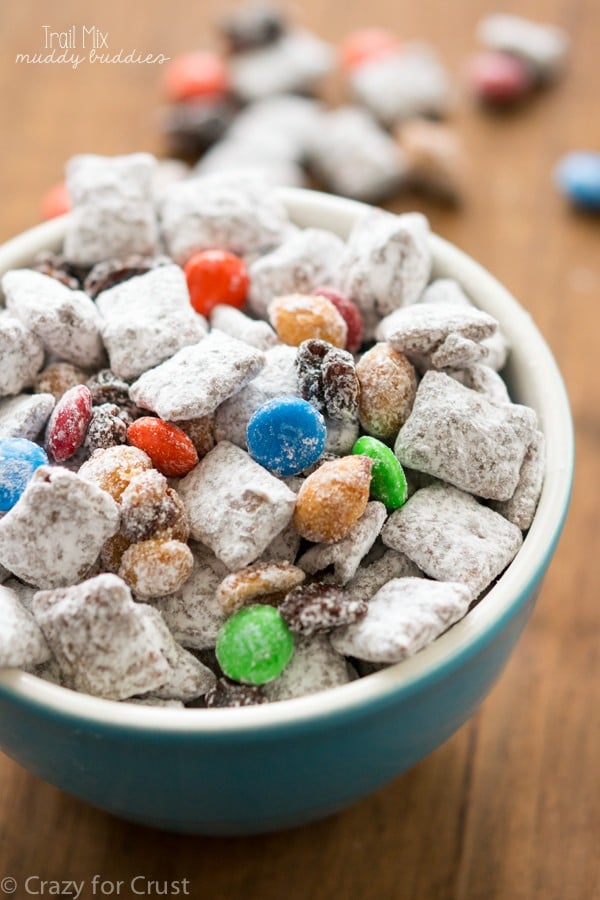 Are Muddy Buddies the Same as Puppy Chow?
Yes! Depending on where you're from you might know them as puppy chow, too. Some people call it puppy chow because it looks like dog kibble, but it's definitely not for dogs!
Puppy chow is often made during the holiday season – I love to make bags of it to share with friends and family – but there's no reason you can't make It all year round! It's a great dessert or snack for:
Game-day parties
Valentine's day (or any holiday!)
Birthday parties
Netflix binge sessions
Random cravings for this salty sweet snack!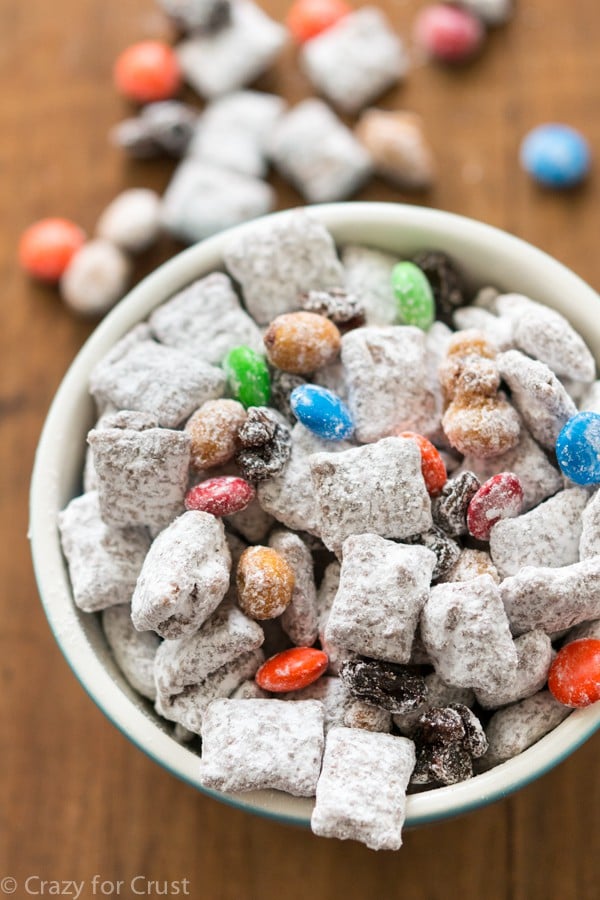 Ingredients in Muddy Buddies
Chex Cereal: Use any kind of Chex (rice, corn, wheat or any of their flavors) for this recipe. Or use a mix!
Peanut Butter: Use a no-stir (not natural) peanut butter, like Skippy or Jif.
Chocolate Chips: Semi-sweet or milk are perfect for this.
Butter: 1 tablespoon unsalted butter helps the chocolate melt.
Powdered Sugar: For coating the puppy chow.
Trail Mix: Use your favorite kind of trail mix – anything goes – or use the individual components (nuts, raisins, M&Ms, etc).
How to Make Trail Mix Muddy Buddies (Puppy Chow)
You start with a classic Chex muddy buddies recipe and add in trail mix ingredients – it only takes about 15 minutes to make them. The hardest part is waiting for them to cool!
Step 1: Melt chocolate, peanut butter and butter together in a bowl. I do this in the microwave.
Step 2: Stir the Chex cereal into the melted peanut butter and chocolate. Transfer the coated cereal to a large resealable bag filled with a cup of powdered sugar. Shake the bag until the cereal is evenly coated in the sugar.
Step 3: Spread the sugar-coated cereal in an even layer on a baking sheet. Cool them for 30 minutes or until the chocolate hardens.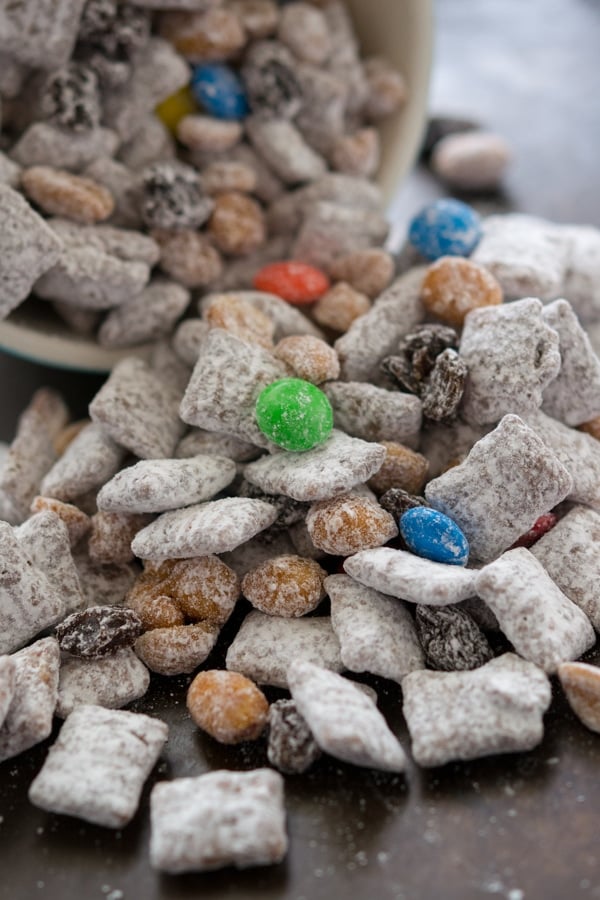 Trail Mix Muddy Buddy Variations
Once you've made the puppy chow, you can add the trail mix ingredients. I like to use traditional trail mix ingredients:
Use your favorite trail mix items to switch up this recipe!

PRO TIP
Depending on what you like you can switch up the trail mix – here are some other ideas:
Honey roasted peanuts
M&Ms
Raisins
Craisins
Chopped dried fruit
Different nuts like cashews, walnuts, pecans, macadamia nuts, and hazelnuts. Or do a combination of nuts.
Chopped peanut butter cups
Chopped pretzels
Chocolate chips, white chocolate chips, or butterscotch chips
Place the cooled muddy buddies in a large bag, add the trail mix ingredients and shake it up to combine.
How Long Does Puppy Chow Last?
Once you've made your puppy chow it will keep up to five days in an airtight container. But does it ever REALLY last that long??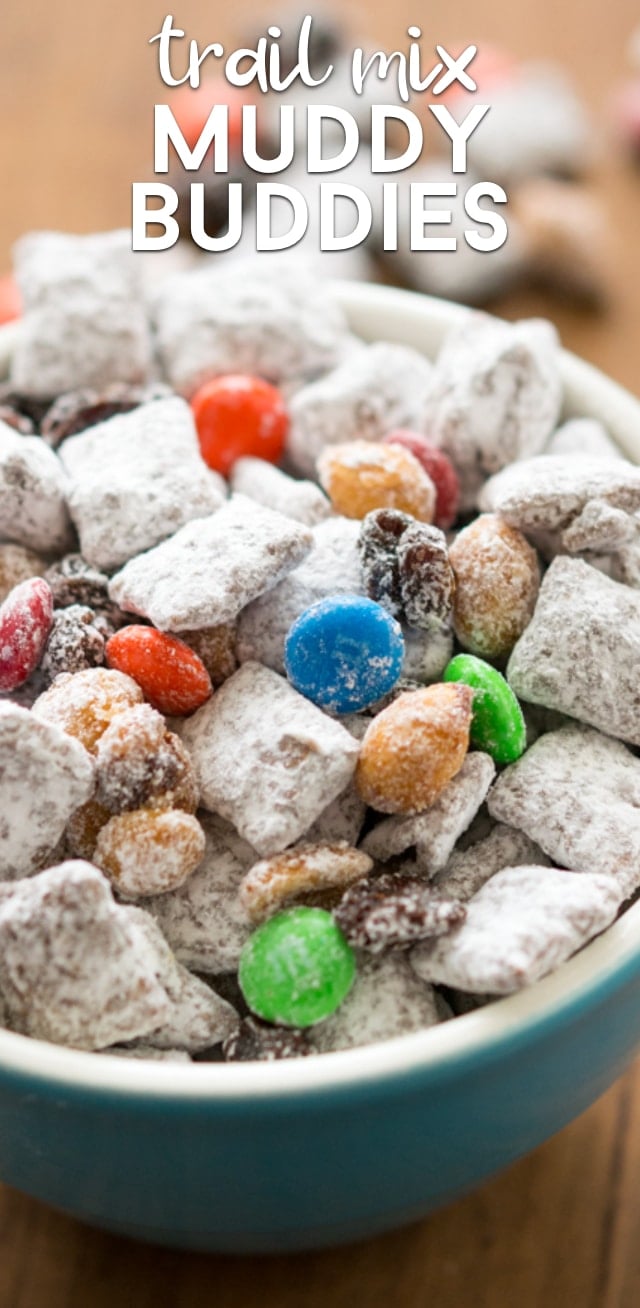 FAQ
How to store Muddy Buddies?
Store in an airtight container or gallon size bag. Or portion into sandwich baggies for easy snacking.
Can Muddy Buddies be frozen?
I don't recommend freezing them. If you store them in the refrigerator they'll last several weeks.
Can you make puppy chow ahead?
Yes it will last 2 weeks if stored in the refrigerator.
Is puppy chow for dogs?
NO! This muddy buddy recipe is also called puppy chow and is not for dogs – dogs cannot eat chocolate.
Why is it called puppy chow?
I think the nickname came because it resembles dog food – before it's coated in powdered sugar, that is!
Other Muddy Buddy Recipes
Once you know how to make a classic muddy buddies recipe the flavor variations are endless! This puppy chow trail mix is just one of the flavor combinations I've made. I love the stuff so you have to check out some of my other favorite puppy chow recipes.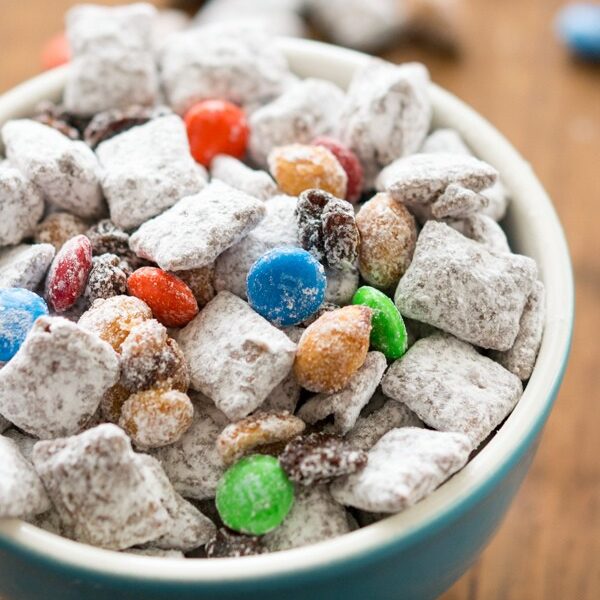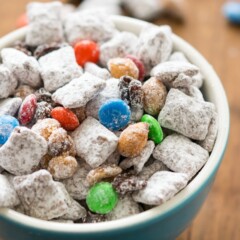 Trail Mix Muddy Buddies
Your favorite Muddy Buddies…with trail mix! Added peanuts, raisins, and M&Ms add a depth to the puppy chow, making a fun new twist on an old favorite recipe!
Ingredients
5

cups

Chex cereal

any flavor

1/2

cup

milk chocolate chips

1/3

cup

creamy peanut butter

1

tablespoon

butter

unsalted or salted

1-2

cups

powdered sugar

2

cups

peanuts

I like to use Honey Roasted; use your favorite

1-2

cups

raisins

to taste

1

cup

plain M&Ms

or Reese's Pieces would be good too

See notes about trail mix
Instructions
Line a cookie sheet with parchment paper or a silpat baking mat. Place 1 cup powdered sugar in a large gallon sized ziploc bag.

Place milk chocolate chips, peanut butter, and butter in a large bowl. Microwave for 1 minute, stir, then heat in additional 30 second increments, stirring after each, until mixture is melted and smooth. Place Chex cereal into the peanut butter chocolate mixture and stir to coat.

Place the cereal mixture into the powdered sugar bag and seal. Shake to coat the cereal. Turn it out onto prepared cookie sheet. Let the muddy buddies harden and cool.

Optional: once they cool, give them a toss in another coat of powdered sugar (up to 1 cup) for a super white look.

Once cooled, place muddy buddies, peanuts, raisins, and M&Ms into a large gallon size bag. I added 1 cup of raisins but if you love them, add up to 2 cups. Shake to mix, then serve or seal for later use. Store in the airtight bag/container for up to 5 days.
Recipe Notes
Prefer to use a store bought trail mix? Use 3-4 cups of your favorite brand and flavor – anything works! Or mix and match the ingredients I used with some other favorite trail mix ingredients:
Craisins
Other nuts
Reese's Pieces
Chocolate Chips
Anything you like!
Recipe Nutrition
Serving:
1
cup
|
Calories:
487
kcal
|
Carbohydrates:
80
g
|
Protein:
6
g
|
Fat:
19
g
|
Saturated Fat:
7
g
|
Cholesterol:
4
mg
|
Sodium:
240
mg
|
Fiber:
3
g
|
Sugar:
56
g
Nutritional information not guaranteed to be accurate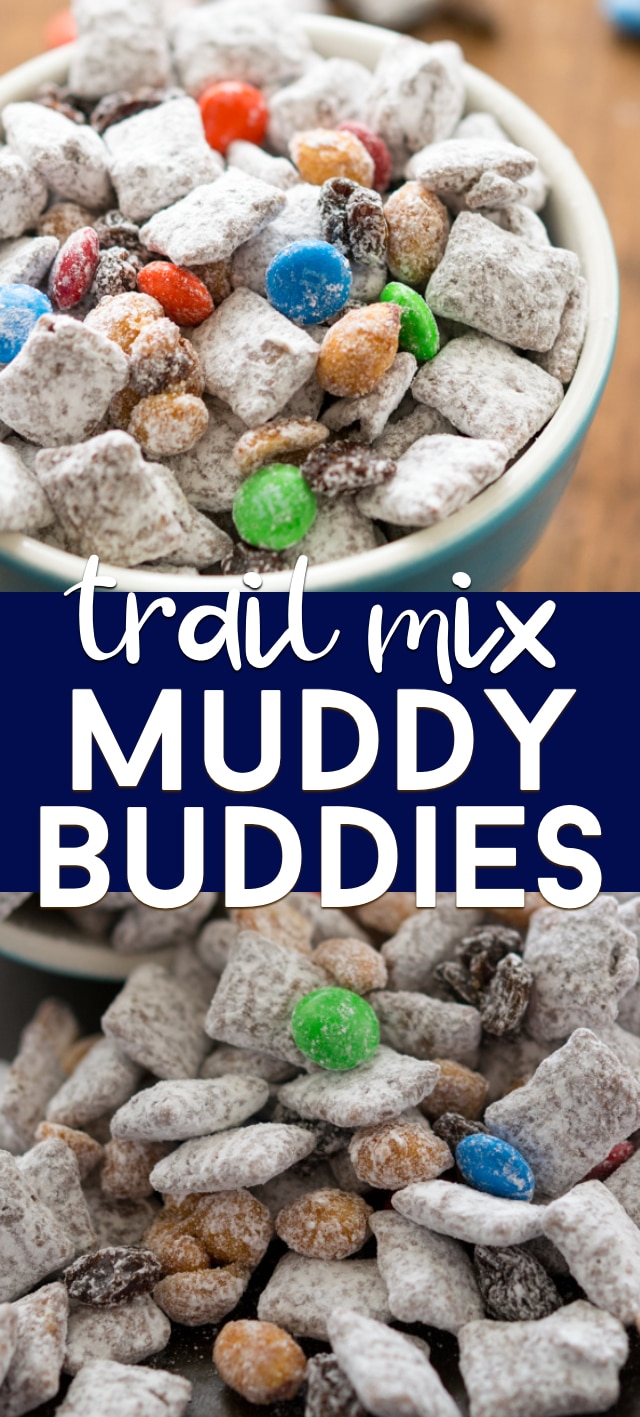 Trail Mix Muddy Buddies are an easy snack! Make the original Muddy Buddy recipe and add trail mix for a fun twist on a classic peanut butter and chocolate Chex recipe.
Last Updated on July 29, 2021