This post may contain affiliate links. For more information, read my disclosure policy.
This slow cooker berry crumble is as easy as it gets with the ability to put everything in the crockpot and leave it for the day.
Yes, you read that right: I made a Slow Cooker Berry Crumble. It's like a giant crumbly cookie on top of fruit, and it's all made in your trusty crockpot.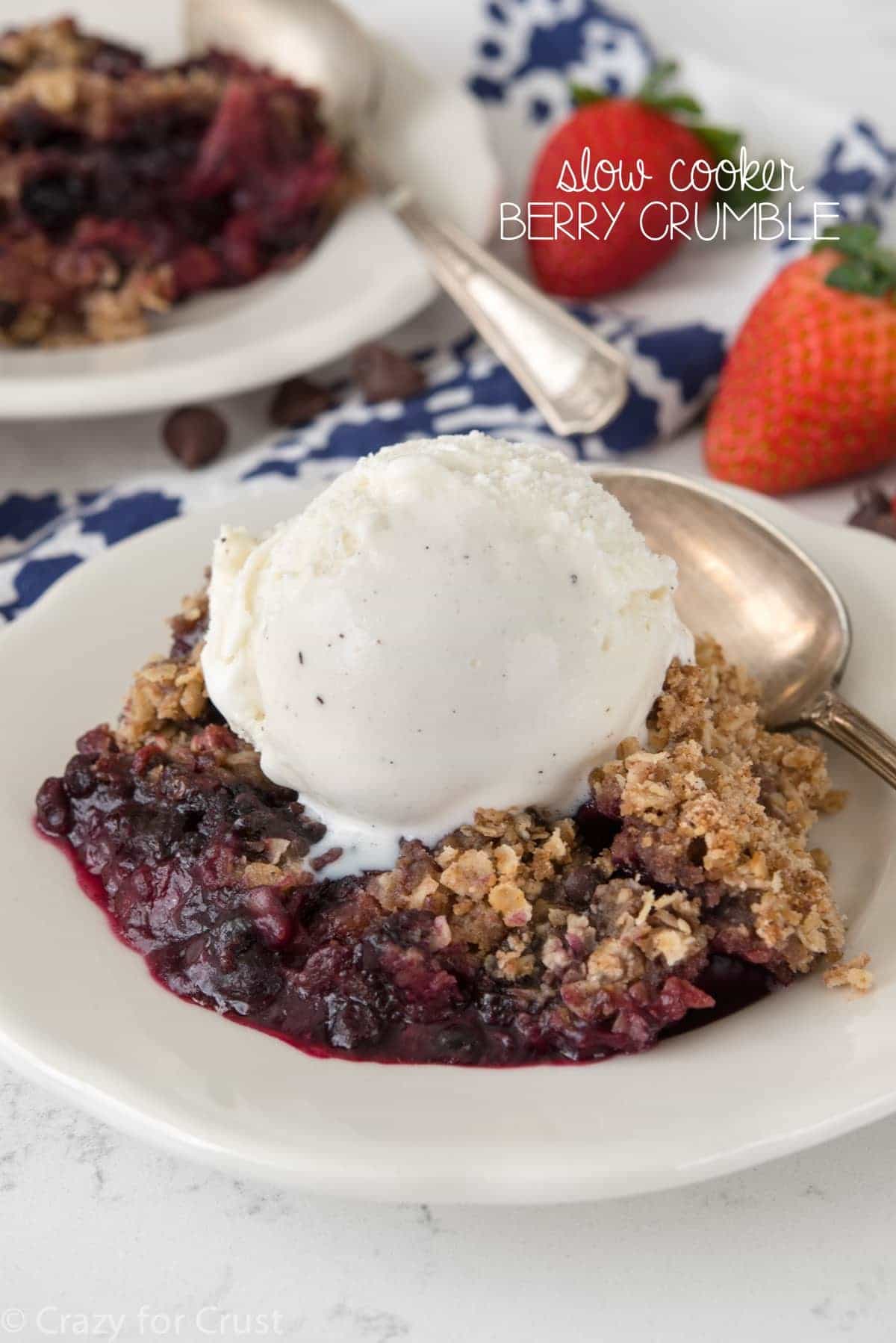 Remember last fall when I told you how I have a stuff problem? I was totally gung ho – we donated several car loads of stuff to Goodwill and we took thousands of pounds of stuff to the dump. (Yes, thousands.)
And then I got tired.
I cleaned out my closet and dressers with fever. I emptied the kitchen of all non-essentials. I emptied half of the office. I cleaned out stuff so well I am still looking for things I threw away. And then one day I opened the door to our garage (no cars, all STUFF), sighed, closed the door, and walked away.
My house is now tidy (mostly thanks to Maude) but whenever I go into the garage I start to have a panic attack. So, my friends, it's time I tackled the garage.
I think I'm going to need lots of crockpot crumble to get me through.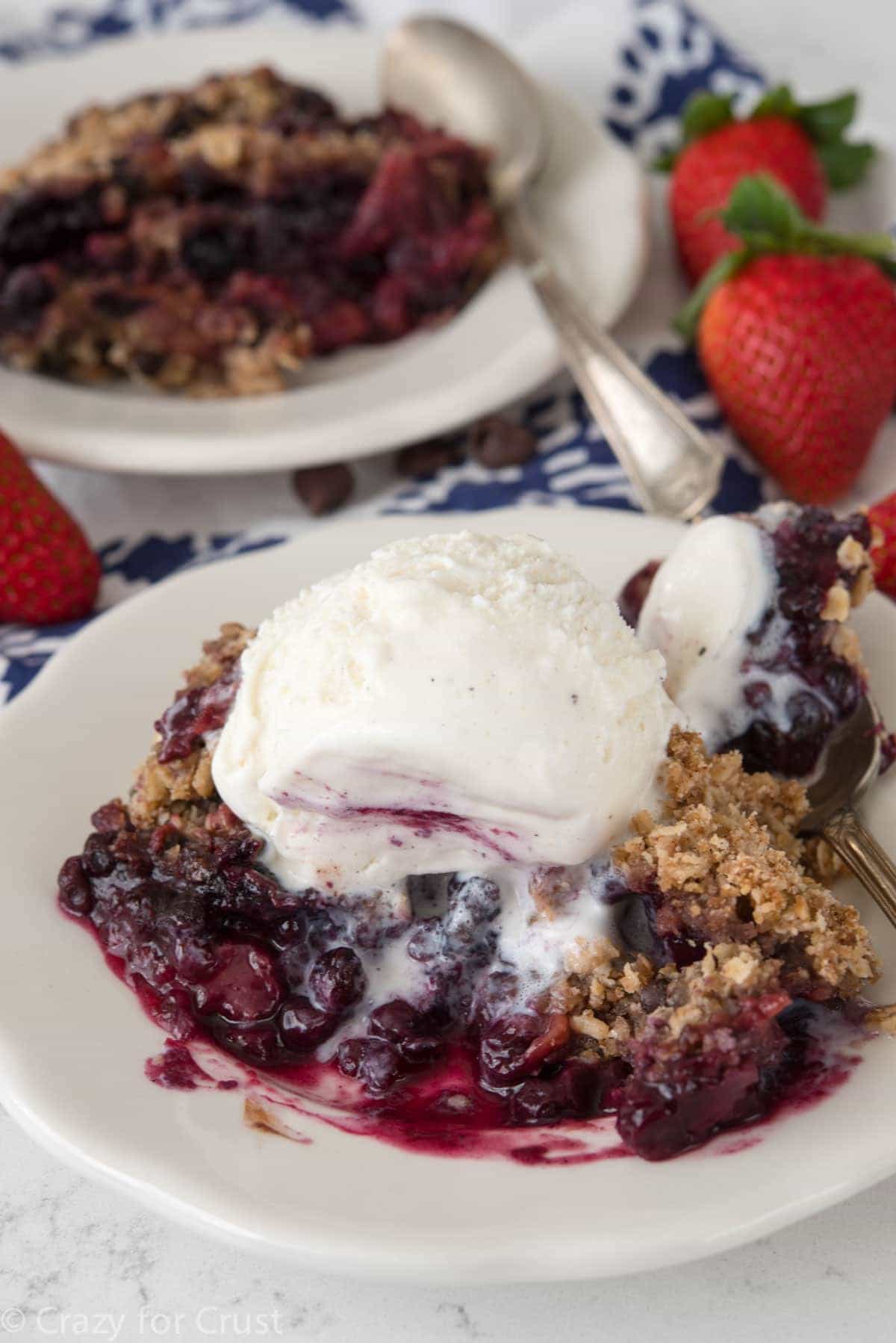 I looooove crumble, especially when it's soft and crispy at the same time, chewy, and tastes like a cookie. If I'm being honest, I'm one of those people that scrapes the crumble off of the berries. Am I the only one that does that? #pleasesayno
This slow cooker berry crumble is super easy to make and you just dump it all in your crockpot to bake it.
Then you go off and do something else while you wait for the gooey crumble to form. That's my kind of recipe, if you ask me.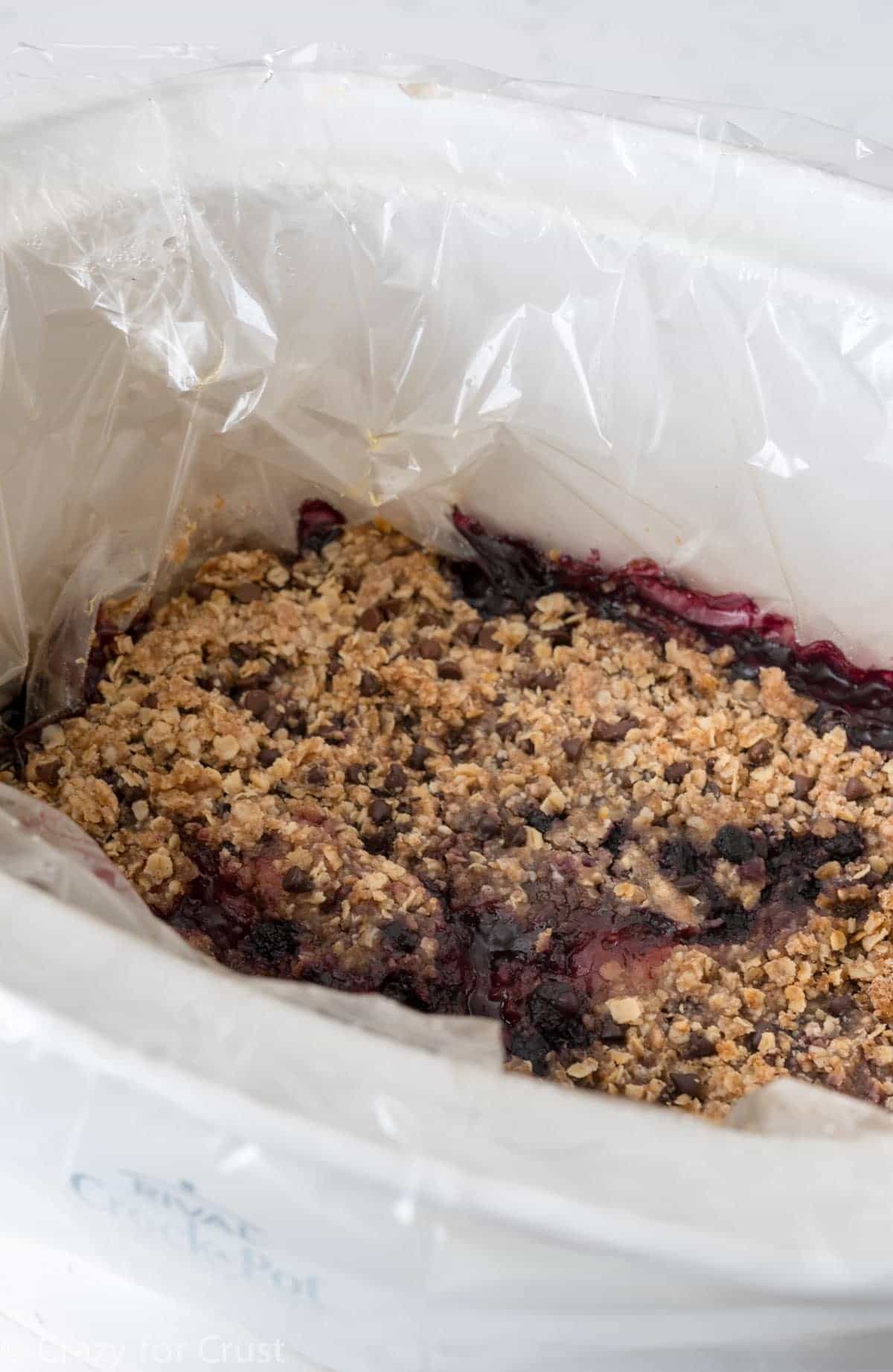 Why am I getting all gung ho again about cleaning out my stuff? Not because of resolutions or anything, no. It's because after my purge last fall, I realized that life with less stuff is just more sweet. I don't need all those things to make me happy. I need what I need, and the rest is just clutter.
I'm also happier when I don't have anxiety attacks when I go into my garage, so there's that.
Also, because I'm trying to watch my sugar intake, life with less sugar is just as sweet, when you make this crumble with Truvia Natural Sweetener.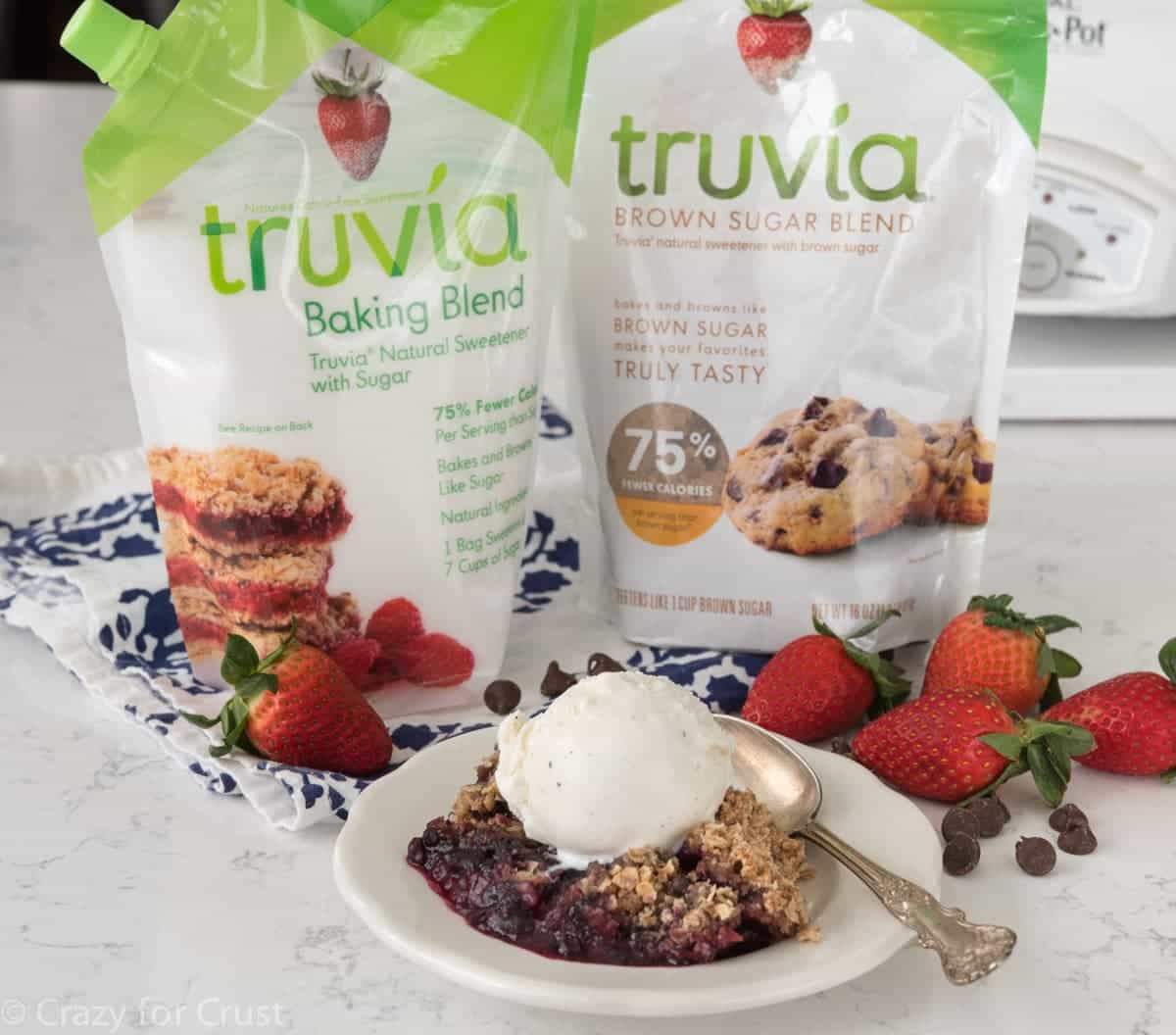 I've been using Truvia products in my real life for a long time. I love how their baking blends bake just like real sugar. And not only do you use less sugar when you use the Baking Blend or the Brown Sugar Blend, but you're also using 75% less calories per serving than regular sugar.
So, less sugar, less calories, and I just dump it all in the crockpot and let it cook while I do my chores? That's my kind of recipe.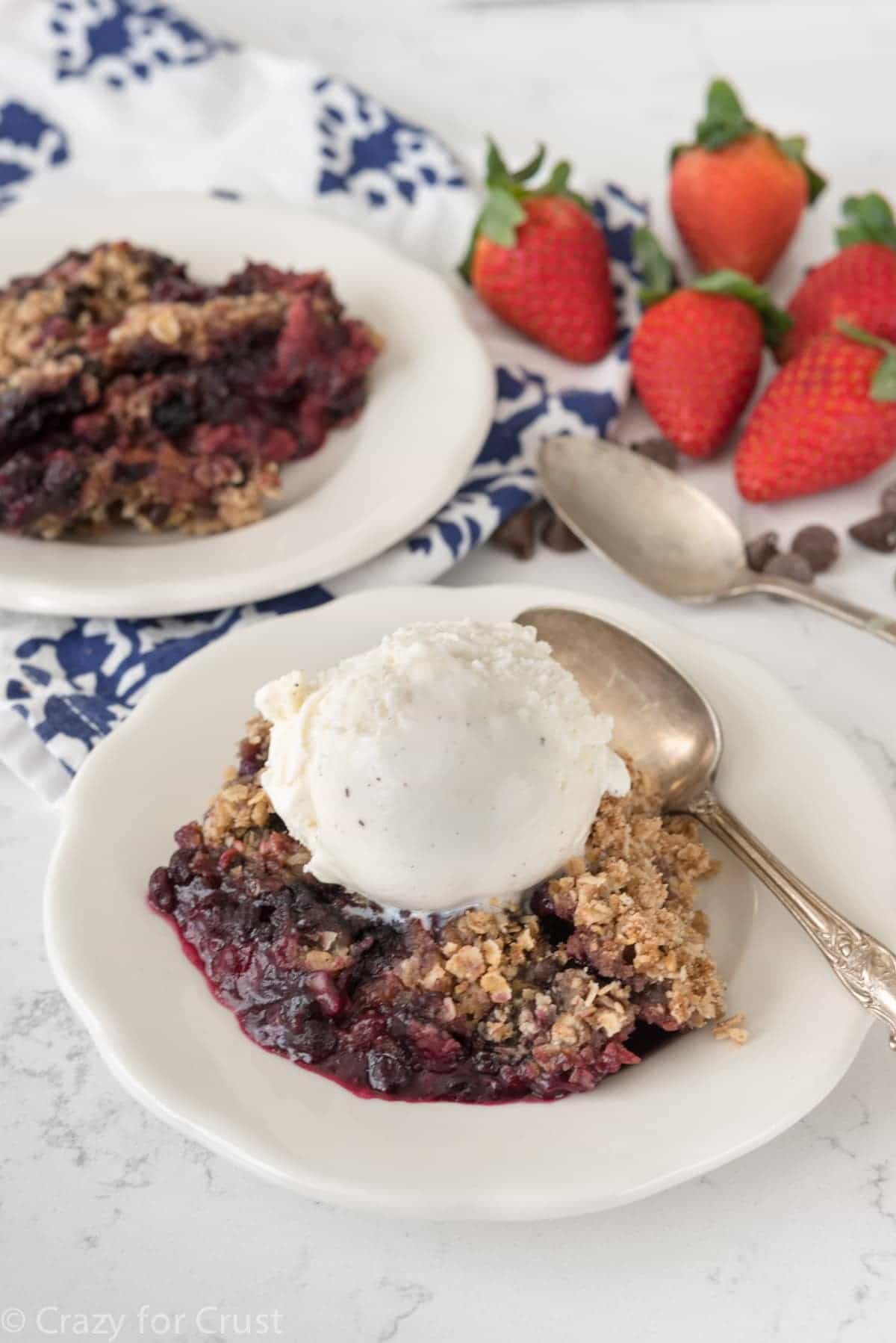 Let's break down this slow cooker berry crumble, shall we?
The base of the crumble is fruit, obviously. You can use any fruit you like for this recipe, but I used strawberries and blueberries. You need about 5 cups total of fruit. I used frozen fruit, but fresh would work too. If you're using frozen, make sure to rinse it off first to dissolve any ice chunks or crystals.
I toss my fruit with some lemon, cornstarch for thickening, and Truvia Baking Blend (which is a savings of about 295 calories vs. real sugar). Toss all that into your crockpot. I like to use a slow cooker liner, but you don't have to.
Then it's time for my favorite part: the crumble! This crisp is a mixture of butter, flour, oats, cinnamon, and the Truvia Brown Sugar Blend. Again, this saves calories because the Brown Sugar Blend has less calories than using regular brown sugar. I even added some mini chocolate chips because, well, chocolate. But that's totally optional! You mix all the ingredients up quick with a pastry cutter, then sprinkle it over the fruit.
And then the magic happens.

Make sure you cover your crockpot with a paper towel before you place the lid on it. This keeps condensation off your crumble. You bake it between 2 1/2 to 3 hours (all crockpots cook differently), until the mixture is no longer powdery and it's bubbling around the edges.
The result? A crunchy yet soft and moist crumble on top of deliciously juicy berries. This slow cooker berry crumble has the perfect sweetness too, and it's hard not to eat it straight from your crockpot.
Serve the crumble warm, with low-sugar ice cream or whipped cream. Less sugar never tasted better! Or, as I like to say, life with less sugar is more sweet.
Well, I say that now. Because this stuff ROCKS!
Slow Cooker Berry Crumble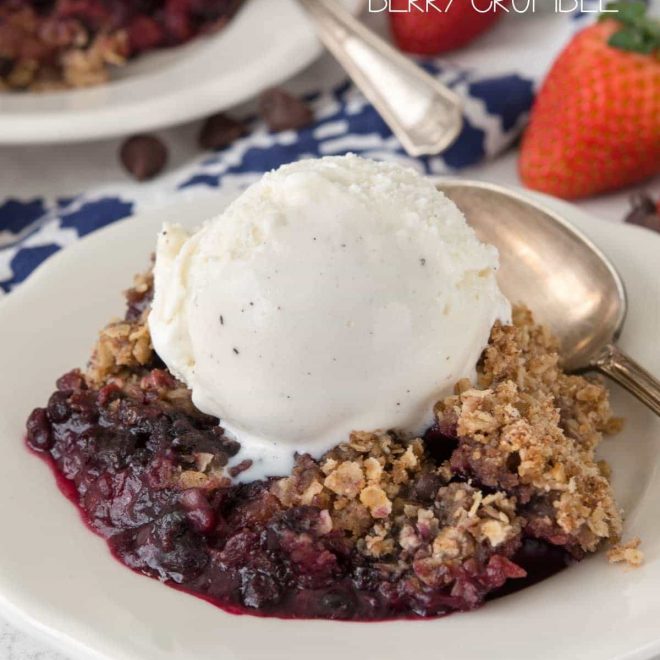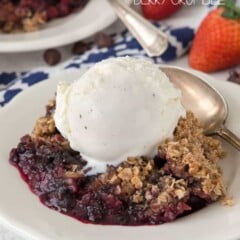 Slow Cooker Berry Crumble
This Slow Cooker Berry Crumble is crunchy, sweet, and gooey AND it's made in the Crockpot! It's got less sugar but tastes better than any other crumble I've ever made!
Total Time
3

hours
15

minutes
Ingredients
3/4

cup

all purpose flour

3/4

cup

quick cooking oats

1/4

cup

+ 2 tablespoons Truvia Brown Sugar Blend

1

teaspoon

ground cinnamon

1/4

teaspoon

salt

6

tablespoons

unsalted butter

1/2

mini chocolate chips

optional

3

cups

frozen blueberries

2

cups

frozen strawberries

1/4

cup

Truvia Baking Blend

1

tablespoon

lemon juice

2

tablespoons

cornstarch
Instructions
Whisk flour, oats, Truvia Brown Sugar Blend, cinnamon, and salt in a large bowl. Dice butter into small chunks and add to the mixture, cutting it in with a pastry cutter until the mixture is crumbly. Stir in chocolate chips, if using. Set aside.

Rinse the frozen fruit to get rid of any ice chunks or crystals. Place in a second large bowl. (You can also use fresh fruit, but if doing so you may want to reduce the cornstarch amount to 1 tablespoon.)

Sprinkle the Truvia Baking Blend, lemon juice, and cornstarch over the berries and toss to coat.

Spray the bottom of a 5-7 quart slow cooker with nonstick cooking spray. (You can also use a slow cooker liner, but spray it with nonstick spray as well.) Add the fruit and juices, then top with the crumble topping.

Place a paper towel over the slow cooker opening, then cover with the lid. Cook on high power for approximately 2 1/2 to 3 hours, or until the top is wet looking (no powdery mixture remains) and the edges are bubbly.

Serve warm with low-sugar ice cream or whipped topping.
Nutritional information not guaranteed to be accurate
Connect with Truvia® online for recipes and free samples and a limited time bonus offer.
Follow them on social: Facebook / Twitter / Pinterest / Instagram
Berry Crisp with Oatmeal Cookie Crumble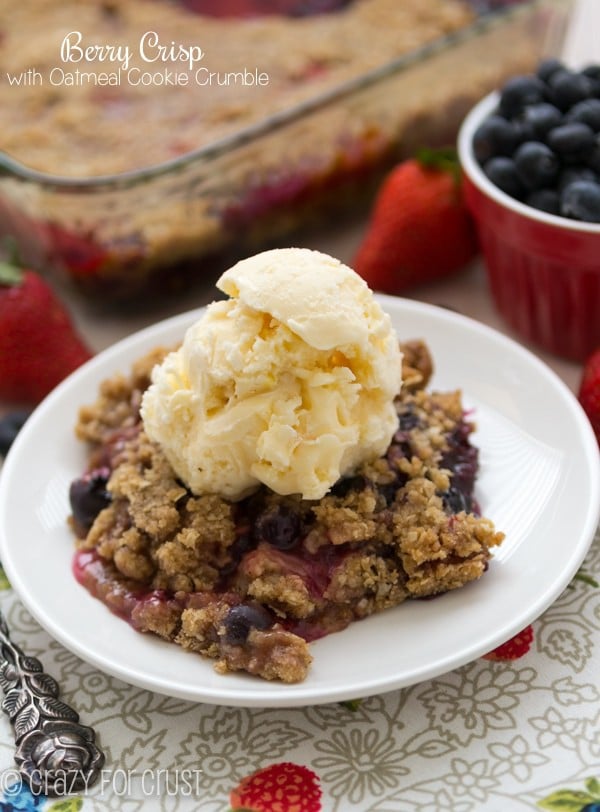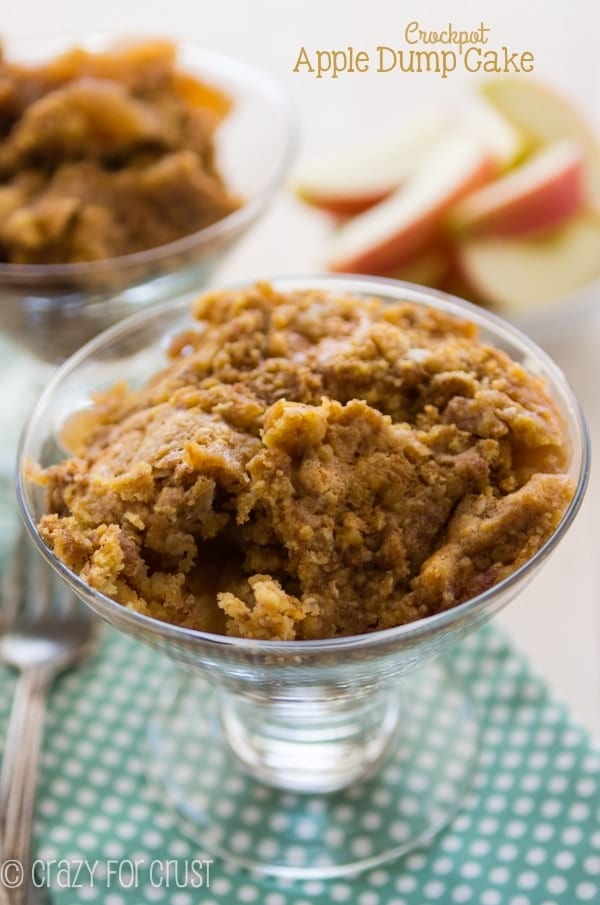 Crockpot Caramel Peanut Butter Hot Fudge Cake
This post has been sponsored by Truvia. All opinions are 100% my own.
Last Updated on September 20, 2019