This post may contain affiliate links. For more information, read my disclosure policy.
This Skinny Peanut Butter Dip is totally all-purpose. I ate it for breakfast, lunch, snack, and dessert!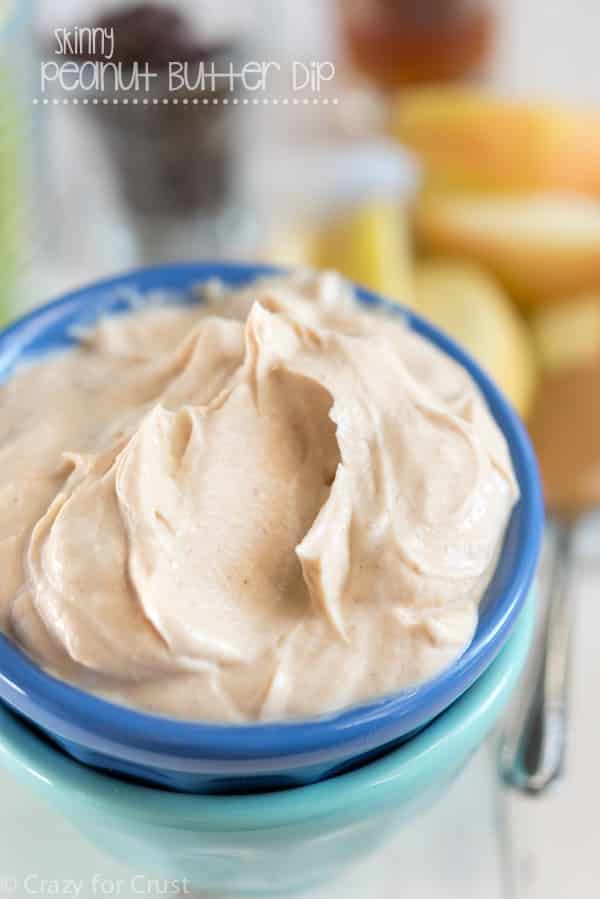 Watch me make this LIVE on Facebook!
Jordan is an early riser and always has been. If she sleeps past 6:00am, I consider it sleeping in. If that wasn't bad enough, she wants breakfast the second her eyes open, meaning that by 6:30 on most mornings she's already done with breakfast and onto the next thing. By 9am she wants a snack and by 11am she's ready for lunch. And at 11:11 when she's done scarfing down her sandwich she's already asking for a treat and I'm all "No way, it's not even noon."
This schedule, while annoying on days off, has always worked well for school. In K-3, snack recess was at 9am and lunch was served by 11:30. Last year, lunch pushed off to 11:45 but it was still okay. This year? Jordan had a panic attack on the first day: snack recess isn't until 10:30 and lunch isn't until 12:30. This means that she goes at least 4 hours between breakfast and eating again.
Cereal for breakfast and a granola bar for snack are no longer cutting it y'all. We've gotta make some changes up in here and we've gotta do them FAST because, according her Jordan, she's staaaaaaaarrrrrrving.
#firstworldproblems, for realz.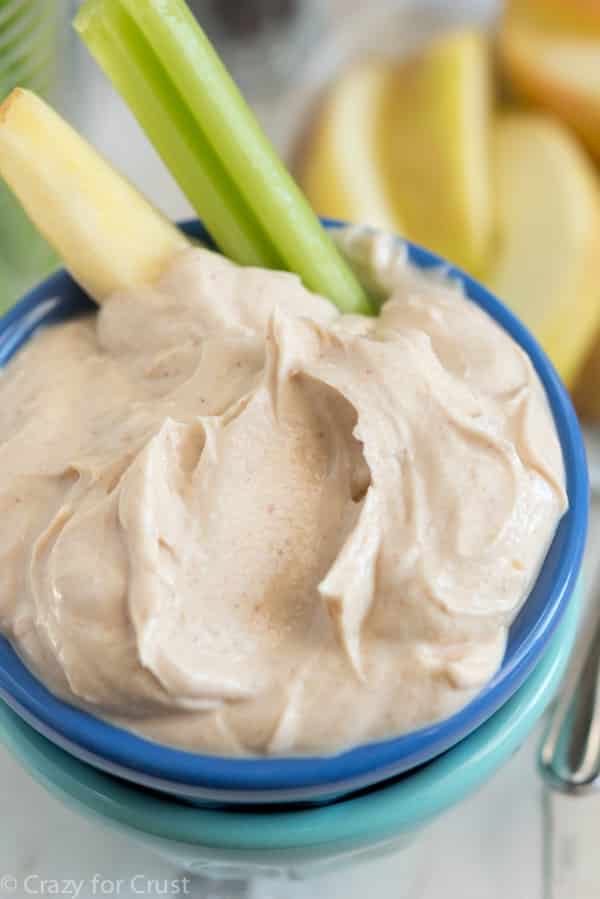 One of the ways I solved that problem? This Skinny Peanut Butter dip. It's only got three ingredients and it's full of protein. Did I mention it's only 3 ingredients? And that one of them is peanut butter? #winning
Let's keep it real here: I've made a lot of sweet dips in my time but rarely are any of them, dare I say, good for you. But here's the thing: this recipe might be a lot healthier, and it might have tons of protein and not a ton of sugar, but you wouldn't know it. It's just as addicting as this dip, only you don't have to run 10 miles to work off a few tablespoons. Plus? Your kids will like it. And it'll get them to eat the fruit in their lunchbox!
(Or is it just Jordan that uses the apples as a spoon to eat the yogurt or caramel dip and then doesn't eat the apples?)
All you need to make this recipe are three things: Greek yogurt, peanut butter, and maple syrup (or honey). That's it!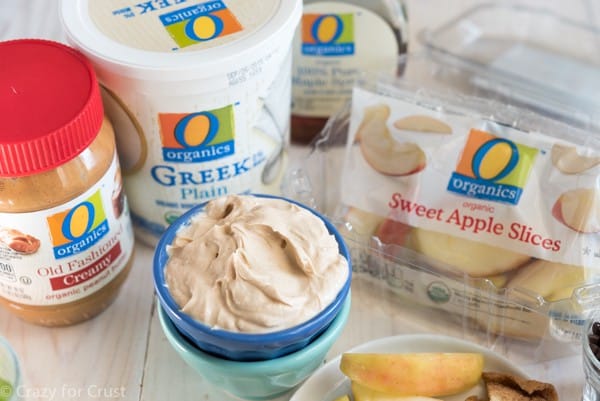 By now you guys know that I love Safeway. I shop there every week for just about everything. (Seriously, if you're not using their Just for U, you're missing out!) I love all the store brands but I especially love their organic brand, O Organics. It's an entire line of over 400 USDA certified organic products that are offered at value. As in – they're affordable.
The O Organics brand has everything you need to make this dip, and it also has everything you need to make the perfect school lunch. Peanut butter, Greek yogurt, apple slices, check! (Also, totally not a school lunch product, but I love the O Organics chicken stock!)
You can use the O Organics products to make all sorts of different school lunch recipes. If you don't do peanut butter, try their recipe for Yogurt Dipping Sauce. I plan to make Jordan some homemade fruit leather because she's always begging for the unhealthy kind when we go shopping together (there's even a DIY video for it). You can even make, you know, real food, like Turkey Pesto Pinwheels and Chicken Salad Wraps, all with O Organics.
Okay, I'll be honest. This dip only made it to Jordan once. I inhaled the rest of it.
I mean, apples, celery, and pita chips are okayyyyy…but chocolate chips and a spoon were even better. #nojudgements
I guess I could write you recipe notes for this recipe but really? It's so easy. Measure, stir, eat.
How's that for a recipe?

Actually it's quite good it's so easy, since I'll be making this ALL THE TIME. Or maybe that's bad? #thestruggleisreal
Enjoy!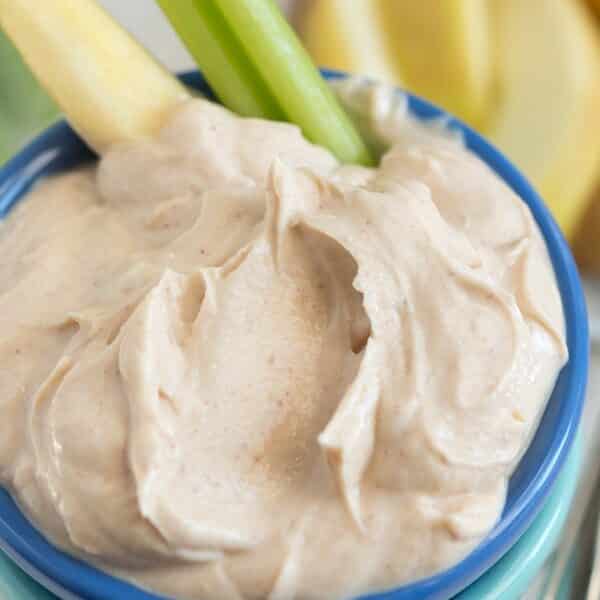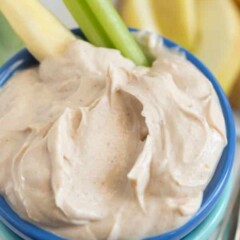 Skinny Peanut Butter Dip
This Skinny Peanut Butter Dip has only 3 ingredients!! Make it for breakfast, lunch, or an after school snack or even as a game day dip!
Ingredients
1

cup

plain nonfat Greek yogurt

3

tablespoons

creamy peanut butter

1-2

tablespoons

maple syrup or honey

to taste

Dippers

for eating (apples, celery, carrots, crackers, chocolate chips, etc.)
Instructions
Stir yogurt, peanut butter, and maple syrup or honey until no lumps remain. Serve with assorted dippers.

Store in an airtight container in refrigerator for up to 1 week.
Nutritional information not guaranteed to be accurate
Click here to see more PEANUT BUTTER recipes!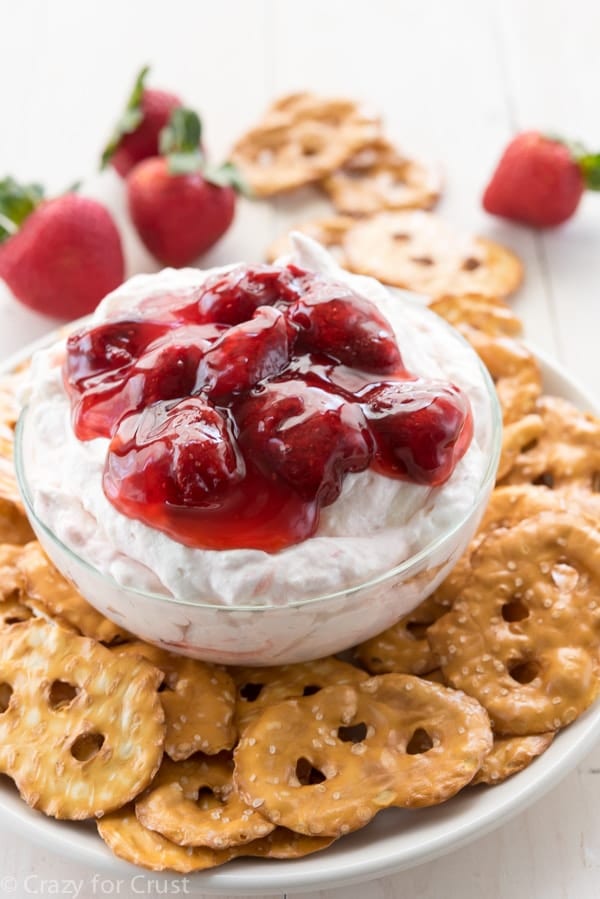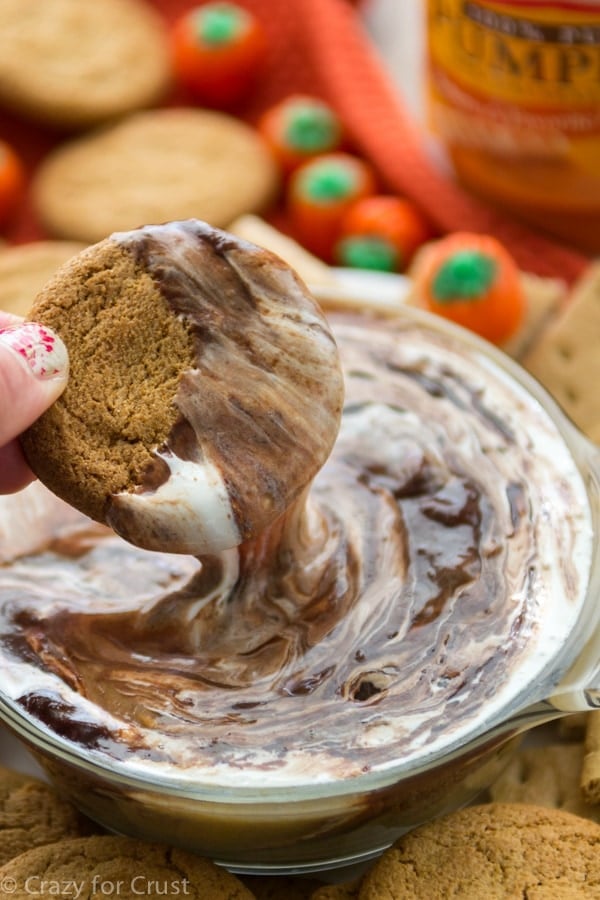 Peanut Butter Caramel Apple Dip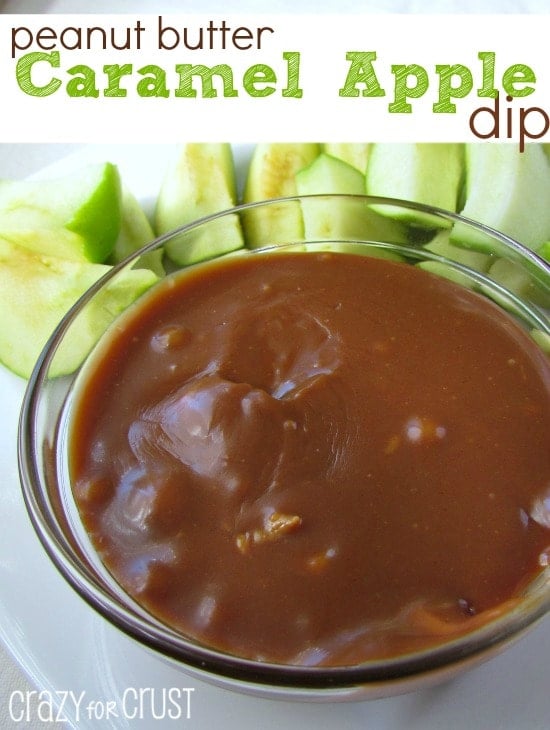 This is a sponsored conversation written by me on behalf of O Organics. The opinions and text are all mine.
Last Updated on May 13, 2019