This post may contain affiliate links. For more information, read my disclosure policy.
Looking for a healthier summer side dish? I've got one for you: a Skinny Caramel Apple Salad. I made over the original and man, is it good!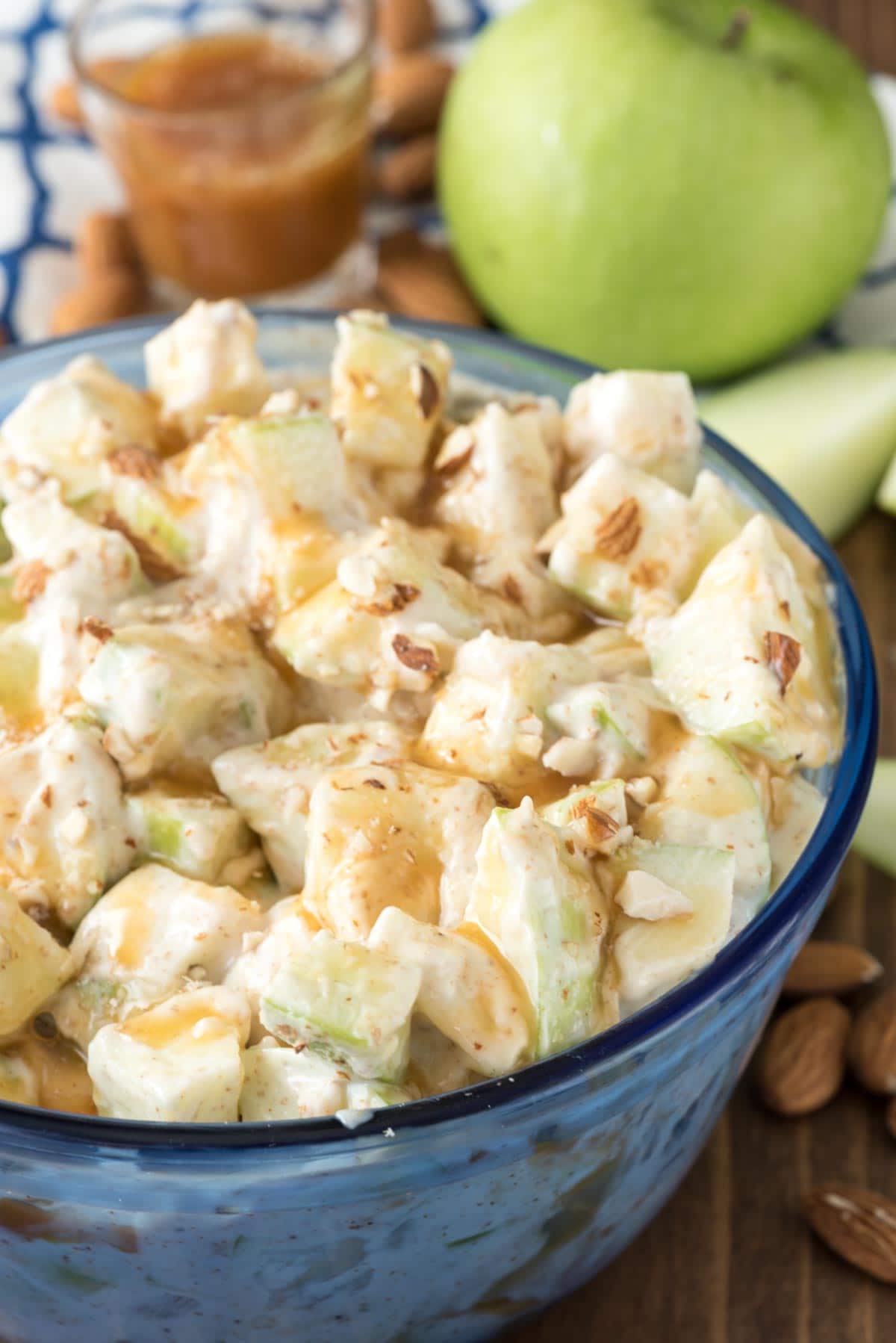 A friend of mine likes to say that "Summer bodies are made in spring." I know that's true, but then we get to summer and I'm all "oops" and then I try to get back into healthy eating. Especially after, say, 7 days of binge eating at all the bakeries in Hawaii.
So, in an effort to keep my non-bikini body swim ready (ha) I've been trying to eat a little healthier since we got home and I'm mixing up my workout routine. I'm still running, obviously, my race is in just a few months. But I've just recently discovered how much I like yoga. I've never really loved it before but I realized what I didn't like was doing it at the gym. It's way more fun doing it at home because I don't have to do a full hour…and I can be totally un-bendy and no one will notice.
I think, over the summer, Jordan and I are going to do the 30 days of yoga. It might take us 60 days, but we'll do our best! It'll be good for her too, that girl is full of anxiety. She takes after her mother.
(In case you're looking for a good YouTube yoga channel, I'm loving Yoga with Adriene. Her heavy breathing makes me remember to, well, breathe.)
To go along with my new exercise regimen, I've starting looking forward to the 4th of July. Did you know that people actually like having healthy food at parties? Who knew! I was having a conversation with a friend recently about it and I realized that people don't want to just eat guacamole and cake at a BBQ. This SKINNY Caramel Apple Salad may be making an appearance at our July 4 party in a few weeks. It's a made-over version of a caramel apple salad: less fat, less sugar, and it's got way more protein!
But you'd never know it by tasting it…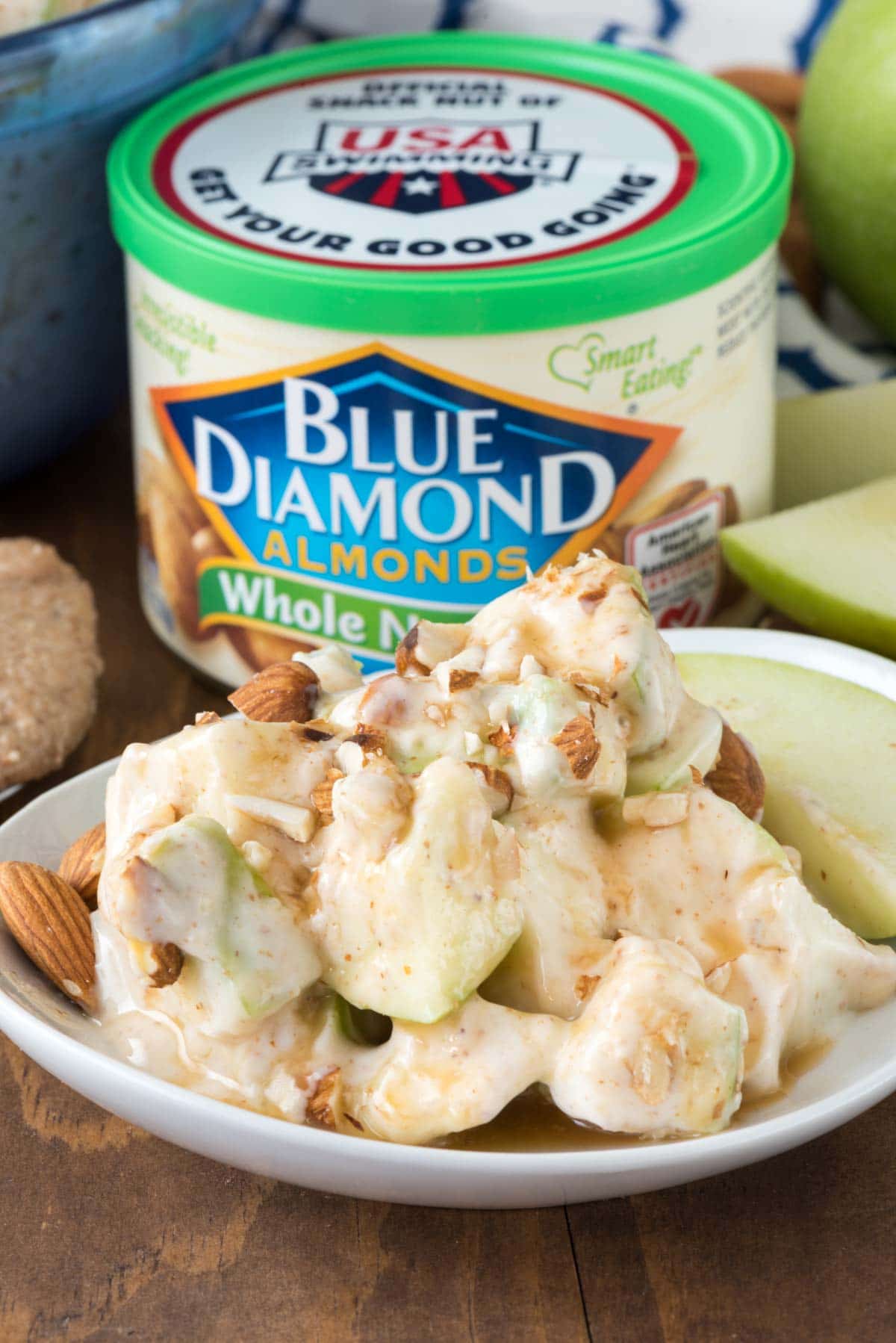 The traditional Caramel Apple Salad (often made with Snickers) is full of Cool Whip and pudding and candy and sometimes marshmallow fluff. It's not a low-calorie dessert, that's for sure, so I decided to make it over into something you can eat more of. More = better. Plus, it has more protein, which I always need. And at a party, when Jordan's been swimming all day, she gets famished and more protein is always a good thing.
This recipe has just a few ingredients: almonds, apples, caramel and…greek yogurt. Yep, you read that right. I took out the whipped topping and fluff and used greek yogurt!
To give the salad a little more flavor and a little extra crunch, I used Blue Diamond Almonds in two ways. First, I made them into an almond butter that's mixed with the greek yogurt. It's easy to make your own almond butter using a food processor or a powerful blender. Then I added some more chopped almonds into the salad for some extra crunch.
Did you know that Blue Diamond made Whole Natural Almonds? I didn't, but I'm glad I do now. I always like their flavors but sometimes you just want a plain almond. When I've been working out or Jordan's been swimming, we love almonds for snacks, so adding them to this salad was a no brainer. They're great fuel, which is probably why they've partnered with the USA Swimming Team.
This salad is a no brainer…especially because it'll get me to eat salad more. 🙂

What healthy dishes do you serve at parties? I need ideas!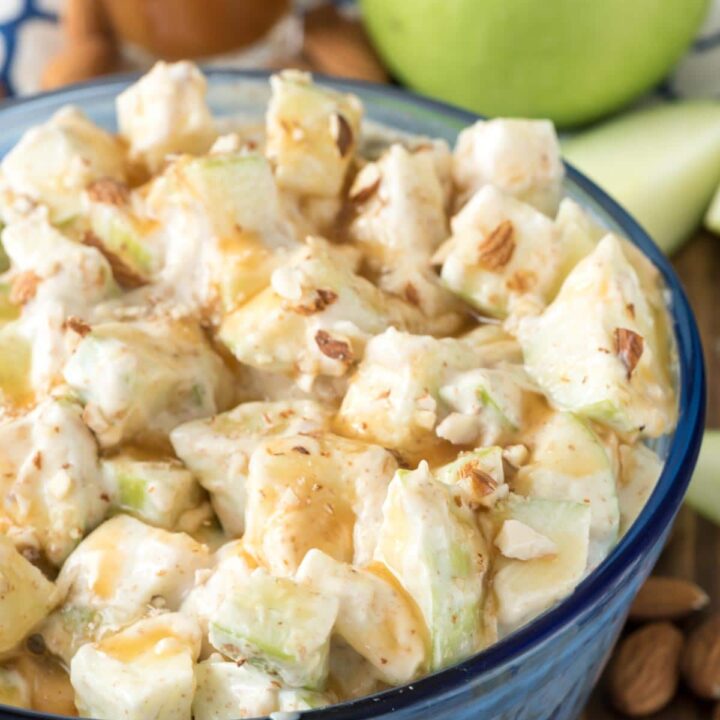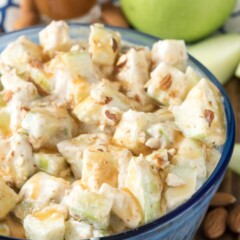 Skinny Caramel Apple Salad
This Skinny Caramel Apple Salad recipe is a healthier version of an apple salad! Greek yogurt and almond butter make this a great skinny party dish!
Ingredients
1

cup

Whole Natural Blue Diamond Almonds

whole

1

cup

nonfat plain greek yogurt

2-4

tablespoons

caramel ice cream topping

use sugar free, if desired

3-4

medium apples

use your favorite; I used Granny Smith

1/3

cup

chopped Whole Natural Blue Diamond Almonds
Instructions
Place the 1 cup of almonds in a food processor or powerful blender and run until almond butter forms. You may need to stop the machine and stir it/give it a rest part way through, and you may need to add up to 2 teaspoons of vegetable oil to help it come together. Time varies depending on how powerful your machine is.

Stir together yogurt and 1/4 cup of the homemade almond butter. Add caramel sauce to taste.

Chop and core the apples into bite-sized chunks. Stir into the yogurt mixture. How many apples you use depends on how creamy vs. chunky you want the salad to be. Stir in the remaining 1/3 cup chopped almonds. Drizzle with caramel sauce before serving. Store in refrigerator, best served the day it's made.
Nutritional information not guaranteed to be accurate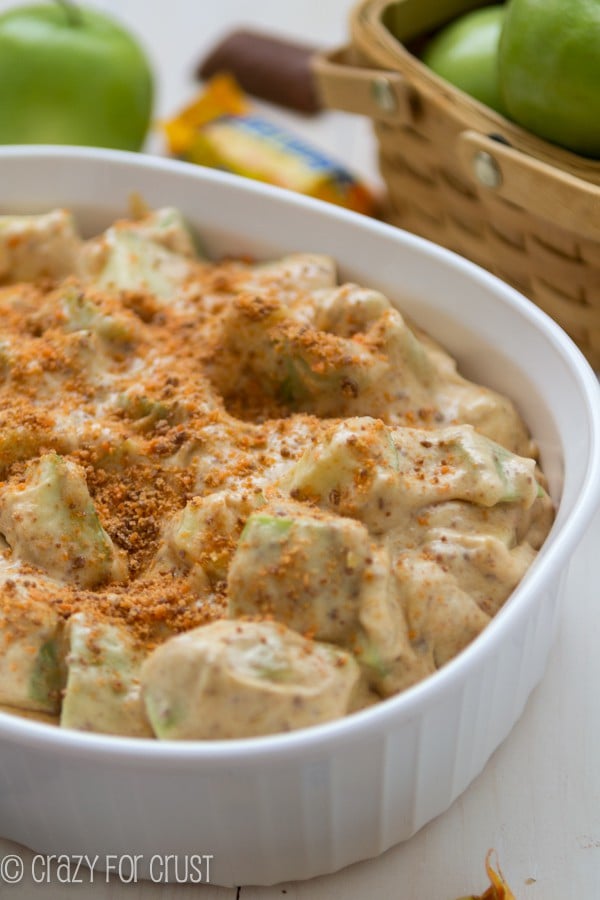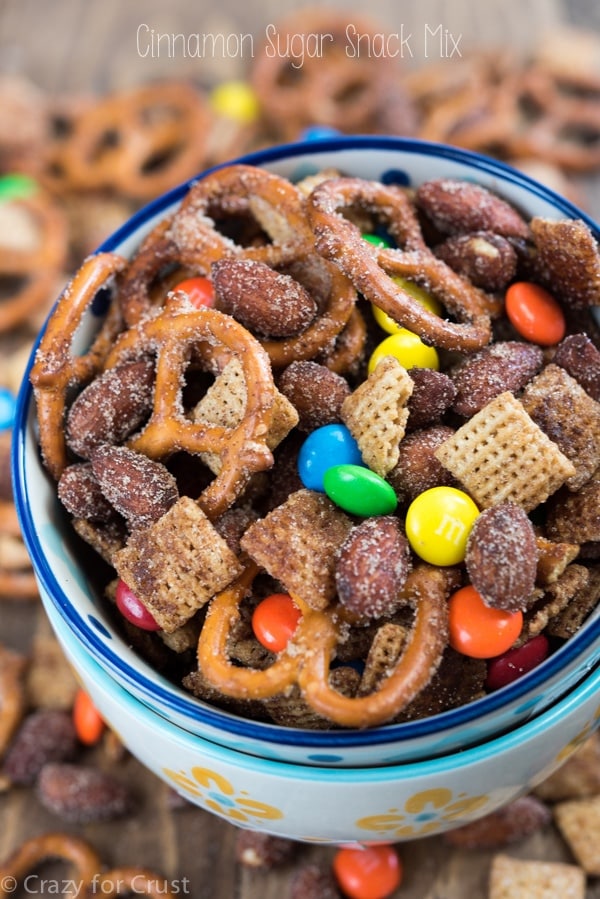 Skinny Oreo Cheesecake Dessert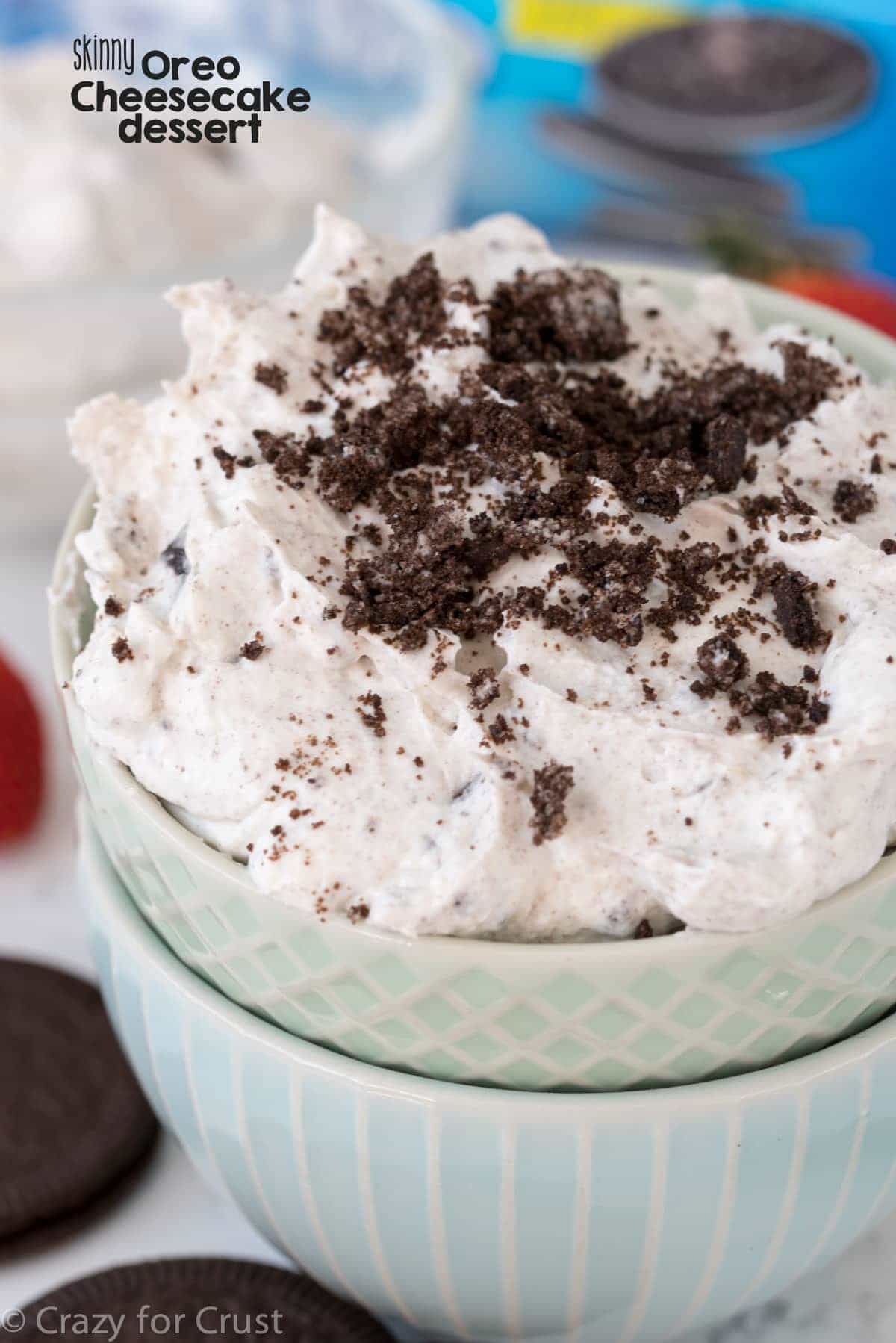 This post is sponsored by Blue Diamond Almonds. Blue Diamond Almonds understand what it takes to be the best. That's why we're proud to be an official sponsor of USA Swimming. Visit www.LaneToGreatness.com for a chance to win $5,000 to fuel your dreams of greatness (whatever they may be), get Blue Diamond Almonds coupons and recipes, and more!
Last Updated on May 20, 2022