This post may contain affiliate links. For more information, read my disclosure policy.
Move over boring vanilla milkshake, this Skinny Berry Pie Milkshake is in town!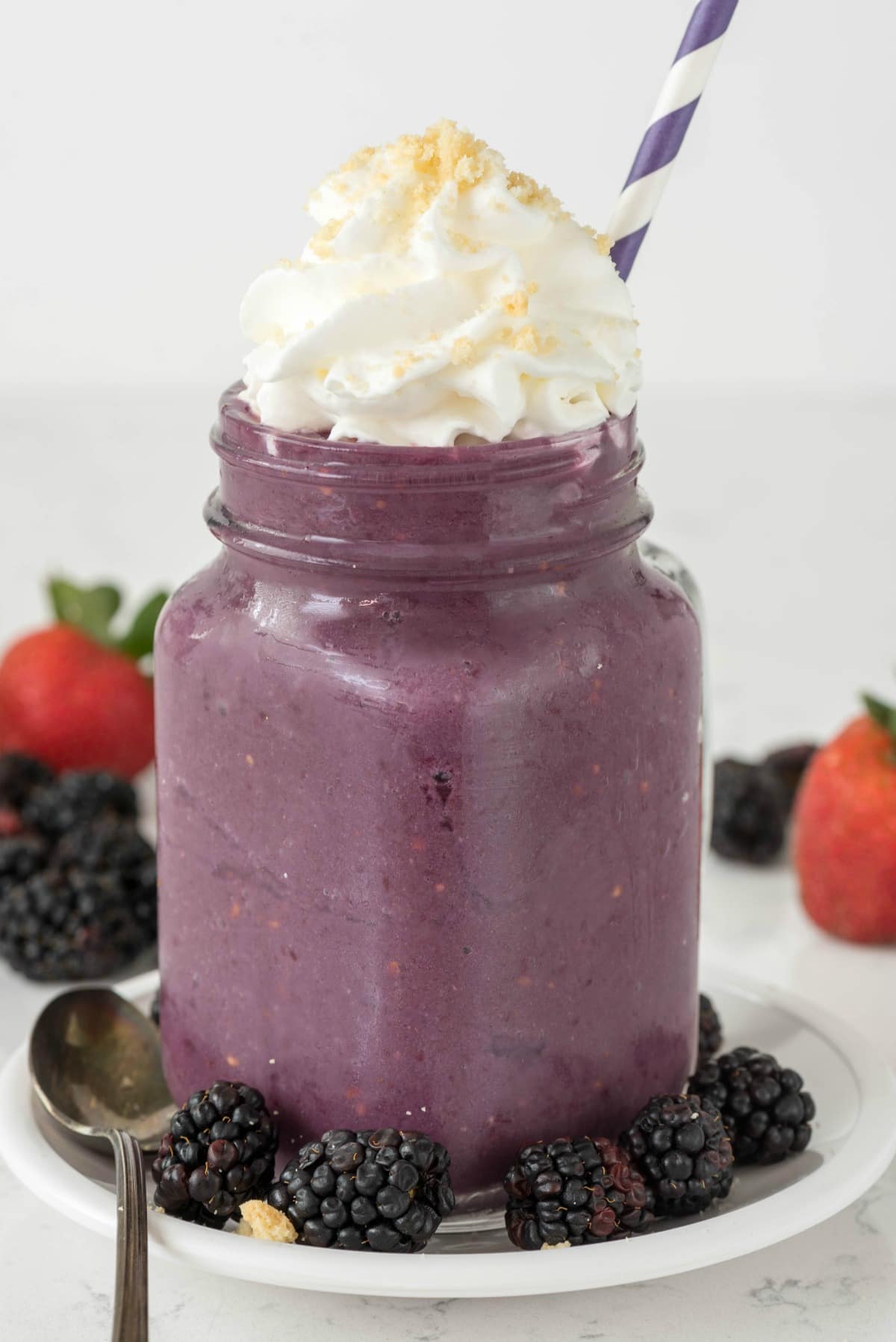 There's this little burger shack near where I live that is known for it's milkshakes. I've never had their burgers or fries (although they look amazing) because I can never get past the wall of milkshake recipes. I'm not exaggerating: the milkshake menu takes up an entire wall of the restaurant. There are hundreds to choose from and it's so overwhelming I end up just stammering out "Peanut Butter!" to the server since the line never lasts long enough for me to read all the choices.
Jordan and I set a goal for the summer: to try every single yogurt shop in our area and rate them on a scale of 1 to 5 ice cream cones. The more I think about it, the more I want to change our challenge to trying every single shake at Taylor's…but then I'd probably gain 500 pounds.
In the meantime, I'm making milkshakes at home. It's easy and I can make any flavor I want…which includes pie, because, obviously. (In fact, whenever I do go to Taylor's or DQ, I always get something with pie in the name. It really is my favorite!)
THIS milkshake won't break the calorie bank, however. You can drink the entire thing and not feel sick after…and your swimsuit will still fit. It's a SKINNY Berry Pie Milkshake!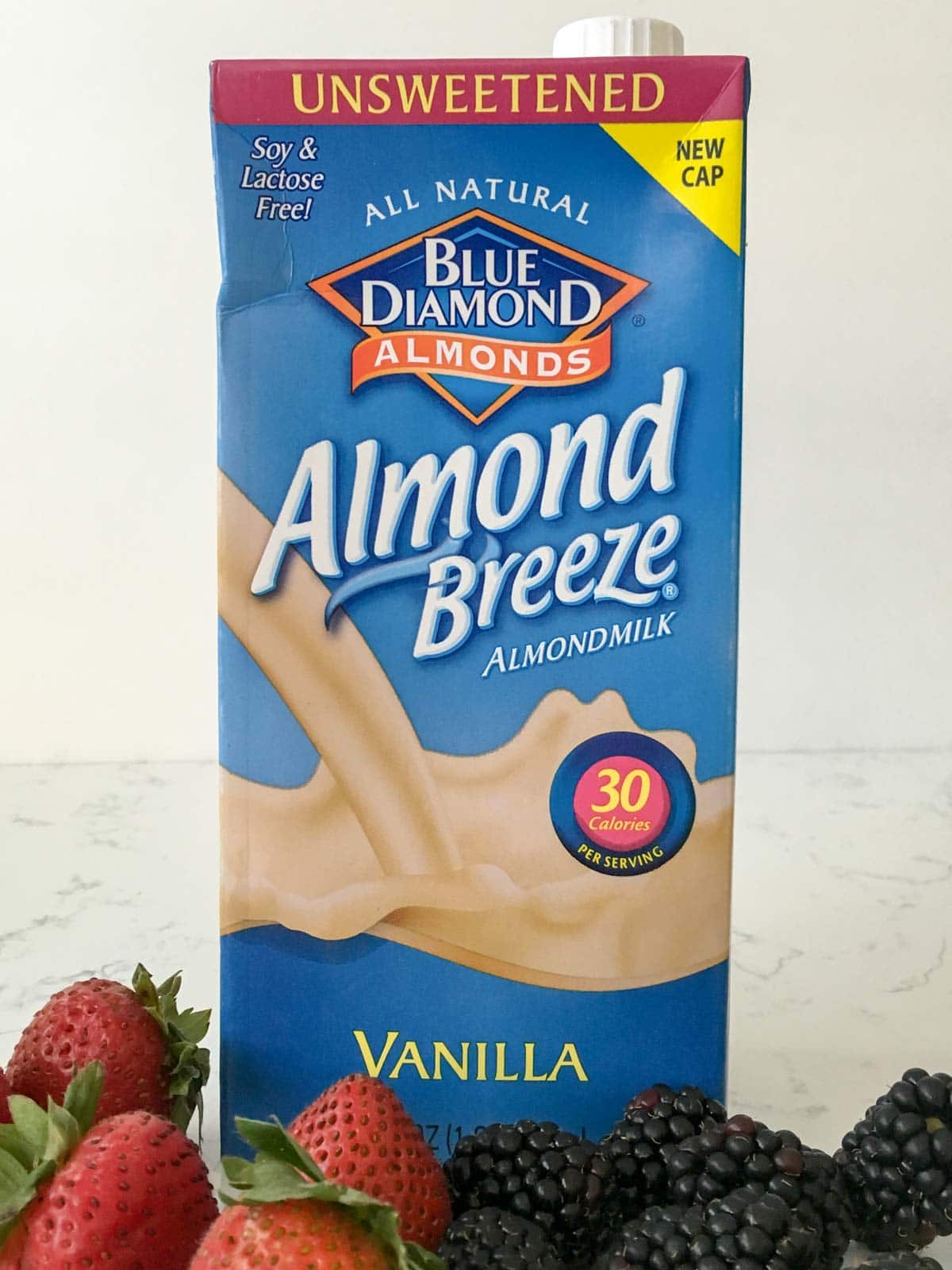 So now you're like, holdup. How did you make a milkshake taste like pie but also make it healthier? Well, a few ways.
First, I use Almond Breeze Unsweetened Vanilla Almond Milk instead of regular milk. It's got less calories (and fat) than whole milk. Plus it's non-dairy, which I'm trying to do more and more. The vanilla adds another touch of flavor too.
But, you say, that's great. Isn't a milkshake full of ice cream? Not this one, no. This one has a secret ingredient: frozen bananas.
You know that, if you blend up frozen banana, it turns into soft-serve ice cream, right? It's kind of a mind blowing tip, once you learn it. For this milkshake, I got rid of the ice cream and used a frozen banana for texture and sweetness. Sure, you taste it a little, but the berry flavor is dominant, I promise.
It's a berry pie milkshake, so berries are a must. I used frozen blackberries, but you can use any berries you like: blackberries, raspberries, blueberries, strawberries, or a combination. This time of year, in California, berries are super cheap and I always overbuy and then freeze extra before they rot. You can use pre-frozen, if fresh fruit isn't in abundance where you live.
At this point, once you blend, your milkshake is done. It's not overly sweet, so if you want a more traditional sweet milkshake, add some sweetener of choice: a tablespoon or two of honey or agave, or some Splenda or Truvia.
Top it with whipped cream and some crumbled cookies (crust, duh!) and you've got yourself a berry pie milkshake to share…or drink all on your own. It's skinny, you can hoard it for yourself!

A note on blending: There is a lot of frozen fruit in this milkshake. I use a Blendtec blender, which is very powerful and can handle it with less liquid. Even with that, I stopped and stirred the contents partway through blending. If you're using a less powerful blender, be sure to add the liquid first and pay attention to make sure you don't burn it out – you may need to use more liquid than I noted in the recipe.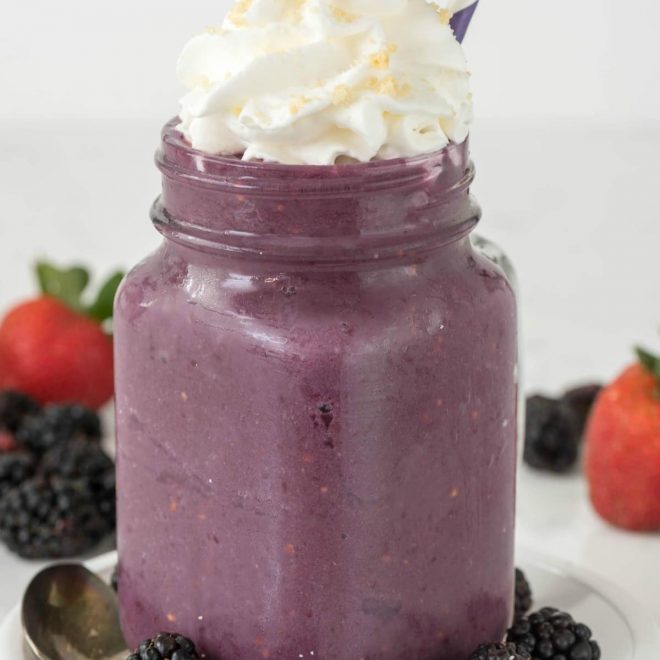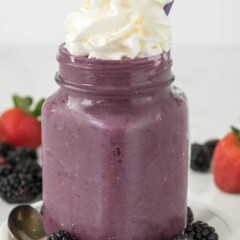 Skinny Berry Pie Milkshake
Skinny Berry Pie Milkshake - an easy healthier milkshake recipe that tastes like berry pie! Berries, banana, and almond milk make the best frozen treat!
Ingredients
1 1/2 - 2

cups

Almond Breeze Unsweetened Vanilla AlmondMilk

1

medium banana

sliced and frozen (about 1 cup)

3/4

cup

frozen berries

blackberries, blueberries, strawberries, or a combination

1-2

tablespoons

of honey or agave syrup

or 1-2 packets of sweetener, to taste (optional)

Whipped cream and cookie crumbles

for garnish
Instructions
Place 1 1/2 cups almond milk, banana, and berries into a blender. Blend until smooth. You may need to add more milk and/or stir the mixture partway through blending. All blenders are different and have different power, so the amount of milk needed is dependent on blender strength and your milkshake texture preference. Add even more than 2 cups if needed.

Taste the milkshake and add sweetener as desired. Alone it's not very sweet, so if you want it more ice cream tasting, use sweetener or honey.

Serve with whipped cream and crumbled shortbread cookies (for the crust). Makes one large or 2 small servings.
Nutritional information not guaranteed to be accurate
Click here to see more DRINK recipes!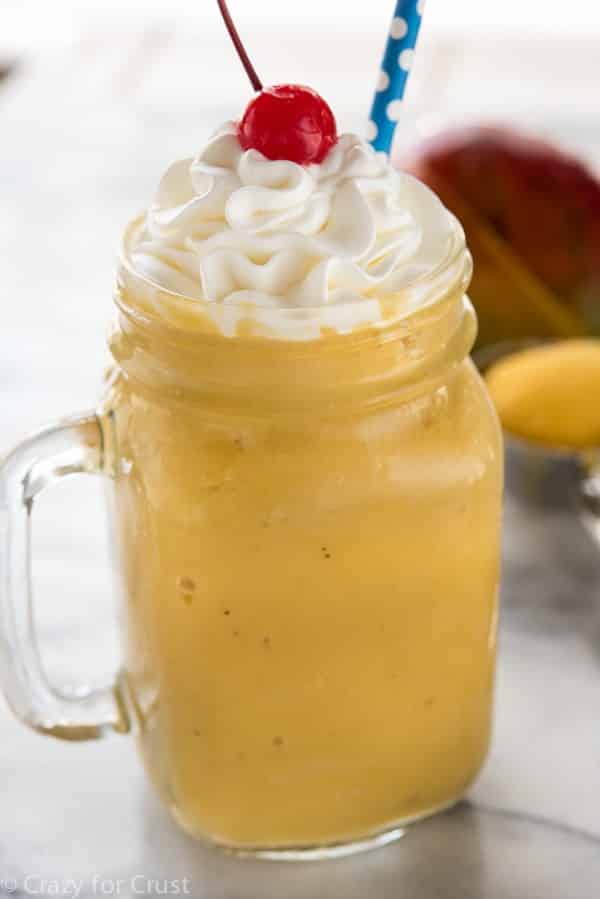 Skinny Banana Cream Pie Milkshake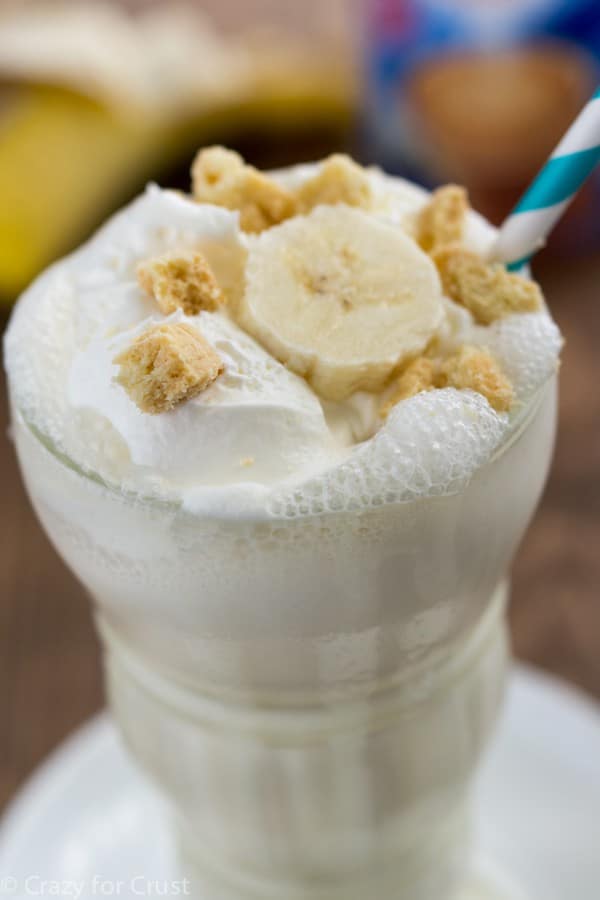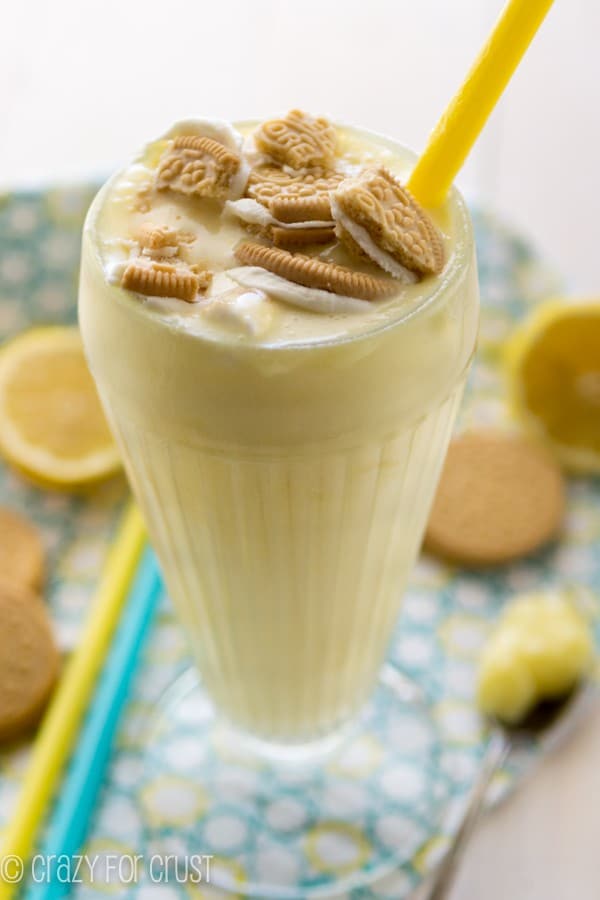 This post has been sponsored by Almond Breeze. All opinions are 100% my own.
Last Updated on February 26, 2022