This post may contain affiliate links. For more information, read my disclosure policy.
It's summer, which means it's approximately 1 billion degrees here in Sacramento. This kind of heat makes me want all things cold: ice cream, frozen treats, popsicles, and milkshakes!
This Lemon Pie Milkshake has been on my to-do list for awhile, so when the thermometer hit 108 last week, I decided to finally make it.
Nothing beats a hot day like a milkshake!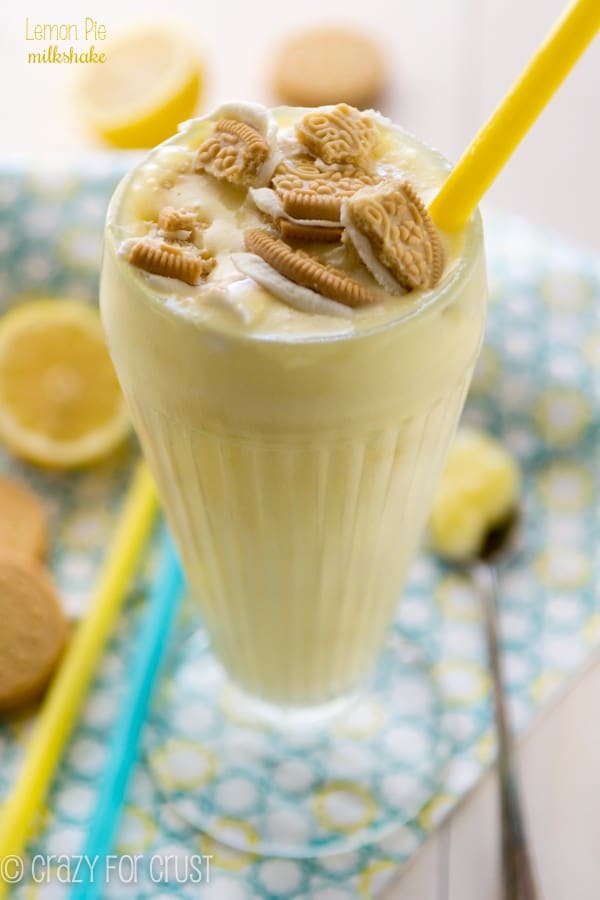 There's this place one town over from me that is known for it's milkshakes. There menu takes up an entire wall of the restaurant, I'm not kidding. It's the sort of place where you go intending to get a new flavor but then get so flustered with the size of the menu that you just end up ordering the same thing over and over.
My trainer told me he has a photo of the menu wall, so he can look it over at his own pace. I don't know what surprised me more: that my trainer is as anal as I am, or that he actually drinks milkshakes.
Anyway.
I love turning pie into other things, obviously. After my trip to Florida, I was all set to make a Key Lime Pie milkshake, but Sally beat me to it. That's when I remembered how good this pie was. Please pardon the photos. 3 years makes a huge difference.
Anyway, that pie was my first bite of lemon addiction love. After that I couldn't get enough, which is why my lemon category is so freaking huge. I figured, why not make a lemon pie milkshake?
Sometimes I'm so smart, it hurts.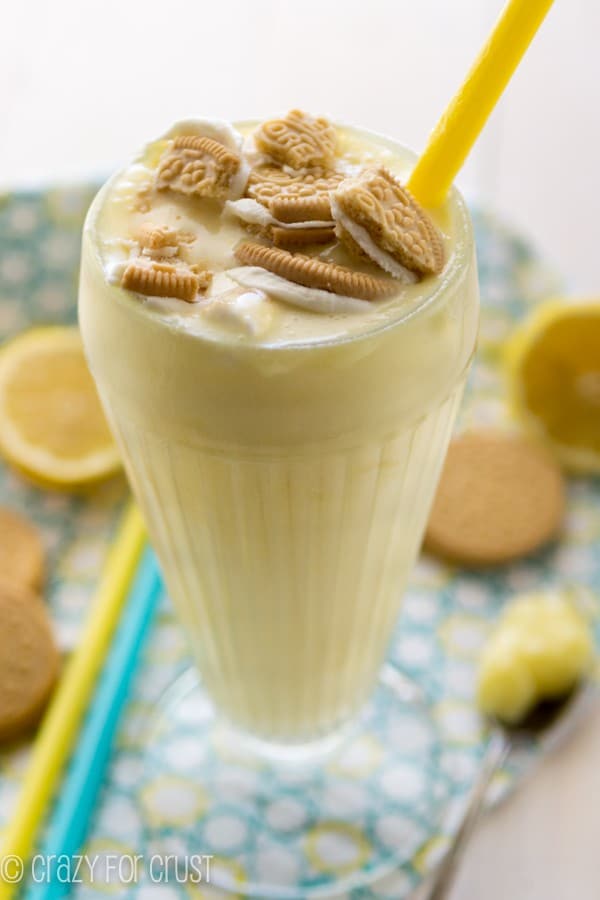 This milkshake couldn't be easier to make (if you're not photographing it, that is). I almost instagramed a photo of the mess I made but stopped myself. You're all probably tired of my messy kitchen photos. Plus, it was only messy because ice cream + hot day + photo shoot just spells disaster from the get go.
You won't have that problem.
Milk and ice cream are the two staples in a milkshake recipe. I used vanilla frozen yogurt (Dreyer's brand, use your favorite) as my base, but you could use regular vanilla ice cream, or even low-fat. I used 2% milk because I had some on hand, but nonfat would be fine too.
The lemon flavor is twofold in this milkshake. I used instant lemon pudding mix to give it that rich lemon flavor. You add a few tablespoons of the powdered mix to the blender. You'll have some of the box left over, but that's okay. That way you can make more milkshakes later.
The second punch of lemon comes from lemon curd. I just love that stuff and can eat it with a spoon. I swirled some into the shake after mixing, but you can add it to the blender or omit it if you don't have it on hand. And if you do buy a jar, just hide it in your refrigerator. You've been warned! 😉
A lemon pie milkshake wouldn't be a "lemon pie" without a crust, so I used my favorite cookie to pair with lemon: Golden Oreos. I just crumbled a few on top for garnish. You can use your favorite cookie: graham crackers, Nilla Wafers, or shortbread cookies would also work with the lemon flavor.
This milkshake is like a pie in a glass. Sweet and tart and perfectly lemony, it'll cool you off on a hot day.
Plus, it's cheaper than A/C. Although if it stays this hot, I might sit on the A/C vent while drinking three of these.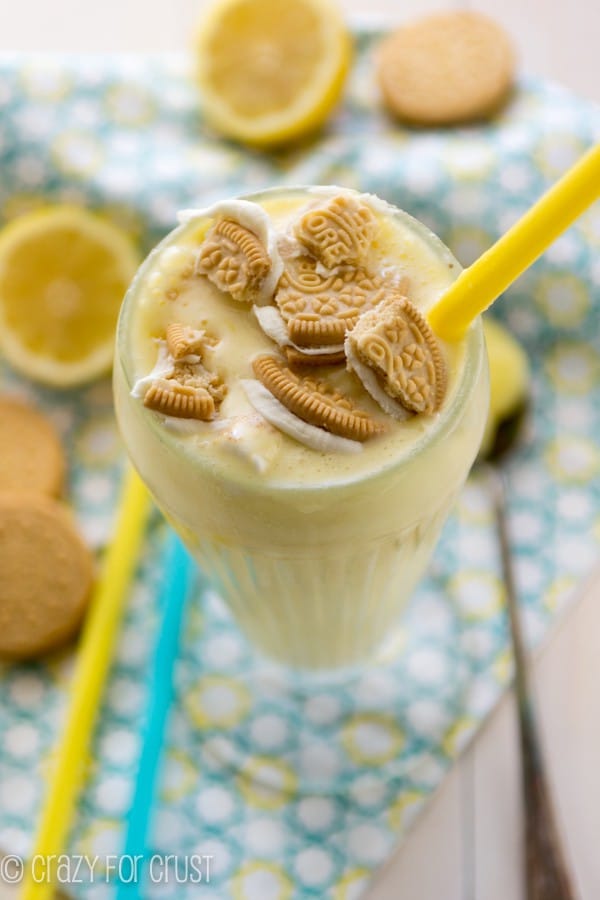 Enjoy!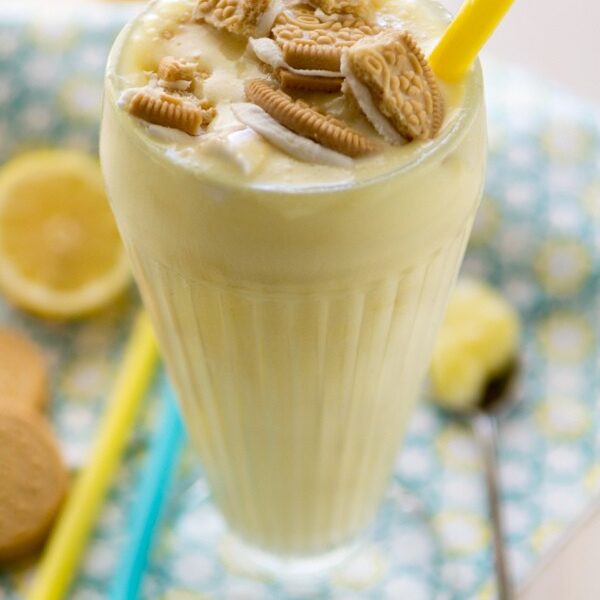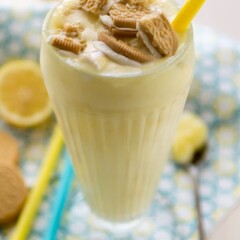 Lemon Pie Milkshake
Like a no-bake lemon pie...in milkshake form! Lemon pudding mix and curd give this milkshake a rich lemon flavor. Top it with your favorite cookies to make a crust!
Ingredients
1 1/2

cups

vanilla ice cream

or vanilla frozen yogurt

3

tablespoons

instant lemon pudding mix

see note

1/2

cup

milk

regular, low-fat, or non-fat

1/4

cup

lemon curd

see note

Golden Oreos

Nilla Wafers, or graham crackers for topping
Instructions
Place ice cream, pudding mix, and milk in a blender and blend until smooth. Pour into serving glasse(s).

Swirl in lemon curd and top with broken cookies.
Nutritional information not guaranteed to be accurate
Click here to see the complete list of Lemon Recipes!
Click here to see more DRINK recipes!
This milkshake is part of Milkshake Week hosted by The Little Kitchen and Love and Olive Oil! Check out all the other fabulous milkshakes:
Peanut Butter and Brownie Milkshakes from The Little Kitchen
Bourbon Salted Caramel Milkshakes from Love & Olive Oil
Milkshakes of Desperation from Bake at 350
Roasted Pineapple Coconut Vegan Milkshake from Cafe Johnsonia
Pudding Pop Milkshake from Confessions of a Cookbook Queen
Lemon Pie Milkshake from Crazy for Crust
Peanut Butter Pretzel Milkshake from Cookies and Cups
Vanilla Chai Milkshake from Kitchen Treaty
Cheesecake Milkshake from Cook the Story
Cherry-Cola Milkshake from Boulder Locavore
Peanut Butter-Caramel Milkshake from Miss in the Kitchen
{2 Ingredient} Coffee Milkshake from Barefeet In The Kitchen
Biscoff Cookie Milkshake from Katie's Cucina
Turtle Pecan Milkshake from Dairy Good Life
Chocolate Root Beer Float Milkshake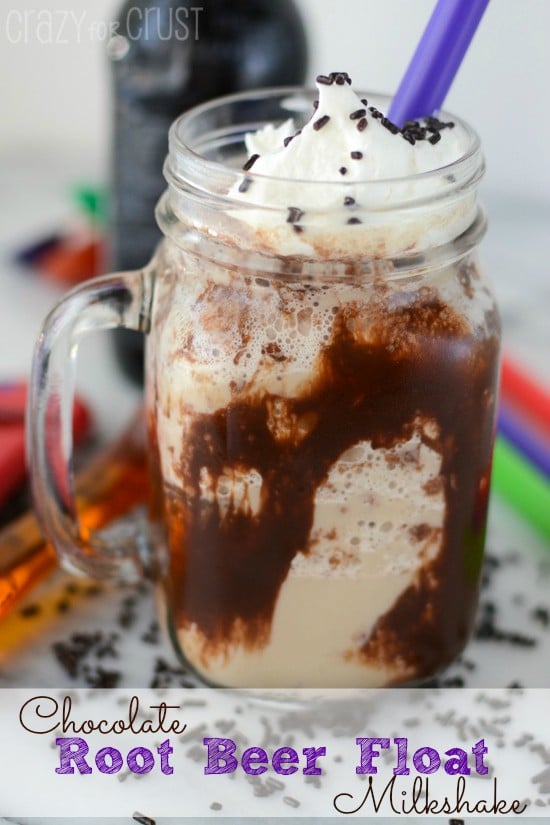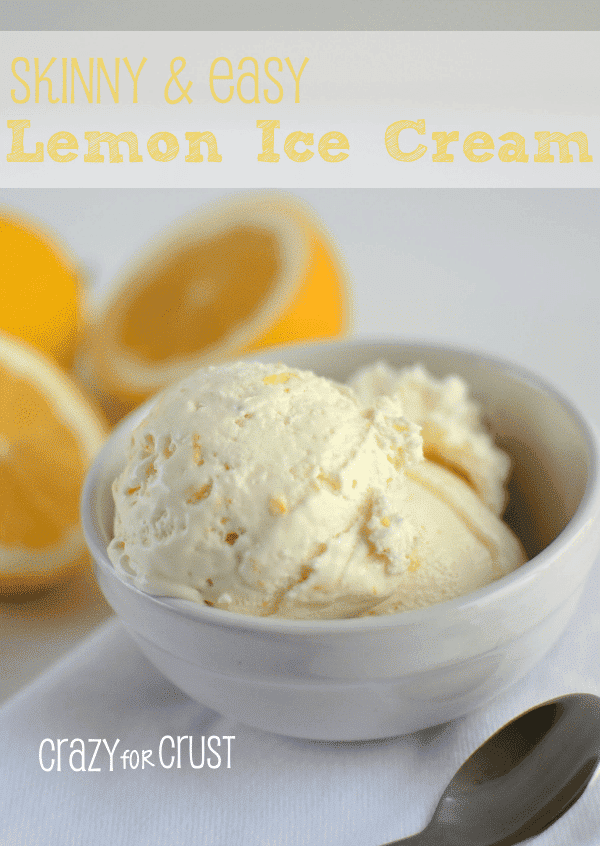 Coconut Macaroon Cake Batter Shake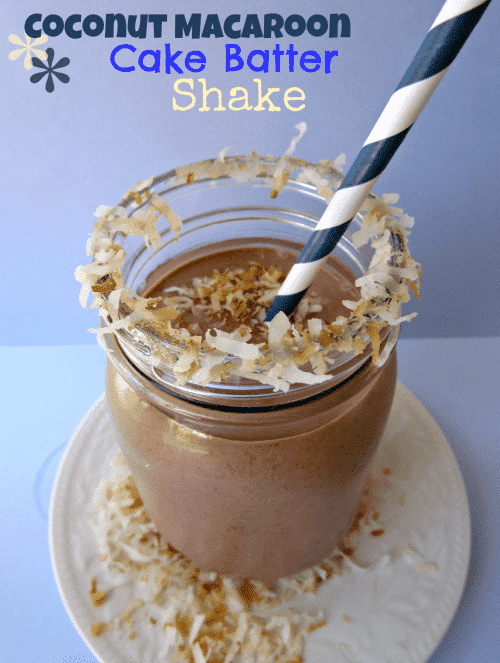 Sweets from friends:
Skinny Reese's Cup Milkshake by Something Swanky
Coffee & Donuts Milkshakes by Heather's French Press
Bourbon Pecan Pie Milkhsake by Buns in My Oven
Last Updated on August 21, 2018