This post may contain affiliate links. For more information, read my disclosure policy.
Mini Pecan Pies are the perfect bite size pie recipe! Mini pies are great for smaller gatherings, holiday platters, or just because you love pecan pie. Plus: I'm showing you how to make TWO sizes!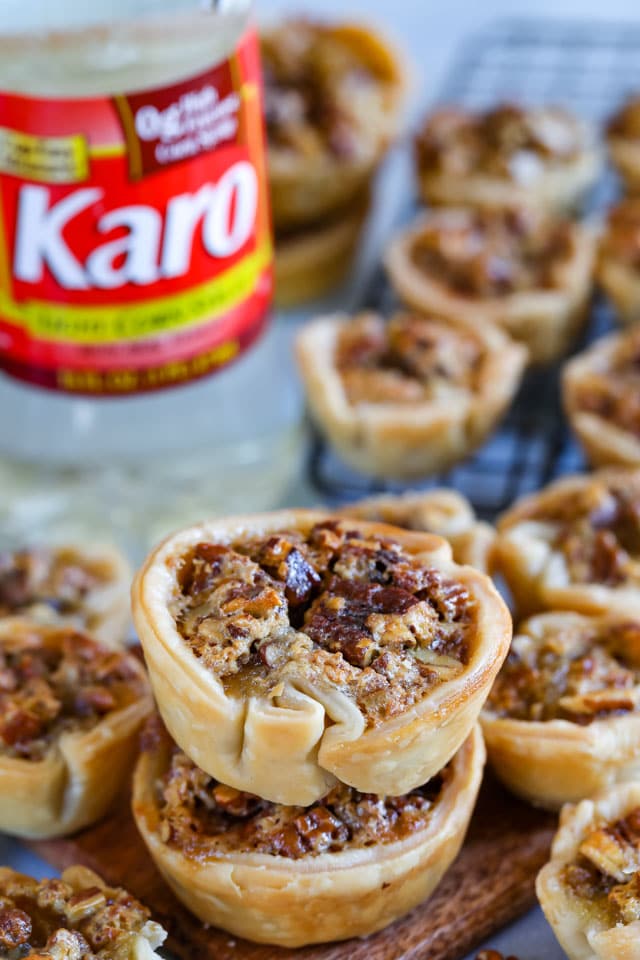 EASY Mini Pecan Pies Recipe
Pecan Pie is THE dessert we love to make for Thanksgiving. My mom's recipe, one we've been making my whole life, came from the side of the Karo Corn Syrup bottle. We look forward to her pie every year!
There's nothing like biting into a gooey sweet pecan pie and remembering every Thanksgiving and Christmas celebration from years past. And pecan pie isn't just for the holidays; my daughter loves it so much it's been her birthday cake for the last several years.
I love turning this classic pie into Mini Pecan Pies for a few reasons:
Bite size pies are great for parties so guests can sample lots of little things.
If you're having a smaller celebration this year, Mini Pies are perfect because you can freeze leftovers.
We love including the mini muffin size pies on holiday platters!
Individual Pecan Pies Recipe Video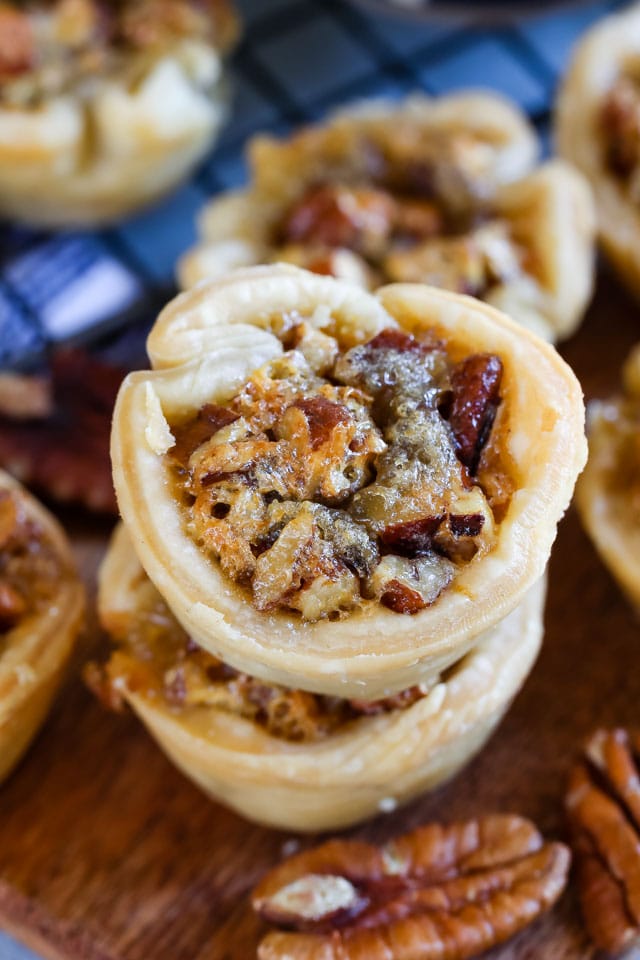 Make Two Sizes of Mini Pies
When I was deciding to share this recipe with you, I couldn't decide what size to make my little pies, so I made both:
Mini Pecan Pies made in a mini muffin tin
Small Pecan Pies made in a cupcake pan
They both have the same recipe and same process, you just have to use a different size cookie cutter and one bakes longer.
Classic Pecan Pie Recipe Ingredients
I think that this recipe is one of the most famous ones in history: the one from the side of the Karo Corn Syrup bottle.
(This post was originally sponsored by Karo® Corn Syrup in 2020, whose traditional pecan pie recipe is a classic – and perfect for making mini pies.)
Karo Corn Syrup is a mildly sweet syrup that's derived from corn starch. The function of it in recipes is to provide sweetness and moisture. (It can also make your chocolate chip cookies chewier!)
In pecan pie, Karo is there for sweetness, but it also creates a smooth texture and acts as a binder for the filling. Read more about the benefits of Karo Corn Syrup.
You can learn more about Karo Corn Syrup in this post.
You only need a few ingredients to make Mini Pecan Pies:
Two pie crusts: Homemade or store bought works fine
Sugar: I use granulated sugar for this recipe
Karo Light (or Dark) Corn Syrup
Eggs: Use large eggs
Melted Butter: I used unsalted butter
Vanilla: For flavor
Pecans: Chop them small for best results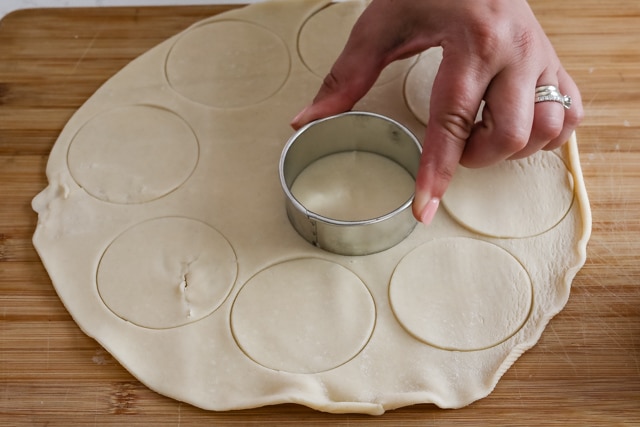 Preparing the Pie Crust
For mini pies, you need two pie crusts. I usually use a refrigerated pack of two from the grocery store, but you can make a double recipe of my all butter pie crust if you want mini pecan pies from scratch.
Unroll the pie crusts and use a round cookie cutter to cut circles of dough. You can also use a glass or mason jar lid, or anything that's the correct size.
Mini muffin pan pies: about 2-inches diameter (about 24-28)
Cupcake pan pies: about 3-inches in diameter (about 12-14)
Cut out circles, re-rolling the dough as needed, until you've used all the pie crust.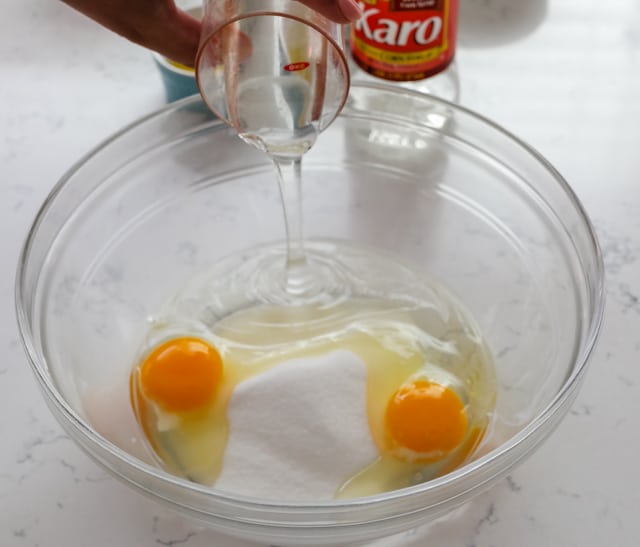 How to make mini pecan pies
Pecan Pie is the easiest pie to make – ever! All you do is whisk all your ingredients together in a large bowl.
Growing up, we always used Karo Dark Corn Syrup, but today I'm using Light. You can use either.
TIP: spray your measuring cup with nonstick cooking spray before measuring out your Karo and the corn syrup will pour right out!
Simply whisk together the ingredients, then prepare the pecans.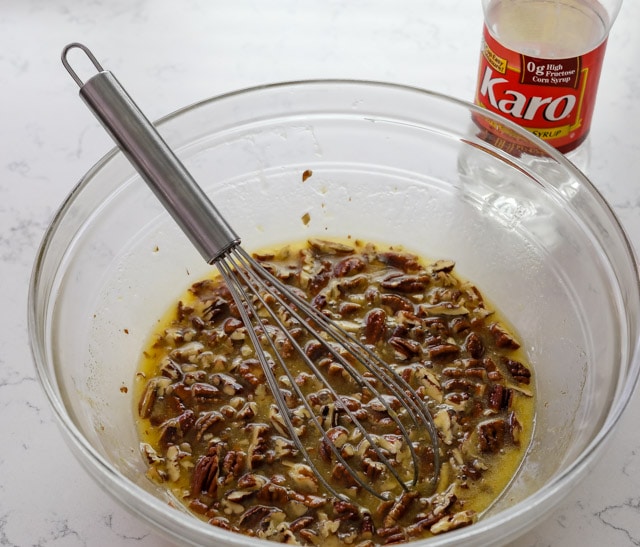 Use Chopped Pecans for Mini Pies
When I make traditional pecan pie, I leave the pecan halves whole. But when you're making a mini pie, you want them chopped because the surface area of the top of the pies are so small.
Give the pecans a rough chop before adding them to the filling mixture.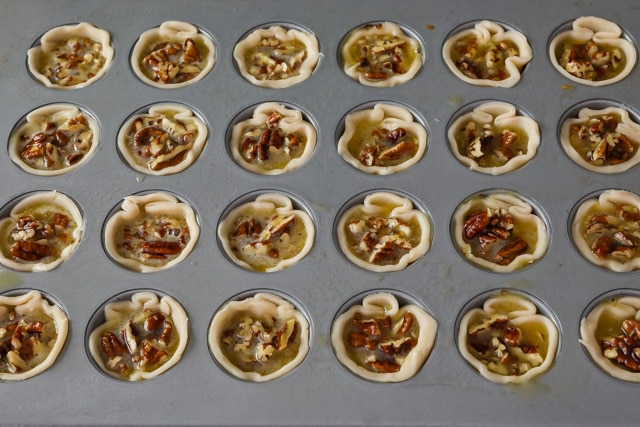 Preparing your pans
The hardest thing about making a bite sized pecan pie is making sure you're able to remove them after they are baked. For this reason, there are two very important things to do when you're preparing your pans:
Grease the pans with nonstick cooking spray that has flour in it OR grease the pans with butter or shortening.
Don't overfill the pies!
You simply press each pie crust round in the muffin or cupcake tin, then fill with a bit of filling (about 1 tablespoon for mini muffin size or 2 tablespoons for cupcake size).
Then you bake and cool the pies before removing from the pan.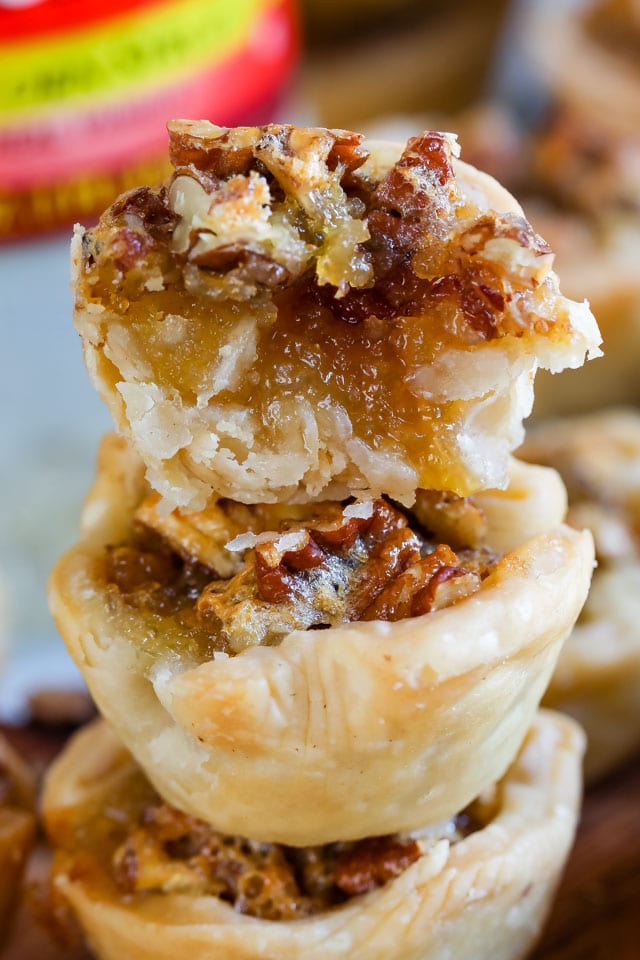 Using Karo Syrup in pecan pie ensures a gooey center – no matter the size of the pie.
The center is my favorite part of a pecan pie: it's gooey and sweet and pairs perfectly with the crunch from the pecans and the buttery crust.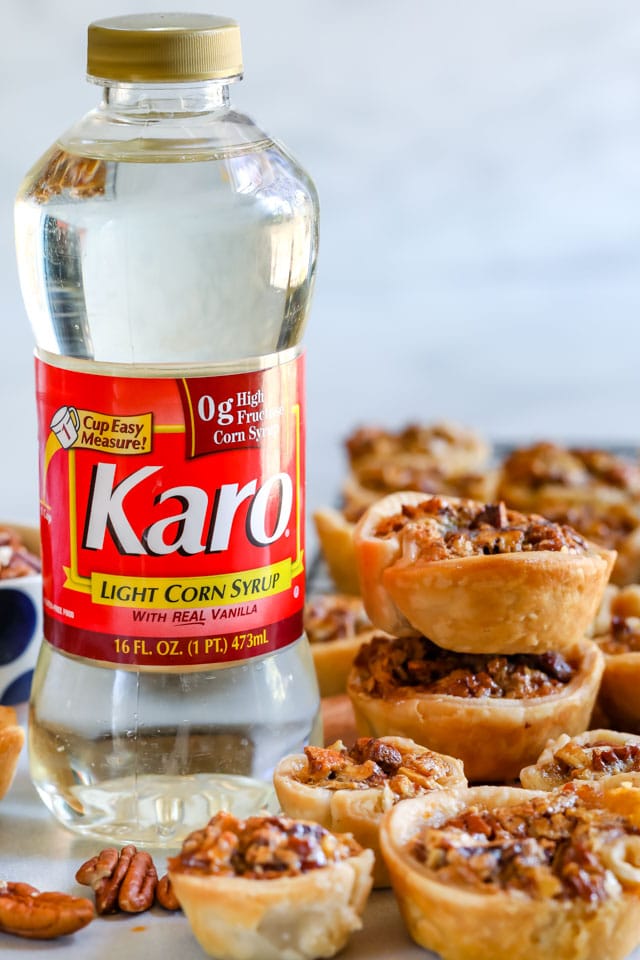 Tips for easy removal from the pan
First, once the pies are baked, immediately check if any mixture spilled over to the pan. This sometimes happens, and it's totally fine, but the mixture dries sticky, so make sure and carefully scrape it away from the pan if you notice it.
Second, let them cool completely before removing. Use a butter knife to help loosen the pies and they'll pop right out.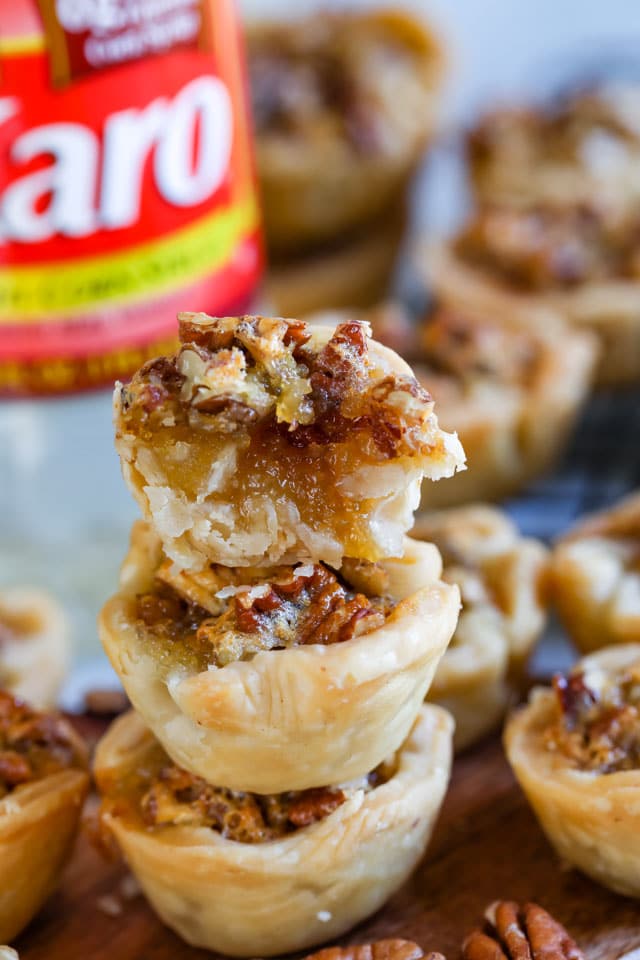 Storing, Freezing, and Serving
The gooey center of pecan pie is so good – your guests and family will love each and every bite.
Store these pies in an airtight container in the refrigerator for up to 3 days.
You can freeze them in a single layer in an airtight container for up to a month, making them the perfect make-ahead dessert.
These are perfect for serving on a holiday dessert table or for gifting on holiday cookie platters. I also love to ship them to family and friends.
FAQ
How long do you bake mini pecan pies?
Mini pecan pies in mini muffin pans take 20-25 minutes to bake, in regular muffin pans they'll take about 25-30 minutes.
How to remove mini pies from the pan?
Make sure to spray you pans with nonstick baking spray (the kind with flour in it). Let them cool completely before removing and they should pop right out when loosened gently with a butter knife.
Can you freeze miniature pecan pies?
Freeze pies in a single layer in an airtight container or bag, for up to 3 months.
Is light or dark syrup better for pecan pie?
Both work interchangeably. Dark Karo will give a deeper, richer taste but either one will work.
How do you keep pecan pies from getting soupy?
As long as you follow the recipe and bake them long enough they shouldn't be runny in the center. If you're making a regular size or deep dish pie and you're having trouble with a soupy center, try adding 1 tablespoon cornstarch the next time you bake it. The cornstarch will help smooth out the filling.
Be sure to try these other Karo recipes:
Have you made this recipe?
Tag @crazyforcrust on Instagram or hashtag it #crazyforcrust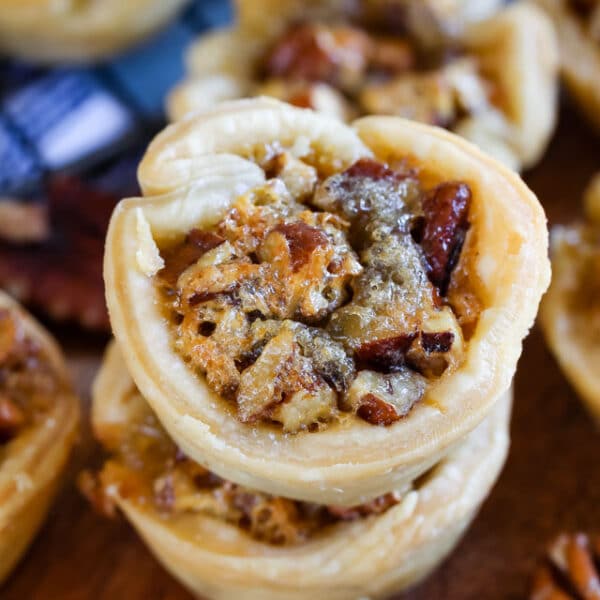 Mini Pecan Pies Recipe
Learn how to make Mini Pecan Pies in a muffin tin! This is an easy recipe that's perfect for the holidays. Make bite sized pecan pies in a mini muffin pan or a cupcake pan. This is the classic Karo Syrup recipe!
Ingredients
2

pie crusts

from scratch or a pack of two

⅔

cup

(158 ml) Karo® Light OR Dark Corn Syrup

2

large eggs

⅔

cup

(134g) granulated sugar

1

tablespoon

(14g) melted butter

½

teaspoon

vanilla extract

1

cup

(120g) chopped pecans
Instructions
Preheat oven to 350°F. Spray a mini muffin pans or cupcake tins with flour nonstick cooking spray or grease and flour them.

Working with one pie crust at a time, unroll each crust. Use a large round cookie cutter (about 2-inches diameter for mini pies and 3-inches for cupcake sized) to cut circles of pie dough, rerolling as needed.

Press each circle in the bottom of the prepared muffin pan.

Mix corn syrup, eggs, sugar, butter and vanilla using a spoon. Stir in pecans. Spoon a bit of filling into each pie crust. Be careful not to overfill them.

Baking time: Mini pies 20-25 minutes, Cupcake sized pies 25-30 minutes.

As soon as they come out of the oven, check to see if any filling spilled over to the pan. If so, use a knife to carefully scrape it away from the pan. The filling will harden as it cools making it hard to remove the pies from the pan. Cool completely before removing from the pan, use a butter knife to help loosen each pie.
Recipe Nutrition
Serving:
1
serving
|
Calories:
132
kcal
|
Carbohydrates:
18
g
|
Protein:
2
g
|
Fat:
7
g
|
Saturated Fat:
1
g
|
Cholesterol:
12
mg
|
Sodium:
71
mg
|
Potassium:
36
mg
|
Fiber:
1
g
|
Sugar:
11
g
|
Vitamin A:
37
IU
|
Vitamin C:
1
mg
|
Calcium:
8
mg
|
Iron:
1
mg
Nutritional information not guaranteed to be accurate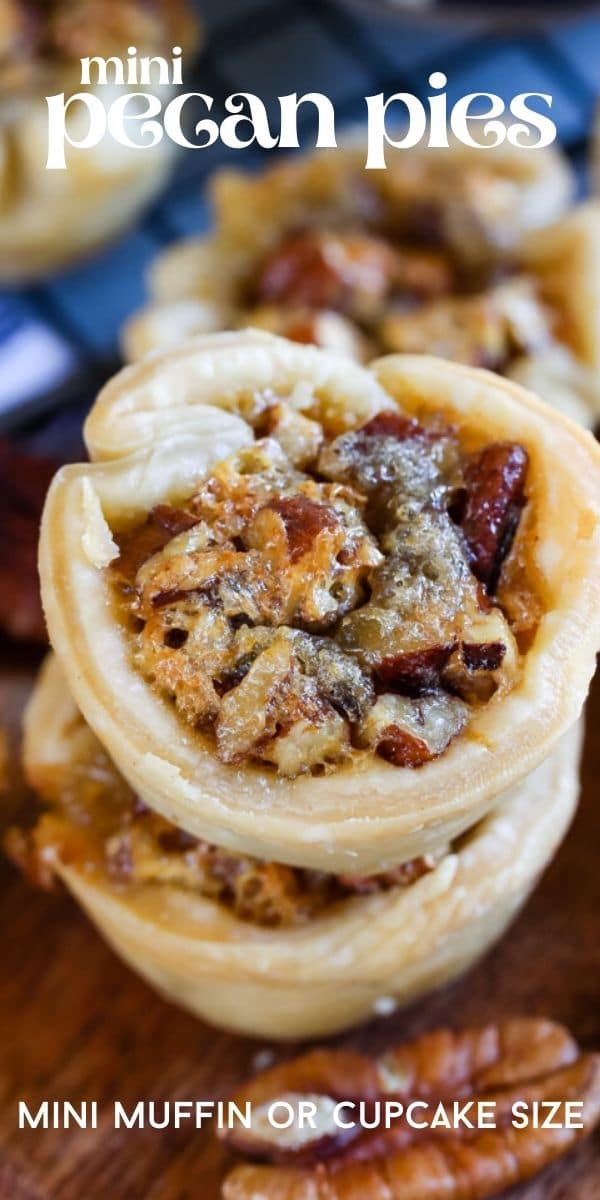 Learn how to make Mini Pecan Pies in a muffin tin! This is an easy recipe that's perfect for the holidays. Make bite sized pecan pies in a mini muffin pan or a cupcake pan. This is the classic Karo Syrup recipe!
Last Updated on May 20, 2022