This post may contain affiliate links. For more information, read my disclosure policy.
Graham Cracker Toffee Bark is an easy toffee recipe that can be made so many ways! This Christmas crack recipe is loved by all and can be made several different ways and today I'm showing you THREE versions you're sure to love.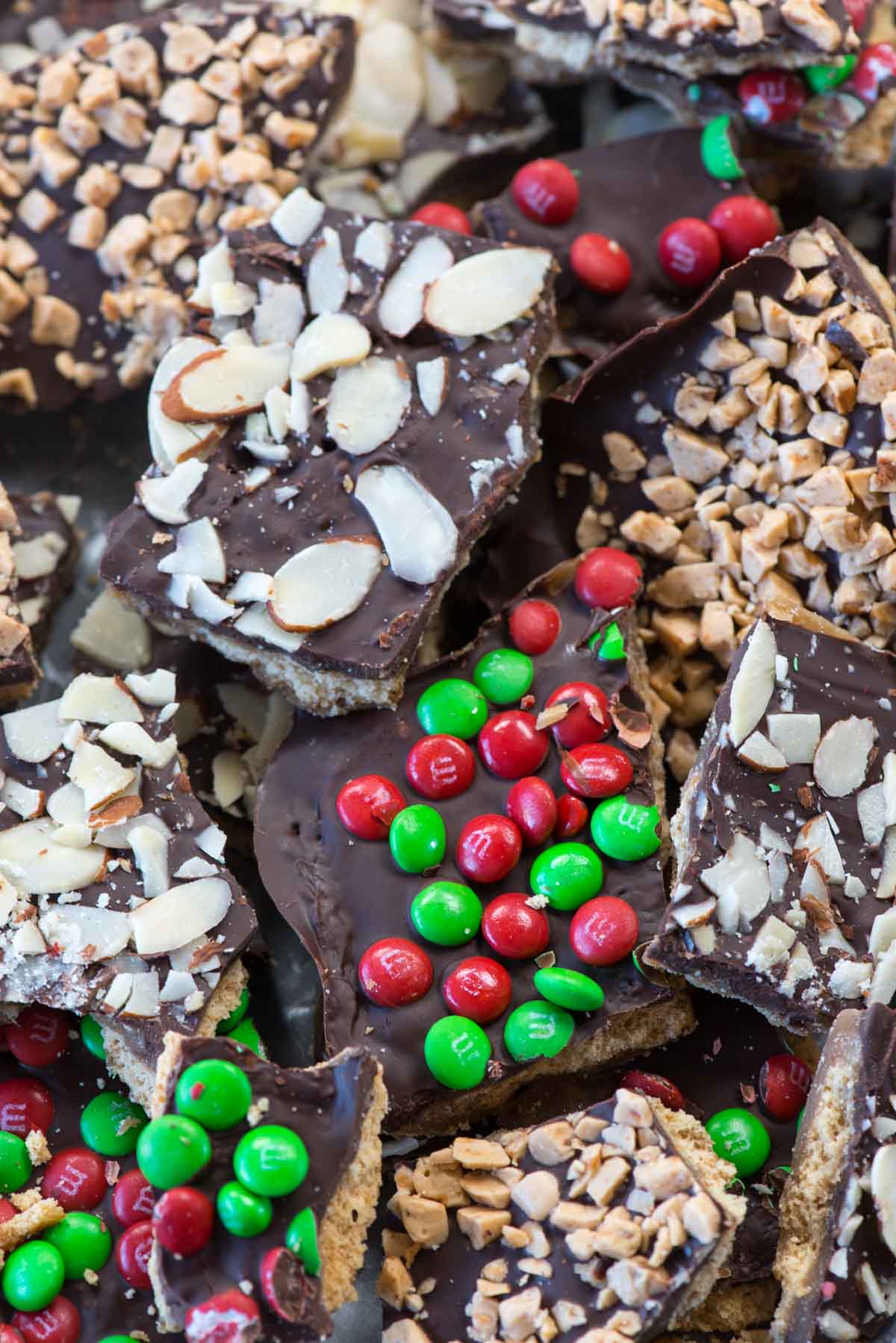 Table of Contents
What is Graham Cracker Toffee?
About 10 years ago I made Christmas Crack for the first time. It was this peanut butter toffee bark and I instantly fell in LOVE. A layer of toffee over crackers with chocolate and peanut butter? If that's not right I don't want to know what is!
Since then, I've made so much toffee bark. I make it every single year, and every time I do it different. The original toffee bark uses matzo crackers, but I've made it with saltines, ritz crackers, and even chocolate chip cookies in my first cookbook!
Christmas crack with graham crackers is such a great toffee bark recipe! Everyone will love this on your holiday platters.
Why you'll love this recipe
Instead of crackers, you use graham crackers as the base; it's FANTASTIC. It's our favorite go-to toffee bark recipe every holiday. I make batches and batches of it because toffee is Mel's favorite and he absolutely LOVES graham crackers!
The best part about this Christmas Crack recipe is that it can be made in so many ways with so many different toppings. I'm showing you three ideas today, but really the possibilities are endless.
This recipe is also great for mailing; I often make large batches and then package it in baggies and mail to friends and family.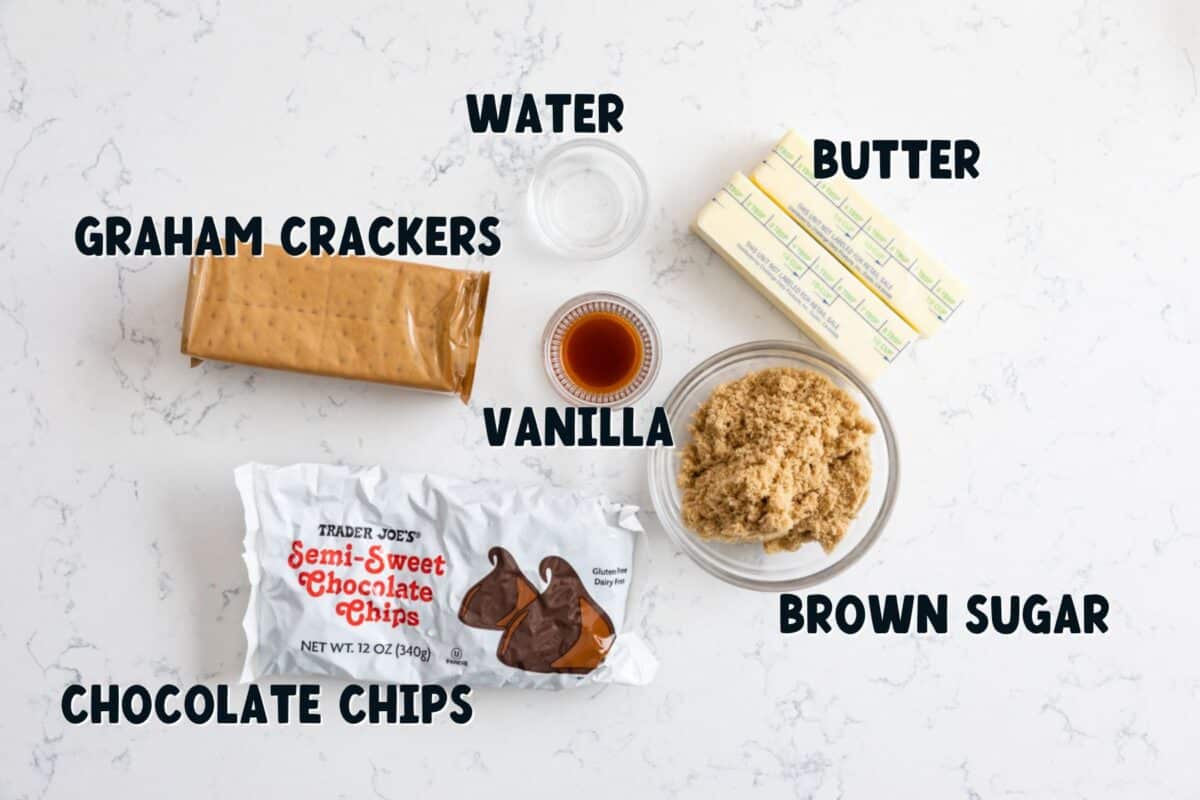 Ingredients Needed
Graham Cracker Sheets: This is the base of the toffee. You can substitute digestive biscuits if you're not in the US.
Unsalted Butter: I always start with unsalted butter but you can use salted if you prefer.
Packed Brown Sugar: A lot of people make graham cracker toffee with white sugar but I prefer the flavor of light brown sugar.
Water: This aids in making the toffee
Vanilla Extract: For flavor
Chocolate Chips: You can use milk or semi sweet chocolate chips. I don't recommend white chocolate (check out my Churro Toffee for how to use white chocolate chips).
Toppings: So many options! You can decorate with chopped pecans, M&Ms, Almonds, toffee bits – anything!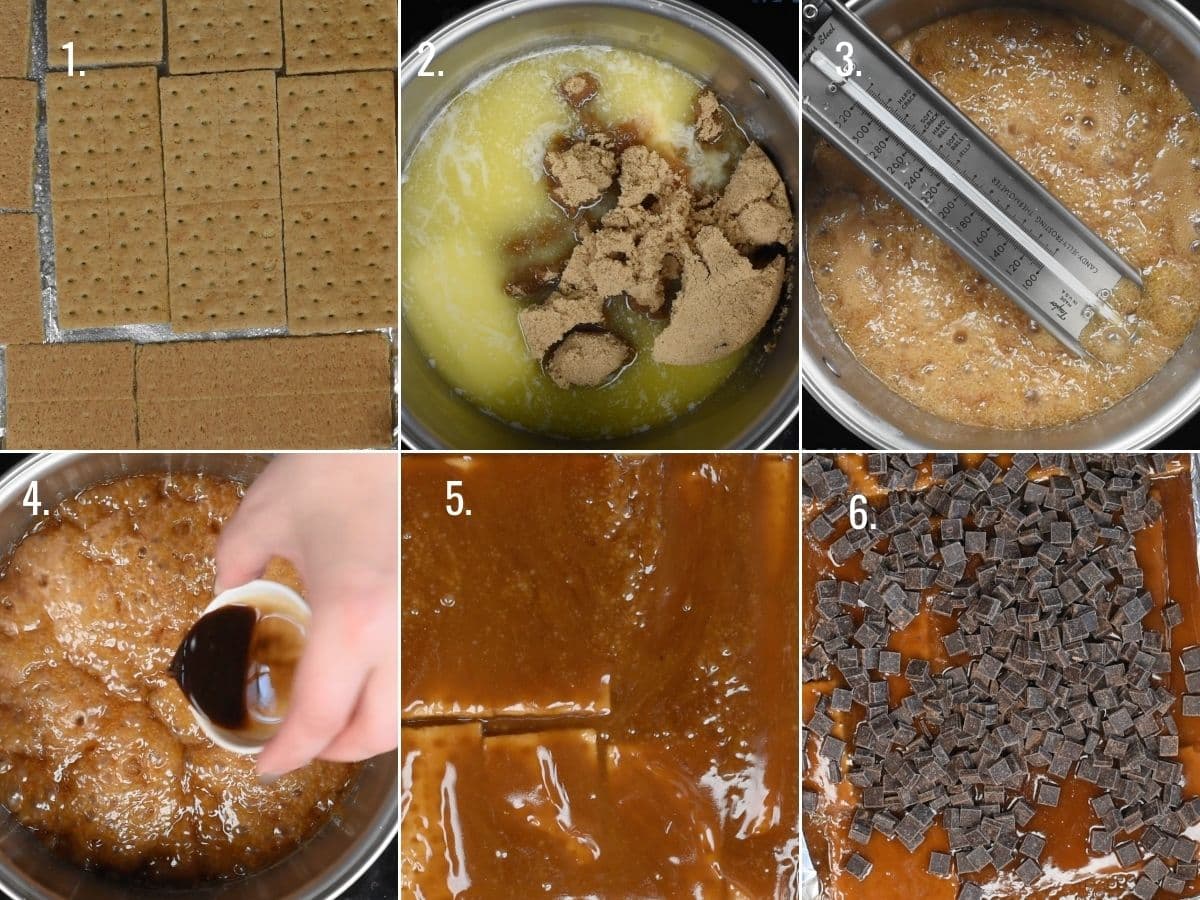 How do you make toffee bark?
Layer graham crackers on a large baking sheet. I like to cover the cookie sheet with aluminum foil or parchment paper.
Melt the butter over medium heat in a large saucepan, then add the packed brown sugar.
Cook the butter and sugar over medium heat until it reaches 255° on a candy thermometer.
Pour the mixture over the graham crackers. Bake for 5 minutes.
Add chocolate chips and bake again for 2 minutes to melt the chocolate.
Spread the chocolate and add toppings (see below).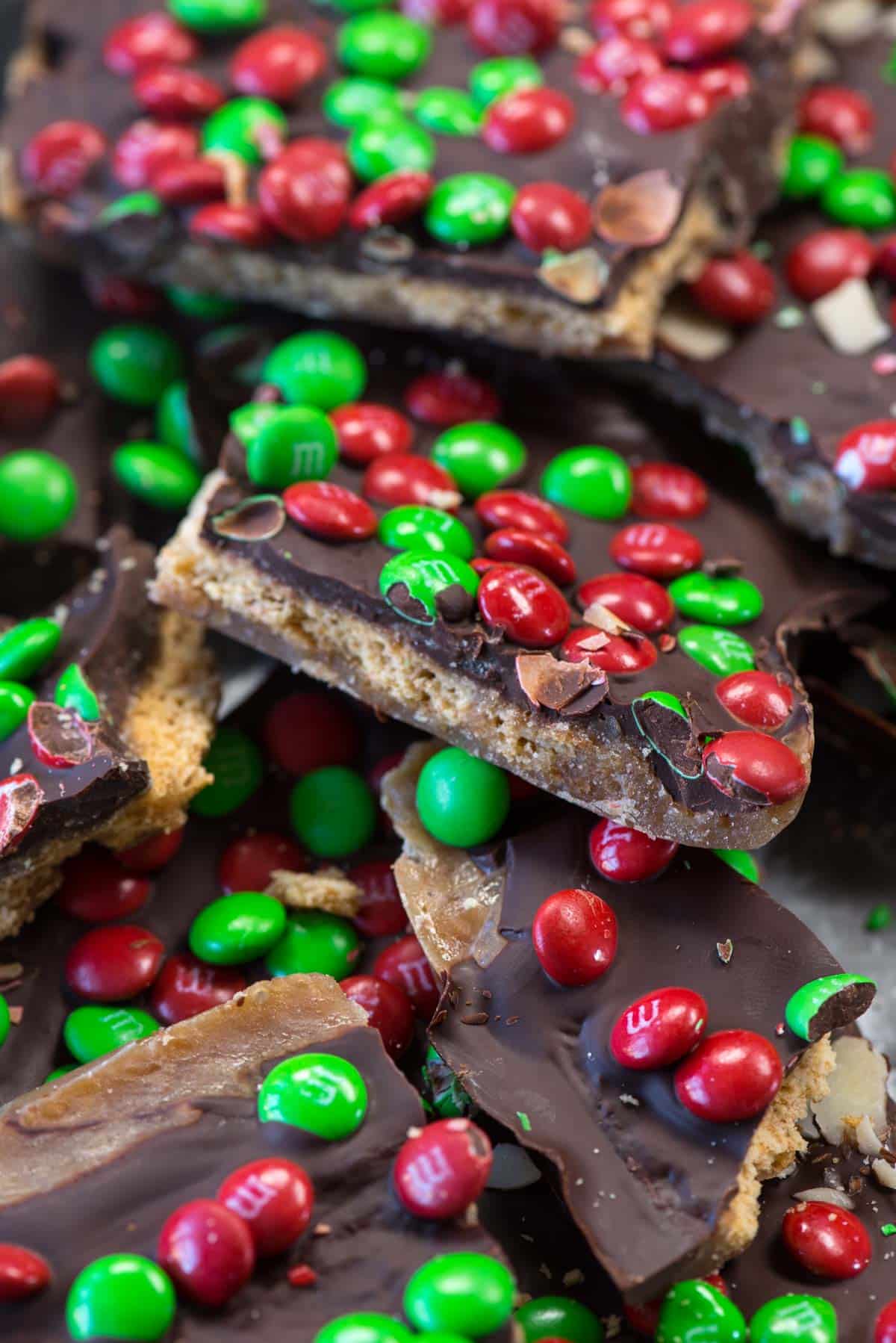 What temperature should graham cracker toffee be cooked to?
You for sure should use a candy thermometer when making any sort of toffee. You can get a simple candy thermometer on amazon.
You want to cook the butter and sugar mixture to 255°F for this recipe. Once it reaches that stage, you pour it over the crackers in the pan and then bake it to set.
How to melt chocolate for toffee
If you're using chocolate chips, it's easy to melt the chocolate: simply sprinkle them over the cooked toffee bark and then bake again for 2 minutes. The chocolate chips will melt (but keep their shape) and allow you to spread them into a layer all over the toffee.
(NOTE: this does NOT work with white chocolate chips. Those need to be melted separately if you want to top this with white chocolate.)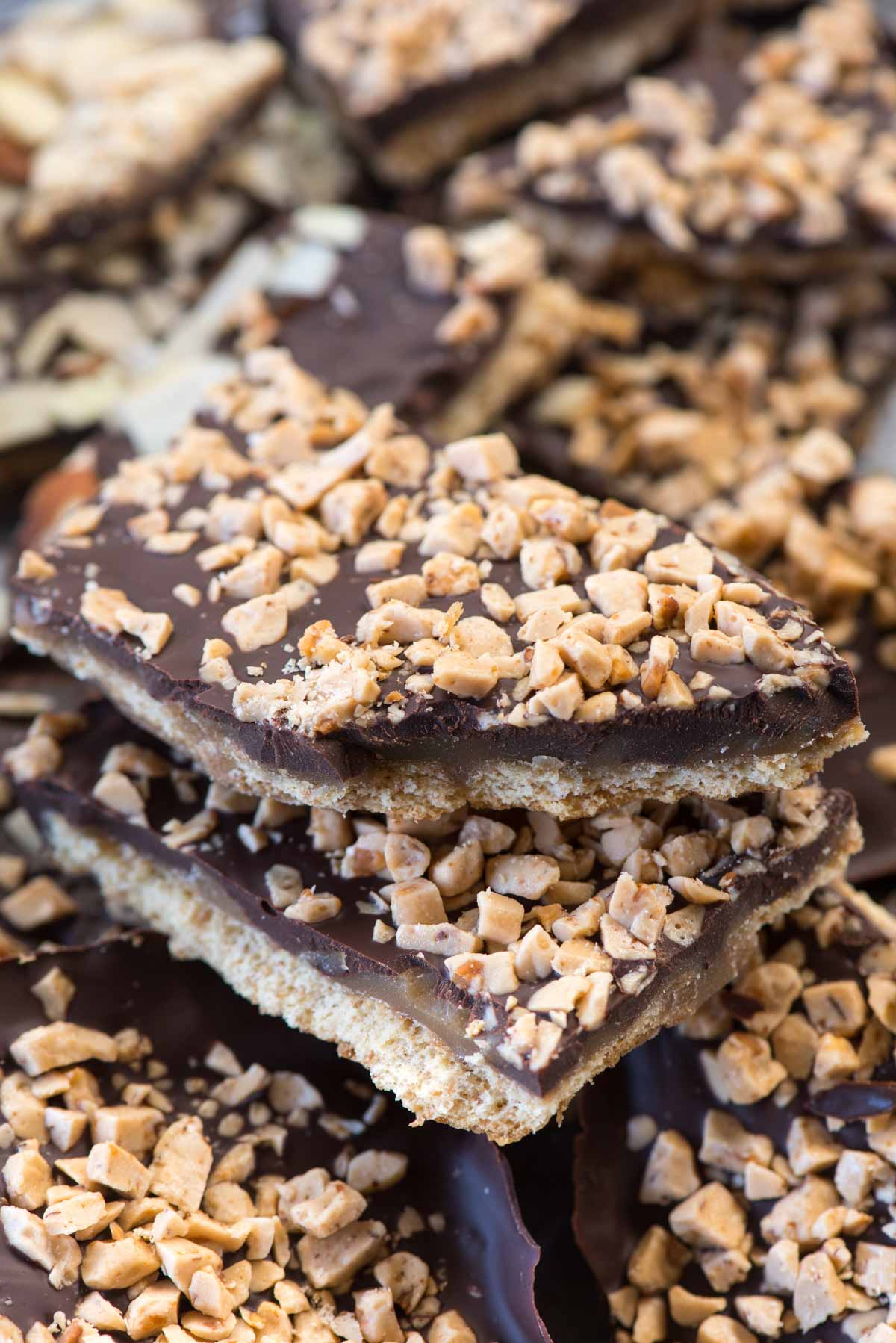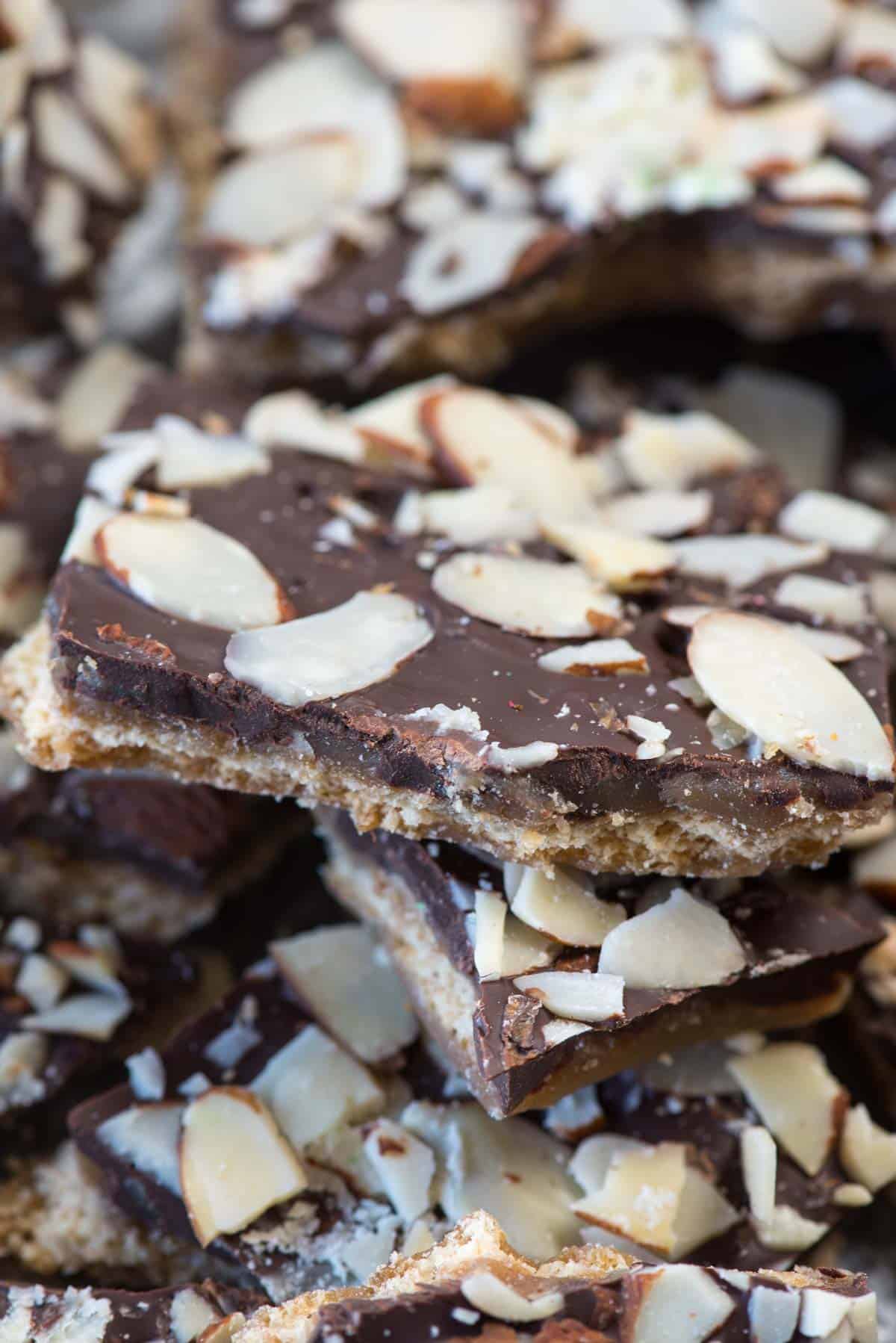 FAQs
How do you make cracker toffee?
Just layer the graham crackers (or any cracker will work: soda crackers, Ritz, etc) on a baking sheet, pour the toffee over it and bake it – then top with melted chocolate.
Does Christmas Crack need to be refrigerated?
No you don't need to refrigerate it but if you do it will last up to 2 weeks.
Can you freeze graham cracker toffee bars?
Yes you can freeze them! Just do so in an airtight container.
This year, I'm going to make peanut butter toffee bark with graham crackers…and I can't wait! (See recipe notes for how to do this.)
Other candy bark recipes:
Have you made this recipe?
Tag @crazyforcrust on Instagram or hashtag it #crazyforcrust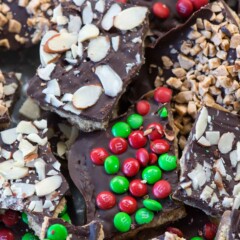 Graham Cracker Toffee Bark
Graham Cracker Toffee Bark is an easy Christmas Crack recipe made with graham crackers and any sort of topping you want!
Ingredients
9-12

graham cracker sheets

1

cup

(226g) unsalted butter

1

cup

(200g) packed brown sugar

1

tablespoon

(15ml) water

1

teaspoon

vanilla extract

12

ounces

(340g) chocolate chips

about 2 cups

1

cup

toffee bits, chopped nuts, M&Ms, etc

your choice
Instructions
Preheat oven to 350°F. Line a rimmed baking sheet (approximately 11×16 or something similar) with foil and spray with nonstick cooking spray.

Place graham crackers in a single layer on the cookie sheet, breaking as needed for them to fit. Set aside.

Place butter in a medium saucepan and place over medium-low heat. Melt, then add the sugar and water. Stir to combine. Place a candy thermometer in the mixture and bring to a boil. Cook over medium-low heat until the mixture reaches 255°F. Do not stir. The mixture will turn golden brown.

Once it reaches 255°F, remove from the heat and stir in the vanilla. Pour over the crackers in prepared pan and spread to coat evenly. Bake for 5 minutes.

After 5 minutes, sprinkle the chocolate chips evenly over the hot pan. Place back in the oven for 2 minutes, or until the chocolate chips are melted (but they'll still be holding their shape).

Remove pan from the oven. Spread chocolate to coat evenly. Top with desired toppings. Chill to set, at least 1 hour. Break apart and serve or store in an airtight container for up to 2 weeks
Recipe Notes
You can use any toppings you like for this bark. In the photos, I used toffee bits, sliced almonds, and mini holiday M&Ms. You can also use chopped peanut butter cups, chopped pecans or nuts of any kind, candy cane pieces, chopped cookies/Oreos, or anything you like.
To use peanut butter, melt 1/4 cup peanut butter in the microwave (heat about 20 seconds). Pour it over the chocolate once you've spread it and then swirl.
Get a candy thermometer here.
White chocolate chips will NOT work with this method. To top with white chocolate, melt it separately in the microwave and spread it over the top of the cooked toffee.
Recipe Nutrition
Calories:
471
kcal
|
Carbohydrates:
54
g
|
Protein:
2
g
|
Fat:
27
g
|
Saturated Fat:
16
g
|
Cholesterol:
53
mg
|
Sodium:
114
mg
|
Potassium:
57
mg
|
Fiber:
1
g
|
Sugar:
45
g
|
Vitamin A:
645
IU
|
Vitamin C:
0.2
mg
|
Calcium:
73
mg
|
Iron:
1.1
mg
Nutritional information not guaranteed to be accurate
**Did you make this recipe? Don't forget to give it a star rating below!**
Graham Cracker Toffee Bark is an easy Christmas Crack recipe made with graham crackers and any sort of topping you want!
Last Updated on October 27, 2022