This post may contain affiliate links. For more information, read my disclosure policy.
Oreo Truffle Dipped Strawberries – Why give boring old regular dipped strawberries when you can make OREO TRUFFLE dipped strawberries?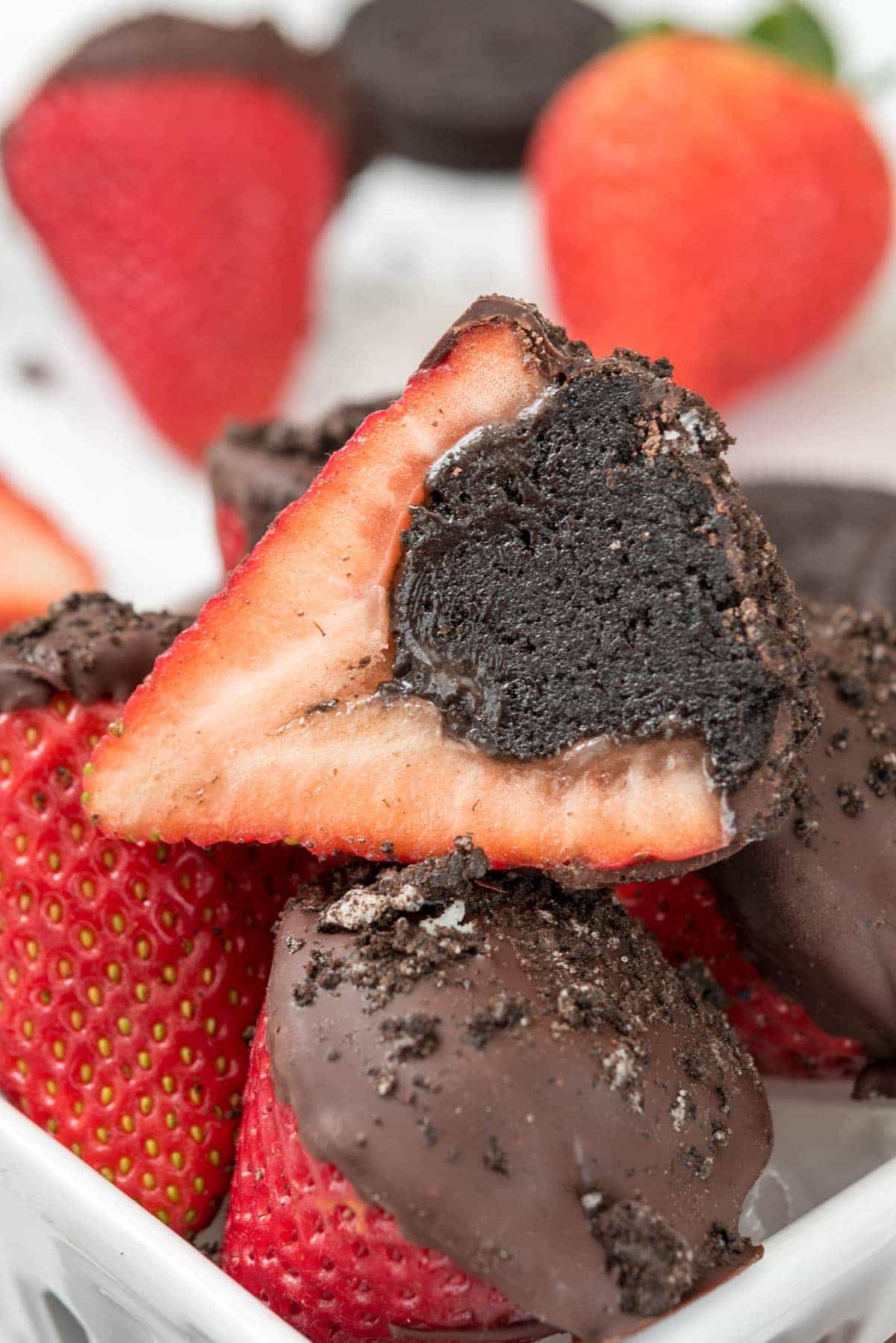 Do Oreo Truffle Dipped Strawberries count as a health food recipe, yes? Because I mean, strawberries and all that. So I added an Oreo truffle to the mix…pffft, this is totally going under the "healthier" dessert category. Plus, regular old chocolate dipped strawberries are so 1985.
These strawberries would make a great gift for Valentine's Day. Or, they'd make a great addition to a dessert table for any parties you have coming up (like, say, a game day party?) Not only do they taste good (hello, chocolate + strawberries + Oreo truffles) but they have only 4 ingredients and they're so pretty and bright and RED!
Speaking of RED, this Friday, February 5, 2016 is National Go Red For Women Day. I talk about it every year, so if you're a regular, you'll probably know what I'm talking about. Every year, on the first Friday in February, I wear red to support the American Heart Association. Heart disease is near and dear to my heart, pun intended. Today is going to be my in-advance reminder so that you'll all wear red this Friday.
More important than wearing red is understanding why Go Red For Women Day is such a critical campaign for heart disease awareness. Did you know that heart disease is the #1 killer of women? It kills more than all forms of cancer combined. 80% of heart disease is preventable, so knowing your risk and the symptoms of heart attack and stroke are key. Heart disease in women often presents in different ways than in men: we are also prone to the deadly "Silent" heart attack – one without any symptoms or ones that present like a flu, indigestion, or stomach ache. Chances are, heart disease has affected someone you know and love or it will affect you in your lifetime. Don't be a statistic.
Know the signs of heart disease. Know your risk. Make everyone you know aware of these things. And join in with me this Friday as I wear red. Tag me on instagram @crazyforcrust so I can see all the gorgeous red!
This is a dessert blog, where we swim in chocolate and sugar, so I see the irony in this post. However – everything is okay in moderation. If you live a healthy lifestyle, eat a good diet, and exercise regularly, a little treat once in awhile isn't so bad.
Especially when it's a strawberry!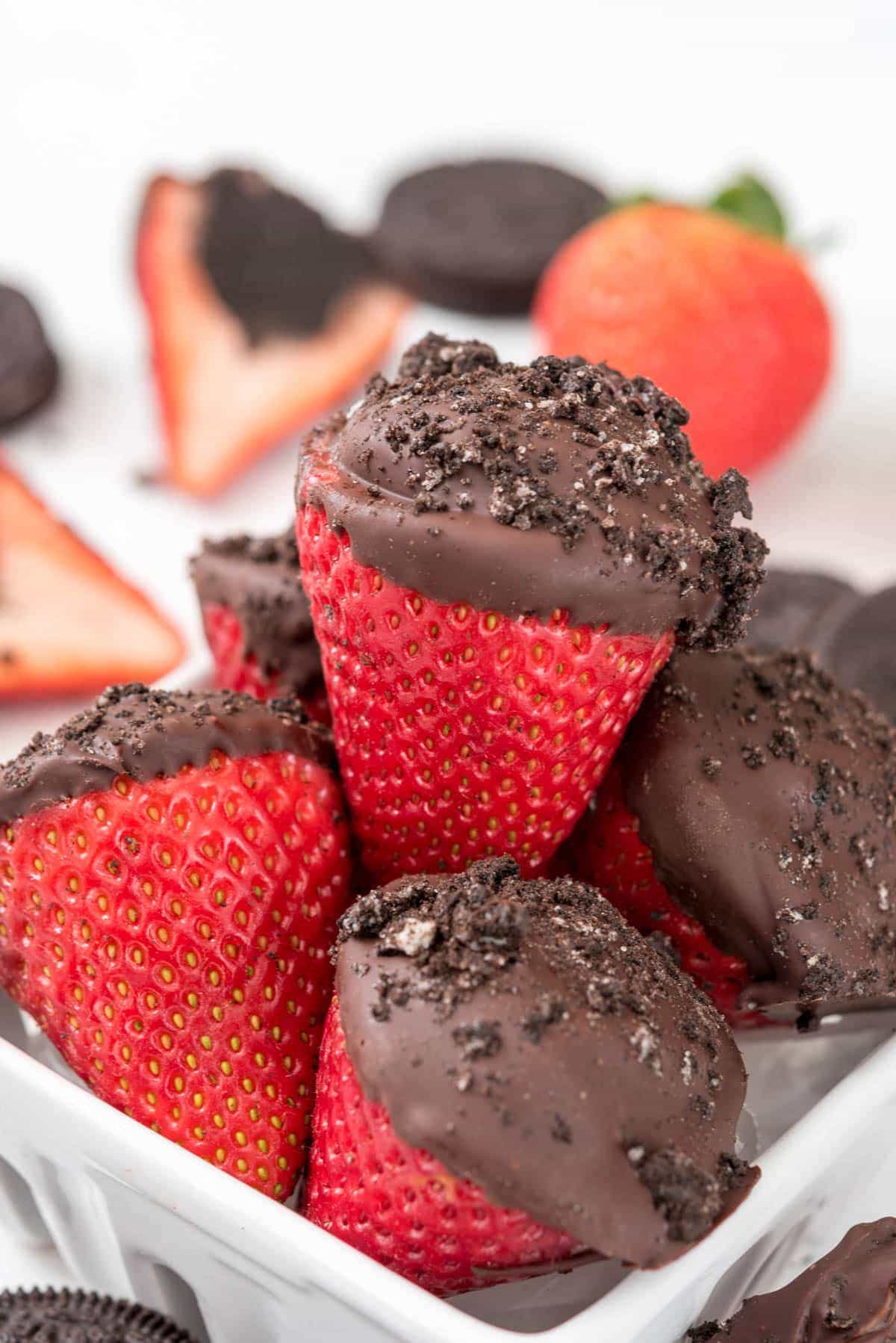 Maybe you've seen those cheesecake strawberries floating around the internet? Those are fabulous – they inspired a recipe in my book, Dessert Mashups. In that recipe, I stuffed regular chocolate truffles inside the strawberries, which was so rich and indulgent. When I was trying to think of an easy Valentine's Dessert that wasn't too heavy (like my normal truffles), I immediately remembered those strawberries.
I mean, sure. You're eating a truffle, but you're chasing it with a strawberry. That can't be too bad, right? #DontAnswerThat
Seriously, you guys. 4 ingredients, under 30 minutes. These Oreo Truffle Dipped Strawberries are so easy to make!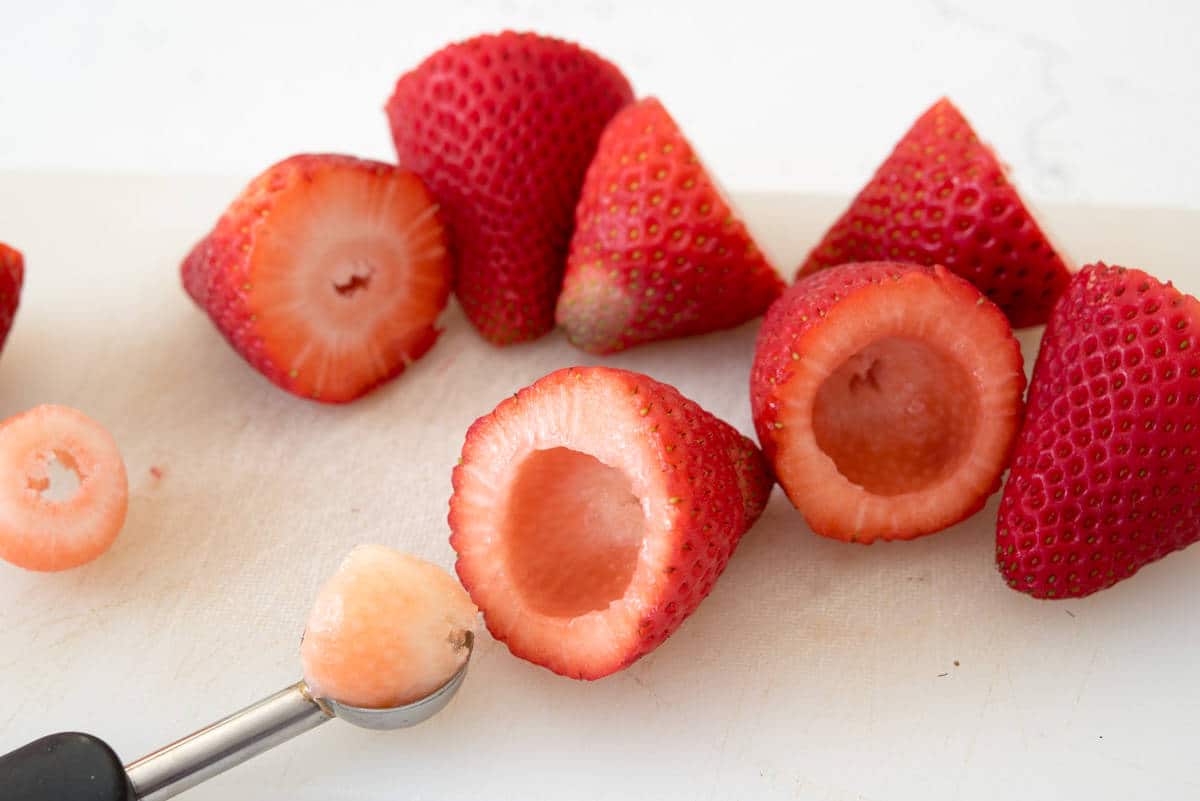 I used large strawberries from Costco. I don't know what they do to those berries, but they're huge! Pick out the largest ones in the bunch you buy. This recipe makes 8, but you can easily double it.
I washed and dried them VERY well, then I cut off the stem and used a melon baller to scoop out the center.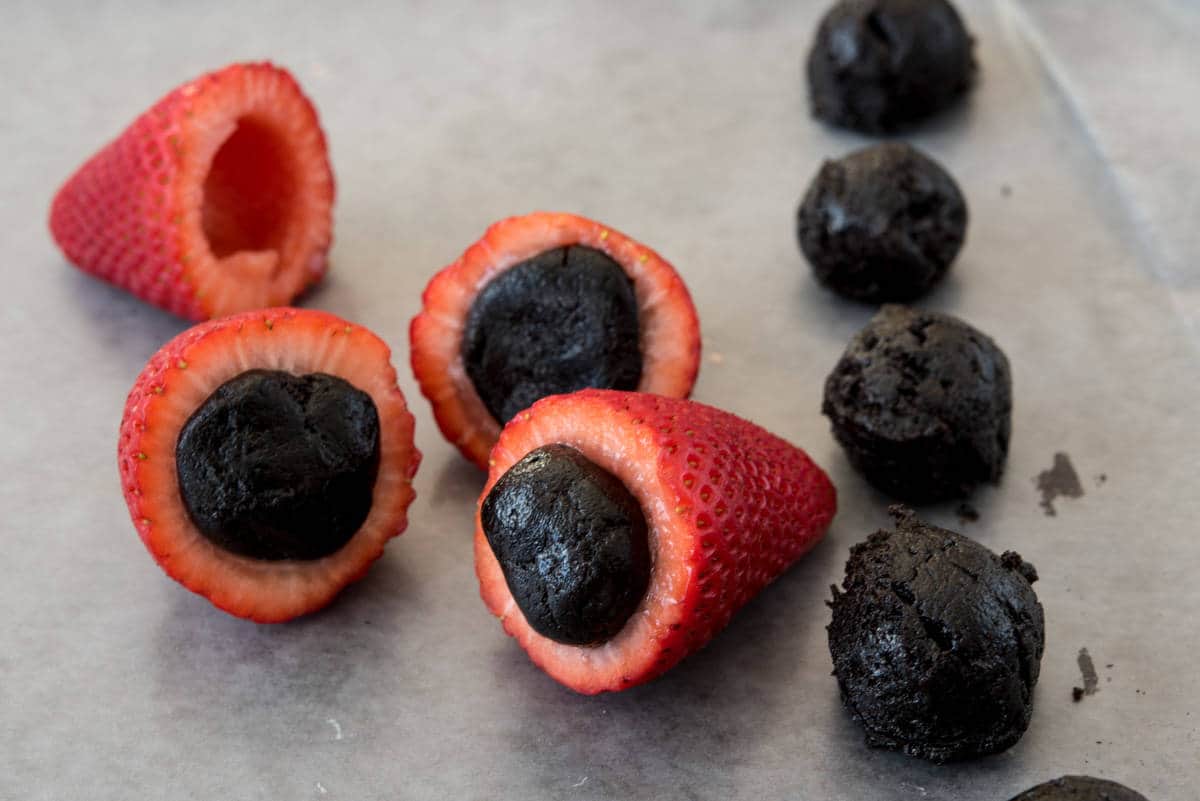 Then I made up some Oreo Truffles. Have you made those before? They're so easy, only two ingredients: Oreos and cream cheese. Mix them in a food processor until they're thick and like paste, and you can roll them into balls. Then stuff a truffle in the hole in your berry.
Then all you have to do is dip the tops in chocolate. It's like an inverse dipped strawberry!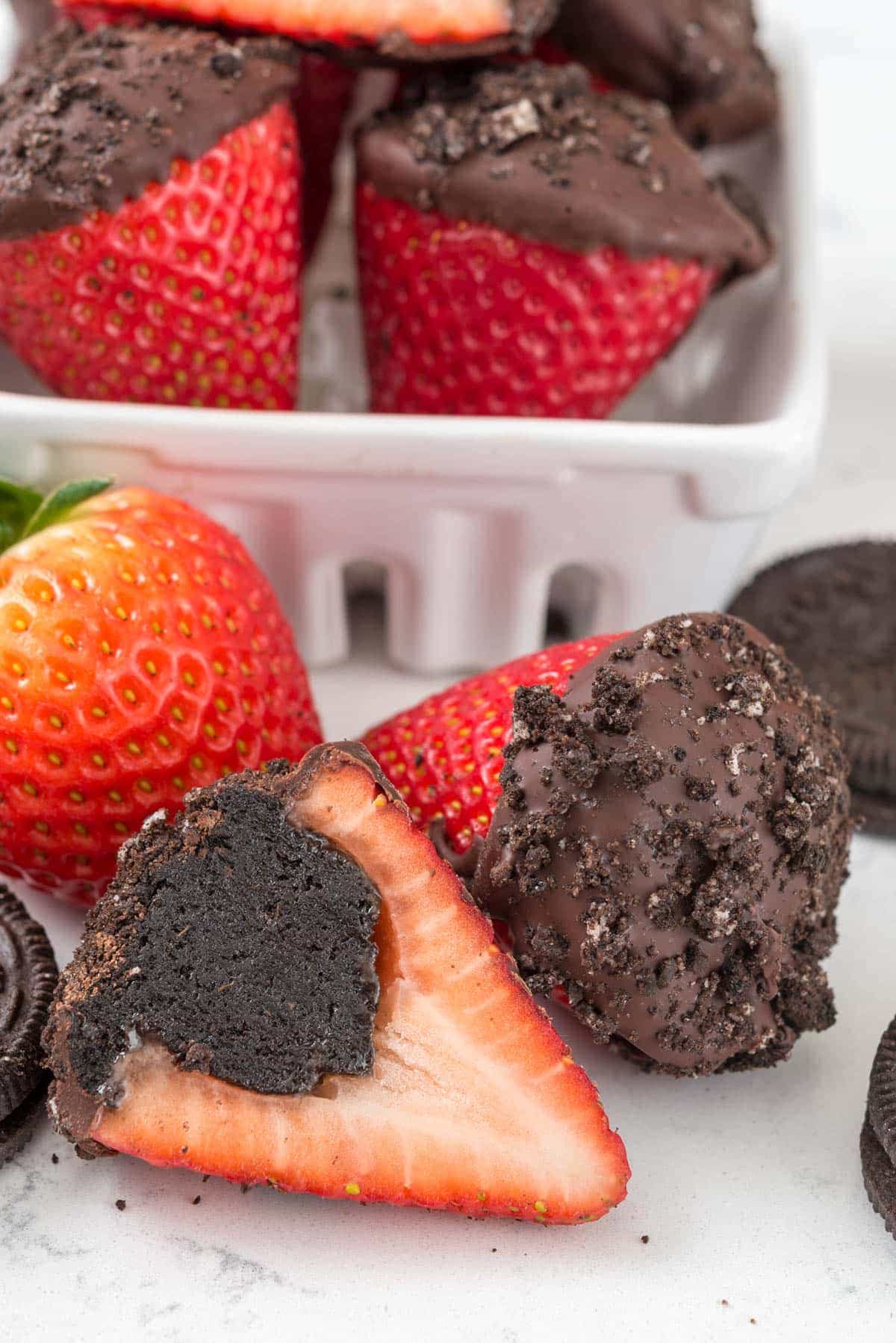 A few tips for dipping berries:
Make sure to pat them dry, especially the cut part that you'll be dipping in the chocolate.
I like to melt my chocolate in a disposable Dixie bowl – you know those kind they sell by the paper plates? They microwave well and you can just throw them away after.
I used semi-sweet baking chocolate for my dipping, but you can also use chocolate chips or almond bark or Candiquik.
For some reason, my chocolate did not seize, which I consider a true miracle. Often when dipping things like berries, too much water gets into the chocolate, which makes it get all clumpy and ruins it. I suggest splitting your chocolate into two bowls before you start to dip, just in case. If the chocolate starts to seize, use the rest but use a spoon to drizzle it over the top instead of dipping the berry upside down into it.
I sprinkled crushed Oreos on the top but you can use sprinkles too!

These make a great gift or treat, especially since the recipe is so easy and can be cut in half or doubled. Make as few or as many of these as you want! Then eat these Oreo Truffle Dipped Strawberries on Friday while you're wearing RED!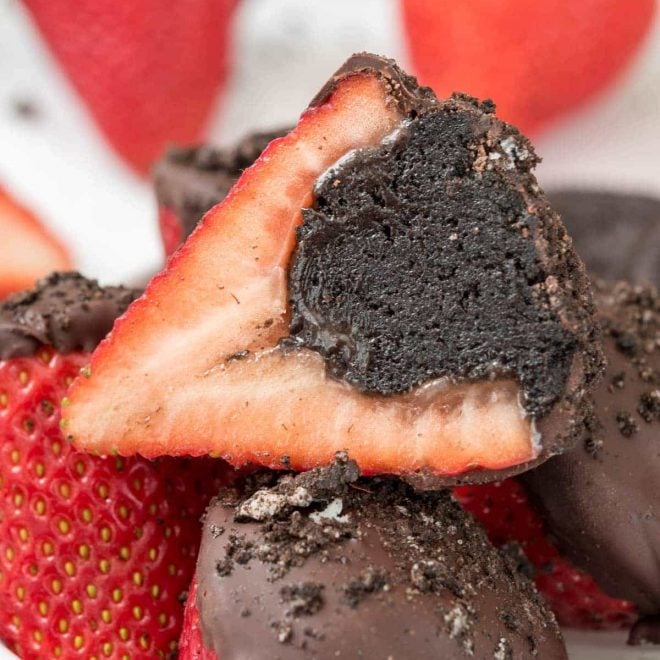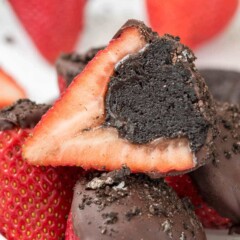 Oreo Truffle Dipped Strawberries
Oreo Truffle Dipped Strawberries - an easy recipe for any holiday! Stuff strawberries with Oreo truffles and dip them in chocolate!
Ingredients
8

Oreo cookies

1

ounce

cream cheese

8

large strawberries

washed and dried very well

4

ounces

semi-sweet baking chocolate

or almond bark

2

additional Oreos or Sprinkles

optional
Instructions
Place 8 Oreos in a food processor with cream cheese. Process until a thick paste forms (scraping down the sides of the food processor as needed). Line a cookie sheet with wax paper and scoop one tablespoon balls of truffle onto the cookie sheet (about 8). Chill until strawberries are ready.

Slice the stem off the strawberry and scoop out the center with a small melon baller. Wipe the edge of the berry as dry as possible.

Place chocolate in a small microwave safe bowl. I like to use paper Dixie bowls for easy clean up. Heat on high power in 30 second increments, stirring between each, until melted and smooth. Place remaining 2 Oreos into a plastic bag and crush using a rolling pin. (Those are for decoration, feel free to use sprinkles instead.) I recommend dividing the chocolate into two bowls in case it's in a finicky mood and seizes. If that happens, drizzle the chocolate over the top of the berry instead of dipping it.

To assemble the berries: place an Oreo truffle in each strawberry cavity. Dip the tops in the chocolate, then sprinkle with crushed Oreos or Sprinkles. Sometimes the chocolate can have trouble with the wet berries, so make sure to dry them as much as possible before dipping.

Place the dipped berries back on the cookie sheet and chill until set. Store in the refrigerator. Best eaten the same day they are made.
Recipe Nutrition
Serving:
1
Strawberry
|
Calories:
246
kcal
|
Carbohydrates:
44
g
|
Protein:
4
g
|
Fat:
9
g
|
Saturated Fat:
4
g
|
Cholesterol:
4
mg
|
Sodium:
73
mg
|
Fiber:
7
g
|
Sugar:
29
g
Nutritional information not guaranteed to be accurate
Click here for my complete list of Valentine's Day Recipes!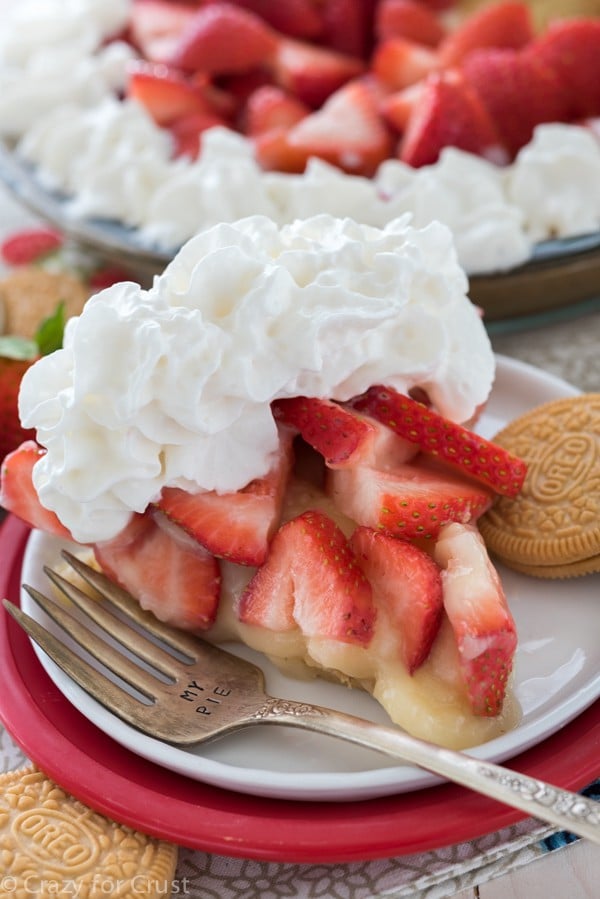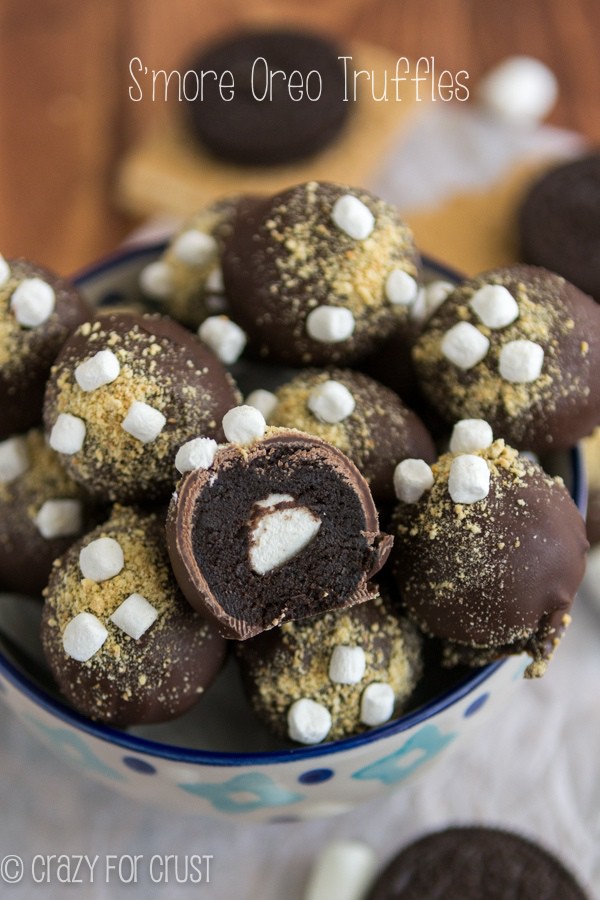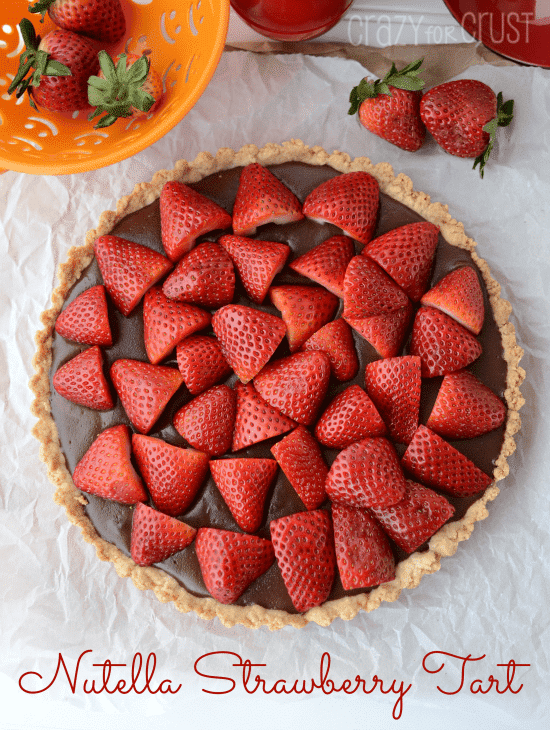 Sweets from friends:
How to make dipped strawberries by Foodness Gracious
S'mores Dipped Strawberries by The Comfort of Cooking
White Chocolate Covered Strawberries by Around My Family Table
Last Updated on September 23, 2019