This post may contain affiliate links. For more information, read my disclosure policy.
These are the perfect one bowl brownies for when you need some chocolate! Add in your favorite candy bar, like Almond Joy, for a fun new flavor twist!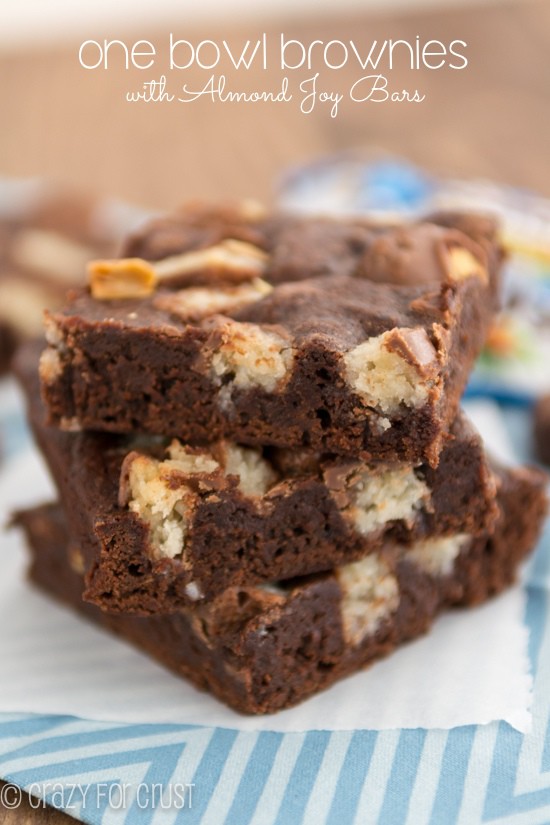 These are seriously my new favorite brownies and I want to tell you all about them and how rich and chocolatey and, well, easy they are. But first, a PSA:
If you haven't ever done it, get your dryer vents professionally cleaned. Have them also clean out the dryer tube going to the wall in your laundry room and the lint area (below the lint screen you clean) on the bottom of your dryer.
Lately our dryer has been taking forever to dry loads – almost 3 hours. The washer went kaput recently, so I figured the dryer was heading in the same direction. I was wrong.
We knew we needed to get the vents cleaned; we hadn't done it in the two years we've lived here and, with the state the house was in when we moved in, I doubt they ever had it done.
Last week the guy came out and it was bad. NO air was getting through the vent. The water spots on my office ceiling I've been avoiding calling the roofer about because OMG I hate roof leaks, is from the water buildup in the vent.
The place where the dryer hose meets the wall? The lint in there was black. Like, soon our house would burn down black. Even in the bottom of the dryer, all around the motor, there was lint. Even though I vacuum out the lint screen hole occasionally. Who knew you could take the bottom of your dryer off? I didn't.
Get your vents cleaned. It'll cost a couple hundred bucks but the alternative is way worse.
Now? Now my dryer dries a load of clothes in 40 minutes. Yeah. Get them cleaned!
Okay, PSA over. Ready for brownies???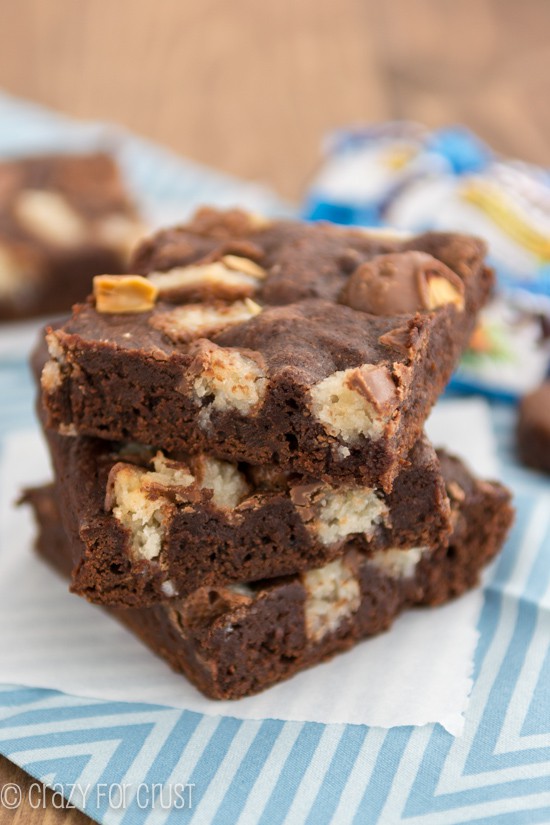 I have a favorite brownie recipe. I've made it approximately 500 times give or take 350. It's got three kinds of chocolate in it and is fudgy and rich and delish. Even thought that is also technically a "one bowl" recipe, it involves buying three kinds of chocolate and doing lots of melting. This recipe is much easier!
Instead of using baking chocolate, this recipe only uses cocoa. And you know what? You can get a super rich, super chocolatey and fudgy brownie using only cocoa. You learn something new every day! You're just melting butter instead of butter + chocolate, and you only have to buy cocoa. It's an easier version of my favorite recipe, and it's also become a new favorite.
This recipe uses a 9×9 (or 8×8) pan. I do that sometimes because I'm one person and don't need a whole tray of brownies. You can double it easily and bake it in a 9×13 pan, if you want.
You'll notice this recipe calls for some brewed coffee. You don't taste the coffee in the brownies; the coffee just brings out the chocolate flavor. Try it – you'll be happy you did. You can substitute water if you like, but coffee is better. I always have those little instant packs of Starbucks VIA in my pantry. I travel with them (what, don't you travel with coffee?) and they're great to brew up a cup when you just need a little for a recipe but don't want to make a whole pot.
Now, these brownies are great by themselves. Believe me, I made about three batches while I was testing them. But I love adding things to brownies, as you may know. Today I added Almond Joy candy bars. Coconut + chocolate = wonderful. If you're not an Almond Joy Freak like I am, no worries. I want you to think of this recipe as your base recipe. Add your favorite flavors.
The teacher in me is thinking: Class – what could we add to these brownies?
Oreos
Reese's
Butterfingers
Hershey's Kisses
M&Ms
Nutter Butters
Girl Scout Cookies
Chocolate chips, white chocolate chips, butterscotch….
You get the drift. This is your basic one bowl recipe. Build on it from there! (Or eat them plain with a fork. I've done that and I'm sure I'll do it again!)
Now you've learned two things today: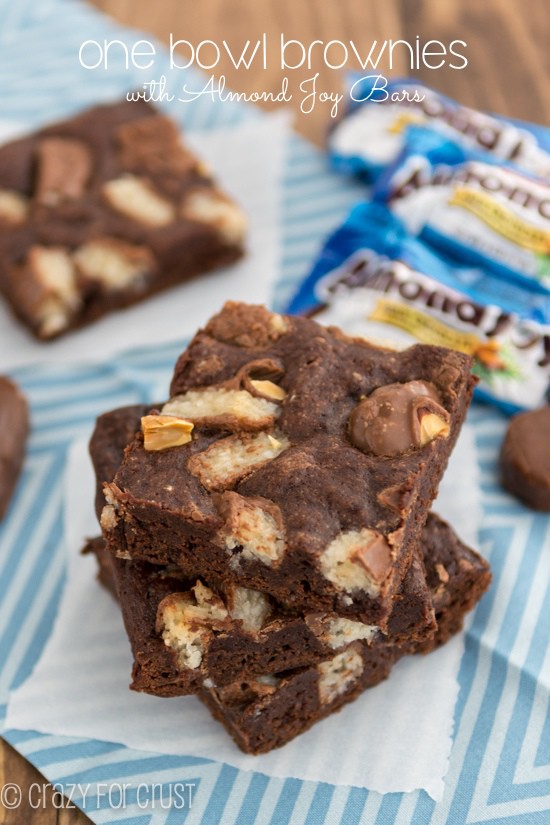 A new all-purpose brownie recipe AND that you need to get your dryer vents cleaned.
Enjoy!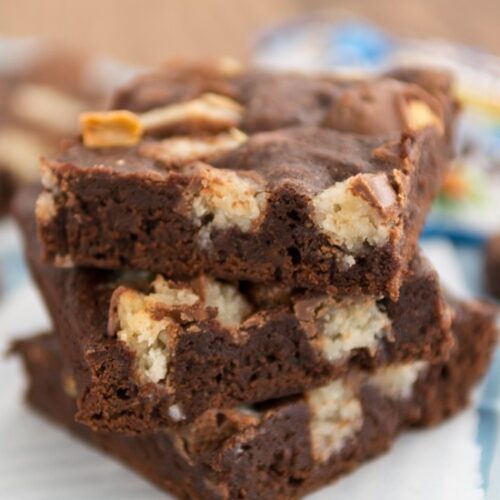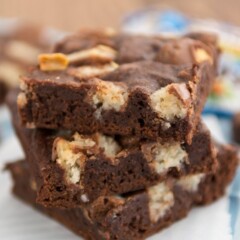 One Bowl Brownies with Almond Joy Bars
Ingredients
1/2

cup

unsalted butter

melted

1

cup

granulated sugar

2/3

cup

unsweetened cocoa powder

2

eggs

2

teaspoons

vanilla extract

1

tablespoon

brewed coffee

or you can substitute water

1/4

teaspoon

salt

1/2

cup

all-purpose flour

8

fun-sized Almond Joy or other candy bars

chopped
Instructions
Preheat oven to 350°F. Line a 9x9 or 8x8 pan with foil and spray with cooking spray.

Stir together melted butter, sugar, and cocoa. Stir in eggs, vanilla extract, coffee, and salt. Carefully stir in flour. (The coffee just adds a richness to the brownies, but you can use water if you prefer.) Spread in prepared pan. The batter will be thick.

Sprinkle chopped Almond Joys (or substitute your favorite candy bars) over the top. Bake for about 18-24 minutes, until they loose their glossy sheen and a toothpick comes out 2" from the side with only crumbs sticking to it.

Cool completely before slicing into squares.
Nutritional information not guaranteed to be accurate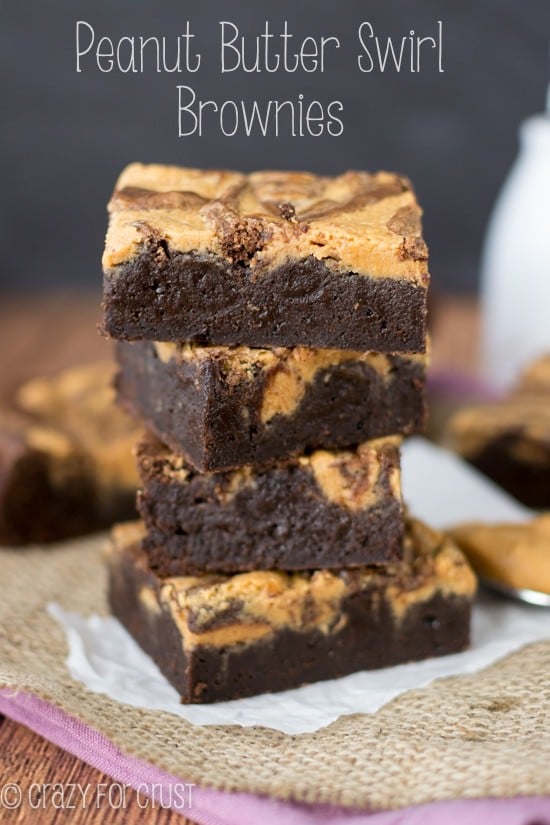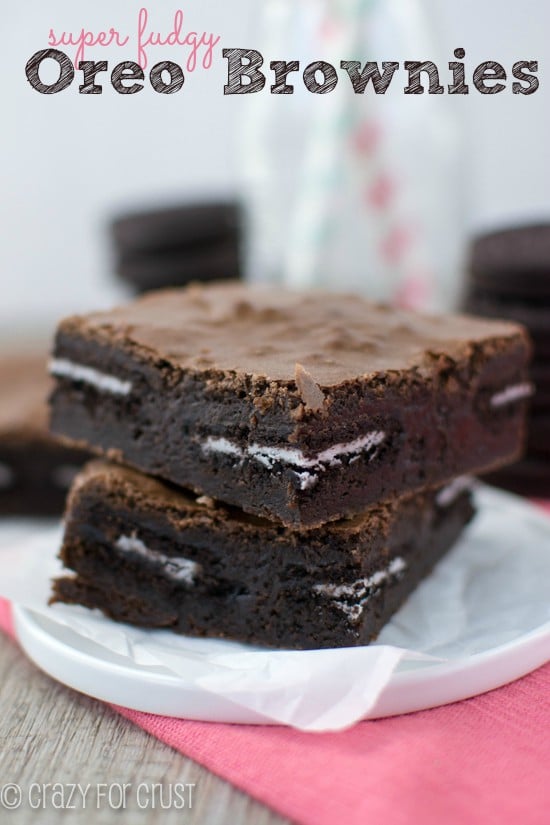 Nutter Butter Truffle Brownies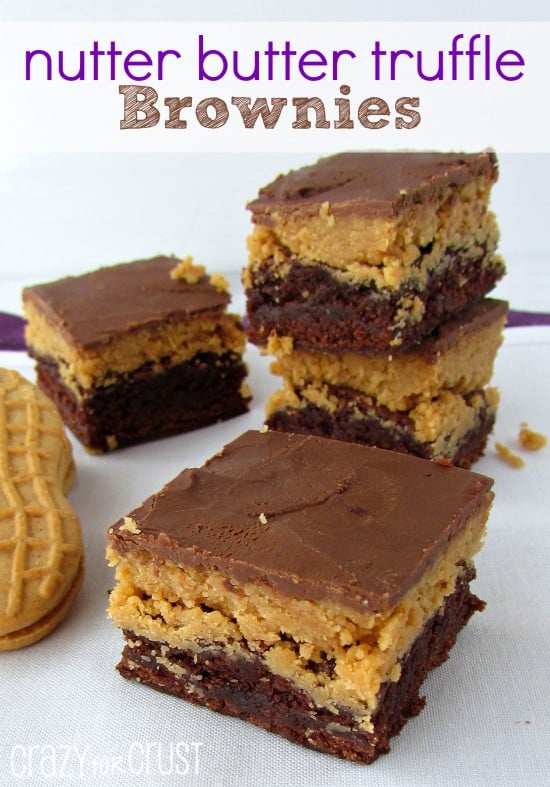 Fudgy Brownies with Orange Frosting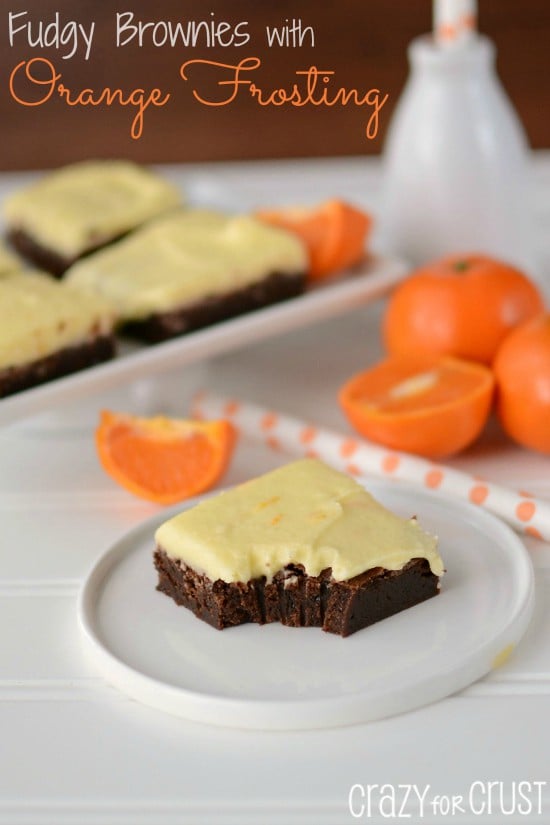 Sweets from friends:
Peanut Butter Brownie Pizza by Dinners, Dishes, and Desserts
The Ultimate Peanut Butter Brownie Sundaes by Bless this Mess
Sea Salt and Olive Oil Brownie Cookies by Something Swanky
Last Updated on May 13, 2020