This post may contain affiliate links. For more information, read my disclosure policy.
Sometimes you just crave a magic bar: the ooey gooey sweetened condensed milk and chocolate and sweet flavors.
Sometimes you just crave an oatmeal cookie: sweet and chewy, cinnamony and soft.
Now? You can have both. Because I made you Oatmeal Cookie Magic Bars!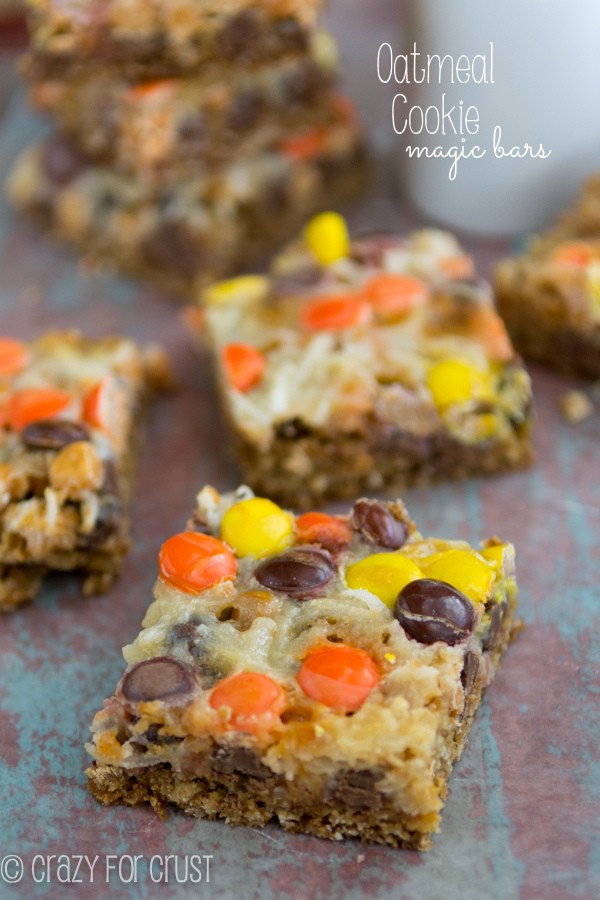 It has been way, way too long since I made a magic bar. It's also been too long since I made oatmeal cookies.
Did you know that oatmeal cookies are probably my #2 favorite cookie? #1 would be peanut butter, but if you're ever here at all, you'd know that. I was going through my cookie archives this week and realized…I hardly have any oatmeal cookie recipes. I need to change that…soon.
I'm starting by making oatmeal cookie magic bars. They have an oatmeal cookie crust. No, not crushed oatmeal cookies; it's an actual oatmeal cookie crust. You know, like a pan cookie.
It's, like, the best crust ever on a magic bar.

I'm still working on perfecting the perfect drop oatmeal cookie, but this is my favorite pan recipe. It doesn't matter if it spreads. You don't have to chill it. You just press it in a pan and go from there (or, use mini muffin tins). In fact, if you're really in the mood for oatmeal bar cookies you can skip all the toppings and sweetened condensed milk and just make some with this recipe.
But why you'd want to skip sweetened condensed milk is beyond me. I mean…that stuff is the best stuff everrrrrrr. Anyone have a straw?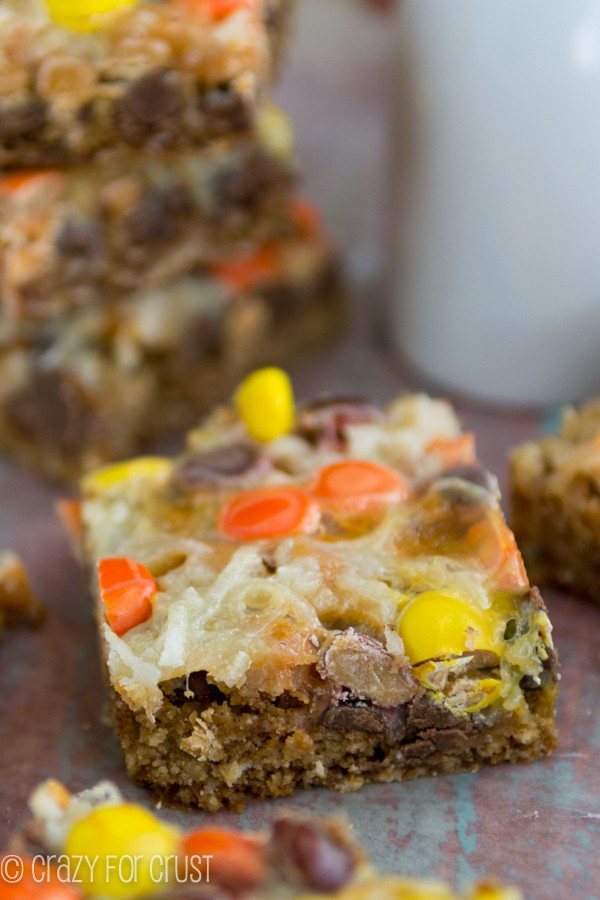 One of the great things about this recipe is you can make them to your tastes. What do you like in your oatmeal cookies? Are you a raisin person? Chocolate Chips? Butterscotch? This recipe has you covered.
Once you press your cookie mixture into the pan and pre-bake it for 10 minutes (otherwise you'll have either a burned top or a raw bottom) you add your magic bar mix-ins to the top.
Add up to 4 cups of your favorite oatmeal cookie mix-ins:
Butterscotch Chips
Chocolate chips (white, semi-sweet, or milk)
Peanut Butter Chips
Raisins
Coconut
Nuts
Toffee Chips
M&Ms or Reese's Pieces or chopped peanut butter cups…or any candy
Or anything else your heart desires!
I added 1 cup each of butterscotch chips, chocolate chips, coconut, and Reese's Pieces, for a total of 4 cups. Then I poured fat-free sweetened condensed milk over the top. (I know, irony, right? Fat-free? Really? It's just what I always use.) Bake it for another 25-30 minutes and you have Oatmeal Cookie Magic Bars!
You'll notice when these bake that they probably aren't going to win any beauty contests. Around the edges the chips (especially butterscotch) tend to melt into the milk, making them look browner and more done than they actually are. Oatmeal cookies, as a general rule, aren't the prettiest cookie. But have no fear – these taste amazing. Like a gooey, melty, sticky oatmeal cookie on crack.
Really, probably my favorite magic bars ever.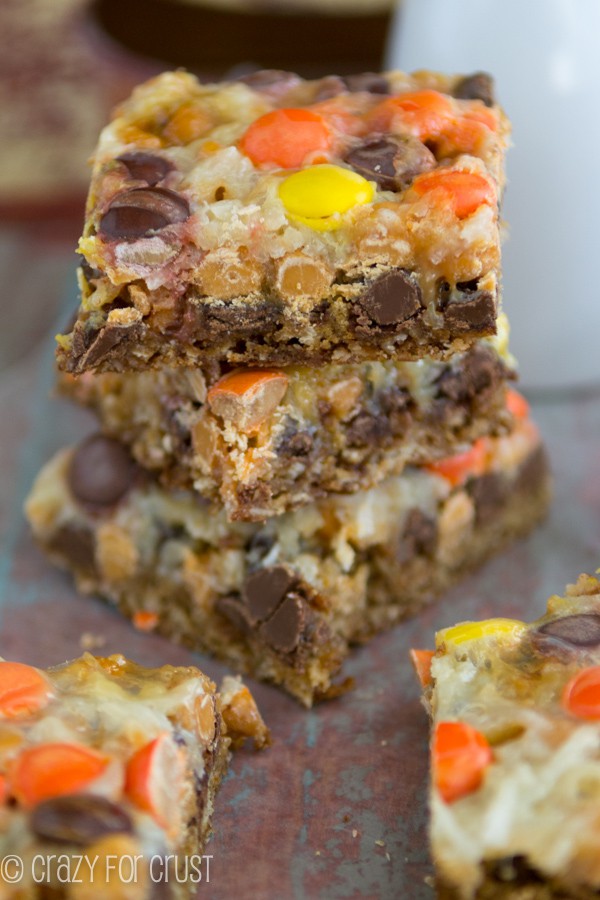 How would you make yours?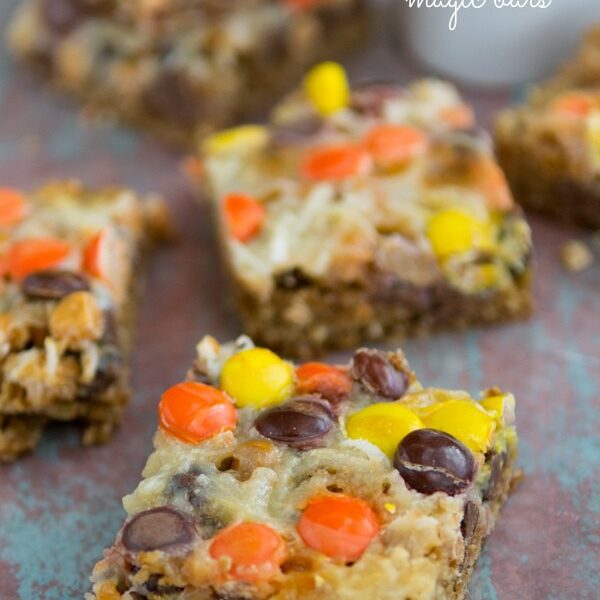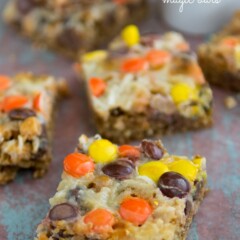 Oatmeal Cookie Magic Bars
Ingredients
1/2

cup

butter

softened

1/2

cup

brown sugar

1/4

cup

granulated sugar

1

egg

1

teaspoon

vanilla extract

1

cup

all-purpose flour

1/2

teaspoon

baking soda

1

teaspoon

cinnamon

1 1/2

cups

Quick Oats

4

cups

toppings

chocolate chips, white chocolate chips, butterscotch chips, nuts, raisins, coconut, peanut butter chips or cups, etc.

I used: 1 cup each of butterscotch chips, semi-sweet chocolate chips, coconut, and Reese's Pieces

1

can

14 ounces fat-free sweetened condensed milk
Instructions
Preheat oven to 350F. Line a 9x13" pan with foil and spray well with cooking spray. These are very sticky and the foil helps remove them easily from the pan, but it's not mandatory.

Cream butter and sugars in the bowl of an electric mixer fitted with a paddle attachment. Beat in egg and vanilla. Mix in baking soda and cinnamon. Slowly beat in flour. Mix in oats.

Press dough into pan. Dough will be sticky so it helps to spray your hands with cooking spray. It will be a thin layer on the bottom of the pan. Bake for 10 minutes.

Remove hot pan from oven and sprinkle evenly with toppings. Pour sweetened condensed milk evenly over the top. Return to oven and bake for 25-30 more minutes until the edges are browning and the top seems semi-set. These stay sticky, and sometimes the chips (especially butterscotch) melt around the edges.

They may look very brown, but it's just the melted chips. Cool completely before cutting.
Nutritional information not guaranteed to be accurate
Click here to see more of my ULTIMATE COCONUT recipes!
Hershey's Kisses Oatmeal Cookie Cups
Sweets from friends:
Seven Layer Magic Bar Cookies by Averie Cooks
Nutter Butter S'mores Magic Bars by Something Swanky
Milky Way Magic Bars by Wine & Glue
Or check out my Magic Bar Round-Up for even more flavor combos!
Last Updated on June 9, 2020