This post may contain affiliate links. For more information, read my disclosure policy.
Almond Joy Mini Pies – I'm addicted to Almond Joy candy bars. Are you surprised? I figured it was time I married my love of Almond Joy and my love of pie.
Took me long enough.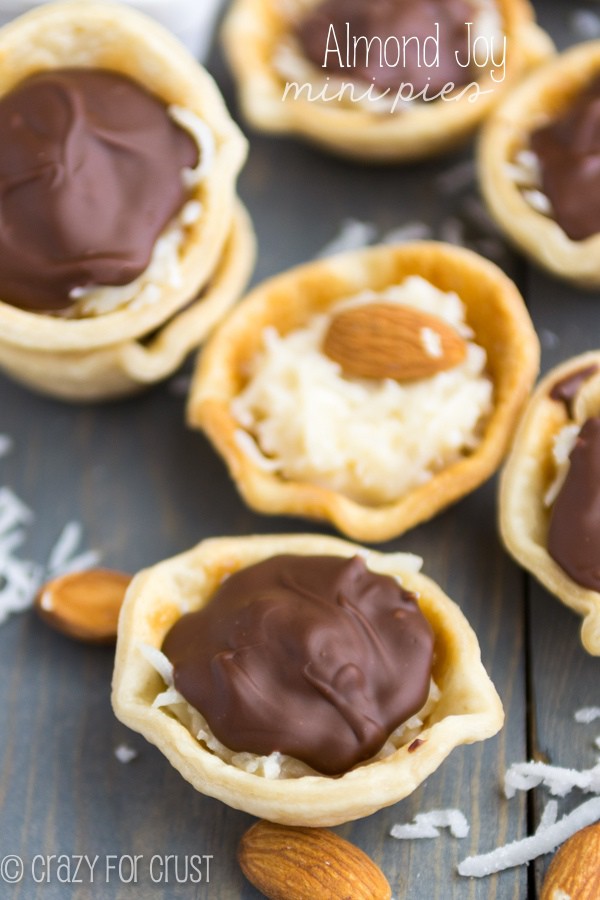 Last week I was in Oregon, visiting the sweet folks at Harry & David (more about that soon!) and it was such a fun trip. My flight home was very entertaining, to say the least. Some things I learned or experienced:
*Planes with only window seats on one side exist. Those planes also have propellers that you can see.
*There are airports in the US that are small enough where the ticket agent and the gate agent are the same person.
*Doing drugs makes you look stupid. I mean, I knew that one already, but it was confirmed by the junkie sitting across from me who really should have just gone and found a fix. She had track marks on her feet, which I knew because she was walking around in the airport barefoot. *shudder*
*Sometimes it's a really, really small world. A friend I haven't seen since college was on standby for my flight from SFO to Sacramento. He ended up sitting next to me and we got to catch up. It turns out he lives 15 minutes from me. I drove him home, and it was kind of surreal.
*Some airlines (ones that rhyme with Foonited) don't keep enough flight attendants on staff. I mean, it must be really difficult to find one in an area of approximately 1 million people.
*After almost 12 hours of working on a non-work day, flight attendants get funny and angry at their employers. Also, if enough passengers say to them "So YOU'RE why we're late" you'll get the whole story.
Related: Michelle from SFO to SMF on Friday night? You were the best flight attendant ever. Thanks for making the 10 minutes in the air enjoyable. And thanks for working an extra flight on your off-day, so I could get home to my family.
Also related: flights from SFO to Sacramento are annoying.
Not annoying? Almond Joy Mini Pies. It's an almond joy candy bar with a crust.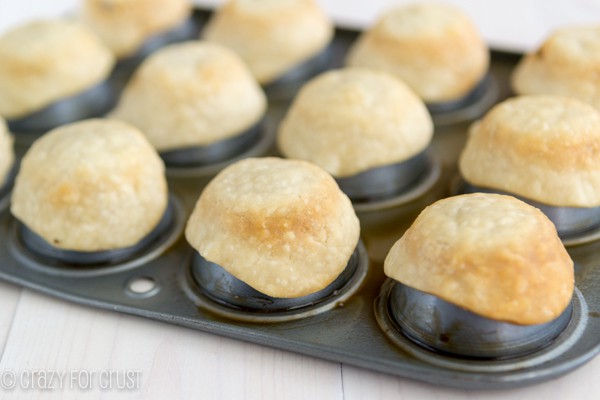 These Almond Joy Mini Pies are ridiculously easy to make.
You take your pie crust (either homemade or from a refrigerated pack of two) and cut 2.5″ circles. Spray the bottom of a mini muffin pan with cooking spray and mold the circles over the bottom of the muffin cups. Once baked, these form a little tart shell, perfect for filling.
I filled these Almond Joy Mini Pies with a homemade almond joy mixture. You're welcome.
Coconut is mixed with sweetened condensed milk and scooped into the pie crust. You top them with an almond and some melted milk chocolate chips.
The best thing about these Almond Joy Mini Pies? You could use dark chocolate and make a Mounds with an almond.
Or you could skip the almond and make a milk chocolate Mounds.
Kind of mind boggling, right?
These Almond Joy Mini Pies are perfect for a mini treat for a party. You have to make small bites for parties (like, say, Easter) so that people can feel like they can eat one of everything. Or two. Or six.
These are also great for a random Wednesday.
Or for when you get home at midnight after a long week and you just want pie. And a candy bar.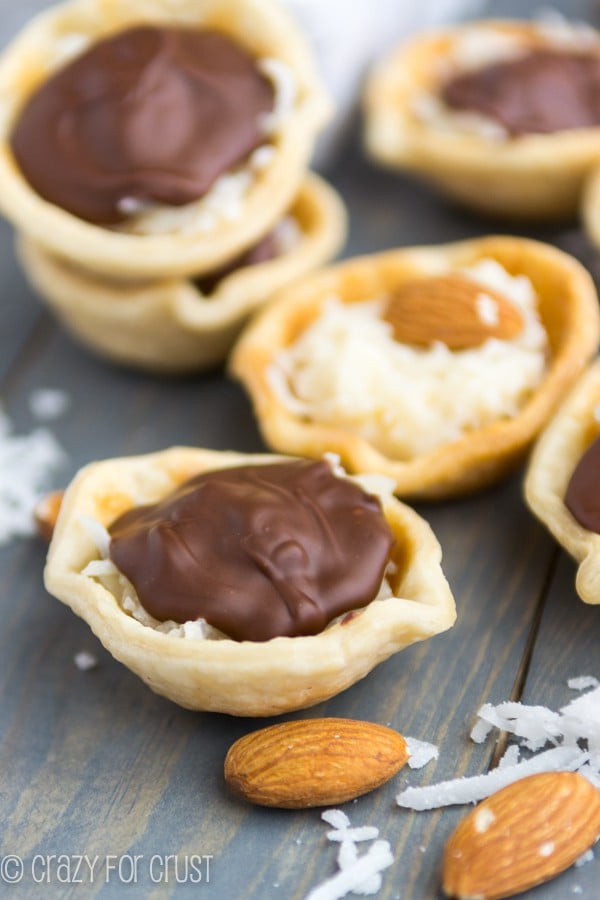 I'm addicted to Almond Joys. And pie. These Almond Joy Mini Pies are the best of both worlds!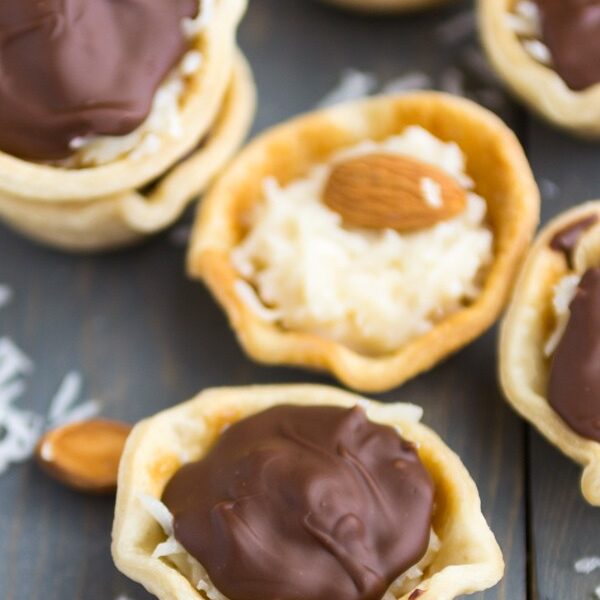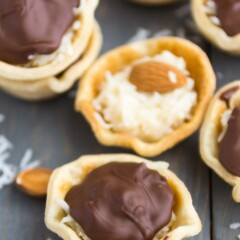 Almond Joy Mini Pies
Mini pie crusts filled with a mixture that tastes just like an almond joy!
Ingredients
1

refrigerated prepared pie crust

either from scratch or from a pack of two, like Pillsbury

1/2

cup

fat-free sweetened condensed milk

1/2

teaspoon

pure vanilla extract

1 1/2

cups

shredded coconut

About 18 whole almonds

3/4

cup

chocolate chips

semi-sweet or milk

3/4

teaspoon

vegetable oil or shortening
Instructions
Preheat oven to 400°F. Turn two mini muffin tins over and spray the bottoms with cooking spray.

Unroll pie crust and cut 2.5" circles with a cookie cutter or jar lid. Wrap one circle around the underside of each muffin pan cavity (creating an upside down tart shell). One pie crust makes about 18, with re-rolling. Bake for 6-8 minutes, until golden brown. Cool completely before removing and filling.

Stir together sweetened condensed milk, coconut, and vanilla. Spoon a tablespoon into each pie shell. Top with an almond.

Place chocolate chips and oil in a microwave safe bowl and heat in 30 second increments, stirring between each, until melted and smooth. Spoon some chocolate over each pie, spreading to the edges of the pie. Chill until set.

Store in an airtight container. Will keep for at least 4 days at room temperature.
Recipe Nutrition
Serving:
1
pie
|
Calories:
238
kcal
|
Carbohydrates:
26
g
|
Protein:
6
g
|
Fat:
13
g
|
Saturated Fat:
5
g
|
Cholesterol:
2
mg
|
Sodium:
95
mg
|
Fiber:
6
g
|
Sugar:
13
g
Nutritional information not guaranteed to be accurate
Click here to see more of my ULTIMATE COCONUT recipes!
Almond Joy Peanut Butter Cookie Bars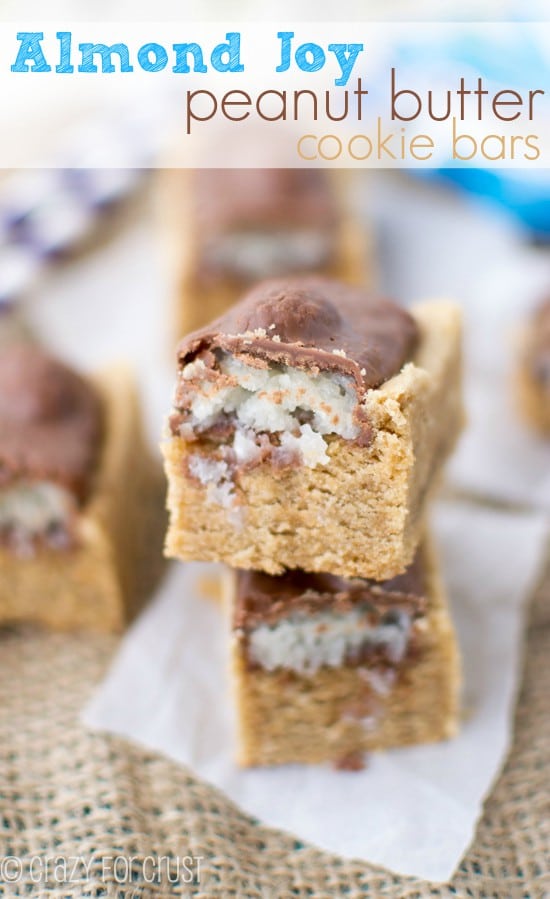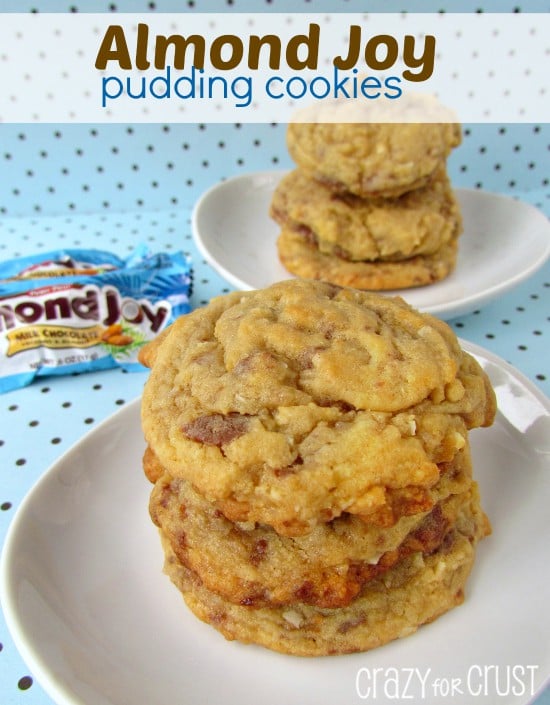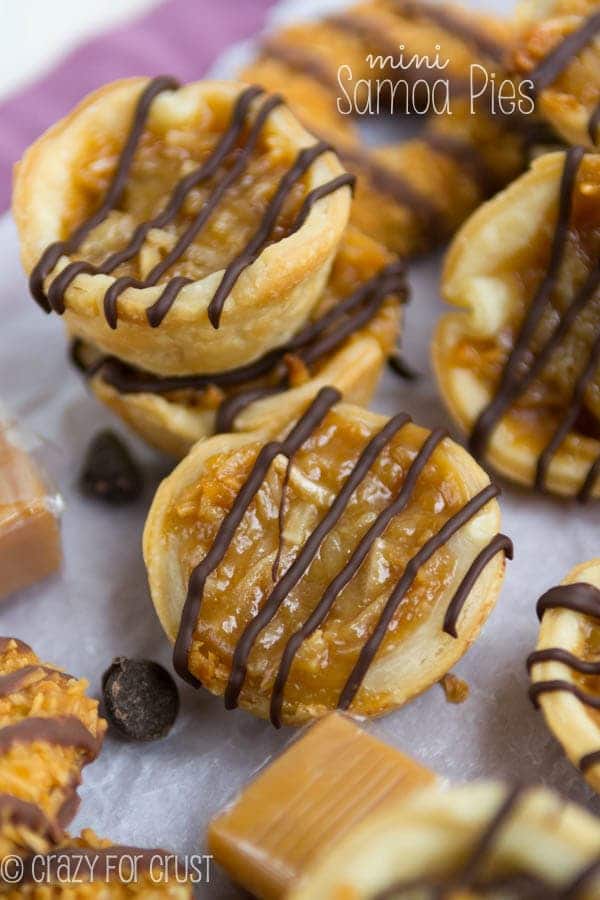 Sweets from friends:
Almond Joy Bites by Will Cook for Smiles
Paleo Almond Joy Cookies by Pineapple & Coconut
Homemade Almond Joy Bars by Something Swanky
Last Updated on September 20, 2019