This post may contain affiliate links. For more information, read my disclosure policy.
Walnuts are super healthy for you, so why not celebrate National Walnut Day with some homemade Maple Walnut Butter with Pie Crust Chips?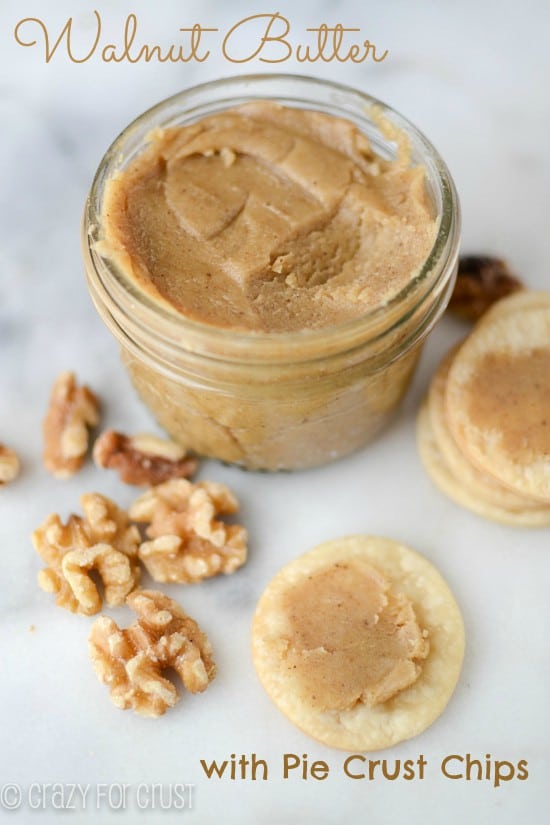 I got to go on a field trip! One with other adults. No school buses, no whining children. An adult field trip!
I totally want to tell you all about this amazing, fantabulous, to die for Maple Walnut Butter. But hang on, I want to talk about walnuts first, mmmkay?
Today, May 17, is National Walnut Day. To celebrate, the California Farm Water Coalition invited me and a few other local Sacramento bloggers to accompany them on a Walnut Farm tour. Did you know that walnuts grown in California account for 99% of the commercial U.S. supply? And that they provide 70% of the world trade?
And so many of the orchards are right in my back yard!
Along with the Farm Water Coalition and my new friend Melissa from Pretty Yummy Foods, we headed to Winters to visit Lester Farms. Stan Lester and his family have been farming since the 1800s, and settled in Winters in the mid 1900s. Our tour was actually given by Todd, who runs another walnut farm locally, Ramos Farms. His family has been at it since the 1930s.
I've driven past orchards all my life. Up and down I-5 and U.S. 101 on the way to LA and up to Oregon and Washington. I've never thought too much about them except to wonder what they grow.
I bet a lot of them are growing walnuts!
This is the orchard we got to see. It's kind of magnificent up close.
It takes a lot of water to keep these trees alive – and for good reason. Our farms are one of the top users of water in the state, but they are also the top conservationists. The food they grow is the food we eat. As the California Farm Water Coalition says…Food Grows Where Water Flows!
Without water going to these farms we would have no food. California is a huge crop producing state – and they produce crops for so many places in the country. Like Walnuts!
Walnuts have a green shell when they are on the tree. There are so many kinds of walnut trees and each one has it's own rules for growth: amount of water needed, amount of sunlight needed. During harvest in the fall, the walnuts come off the trees looking like this:
I cannot imagine working an orchard before the technology they use today. Today they have a machine to shake the trees, to sweep up the walnuts that have shaken to the ground, and even one to "vacuum" them up. Before all that they had to pick them up – by hand.
After our tour of the orchard, we got to go into Winters and have lunch at the Lester Bakery. OMG people, if you ever get to go to Winters, California, GO THERE FOR LUNCH.
I seriously wanted one of everything. Those maple things on the bottom left were as big as my head.
We got to have dessert before lunch. This was my favorite part, obvi. Brownies with walnuts, oat bars with walnuts, and walnut shortbread with frosting in the middle. (FYI – those WILL be copycatted. Just wait…)
After lunch we got to visit the Mariani Nut packaging plant. Mariani's takes in the walnuts from the growers in the area. They come in the shell, with the green outside removed. Then they remove the shells, sort the nuts, and package them to sell.
Did you know that "blonde" walnuts are more liked than the darker ones? The machines can actually sort out the darker walnut pieces. That's kind of amazing.
Mariani's packages their own brand (if you shop here locally in Sacramento, you may have seen them at Raley's). But they also package for another store you might recognize:
Costco! Those huge bags of walnuts in Costco (at least in my area) are actually packaged locally. You can even tell where they were packaged by looking at that number on the back under the expiration date. the "M" means they were packaged at Mariani's. (They package the Kirkland Almonds too!)
I was floored when Matt Mariani handed me this huge bag of walnuts to bring home with me. Like, score!
So of course, I need to make something yum for National Walnut Day!
I thought about making something sugary and drippy sweet. But, something else I learned on my field trip is how healthy walnuts are. Like, really!
Walnuts have a heart-healthy check mark from the American Heart Association.
They are full of omega-3s and other things that are good for you (like Vitamin E).
Walnuts have been studied and shown to reduce the risk of stroke, cardiovascular diseases, cancer, and type 2 diabetes in women.
And, something I totally understand all the big words for, walnuts can improve a man's reproductive health. Vitality, motility, and morphology can all be improved with walnuts.
So I figured I should make something healthy (today). Don't worry, drippy, sweet, ooey-gooey walnuts will be coming soon.
I loved the Oreo Peanut Butter I made, so I decided to make Walnut Butter, with maple. Because I looove maple walnut anything!
Of course, I made pie crust chips too. They are very reminiscent of the pie crust dippers and the pie crust tortilla chips. The perfect way to eat the maple walnut butter!
I toasted my walnuts, because I like that better. (Plus, if you've ever found that eating lots of raw walnuts hurts your mouth, toasting them will take care of that problem.)
The butter comes together super easy, just like the peanut butter. I added maple syrup and some salt during the processing, and a little oil because the nuts aren't as oily as peanuts. Run it through your food processor for a few minutes and it becomes a wonderful thing to spread on toast, pie crust crackers, or eat on a spoon.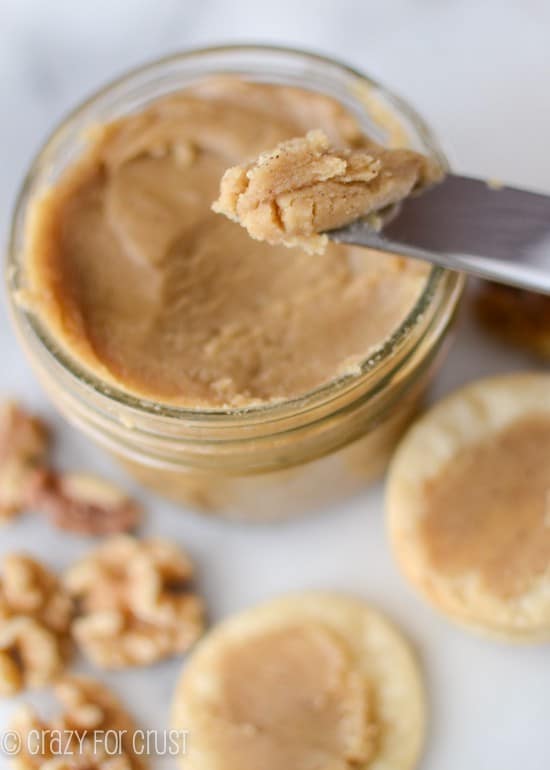 Eating it on a spoon…something I've been doing a loooot since Monday!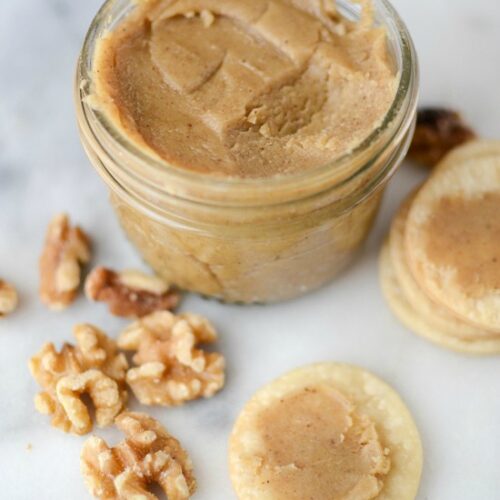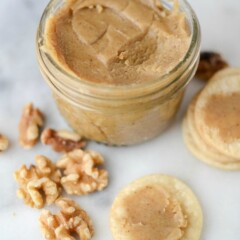 Maple Walnut Butter & Pie Crust Chips
Homemade Walnut Butter, made with maple syrup! Maple Walnut Butter is great on toast...or just on a spoon!
Ingredients
Walnut Butter
2

cups

walnuts

2

tablespoons

pure maple syrup

1/2

teaspoon

salt

more to taste

1

tablespoon

vegetable oil

optional
Pie Crust Chips
1

refrigerated pie crust

1

tablespoon

pure maple syrup or granulated sugar

optional
Instructions
For the Maple Walnut Butter:
To toast walnuts (this is optional, but I like my walnuts toasted), place them in a frying pan over low heat. Cook for a few minutes, stirring almost constantly. As soon as you notice little brown spots and/or smell the walnuts, remove from heat and place on a plate to cool. Make sure they are almost completely cool before continuing.

Place walnuts in a food processor. Process for about 1 minute, then stir and add salt and maple syrup. Process another minute or two, adding oil if you want a thinner consistency. Add more salt according to your preferences.

Store in refrigerator; makes 8 ounces.
For the Pie Crust Chips:
Preheat oven to 350 degrees. Line a baking sheet with parchment or a silpat baking mat.

Unroll pie crust and, using a cookie cutter, cut rounds of dough. Re-roll as necessary. Depending on size, you'll get about 24 rounds.

Lay on your cookie sheet and use your finger to lightly coat with maple syrup, or sprinkle with granulated sugar.

Bake 10 minutes, cool before serving.
Nutritional information not guaranteed to be accurate
Thanks for reading about my Walnut Orchard Field Trip!
I was invited on this tour by the California Farm Water Coalition. I received transportation and food, as well as walnuts to bake with. I was not compensated for this post. All opinions are 100% my own.
SaveSave
Last Updated on May 20, 2022