Peanut Butter Sandwich Waffle Dippers
This post may contain affiliate links. For more information, read my disclosure policy.
Peanut Butter Sandwich Waffle Sticks: are they breakfast? Are they lunch? Guess what? They're both!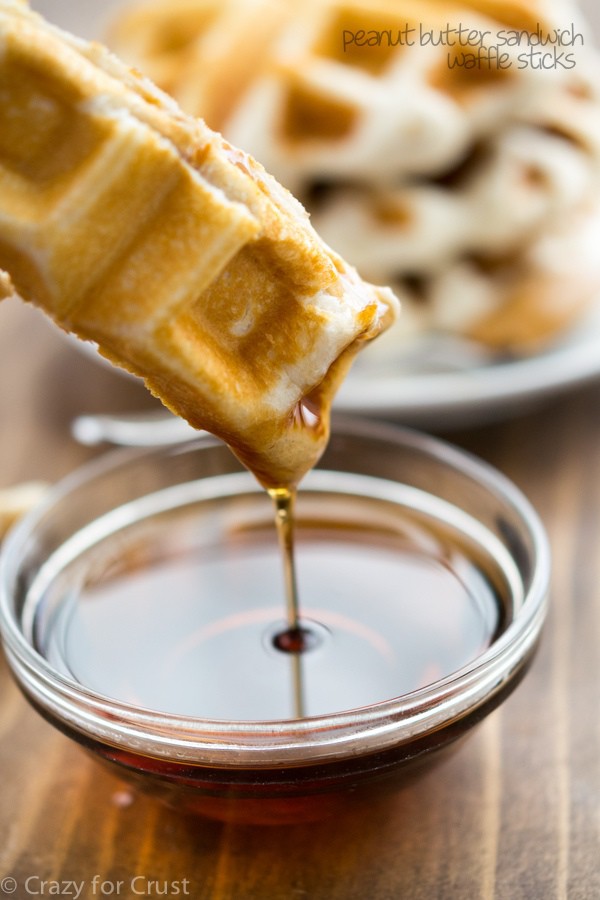 Yesterday was the first day I worked out with my trainer since the beginning of January. I've been exercising (mostly cardio) at the gym every day, but I haven't done my normal strength training and hard trainer workouts in about 6 weeks. Guess what? Running 2 miles several times a week is not the same thing as an hour of strength training.
I got home yesterday morning and promptly wanted a nap and to eat the kitchen. I pushed off the nap since I was so famished…so I made waffles. That's perfectly normal right? Work out, come home and eat waffle sandwiches dipped in syrup.
Sounds like a pretty balanced thing to me. (<–Why I workout with a trainer. I consider him a business expense. It's too bad the IRS doesn't agree.)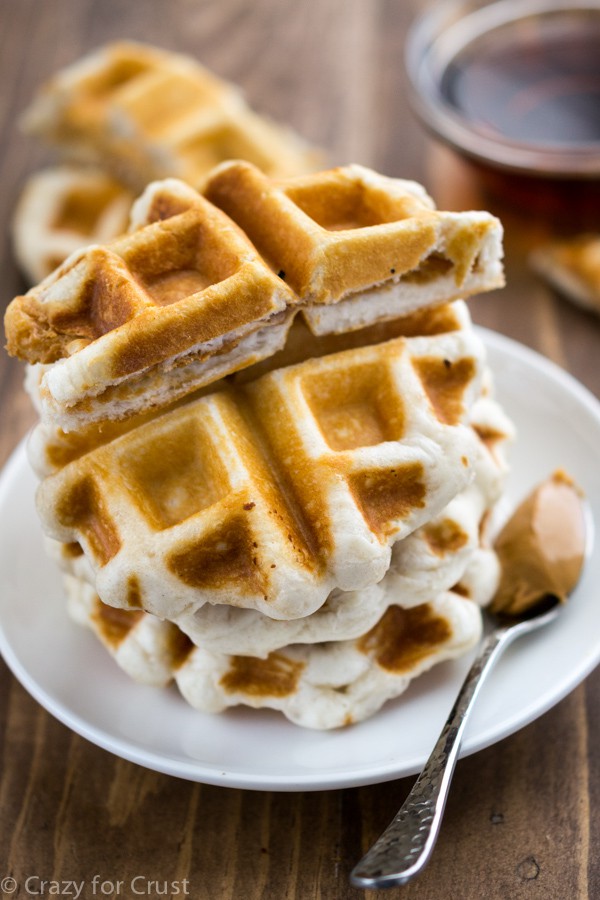 I absolutely love waffles. I think I love them more than pancakes. I definitely like them more than french toast. For me? Waffles are what I crave when I want syrup. I think it's something about the crunchy outside and the soft inside.
When I made these, I was craving waffles but I wasn't craving making batter. In essence, I was feeling lazy, which is a pretty normal thing for me. I mean, would you rather read a book and watch trashy reality TV or do laundry and work? #TeamLazy
Anyway, I was trying to figure out how to achieve laziness and get waffles at the same time when I remembered these waffle sandwiches I made for Pillsbury. I'd made them using Grands Biscuits.
And that's when I had a light bulb moment: I could make waffles from biscuits. No mixing, no bowls to wash. And? And I could stuff them with peanut butter. Then I could dip them in syrup and everyone would be happy (except my trainer).

So I did it and it was wonderful.
Let's break down the recipe:
Start with a can of Pillsbury Grands Biscuits, but not the flaky kind. Cut them in half like you're making a sandwich. (Because guess what? You are making a sandwich.) Spread some peanut butter on one half the raw biscuit. If you want, add some honey or jelly. Or hey, chocolate chips? Sandwich the two raw biscuit halves and crimp the edges. This is an important step so your peanut butter doesn't leak all over the waffle maker. #truestory
All waffle makers cook differently. I heated mine to medium high and they cooked in about 1-2 minutes. Once the biscuits are golden brown, they're done. Let them cool a little, then slice them up and dip them in syrup.
And here is where this recipe gets even better: it's a twofer.
1. Use these for breakfast. Dip them in syrup.
OR…
2. Skip the syrup and put them in baggies for lunches. You can freeze them individually and if you add them to a lunchbox the night before, they'll be defrosted by lunchtime. It's a (sort of) homemade uncrustable!!
Any recipe that can do double duty is a top notch one in my book. We loved these waffle sticks both ways. But I loved them even more with syrup. Because, well. Syrup, duh.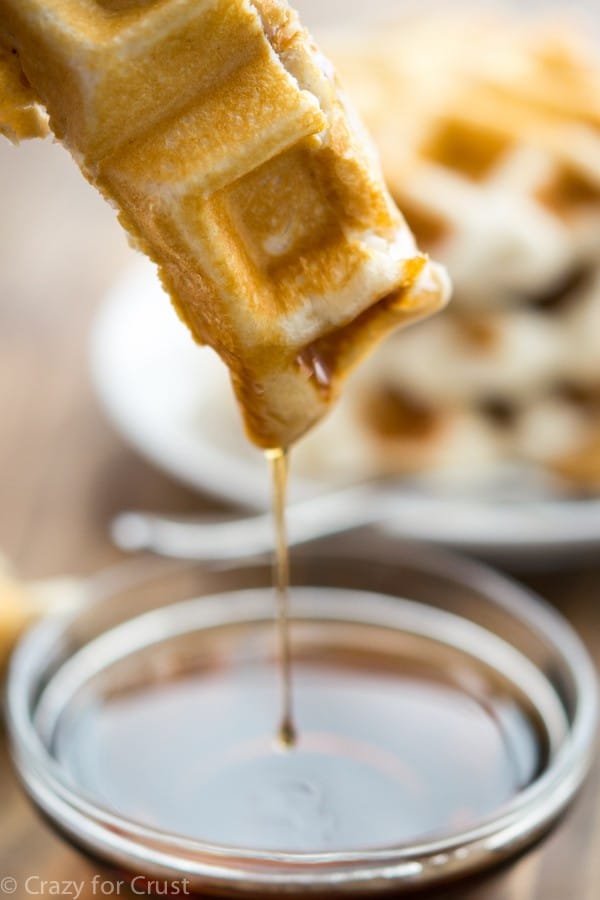 How will you eat them?
Servings: 8 waffles
Peanut Butter Waffle Sandwich Sticks
This easy breakfast ready is done in minutes and can be frozen for fast morning meals! Make peanut butter sandwiches with refrigerated biscuits and cook them in a waffle maker. Dip in syrup for a fun breakfast!
Ingredients
1 can Pillsbury Grands Biscuits — 8 biscuits, NOT the "flakey" kind
Peanut Butter
Jelly or honey — optional
Syrup — for serving, optional
Instructions
Preheat your waffle maker to medium-high.

Open the can of biscuits and cut each biscuit in half like you're making a sandwich. Place about 2 teaspoons of peanut butter on one side of the raw biscuit dough. If desired, top with some jam or honey. Place the top raw half of the biscuit on top and pinch the edges to seal. (The sealing is important or peanut butter will leak all over your waffle maker!)

Depending on the size of your waffle maker, cook one sandwich at a time. (My waffle maker is a standard round size and I make one in the center.) Cook about 1-2 minutes until golden. Time will vary depending on your waffle maker, so just watch the first few and see how long they take.

Cool slightly (or completely) before serving. These can be cut into strips and dipped in syrup or you can even just serve them as a sandwich for lunch.

Store in an airtight container for up to 3 days or freeze for up to one month. To reheat, simply microwave until warm. You can also toast them to make them crunchy. Or just place a frozen sandwich in a lunch box the night before and it'll be defrosted by lunch the next day!
Click HERE for more Pillsbury Dough Recipes!
Click here to see more PEANUT BUTTER recipes!
Peanut Butter Snickerdoodle Crescent Rolls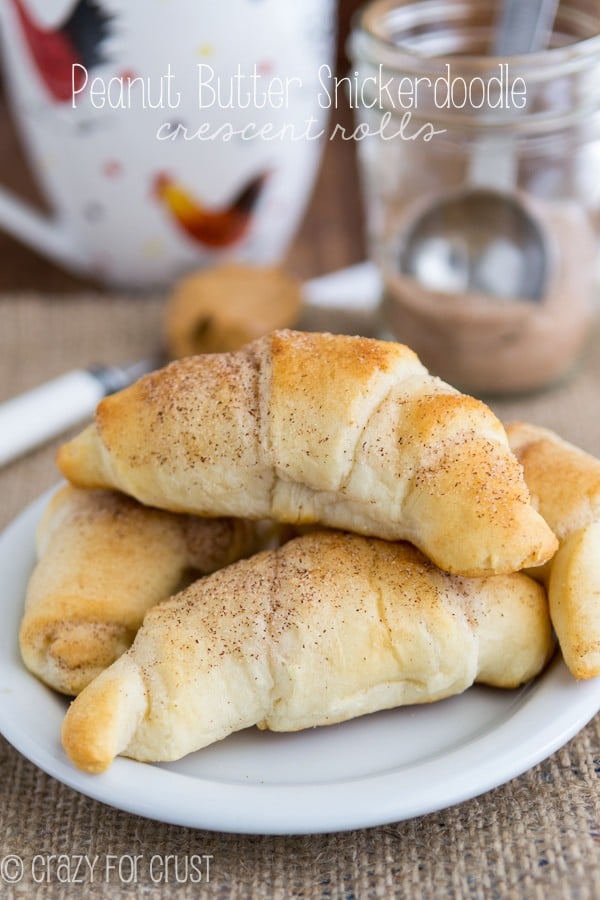 Chocolate Bacon Pull Apart Bread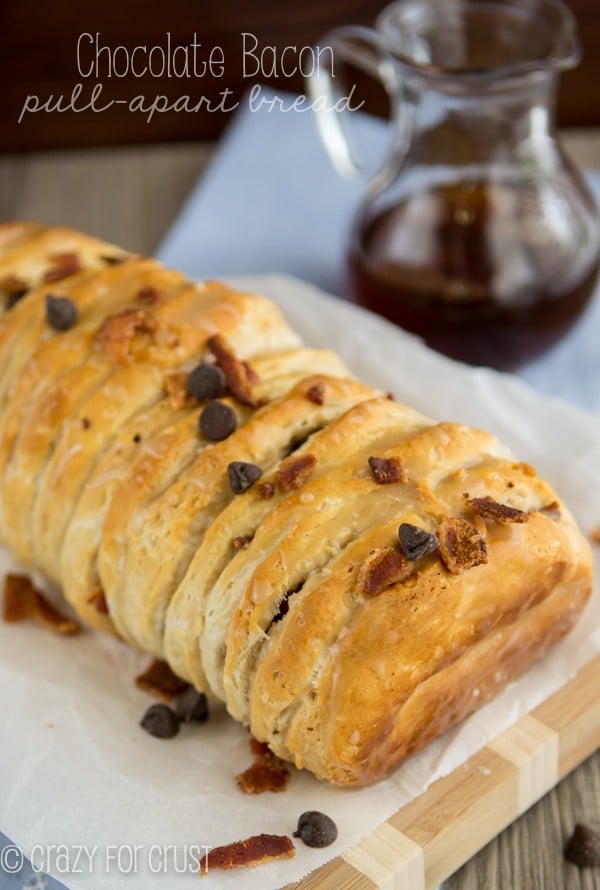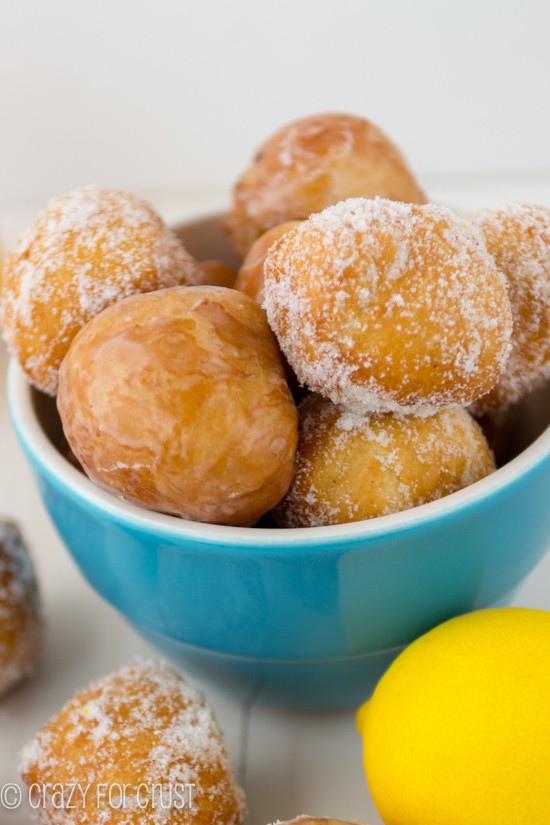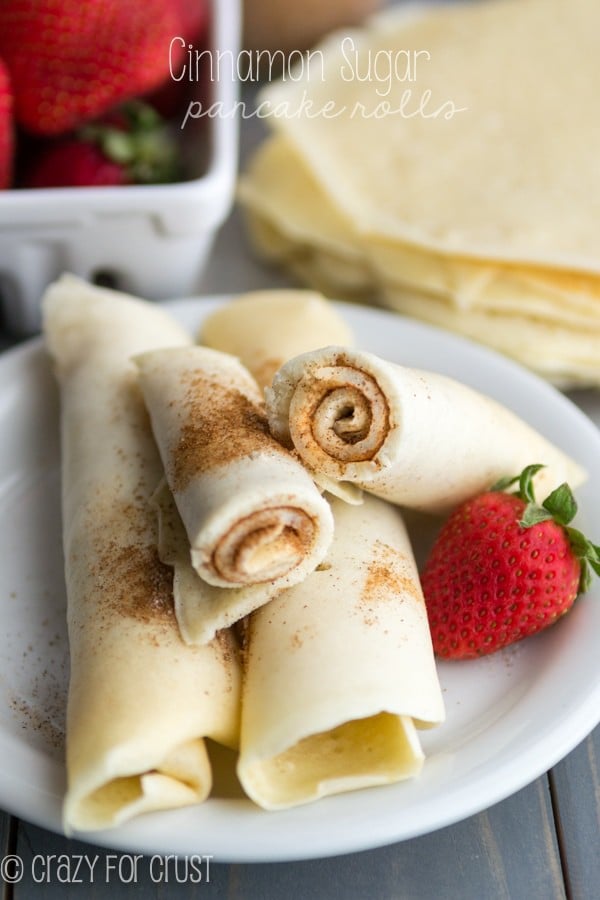 Sweets from friends:
Apple Pie Pull Apart Bread by Heather's French Press
Nutella Rolls with Cream Cheese Icing by Chef in Training
Pumpkin Spice Monkey Bread by CenterCutCook