This post may contain affiliate links. For more information, read my disclosure policy.
Friday is National Go Red for Women Day. Make some heart healthier chocolate oatmeal cookies and be nice to your heart!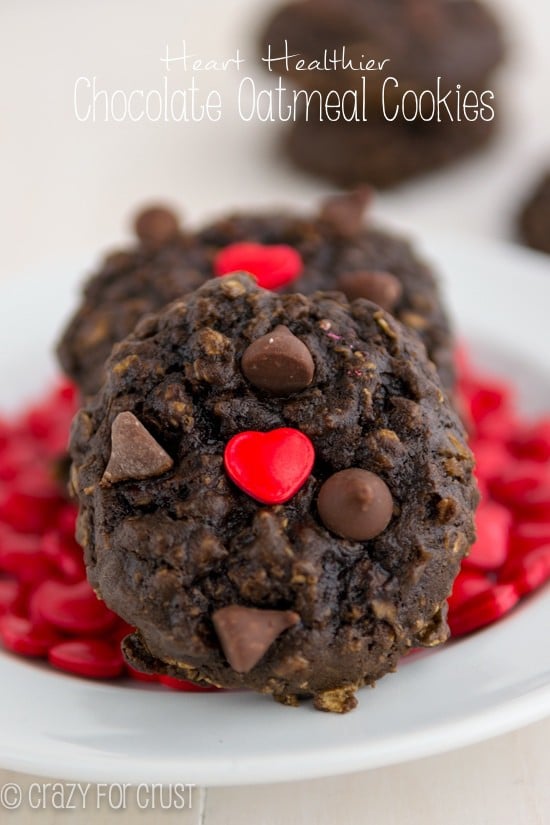 If you've been reading my blog for awhile you'll know that the first Friday in February is close to my heart. It's National Wear Red Day, a movement that started 10 years ago by the American Heart Association to bring awareness to heart disease in women. It's a day that women around the country wear red to bring attention to heart disease.
Heart disease is a silent killer, because there are often no symptoms. Heart disease is the number 1 killer of women. It's more deadly than all forms of cancer combined.
If you read my post last year, you already know the story. I'll tell it again here for all my new friends, and because it's so important.
Heart disease runs in my family. My mom's father and one of her brother's died of massive heart attacks. Another of her brother's had a heart attack and survived, and the third brother had a stroke a few years ago. He survived because the people he was with knew the signs of stroke.
Seven years ago my mom had a stent put into one of the arteries in her heart. She avoided a heart attack because she knew that the pain and shortness of breath she was feeling was not normal.
She was lucky – she knew the signs. And she was one of the ones who showed symptoms. Not everyone does.
Two years ago, almost exactly five years after her first episode, she had pain again. She ended up needing a new stent in the same artery.
The doctor told her that all the exercise and walking she was doing saved her life.
And she knew the signs.
Here are the signs of heart attack in women:
Shortness of breath with or without chest discomfort
Back pain
Jaw pain
Nausea, breaking out in a cold sweat, or lightheadedness
Pain or discomfort in one or both arms
Uncomfortable pressure, squeezing, fullness or pain in the center of your chest that lasts more than a few minutes, or goes away and comes back.
Most women ignore the signs of heart attack because they think that it's nothing. They don't know that the symptoms that women experience can be different than men.
I know this blog is a catch-22. I post sugar 4 times a week. I bake every day (and often several times a day). The key for me is moderation and exercise.
And sometimes, the key is making your favorite treats a little bit healthier. Anyone who has been on a heart healthy diet knows that things can be boring, bland, and taste like cardboard.
Sometimes you want a cookie, one that satisfies, but won't crush your diet plan. These Heart Healthier Chocolate Oatmeal Cookies are perfect for those days.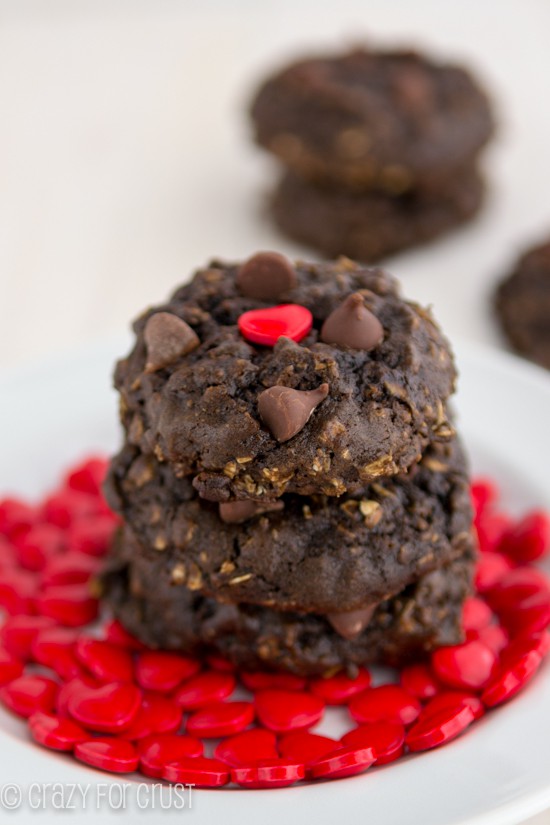 I based these cookies off my mint chocolate cookies. I made several changes that make them a little bit better for you.
First, I took out the butter. A cookie without butter? How can it be? I'll give you one guess. If you've been reading for about a year, you'll know. Say it with me…avocado. Avocados contain monosaturated fat, which is way more heart healthy than butter. By substituting avocado for the butter in these cookies, you take out a lot of the bad fats. In addition to the avocado, there is a little bit of vegetable oil. The oil is liquid, which is better than butter.
Cocoa powder was substituted for the baking chocolate. This reduces the sugar, fat, calories, and cholesterol that would be present in cookies using semi-sweet baking chocolate. I added oatmeal to the cookies to replace a lot of the flour. Oatmeal is considered by the American Heart Association to be heart healthy. I used all-purpose flour, but you could try these with whole wheat if you prefer.
Now, these cookies do still have sugar. Sugar isn't heart healthy, which is why moderation is key. My feeling is, if you're going to cheat with a cookie, make it taste the best you can while still keeping it healthier. You can play around with some sugar substitutes in these cookies, but I don't like baking with them because I don't like the taste they give.
These cookies are heart healthier. For when you need a sweet that tastes like a cookie, not a piece of cardboard.
Because they don't have real butter and lots of flour, these cookies are more of a cake-like cookie. The oats give them some chewiness and the few chocolate chips on top give them a punch of extra flavor. Those are optional. Another great addition to these cookies would be walnuts. Walnuts (and almonds) are considered more heart healthy nuts.
Even if you're not trying to eat better for your heart, you can still enjoy these cookies. You can eat one (or even two) with the knowledge that they're not going to ruin your diet.
They're nicer to your heart than most of what you see around here. 🙂

Know the symptoms of heart disease and stroke. Know what to do when you or a loved one feels the symptoms. Try to live a healthy, active lifestyle. Know your risk. Know your numbers. The alternative is much worse.
Wear red on Friday, February 7, 2014. Help bring awareness to heart disease.
***I will be donating $1 for every comment left on this post (up to $200) from the time it posts until Sunday, February 9, 2014 at 11:59 PM PST. Spread the word, leave a comment.***
I'll also be wearing red tomorrow. I'm flying out to Salt Lake City for the Build Your Blog Conference. If you're going to be there, come say hi. I'll be the one in red.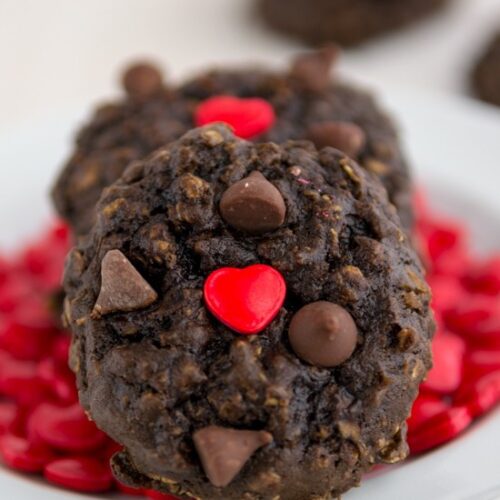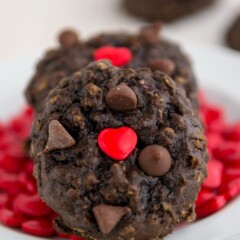 Heart Healthier Chocolate Oatmeal Cookies
Ingredients
½

cup

mashed avocado

from about 1 medium avocado

2

tablespoons

vegetable oil

½

cup

brown sugar

¼

cup

granulated sugar

1

teaspoon

vanilla extract

1

large egg

¼

cup

unsweetened cocoa powder

1

teaspoon

baking soda

¼

teaspoon

salt

optional

1

cup

quick-cooking oats

½

teaspoon

cinnamon

½

cup

flour

1/3

cup

chocolate chips

optional

1/3

cup

chopped walnuts or almonds

optional
Instructions
Preheat oven to 350°F. Line two cookie sheets with silpat baking mats or parchment paper. (These cookies stick, even to the silicone, so if you are not using silicone, be sure to grease your pans.)

Note on mashing avocado: Place your avocado in a small bowl and mash with a potato masher, then measure out ½ cup. Alternately, if you're worried about avocado lumps, you can puree the avocado in a food processor, then measure out ½ cup. One medium avocado is about ½ cup mashed.

Stir avocado and oil in a large bowl with a wooden spoon. Stir in both sugars. Add vanilla, egg, and cocoa and mix until smooth (there may be some lumps from the avocado). Stir in baking soda, salt, oats, and cinnamon. Carefully stir in flour. Dough will be wet.

At this point you can mix in the chocolate chips and/or walnuts if you're using them. I pressed chocolate chips on the top of each cookie instead of mixing them in. Either way will work!

Drop dough by 2 tablespoonfuls onto cookie sheet. Bake for about 8-10 minute (mine took 9). Cool before eating.

You need to use a spatula to remove them from the cookie sheet, they will stick. Best within 2 days.
Nutritional information not guaranteed to be accurate
Heart Healthy Chocolate Mousse
Sweets from friends:
Easy Skinny Smoothie by Something Swanky
Healthy Mini Fruit Pizzas by Yummy Healthy Easy
Healthy Peanut Butter Oatmeal Bars by Sally's Baking Addiction
All information about the healthy foods and the symptoms of heart attack, as well as the information about heart disease, come from the American Heart Association and Go Red for Women websites. I am not a doctor, and these statements I've made are from my readings of these two sites. Consult your doctor if you have questions or concerns about heart healthy foods and activities.
Last Updated on June 7, 2020