This post may contain affiliate links. For more information, read my disclosure policy.
Gooey Peanut Butter Chocolate Chip Cookie Bars – An easy chocolate chip cookie bar stuffed with a gooey peanut butter mixture. This is such an easy recipe – it starts with prepared cookie dough and has only 4 total ingredients! EVERYONE loved them!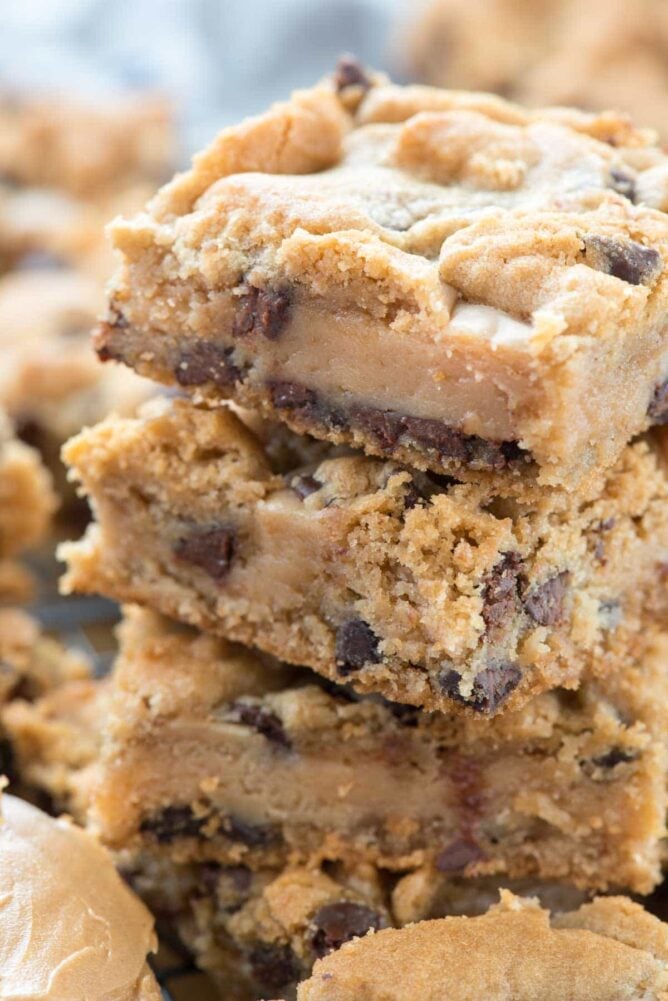 Sometimes you just need an ooey gooey dessert, don't you think? When I'm in that mood where I NEED indulgence, I almost always crave cookie bars and they must have chocolate and peanut butter. The gooier and chocolatier the better!! I think I've hit the jackpot with these cookie bars: they're an easy cookie bar recipe and their filled with a gooey thick peanut butter layer and tons of chocolate. Everyone who tried one just raved about these bars and guess what? Mel didn't just eat one…he ate several, earning these cookie gooey bars the Mel ate it tag.
It's fantasy football season again and last weekend we hosted his first draft party. (He does two leagues; the other one is in Arizona which he travels to every year for the draft.) I made these for the guys to eat and they were gone by the end of the day.
Gooey Peanut Butter Chocolate Chip Cookie Bars have only 4 ingredients and are the perfect indulgent bar cookie recipe filled with peanut butter and chocolate!
I really wished I saved some of these bars because I could really have used them last week. I've gotten very little sleep and very little work done over the past 5 days because….WE GOT A PUPPY!
Ginger has been gone about 5 months now and it was time to fill our house with the sound of a dog again. She came home with us last Tuesday and, at 8 weeks old, is a little bundle of energy. Within about 5 minutes she chose me as her person and she cannot stand to be separated from me…especially at night even though we are in the same room but she's in her crate. Needless to say, it's been a looooong few days and all I want to do is eat bad food and sleep but every time I sit down I have company.
Our baby's name is Abby Rose and she's a Labradoodle. Want to see her picture? You know you do.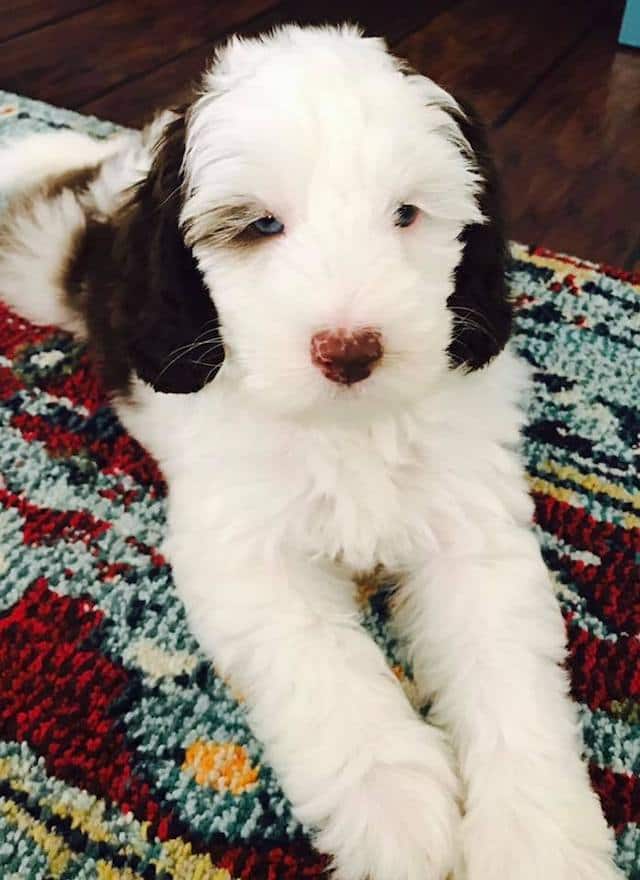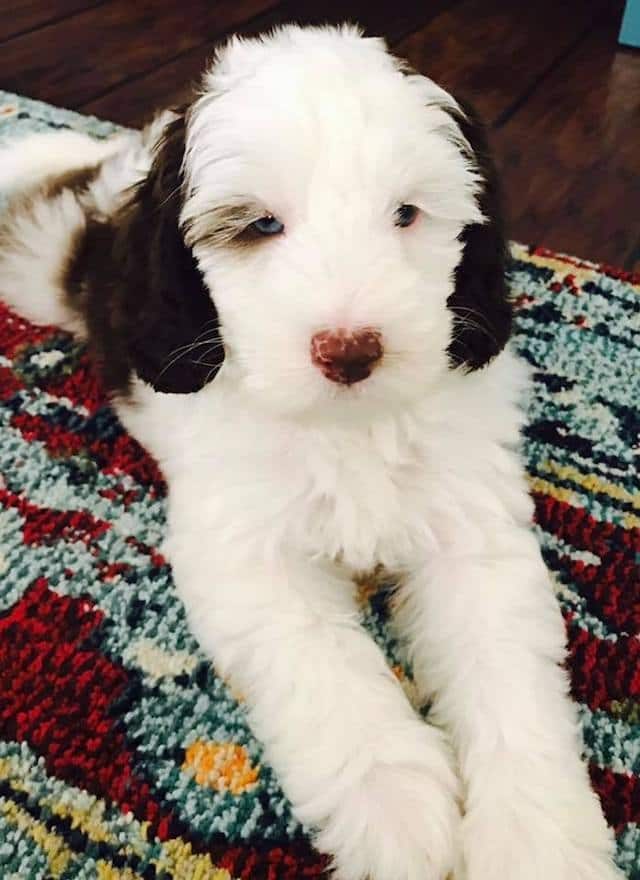 That's our little baby! I swear, it's like having an infant all over again. It's a good things she's cute because it's hard to get mad when she's in hour 2 of barking all night. Here eyes are blue and we hope they don't change, and her nose is mottled now but probably will fill in with age.
I've never had a puppy before so everything is a new learning experience, from puppy teeth to bonding and crating to potty training. She's the sweetest thing and we're so lucky to have her in our furrever home.
Now, back to the best ever cookie bars – ever. You know you clicked over for the puppy pic but you should print this recipe. EVERYONE raves about them! See that thick layer in the middle? It's sweet and gooey peanut butter!


How to make the perfect gooey peanut butter chocolate chip cookie bars:
I started with Pillsbury chocolate chip cookie dough. I used two rolls, one for the top and one for the bottom. If you prefer a homemade cookie, this recipe always works perfectly. You can also switch it up and use another flavor roll of cookie dough, or make your own sugar cookie or peanut butter cookie dough instead.
The middle is a combination of peanut butter, sweetened condensed milk, and flour. You could leave the flour out but the layer won't be as thick; it'll bake into the bars. If you want a thick layer you need the flour for binding.
These are best made for company so you don't eat the entire pan!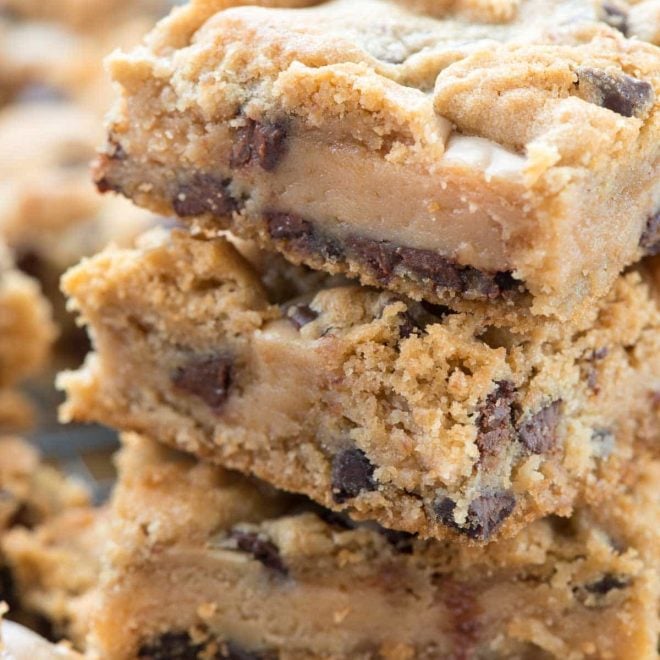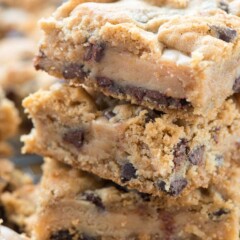 Gooey Peanut Butter Chocolate Chip Cookie Bars
Gooey Peanut Butter Chocolate Chip Cookie Bars - An easy chocolate chip cookie bar stuffed with a gooey peanut butter mixture. This is such an easy recipe - it starts with prepared cookie dough and has only 4 total ingredients!
Ingredients
2

rolls refrigerated chocolate chip cookie dough

16.5 ounces each

1

can

14 ounces sweetened condensed milk

1/2

cup

peanut butter

1/4

cup

all purpose flour
Instructions
Preheat oven to 350°F. Line a 9x13-inch pan with foil and spray with nonstick cooking spray.

Press one of the rolls of cookie dough into the bottom of the pan, creating a thin crust.

Stir sweetened condensed milk, peanut butter, and flour in a small bowl. Spread over the top of the crust, leaving a small border around all edges.

Crumble the remaining cookie dough roll and sprinkle evenly over the top of the peanut butter mixture. Lightly press with your hands to spread so that it's mostly covered (some of the filling will show).

Bake for 20-30 minutes or until the bars are golden brown on top with just a bit of "jiggle" in the center. Cool completely before slicing.

Store in an airtight container for up to 3 days or freeze for up to 1 month.
Nutritional information not guaranteed to be accurate
Click HERE for more easy recipes that start with cookie dough or cookie mix!
Click here to see more PEANUT BUTTER recipes!
Click here for my ultimate Football Party Menu!
Be sure to check out all my gooey bar recipes as well as Ritz Reese's S'mores Bars by Oh Sweet Basil, Ooey Gooey Peanut Butter Brownies by Tried and Tasty, or Chocolate Peanut Butter Fudge Bars by Averie Cooks.
Peanut Butter Cookie Gooey Bars
2 ingredient cookie cupspeanut
SaveSaveSaveSaveSaveSave
SaveSaveSaveSave
SaveSave
Last Updated on May 13, 2020