This post may contain affiliate links. For more information, read my disclosure policy.
2 ingredient cookie cups are so easy to make! Use your favorite cookie dough recipe or packaged dough to make an easy treat everyone loves. Add your favorite candy for a fun surprise! We love to add Reese's Peanut Butter Cups, Rolos, Junior Mints, and Hershey's Kisses!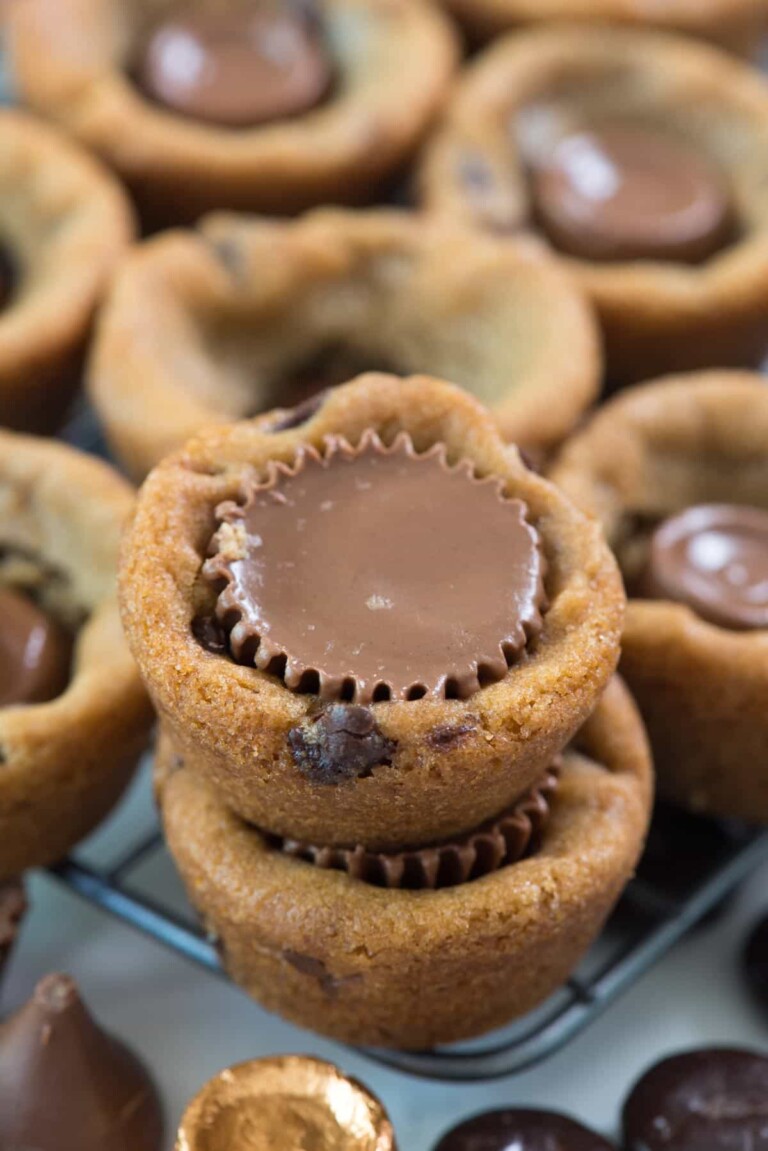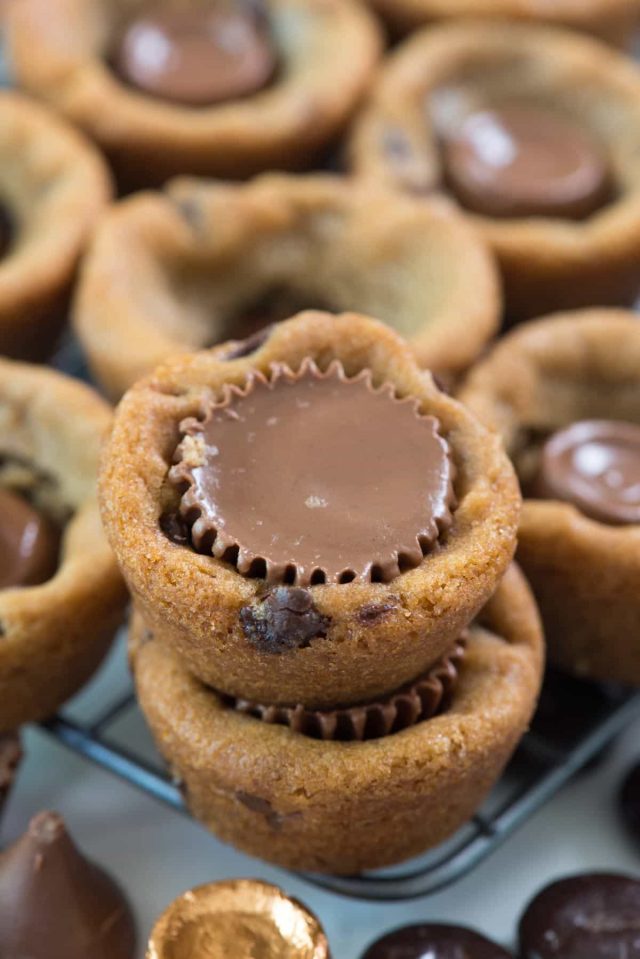 Is this even a recipe? It's easy enough that it's almost laughable, so does it count as a recipe? I hope so, because I'm sharing it with you.
Sometimes easy is good. Sometimes you need easy….like when you fly home from Canada and 2 days later host a party for 40 people.
Because my job is "food blogger" (and, even more, "dessert blogger") it's expected that I'll have tons of homemade desserts whenever we have company. Sometimes that's totally easy and doable…sometimes not. I'm assuming your life is like that too…sometimes from scratch is what you want and other times? Well, other times it's semi-homemade that comes to the rescue.
Easy 2 Ingredient Cookie Cups are the semi-homemade solution for any party!
(Be sure to pin this post to your cookie or sweets board!)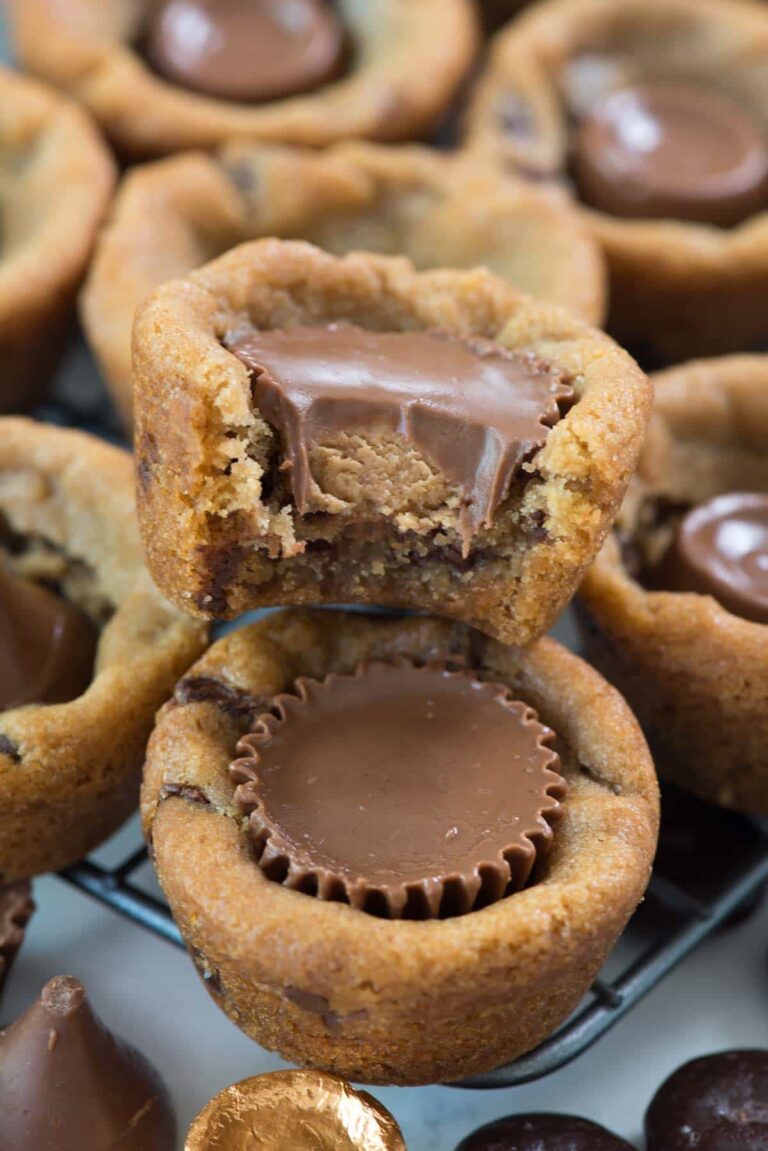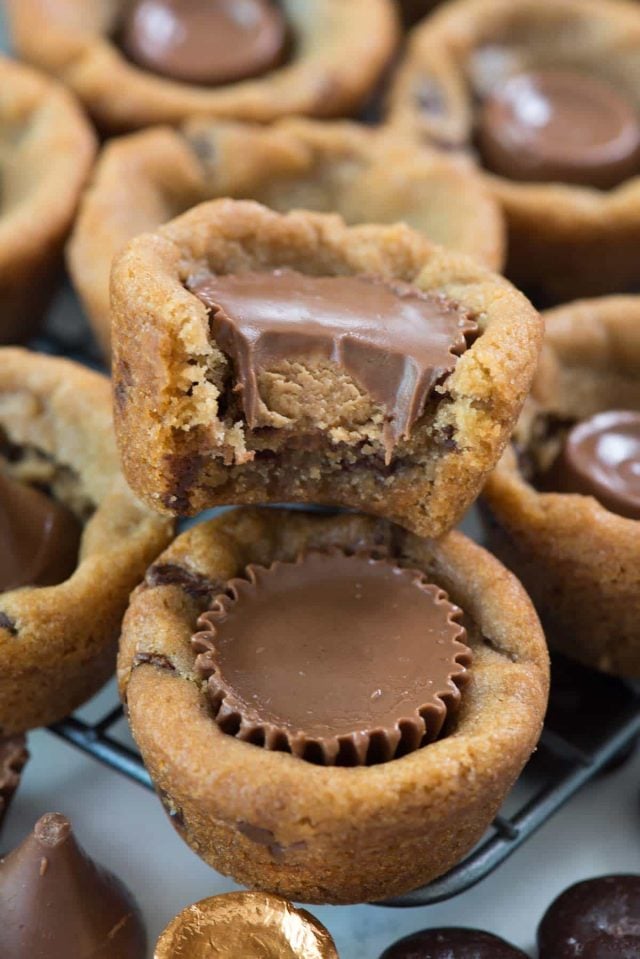 What's funny is every time I write "2 ingredient" I'm waiting for when I post this recipe on Facebook and get a comment about it not being 2 ingredients. I got that on my Nutella Truffles, because Nutella and Oreos both have ingredients. *eyeroll*
First person to spot the comment on the Facebook video and tell me gets a prize, lol.
I wonder if my blogging friends have the same problem with their 2 ingredient recipes. I've seen 2 ingredient cream cheese pancakes, 2 ingredient baked cake donuts, and 2 ingredient cookie butter fudge.
When you just need a quick dessert that's easy, fast, and something everyone loves, think about this easy cookie cup recipe-that's-not-a-recipe. You can even tell your tween, "hey honey go make me some cookie cups for the party" and she can do it without your help.
What makes these 2 ingredient cookie cups so easy?
They start with my favorite refrigerated cookie dough. I used the kind that comes in squares, but you can also use the kind that comes in a log.
If you want to be homemade instead of semi-homemade, try using this cookie recipe.
Ingredient #2 is CANDY. Any kind of candy you like! I've made these from scratch with Rolos and I've made them with Junior Mints (my favorite!!) but this time I also used Hershey's Kisses (like a blossom cookie) and Reese's Peanut Butter Cup Miniatures because EVERYONE loves those.
You can use ANY kind of cookies and candy you want. Just browse your grocery store and cook up a storm.
See? It's a recipe that's not really a recipe. 2 ingredient cookie cups are a lifesaver when you're jet lagged and trying to cook for a ton of people. Not that I'd know anything about that.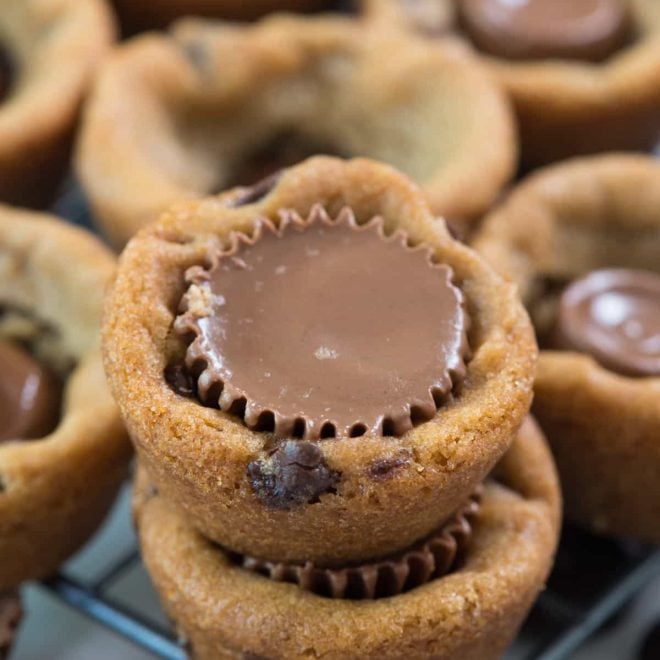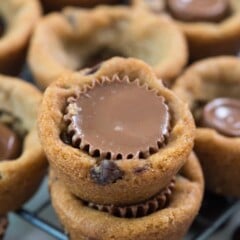 2 ingredient cookie cups
EASY 2 ingredient cookie cups! Use your favorite cookie dough recipe or packaged dough to make an easy treat everyone loves. Add your favorite candy for a fun surprise!
Ingredients
1

package

24 count refrigerated ready-to-bake cookie dough squares, any flavor (see note)

24

candies

such as Reese's Peanut Butter Cups, Junior Mints, Hershey's Kisses, or Rolos
Instructions
Preheat oven to 350°F. Spray mini muffin pans with nonstick cooking spray.

Place one cookie dough square in each mini muffin cavity. Bake for 12-14 minutes, or until golden brown.

Remove the pans from the oven and immediately place an unwrapped candy in the center. Let cool completely before removing from pans.

Store in an airtight container for up to 3 days or freeze for up to one month.
Nutritional information not guaranteed to be accurate
Click HERE for more easy recipes that start with cookie dough or cookie mix!
Click here to see more of my Christmas cookie recipes!
Last Updated on May 12, 2020