This post may contain affiliate links. For more information, read my disclosure policy.
Cream Cheese Filled Chocolate Chip Muffins – Looking for your new favorite breakfast? You've found it!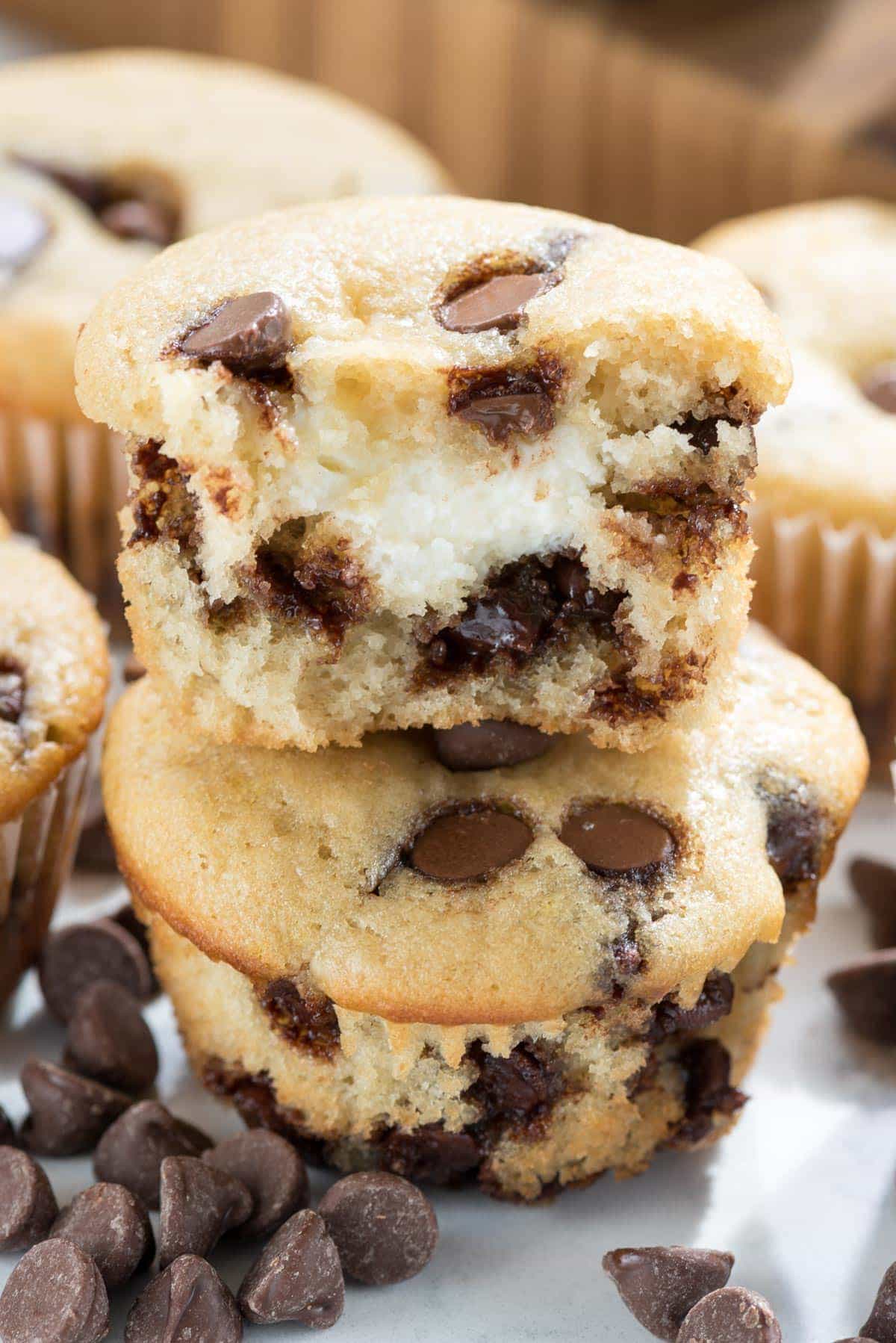 CLICK TO PIN AND SAVE FOR LATER!
Ever since I had my muffin epiphany a few weeks ago I've been making muffins like mad. I want to make every single kind of muffin every day! I think muffins could make the world a better place, don't you think? If politicians could just stop arguing and sit down and enjoy some chocolate for breakfast, I think they'd get more done.
Or maybe that's just me?
Anyway, my next foray into the stuffing cream cheese into breakfast are these Cream Cheese Filled Chocolate Chip Muffins. You guys – if you haven't tried my muffin recipe yet, you must. 1. It's so fluffy and perfect, 2. It's filled with sweetened cream cheese, and 3. CHOCOLATE FOR BREAKFAST.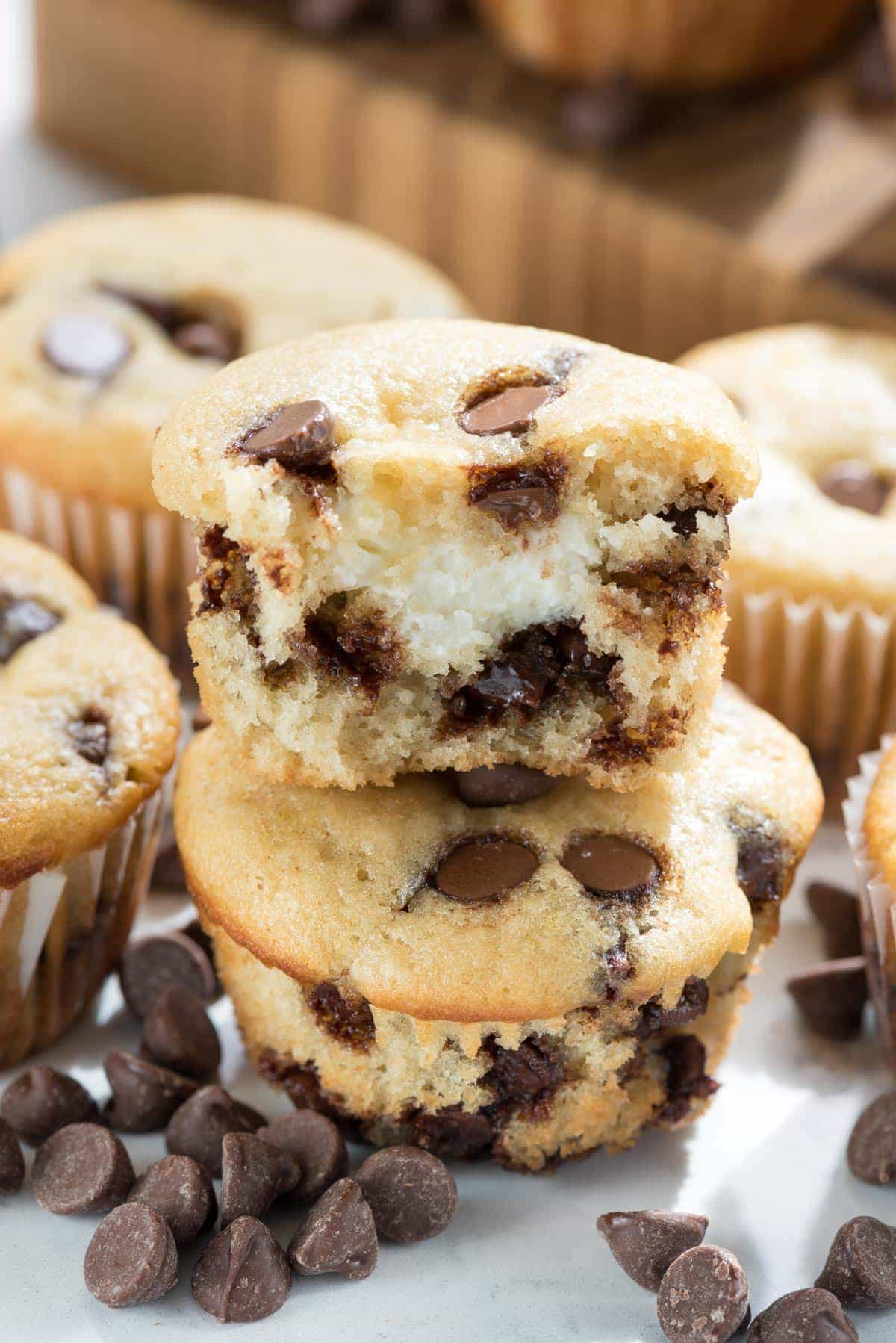 Remember how Jordan is super picky? She won't eat pasta, she won't eat mashed potatoes, hates all vegetables, and won't eat most meat. She's also picky when it comes to desserts and breakfast foods: no coconut, no fruit, no lemon, and most certainly no whipped cream or cream cheese. Even though Taylor Swift's favorite dessert is supposedly cheesecake, Jordan won't even eat it. She's a lost cause…or so I thought.
Recently, she discovered whipped cream. Now she begs for a whoosh every night…and most mornings too. And after lunch…and any time she opens the fridge. Then I made those blueberry muffins with cream cheese inside. I figured she'd hate them and refuse to eat them. I was wrong – she loved them so much I'd find her sneaking them from the freezer. She'd even shove the cupcake liner in her mouth and chew it when she was done.
(Side note: isn't it weird the things kids do that us adults did when we were kids but most certainly did not teach them?)
Anyway, when I was trying to decide what special breakfast to make her for her birthday, I thought of those muffins. And then I thought about making them chocolate chip because, well, does that need an explanation?

How to Make Cream Cheese Filled Chocolate Chip Muffins
These muffins are light and fluffy and full of sweetened cream cheese filling. The baking soda combined with the vinegar along with the sour cream (or greek yogurt) gives them a slight rise and lots of air inside. I reduced the sugar from my regular recipe because the chocolate would add so much sweetness and they were perfect.
Feel free to use mini chocolate chips or regular in this recipe. They also freeze and defrost well, either on the counter or in the microwave. The cream cheese filling is a nice surprise inside and makes a regular boring old chocolate chip muffin into something special. You won't be able to stop at just eating one!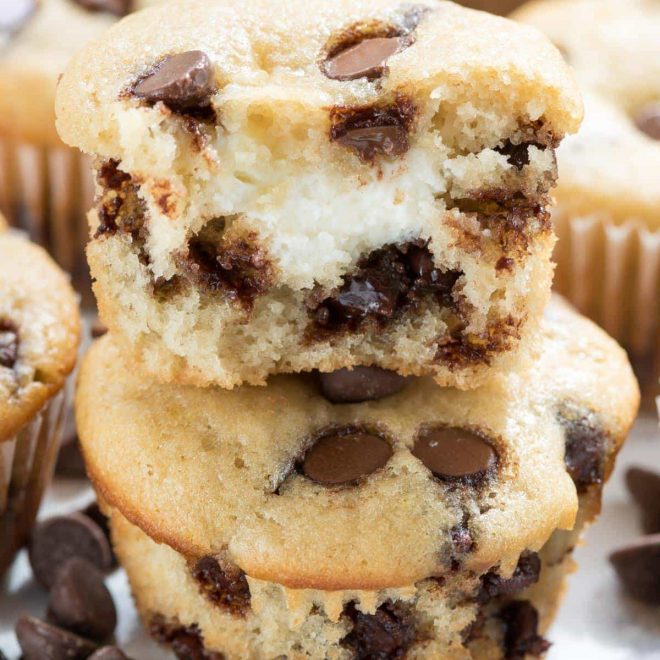 Cream Cheese Filled Chocolate Chip Muffins
Cream Cheese Filled Chocolate Chip Muffins - this easy muffin recipe is filled with chocolate chips and a sweet cream cheese surprise inside! I love this muffin recipe - it's the best!
Ingredients
Muffins:
2

eggs

3/4

cup

granulated sugar

1/2

cup

vegetable oil

1

tablespoon

vanilla extract

1

teaspoon

white vinegar

1

teaspoon

baking soda

1/2

teaspoon

salt

1

cup

sour cream or plain nonfat greek yogurt

2

cups

all purpose flour

1

cup

chocolate chips

any kind
Filling:
4

ounces

cream cheese

room temperature

3

tablespoons

granulated sugar
Instructions
Preheat oven to 350°F. Line muffin pans with paper baking cups.

Stir eggs with sugar and oil, beat until creamy. Add vanilla, vinegar, baking soda, and salt. Mix in sour cream (or greek yogurt) then stir in flour. (Batter may be slightly lumpy.) Stir in chocolate chips.

Make the cream cheese filling: stir (or use a hand mixer) together cream cheese and sugar until smooth.

Fill muffin cups with about 2 tablespoons of muffin batter. Add about 1-2 teaspoons of cream cheese to the center of each muffin, then top with another 1 tablespoon of batter.

Bake for 15-20 minutes until a toothpick comes out clean from the center of a muffin. Cool 5 minutes in pan then remove to a rack to cool completely.

Store in an airtight container for up to 3 days or freeze for up to one month.
Recipe Nutrition
Serving:
1
Muffin
|
Calories:
303
kcal
|
Carbohydrates:
34
g
|
Protein:
4
g
|
Fat:
17
g
|
Saturated Fat:
7
g
|
Cholesterol:
14
mg
|
Sodium:
1357
mg
|
Fiber:
2
g
|
Sugar:
20
g
Nutritional information not guaranteed to be accurate
Blueberry Cream Cheese Muffins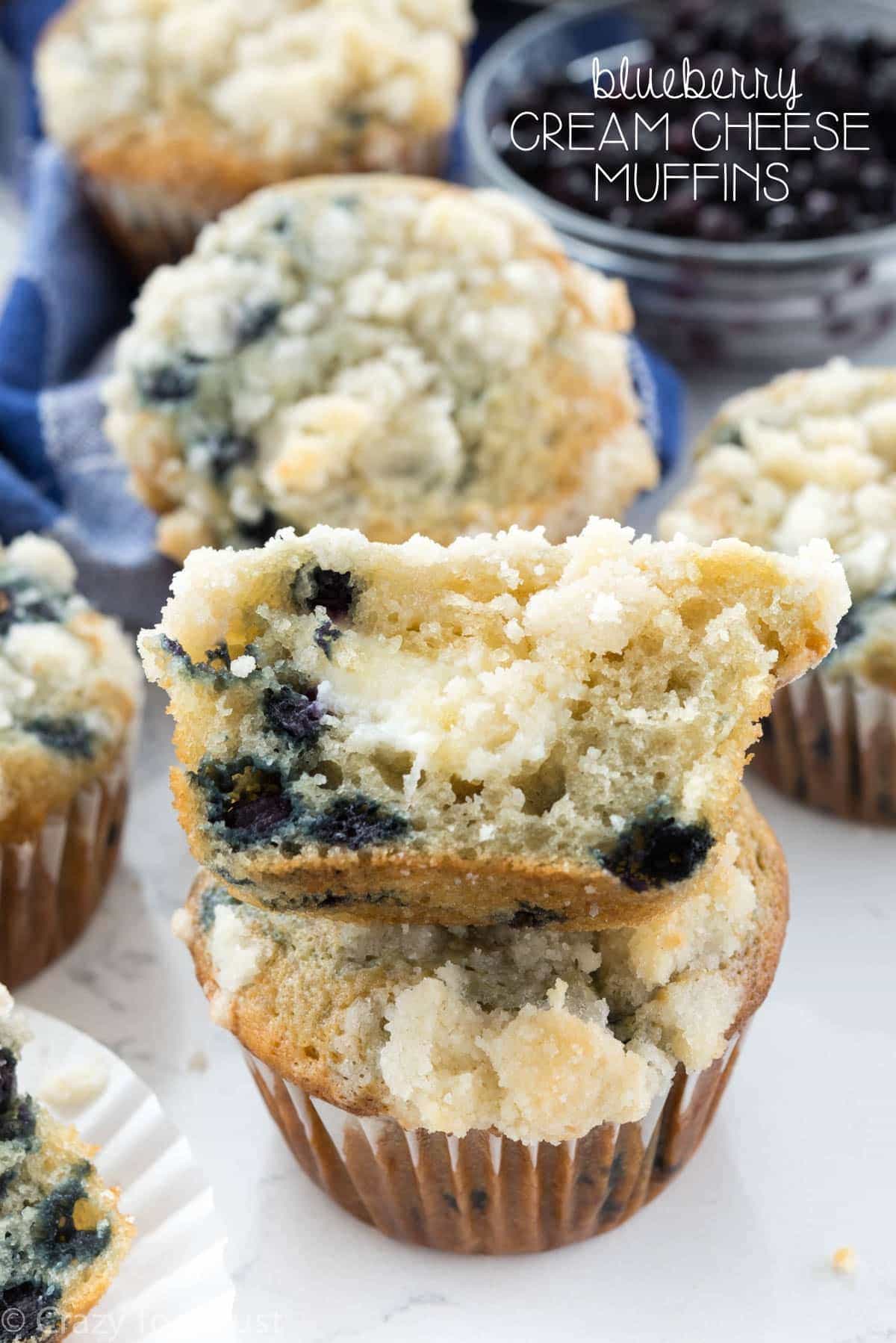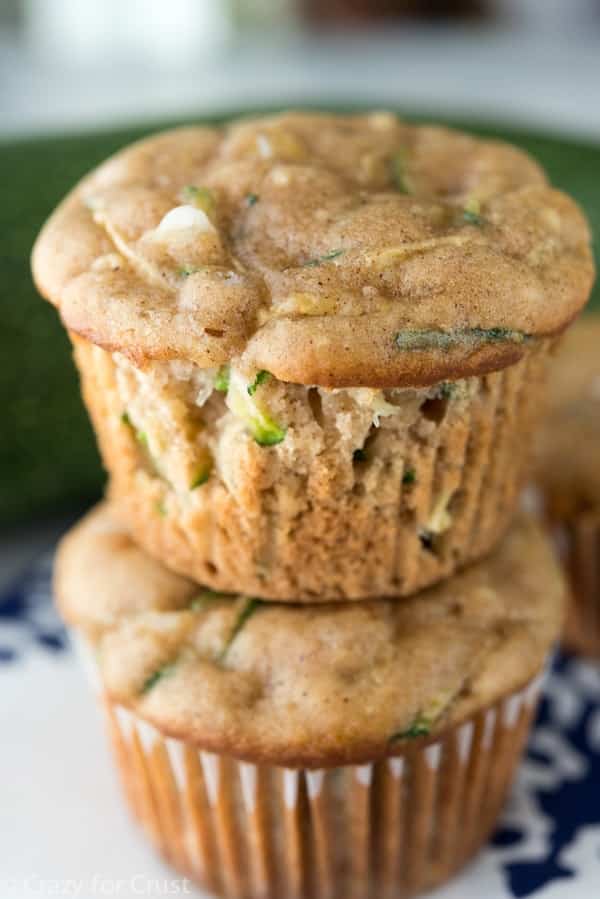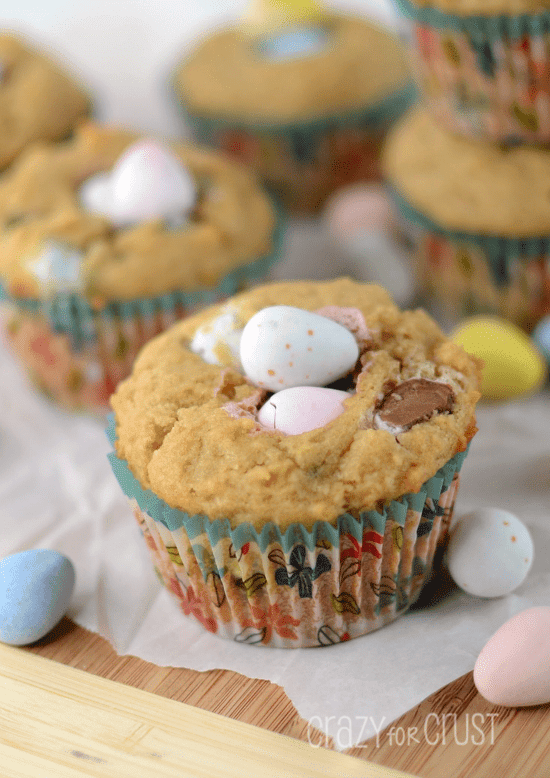 Last Updated on August 21, 2018