Fireworks Cake
This post may contain affiliate links. For more information, read my disclosure policy.
Make a Fireworks Cake for a patriotic Fourth of July Dessert. Layers of Red Velvet Cake and cream cheese frosting mixed with homemade funfetti cake and vanilla frosting make this the perfect patriotic dessert recipe!
This cake looks hard but it's actually easy. I'm a horrible layer cake maker but covering the cake in sprinkles hides all the flaws and makes a showstopper dessert!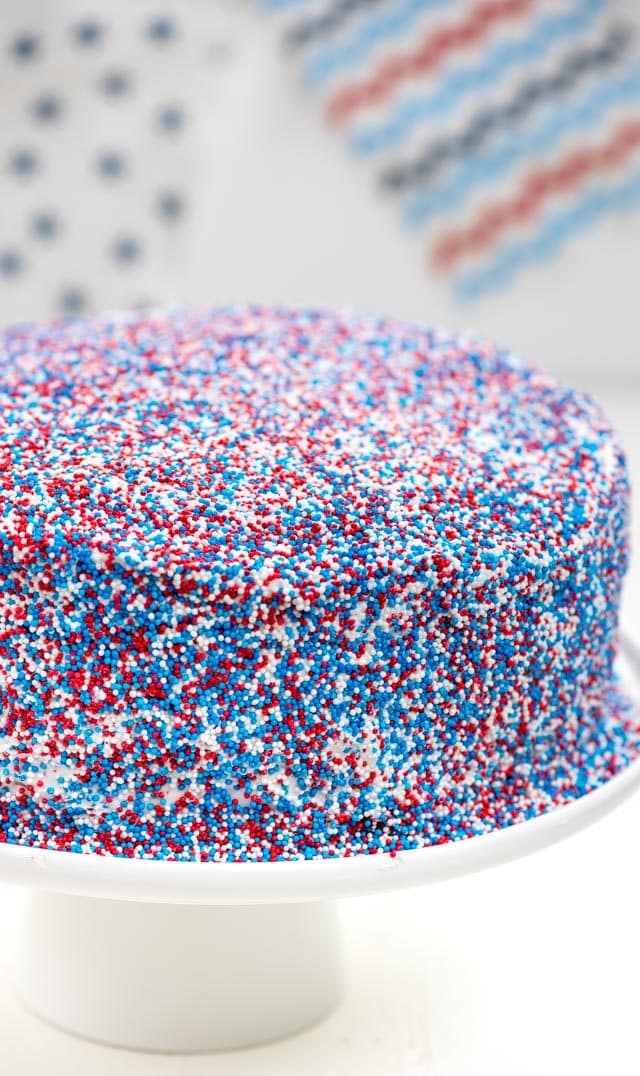 For some reason I equate the 4th of July with cake. I mean, usually you'd think of BBQ and watermelon and beer and maybe some cookies, but I also add layer cake to that list.
I think it started about 8 years ago, before I was blogging. We lived on a court and had block parties for the Fourth every year. One year my good friend at the time, a neighbor, made a from-scratch vanilla cake with vanilla frosting. If you can believe it, I could count on one hand the number of homemade cakes I'd had and even less of those were actually good. Her cake was fabulous, from the rich vanilla flavor in the cake to the creamy vanilla frosting. We sat on the swing in the back of her front yard and gorged ourselves on cake while the kids ran around and did fireworks and it was fabulous.
So, whenever July 4 comes around, I think about making a layer cake. But I'm never content just making the same cake I always make, so I knew I wanted to change it up. Recently I made a funfetti cake I loved and last week I shared my favorite red velvet cupcake recipe. I also think about red velvet on Independence Day, probably because the red makes me think of red, white, and blue. Plus, the last two years we've hosted the party on the Fourth and I've made red velvet something-or-other because one of my friends loves it.
Long story short, I decided to combine Funfetti Cake (aka FIREWORKS cake) with red velvet cake and make a layer cake for the Fourth of July. If you're so inclined, you can leave the cake naked or just frost it with vanilla frosting but since I totally suck at layer cakes…I coated it with sprinkles.
After all…you can never have too many sprinkles on a cake, now can you?
This Fireworks Cake is four layers of yellow funfetti cake flavor mixed with red velvet cake, cream cheese frosting and topped with vanilla frosting and sprinkles. It's an explosion of flavor!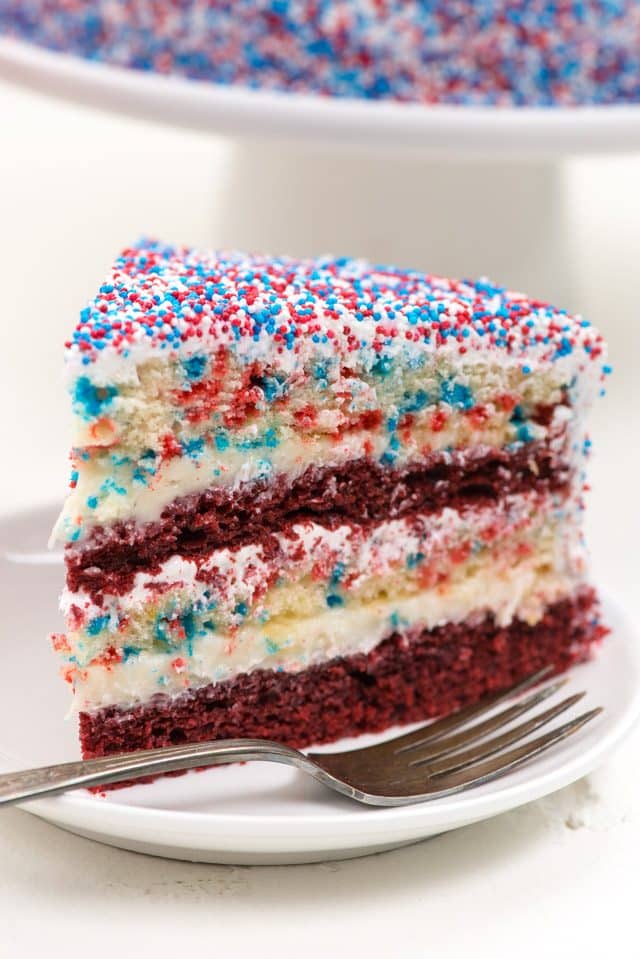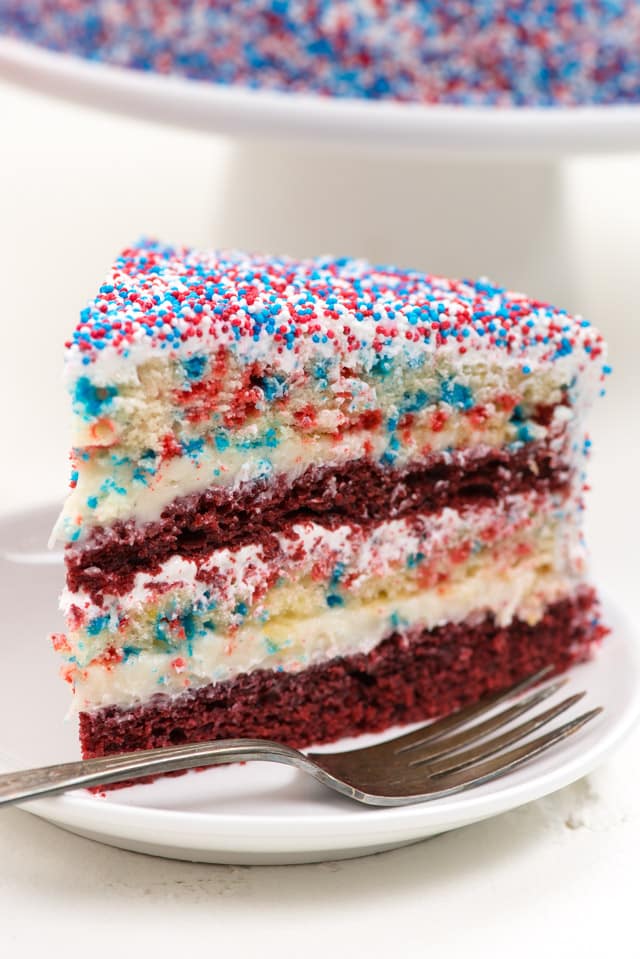 I don't know, this sort of looks like a 4th of July flag cake doesn't it? With the rich red velvet and the sprinkles?
Believe me, if you look at this cake and think you can't make it, stop it. Because I am a horrible, horrible layer cake maker. The layers are never straight. The frosting is never smooth. My layer cakes are usually a hot mess, but sprinkles can cover a lot of mistakes, let me tell you.
There's something about a cake full of and coated with sprinkles that just makes me smile, especially when it's red, white, and blue.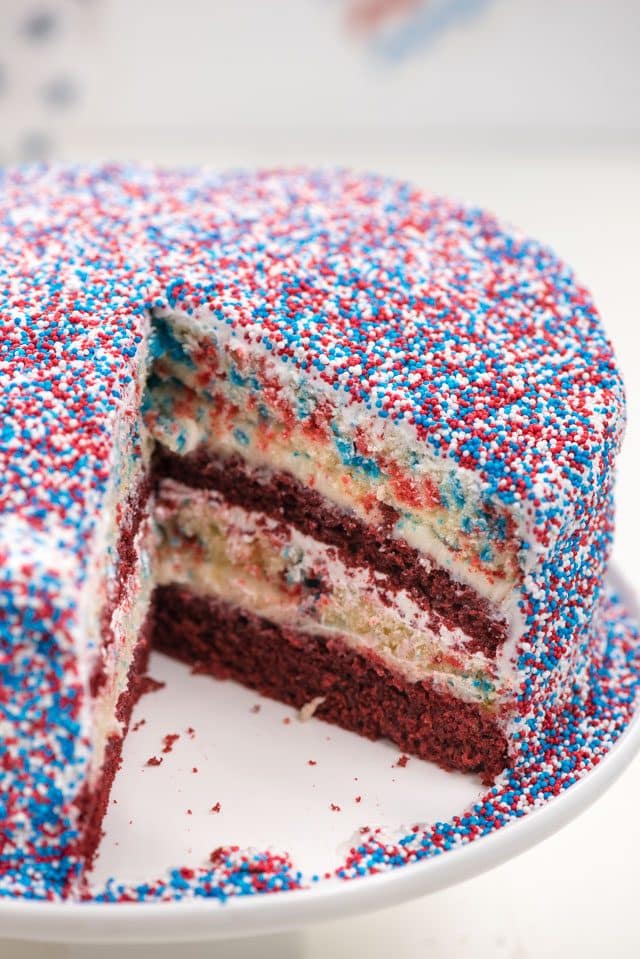 Okay so let's break down this Fireworks Cake:
One layer is made of red velvet cake. You can use a box or make my recipe. (If you use a box you'll get two 9-inch layers, so save one for later.)
One layer is made of funfetti cake. I cut my recipe in half so I only got one layer.
In between each layer is a decadent frosting: cream cheese frosting to go with the red velvet and vanilla frosting to go with the funfetti.
Then the cake is coated with sprinkles. I used nonpareils, but you can also use jimmies.
You'll notice that, even though I said my cake is two layers, it's actually 4. That's because I torted the layers, aka, cut them in half.
How do you torte a cake layer?
To torte a cake layer is to cut it in half horizontally, like you would a bun for a hamburger.
If you're skilled, you can eyeball it: just use a long serrated knife and start cutting. That way is always risky for me, as I end up with one side being 1″ and the other side being 1/8″.
My favorite method, albeit it takes longer, is to insert toothpicks around the cake like the spokes of a wheel. Use the base of your knife or a pastry tip or something that's half the height of the cake layer to measure where to put the toothpicks. Then use your knife to cut on top of them, using the toothpicks as your guide.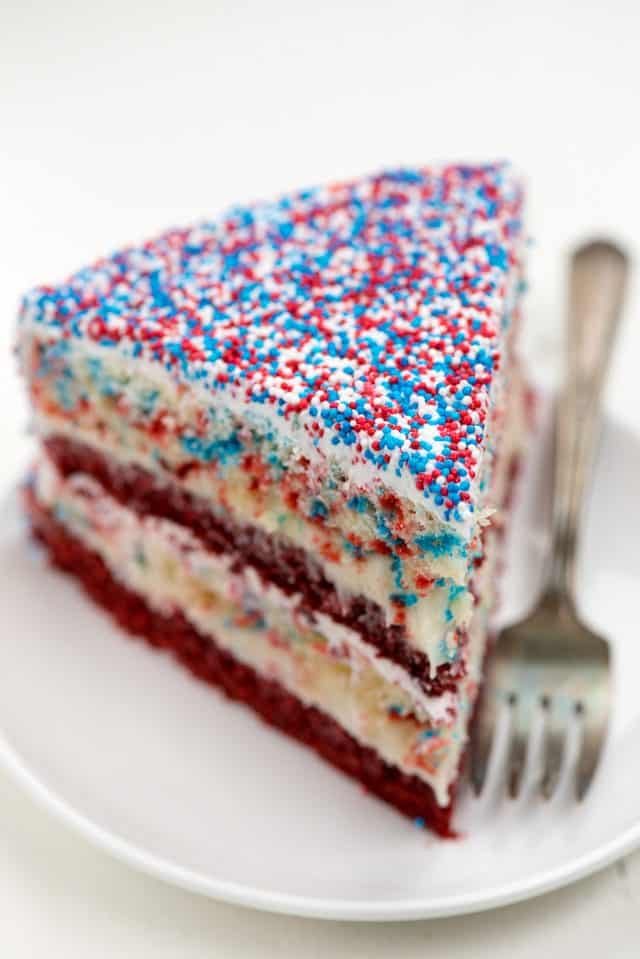 Once you've cut the layers, it's time to assemble the cake.
Here's how to assemble a Fireworks Cake:
Layer 1: red velvet, topped with cream cheese frosting
Layer 2: Funfetti, topped with vanilla frosting
Layer 3: red velvet, topped with cream cheese frosting
Layer 4: Funfetti, topped with vanilla frosting
Frost the whole outside with vanilla frosting, a light layer
Coat the cake with sprinkles.
Note on sprinkles: PLEASE coat the cake over the sink. They will go everywhere.
I buy my sprinkles in bulk on Amazon. You can buy nonpareils or jimmies in whatever color you want in large bags. This cake would be fun coated in any colors!
This cake is a showstopper dessert, perfect for the 4th of July!!
Want even more? Subscribe to Crazy for Crust to get new recipes and a newsletter delivered to your inbox. And stay in touch on Facebook, Pinterest, Twitter, and Instagram for all my latest updates.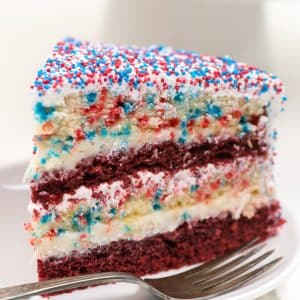 Fireworks Cake
Make a Fireworks Cake for a patriotic Fourth of July Dessert. Layers of Red Velvet Cake and cream cheese frosting mixed with homemade funfetti cake and vanilla frosting make this the perfect patriotic dessert recipe!
Prep Time 1 hour
Cook Time 30 minutes
Total Time 2 hours
Servings 20 servings
Calories 720 kcal
Ingredients
Red Velvet Cake (or use a cake mix):
1 2/3 206g cups all purpose flour
1 cup 198g granulated sugar
2 tablespoons unsweetened cocoa powder
1 teaspoon baking soda
1/2 teaspoon salt
1 cup 237ml buttermilk
6 tablespoons vegetable oil
1 tablespoon white vinegar
2 teaspoons vanilla extract
1 tablespoon red food coloring
Funfetti Cake (or use a cake mix):
1 cup 124g all-purpose flour
1 teaspoon baking powder
1/4 teaspoon salt
1/2 cup 113g unsalted buter, melted
3/4 cup 154g granulated sugar
2 large eggs
1/2 7ml tablespoon vanilla extract
1/2 cup 166 ml buttermilk
1/2 cup sprinkles any colors
Cream Cheese Frosting (or use canned):
8 ounces cream cheese
1/2 cup 113g butter, room temperature
1/4 teaspoon salt
4 cups 452g powdered sugar
1 tablespoon vanilla extract
Vanilla Frosting (or use canned):
1 cup 227g unsalted butter, softened
4 cups 452g powdered sugar
1 tablespoon 15 ml vanilla extract
1/2 teaspoon salt
2-5 tablespoons 30-75ml heavy whipping cream
24 ounces Sprinkles any color, for coating
Instructions
Make the red velvet cake:
Preheat oven to 350°F. Butter and flour two 9-inch cake rounds.

Whisk flour, sugar, baking soda, cocoa, and salt in a large bowl.

Whisk buttermilk, oil, vinegar, and vanilla in a large measuring cup and whisk into dry ingredients until combined. Stir in food coloring carefully.

Pour batter into one of the prepared pans. Bake for 20-40 minutes, or until a toothpick comes out clean. Cool completely before frosting.
Make the Funfetti Cake:
Whisk flour, baking powder, and salt in a medium bowl. Set aside.

Mix butter and sugar on medium speed in a large bowl using a hand or a stand mixer until smooth. Mix in eggs one at a time, then mix in vanilla.

Add the buttermilk alternately with the dry ingredients, mixing between each, starting and ending with the buttermilk, and mixing just until the batter comes together. Stir in sprinkles.

Pour batter into prepared pan. Bake for 30-40 minutes or until a toothpick comes out with just a few crumbs sticking too it. Cool completely before frosting.
Cream Cheese Frosting:
Beat butter and cream cheese with a hand mixer in a large bowl until smooth, then mix in salt.

Add powdered sugar 1 cup at a time and beat in between each addition. Add vanilla and continue mixing a smooth frosting forms.
Vanilla Frosting:
Beat butter with a hand or a stand mixer until creamy. Slowly add in powdered sugar, 1 cup at a time, until a crumbly mixture forms.

Mix in vanilla and salt, then add 2 tablespoons heavy cream. Mix until smooth, adding more cream until you reach your desired consistency.
Assemble Cake:
Torte each cake layer.

Place red velvet cake layer on cake plate. Frost with half the cream cheese frosting. Top with half the funfetti cake and frost with one quarter of the vanilla frosting. Repeat layers.

Frost the entire cake with a light layer of vanilla frosting.

Place the cake so one side of it is over the kitchen sink. Use your hands to press handfuls of sprinkles into the sides and all over the top of the cake.

Chill until set. Serve room temperature.
Nutrition Facts
Fireworks Cake
Amount Per Serving (1 slice)
Calories 720 Calories from Fat 270
% Daily Value*
Total Fat 30g 46%
Saturated Fat 13g 65%
Cholesterol 72mg 24%
Sodium 387mg 16%
Total Carbohydrates 114g 38%
Dietary Fiber 1g 4%
Sugars 84g
Protein 4g 8%
* Percent Daily Values are based on a 2000 calorie diet.
We love our Fireworks desserts around here! Check out Jocelyn's Fireworks Cookies and Cream Cookies, Angie's Fireworks Cake Roll, or Lori's Fireworks Cookies!
Fireworks Sugar Cookie Cake is a great cake alternative!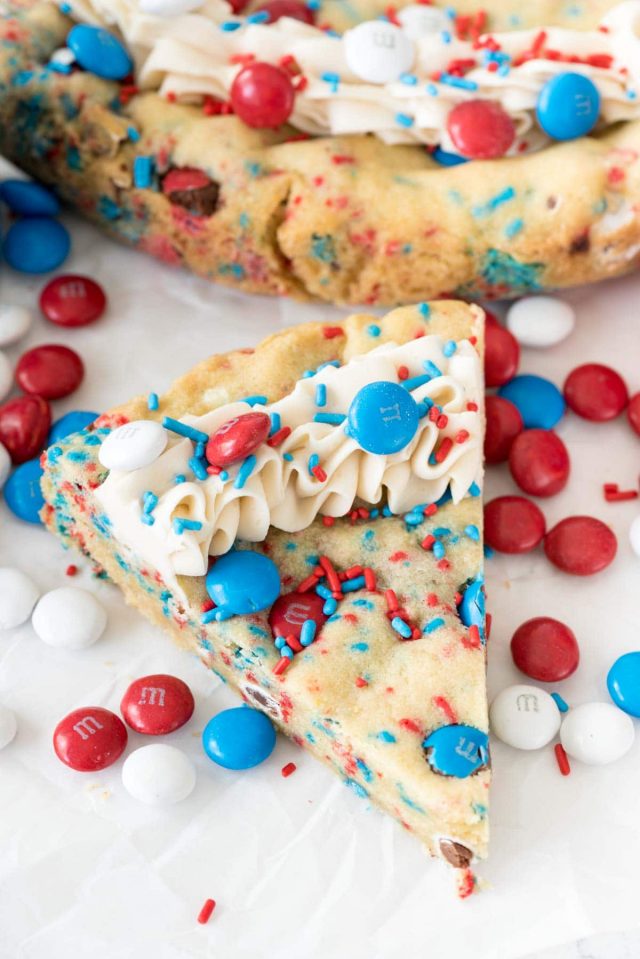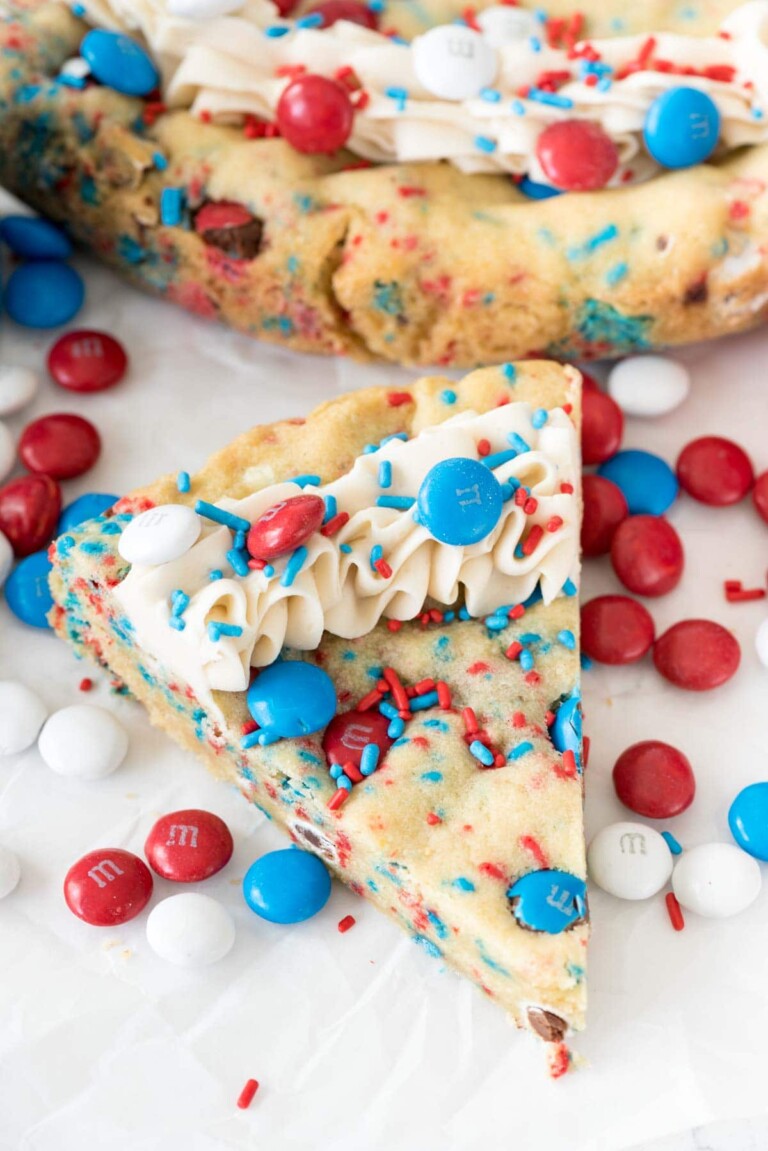 Fireworks Pudding Cookies are always an old favorite!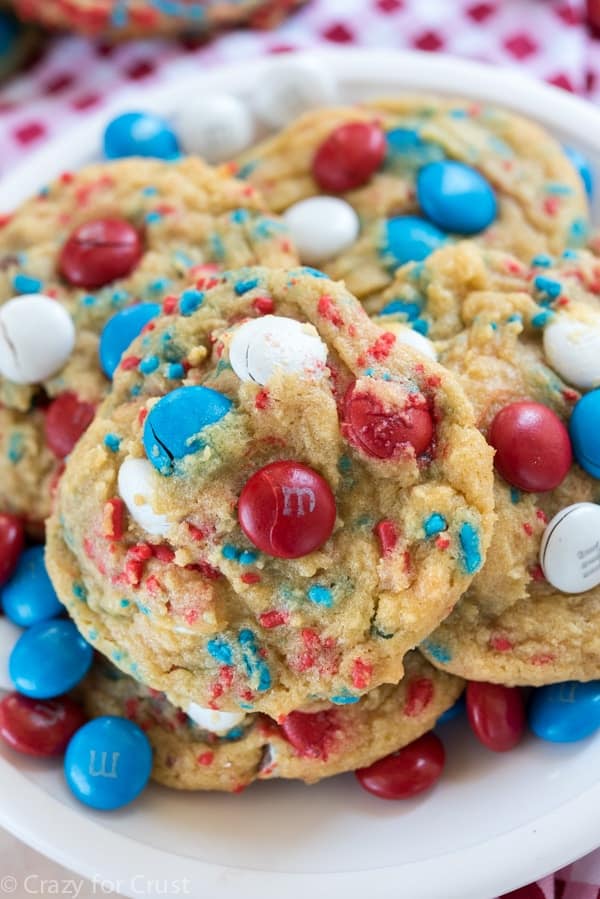 Fireworks Blondies are a fun bar cookie!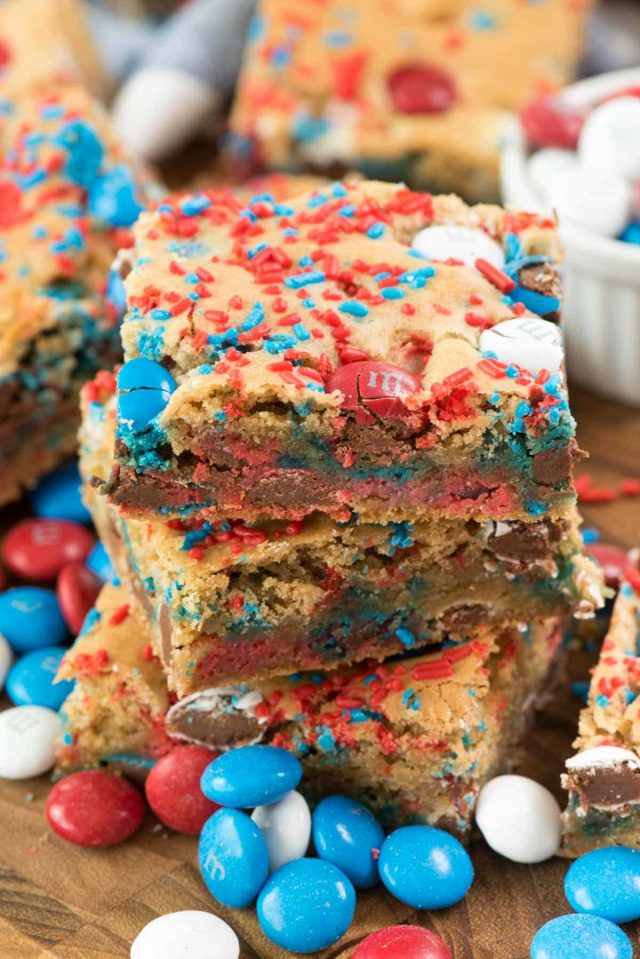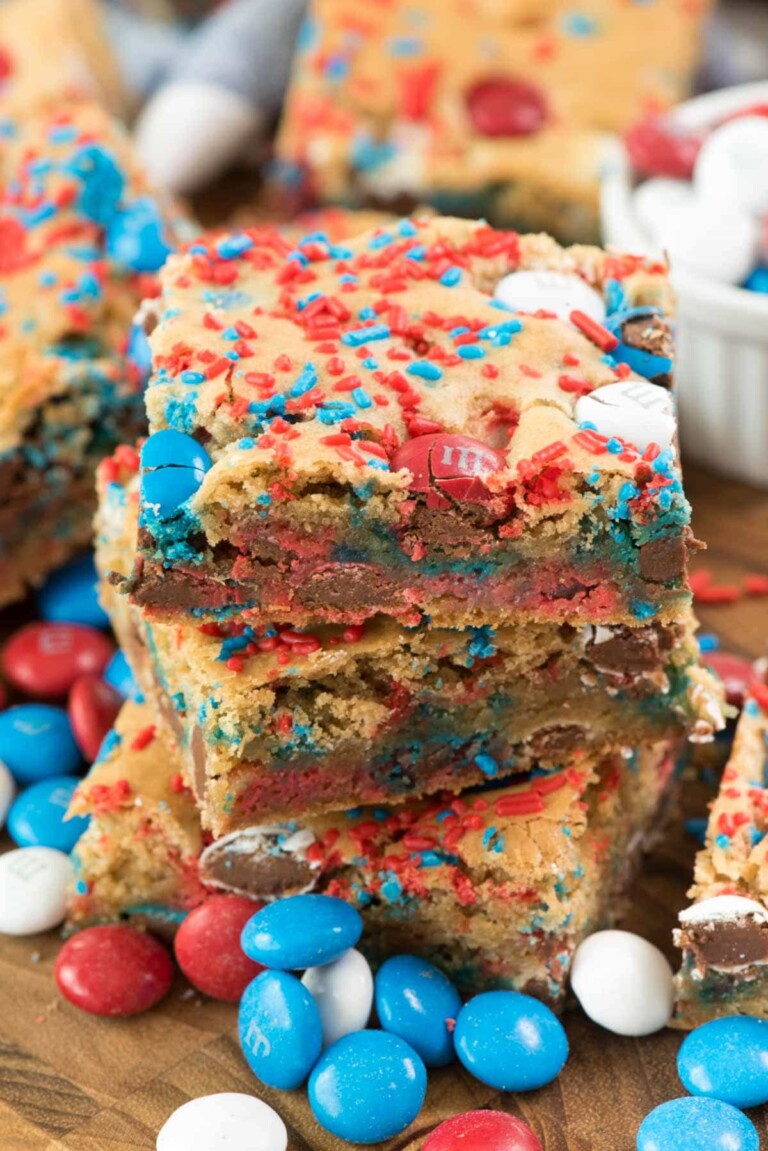 **Did you make this recipe? Don't forget to give it a star rating below!**