This post may contain affiliate links. For more information, read my disclosure policy.
Without a doubt these are the BEST cinnamon rolls you'll ever eat. These are the Famous Trilogy Cinnamon Rolls, and you NEED this recipe.
Trilogy Cinnamon Rolls are a homemade cinnamon roll recipe with a pillowy soft and sweet yeasted dough filled with sugar and cinnamon and topped with the most delicious icing ever. Then they're sprinkled with macadamia nuts!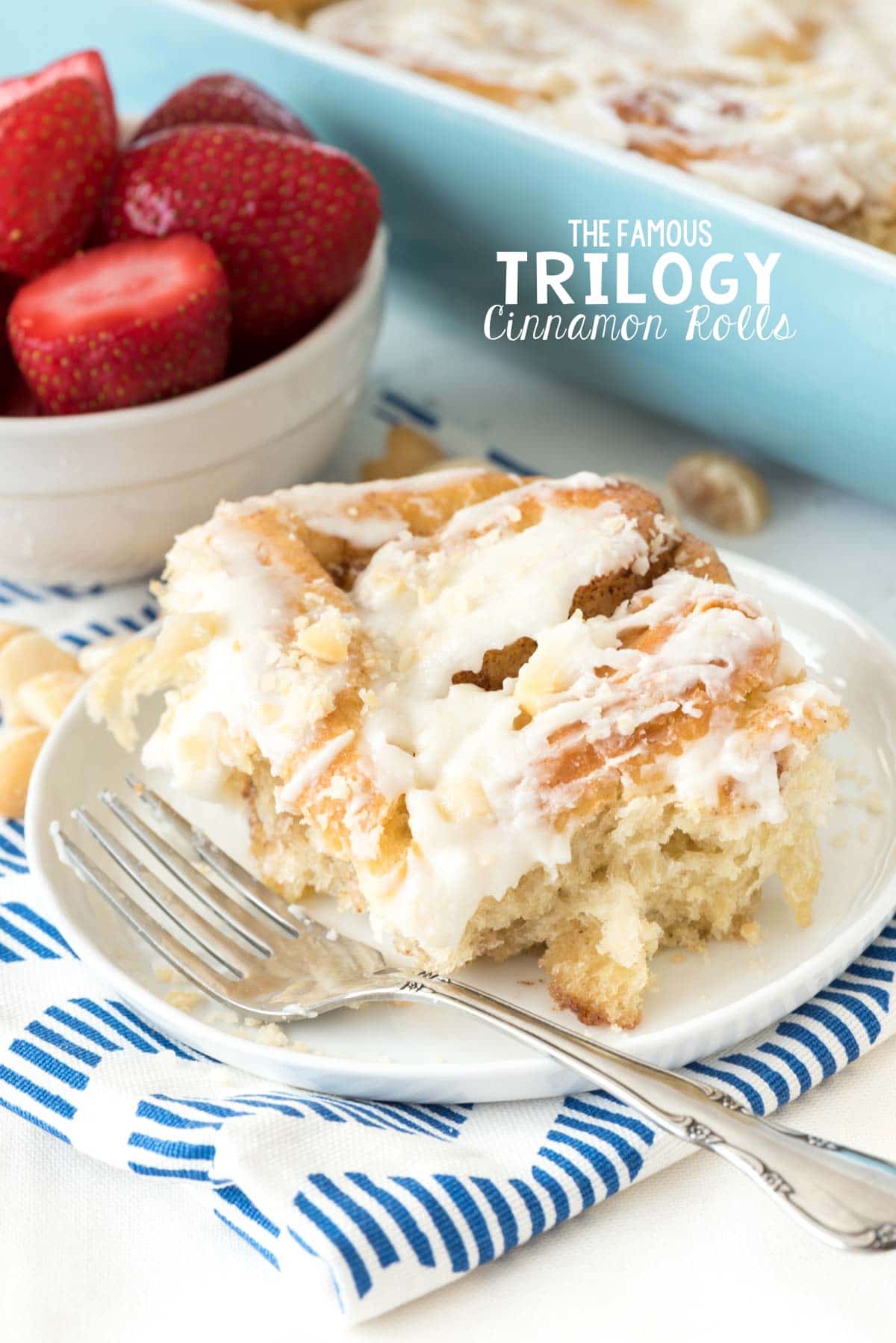 Right now is about when you are thinking to yourself, what the heck is a Trilogy Cinnamon Roll, am I right? Well, I'm about to tell you: they're the BEST cinnamon rolls you'll ever eat.
If you've ever been to Maui, you might be familiar with the Trilogy Sailing Excursions. They do catamaran snorkeling and sunset cruises out of Lahaina and they feed you on the trip. One of the things they feed you? Cinnamon rolls.
We just got back from a week in Maui, where we did our third ever sail with Trilogy. The first time Mel and I sailed with them was on our honeymoon, almost 15 years ago. We did a full day sail and snorkel with Captain Kevin on Trilogy IV. Last year, on our first trip back to Maui, we did the Kaanapali snorkel tour with Jordan. It was her favorite part of the trip – ours too – and we even sailed again with Captain Kevin on Trilogy IV. Guess who was our captain last week on our third sail with them? Yup, you guessed it: Kevin!
It would seem that the crew doesn't change when you sail Trilogy, and neither does the food. I don't know if it's because you're spending the day snorkeling gorgeous reefs and seeing turtles or if the food is just that good, but the barbecue lunch they serve is delicious. But the reason I love Trilogy so much? The cinnamon rolls.
They serve up these babies as you set out on your excursion. You're sitting on the front of a catamaran, bouncing on the waves, sunning yourself on the trampolines…and stuffing your face with cinnamon rolls. It's pure heaven.
Can you believe that last week, on our sail, at least 10 people PASSED on the cinnamon rolls? I almost fainted. You never, ever pass on cinnamon rolls. Not if you want to be my friend, that is. 🙂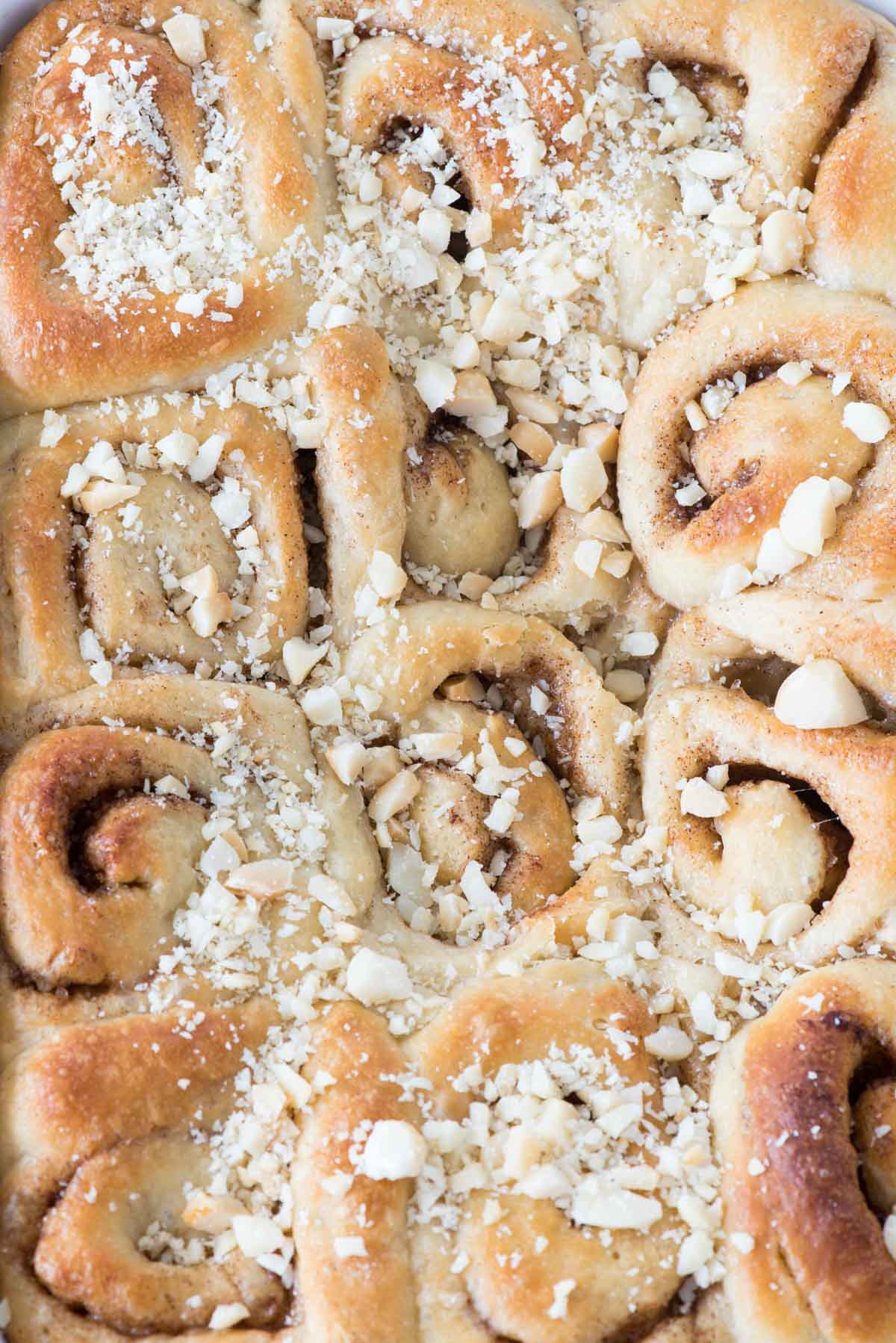 (Seriously, I could look at these photos for days.)
What makes a Trilogy Cinnamon Roll so special? Well, before I made this recipe I would have said it's the fact that you're eating them in the middle of the Pacific Ocean on a boat in Hawaii. But I was wrong. What makes these rolls so special? They are FREAKING FANTASTIC.
Hands down, this is the best and ONLY cinnamon roll recipe I'll ever make again. And that's saying a lot, because I love my original overnight cinnamon rolls.
It's not the ocean, the sun, the sand, or the hunger that comes from snorkeling that makes these fantastic. It's the extra yeast, the macadamia nuts, and the secret ingredients in the frosting. Those three things together?
Priceless.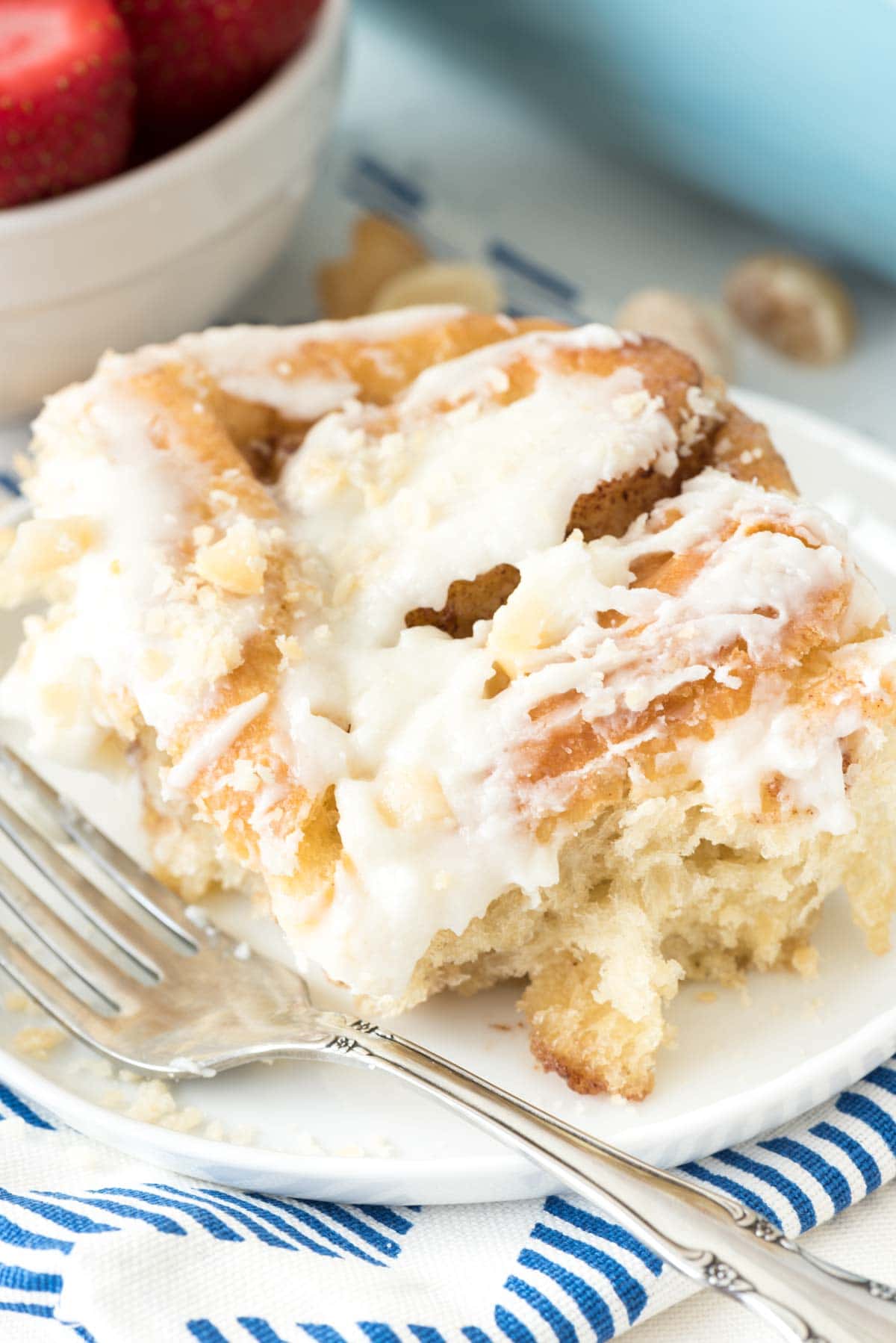 When you look at the recipe, you might notice a few things different from a normal cinnamon roll recipe. First, it uses 2 tablespoons of yeast. This recipe makes 24 rolls, which is double my normal recipe, but even if you cut it in half, 1 tablespoon is still more than 2 1/4 teaspoons, which is in one packet of active dry yeast.
What does more yeast do? Well, in the case of these rolls, it makes them uber fluffy and soft. My 45 minute dinner roll recipe uses 1 tablespoon of yeast, but I only let it rise for about 10-20 minutes. You let these cinnamon rolls rise the normal amount of time, about 2 hours or until doubled in size. Then you punch them down, roll and fill them, then let them sit again.
Extra yeast + extra rising time = extra fluffy cinnamon rolls. AKA the ONLY way I'm doing it from now on.
Let's talk about the filling. Instead of making a paste, like I normally do, the rolled out dough is just spread with butter and then sprinkled with sugar and cinnamon. As much as I like the paste…this is easier and tastes just as good.
And then? Then the specialness of these rolls goes up x10000.

The topping MAKES these rolls. When they come out of the oven, you sprinkle them with chopped macadamia nuts (or your favorite nut) and spread on the most delicious cinnamon roll frosting you've ever eaten. What's the secret? It's not cream cheese. It's not heavy whipping cream (although that's in there too). Nope, the secret ingredients in the frosting are…
Lemon and almond extract.
I KNOW RIGHT? Who would've thought? They don't taste like almond and they don't taste like lemon. They taste like FANTASTIC. It was all I could do not to just take this pan and sit with it on my lap while watching TV, no joke.
The next time you crave cinnamon rolls, make these. PLEASE!
A few notes about the recipe:
This recipe makes 24 rolls (2 – 9×13 pans). Feel free to cut the recipe in half. You can also freeze one of them, baked and unfrosted or before baking.
You can make these all at once in the morning, or you can do them "overnight" like I always do. Once they're in the pans ready to rise and bake, cover and chill overnight, then bake as directed in the morning. Easy peasy!
The recipe calls for cane sugar, which is like raw sugar. They sell it in the baking aisle in a pouch. It's course and golden/brown in color. You can substitute granulated if you want.
You can skip the flavorings in the icing or add your favorites or use vanilla…but they make it SO GOOD. So really, don't skip it.
Oh, and next time you're in Maui, take a Trilogy boat ride. They're not to be missed!
You can find ALL the great recipes they serve on Trilogy here.
Want even more? Subscribe to Crazy for Crust to get new recipes and a newsletter delivered to your inbox. And stay in touch on Facebook, Pinterest, Twitter, and Instagram for all my latest updates.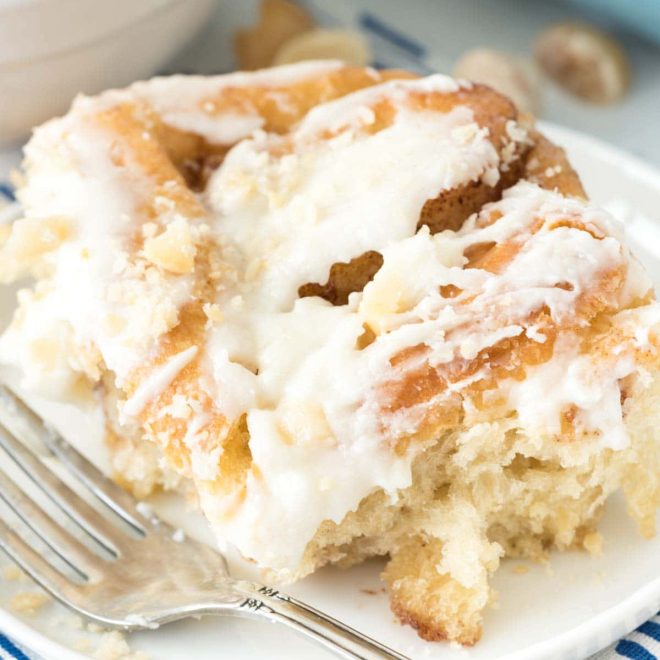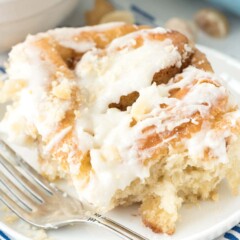 Famous Trilogy Cinnamon Rolls
Ingredients
Dough:
1 1/2

cups

warm water

2

tablespoons

active dry yeast

1/2

cup

pure cane sugar

may substitute granulated

1

teaspoon

salt

2

large eggs

3/4

cup

vegetable oil

5

cups

all purpose flour
Filling:
6

tablespoons

unsalted butter

melted

2/3

cup

pure cane sugar

or brown sugar

2-4

teaspoons

ground cinnamon
Icing:
1/2

cup

finely chopped Macadamia nuts

6

tablespoons

unsalted butter

softened

2

cups

powdered sugar

1/4

tsp

lemon extract

1/4

tsp

almond extract

1/4

teaspoon

salt

3

tablespoons

heavy whipping cream
Instructions
Place warm water (about 100-110°F) into the bowl of a stand mixer fitted with the dough hook. (The easiest way to test the water is using an instant read thermometer, but if you don't have one, think hot bathwater.) Sprinkle the yeast into the water, then add the salt and sugar. Stir with a wooden spoon. Let rest until it bubbles, about 5 minutes.

In another bowl or large measuring cup, whisk eggs and oil together. Add the egg mixture to the yeast mixture along with 1 cup of the flour. Start the mixer and then slowly add rest of flour, stirring in gradually. Run the mixture for about 5-10 minutes or until the dough is elastic. The dough will be slightly sticky and very soft. Turn it out onto a floured board and knead it a few times until it is no longer sticky.

Place the dough into a bowl that's been sprayed with nonstick cooking spray. Let rest until doubled.

Spray two 9x13" pans with nonstick cooking spray.

Punch down the dough and divide it in half. Roll each half out to a rectangle that is about 12x15". To fill, spread each rectangle with melted butter, sprinkle with cinnamon and sugar to taste. Roll up lengthwise. Make roll as tight as possible. Cut into one-inch pieces. Place in greased pan so that rolls just touch each other.

At this point you have two options: 1. Let rise until doubled (about 20-30 minutes), then bake as directed below or 2. Cover tightly with plastic wrap and chill overnight. Let the rolls come to room temperature before baking.

Preheat oven to 350°F. Bake approximately 20-25 minutes.

Make the icing: beat butter and powdered sugar until crumbly, the add extracts, salt, and heavy whipping cream and mix until smooth. The frosting should be thin enough to easily spread but not liquidy.

Sprinkle the warm rolls with chopped macadamia nuts and spread with icing. Serve warm or room temperature. Store tightly covered for up to 4 days.
Nutritional information not guaranteed to be accurate
Click here for more Brunch Recipes!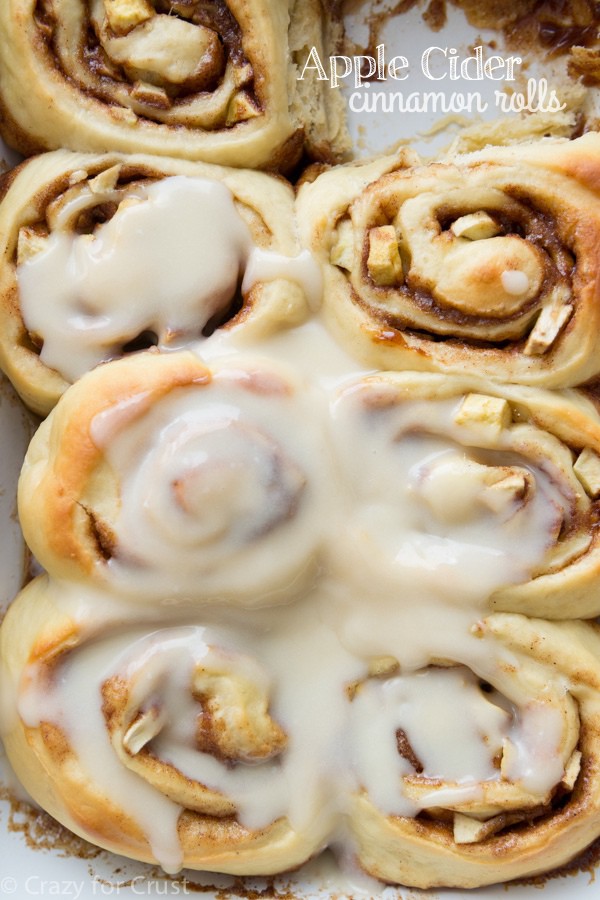 Macadamia Nut Chocolate Chip Shortbread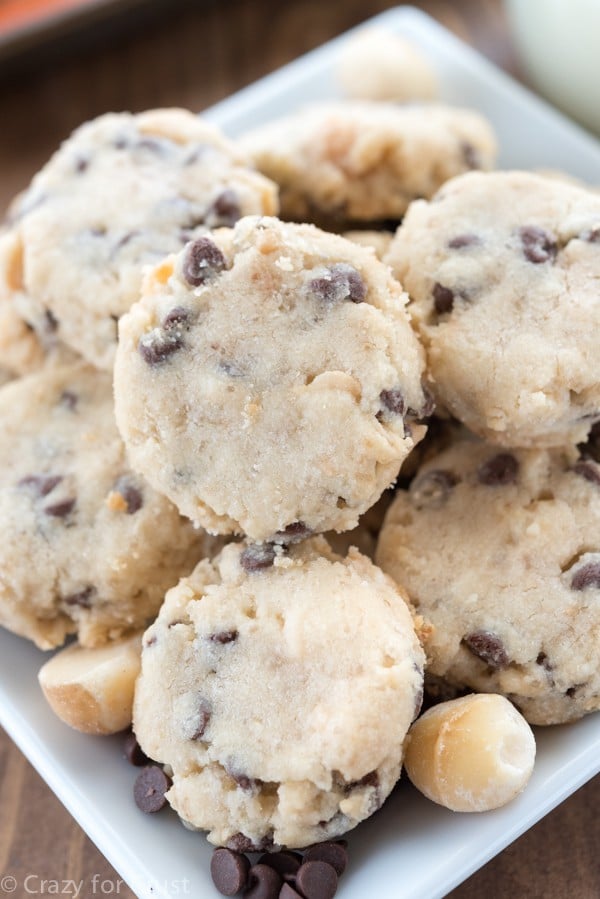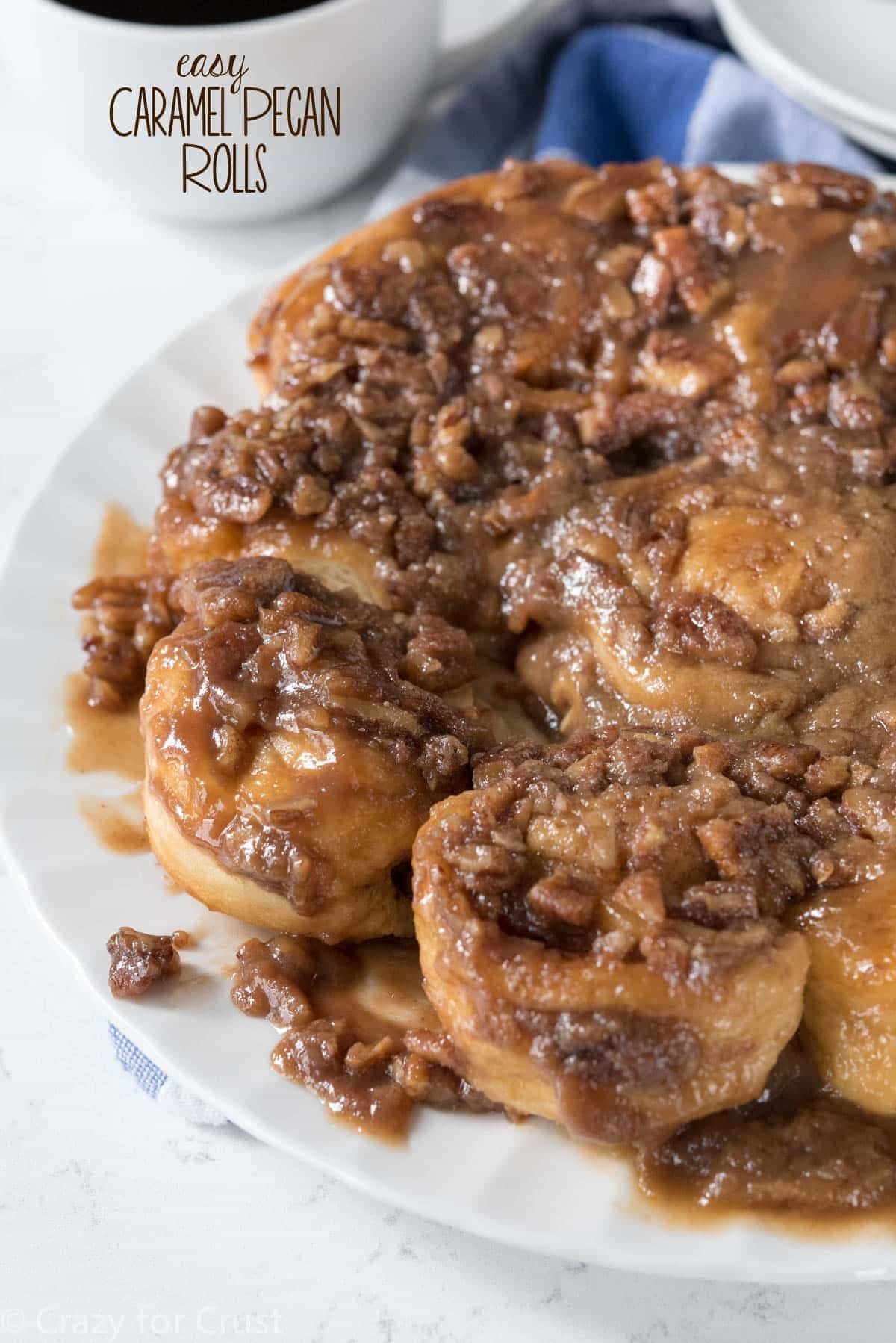 **Did you make this recipe? Don't forget to give it a star rating below!**
Last Updated on February 2, 2023