This post may contain affiliate links. For more information, read my disclosure policy.
Yes there are just 5 ingredients in this EASY Sticky Bun Recipe! These are your classic sticky buns: cinnamon rolls with a gooey caramel pecan glaze, but done in about 30 minutes.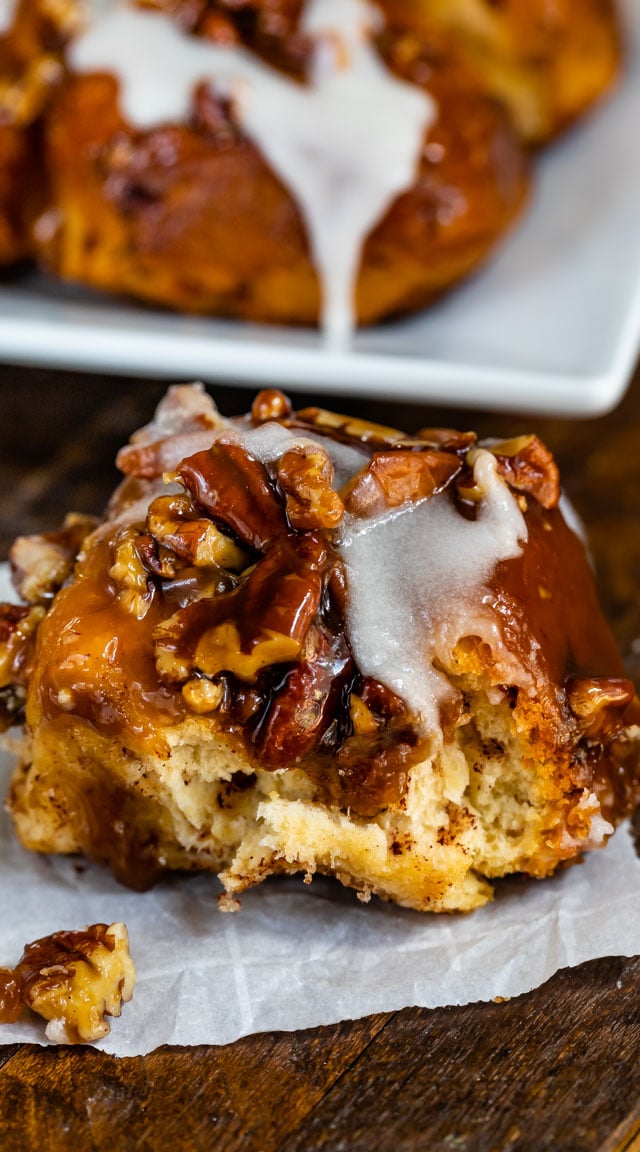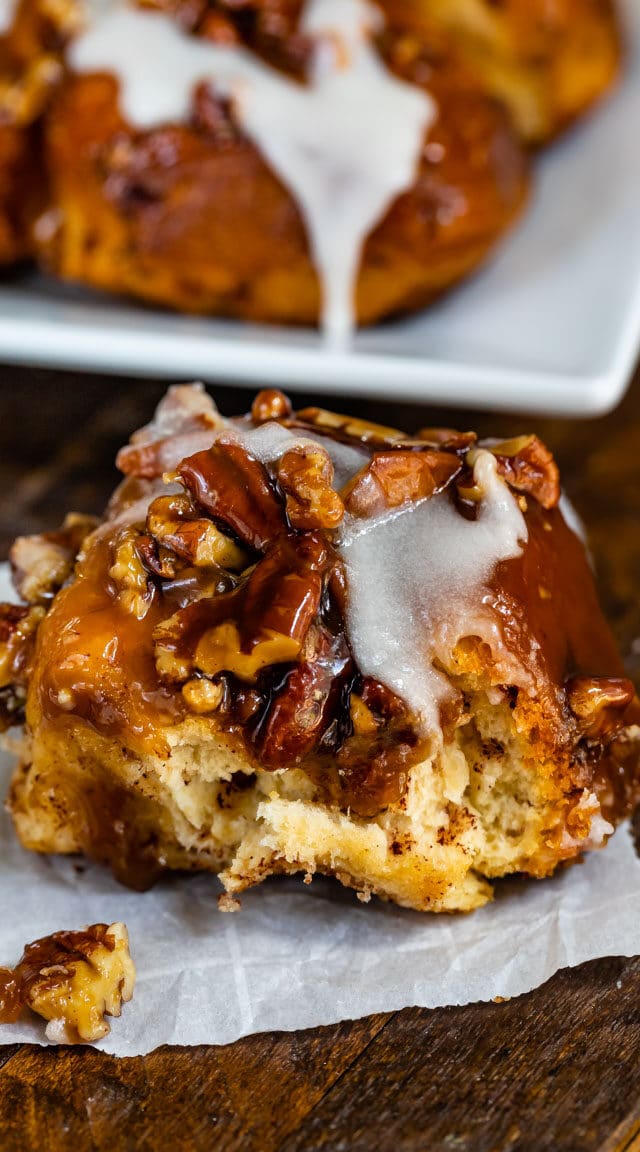 Table of Contents
The BEST Easy Sticky Bun Recipe
Isn't it funny how certain things make you remember situations or places? Like how a smell can transport you back to your childhood or a sound can make you think you're back in your college dorm. For me, a lot of those memories are tied with food, which is why I tell so many stories with my recipes.
With recipes like these Sticky Buns, I'm reminded of summer. I know, strange, right? Sticky buns in summer? But it's true.
When I was a kid, the county fair was in the next town over every August. We'd always go after work one night and I looked forward to that every year. I wasn't much for the rides, no, my favorite two parts were the buildings with all the booths and the food.
One of the foods we always got were huge sticky buns. They were as big as my head it seemed, back then, all swirled with cinnamon and sticky goo. My mom and I would get a caramel pecan roll and my dad would get a plain one. I can still remember the taste of those rolls!
The second I turned these out onto the plate I was transported back to those warm summer evenings with the sights and sounds of the fair…and those delicious cinnamon rolls!
These Easy Sticky Buns are a cheater version of those rolls: 5 ingredients and done in about 30 minutes!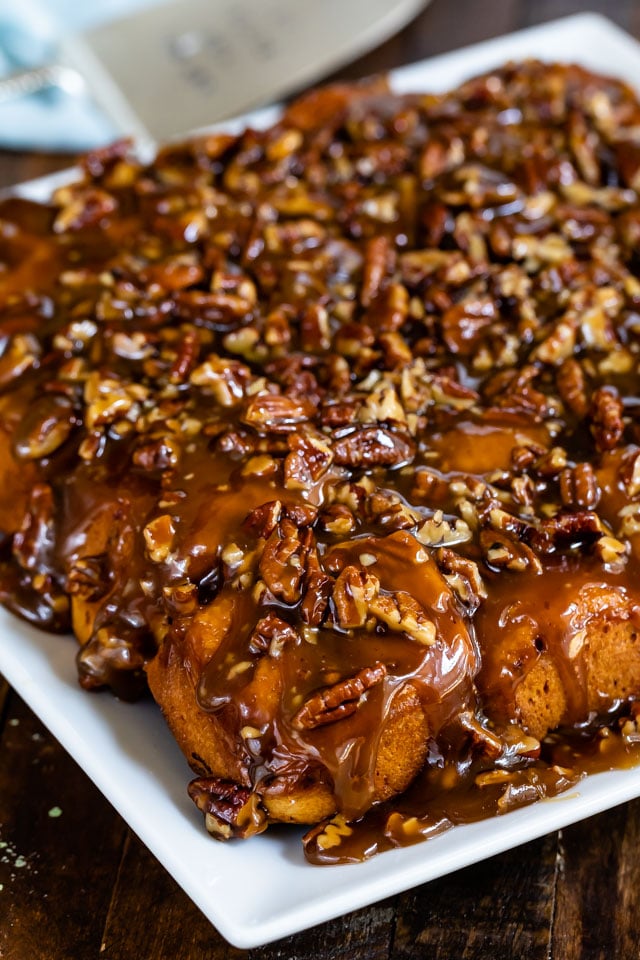 What is a sticky bun?
These amazing rolls, also called caramel pecan rolls, are like cinnamon rolls but they're baked in a caramel sauce. Instead of serving them from the pan, you instead invert the hot pan onto a serving plate and the caramel ends up on top of the rolls, all gooey and warm.
(Picture making a pineapple upside down cake, but with cinnamon rolls, and you can get the visual.)
Easy sticky buns don't need yeast or rise time!
That's what I love most about this recipe: how easy and fast it is. Because I start with canned cinnamon rolls, it cuts out the majority of the time it takes to make homemade rolls. All you have to make is the caramel sauce for the top, which takes about 5 minutes!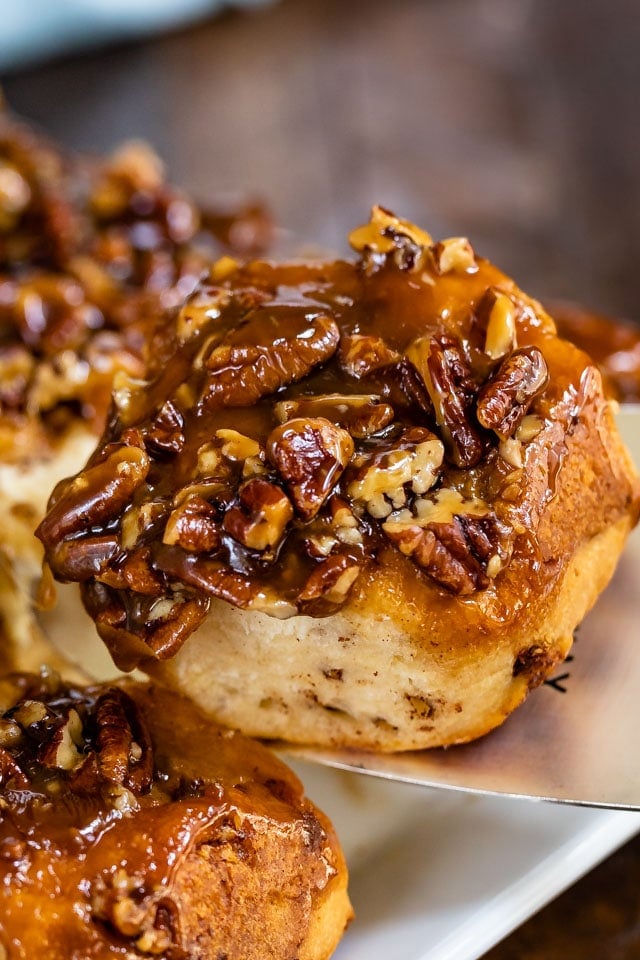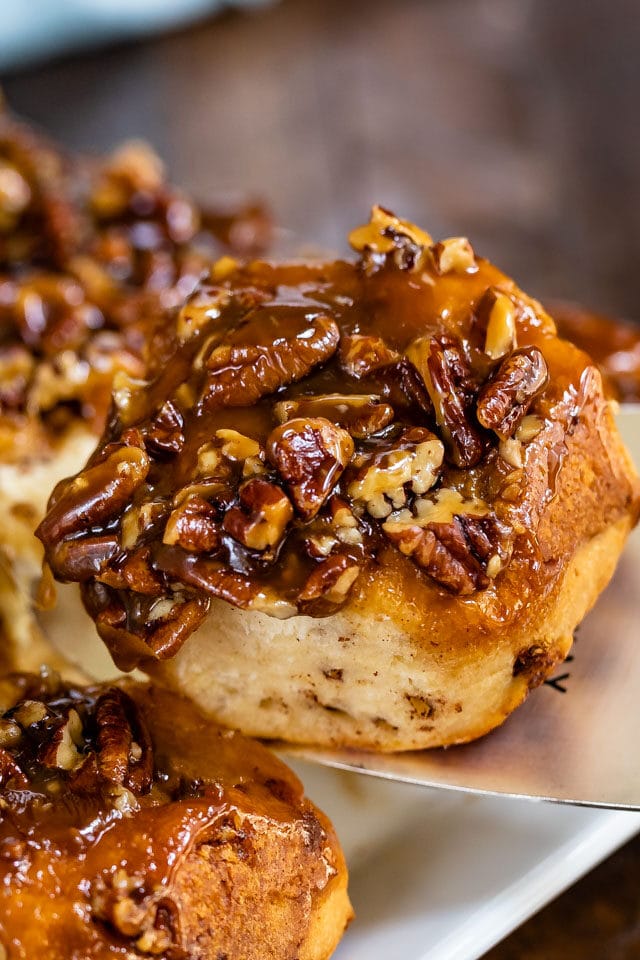 Ingredients in EASY Sticky Buns
Canned Cinnamon Rolls: While I love making from scratch cinnamon rolls, I also love taking some help whenever I can get it. These rolls only take about 30 minutes to make – sticky buns without yeast! – because I started them with canned cinnamon rolls.
Pecans: It wouldn't be a sticky bun without nuts!
Butter: Use unsalted butter for best results, but you can substitute salted.
Brown Sugar: Makes the BEST caramel!
Corn Syrup: This makes them sticky – you can also substitute honey.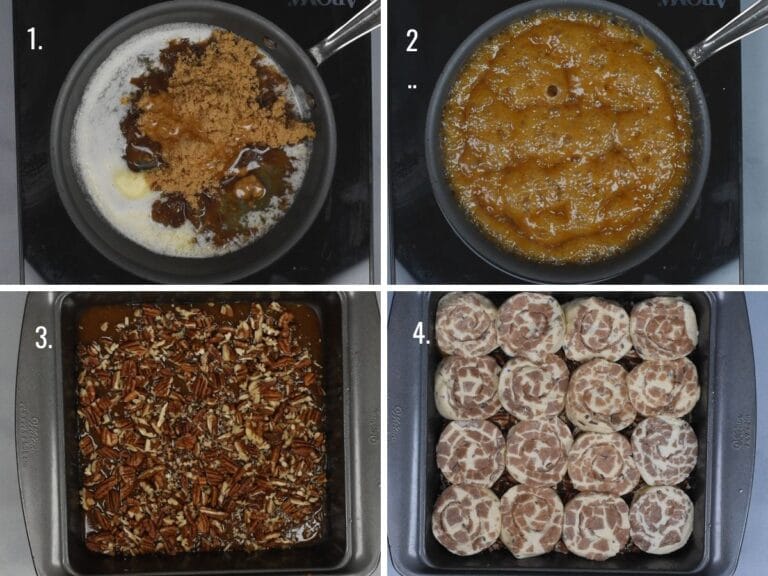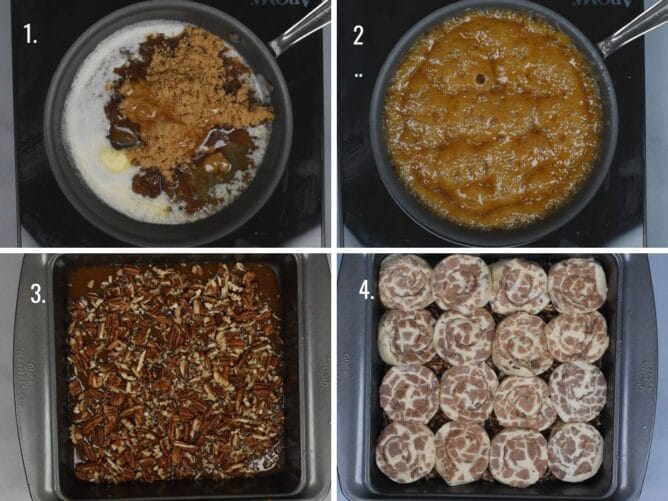 How do you make sticky buns?
Make the Caramel: The caramel is made by melting the butter and mixing in the brown sugar and corn syrup.
You let it boil for a minute and then pour it into a pan and top it with pecans.
Pour the caramel and pecans in the bottom of your pan.
Top with the cinnamon rolls.
Bake, then turn them out hot for that gooey sticky look.
There are several ways to make the caramel pecan topping. One way uses heavy whipping cream, and those are easy and good but this is a more authentic and classic sticky bun recipe.
How to serve caramel pecan rolls
Once they come out of the oven you turn them – while hot – onto your serving plate. Some of the caramel will stick to your pan, especially if you're not using a nonstick pan.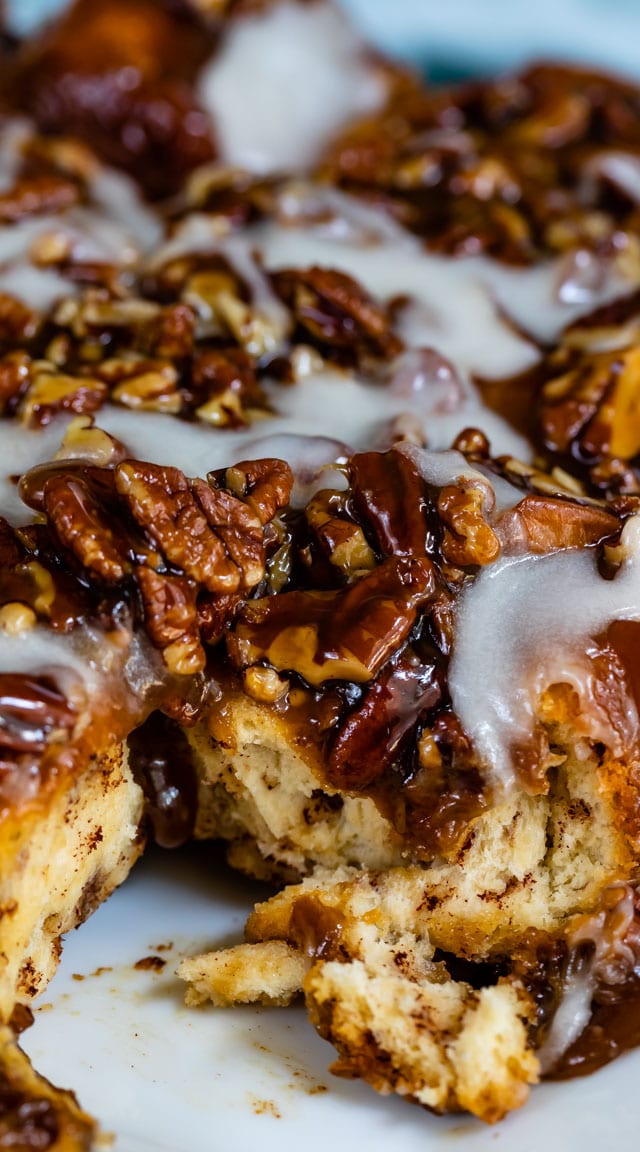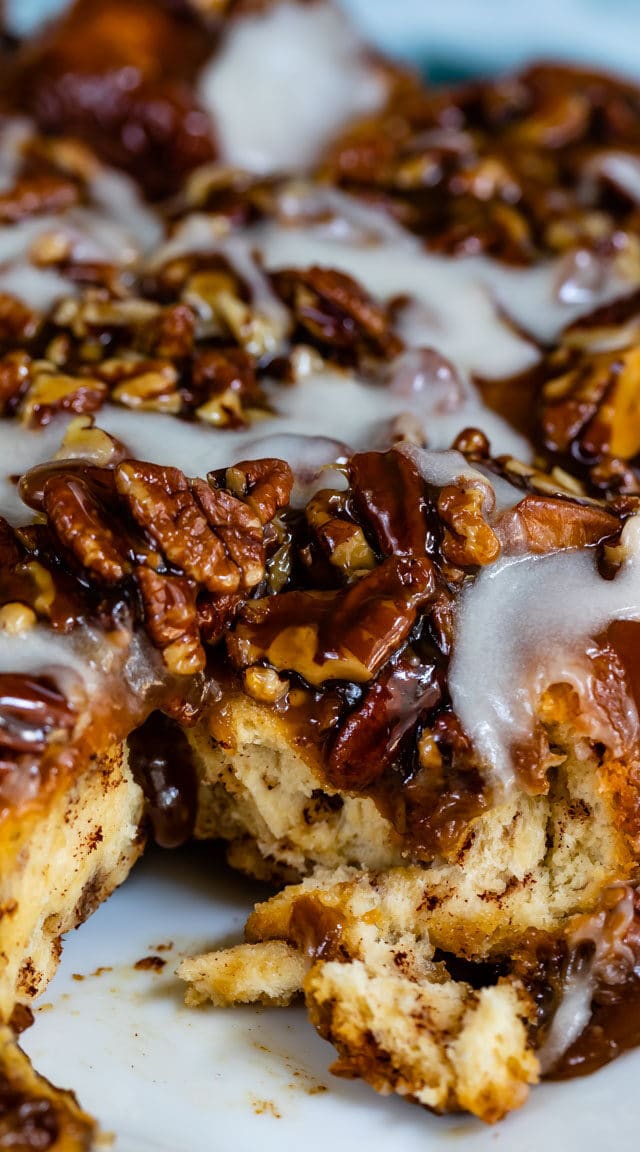 FAQ
How does a caramel pecan roll get the topping on top?
Pour the caramel and pecans in the bottom of your pan, then top with the cinnamon rolls. Once baked, invert the pan over a plate and flip them out of the pan hot and the caramel will be on top.
How you know when caramel pecan rolls are done:
The rolls are done when the tops are golden brown and the center seems cooked. Wait no more than 5 minutes before inverting the pan over a serving plate.
My caramel hardened on my caramel rolls! What do I do?
Don't worry – this happens often with this kind of caramel. Just be sure to eat the rolls warm from the oven. If the caramel hardens and becomes sticky, simply reheat the rolls in the microwave for about 30 seconds to warm it.
How do you store sticky buns?
If they last longer than one meal, loosely cover them on the counter for about a day. Reheat as needed!
What do I do with the cinnamon roll icing?
You can drizzle it over the top before serving or just refrigerate it and use it as an apple dip.
Love brunch? Try these easy breakfast recipes:
Have you made this recipe?
Tag @crazyforcrust on Instagram or hashtag it #crazyforcrust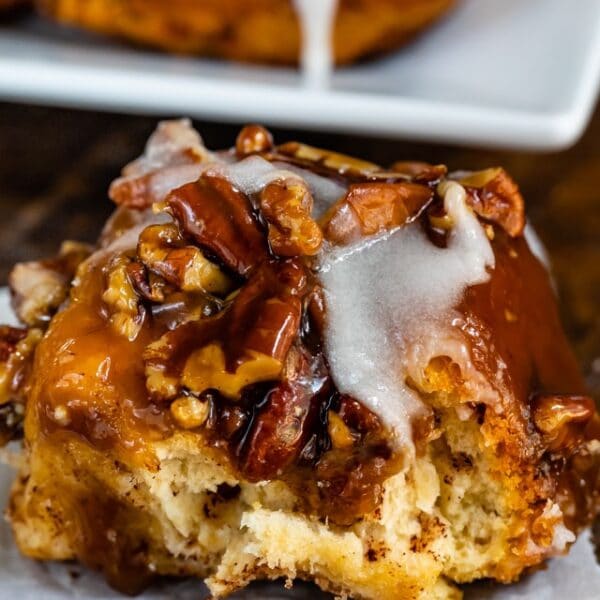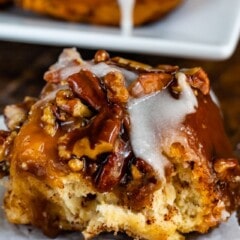 Easy Sticky Buns
This easy sticky bun recipe has just 5 ingredients and is done in about 30 minutes. Carmel Pecan rolls with cinnamon rolls are the perfect brunch!
Ingredients
½

cup

(113g) unsalted or salted butter

1

cup

(200g) packed brown sugar

¼

cup

corn syrup

may substitute honey

1 ½

cups

coarsely chopped pecans

2

cans cinnamon rolls

8 rolls each can or larger 5 rolls per can
Instructions
Preheat oven to 375°Spray a 9-inch square pan with nonstick cooking spray.

Melt butter in a small saucepan over medium low heat. Add the brown sugar and the corn syrup and stir until boiling. Boil one minute, stirring. Remove from heat and pour in the bottom of a 9×9-inch pan. Top with pecans.

Place cinnamon rolls into the prepared pan. If you're using 8 small ones, it'll be crowded, but squish them in.

Bake for 20-30 minutes, or until they're golden brown and seem to be cooked in the middle.
Recipe Nutrition
Serving:
1
roll
|
Calories:
183
kcal
|
Carbohydrates:
19
g
|
Protein:
1
g
|
Fat:
12
g
|
Saturated Fat:
4
g
|
Cholesterol:
15
mg
|
Sodium:
59
mg
|
Potassium:
56
mg
|
Fiber:
1
g
|
Sugar:
18
g
|
Vitamin A:
182
IU
|
Vitamin C:
1
mg
|
Calcium:
20
mg
|
Iron:
1
mg
Nutritional information not guaranteed to be accurate
**Did you make this recipe? Don't forget to give it a star rating below!**
This post was originally sponsored by Palmolive. All opinions are my own.
Since we're speaking of memories that are sparked by taste, sound, and smell, I have to tell you my Palmolive® memory. To me, just a whiff of that green soap makes me think of my mom. Like, the smell sparks a memory so vivid I feel myself at my parents house helping my mom do dishes. You'd think she used Palmolive® perfume, but nope, she's just used it on her dishes my entire life (even today, when I go visit, there's a bottle on the sink).
I can totally see why she uses it though: it allows you to make more family memories eating and enjoying each other's company. Leave the dishes in the sink and go have fun: Palmolive® will handle the mess. Seriously though, no matter what I make, whether it's these sticky buns or a cheesy pasta dish, I'm thankful there is Palmolive® from Albertsons. It has a powerful grease fighting formula and is gentle on your hands while you wash. Did you know that it can lift away food that's been stuck on dishes for 24 hours?
Palmolive® Ultra Strength has several benefits:
Easily cuts grease
Provides a residue-free clean
Leaves your dishes smelling fresh and clean (like my mom's kitchen)
Lifts away 24-Hour stuck-on food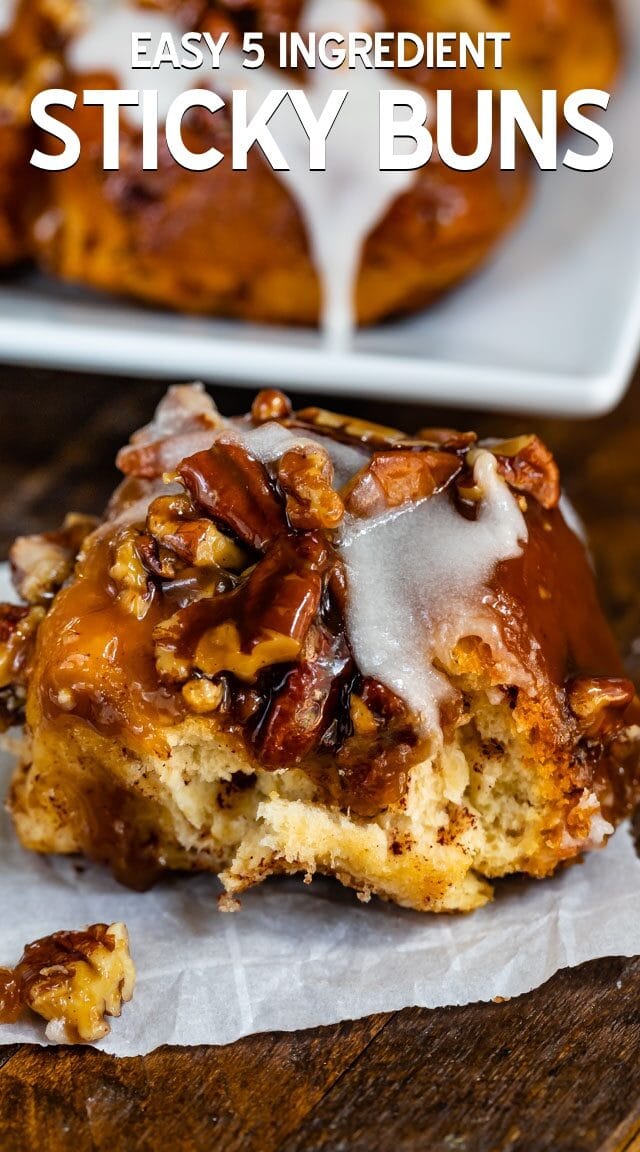 Easy Sticky Buns have just 5 ingredients – these simple caramel pecan rolls are SO easy to make and so sticky and gooey and perfect.
Last Updated on March 29, 2022