This post may contain affiliate links. For more information, read my disclosure policy.
These easy lemon tarts only have 3 ingredients and they're done in under 30 minutes. The perfect quick dessert for any party or any time a lemon craving hits.
Well hello there, Easy Lemon Tarts. How you doin'?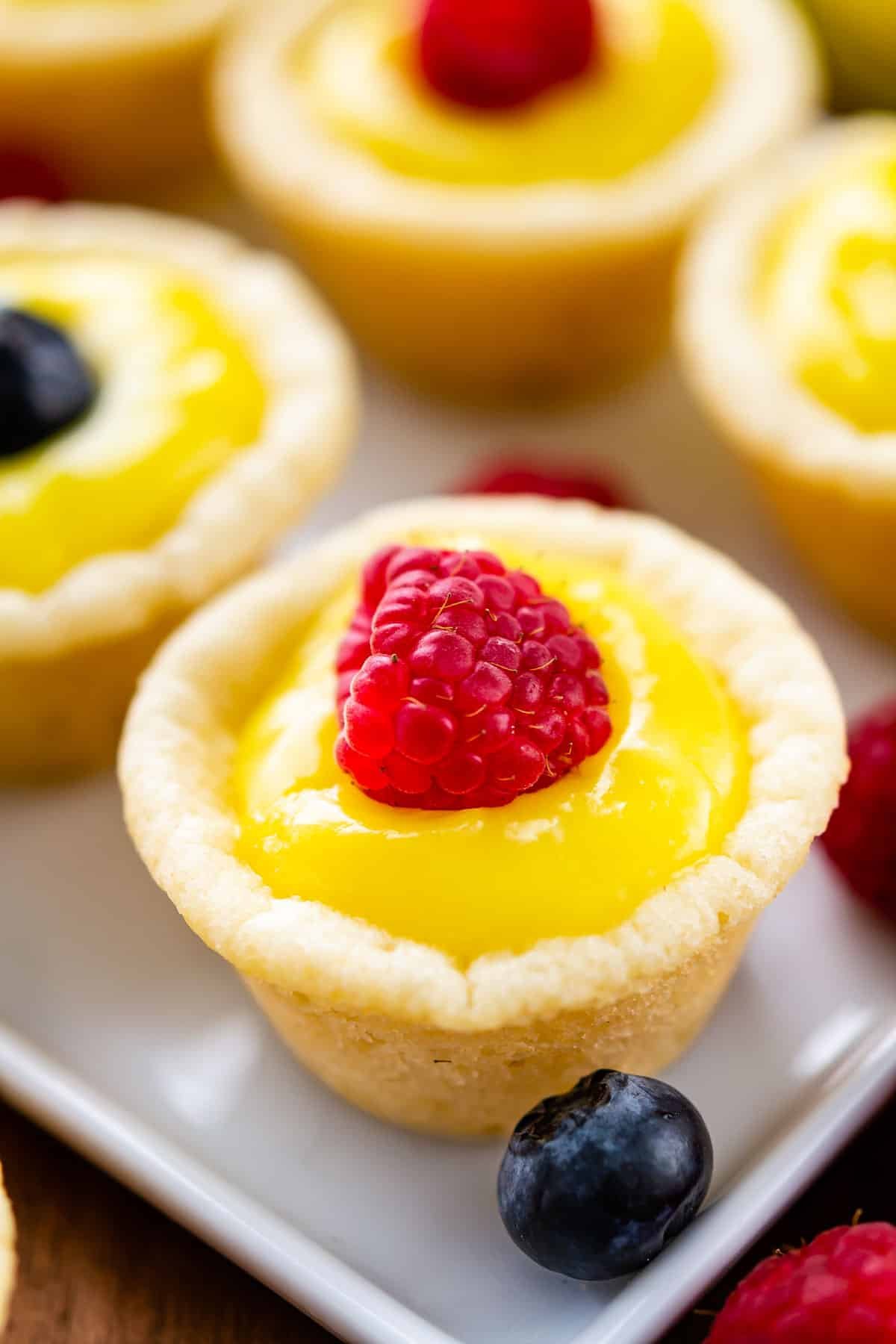 I'm really hoping you read that in your best Joey voice. Man, I miss that show.
You guys, today is kind of a special day. It's March 1…and it's my parents 40th wedding anniversary! I can't wrap my brain around the fact they've been married that long. I mean, if they've been married 40 years then that means I'm…
Never mind. Let's not worry about numbers. Instead I'm going to wish them a Happy Anniversary and revel in the fact that they still love each other as much now (or more) than they did back then. My parents met each other at my mom's work. My dad was doing some work in her office and became smitten. But want to know something cool? Their families had known each other for years and they'd probably met as kids, but didn't know it. Both my grandfathers were firemen, but my mom's dad (the chief) passed away when she was 5, so after that they didn't really keep in touch. It's like their marriage was meant to be.
They knew it was meant to be too. After their first date in October they got married the following March. When you know, you know.
That fun fact made it easier on them when I started dating Mel and proclaimed he was "The One" 2 weeks later. He didn't propose for 5 months, but that was just logistics. We'd been talking about marriage since about a month in. My parents made me believe in soul mates, so I think I'm kinda lucky I found mine.
Anyway…I thought something as cheery as a 40th anniversary deserved something bright and sunny and happy…like these Easy Lemon Tarts. There is just something about photographing lemon dessert; looking at the pictures just makes me happy!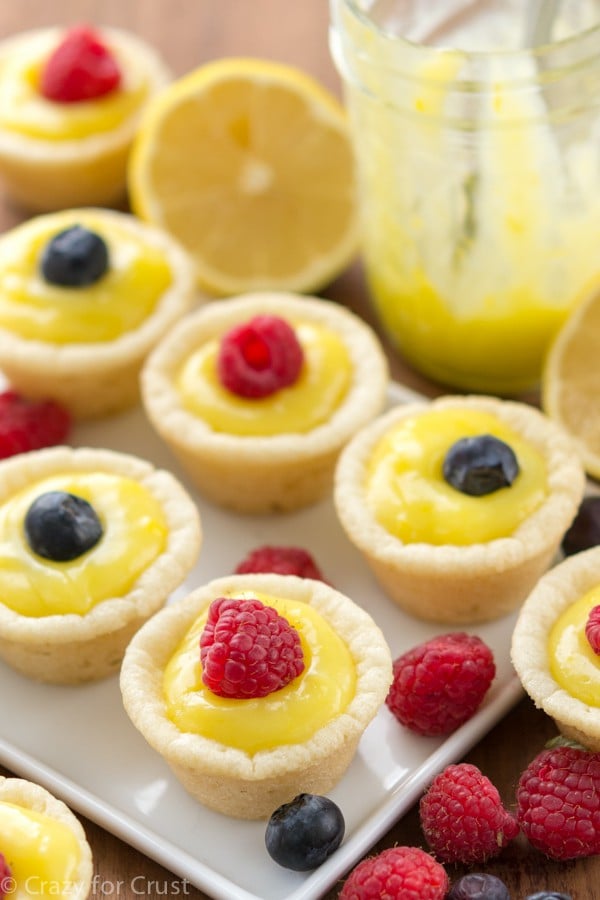 3 ingredient Lemon Tarts
Literally these tarts have 2 ingredients, 3 if you include the fruit. (I seem to be on a 2 ingredient kick the last few days. First, waffles then dip. Go figure!)
The tart shell is made from sugar cookie dough. I used the Pillsbury break-n-bake sugar cookie dough, the kind that comes in a rectangular package. It made it super easy to just break off a square, roll it into a ball, and press it into my mini muffin pan. You can also use a roll of sugar cookie dough and scoop 1 tablespoon sized balls of dough instead.
Now, if you don't have any sugar cookie dough in your refrigerator and you want these Lemon Tarts RIGHT NOW (which I understand) you can totally make the tarts from scratch. I suggest using my perfect sugar cookie recipe and scooping 1 tablespoon sized balls of dough. (You'll probably end up with more than 24 tarts, so get more lemon curd or just make cookies with any leftover.)
I used the prepared cookie dough because, as I mentioned last week, I'm super lazy. No mixing, no clean up. That's my kind of recipe.
How to make Lemon Tarts from cookies
The second ingredient in these tarts is the lemon, obvi. I originally made these because a friend had given me a bag of lemons. The best way to use up lemons, IMO? Make lemon curd. I can eat that stuff with a spoon, no joke.
Once the tart shells are baked and cooled, you scoop a healthy scoop of lemon curd into the center. You can use a jarred lemon curd (most grocery stores have it with the jams and jellies) or you can make your own. I used my lime curd recipe and substituted lemon zest and lemon juice. It works perfectly.
The third ingredient (I know, I'm asking a lot…three ingredients…jeesh) is fruit. Top each tart with a raspberry, blueberry, blackberry, or a cut strawberry. This is optional but adds some pretty color. If you're serving these at a party they'll practically jump off the plate. If you're not into fruit, you can sprinkle them with some powdered sugar instead. Or just do what I did…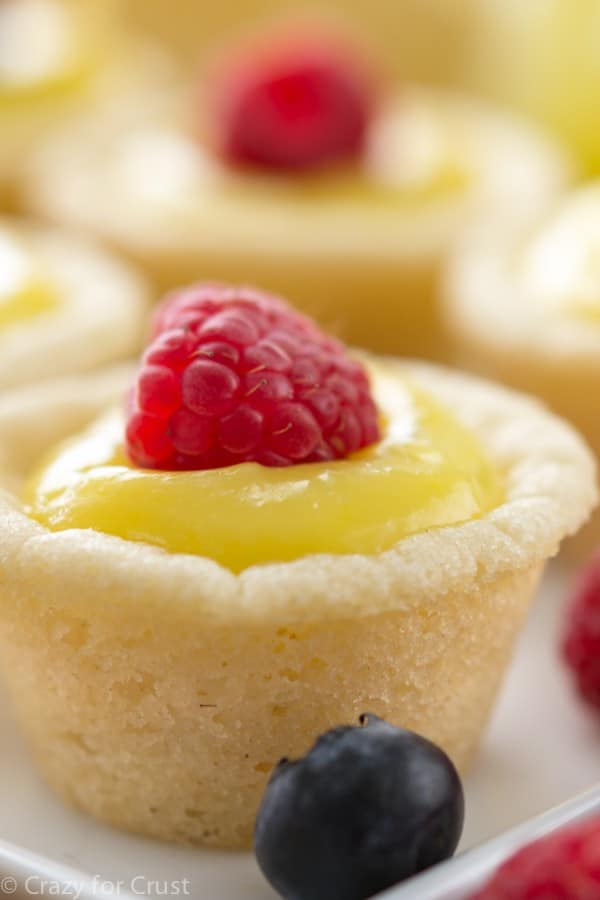 Top a few with berries for photos and shove the rest in your face as fast as possible. 🙂
Lemon tarts are one of my favorite things, along with lemon bars, lemon pie, shortbread lemon tarts, lemon limoncello cupcakes, and lemon pudding pound cake. Any and all of them would satisfy a lemon craving in no time at all.
If you love lemon you should try my best ever lemon bars recipe – it's fantastic with a shortbread crust.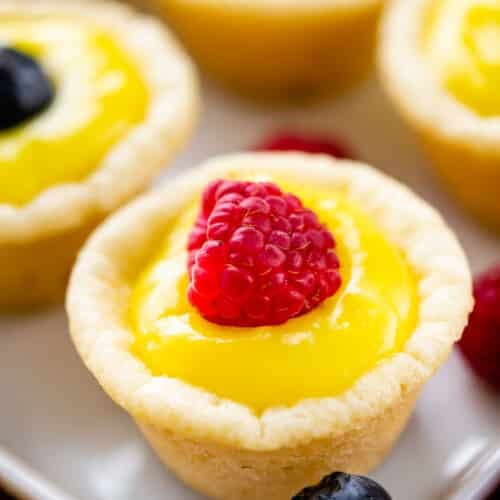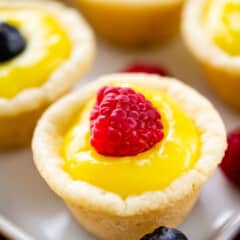 Easy Lemon Tarts
These easy lemon tarts only have 3 ingredients and they're done in under 30 minutes. The perfect quick dessert for any party or any time a lemon craving hits.
Ingredients
1

16 ounce package

sugar cookie dough (I used the Pillsbury break apart kind, but you can also use the roll) OR 1 recipe of your favorite prepared sugar cookie dough

1

about 8-10 ounces jar

lemon curd

Fresh fruit for topping

optional
Instructions
Preheat oven to 350°F. Spray mini muffin pans with cooking spray that has flour in it.

If using the break apart sugar cookie dough, break apart each square, roll into a ball, and press into the bottom and up the sides of each cavity of the mini muffin pan. If using a roll of cookie dough, use 1 tablespoon sized balls and do the same. (Same goes if you're using scratch cookie dough.)

Bake cookie tarts for about 10 minutes, until they just start to turn golden around the edges. Cool, then remove from the pans carefully. They should pop out if you've sprayed the pan well, but using a butter knife to pop them out might help.

Fill cooled cookies with lemon curd and top with a raspberry, blueberry, or strawberry. Store loosely covered in the refrigerator for up to 3 days.
Recipe Nutrition
Serving:
1
tart
|
Calories:
0.3
kcal
|
Carbohydrates:
0.1
g
|
Protein:
0.003
g
|
Fat:
0.01
g
|
Saturated Fat:
0.005
g
|
Polyunsaturated Fat:
0.001
g
|
Monounsaturated Fat:
0.005
g
|
Cholesterol:
0.005
mg
|
Sodium:
0.2
mg
|
Potassium:
0.1
mg
|
Sugar:
0.04
g
|
Vitamin A:
0.02
IU
|
Calcium:
0.003
mg
|
Iron:
0.001
mg
Nutritional information not guaranteed to be accurate
Click here to see the complete list of Lemon Recipes!
Click here to see more of my Christmas cookie recipes!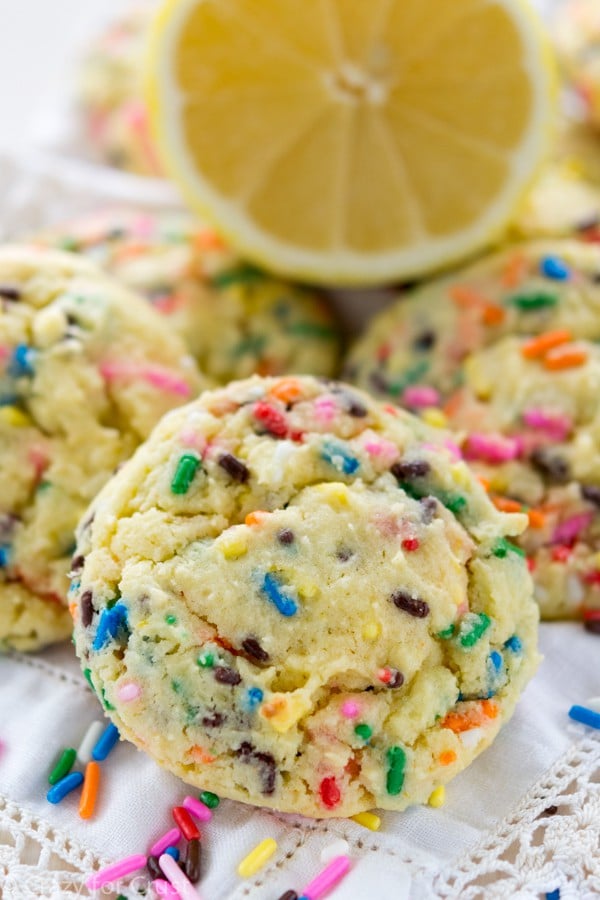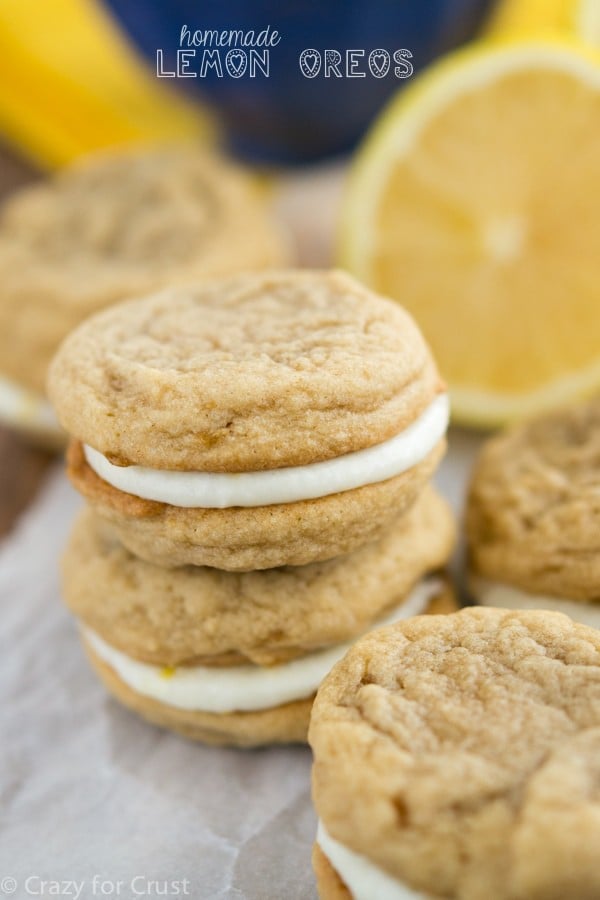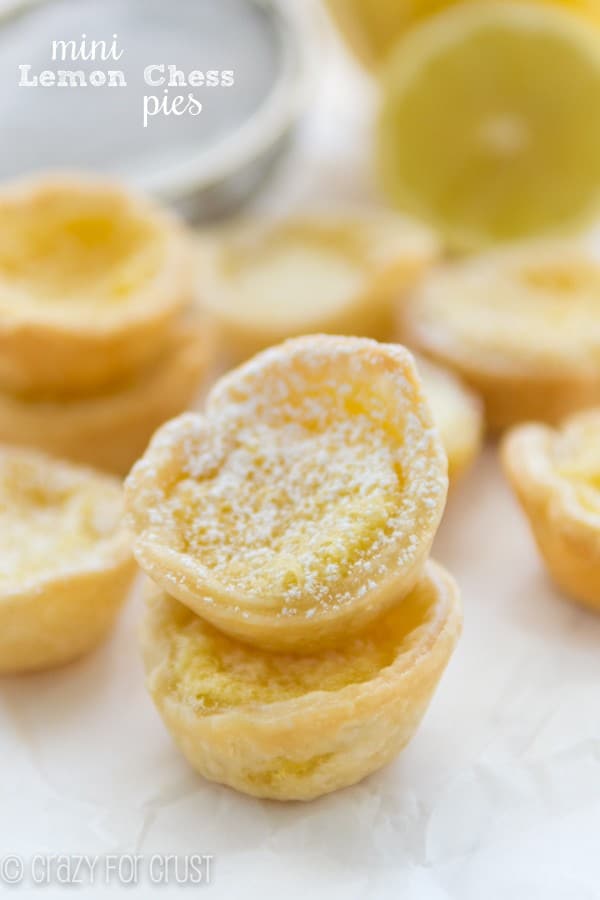 Homemade Lime Curd (use lemons instead!!)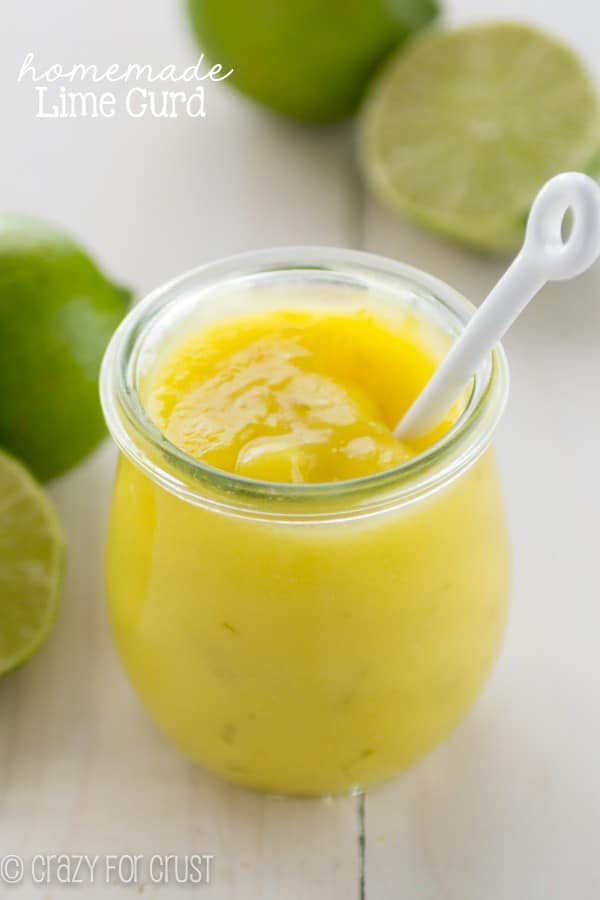 Sweets from friends:
Microwave Lemon Bars by Mom on Timeout
Lemon Cheesecake By Taste and Tell
Lemon Cupcakes with Lemon Glaze by The Messy Baker Blog
Last Updated on May 17, 2023