This post may contain affiliate links. For more information, read my disclosure policy.
With just a handful of ingredients you can have apple croissants for breakfast. That's a #hugewin in my book!
As much as I hate our Sacramento weather, I absolutely love how close we are to San Francisco, Lake Tahoe, and the Foothills. In less than a 2 hour drive in any direction we can hit any number of fun places. My favorite place to go in the fall is Apple Hill. It's an area with collection of apple growers that open up their farms for apple picking, doughnuts, and fudge every weekend.
Last weekend, even though there was a ton of smoke from the King Fire (seriously, arsonists suck) we headed up the hill because I wanted a doughnut. And it was my birthday, so I could demand we drive an hour and risk smelling like a bonfire so that I could have the best doughnut in the entire world.
While we were there, we went apple picking. Which resulted in 13 pounds of apples I needed to bake with.
I mean…I guess we could just eat them. But why???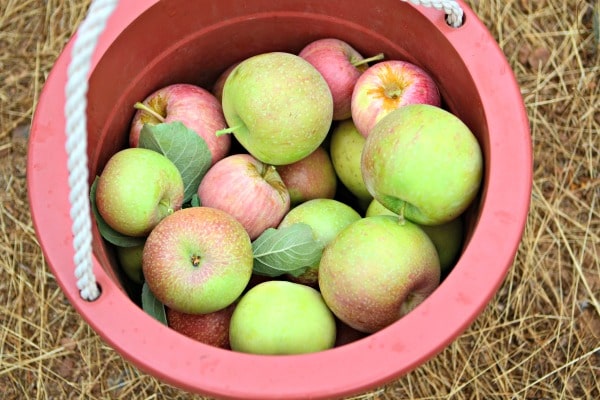 First recipe up: these Easy Apple Croissants. These are super simple and fast and they taste like apple hill…only no smoke.
For the longest time I told myself "Dorothy. You need to make croissants from scratch. It's what any other baker with any degree of self-worth would do."
Then I told myself to shut it and got out the frozen puff pastry.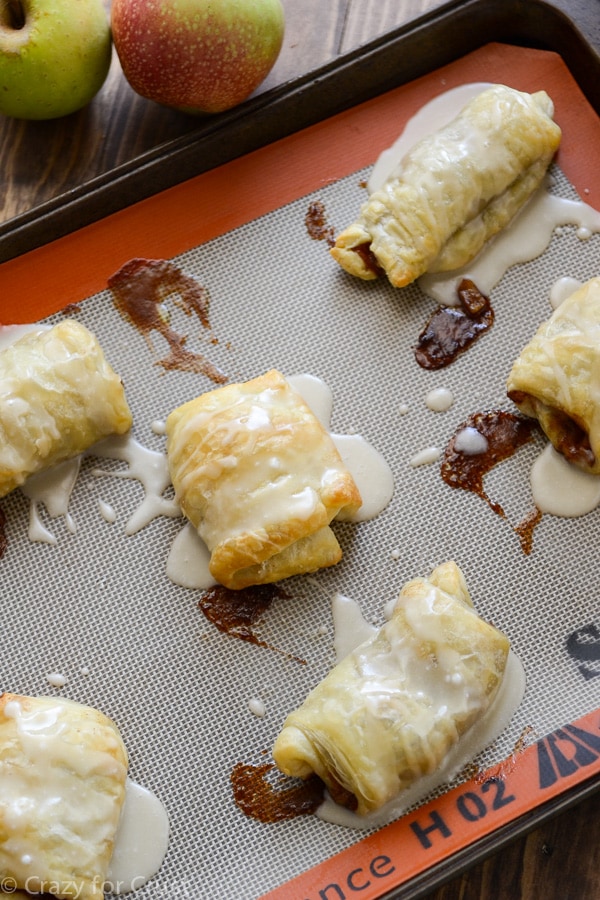 The result was that I had croissants in my belly in under an hour. #priceless
Okay, so these are way too easy. First, you start with an apple. Obviously.
I peeled, cored, and dice my apple small. Then I cooked it with butter, sugar, and cinnamon. <–THAT is what any baker with any degree of self-worth would do.
Then you cut your puff pastry sheet into 6 rectangles and roll up some croissants. Mine are less pointy than rectangle-y because I was too lazy to make triangles.
This laziness is, in part, why you love me.

The secret ingredient in these croissants (and in the glaze) is apple cider. I always get some when we head up the hill, but you can buy yours at pretty much any store right now (or use apple juice). It adds more flavor than using water.
The glaze is simple, with butter, powdered sugar, and cider. Drink it with a spoon Drizzle it on and then attack the croissants.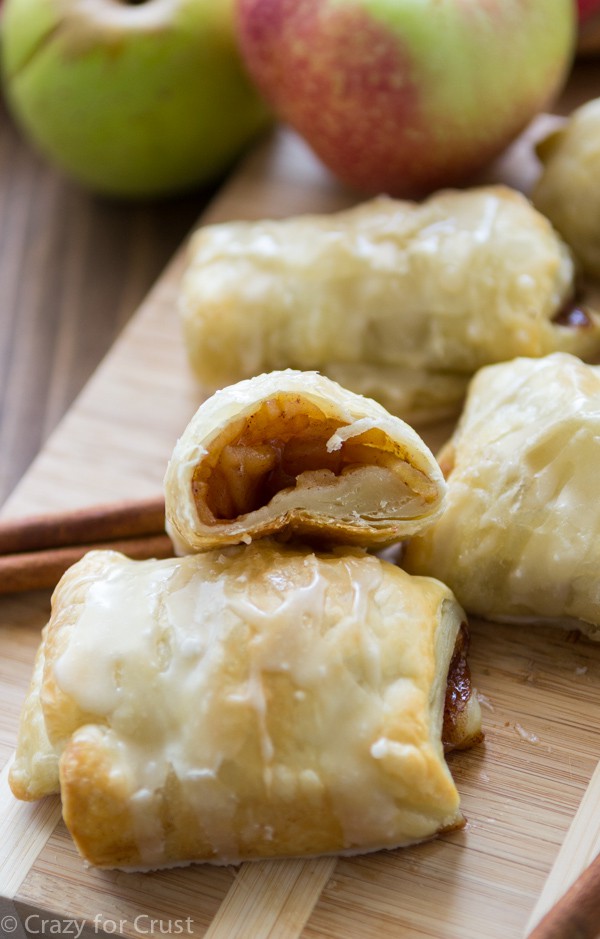 Why can't apple season be all year?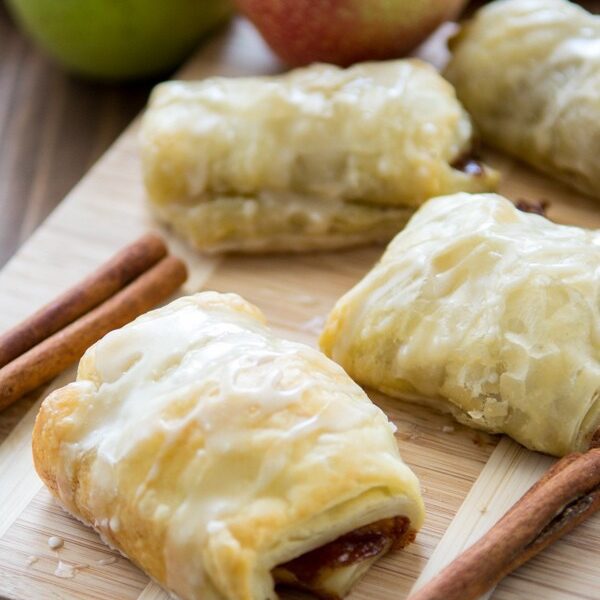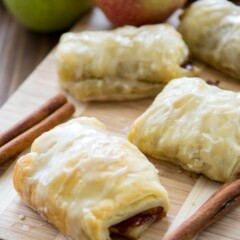 Easy Apple Croissants
Make croissants in minutes using frozen puff pastry sheets! Fill them with apples cooked with apple cider and top with an apple cider glaze for a delicious fall breakfast!
Ingredients
2

tablespoons

unsalted butter

divided

1

cup

diced apple that's been peeled and cored

about 1 medium

1

tablespoon

granulated sugar

4

tablespoons

apple cider

or juice, divided

1

teaspoon

cinnamon

1/2

teaspoon

cornstarch

1

tablespoon

water

1

sheet puff pastry

thawed according to package directions

1/2

cup

powdered sugar
Instructions
Preheat oven to 375°F. Line a cookie sheet with parchment paper or a silpat baking mat.

Place 1 tablespoon butter in a medium skillet. Heat over medium-low heat until butter is melted. Add the apple, granulated sugar, 3 tablespoons apple cider, and cinnamon. Stir to coat the apples. Cook until it bubbles, then cook for another 3 minutes. Stir cornstarch and water in a small glass or bowl. Pour into the apple mixture and cook until the mixture thickens. Remove pan from heat.

Unwrap thawed puff pastry sheet. Cut into 6 equal rectangles. Evenly divide the apples among the puff pastry rectangles and roll each up. Pinch the ends a little and pinch to seal. Place on prepared cookie sheet.

Bake for 15-18 minutes, until the croissants are golden brown. Let cool before glazing.

Make the glaze: melt remaining 1 tablespoon of butter in a small bowl. Whisk in powdered sugar and 1 tablespoon apple cider. Drizzle over croissants. Let set for a few minutes. These taste best the day they are made.
Nutritional information not guaranteed to be accurate
Easy Caramel Apple Cinnamon Rolls
Baked Chocolate Croissant French Toast
Sweets from friends:
English Apple Cinnamon Pasties by Something Swanky
3-ingredient Chocolate Croissants by The Comfort of Cooking
Pretzel Croissants by Girlichef
Last Updated on May 13, 2020