This post may contain affiliate links. For more information, read my disclosure policy.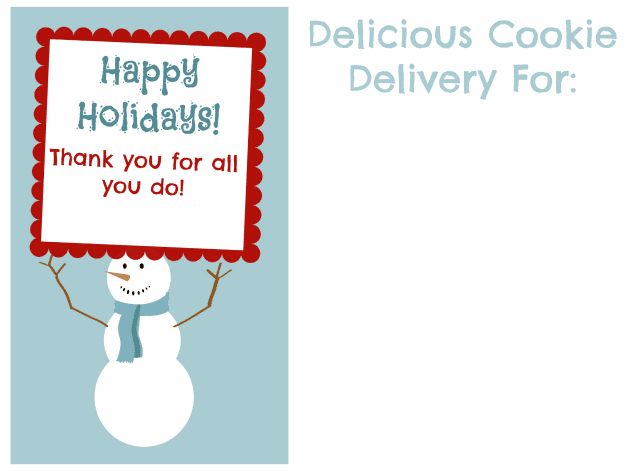 I really don't know how to start. The unimaginable events that occurred in Newtown, CT on Friday left me and my husband reeling this weekend. My heart goes out to all those parents, relatives, friends, and the entire community of Newtown for their loss. I hugged Jordan a little tighter this weekend, for sure.
I struggled about if I should post or not today. I try to post humor and fun and sparkly sweet sugary treats…something that felt strange after this weekend of sadness. But I realized…that's how I deal with sadness; I try to find something sweet. Something to smile about. And this blog does that for me. Makes me smile…and I hope it makes you smile too. So I decided to post something that you can use for your teachers this week.
For many students, this is the last week of school before Winter Break. I am in the process of folding boxes and printing labels so that I can assemble cookie boxes for the teachers at Jordan's school, as part of my job with the PTC. Each teacher gets a box full of goodies baked by my committee, and the staff in the office gets a huge platter of treats to nosh on throughout the day.
I created this tag in Picmonkey to print on labels for the boxes. Then I thought…why not share it? Our teachers always need a little extra love…and this week is no exception. The heroes of Friday bring tears to my eyes. And I know that every single one of the teachers at Jordan's school would do the same thing for her.
The printable is formatted to fit Avery Template 5095, the Name Badge Labels. Click for the .pdf version: Cookie Delivery Printable. You can also just print it on cardstock and cut it to use as a tag.
And if you feel as helpless as I do, please consider joining in with me and a bunch of other bloggers as we honor the victims of Sandy Hook this Friday with a tribute post. We are planning to share a cookie or a craft (maybe something you would do with your children) in to show our support for Newtown. There will also be a link to donate (see my sidebar for the button) and several shops are donating proceeds from Friday to the Newtown Youth Services organization. Click here for all the info on Cookies and Crafts for Sandy Hook. Share using the hashtag #BloggersforSandyHook.
Thanks again for reading…and go hug a teacher!
Need cookie ideas to go with the labels? How about these:
Butterscotch Molasses Pudding Cookies
Triple White Chocolate Peppermint Blossom Cookies
Thanks for reading!
Last Updated on September 12, 2022