A healthier truffle? Yes it can be done! These Chocolate Avocado Truffles are made with no cream – just chocolate and avocado!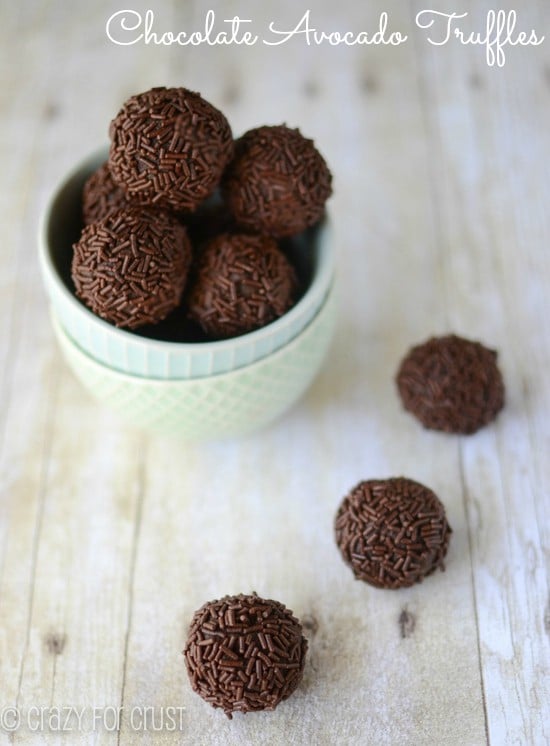 I went zip-lining last weekend, at the California State Fair. Mel and I have been wanting to do it forever, and I finally conquered my fear and did it.
I must say, paying my fee, putting on the harness, and climbing the scaffolding stairs was pretty easy. Taming the lions in my stomach when I stepped outside that gate was a little harder!
The guy at the top was like a wizard with clipping: he was clipping everyone in and out so fast, it was hard to believe he wouldn't make a mistake. Every single motion was fluid, and the same for everyone, which calmed me. I figured he probably went to school and got a degree in zip-line hook-ups. He must have had to perform 10,000 of practice work before being allowed to actually let loose on people hundreds of feet in the air above the fried Oreo stand.
Or, that's what I told myself. To make me think he wasn't just a carnie…
Anyway, he told me on the count of three to run and jump off the platform. The look I gave him must have been a good one, because he looked at me with a funny smile, a look of concern, and asked if I was okay.
Run and jump? Sure. More like walk and step. In case you've never zip-lined, the first step is a doozey.
It's probably better if, when you step off the platform, you remember you're harnessed in. So that, for a split second before you remember to sit back, you are holding on for dear life with your arms giving out and thinking "Oh <expletive> my arms aren't strong enough to hold me an I'm gonna die!"
So yeah, if you remember the harness from the beginning, you can just sit back, relax, and enjoy the ride.
The look on my face at the other end was a good one too. I also got a look of concern and an "are you okay??"
I made it to the other side, alive and still wearing my flip flops. I was perfectly fine. As long as I didn't have to stand on my own. Whatever.
It was a blast. I can't wait to do it again…hopefully at a resort in Mexico or somewhere tropical next summer. I'm kind of proud of myself for conquering that fear.
Another fear I've conquered over an over again? Avocados.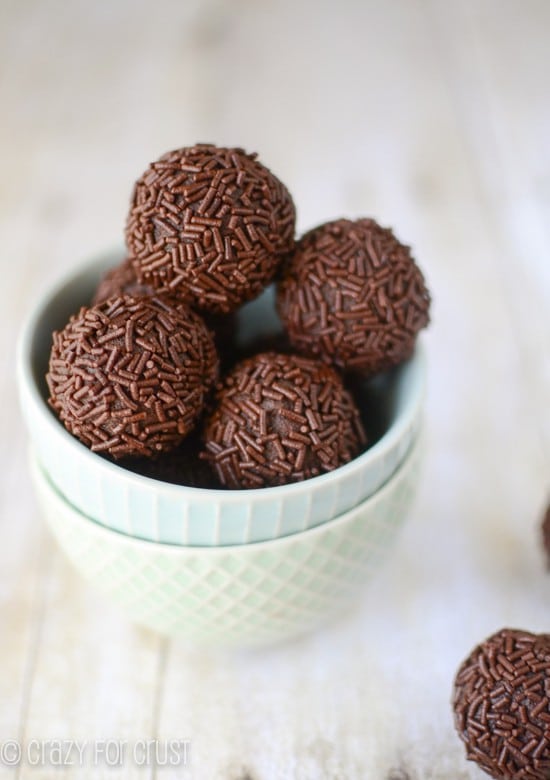 Granted, avocados are not on the same realm of zip-lining. But, if you're picky like me, trying something new is a pretty big fear. You all are well aware of my avocado obsession at this point. And while I love adding avocado to all my dinners and a lot of my desserts, my new favorite thing to do with the green wonder is to make my desserts healthier with it.
Did you know you can substitute avocado for butter? Sure, avocados still have calories and fat, but the fats are much better than in butter or oil. I made my Healthier Chocolate Gooey Cake Bars with no butter. And I've edited the recipe for my Avocado Banana Bread – I remade it as muffins with no butter and it was just as delish as the original.
Next reinvention? Truffles.
I love truffles, and not just at the holidays. I can eat them all year. When I'm in the mood for rich chocolate, a truffle hits the spot. Have you ever made truffles? Super easy: the normal recipe is just chocolate and heavy cream, and flavoring like vanilla. But heavy cream is humongo fattening, right? I mean, it's got heavy in the name.
I decided to see if truffles could be made without heavy cream, by subbing avocado. And guess what? They can. One small avocado, blended in the food processor and added to a cup of semi-sweet morsels firms up just like ganache. I forgot to add vanilla to mine, but the avocado citrusy flavor added that extra taste you expect from a truffle. I've noted in the recipe that you can add a little vanilla, if you like. I would next time because I'm a vanilla freak, but without they're just fine.
You can do so much with the outside of the truffles: dip them in chocolate, roll them in powdered sugar, cocoa, coconut, nuts, sprinkles…the ideas are infinite. I went simple with these: just an easy roll in chocolate sprinkles. I think they turned out pretty beautifully.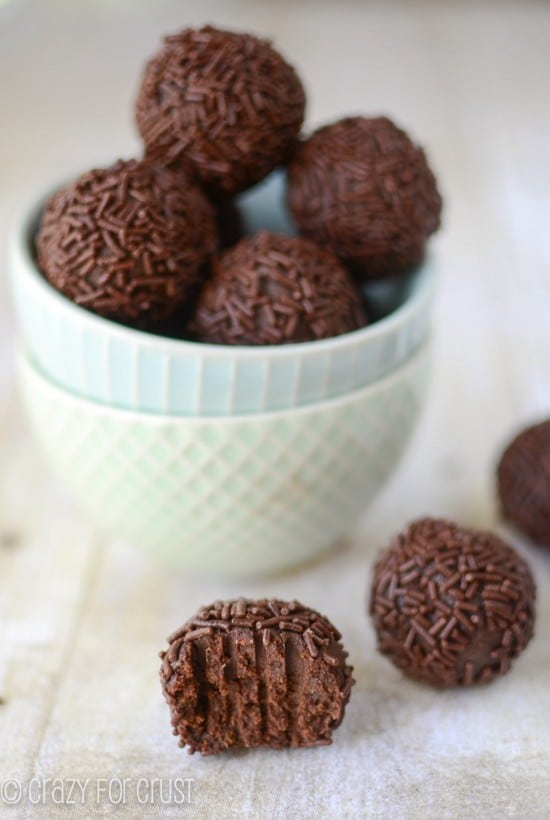 It's a good thing that the Avocados from Mexico avocado trees bloom four times a year. That's a lot of healthy fat to go around. It's really amazing to me how one little avocado can do so many things!
It's like the superhero of fruit. Cape, tights, and all!
Have you conquered your fear of baking with avocados? What do you like to make?
Chocolate Avocado Truffles
A rich chocolate truffle with less fat and calories thanks to a secret ingredient: avocado!
Ingredients
1

small avocado

just under ½ cup mashed

1

cup

semi-sweet chocolate chips

use a good brand; I like Ghiradelli or Guittard

1/2

teaspoon

vanilla

Sprinkles

cocoa, powdered sugar, or coconut for rolling
Instructions
Place avocado in a food processor and blend until smooth. Meanwhile, add chocolate chips to a microwave safe bowl and melt for 1 ½ - 2 minutes, stirring every 30 seconds. Once chocolate is melted and smooth, stir in avocado and vanilla. Cover with plastic wrap and chill until firm, at least a few hours. (I forgot to add the vanilla in mine, but they were still good! Do what you'd prefer.)

Line a cookie sheet with waxed paper. Place sprinkles in a dish for rolling. You can also use cocoa powder, powdered sugar, or sweetened coconut, if you prefer. Use whatever you would cover regular truffles in! Use a 1 tablespoon cookie scoop to scoop balls of the chocolate mixture. Roll into even sized balls. Roll in topping, place back on cookie sheet. Chill until ready to serve.
Other healthier options you might like:
Healthier Chocolate Gooey Cake Bars
Sweets from friends:
Skinny Frozen Hot Chocolate Cupcakes by Something Swanky
The Best Vegan Blueberry Muffins by Averie Cooks
Dark Chocolate Flourless Avocado Brownies by Heather's French Press
SaveSave
All text and images © DOROTHY KERN for Crazy for Crust. Please do not use my images without prior permission. If you want to republish this recipe, please re-write the recipe in your own words, or link back to this post for the recipe. Disclaimer: Nutrition information shown is not guaranteed to be accurate.
This post may contain affiliate links. For more information, read my disclosure policy.
Published on: July 29, 2013