This post may contain affiliate links. For more information, read my disclosure policy.
When you don't have a lot of time but want a sweet treat, you need No Bake Cornflake Clusters! With only 3 ingredients these Butterscotch Peanut Butter Cornflake Clusters are easy, fast, and addicting.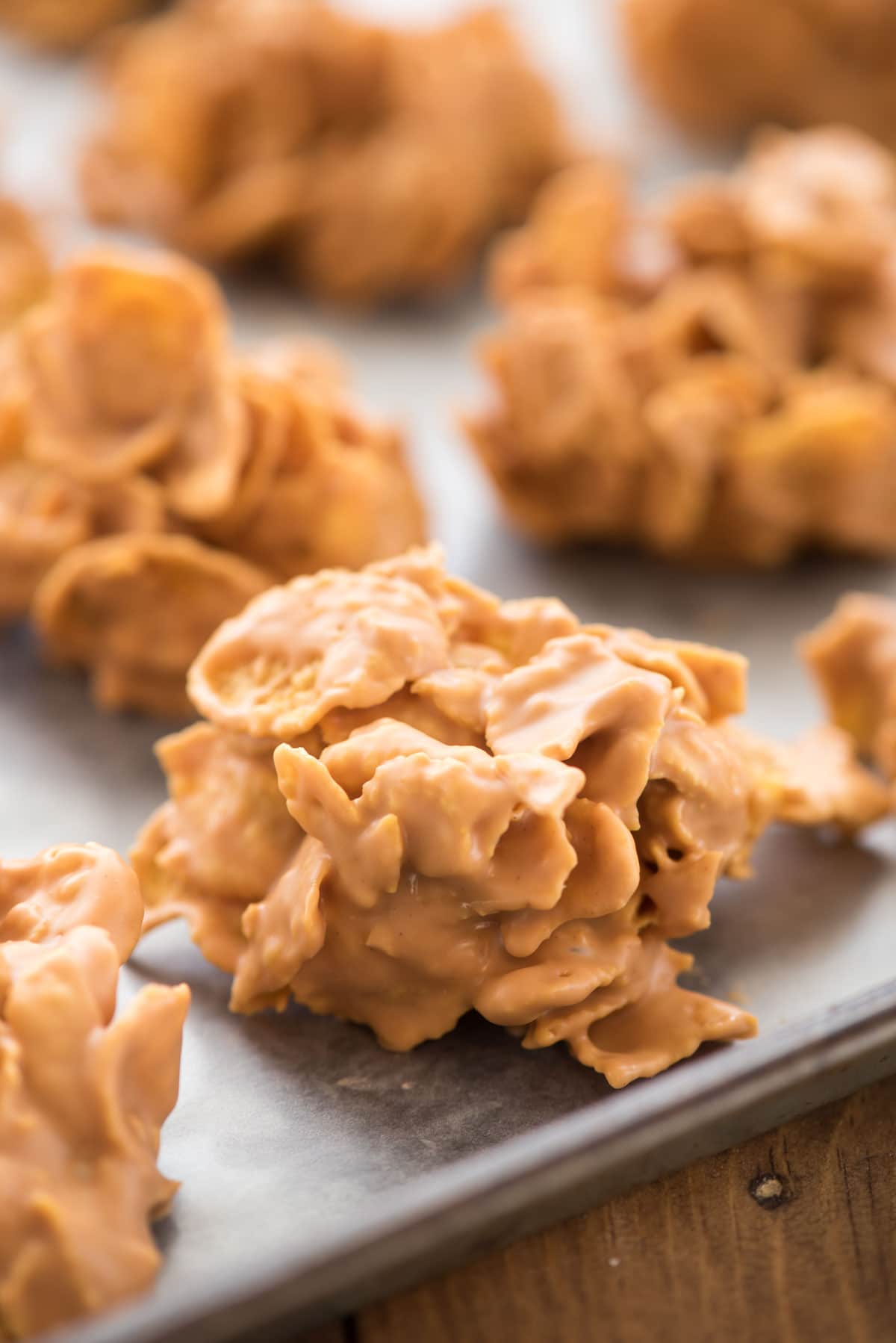 And just like that, we're back into the swing of things: school, homework, dance, repeat. Jordan's on a production jazz team this year, which is my way of letting her do team without having to commit to all the competitions and hours upon hours of classes. As it is, on production, she takes 3.5 hours of class a week and will do two showcase performances and two competitions.
I want to clarify that I am not, nor will I ever be, a dance mom. Nothing agains those moms that love all things dance – that's just not me. I'm not a soccer mom, softball mom, or a theatre mom either (when Jordan did those things). I'm a drop-off and pick-up good-luck mom. I've got my own stuff to deal with and, really, I want to watch Jordan dance because she loves it, but that doesn't mean I love it. Having to help backstage and care about costumes and make-up? Not my thing.
Last weekend we had a dance team meeting, where 90% of the room was all-in drinking the kool-aid and the rest of us just listened, laughed at people, and rolled our eyes. We found out that showcase week is during winter break, so any vacations need to be cancelled. (When I asked about it I was given a blank stare and told to figure it out.) Then we had a 5 minute debate on whether we should use lip stain or red lipstick for competitions.
Seriously, #firstworldrichpeopleproblems.
Anyway, my point is that this year is busier than ever before. I need meals and snacks that are fast, especially once it comes to school parties and dance parties and holiday parties. No one has time anymore, so easy recipes with less than 5 ingredients are a MUST.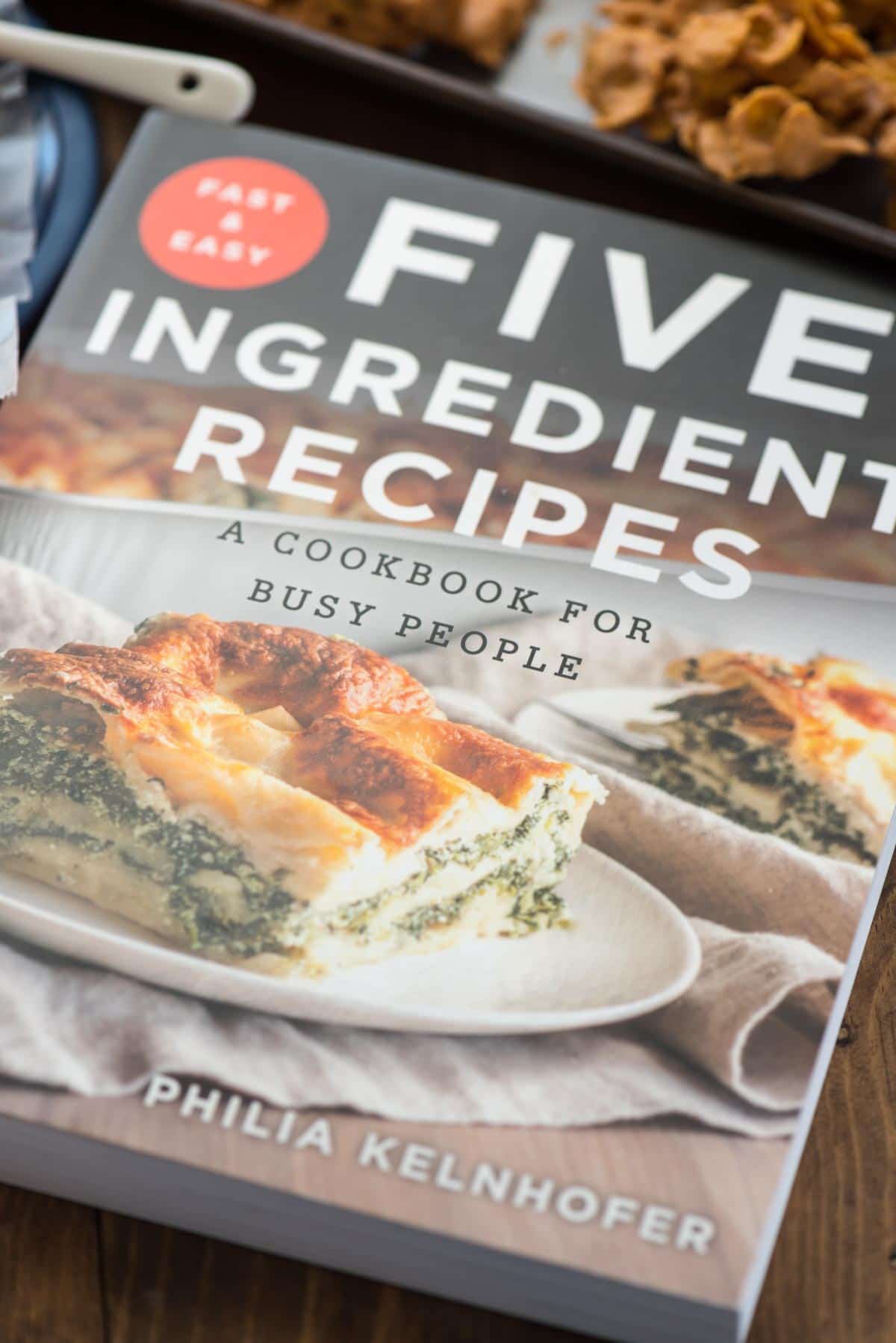 I just love this new cookbook, 5 Ingredient Recipes by Philia Kelnhofer, of Sweet Phi. The tagline, a cookbook for busy people, speaks to me because we are all so dang busy! There are breakfasts, dinners, and desserts for every occasion (I cannot wait to try the bacon and brussels sprouts salad) and ALL of them have 5 ingredients or less. There are even menus, shopping lists, and a list of pantry essentials. I'm pretty much leaving this cookbook in my kitchen and using it all year long.
There are several desserts in the book, including an easy pie crust and several pie recipes, but these Cornflake Clusters caught my eye. One, because they only had 2 ingredients and two, because they're SO adaptable to other flavors and recipes. Philia used just butterscotch in her recipe, but I added peanut butter because I love the combination of butterscotch and peanut butter.
If you're counting, that STILL only makes these 3 ingredients. And they took me about 10 minutes – total – to make.

The best thing about this recipe is that it's really a method. You could use any flavor chips and any kind of cereal. Think about it:
Chocolate + peanut butter + cornflakes
White chocolate + Frosted Flakes
Mint Chocolate + Cocoa Pebbles
Chocolate + cornflakes + marshmallows
And so on and so on until infinity. 2 or 3 ingredients, easy, 10 minutes…these are the PERFECT party or after school snack. I'm going to be putting them on holiday cookie trays too. We gobbled these up in just a day or so, but they'll last even longer in an airtight container. And they're no bake! Is there anything more you can ask for?
(Other than that 5 minutes debating lipstick back, that is?)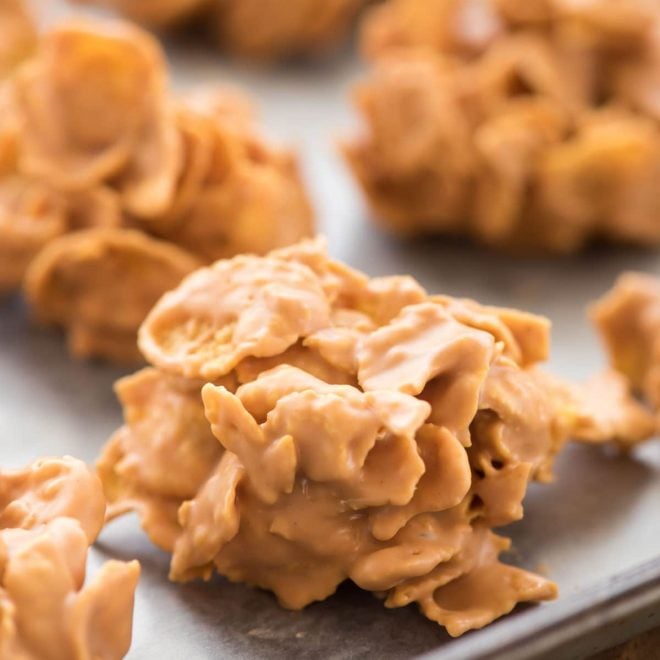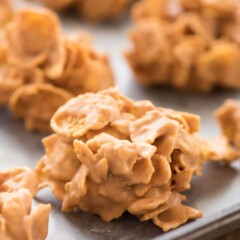 Butterscotch Peanut Butter Cornflake Clusters
These Butterscotch Peanut Butter Cornflake Clusters are an easy 3 ingredient recipe perfect for a quick no bake dessert!
Ingredients
1

11-ounce bag butterscotch chips

1/4

cup

creamy peanut butter

4

cups

cornflakes
Instructions
Line two baking sheets with parchment paper or wax paper.

Place butterscotch chips and peanut butter in a large microwave safe bowl and heat for 30 seconds on high. Stir, repeating as needed in 30 second increments, until melted and smooth.

Carefully stir in the cornflakes until they are coated with the butterscotch mixture.

Scoop 1 or 2-tablespoon sized scoops of the mixture onto the prepared cookie sheets. Chill to set the clusters, then transfer for a tin or serving plate and enjoy.
Nutritional information not guaranteed to be accurate
Click here to see more PEANUT BUTTER recipes!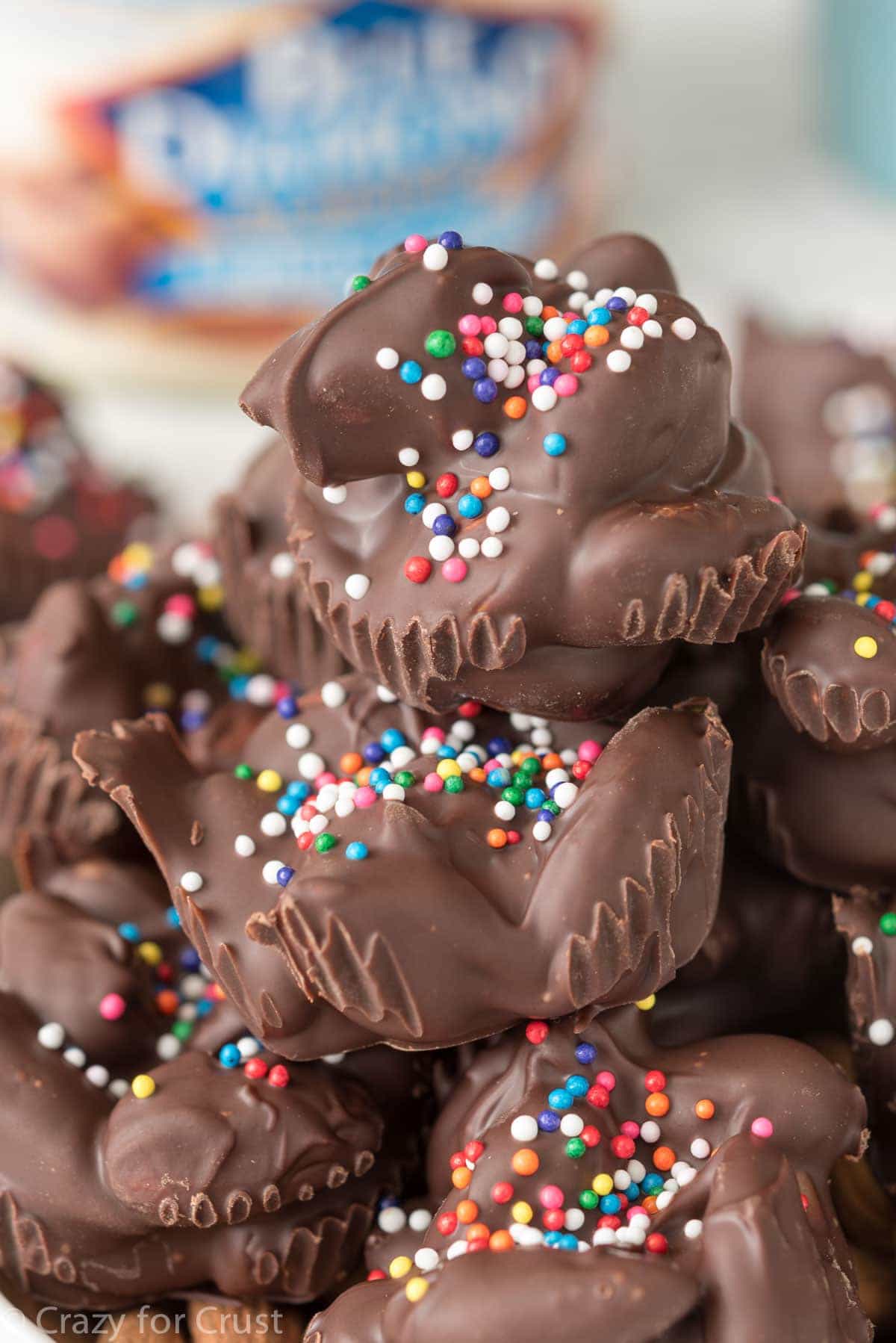 Butterscotch Cashew Candy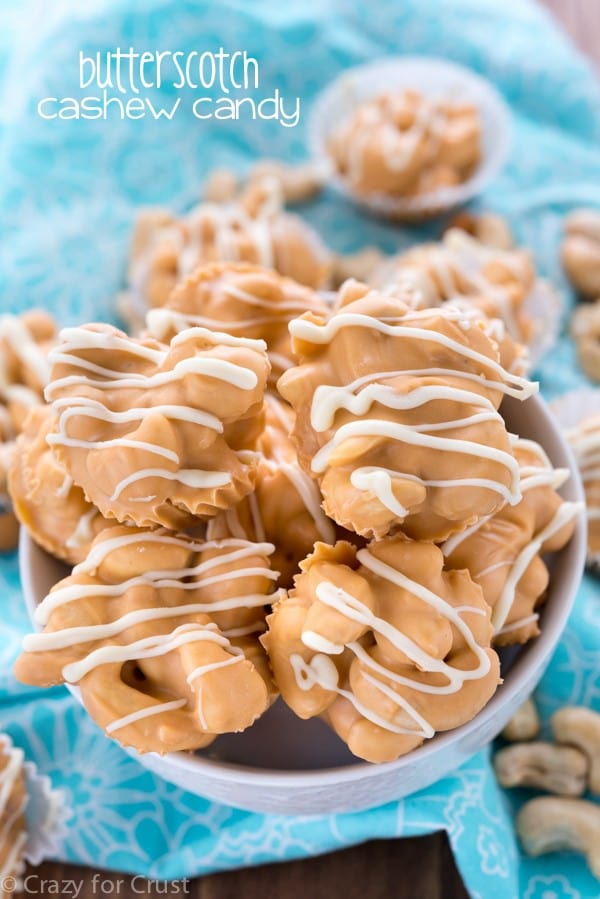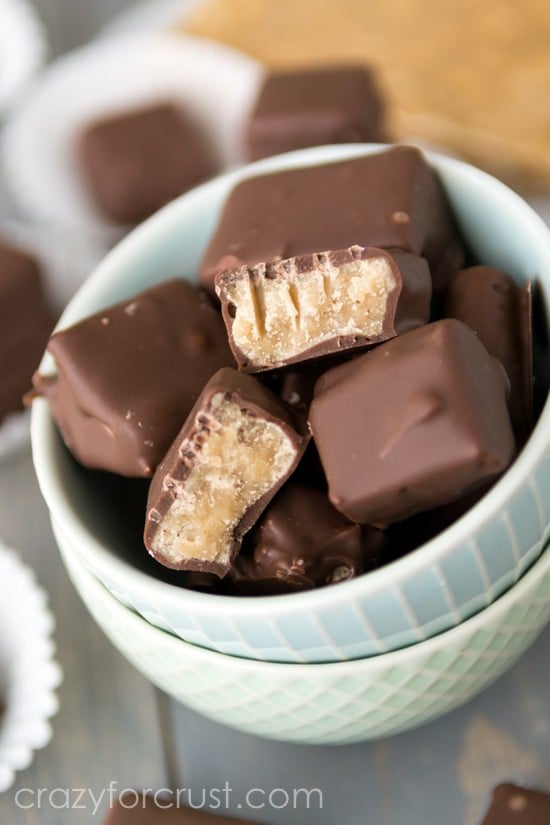 Sweets from friends:
Rocky Road Clusters by Shugary Sweets
Chocolate Covered Trail Mix Clusters by Namely Marly
White Chocolate Peanut Butter Cookie Clusters by Averie Cooks
Last Updated on September 23, 2019