Pumpkin Brownie Muffins have just 3 ingredients: cake mix, pumpkin, and CHOCOLATE! Such an easy recipe to make and they're so good, they even pass the kid test.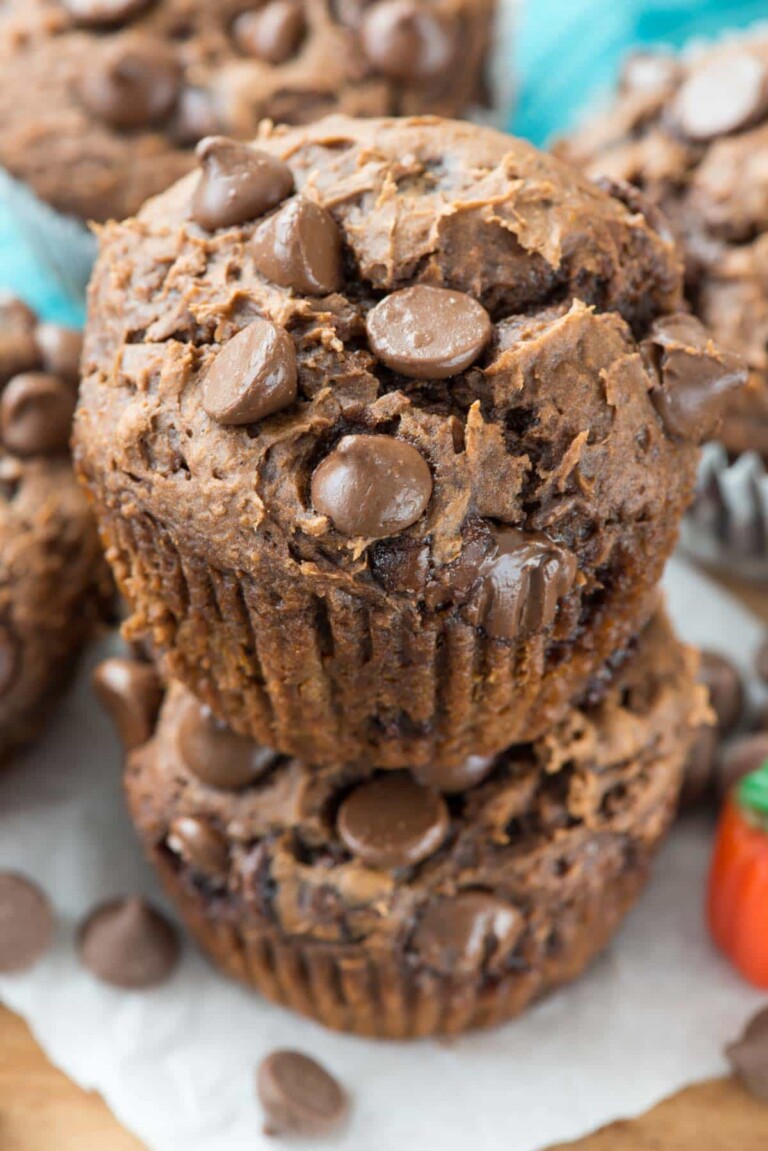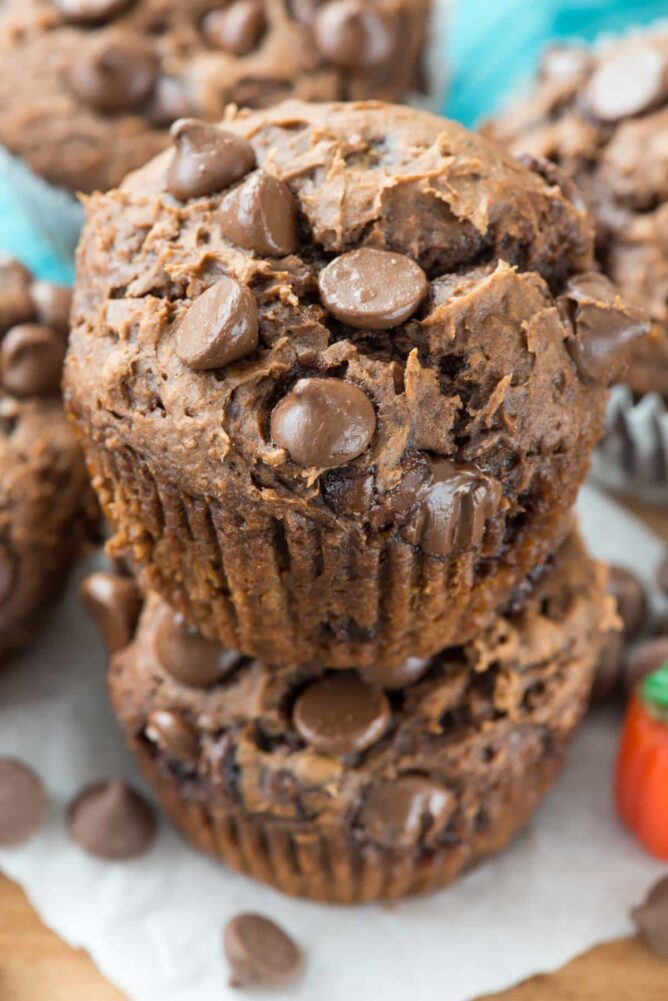 I got the most expensive car wash in history last weekend: it cost me $1,000. (I know, right? Barf.)
Here's what happened: Mel went to take my car to run it through the $5 carwash because it was more dust than car…and the car wouldn't start. Luckily, we were able to jump it and took it in to get it checked out. I was close to my 40,000 mile checkup anyway, so I figured I'd just have them do the oil change then.
Turns out, the 40k checkup also includes spark plugs. And I needed a new battery.
And then they called me and told me I needed new tires…like yesterday.
4 hours later I picked up my car and was a lot poorer. Bonus: the oil change came with a *free* carwash.
I came home and drowned myself in brownie muffins. Wouldn't you?
These Pumpkin Brownie Muffins have only 3 ingredients and taste like the most chocolatey breakfast you'll ever try.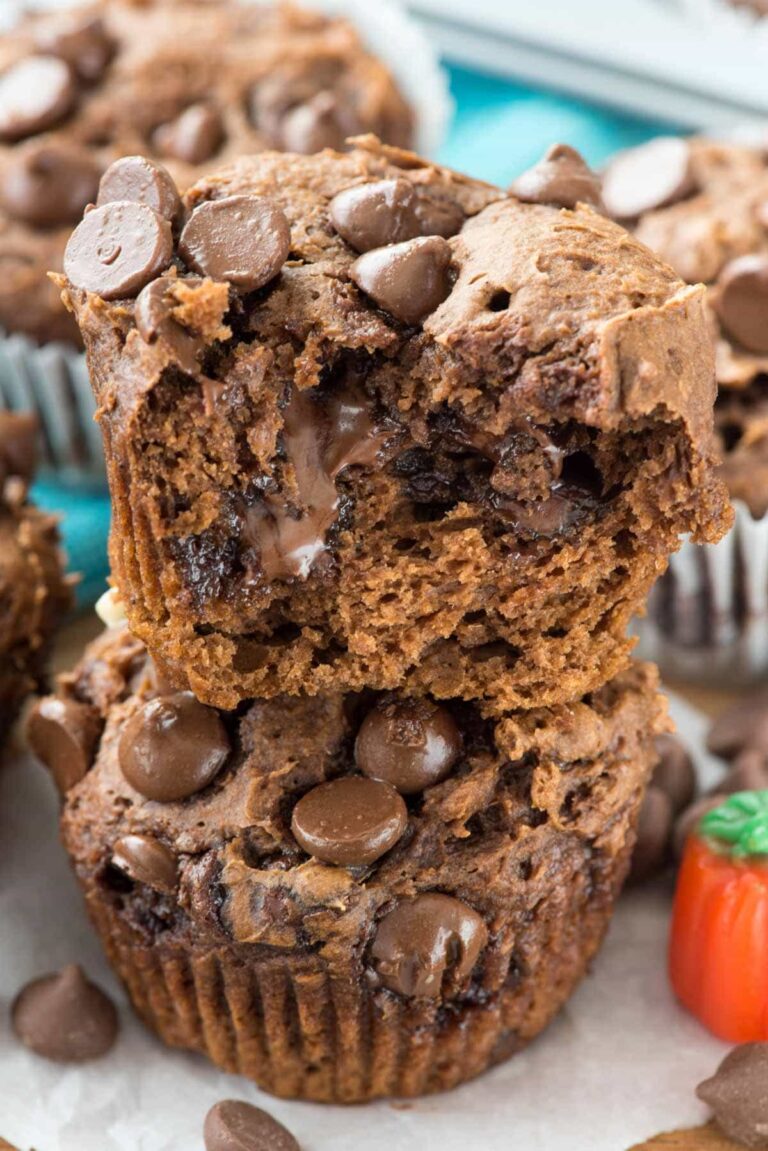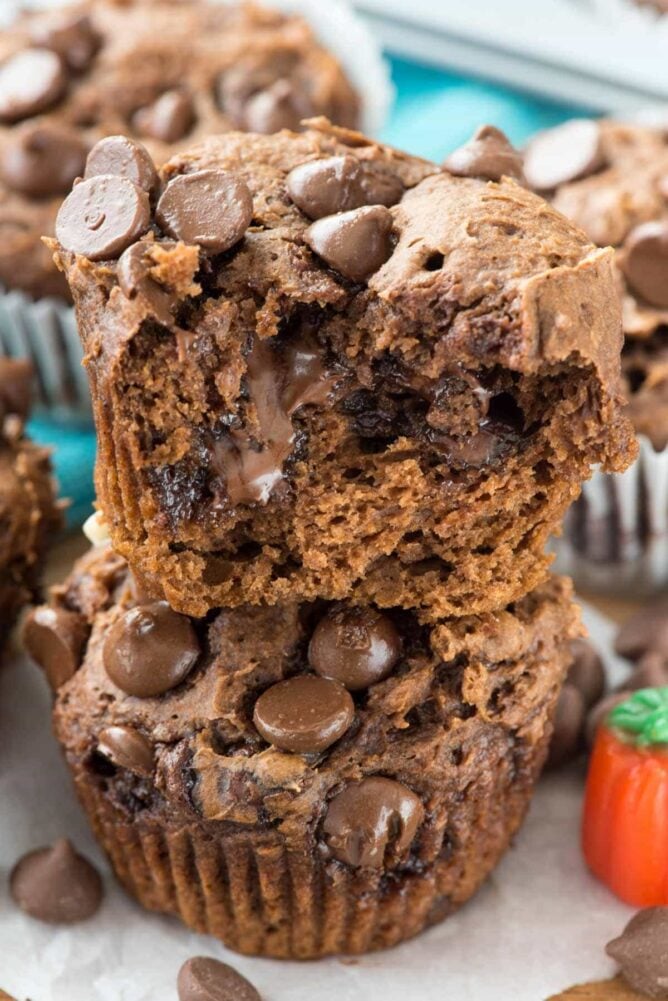 It's probably not a secret what the three ingredients are in this recipe. After all, I put "pumpkin" in the title and you can see the chocolate chips, so the third ingredient is….that's right CAKE MIX.
(I know, now you're scratching your head like, um, you called them brownie muffins and they're not cupcakes.)
For one, these are dense and heavy and super rich and chocolate, just like a brownie cupcake would be, except they're muffins. After all, it's been said that a muffin is just a cupcake without frosting and these fit that bill, except there are no eggs and no oil in the recipe, which makes them healthier than a traditional muffin.
Now, if you're clicking off because you're like, ewwwwww there's pumpkin in them, that's gross…WAIT. I promise…you cannot taste the pumpkin at all. In fact, all you taste is chocolate and heaven and love. These passed the multiple kid test: Jordan had two friends over when I made them and all three girls LOVED them. Jordan's a super food purist, so if I try to sneak anything remotely healthy into anything she calls me on it (remember Jessica Seinfeld's book…that never worked for me) and she loved them even after I spilled the news that they were full of a vegetable.
Even though I called these pumpkin brownie muffins, they're really just brownie muffins that happen to have pumpkin in them, which makes them good all year long not just August – December. #totalwin


Also, they sure do hit the spot after dropping a grand on a car that's only 4 years old. *Ouch*
How to make 3 ingredient Pumpkin Brownie Muffins Easily:
Just use one bowl and a spoon, nothing fancy needed for these muffins.
Be sure to spray your muffin liners with nonstick cooking spray or grease the muffin pans well. Without oil in the cupcakes, they'll stick bad.
These are so good gooey and warm! More chocolate is better than less, so I added more chips on top.
Make them more fall-like by adding some pumpkin pie spice (about 1 teaspoon) to the batter.
Click here to see my best Cake Mix recipes!
Be sure to check out all my muffin recipes, and if you love these try Healthy Pumpkin Muffins by Bless This Mess, Apple Maple Muffins by Texanerin, or Nutella Banana Muffins by The BakerMama.
Banana Nut Cream Cheese Muffins
SaveSaveSaveSaveSaveSaveSaveSave
SaveSave
SaveSaveSaveSave
SaveSave
All text and images © DOROTHY KERN for Crazy for Crust. Please do not use my images without prior permission. If you want to republish this recipe, please re-write the recipe in your own words, or link back to this post for the recipe. Disclaimer: Nutrition information shown is not guaranteed to be accurate.
This post may contain affiliate links. For more information, read my disclosure policy.
Published on: August 22, 2017