This post may contain affiliate links. For more information, read my disclosure policy.
Ever since I made my homemade brownie mix, I've been dying to figure out other ways to use it.
First on the list: brownie cookies! These are cookies that taste like a brownie and they're made completely from scratch!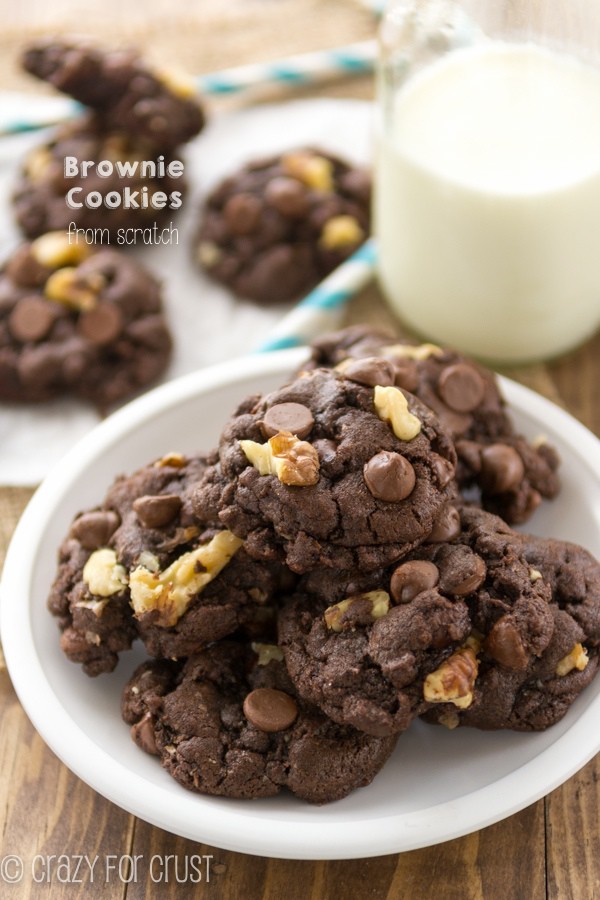 You all have made my homemade brownie mix by now, right? It's the easiest recipe ever and you can just keep it in your pantry for when your chocolate craving hits.
In fact, earlier this week, Jordan wanted to bake with me. That almost never happens, so I jumped at the opportunity for some mother-daughter bonding and learning time. Amy had given her some peppermint chocolate candies and she wanted to put them in brownies. That was a no-brainer. I handed her the mix and told her what to add as we went along and she had her very own pan of peppermint brownies.
Anyway, my point is, that mix is the best thing to just keep on hand. Want brownies? No problem, make some.
Want brownie cookies? NO PROBLEM, go ahead and make some.

I started with 2 cups of my homemade brownie mix. Because cookies need more substance than brownies (since they need to hold their shape when baking), I added some extra flour to the mix.
Another thing that cookies need is leavening. Baking soda and baking powder are both used to make baked goods "rise", but they work in different ways. It's complicated science (and science is not my thing) but the basic idea is that baking powder is good for actual rising, which is why it's used in cakes and biscuits. You may also use baking powder in your cut out cookies to give them some puff. It's why cookies with baking powder often taste more "cakey".
Baking soda, however, is great for cookies because it allows them to spread. Using baking soda will give a cookie those crisp cookie edges you love so much. I love using baking soda in my cookie recipes, and I used it here like I normally do. Now, I love a puffy cookie (but I don't want it to taste cakey) so I use less baking soda than some traditional recipes call for. (Look in lots of old cookbooks and you'll see the standard "1 teaspoon" of baking soda.) I prefer 1/2 teaspoon so I get that cookie spread, but they stay nice and soft as well.
You'll note that this recipe starts with melted butter. I love using melted butter in cookies, but it does require that the dough be chilled before baking. I tried using softened butter and (1) they still needed chilling and (2) even though the butter was soft, the act of just adding it to the mix caused cocoa powder to go all over my counters, floor, and up my nose.
Use melted butter. Your sinuses will thank you.
These cookies turned out exactly like I'd hoped. They taste just like a brownie – but they're in cookie form! I added chocolate chips and walnuts to my cookies, but you can add any mix-ins you want. (Think M&Ms, Reese's, butterscotch…)
These are the perfect brownie cookie – but they're made from scratch. No store-bought brownie mix needed. Just use my recipe!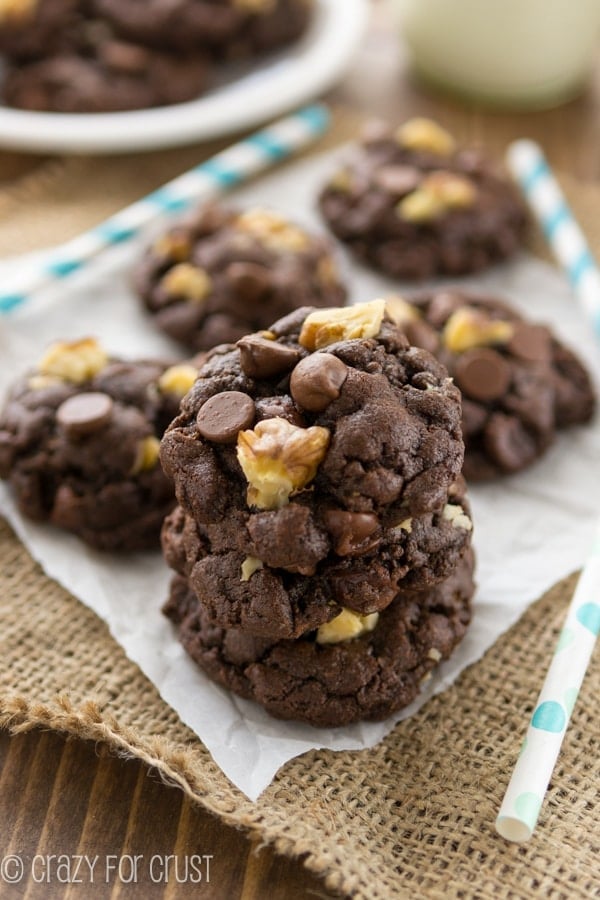 Try not to eat the whole batch. Luckily I was sending these out the door right after making…or I would have!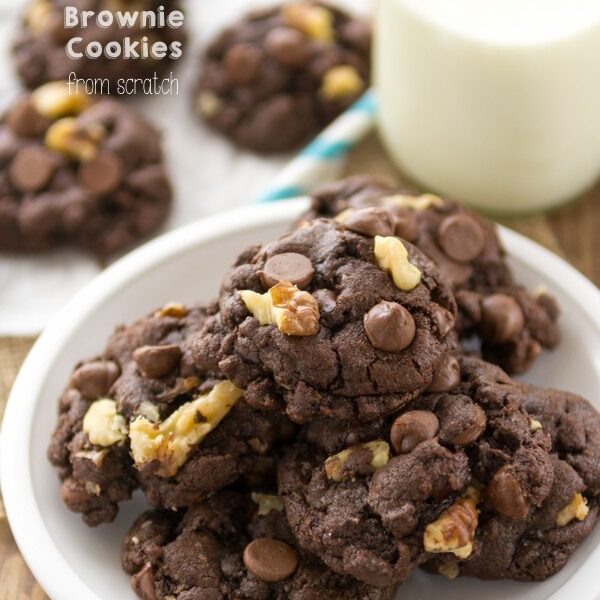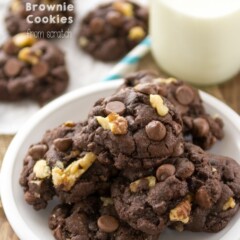 Brownie Cookies from scratch
Use a homemade brownie mix to make brownie cookies from scratch! Rich and chocolatey, they taste like a cookie and a brownie at the same time!
Ingredients
2

cups

Homemade Brownie Mix

2/3

cup

all-purpose flour

1/2

teaspoon

baking soda

1/2

cup

unsalted butter

melted

1

large egg

1

teaspoon

vanilla extract

3/4

cup

chocolate chips

optional

1/2

cup

nuts

optional
Instructions
Place brownie mix in a large bowl. Add flour and baking soda and whisk. Add melted butter, egg, and vanilla to the dry ingredients. Use a hand mixer to mix until smooth.

Mix in the chocolate chips and nuts, if using.

Scoop 2 tablespoon sized balls of cookie dough on to parchment or silpat lined cookie sheets. Chill the cookie sheets for 1 hour.

Preheat oven to 350°F.

Bake chilled cookies for 8-10 minutes, until they just loose their glossy sheen. 8 minutes will be a little under baked if you like them that way, 9-10 will make the cookie more done.
Nutritional information not guaranteed to be accurate
Triple Chocolate Pudding Cookies
Sweets from friends:
Brownie Covered Oreos by Picky Palate
Brownie Whoopie Pies by Inside BruCrew Life
Monster Cookie Brookies by Something Swanky
Last Updated on May 13, 2020