This post may contain affiliate links. For more information, read my disclosure policy.
These are seriously the BEST Chewy Chocolate Chip Cookies! This easy recipe uses a secret ingredient to make them soft, chewy and gooey too! I love these tasty chewy chocolate chip cookies.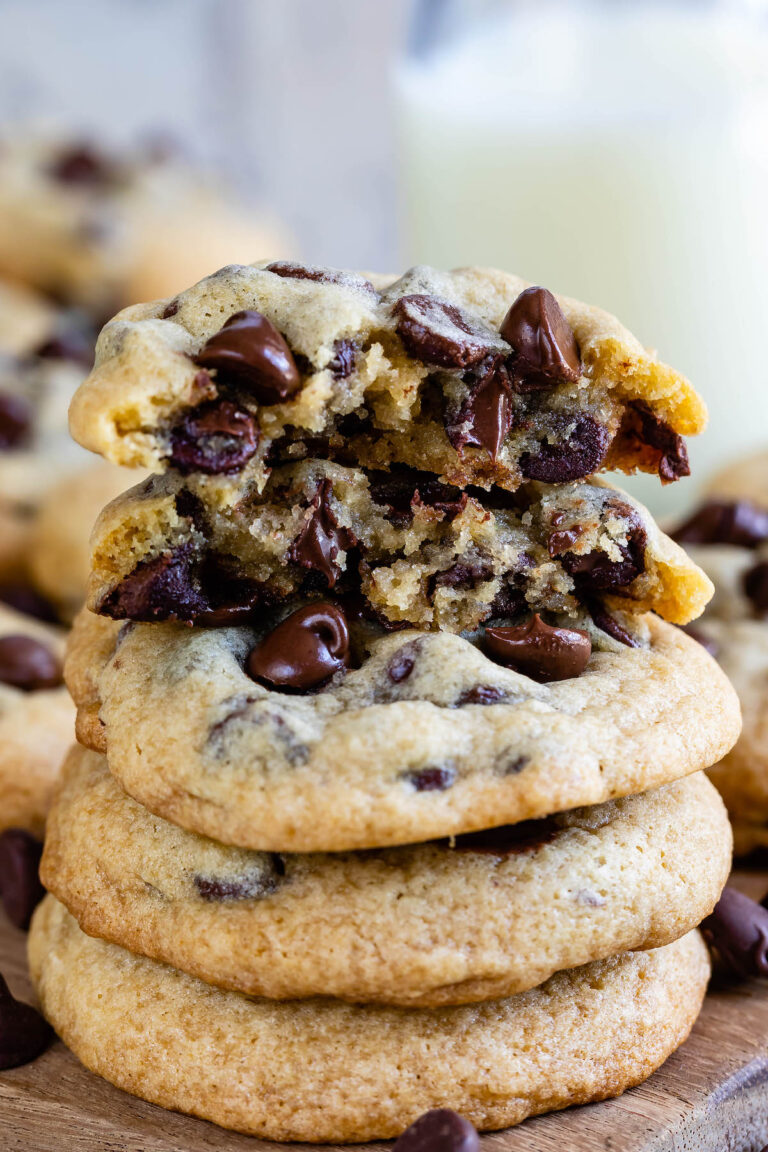 This post was sponsored by Karo Corn Syrup. All opinions are my own.
Chewy Chocolate Chip Cookies Recipe Video
You've found the BEST Chewy Chocolate Chip Cookie Recipe!
Chocolate Chip Cookies are not only the most iconic cookie, but they're one of my absolute favorites. My basic chocolate chip cookie recipe is the most popular one on this site and I've also made tons of variations too! Whenever I think about making cookies it's going to be chocolate chip with some special add-in or simple technique to make a new kind of cookie. This recipe has a slightly different texture than my original recipe: they're chewier!
What makes these the BEST Chewy Chocolate Chip Cookies?
Easy to make
One bowl recipe
TONS of chocolate
Chewy texture AND they stay soft for days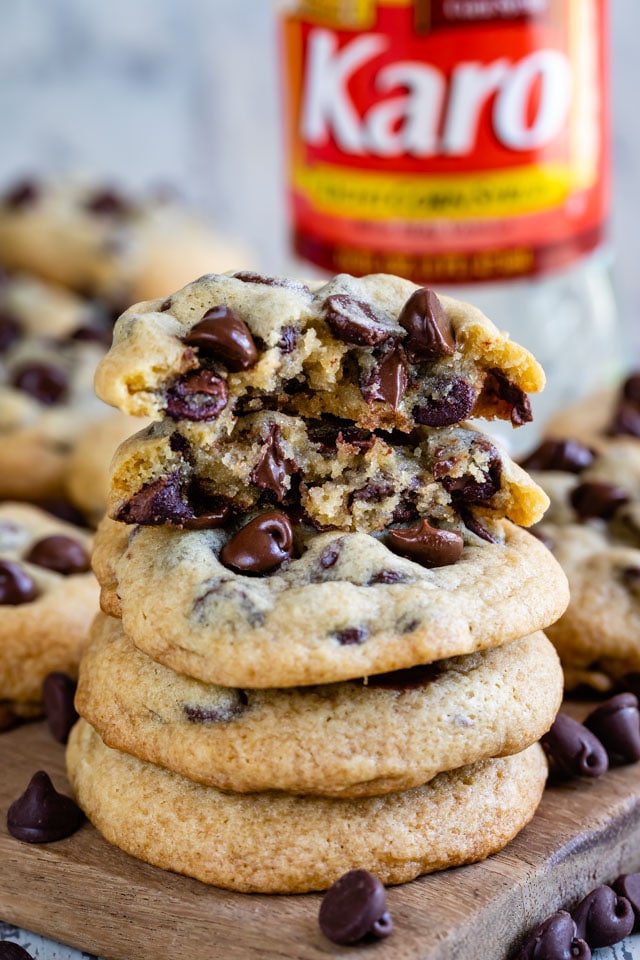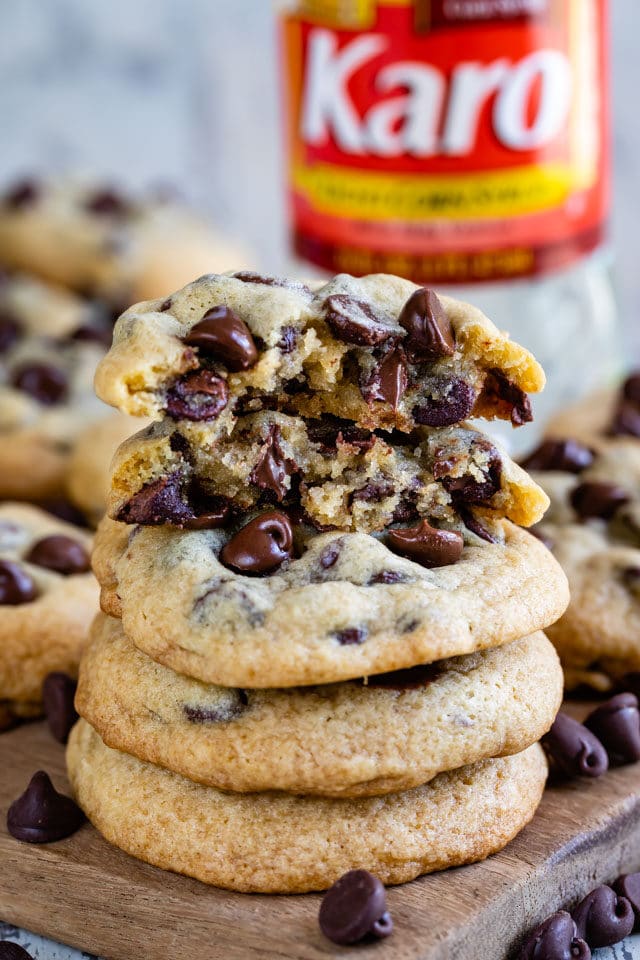 Ingredients in Chewy Chocolate Chip Cookies
Butter: the best cookies use butter! Use unsalted butter and make sure it's softened.
Corn Syrup: this is the secret ingredient and I'm switching it in for granulated sugar. See below for more details.
Brown Sugar: I ALWAYS put tons of brown sugar in my chocolate chip cookies – it helps with how soft they turn out.
Egg: cookies need eggs for structure and the fat from the yolk. This also helps them be chewy and soft!
Vanilla extract: for flavor
Baking Soda: to help them spread, but we don't want them to spread too much so I use just 1/2 teaspoon.
Salt: a must add, especially if you're using unsalted butter. If you use salted butter, reduce the salt to 1/4 tsp.
All-Purpose Flour: I find this is the perfect flour for cookies!
Chocolate Chips: I use lots of chocolate chips because, YUM!
What makes chocolate chip cookies chewy?
The secret to making chewy chocolate chip cookies is using Karo Corn Syrup (Light). Karo is the perfect ingredient that makes cookies chewier on the outside but still soft in the middle.
Why does Karo Corn Syrup make cookies chewy?
That, as they say, is because of cookie science.
To be a chewy chocolate chip cookie a recipe needs the following:
Moisture
Strong flour to create more gluten
Eggs
High sugar and liquid content with less fat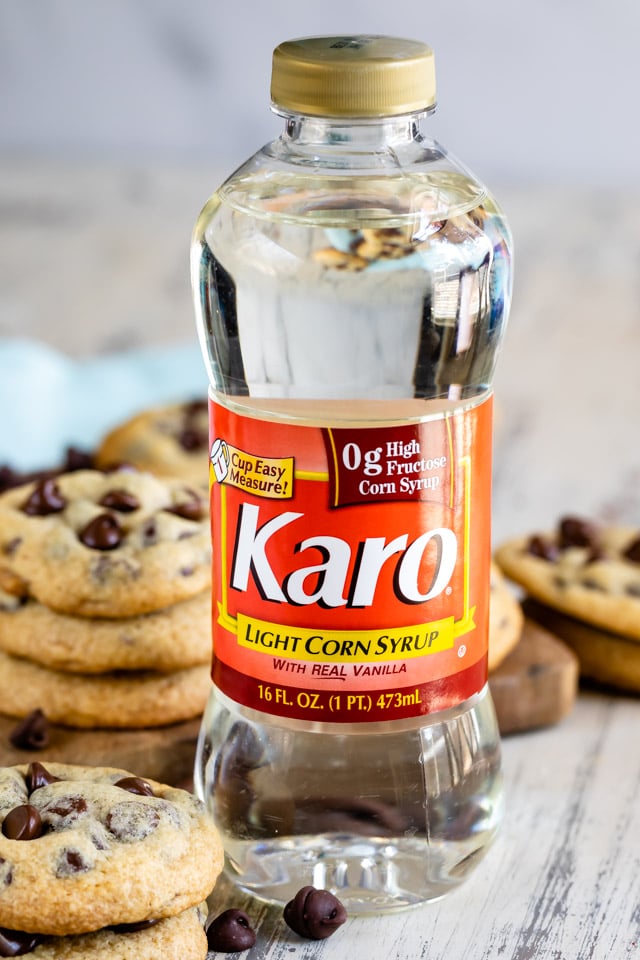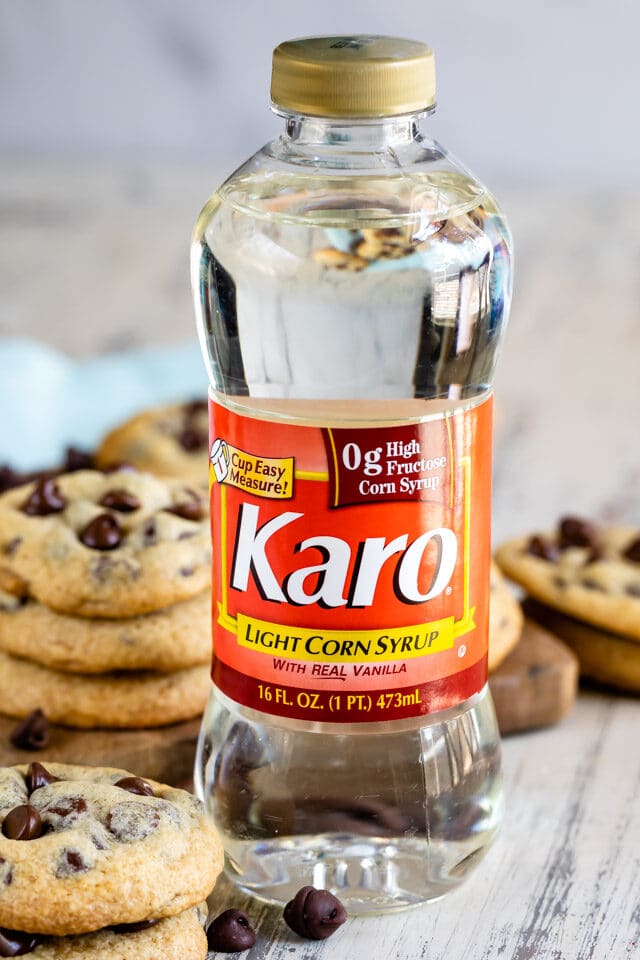 That last one is why Karo Corn Syrup is the perfect way to make your cookies chewier. Karo is, in effect, a liquid form of sugar. By using a more liquid kind of sugar you get a chewier cookie!
I swapped out granulated sugar for Karo Syrup (Light). The rule of thumb when substituting is 3/4 cup Karo Syrup for 1 cup granulated sugar. Since my original recipe called for 1/3 cup granulated sugar I used 1/4 cup Karo instead.
Karo Syrup is not bad for you: it's just sugar. It's NOT high-fructose corn syrup. They are two different things and people confuse them all the time.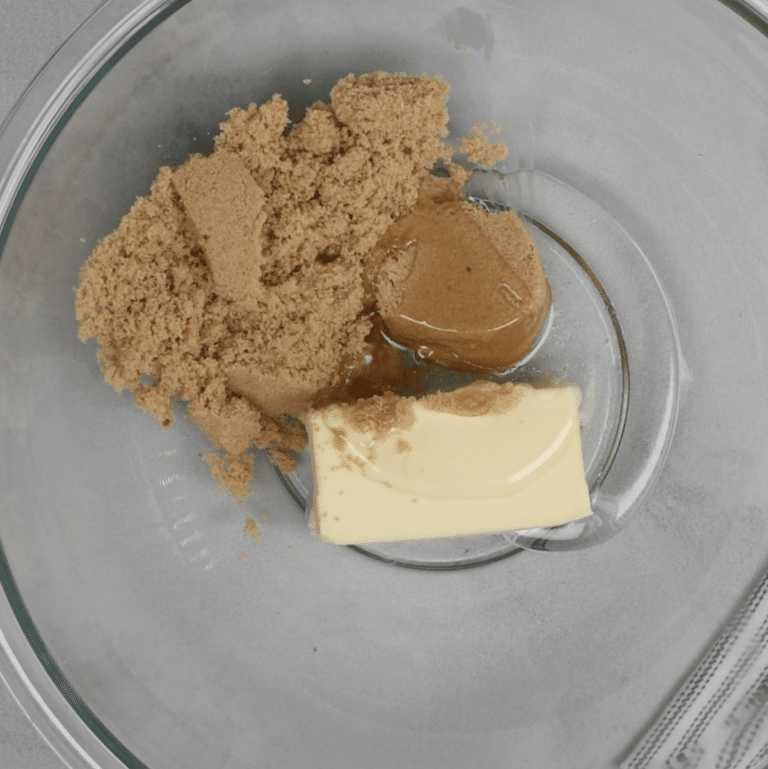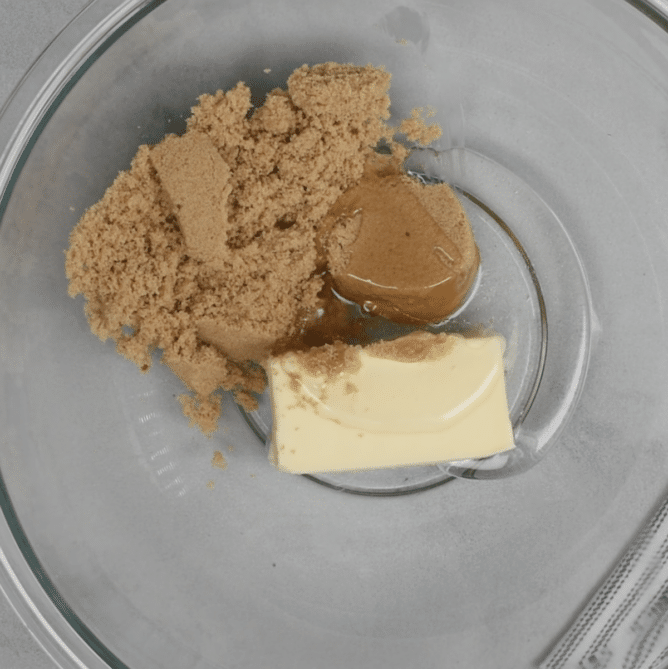 How to make Chewy Chocolate Chip Cookies
1. Cream: cream the butter with corn syrup and brown sugar using an electric mixer (hand or stand) until smooth.
2. Mix: Mix in egg and vanilla.
3. Dry ingredients: mix in baking soda and salt, then mix in flour and mix just until the batter is smooth and comes together. Add chocolate chips.
4. Scoop: choose what cookie size you want to make (I like using a 2-tablespoon cookie scoop) and scoop cookies onto a baking sheet lined with parchment or a silicone baking mat. There is no need to space them out – we are going to chill the dough. Chill the dough for at least an hour.
Do I have to chill the dough? Can I skip that step?
NO! You MUST chill the dough! Why chill cookie dough? A few reasons:
Chilling helps allow the flavors to come together, making a more flavorful cookie
Keep cookies soft: a cold cookie bakes puffier and stays softer!
5. Bake: Preheat your oven then bake cookies 2-inches apart on cookie sheets.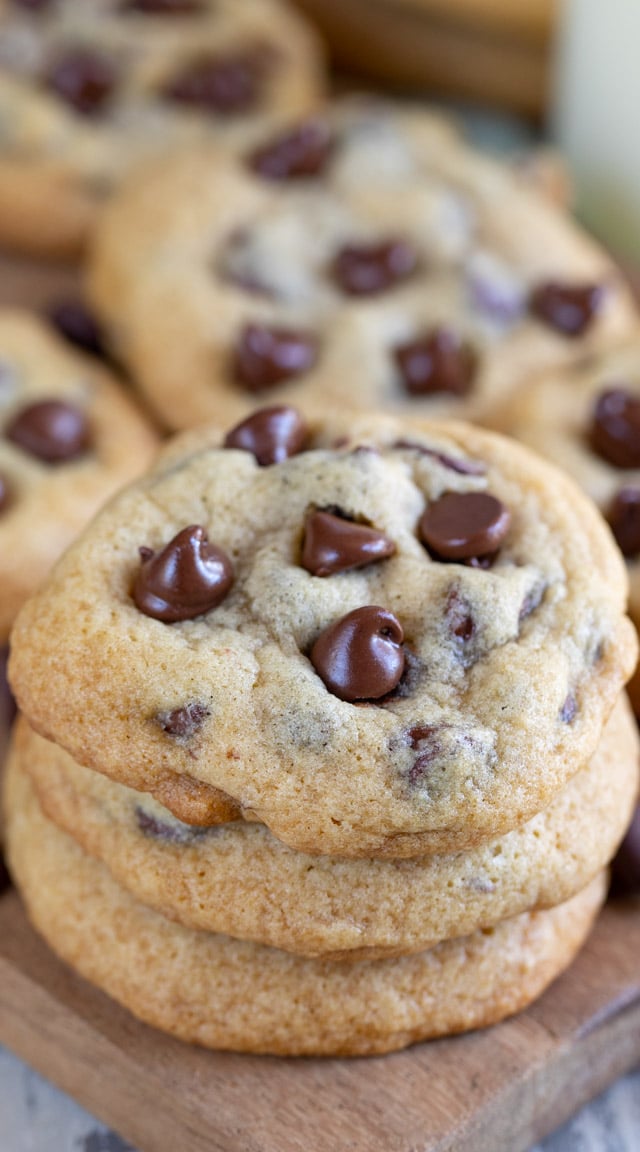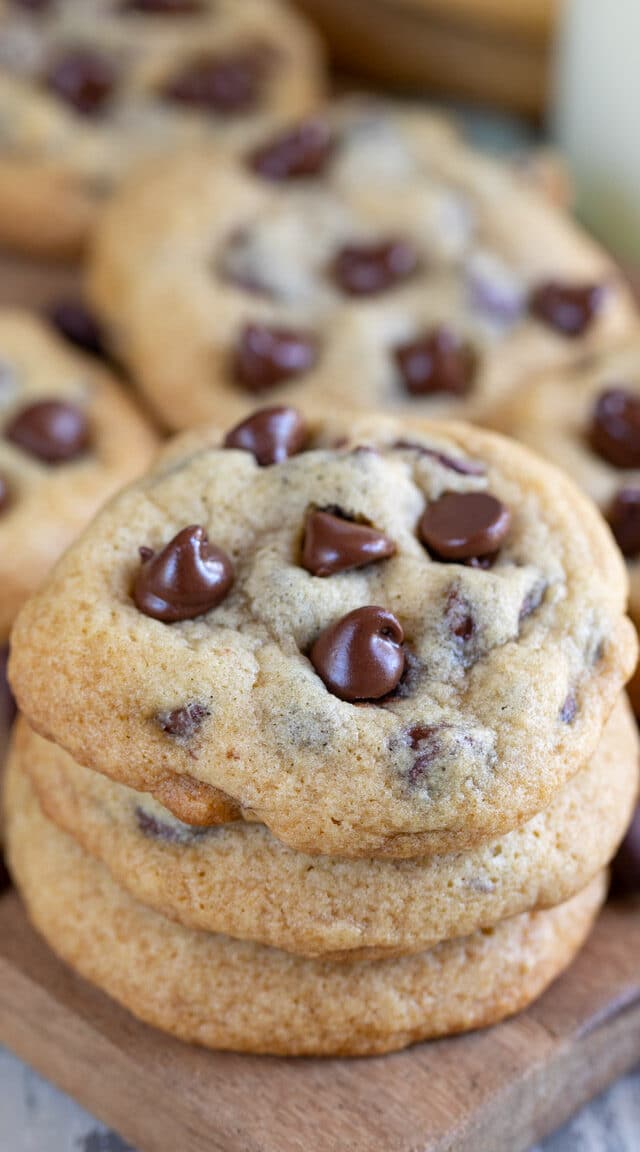 Pro Tips for baking Chewy Chocolate Chip Cookies
Avoid cakey cookies by measuring your flour correctly.
Did you know that baking on parchment is different than using a silpat? Silpat baking mats sometimes keep cookies a bit puffier because the silicone grips the cookie dough.
Don't over bake cookies for the perfect soft chewy texture. Know when your cookies are done baking!
Variations: Use your favorite mix-ins, up to 1 1/2 cups any kind of chocolate chips or any chopped candy.
Make them look perfect: when they come out of the oven, immediately press a few chocolate chips on the top. They'll melt and be nice and gooey like you see in the photos.
Tip: if you want those gooey chocolate chips on top, add a few to the just baked cookies right when they come out of the oven. The chocolate chips stay melty and make the cookies super pretty!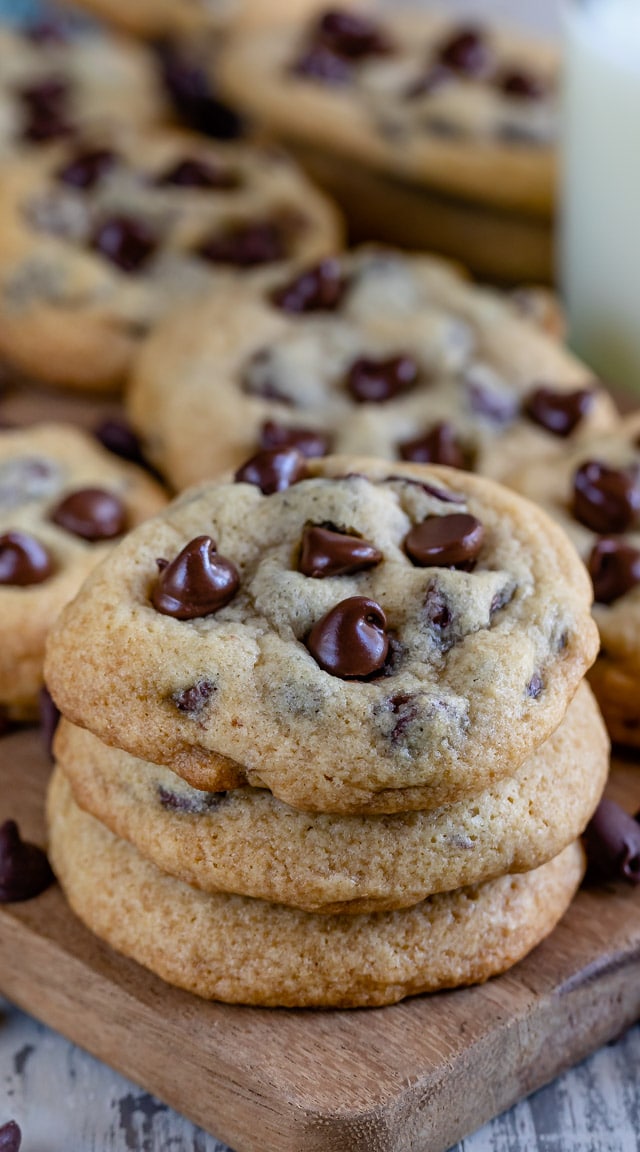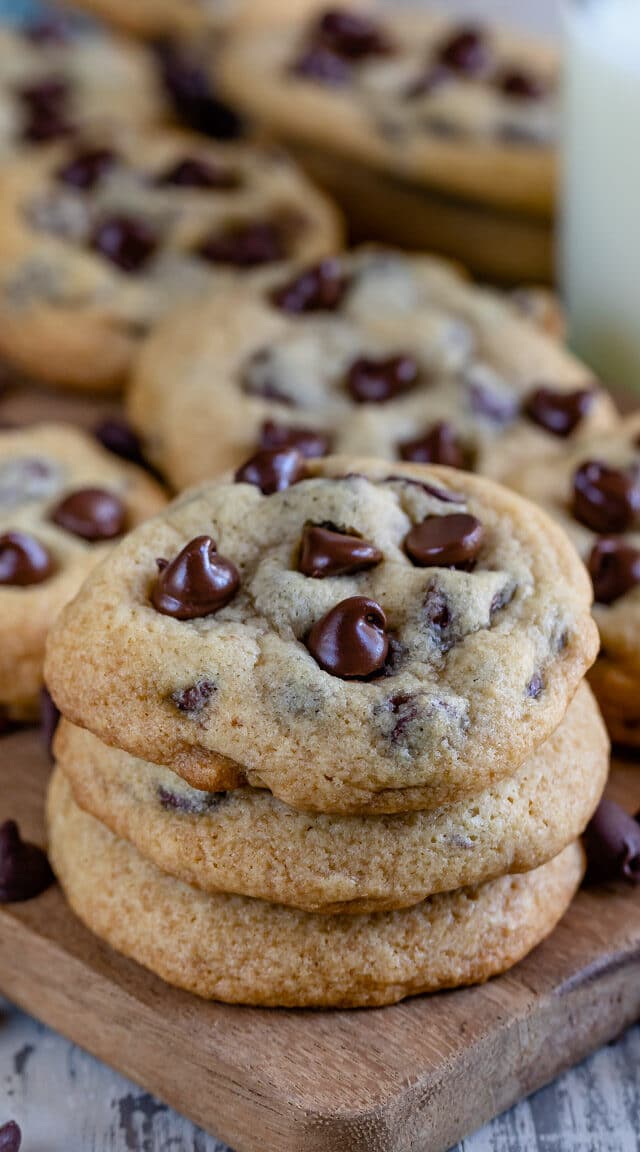 I hope that you make several batches of these chewy Chocolate Chip Cookies for National Chocolate Chip Cookie Day. Share them with family and friends and enjoy a chewy cookie with the help of Karo!
FAQ
How to store chewy chocolate chip cookies?
Store these in an airtight container for up to 3 days – they stay soft and chewy!
How to freeze cookie dough?
Scoop balls of cookie dough and place them on a parchment or wax paper lined cookie sheet. Cover with plastic wrap and freeze. Once the balls are frozen, place in an airtight container or gallon size bag and store in the freezer.
Why do cookies spread?
Lots of reasons: too much baking soda can cause spread, as well as too much sugar. Also, if you don't chill the dough when the recipe calls for it, they will spread.
Why didn't my cookies flatten?
Cookies don't flatten when there is too much flour (be sure to measure it correctly) or if they are too cold. If they've been chilling a long time you can slightly press them with the palm of your hand before baking to help them start to spread.
Other fun Chocolate Chip Cookie Recipes
This recipe is adapted from the folks at Karo and their Chewy Chocolate Chip Cookies recipe.
Have you made this recipe?
Tag @crazyforcrust on Instagram or hashtag it #crazyforcrust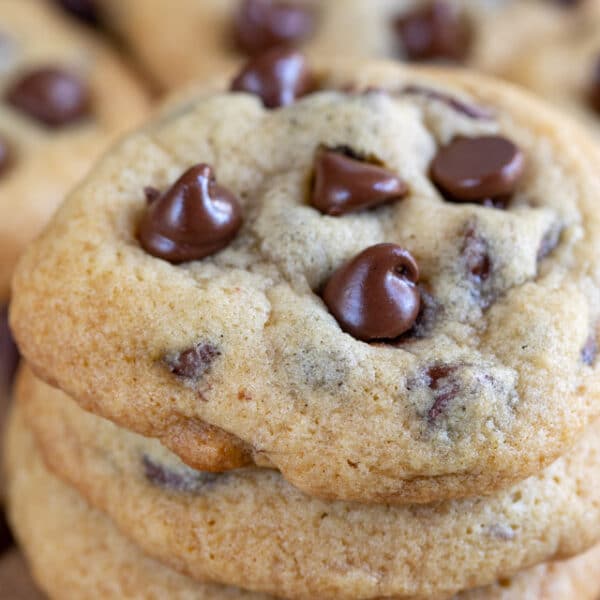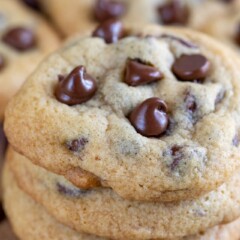 BEST Chewy Chocolate Chip Cookies
This is seriously the BEST Chewy Chocolate Chip Cookie recipe. One simple secret ingredient makes these an easy cookie recipe that's soft and chewy.
Total Time
1

hour
30

minutes
Ingredients
½

cup

(113g) unsalted butter

softened

¼

cup

(59ml) Karo Corn Syrup (Light)

½

cup

(100g) light brown sugar, packed

1

large egg

1

teaspoon

vanilla extract

½

teaspoon

baking soda

½

teaspoon

salt

1 ¾

cups

(217g) all-purpose flour

1 ½

cups

(255g) chocolate chips (semi-sweet or milk)

plus more for topping
Instructions
Note: This dough requires chilling.

Place softened butter in the bowl of a stand mixer fitted with the paddle attachment (or a large bowl if using a hand mixer). Add Karo Corn Syrup and brown sugar and mix on low speed until the mixture is smooth. Tip: spray your measuring cup with nonstick cooking spray before measuring your corn syrup. This will ensure easy pouring. Mix in egg and vanilla extract and mix on medium speed until combined.

Mix in baking soda and salt, then slowly mix in flour and mix just until the batter is smooth and comes together. Be sure to scrape the sides of the bowl during mixing. Slowly mix in chocolate chips.

Line a cookie sheet with a silicone baking mat or parchment paper. Scoop 2 tablespoon balls of dough onto the cookie sheet. Spacing doesn't matter because you will be chilling the dough. Cover with plastic wrap and chill for at least 1 hour.

Preheat oven to 350°F. Line a second cookie sheet with parchment paper or a silicone baking mat.

Remove the chilled cookie dough balls from the refrigerator and space them 2-inches apart on the cookie sheets. Bake (2 tablespoon sized cookies) for 11-15 minutes, or until the edges are a light golden and the tops are no longer glossy. Let cool on the cookie sheets at least 10 minutes before removing.
Recipe Notes
Try using white chocolate chips or a combination of milk, semi-sweet, and white chocolate chips instead of all one flavor. You can even substitute butterscotch or peanut butter chips, or add your favorite nuts. Just keep the amount of add-ins to 1 1/2 cups.
To get the melty glossy chocolate chip look I have, add a few chocolate chips to the top of the cookies when they come out of the oven. They'll melt, stick and then cool and be super gooey!
Recipe Nutrition
Serving:
1
g
|
Calories:
150
kcal
|
Carbohydrates:
20
g
|
Protein:
1
g
|
Fat:
6
g
|
Saturated Fat:
4
g
|
Cholesterol:
18
mg
|
Sodium:
83
mg
|
Potassium:
16
mg
|
Sugar:
14
g
|
Vitamin A:
155
IU
|
Vitamin C:
0.1
mg
|
Calcium:
20
mg
|
Iron:
0.6
mg
Nutritional information not guaranteed to be accurate
Karo is the leading corn syrup brand with over 100 years of quality and trust from multiple generations. I've used Karo Syrup my whole life: my Mom's Pecan Pie wouldn't be the same without it. Ingredients come together with Karo to create delicious recipes the same way that people come together to create joyful traditions. Every time you use a bottle of Karo syrup you are keeping tradition, like I do every year when making my mom's pie recipe. From pecan pie to chocolate chip cookies, whatever it is, your baking comes together with Karo to make life sweet.
Karo Syrup has a ton of other great benefits, besides chewier cookies. Did you know that corn syrup can enhance flavors, help your recipes brown, and even helps with freshness of recipes?
**Did you make this recipe? Don't forget to give it a star rating below!**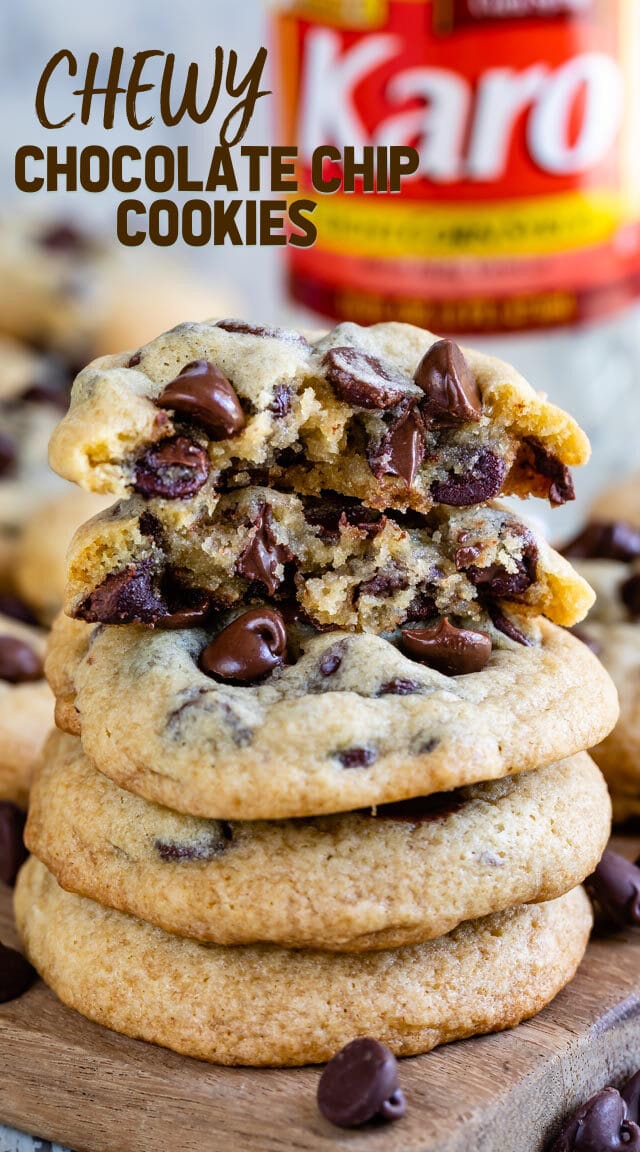 Last Updated on May 4, 2021