This post may contain affiliate links. For more information, read my disclosure policy.
You know those brownie bites you get in bulk at the warehouse store? These are better. This is the BEST Brownie Bites recipe and I love making them for parties or whenever I have a brownie craving.
Plus, when you make your own, you can add Rolos and Reese's Peanut Butter Cups or top them with ganache frosting!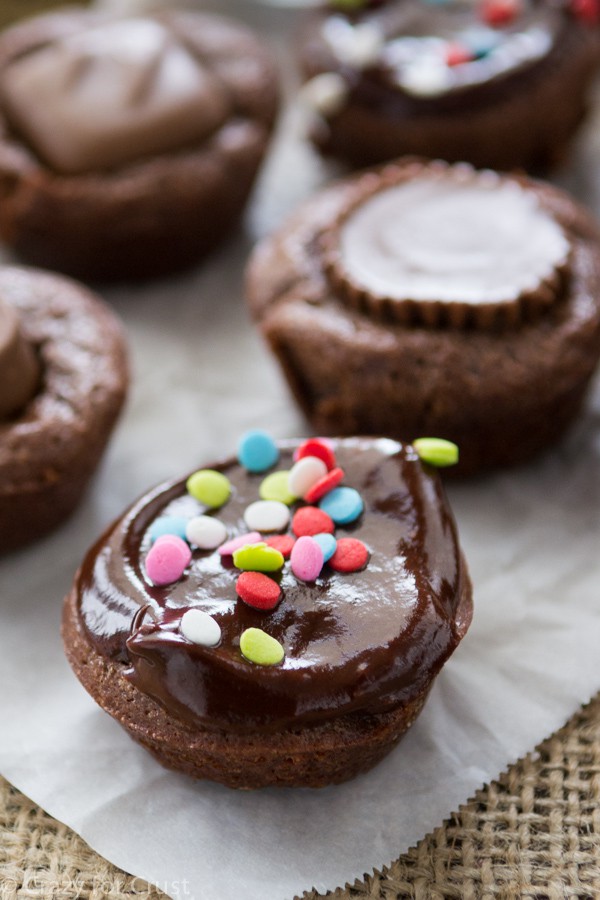 Brownies are my favorite. You'd think my favorite was pie and it is…unless I'm in the mood for a brownie. Then all bets are off (unless you're serving me brownie pie…) Whenever I'm craving chocolate I crave brownies – I don't want candy or cookies, nope. I want a fudgy and rich brownie! That's why I like making brownie bites: they're like little bites of heaven when a craving hits. I can eat one or two and not feel bad…unless I eat the whole batch.
(What can I say? It's happened.)
This recipe came about because I am absolutely obsessed with brownie bites from Costco. You know the ones, right? They come in a box of like 36 or something? They're crispy on the outside and super fudgy on the inside. They're a teeny bit bland for my tastes but whenever they're around I cannot get enough. Same goes for the brownie bites from Walmart or basically any grocery store: don't bring them in my house. JUST DON'T.
I'm really trying to make my calories count; that is if I don't absolutely love something I'm trying not to eat it. While I can throw back 30 Costco brownie bites, they're actually not my favorite ones. (Spoiler alert: these are.) So, instead of buying dessert I'm telling myself I have to make it, which cuts down on how much I eat. (Or not…)
Anyway, if you love brownie bites as much as I do then this recipe is for you!
This is the BEST Brownie Bites recipe made in a mini muffin pan and topped with ganache or your favorite candy!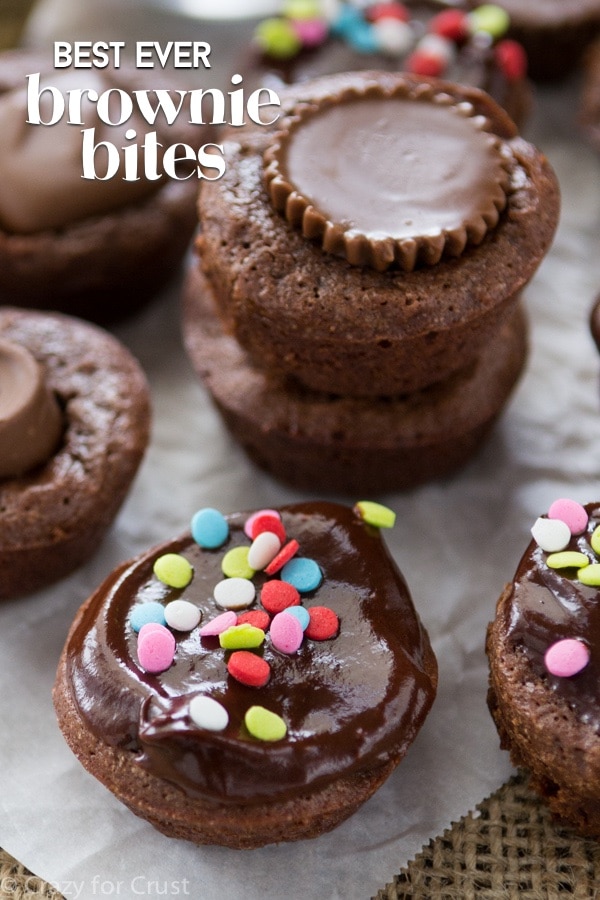 These brownie bites are adapted from one of my favorite brownie recipes. That recipe was my gold standard until I found this one and then settled on the best ever brownie recipe earlier this year. Why so many different brownie recipes? Well, this original recipe was formatted to make a thick 9×9-inch pan of brownies (or a thin 9×13-inch pan). That's why I love using this one for brownie bites – as it is you get 3 dozen….you don't need more than that.
The perfectly fudgy brownies was from my friend Amy's cookbook and I absolutely love that recipe but it won't hold up to mini muffin pans and the best brownie recipe is a nice medium between the two: it's thick and fudgy and fills a 9×13-inch pan nicely.
Making brownies from scratch is easy and you just need one bowl!
Not only is it a one-bowl recipe but it has melted chocolate and cocoa powder for a super rich and fudgy brownie recipe. These are soft, fudgy and chewy brownie bites that are the perfect blank canvas for any topping, just like those Costco ones.
Brownie Bites Toppings
Basic brownies are good…but brownies with stuff are better. (Why do you think my Reese's Brownies are so popular???) I am showing you three ways to make brownie bites in this recipe but really you could do so many more things!
Here are some fun brownie bite toppings:
Make a ganache frosting (recipe below)
Top the just baked brownie bites with Rolos or Peanut Butter Cups (like a blossom cookie)
Mix M&Ms into the batter
Top with cream cheese frosting
Jocelyn's use salted caramel!
What are some ways you'd top these?
What I love about these is the versatility of them. My favorite way to make them is to press a miniature Reese's Peanut Butter Cup or Rolo on the top while they're hot from the oven, like a blossom cookie. It's a blossom brownie! Who doesn't love peanut butter cups with brownies? No one, that's who.
Don't like peanut butter cups or Rolos? Use Kisses or Milky Way Bites. Or press some M&Ms on top. The possibilities are endless. Or…make a simple chocolate ganache and frost the bites. Add some sprinkles and you have a fantastic party treat.
Make brownie bites in a mini muffin pan
While I do love making cupcake size muffins in regular muffin pans, brownie bites are done in a mini muffin pan. I recommend getting at least the 24-muffin size or the 48-muffin if you plan to make lots of mini muffin or other mini recipes. The general rule of thumb is one regular size cupcake is 3 mini muffins so if you convert any of your existing recipes you get a lot of minis!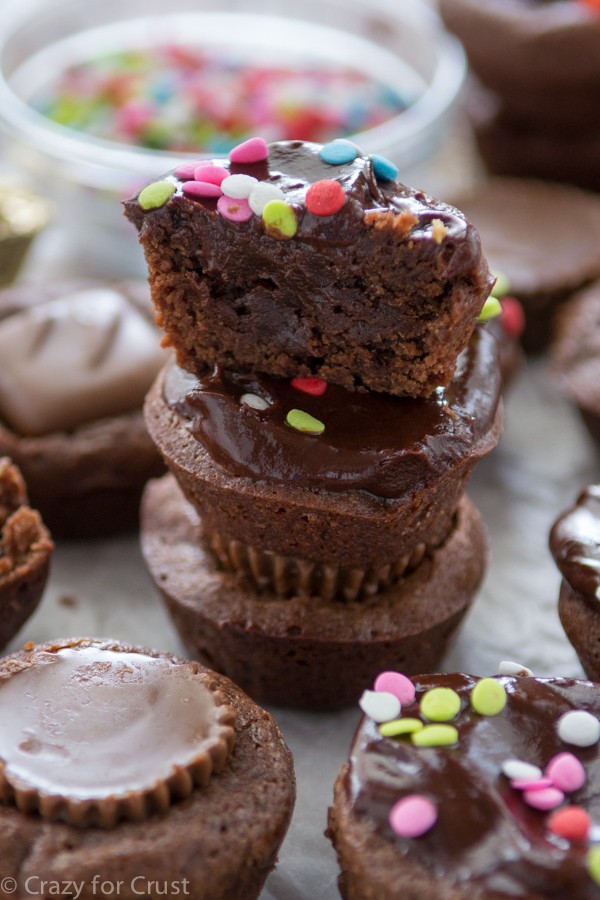 I get a lot of questions about recipes like this, so let me answer a few of them:
Using a mix to make brownie bites
This recipe calls for melting chocolate with butter and then adding the rest of the ingredients. It's easy to do and I think they taste better than cocoa-only brownies, but if you don't feel like spending the time melting the chocolate, you can always use my homemade brownie mix for these bites. I've used that mix for brownie pies so it'll work for these too.
Freezing Brownie Bites
This recipe makes a lot of bites: about 40-48 of them. That makes them great for parties or when you want a stash of chocolate in the freezer.
That's right, I said freezer. I freeze almost all desserts, especially these. That way you always have something ready to go for last minute class parties or a chocolate emergency.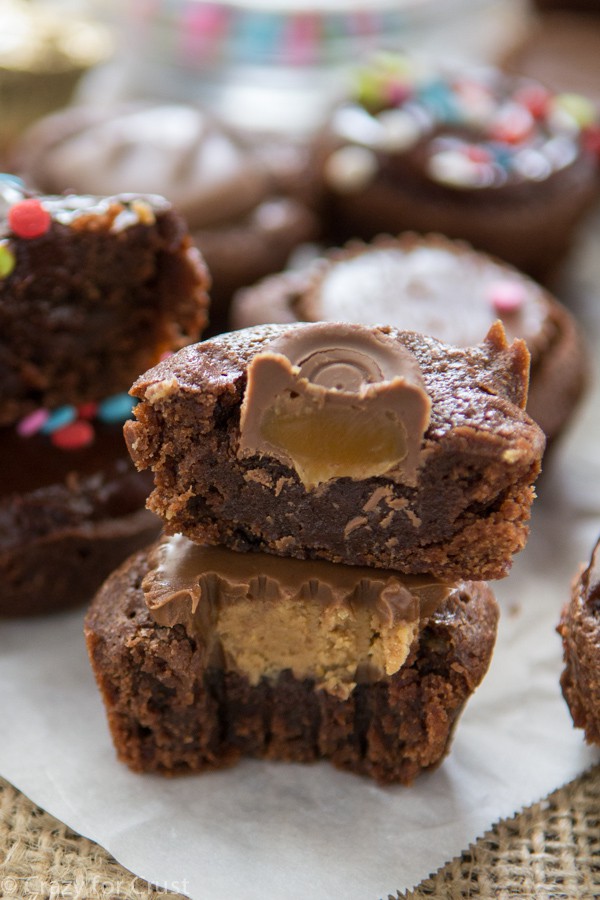 Help! My brownie bites won't come out of the pan!
Whenever I make mini desserts (like these lemon tarts) I get a lot of questions about removing them from the pan. Sometimes they stick unless you take some steps to ensure they won't:
Use a cooking spray that has flour in it to grease your pans.
Use nonstick pans.
Make sure they're baked all the way.
Let them cool completely before removing them.
Use mini muffin liners if you want to be totally sure you won't have a problem removing them.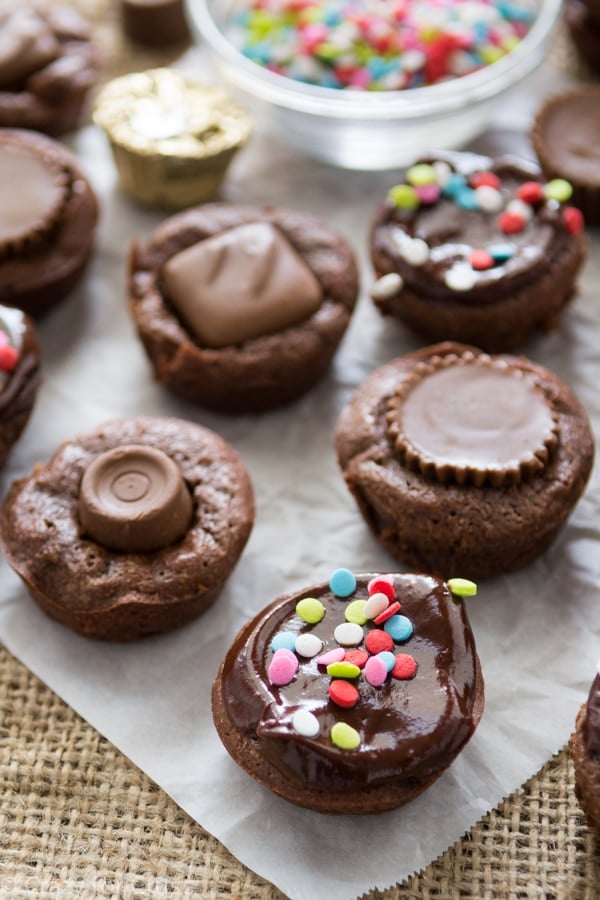 No matter how you make them, these are the best brownie bites for anyone who loves brownies!
If you love this recipe you'll also love:
Tools for success: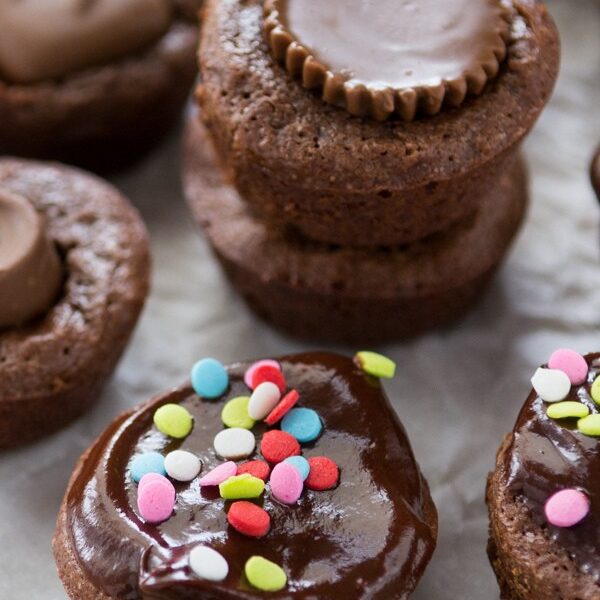 Best Brownie Bites
These Brownie Bites are perfectly chocolatey and fudgy! Top them with chocolate ganache frosting and sprinkles or press your favorite candy on the top, like a brownie blossom!
Ingredients
For the Brownies:
4

ounces

unsweetened baking chocolate

coarsely chopped

3/4

cup

unsalted butter

sliced

1 3/4

cups

sugar

3

large

eggs

1

tablespoon

vanilla extract

2

tablespoons

unsweetened cocoa powder

1/2

teaspoon

salt

1

cup

all-purpose flour
Choose your toppings:
40-48

bite sized candies

Rolos, miniature Reese's Peanut Butter Cups, mini Milky Ways, etc., unwrapped

1

cup

chocolate chips

3

tablespoons

heavy whipping cream

Sprinkles
Instructions
Preheat oven to 350°F. Spray mini muffin pans with nonstick cooking spray with flour or line with liners.

Place the baking chocolate and butter in a large, microwave safe bowl. Heat on HIGH power for 2-3 minutes, stirring every 30 seconds, until chocolate is smooth. Stir in sugar. Add eggs, vanilla, and cocoa and stir well. Add salt and flour and stir carefully.

Place about 1 heaping tablespoon of batter in each muffin cup. Bake for 10-12 minutes, until a toothpick comes out only slightly dirty from the center of the brownie.

If you are topping the brownie bites with candies, unwrap them while the brownies are baking. As soon as the brownie bites come out of the oven, press one candy on the top of each brownie bite, pressing slightly. Let them cool completely before removing from the pans.

If you are topping them with ganache, let them cool completely then remove from the pans. Make the ganache by placing the chocolate chips and cream in a microwave safe measuring cup or bowl. Heat in 30 second increments, stirring between each, until the chocolate is melted and smooth. It will be thick, like frosting. Frost each brownie bite, then top with sprinkles.

NOTE: if they aren't completely cooled it will be hard to remove them from the pan. Run a sharp knife around the edges of the brownie bite, then pop it out of the pan. If it rips, then they aren't cool enough. I suggest chilling the bites until completely cold before removing from the pans. Store at room temperature in an airtight container or freeze for up to 3 months.
Recipe Nutrition
Calories:
124
kcal
|
Carbohydrates:
15
g
|
Protein:
2
g
|
Fat:
7
g
|
Saturated Fat:
4
g
|
Cholesterol:
27
mg
|
Sodium:
40
mg
|
Potassium:
38
mg
|
Fiber:
1
g
|
Sugar:
12
g
|
Vitamin A:
156
IU
|
Vitamin C:
1
mg
|
Calcium:
13
mg
|
Iron:
1
mg
Nutritional information not guaranteed to be accurate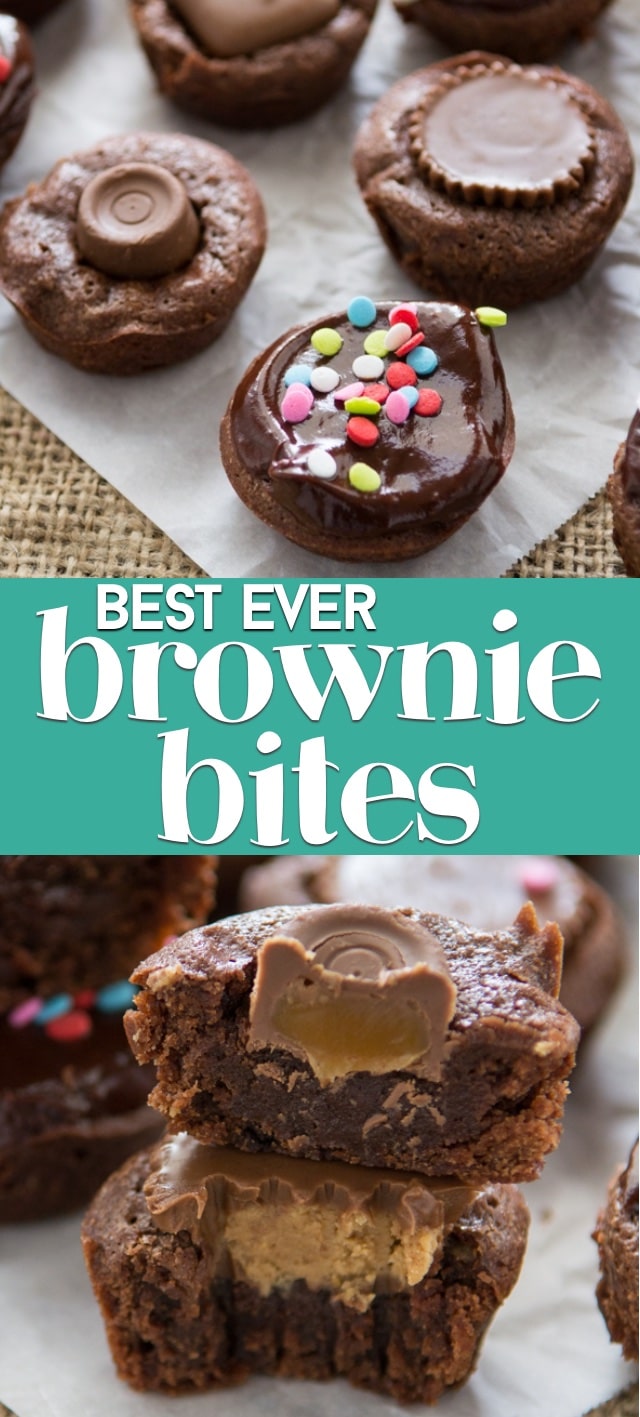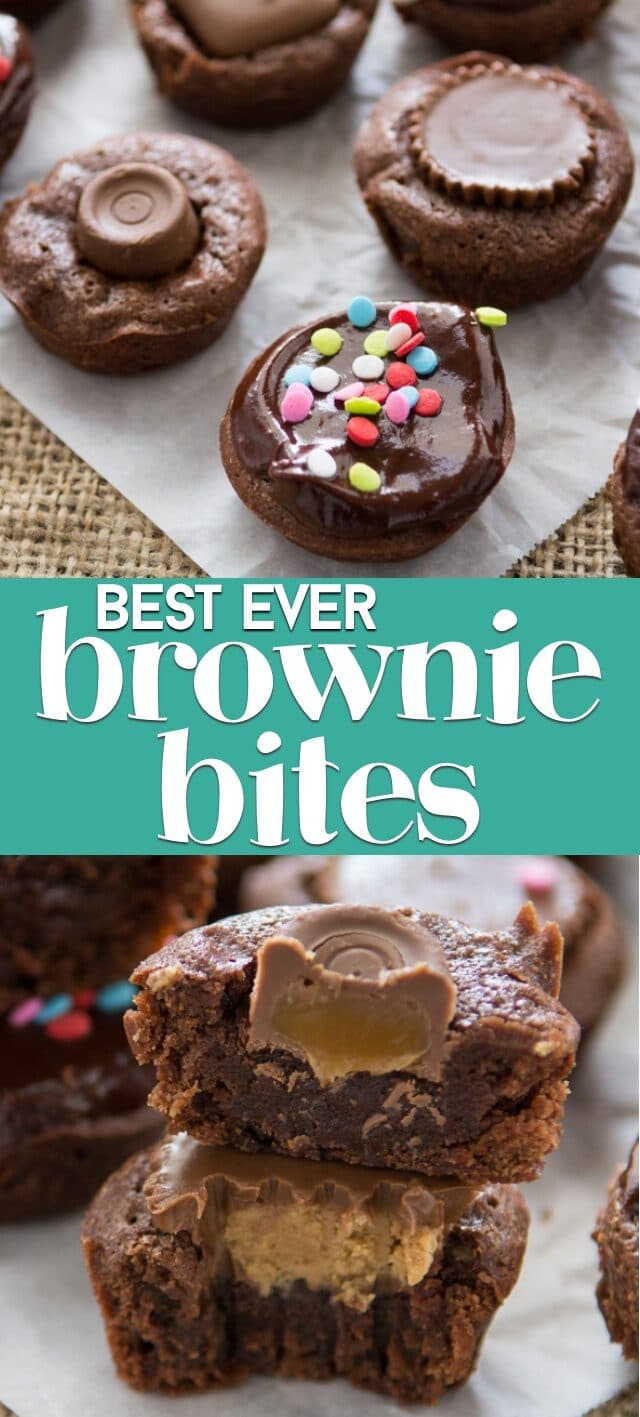 Last Updated on August 27, 2019