This post may contain affiliate links. For more information, read my disclosure policy.
These may look fancy schmancy but they're not, pinky swear.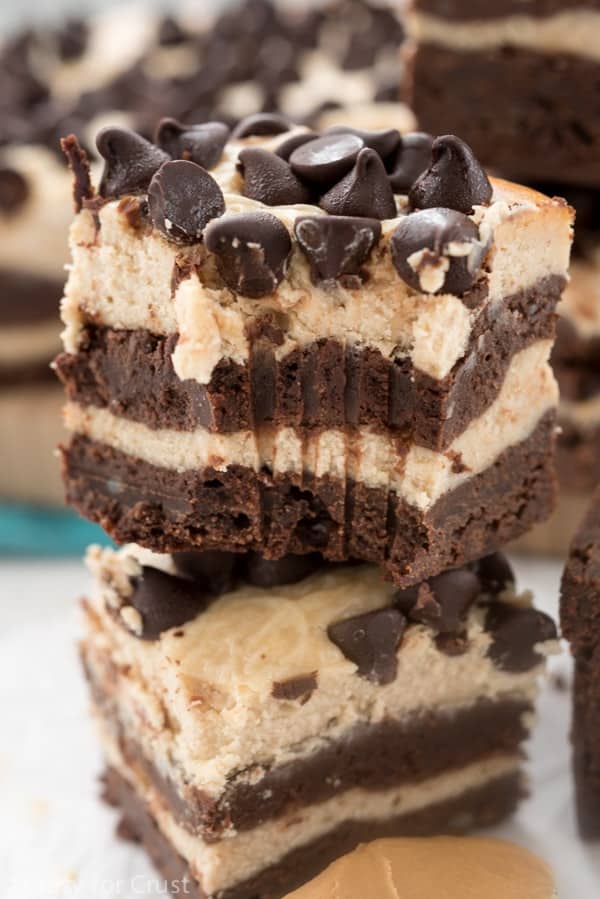 I swear, I think of the best topics to write about while I'm sleeping. Whenever I have trouble sleeping I write posts in my head, and they're always good ones. My best and most funny writing happens at 2am. The problem? By the time I wake up in the morning I can't remember the funny. Or the words.
I know I should put a notepad by the bed, but then I'd have to fully wake myself up. I actually think I'm more funny and witty when I am half asleep, which says a lot about me. 😉
Take that Apple Cider Pound Cake post, for example. Totally wrote that one at 3am last week. It took me until noon the next day to even remember I'd dreamed my post. I think I pulled some of the funny out for that one, but it was a struggle, that's for sure.
What's killing me? I totally had the whole post for these Four Layer Peanut Butter Cheesecake Bars totally written in my mind last night. And now I can't remember the funny story I was going to tell you!
Good think I can drown my stress in more chocolate and peanut butter today.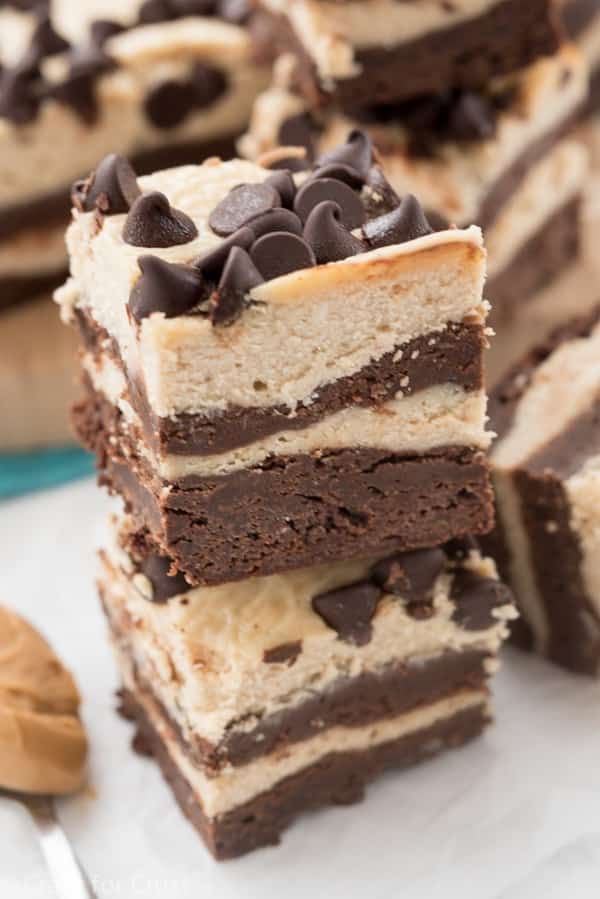 This recipe is inspired by one I saw in a magazine a few weeks ago. Magazine recipes are a huge part of my pack rat problem; I pull recipe pages out of several magazines every month and then have stacks all over the house. Usually I lose most of them or they get thrown away before I'm able to make any of the recipes.
(Please tell me I'm not the only one with that problem?)
The original recipe I saw was for 4 layer cheesecake brownie bars, but they had blackberries in them. I was not in the mood for blackberries, but I was in the mood for peanut butter. (FWIW, I'm in that mood every day.)
So, I whipped up the cheesecake brownie bar recipe without the berries but I added peanut butter. I won that day.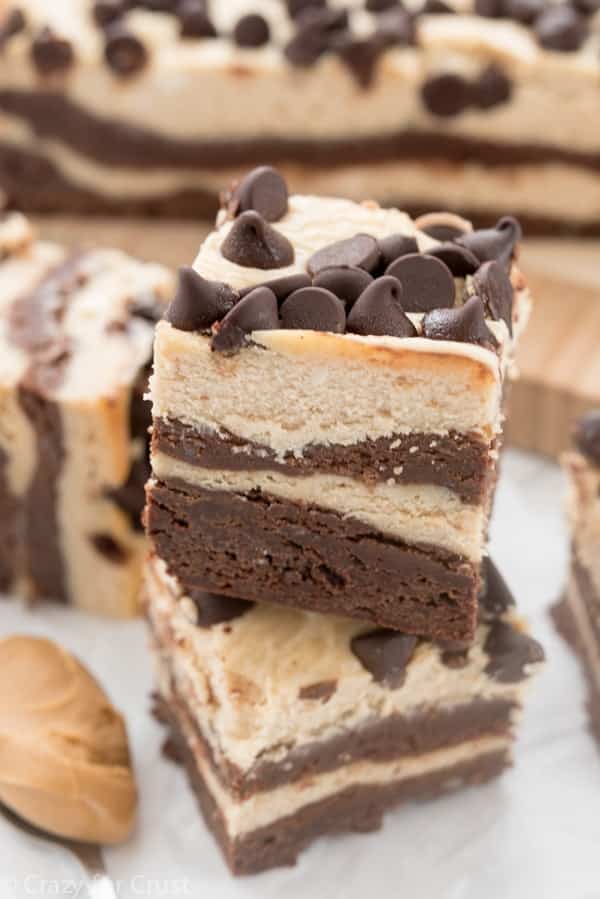 These look like they'd be a hard recipe to make, but they're not. You do have to dirty two bowls and it does take a little time and patience, but they're actually very easy.
You start off the recipe by making a from scratch brownie that's filled with melted butter and bittersweet chocolate chips. Most grocery stores have some version of a bittersweet chocolate chip nowadays in the baking aisle. Ghiradelli, Guittard, and Nestle all have their own kinds; some are called "dark" chocolate chips, some are "bittersweet". Just look for those key words, but if you can't find them (or don't want that telltale dark chocolate flavor), you can use semi-sweet chips.
The brownie batter comes together easily and you spread half of it in the bottom of a 9″ pan. I like to line my pan with foil or parchment and use nonstick cooking spray. Doing this makes it much easier to remove the bars from the pan and slice them.
Next comes the peanut butter cheesecake batter. It's a simple cream cheese based recipe that adds peanut butter. I use Skippy Naturals (no stir) peanut butter almost exclusively, because it's what I like best. This recipe hasn't been tested with real "natural" peanut butter. The cheesecake recipe also has some Greek yogurt in it, for smoothness. Most of the time I add sour cream to my cheesecakes but I was out of sour cream. Plain Greek yogurt is a great substitute for sour cream.
Once you have both batters prepared, the pretty happens. Half the brownie batter gets spread in the pan, then you layer half the cheesecake batter on top. Repeat the layers and then sprinkle the top with more chocolate chips before baking and you have a gorgeous and decadent cheesecake brownie bar.
I recommend that you make these for a gathering and not just for you. Otherwise you'll eat half the pan with a fork and make yourself sick. (Not that I'd know or anything…)

Sometimes the good ones come to me in my sleep…and sometimes they come to me in my favorite magazines. Either way, you win. 🙂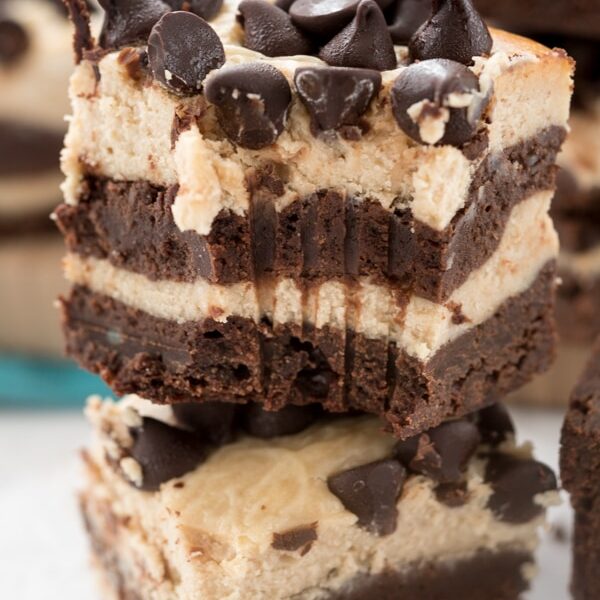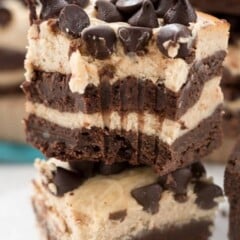 Peanut Butter Cheesecake Brownies
These Peanut Butter Cheesecake Brownies are a showstopper dessert! They're dense, fudgy, peanut buttery, full of cheesecake, and they're GORGEOUS! Great for giving and parties or just because you want peanut butter, cheesecake, and brownies!
Ingredients
3/4

cup

unsalted butter

1

package

about 11 ounces bittersweet/dark or semi-sweet chocolate chips

1/2

cup

light brown sugar

packed

3/4

cup

granulated sugar

divided

5

large eggs

divided

2

teaspoons

vanilla extract

divided

3/4

cup

+ 1 tablespoon all purpose flour

1/4

cup

unsweetened cocoa powder

1/4

teaspoon

kosher salt

2

8 ounce packages cream cheese, room temperature

1/3

cup

creamy peanut butter

2

tablespoons

sour cream or plain greek yogurt
Instructions
Preheat oven to 350°F. Line a 9x9" square pan with foil or parchment paper and spray with nonstick cooking spray.

Make the brownie batter: place butter and 1 3/4 cups of the chocolate chips in a large microwave safe bowl. Heat for 1 minute on high power, stir. Continue heating in 30 second increments, stirring between each, until chocolate is melted and smooth. Stir in brown sugar and 1/2 cup granulated sugar. Stir in 3 eggs and 1 teaspoon vanilla extract, then add 3/4 cup flour, cocoa powder, and salt and mix until smooth. Set aside.

Make the cheesecake batter: beat cream cheese with a hand or a stand mixer until smooth and creamy. Add peanut butter, 1/4 cup sugar, and sour cream or greek yogurt. Mix until smooth, then add 1 teaspoon vanilla, 1 tablespoon flour, and remaining 2 eggs. Beat until smooth without lumps.

Spread half the brownie batter in the prepared pan. It's a thick batter but should spread easily with a wooden spoon or spatula. Place half the cheesecake mixture over the top and spread carefully. If you have an offset spatula, that makes spreading this layer easier. Top with remaining brownie batter and then the remaining cheesecake to create 4 layers. Sprinkle with remaining chocolate chips.

Bake for 45-55 minutes until the edges start to get golden and the center is set. Cool completely at room temperature. Chill to set, at least 2 hours or overnight. Cut into small bars and serve. This cheesecake is very rich and a little goes a long way! Store in an airtight container in the refrigerator for up to 3 days or freeze for up to 1 month.
Nutritional information not guaranteed to be accurate
Click here to see more PEANUT BUTTER recipes!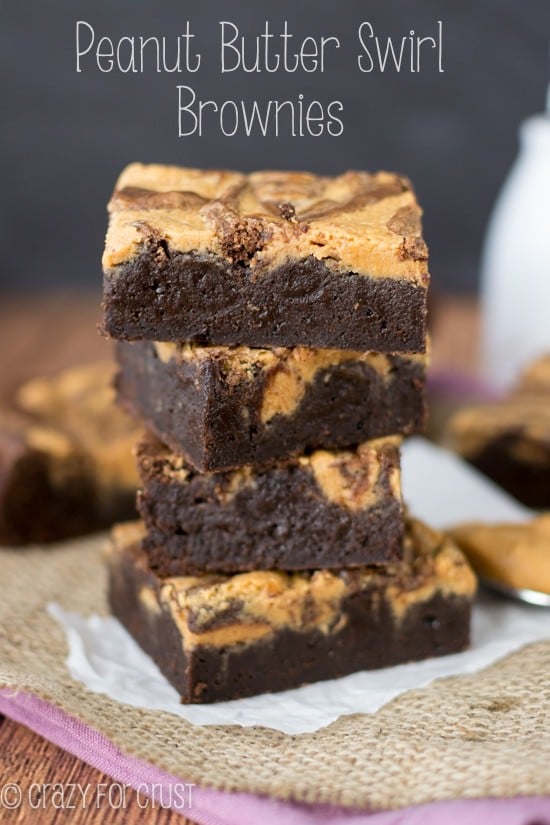 Red Velvet Chocolate Chip Cheesecake Bars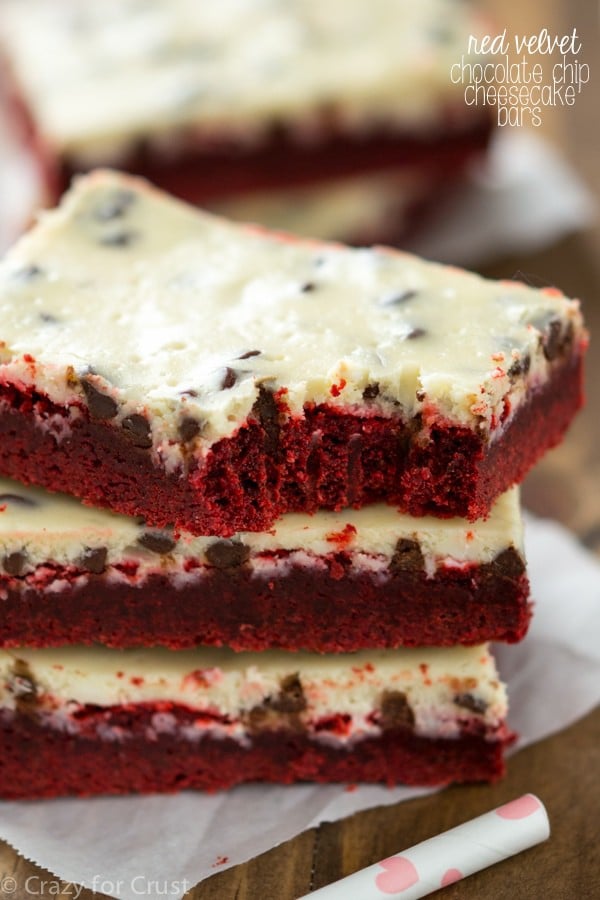 Peanut Butter Cookie Cheesecake Bars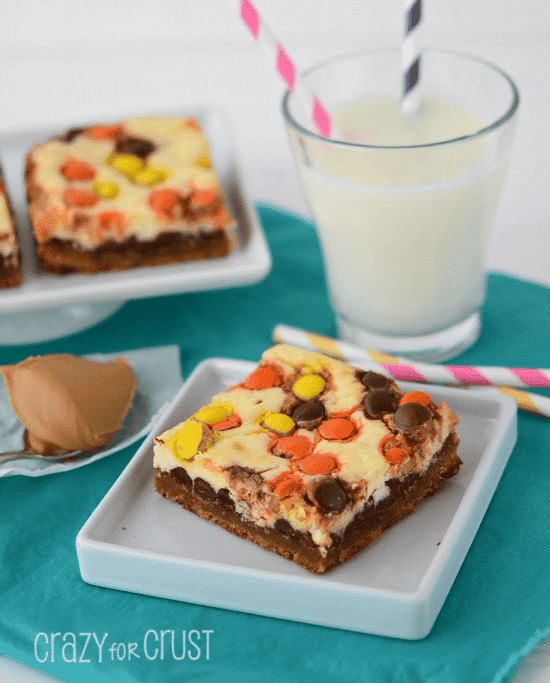 Sweets from friends:
Cake Batter Cheesecake Brownies by Inside BruCrew Life
Cherry Cheesecake Brownies by CenterCutCook
Snickers Cheesecake Fudge Brownies by Confessions of a Cookbook Queen
Last Updated on August 21, 2018