This post may contain affiliate links. For more information, read my disclosure policy.
Two ingredients – that's all you need to make these cookie cups.
I mean, it's almost embarrassing that I'm calling this a recipe. But I am, because it's probably my favorite cookie in a very long time: Junior Mint Chocolate Chip Cookie Cups!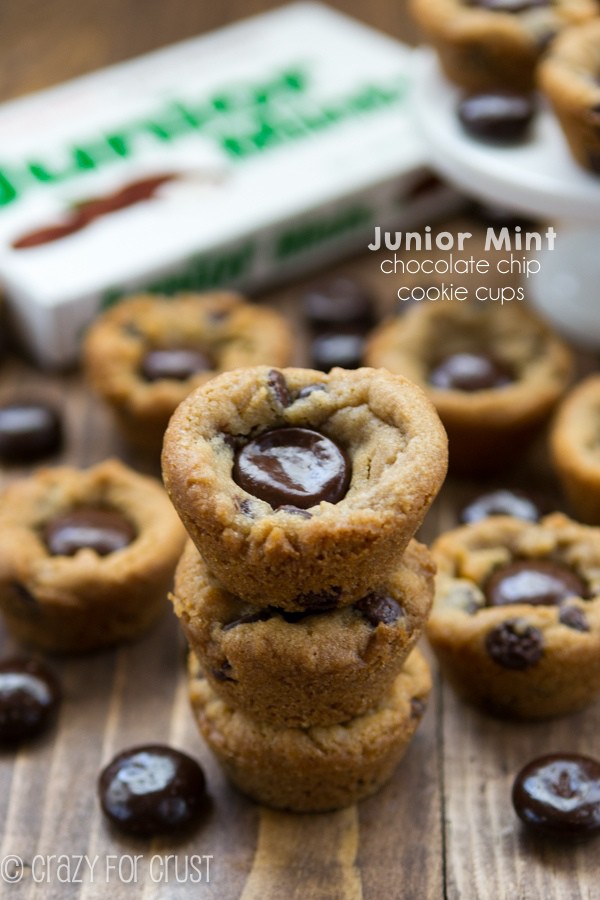 I looooooove Junior Mints. I'll explain why in another post sometime (it's food related) but every time I see a box I just can't help picking one up. Something about the cool mint and smooth center gets me every time.
Also, a 4 ounce box should be considered less than a serving. Is it just me or is it too easy to inhale the whole thing in less than 5 minutes?
A few months ago I bought a couple boxes of Junior Mints with the intention of making chocolate chip cookies with them. I figured – one box for baking with and one box for props and for eating.
One failed recipe later I texted my husband to stop and buy more. He brought home about 8 boxes of Junior Mints! #itswhyilovehim
Two more failed recipes later, I still had several boxes left but I was out of patience, so I gave up and started eating my way through the boxes.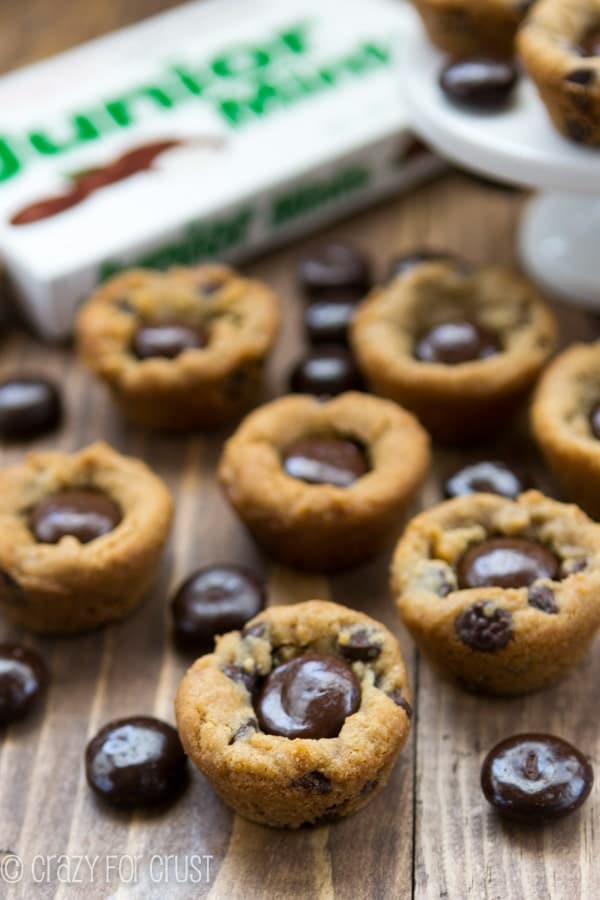 Then as I was starting to get ready for our trip to Palm Springs, I realized I had no baked goods to take with me. If I didn't act quickly, I'd be left eating store bought cookies all week.
Oh, the horror. #firstworldproblems
With the rush of packing and work and shuttling Jordan to camp (because OMG the shuttling and carpooling is way worse in summer, is it not?) I was almost out of time and the last thing I wanted to do was wash another freaking dish.
So I went the easy route and made 2-ingredient cookie cups.
All you need are cookie dough…and Junior Mints!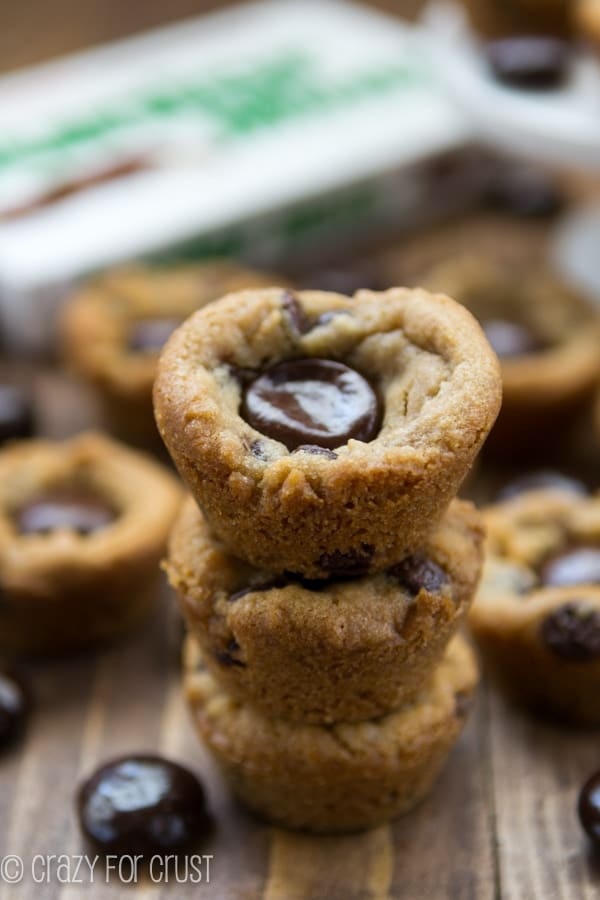 I was cleaning out the refrigerator since we'd be gone for a week when I found a 1.5 pound log of Pillsbury Chocolate Chip Cookie Dough. I don't remember when I bought it (or why) but it was my road trip dessert savior.
All you need to do to make these cookie cups is to scoop 1 tablespoon balls of refrigerated cookie dough into mini muffin pans. Heck, you don't even have to do it. Pay your 3-year old to do it, it's that easy.
Now, if you don't like using refrigerated dough, or you want to make your own, go ahead. If I'd had more time and patience, I would have used my favorite chocolate chip cookie dough recipe. That recipe would make about double this one. Or, you could use my favorite (smaller batch) chocolate chip cookie recipe, minus the Kit Kats. Either recipe will work fabulously for these cookies.
Once the cookie cups bake, you add the best part: a Junior Mint.

These cookies are like blossom cookies, only they're in cup form. Baking them in mini muffin pans makes it so you don't have to worry about spreading cookies. Plus, the cup is the perfect holder for the Junior Mint.
If you've never had Junior Mints + Chocolate Chip Cookies before, you're in for a real treat. The flavors are perfect for each other. The creamy cool and smooth mint adds some great flavor to a perfect chocolate chip cookie.
Plus, there are only 2 ingredients and these can be in your belly in under 20 minutes.
That's my kind of cookie!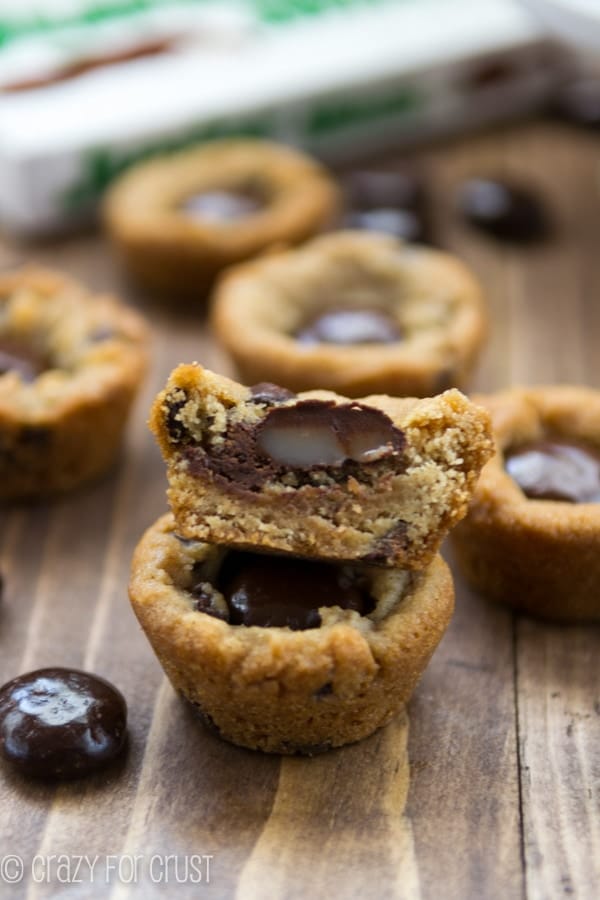 These went on our road trip with us…but they didn't make it home. 🙂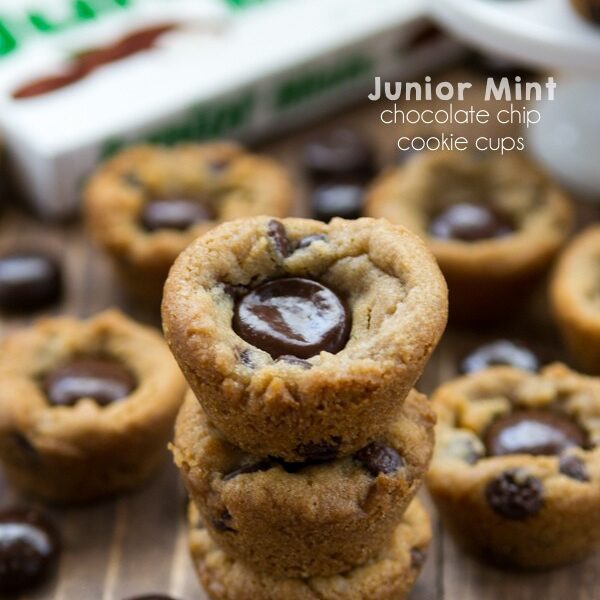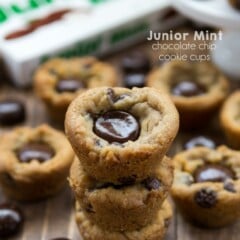 Junior Mint Chocolate Chip Cookie Cups
Only 2 ingredients to make the perfect chocolate chip cookie!
Instructions
Preheat oven to 350°F. Spray mini muffin pans with cooking spray (I like the kind with flour for these).

Drop 1 heaping tablespoon of cooke dough in each muffin cavity.

Bake for 8-10 minutes until the cookies are a light golden brown.

Press a junior mint on top of the cookies right after they come out of the oven. Let cool completely before removing from pans.
Nutritional information not guaranteed to be accurate
Click HERE for more easy recipes that start with cookie dough or cookie mix! 
Bakery Style Chocolate Chip Cookies (XL with brown butter!)
Chocolate Chip Cookie Cupcakes
Sweets from friends:
Neapolitan Cookie Cups by i am baker
Gingerbread Cookie Cups by Creative Juice
Double Chocolate Junior Mint Cookies by Picky Palate
Last Updated on May 13, 2020