This post may contain affiliate links. For more information, read my disclosure policy.
A Tortellini Caprese Pasta Salad has tortellini, basil, tomatoes and mozzarella with a balsamic dressing. It's an easy and delicious pasta salad recipe perfect for summer!
Easy pasta salad recipes are perfect for parties or fast weeknight meals when it's so hot, and this caprese pasta salad is no exception!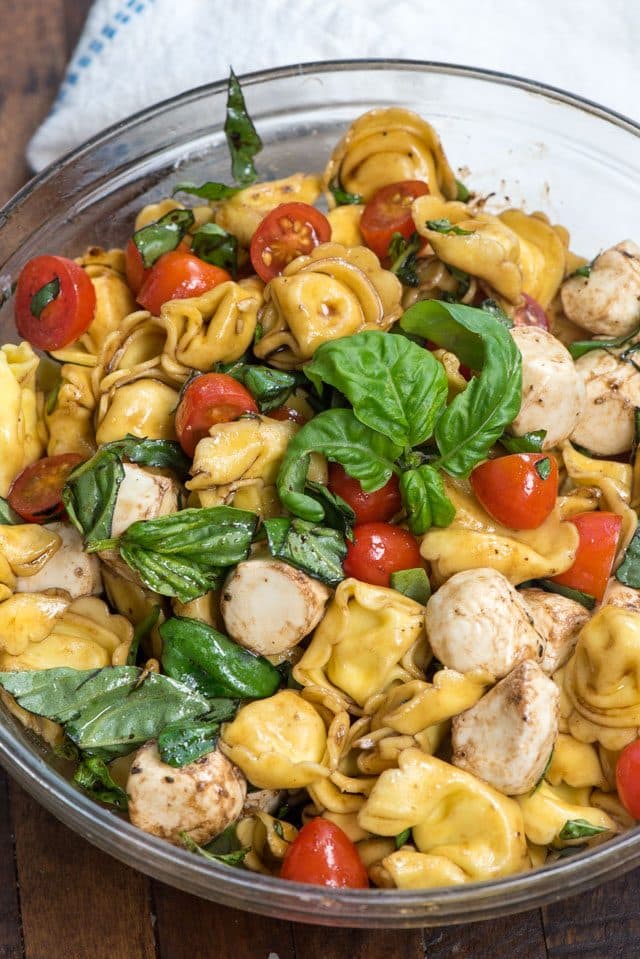 Have you ever made a recipe and then just decided to skip serving it to your guests and take it to the couch with a fork? Usually that happens to me when I make pie or brownies, but it happened when I made this easy Caprese Pasta Salad too.
Turns out that just like going to the grocery store hungry, if you make a pasta salad before you've eaten lunch it will become your lunch. The entire bowl. Who cares if it's an entire package of frozen tortellini? Hunger doesn't discriminate, my friends, especially when pasta is involved.
Pasta salads are my favorite thing to make when I have a party, no matter what time of year it is. Pasta salads are easy to make, fast, delicious, and can be made ahead of time. In fact, pasta salad tastes better after it's sat for a few hours or overnight, so making it ahead is actually encouraged. That's perfect for when you're hosting a potluck or have a million things to do and don't have time to make dinner.
In summer, pasta salad is just a plus anyway because it's so hot. I don't want to bake or barely even cook in summer, but I can throw together a pasta salad in the morning before it's too hot in my kitchen and then dinner is ready to go.
Or, in this case, LUNCH.
Tortellini Caprese Pasta Salad is a tortellini salad made with tomatoes, mozzarella, basil and a balsamic vinaigrette. It's such a simple salad but it's SO good.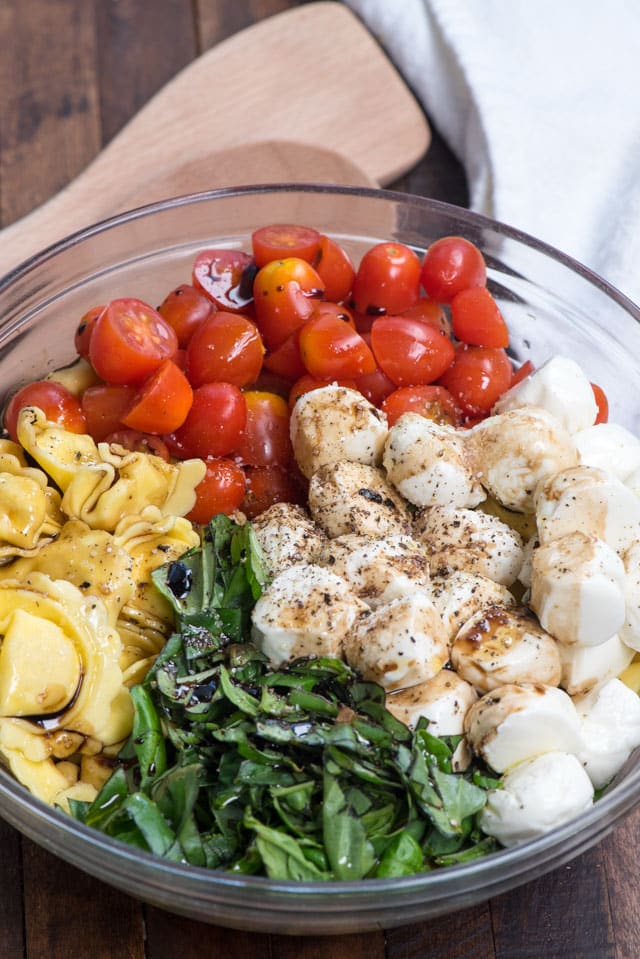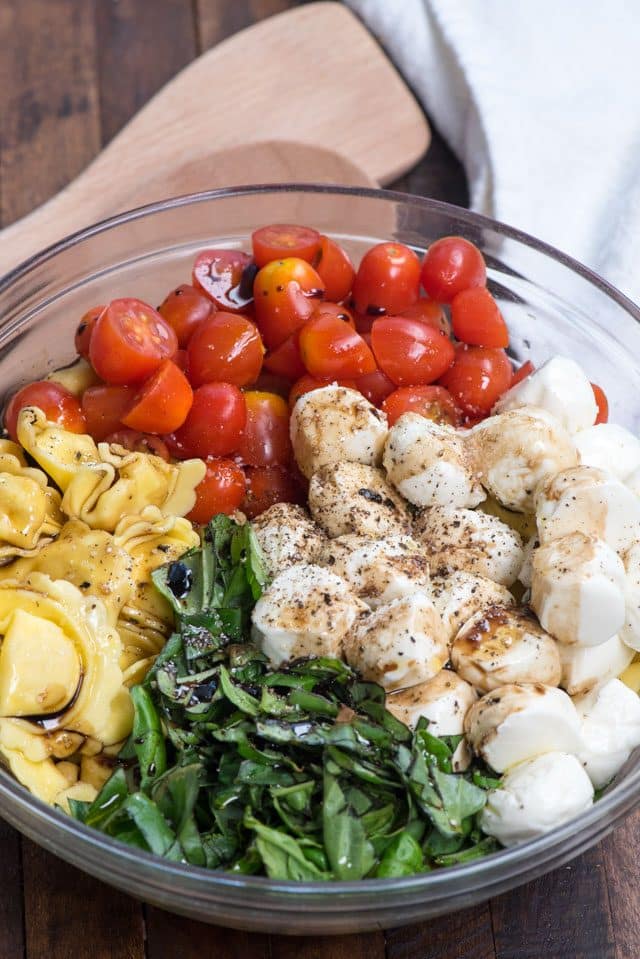 What is a Caprese Salad?
A traditional Caprese Salad is a layered salad of sliced tomatoes and fresh mozzarella, garnished with fresh basil and drizzled with a balsamic glaze and olive oil. It's a simple salad that's also strikingly beautiful and delicious.
It's easy to turn a Caprese Salad into a Caprese PASTA Salad – just add pasta!
In summer, basil and tomatoes abound, so making a caprese salad is kind of a no brainer. Simply adding pasta makes it a meal instead of just a side dish, especially if you add tortellini.
This tortellini salad is a vegetarian pasta salad that's super simple and the flavors are heavenly. Fresh basil is like a drug, my friends. Does anyone agree?
I made this Caprese Pasta Salad with a balsamic dressing instead of the glaze, because that's what you expect on a pasta salad. I used my favorite simple balsamic vinaigrette recipe, but you can also dress this salad with your favorite bottled balsamic dressing or even just a shower of olive oil and balsamic vinegar with a bit of salt and pepper.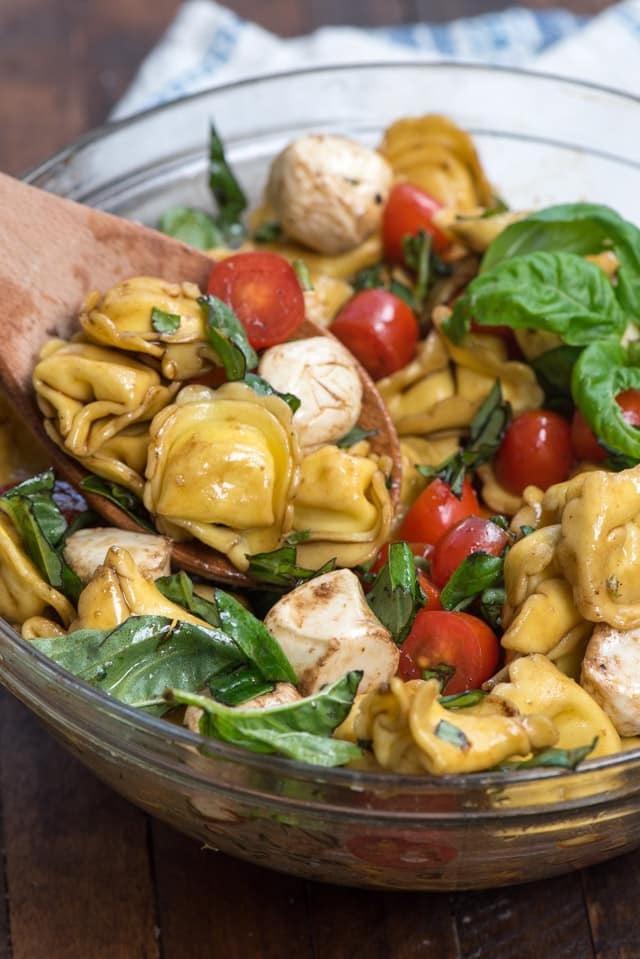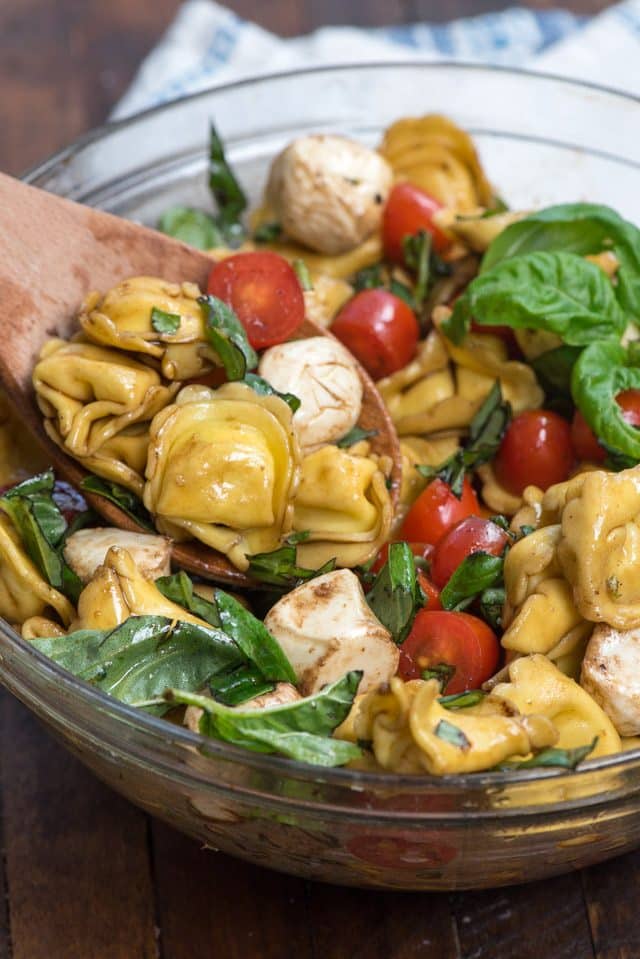 Don't skip this Tortellini Caprese Pasta Salad at your next party; it's a salad everyone loves!
A quick Caprese Pasta Salad like this, made with tortellini, is the perfect summer main or side dish for any meal or party. I know it'll be showing up a lot at my next few gatherings!
Tips for making a Tortellini Pasta Salad:
You can use fresh tortellini if you prefer but I like the frozen kind. I buy a cheese tortellini to keep this vegetarian, but you can use any flavor you like.
Grape tomatoes are a perfect addition to the salad and they're easy to slice and toss.
Basil is a main component in a caprese salad, so don't skimp!
Fresh mozzarella is KEY to this recipe. You can find fresh balls of mozzarella in the Italian food aisle or specialty cheese section of your regular grocery store. I can always find these mini snacking mozzarella balls (they come packaged three to a serving) that I like to use in this salad. Feel free to use the tub of them or use a large ball and slice it bite sized.
Want even more? Subscribe to Crazy for Crust to get new recipes and a newsletter delivered to your inbox. And stay in touch on Facebook, Pinterest, Twitter, and Instagram for all my latest updates.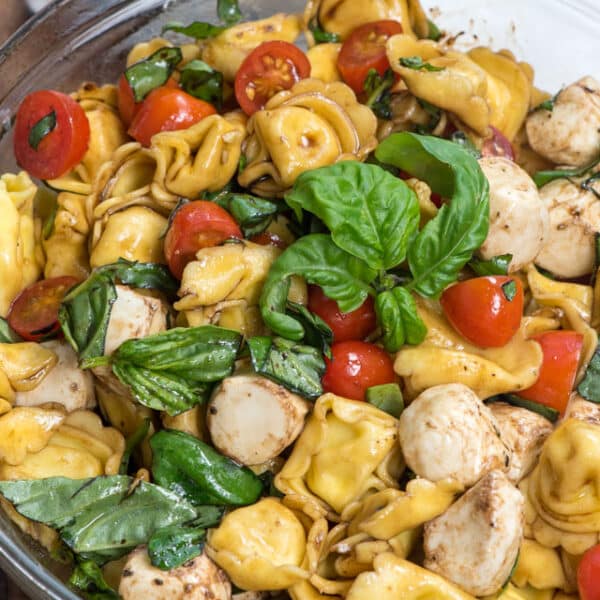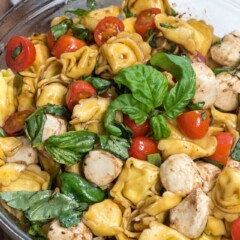 Tortellini Caprese Pasta Salad
Tortellini Caprese Pasta Salad is an easy pasta salad recipe made with tortellini, basil, mozzarella, tomatoes and a balsamic dressing.
Ingredients
For the Salad:
1

19 ounce bag frozen tortellini

1

pint

grape tomatoes

halved

1

cup

shredded basil

8

ounces

fresh mozzarella

pearls or a ball sliced into bite sized pieces
For the Balsamic Dressing:
1/2

cup

balsamic vinegar

1

tablespoon

dijon or spicy brown mustard

1

tablespoon

diced shallot

1

garlic clove

crushed

2/3

cup

olive oil

1/2

teaspoon

Italian seasoning

1/2

teaspoon

salt or to taste

1/4

teaspoon

ground pepper or to taste
Instructions
Cook tortellini according to package directions. Drain and rinse with cold water to stop the cooking. Cool.

Stir together tortellini, tomatoes, basil, and mozzarella.

Make the dressing: add all dressing ingredients to a jar. Close and shake until mixed. Pour over salad and toss to coat.

Serve immediately or cover and store in refrigerator for up to 24 hours.
Recipe Nutrition
Nutritional information not guaranteed to be accurate
I can't wait to try Valerie's Italian Tortellini Salad, Joanne's Mediterranean Tortellini Salad, or Jocelyn's Bacon Broccoli Tortellini Salad!
Pizza Tortellini Pasta Salad is another great way to use tortellini!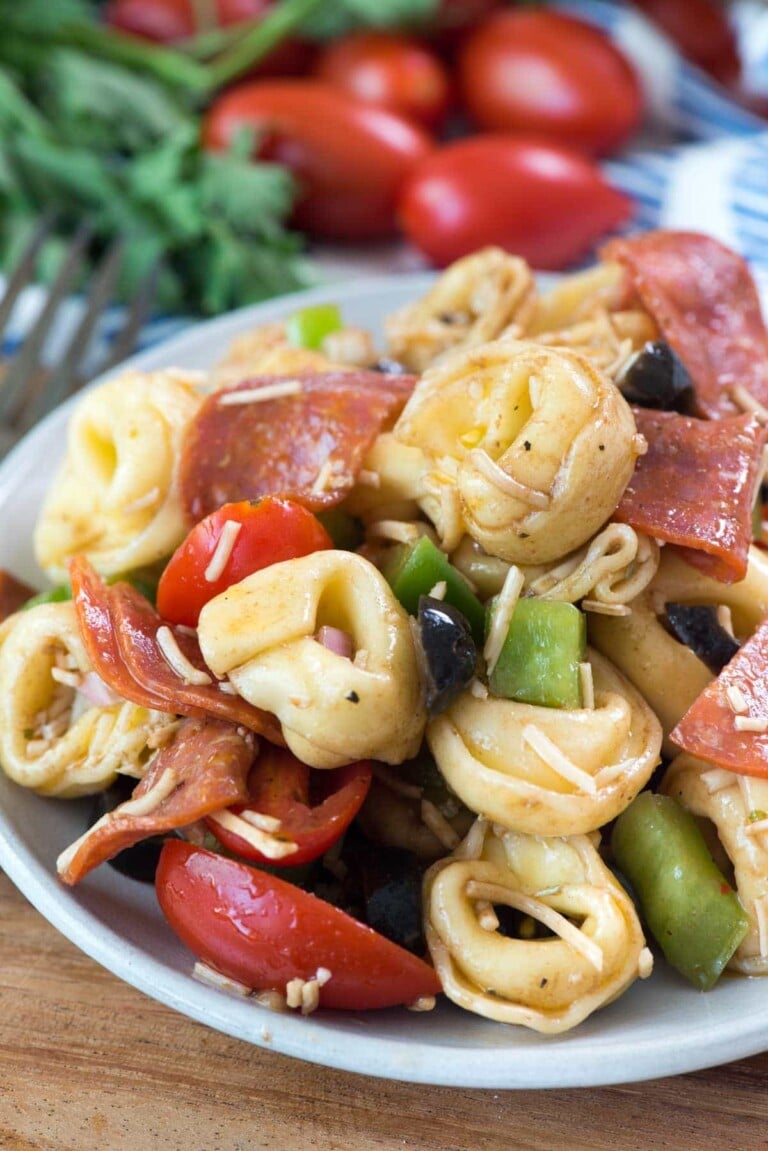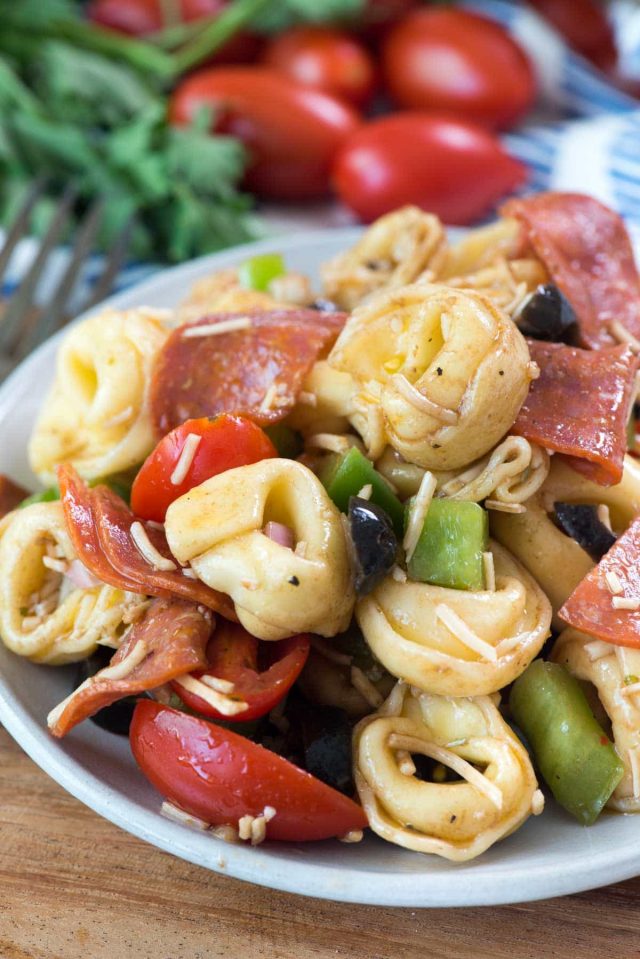 Pesto Tortellini Salad is one of my favorite pasta salad recipes ever.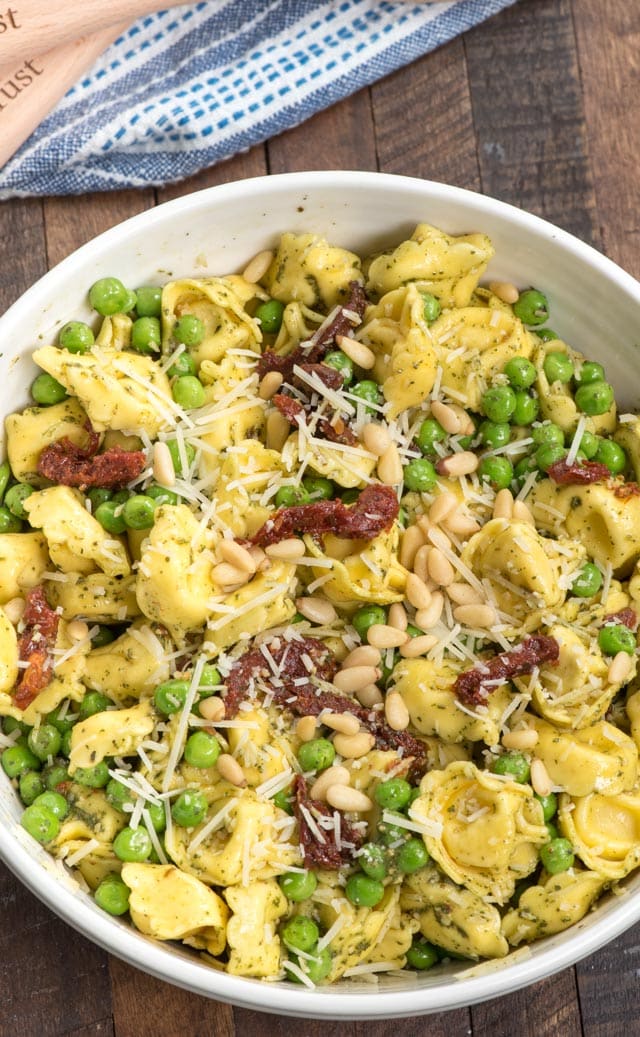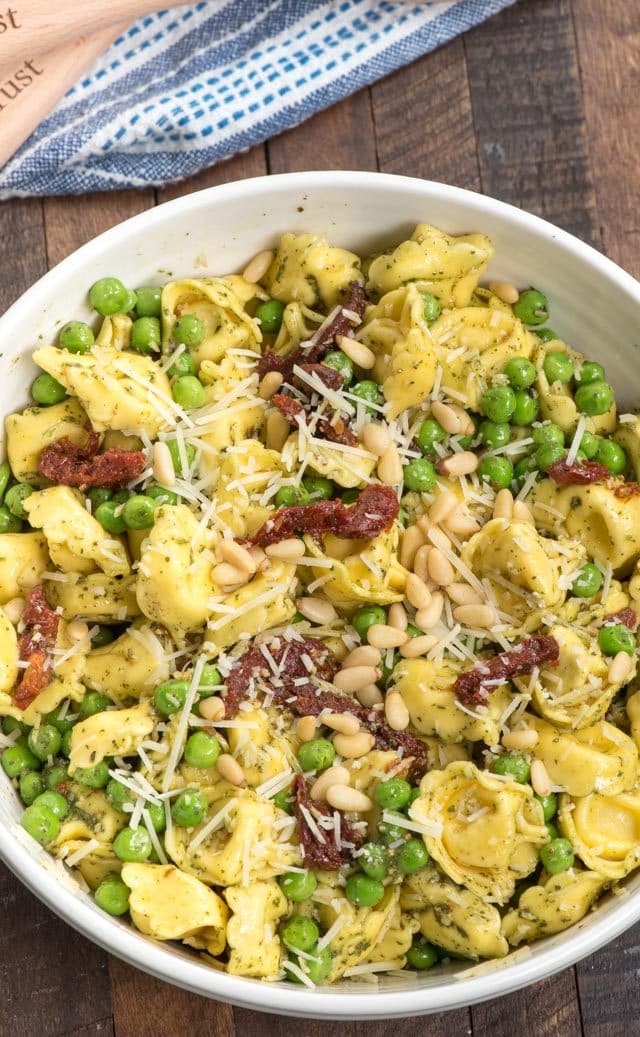 BBQ Chicken Pasta Salad would also be amazing with tortellini!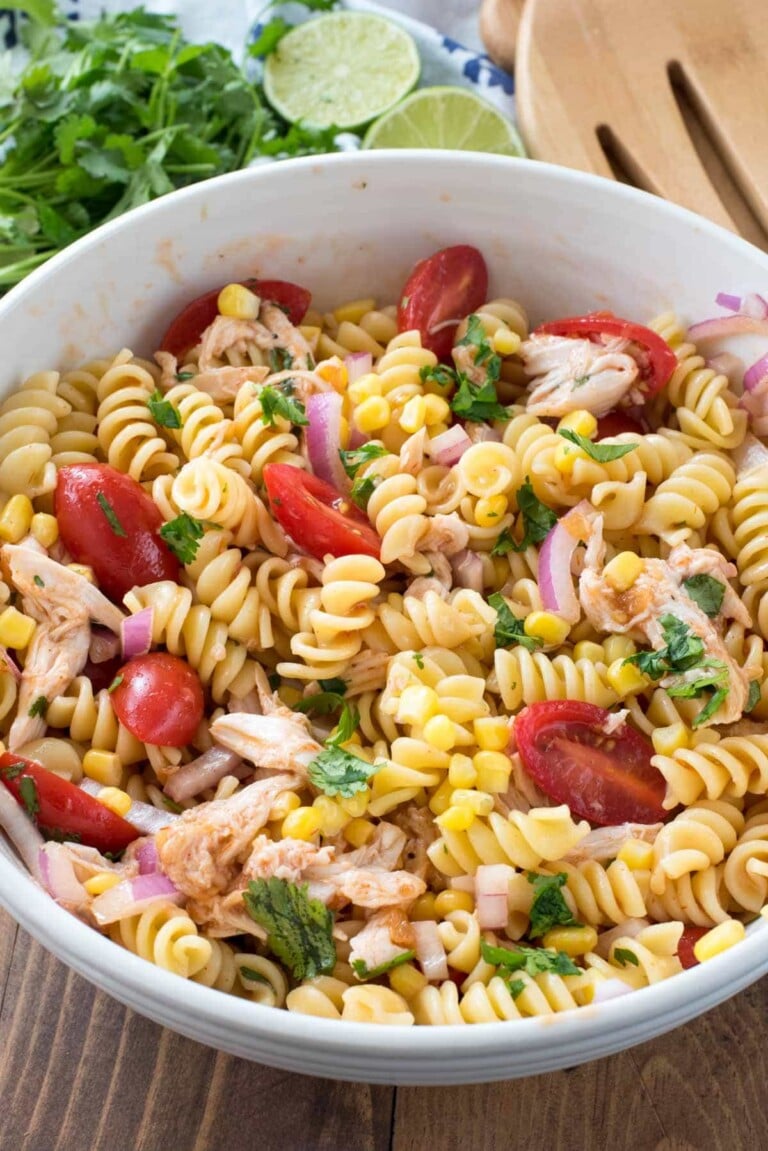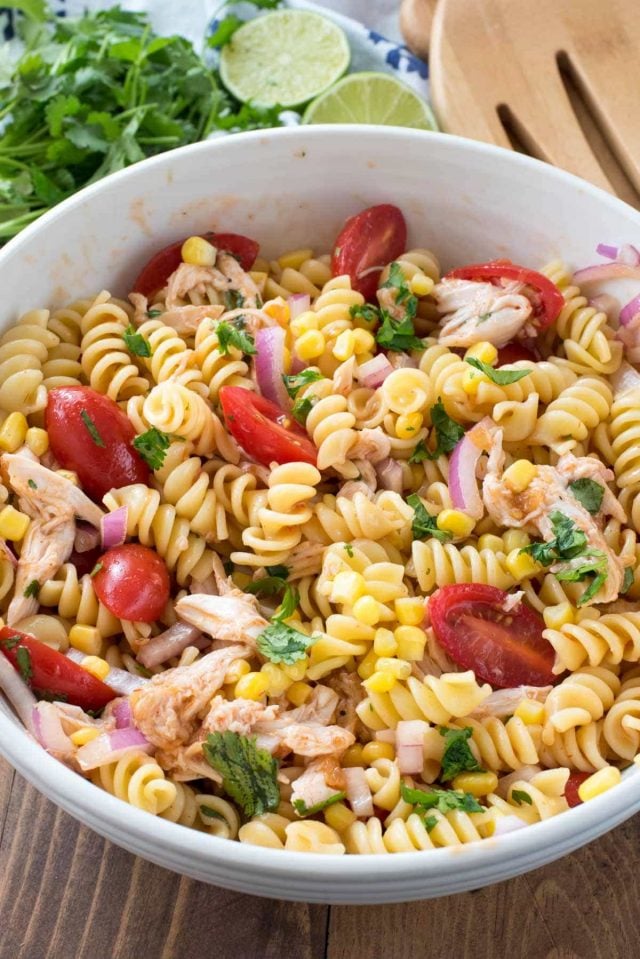 **Did you make this recipe? Don't forget to give it a star rating below!**
Last Updated on May 20, 2022