Pizza Tortellini Salad – this easy pasta salad recipe is full of pizza flavor with cheese tortellini, pepperoni, bell peppers, olives, tomatoes and a homemade balsamic dressing! It's perfect for a summer potluck!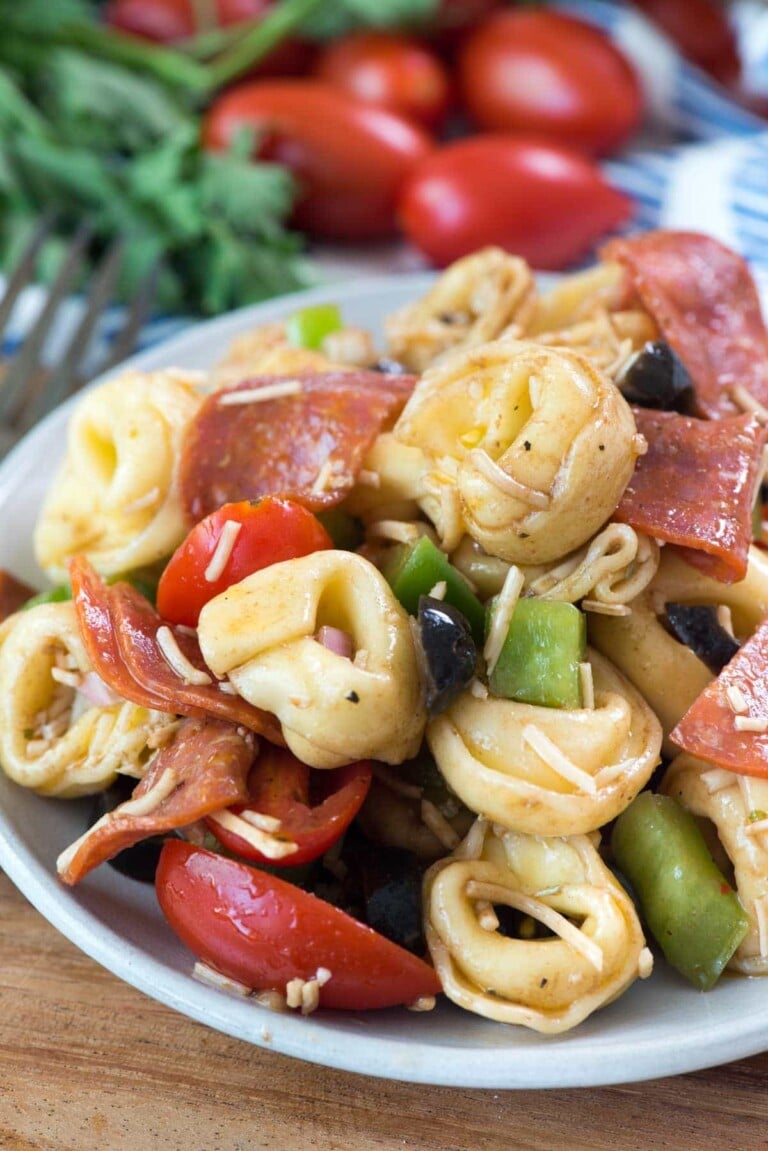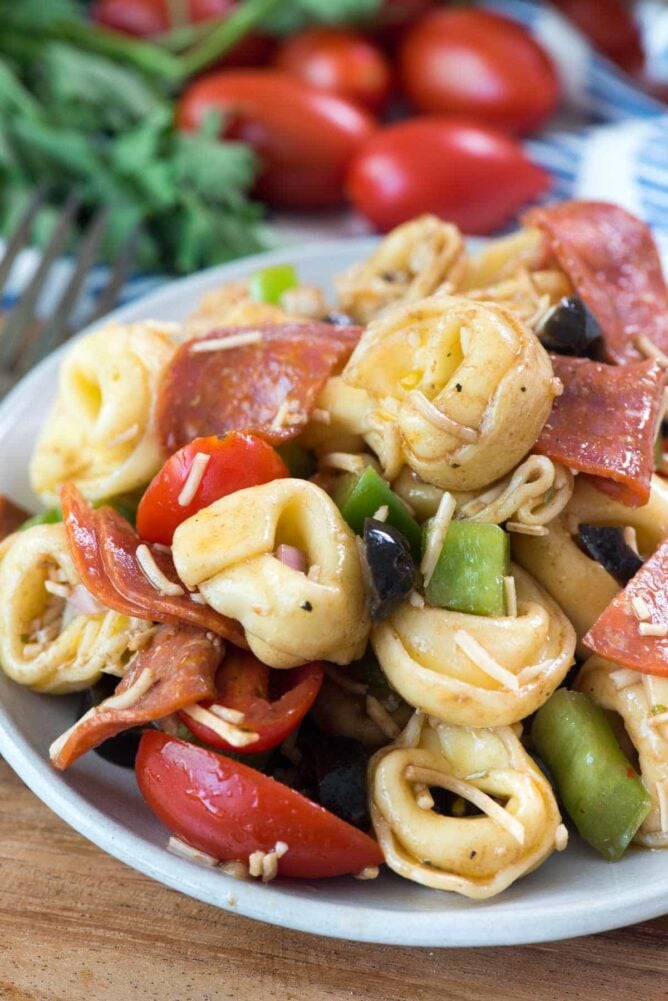 I loooooove pasta salad. I never liked it when I was younger because I didn't like dressing (are you surprised?) but as an adult? I can eat an entire batch all by myself. And if it's tortellini? Even better.
Growing up, we'd eat ravioli or tortellini at least once a week. Once I got married I continued the tradition, until Mel stopped eating carbs and I had a kid who hates pasta. (I know, sometimes I question my life choices, too.)
Now indulge in Jocelyn's meat lover's pizza skillet ravioli or Holly's one pot pizza tortellini bake when Mel is out of town for work. Then I make way too much and pretend I'm a single 20-something who doesn't have to worry about carbs.
(Oh, how I miss those days!)
Pasta salads are all the rage these days. I've seen tons of variations all over Facebook and Pinterest: taco, Greek, Italian…and so many more. I decided I just HAD to share this PIZZA Tortellini Salad because I've been making it for years and everyone always raves about it. Plus, it's pasta with pepperoni…what could be better than that?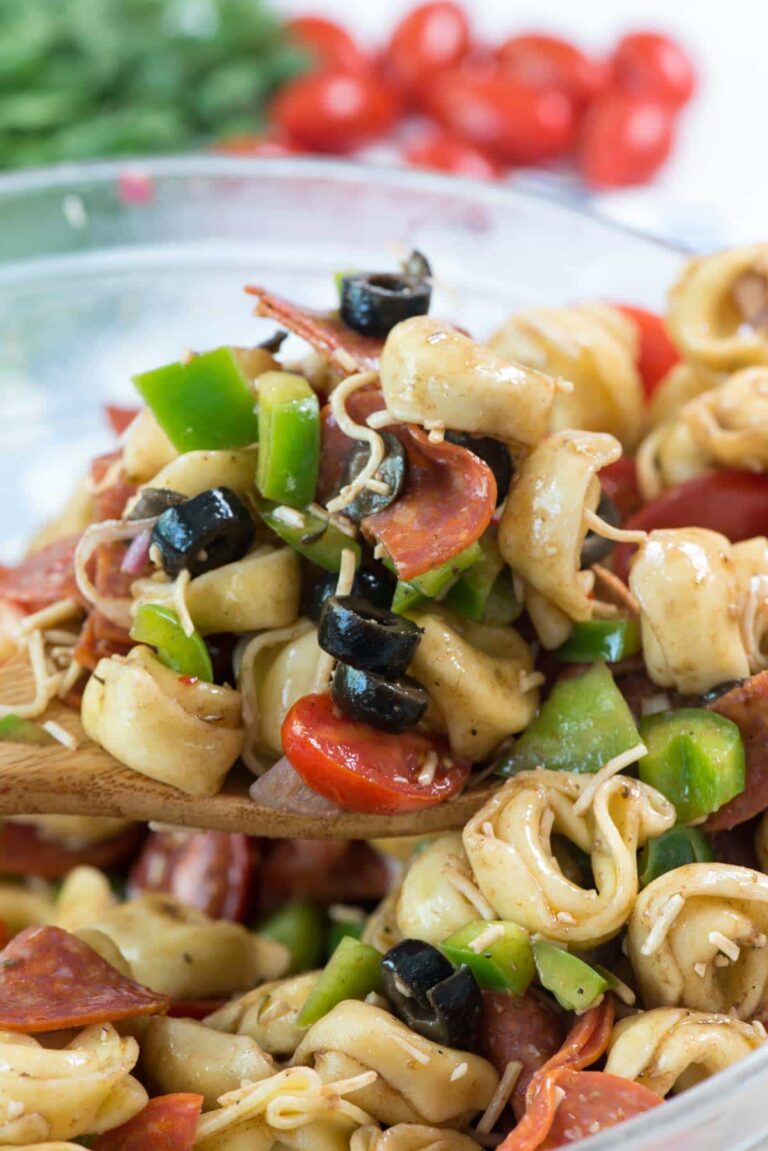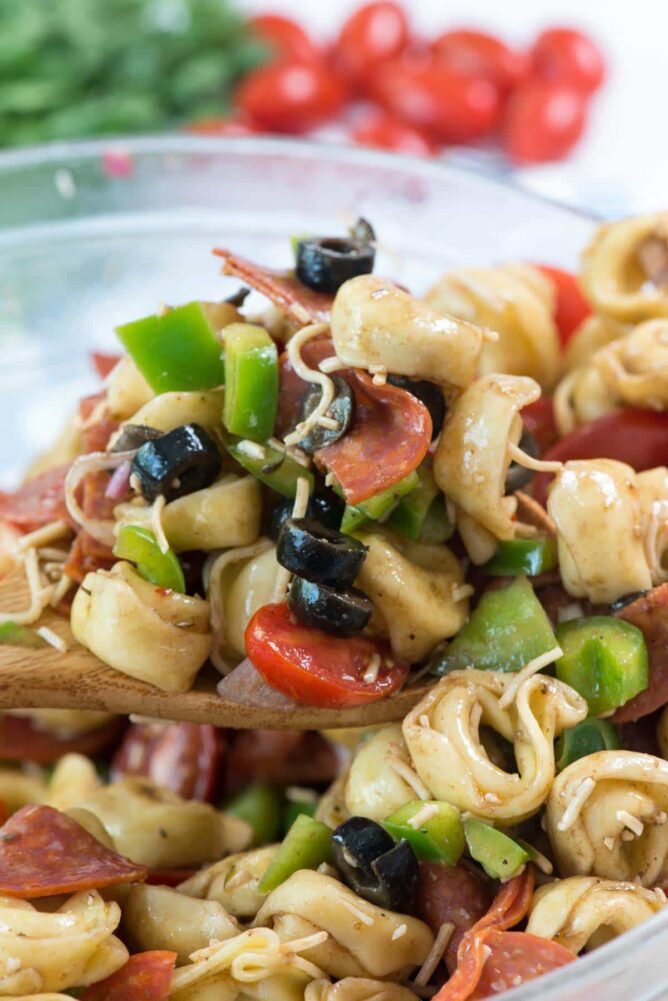 Funny story, my parents have a funny name for tortellini. Can you guess what it is? I actually can't tell you what it is, except it starts with "little" and involves a word that someone would yell at me for if I type it. Why do they call it that? Really I have no idea.
But, to this day, all I think of when I buy tortellini is that I'm buying a bunch of little ——–.
ANYWAY, I digress. When I buy tortellini, I also think about THIS pizza tortellini salad with all my favorite things in it:
BLACK OLIVES! Sorry for shouting but I love them so much. I never get to eat them either because no one I know likes them. On pizza? BEST EVER!
Green peppers – a must on pizza
Pepperoni – ditto
Parmesan cheese – what pasta salad doesn't have cheese? Not one I'm eating!
Balsamic dressing….oh how I love thee…
Let's talk about dressing for a minute. You can totally buy your own from the store. No need to make it from scratch but if you do? Use MY balsamic recipe. I make it all the time because it's so good. I has shallot and garlic and herbs and….mustard.
Duh duh duuuuuuuuuuuuh. (Evil sounds)
I hate mustard, yes I know. To me, mustard is the absolute devil. I will not touch it. Making my husband a sandwich makes me sick. BUT…in this dressing, it's actually good. There's so much balsamic and other flavors you don't even taste the mustard (and I know, because in 99% of dressing recipes I can sure taste it if it's there). I love adding it because it helps the recipe emulsify (as in, blend together).
You don't need a fancy whisk or anything to make the dressing either: go buy yourself a mason jar. Then add the ingredients and shake shake shake!


With the lightness of the dressing and the flavors of pepperoni, olive, pepper, tomato and cheesy pasta, this pizza tortellini salad tastes JUST like you're eating a slice of pizza. It's the perfect potluck dish and I'll be for sure making it a TON this summer!
Pizza Tortellini Salad
Pizza Tortellini Salad - this easy pasta salad recipe is full of pizza flavor with cheese tortellini, pepperoni, bell peppers, olives, tomatoes and a homemade balsamic dressing! It's perfect for a summer potluck!
Ingredients
Salad:
1

bag

about 19 ounces Cheese Tortellini, cooked according to package directions

1

green pepper

diced

1

cup

halved grape tomatoes

1

cup

Pepperoni slices

halved

1

can

8 ounces sliced black olives, drained

1/2

cup

shredded parmesan

Balsamic Dressing

recipe follows, or use your favorite brand
Dressing:
1/2

cup

balsamic vinegar

1

tablespoon

dijon or spicy brown mustard

1

tablespoon

diced shallot

1

garlic clove

crushed

2/3

cup

olive oil

1/2

teaspoon

Italian seasoning

1/2

teaspoon

salt or to taste

1/4

teaspoon

ground pepper or to taste
Instructions
Stir together cooked tortellini, pepper, tomatoes, pepperoni, olives, and shredded parmesan in a large serving bowl.

To make dressing: add all ingredients to a mason jar or dressing container. Seal and shake well to combine.

Dress the salad with desired amount of dressing. There will be dressing left over; store in refrigerator for up to 1 week.

Pasta salad is good prepared for up to 2 days; store tightly covered in refrigerator.
Click HERE for more PIZZA RECIPES!
If you love pasta salad, be sure to try Taco Pasta Salad by Wine & Glue, Greek Pasta Salad by Noble Pig, or Cowboy Pasta Salad by Bellyfull.
French Bread Bacon Ranch Pizza
All text and images © DOROTHY KERN for Crazy for Crust. Please do not use my images without prior permission. If you want to republish this recipe, please re-write the recipe in your own words, or link back to this post for the recipe. Disclaimer: Nutrition information shown is not guaranteed to be accurate.
This post may contain affiliate links. For more information, read my disclosure policy.
Published on: June 15, 2017