This post may contain affiliate links. For more information, read my disclosure policy.
A little bit sweet and a little bit spicy, these Sweet & Spicy Pretzels are the perfect snack or party food!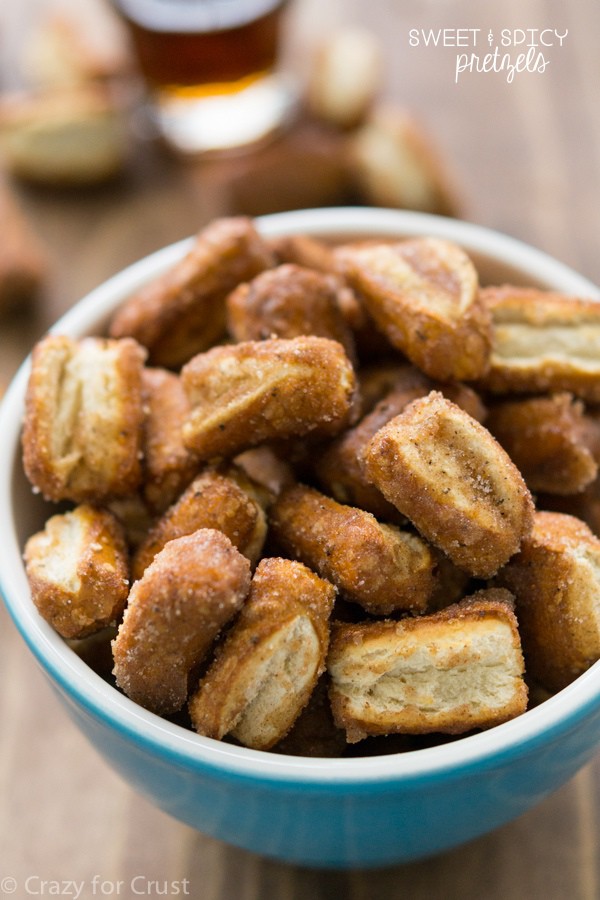 Things I didn't know until last week:
My backyard hose has a leak.
A pool should take 12-24 hours to fill.
Running water for over 24 hours will either (a) drive you insane (b) be really loud, louder than you'd think it would be, (c) cause you to dream about overflowing pools or (d) all of the above.
Our pool took over 30 hours to fill. See #1.
The pool company who starts the hose won't check for leaks. You really should do that before 24 hours are up.
I'm going to need to get a lot of pageviews to pay the water bill next month.
Things I did know before last week: these sweet & spicy pretzels are good. They're good for an afternoon snack because regular pretzels are booooring. Also? They're great for a party. I think there is a big game on this weekend? Or something?

When I came up with these pretzels I was in the middle of eating boring, plain pretzels. I wanted the pretzels to be not boring. Then I remembered these nuts which reminded me of the sweet & spicy walnuts I always used to make at Christmas, BFB (before food blogging, as in when I made something more than once).
Those walnuts were tossed in maple syrup and then coated in a sugar and spices to make a sweet nut with a little heat. I wondered if I could do it with pretzels. Guess what? You can!
This is a super easy recipe. Let's talk about it:
I used

Sourdough Nibblers

because I wanted something smaller and more compact than a traditional pretzel. You could use

regular mini twists or sticks

, or even those little pretzel balls they make now.
To replicate the walnut recipe, I

heated up the pretzels

before stirring them in

maple syrup

. You just warm them up in the oven for a few minutes, until they're hot. This makes tossing them in the syrup easier.
The spice mixture has

sugar

and several spices, including

cayenne pepper

. I gave a range (1/4-1/2 teaspoon) in the recipe. I used 1/2 teaspoon and there was a major kick to the pretzels. If you like less spicy, add less.
Once they cool, the spice coating hardens, so you can pile them in a bowl and munch on them as the day goes by.
I kind of like how the nibblers look like little footballs. Perfect for the big game, ahem. And those won't be deflated when the game starts. (Oh, snap, I went there.)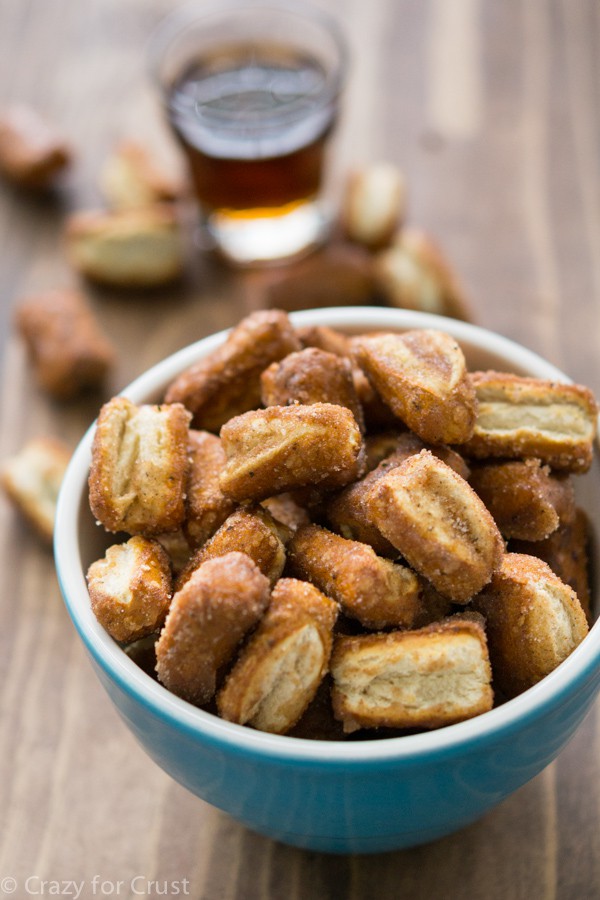 Is it me or does looking at that bowl make you want either a diet coke or a beer?
Nom nom nom!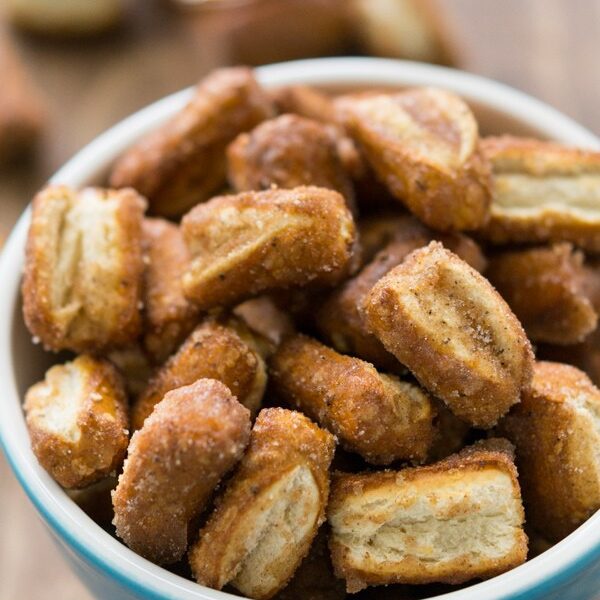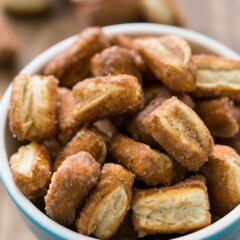 Sweet & Spicy Pretzels
The perfect snack for parties, afternoon munchies, or gifts! Pretzels are coated with maple syrup and a spicy sweet cinnamon mixture. It's addicting!
Ingredients
4

cups

pretzel nibblers

small pretzel bites, see note

1/2

cup

granulated sugar

2

teaspoons

salt

1/4

teaspoon

ground black pepper

1/4-1/2

teaspoon

cayenne pepper

see note

1/2

teaspoon

ground ginger

1/2

teaspoon

ground cinnamon

6

tablespoons

maple syrup
Instructions
Preheat oven to 350°F. Line a cookie sheet with parchment paper or a silpat baking mat. Place pretzels on the cookie sheet.

Mix sugar and all spices in a small bowl. Place maple syrup in a large bowl.

Bake the pretzels for about 3-5 minutes, until they're hot to the touch. Pour the pretzels in the large bowl of maple syrup, toss to coat. Sprinkle the spice mixture over the top and stir to coat. Turn out the pretzels on the cookie sheet and let cool completely.

Store in an airtight container for up to one week.
Nutritional information not guaranteed to be accurate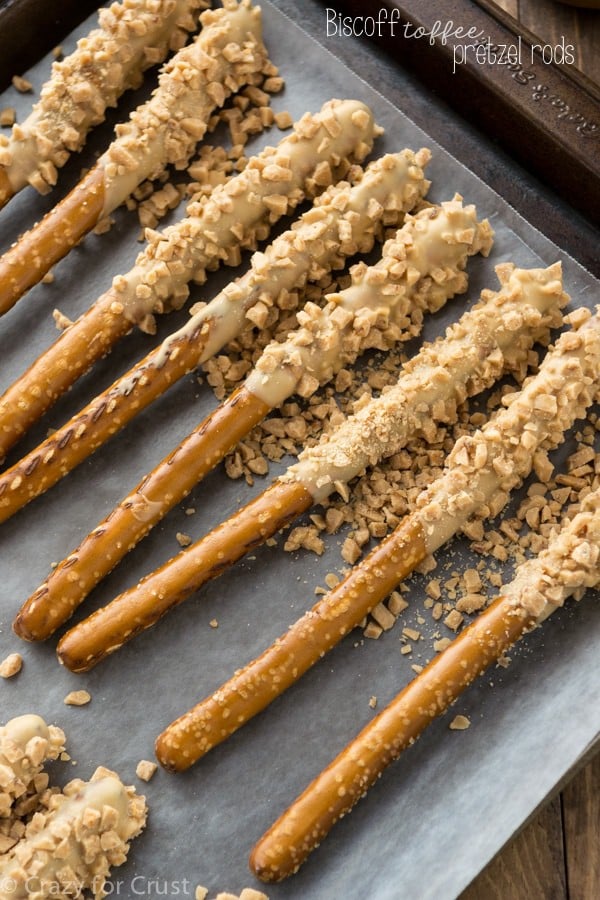 Peanut Butter Pretzel Muddy Buddies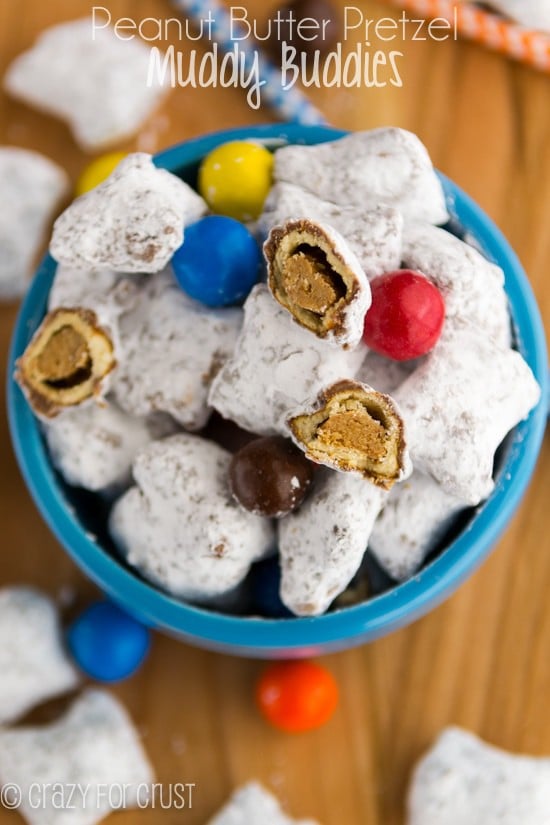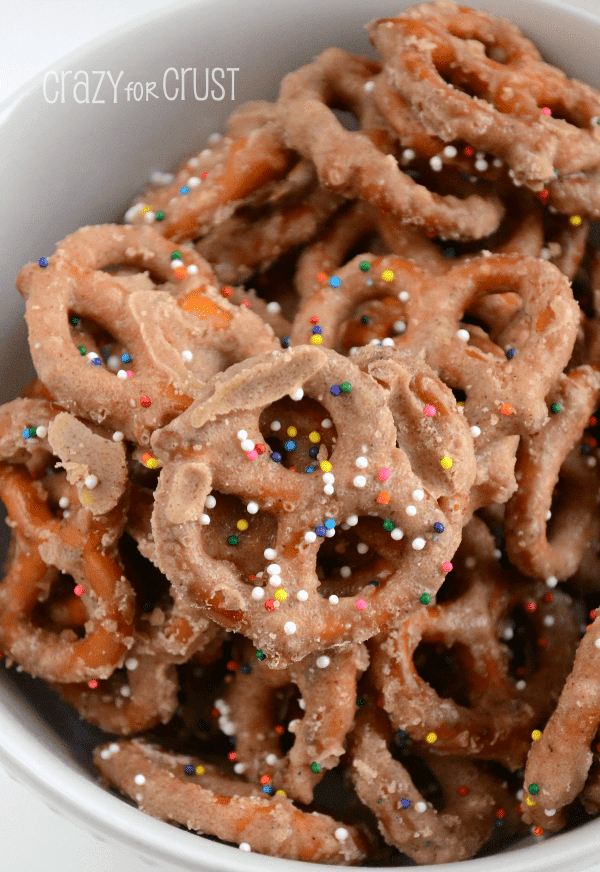 Sweets from friends:
Buffalo Wing Pretzel Sticks by Mom on Timeout
Churro Pretzels by Oh Sweet Basil
Mom's Seasoned Pretzels by Sally's Baking Addiction
Last Updated on August 21, 2018