This post may contain affiliate links. For more information, read my disclosure policy.
Christmas Molasses Cookies are the BEST drop gingerbread cookies recipe, full of molasses and spices, with Christmas M&Ms on top! The perfect Christmas cookie for your holiday cookie platter!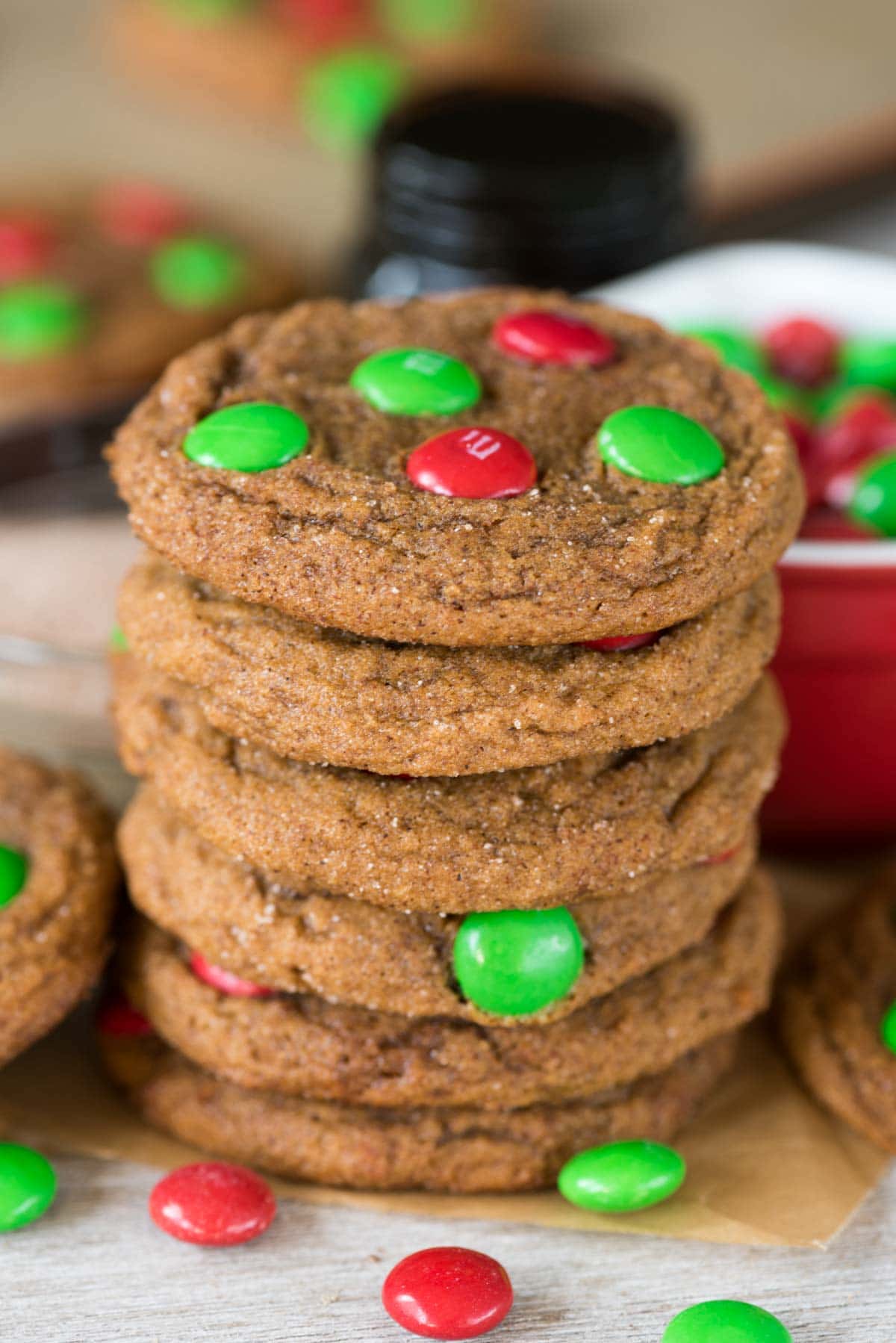 I really want to be a writer. I know, I know, I guess I *kind of* am one, here on this blog. But what I really want to write is a book, and not just a cookbook (although I wouldn't say no to another one of those).
I've been an avid reader since I was a little kid. I remember the day I got my first library card; I was probably around first or second grade. My mom took me and the librarian said I could check out as many books as I wanted, which was shocking because at school we could only get as many as our grade (first grade = 1 book, etc.) I checked out a huge pile of books that day and when we got home I read every single one. A few hours later I found my mom in the kitchen and asked to go back to the library…and I've been doing that ever since.
I think loving to read fosters a wanting to write in many cases, which is probably what led me to starting this blog. I've never kept a journal, I've never been good at keeping one going, but this blog is different. But lately I've really been thinking about wanting to actually write something more than just this. I'm not sure what yet…but I think my first goal will be to try hard to journal. I have lots of ideas in my head but I feel the need to corral them…now I just need to make the time to do it.
You know, in between rambling on and on about this blog (do any of you actually read what I'm writing?) and baking all the cookie recipes, I'll just throw in some journaling, ha!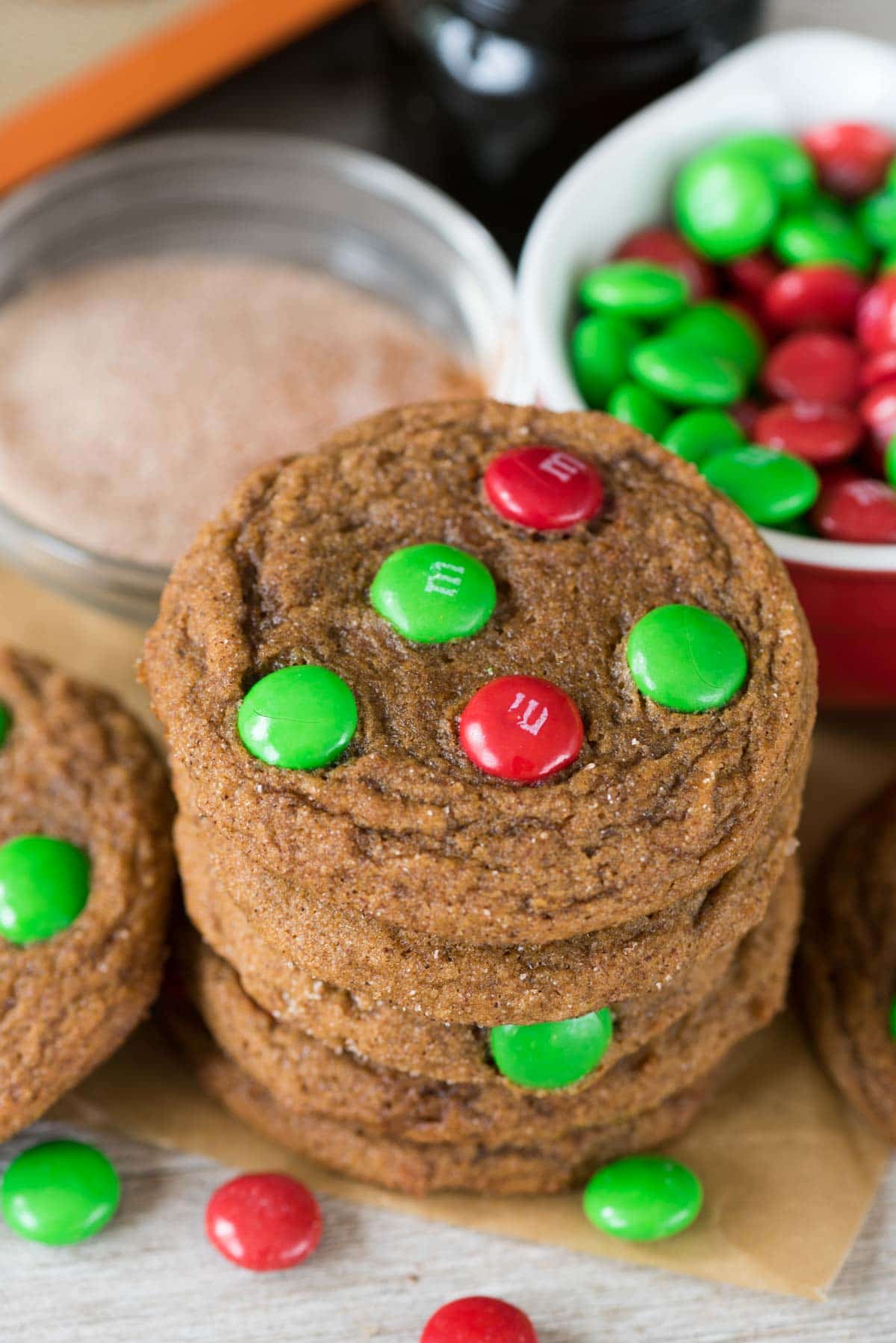 Speaking of baking all the cookies, these Christmas molasses cookies are probably my favorite. Gingerbread cookies are my downfall at the holidays, along with sugar cookies. Put a big plate of either one in front of me and I'll clean it off faster than my dog would.
There's something about the richness of the molasses and the gingerbread spices that I absolutely LOVE. Just opening a jar of molasses makes me long for Christmas! The one thing about molasses cookies though: it MUST be soft and chewy. No crunchy or hard cookies allowed! This recipe is just that: soft and chewy with a touch of Christmas from the M&Ms.
Between the brown sugar and the molasses, these have the soft part down pat. I chill the dough so it doesn't spread too much, and then I rolled them in cinnamon sugar before baking. (I thought I was all original on that idea, but then I googled. When will I learn?) I figure adding the festive M&Ms will make them stand out, ha!
Christmas molasses cookies are going onto Christmas cookie platters this year…and then I'm making a batch for JUST ME. #notsharing #sorrynotsorry

BRB, drooling on my keyboard so I'm heading to get some cookies from the freezer…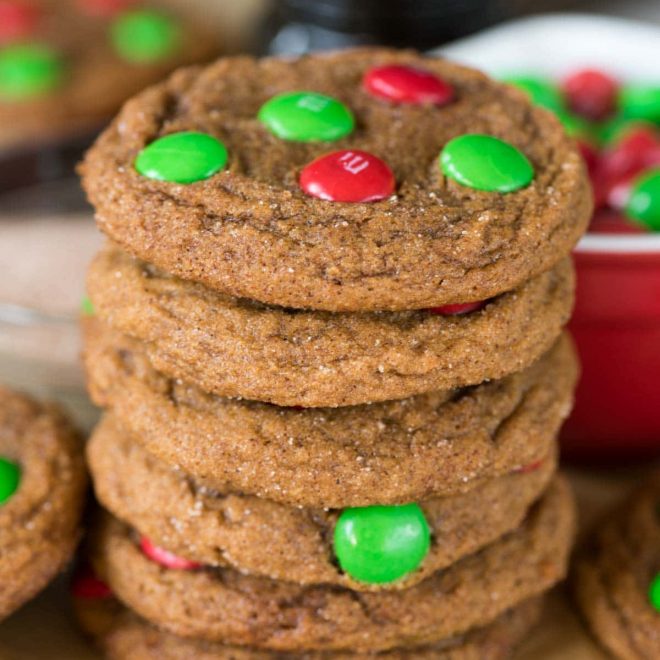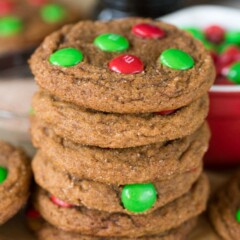 Christmas Molasses Cookies
These Christmas Molasses Cookies are the BEST drop gingerbread cookies full of molasses and spices, with Christmas M&Ms on top!
Ingredients
1/2

cup

unsalted butter

softened

3/4

cup

packed brown sugar

1/3

cup

molasses

1

large egg

1

teaspoon

vanilla extract

1

teaspoon

baking soda

1/4

teaspoon

salt

2

teaspoons

ground cinnamon

divided

1

teaspoon

ground ginger

1/2

teaspoon

ground cloves

1/2

teaspoon

ground nutmeg

2

cups

all purpose flour

1/4

cup

granulated sugar

Christmas M&Ms

for topping
Instructions
Note: this dough requires chilling.

Using a stand or a hand mixer, beat butter, brown sugar, and molasses until the butter is broken up (the mixture will be lumpy). Mix in egg and vanilla, then add baking soda, salt, 1 teaspoon of cinnamon, and the ginger, cloves, and nutmeg. Mix until smooth, then slowly mix in the flour until the cookie dough forms.

Scoop 2 tablespoon sized balls of dough onto a cookie sheet covered with parchment paper or a silicone baking mat. No need to space them out; you're going to chill them.

Chill the dough for at least one hour, but you can also cover and chill up to one full day (or freeze the balls of dough for later baking).

Preheat oven to 350°F. Line two cookie sheets with silicone baking mats or parchment paper.

Stir together the granulated sugar and remaining 1 teaspoon of cinnamon in a small bowl. Roll each cookie dough ball in the cinnamon sugar and then place on the cookie sheet. These do spread, so leave room. Top each ball with 5-6 M&Ms.

Bake for about 10 minutes, or until they're no longer glossy. Store in an airtight container for up to 3 days or freeze for up to one month.
Nutritional information not guaranteed to be accurate
Click here to see more of my Christmas cookie recipes!
Salted Caramel Molasses Cookies
If you love my Christmas molasses cookies recipe, you'll love these sweets from my blogging friends:
Molasses Triple Chocolate Cookies by Averie Cooks
White Chocolate Molasses Cookies by Sweet Basil
Cranberry Molasses Cookies at In Katrina's Kitchen
Last Updated on May 20, 2022