This post may contain affiliate links. For more information, read my disclosure policy.
This is a super fun way to eat cake – as a soft pretzel! These Red Velvet Soft Pretzels taste like cake, but with the texture of a soft pretzel.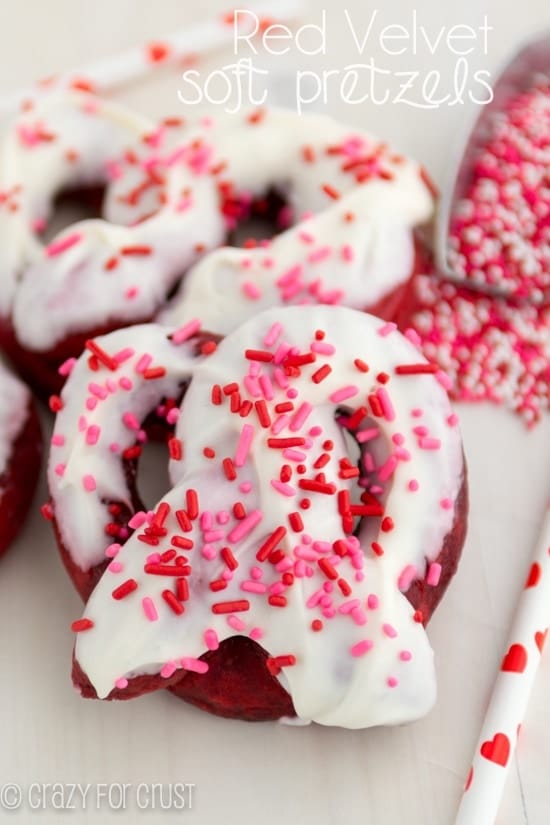 A few months ago I posted Cake Mix Soft Pretzels, a boiled and baked soft pretzel that was made out of cake mix. I had figured, if Christi can make cinnamon rolls out of cake mix, why can't I make pretzels? And I was delighted to find that it worked!
I think it helped that they were funfetti pretzels. I mean, there really is nothing better than sprinkles.
Hi, my name is Dorothy and I'm addicted to sprinkles. Especially Valentine's Day Sprinkles. I pink puffy heart red and pink.
Since my only Valenine's Day inspiration right now seems to be red velvet, I thought, why not do a red velvet soft pretzel? Covered in cream cheese frosting? This is a Valentine's Day #win people!
Red velvet cake mix is mixed with flour and yeast and a few other things and left to rise. Don't be afraid of yeast! I was for so long, until I started using it. Now I can't get enough! I use Active Dry Yeast, and I buy it in a jar. With the amount I use it, it's way cheaper to go the jar route. But you can use a packet if that's what you have.
Once the dough has risen, you cut it into pieces and roll each out into a long red velvet rope and twist that into a pretzel. You can just bake them but I love the chewiness of a boiled-then-baked soft pretzel, so I do that. Really, it doesn't add much time to your process and it makes them taste so much better!
Once you've boiled them and baked them and they cool, it's time to add the frosting (and sprinkles!) I used a can of cream cheese frosting because I was feeling super lazy. You can totally make your own if you'd like (this is my favorite recipe).
The magic of using the canned frosting is (1) powdered sugar won't coat your counters, clothes, mixer, and curtains, and (2) You can heat it so that the pretzels can be dipped like a glaze. The more you heat it, the thinner the glaze and vice versa. Then simply add sprinkles!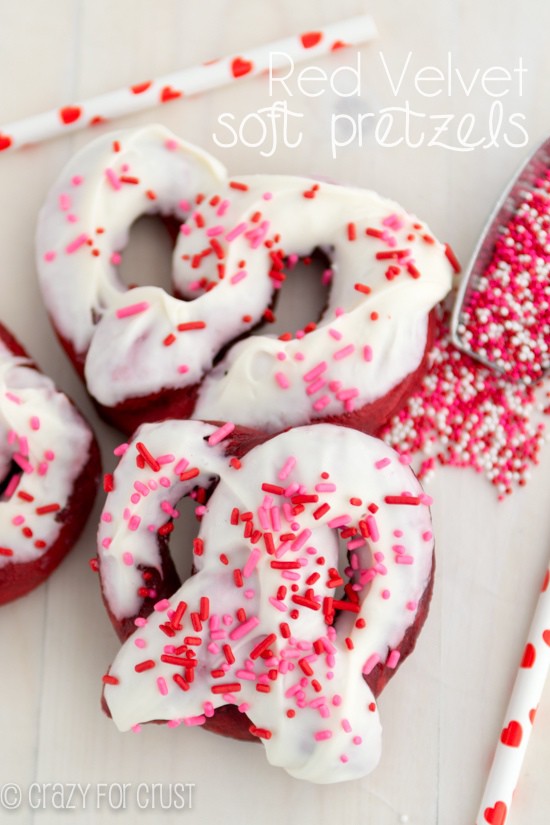 These are like having a red velvet cupcake, but with the texture of a soft pretzel. *Minds blown everywhere*
Happy Tuesday!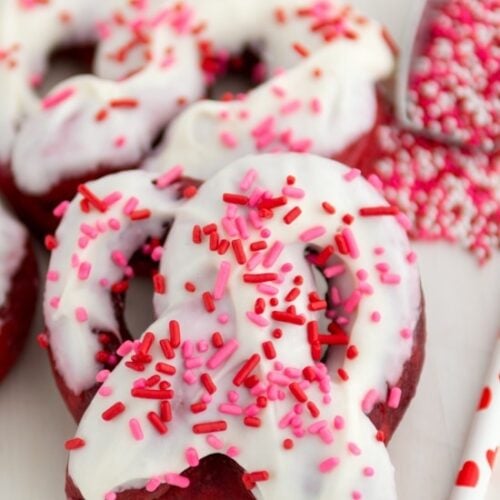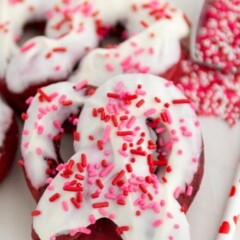 Red Velvet Soft Pretzels
Ingredients
1

package active dry yeast

2 1/4 teaspoons

1 1/4

cups

warm water

1 3/4

cups

Red Velvet Cake mix

1/2

teaspoon

salt

2 3/4 - 3

cups

flour

plus more for dusting

1

tablespoon

baking soda

Water

1/2

cup

canned cream cheese frosting

Sprinkles
Instructions
Add yeast to warm water and stir gently. Let sit for a few minutes. Meanwhile, add cake mix and salt to the bowl of a stand mixer with the dough hook attached. Stir to combine. Slowly pour the water into the mixer while it's running on "Stir." Add flour. Turn it to "2" and let it run until most of the flour is mixed in, then turn it to "4" until the dough comes together. It will pull easily away from the sides of the bowl. (I started with 2 3/4 cups flour but increased the amount to 3 cups after I noticed the dough was too sticky to touch.)

Note: you can do this without a stand mixer, but I haven't. Stir the ingredients together in a large bowl until you can't stir anymore, then use your hands to knead the dough until it comes together.

Place the dough in a bowl sprayed with cooking spray. Cover tightly with plastic wrap and let sit for at least 1 hour (or as many as 4 hours).

Preheat oven to 350°F.

Turn out dough onto a lightly floured surface and knead just a few times to form a ball. Cut into 16 equal pieces.

Place a pot of water on the stove to boil (about 10 cups).

Form your pretzels by rolling each piece of dough into a long rope, about 15" long. Bring the two ends up, cross them and wrap them, and bring the ends down to the bottom, forming the pretzel shape.

When water boils, add 1 tablespoon baking soda to the water. Working in batches (2-4 to a batch, depending on your pan size) carefully place the pretzels in the boiling water. They will sink to the bottom. When they float, just a few seconds, pull them out using a slotted spoon. Drain well and set them on a cookie sheet covered with a silpat baking mat or parchment paper that's been sprayed with cooking spray (they'll stick to the parchment since they're damp).

Bake for 11-15 minutes, until golden brown. Cool completely before glazing.

To glaze: heat frosting in a microwave safe bowl for about 20-30 seconds. The longer you heat your frosting, the thinner the glaze gets (it will either drip off or be more like a thin frosting). If you heat it too much, just let it sit for a minute or two and firm up.

Dip your pretzels upside down in the glaze. Place back on cookie sheets and sprinkle with sprinkles. Let the glaze dry, then eat!
Nutritional information not guaranteed to be accurate
Click here to see my best Cake Mix recipes!
Click here for my complete list of Valentine's Day Recipes!
Easy Cinnamon Sugar Soft Pretzel Bites
Sweets from friends:
Red Velvet Cheesecake Brownie Bombs by The Domestic Rebel
Red Velvet Gooey Butter Cake by Buns in My Oven
Red Velvet Truffle Bark by Something Swanky
Last Updated on February 2, 2023