Starbucks Petite Vanilla Scone Copycat
Do you love Starbucks Petite Vanilla Scones? Well, you're in luck! This is a Copycat Petite Vanilla Scone, even better than the original!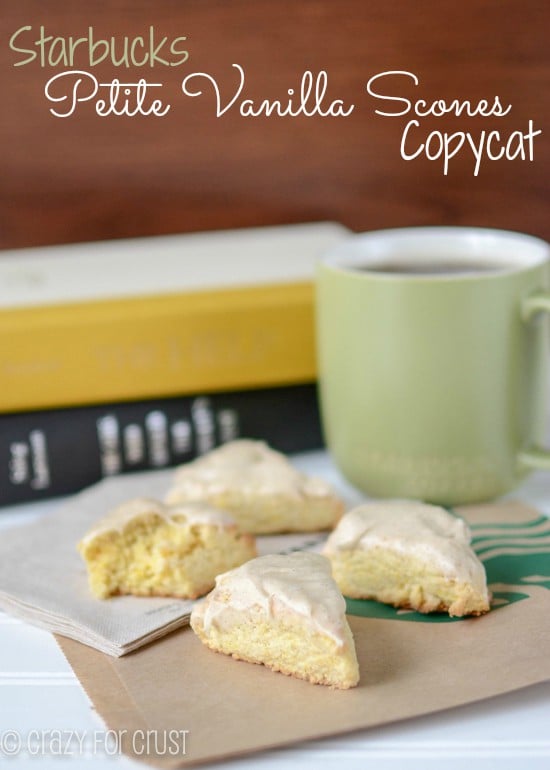 Mel and I have had a ritual almost as long as our relationship: we love to walk to Starbucks on Sunday mornings, have coffee, and read the paper. It still is one of my favorite things to do on the weekend, although it's fewer and far between. Life gets in the way too much!
I'll never forget one walk back in 2001. We were newlyweds, and it was about a mile to the Starbucks. On our way, there was one of those trailers the cops set up to track your speed, you know, to tell you how fast you're going.
It was probably no later than 8am on a Sunday morning, so it was totally dead outside. Mel took off running at a sprint to see if it would clock his speed. I think it said 10 mph or something. To this day, every time  I see one of those road things, I think of that morning.
Now our walks to Starbucks involve a kid and a dog. We don't read the paper anymore, instead we use Ginger (the dog) as entertainment.
Although recently she's been asking for "adult sized" breakfasts, Jordan has always gotten a petite vanilla scone on our Starbucks Sundays. I love all the petite treats they make, because it makes me feel better to eat one. Plus, when Jordan was 3, it was a perfect size for her. Jordan loves those petite vanilla scones…and so does Ginger.
Dogs are funny – they know exactly who to sit beside at the dinner table: the one who drops the most food. Ginger considers Jordan her mealtime BFF. Jordan drops scone crumbs…and Ginger vacuums them up.
Turns out Ginger also likes reduced fat coffee cake, pumpkin scones, maple oat scones, and cinnamon twists. That's a long list, so today I started with Petite Vanilla Scones.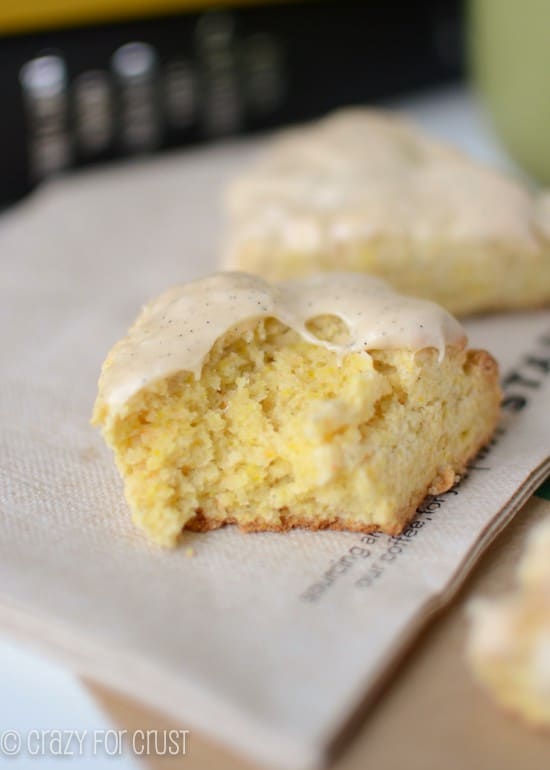 Since making those Funfetti Chip Cake Batter Scones back in February, I've been a little scone obsessed. I wanted to make a new version from scratch – without the cake mix. But I'm always so worried that a from-scratch scone will be dry. I've had dry scones and they aren't good! So I did what I always do to keep a baked good soft:
I added pudding mix.
And it totally worked!
These scones are made traditionally, with flour, butter, and cream. I scraped a vanilla bean into the scone mixture for a punch of vanilla flavor. Then I mixed in some vanilla instant pudding mix. (That's totally optional, if you can't find it. It's just a little extra insurance that your scones will stay soft and fluffy.)
The frosting for these scones is to die for. It's butter, sugar, and vanilla bean paste. I love that stuff so much! You can totally substitute regular vanilla extract for any of the paste/beans in this recipe, but using the bean and/or paste will totally punch up that vanilla flavor.
And like with the chocolate in my cookies, I like to have vanilla flavor that punches me in the face.
Now I can make Jordan (and Ginger) happy even on those Sundays we can't get to Starbucks. I can make petite vanilla scones at home!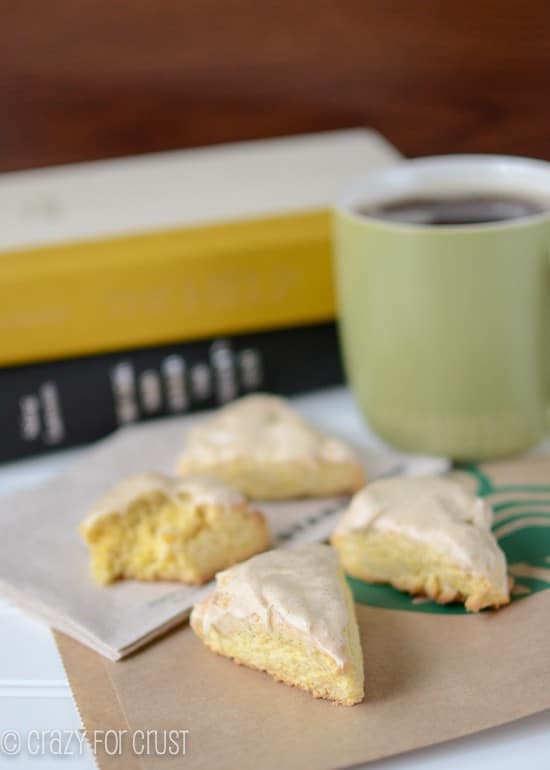 And so can you!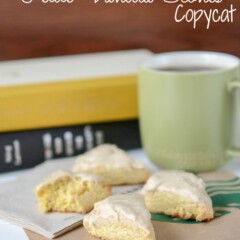 Copycat Petite Vanilla Scones
Copycat Petite Vanilla Scones are just like that scone recipe at Starbucks but they're better because they're made at home.
Ingredients:
For the scone
2 cups all-purpose flour
2 tablespoons granulated sugar
1 tablespoon baking powder
1/2 teaspoon kosher salt
6 tablespoons cold unsalted butter, diced
1 small box (3.4 ounces) instant vanilla pudding mix
1 vanilla bean, scraped (or 1 tablespoon vanilla bean paste or extract)
1 large egg
1/2 cup plus 1 tablespoon heavy cream
For the frosting
2 tablespoons butter, softened
1 cup powdered sugar
1 tablespoon vanilla bean paste or extract
2-3 tablespoons cream
Directions:
Preheat oven to 425 degrees. Line a baking sheet with parchment paper or a silpat.
Whisk together the flour, sugar, baking powder and salt in a large bowl. Add cold butter and cut it in using a pastry blender or two butter knives until it forms small crumbs.
Stir in pudding mix. Make a well in the center of the mixture and add the vanilla, egg and 1/2 cup heavy cream. Stir gently with a fork until just incorporated. Bring the dough together with your hands.
Turn out dough onto a lightly floured surface. Form into two small rounds. Cut each round into 8 triangles and place each on the prepared baking sheet. Brush each triangle with a little of the remaining 1 tablespoon heavy cream. Bake for 8-10 minutes until just golden. Cool before frosting
To make the frosting: Beat butter and sugar with a hand mixer until crumbly. Beat in vanilla and 2 tablespoons cream. Add more cream as needed for desired consistency. (I made mine thinner, so I could dip the scones in it.) Frost cooled scones with a knife or dip them upside down in the frosting. Let it harden, then serve.
Notes:
Use your favorite pudding mix flavor to change up the scone!
All images and text ©
. Please do not use my images without prior permission. If you want to republish this recipe, please re-write the recipe in your own words, or link back to this post for the recipe.

You might also like: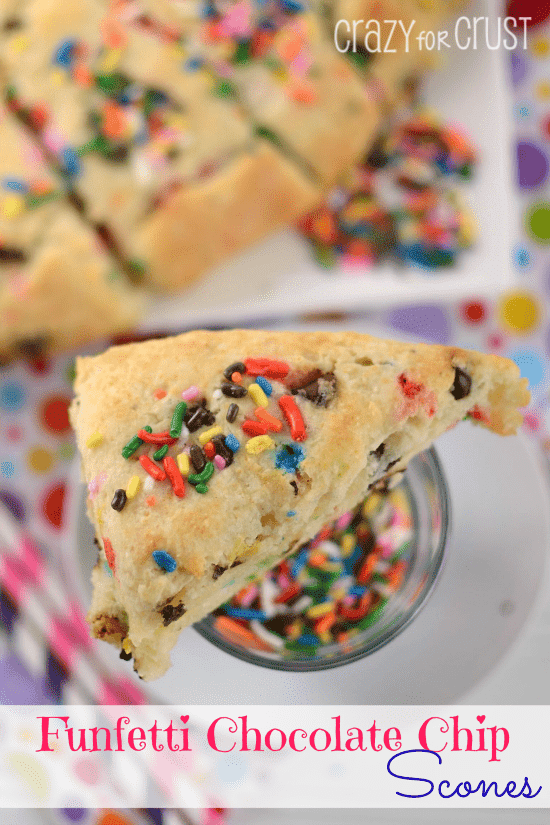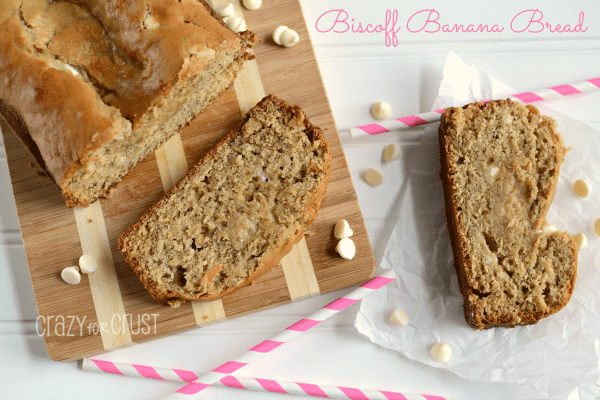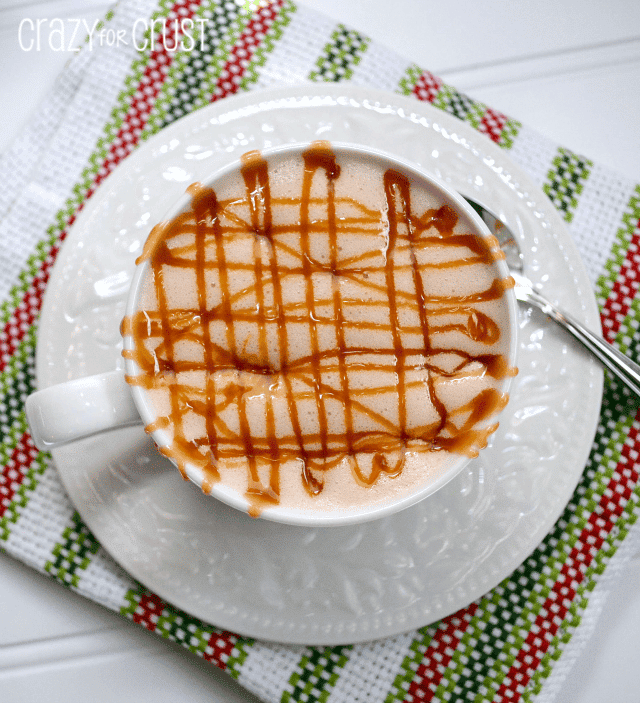 Sweets from friends:
Starbucks Vanilla Bean Frappuccino (Dairy-Free) by Something Swanky
Copycat Pumpkin Scones by Shugary Sweets
Cranberry Bliss Bar by Averie Cooks