This post may contain affiliate links. For more information, read my disclosure policy.
My Top Ten List for the Fourth of July:
10. Barbecue…everything. Steak, sausages, corn, you name it. I love that part of the Fourth. It's a little bit of a bummer this year because we won't have a barbecue, so we'll have to move inside and faux-becue.
9. Fresh watermelon, eaten after a water balloon fight.
8. Red, white, and blue crafts: paper flags, pinwheels, flag wind socks and anything that requires crepe paper and patriotic card stock.
7. Red, white, and blue tie dyed shirts. Even if they come out magenta.
5. Watching fireworks on TV (East Coast time). Because there is no way
my husband and I
my kid could stay up to watch the real thing.
4. Small town parades. Ours throws candy and we come home with a haul the likes of Halloween.
3. Buying a special bathing suit for my daughter that looks like an American Flag. And watching her wear it proudly, all summer long.
2. That this year, we will be walking on the beach and picnicking. And because there are no fireworks allowed, I won't have to face my fear of all things fire.
1. The "proud to be an American" feeling that is just oozed everywhere by the holiday.
Oh, and one more thing.
These patriotic pops.
I was going to call them "patriotic pops and balls" but, well, I decided not to. You can probably figure out why.
I wasn't having much luck with cake pops when I made these. I don't know if it was the cake recipe I used or the fact that they were too big, but they kept falling off the stick. I managed to get a few of them striped, like I'd wanted. They're sort of like those bomb popsicles. Or Papa Smurf, whichever you prefer.
After several of the pops fell off the stick, I decided to switch tactics. I decided to make cupcake balls instead. I used a candy cup mold to make the base.
These are made very similarly to my Baby Peeps: fill the mold with your candy melts, then pour out the excess chocolate. Freeze the molds for a few minutes and pop out the shell.
At this point, your cake balls should be ready and waiting for you. Pipe some candy melt into the bottom of the shell and add your cake ball. Let it harden and then dip in the candy you want to represent the "frosting". (Yes, I know the cake ball looks like mold. If you ever try to make blue velvet cake, make sure you use enough blue food coloring.) Top your "cupcake" with sprinkles and a red M&M (or red chocolate covered sunflower seed) and let it harden.
Cute little red, white, and blue "cupcakes". Perfect to help you celebrate the Fourth of July.
I loved arranging them this way. The cake pops in the background seemed proud to be covered in red, white, and blue, don't you think?
What is on your Fourth of July Top 10 List?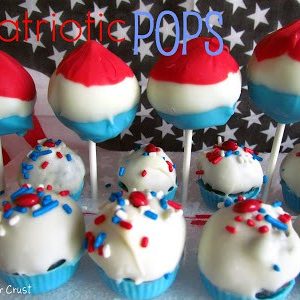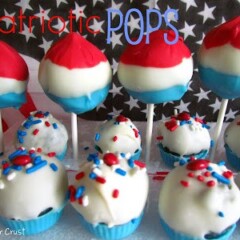 Patriotic Pops
Ingredients
1

box cake mix

(any flavor), prepared according to package directions, baked and cooled

1

can frosting

(any flavor)

1

bag white candy melts

1

bag blue candy melts

½

bag red candy melts

Red

, white, and blue sprinkles

Red M&Ms or chocolate covered sunflower seeds or similar candy
Instructions
Crumble the cake into a large bowl. Add half the can of frosting and mix well. Test to see if the cake ball is wet enough to stick together. If not, add more frosting up to ¾ of the can.

Make round balls of the cake mixture and place on a wax-paper lined cookie sheet. Freeze for 15 minutes before dipping.
For the Patriotic Pops:
Melt white candy coating in a medium sized but deep bowl.

Working in batches, remove cake balls from freezer (place extras into the refrigerator; you don't want them frozen). Dip a lollipop stick into the melted candy and then insert into the bottom of the cake ball. Dip each pop in the melted white candy coating. Do not swirl or move the cake pop inside the melted candy. If needed, use a spoon to help you cover the entire ball with white candy. Pull straight up to remove and tap your wrist (not the stick) to remove excess candy. Place upright in a styrofoam block. Repeat with remaining pops and freeze until hardened.

Repeat step #3 with the blue chocolate and red, dipping less of the cake pop each time to create stripes. Let harden in between each layer.
For the Cupcake Balls:
Melt the blue candy melts and add to a squeeze bottle. Fill the candy molds with the blue candy. Pour the excess back into the bowl and freeze the mold. When solid, pop out the candy cups.

Add a little more melted candy to the bottom of the cup. Add a cake ball and wait until it hardens. Melt your topping color candy coating and dip the cupcake ball upside down in it. Pull straight up (do not swirl) and top with sprinkles. Chill until firm.
Nutritional information not guaranteed to be accurate
Enjoy!
This recipe will be linked with:
Last Updated on September 14, 2022