This post may contain affiliate links. For more information, read my disclosure policy.
A cold and refreshing Moscow Mule recipe is an easy cocktail made with ginger beer, vodka, and lime juice. It's tart with a bit of sweetness and can easily be customized with different mixers. Make a single drink for you, or make it by the pitcher to share with friends!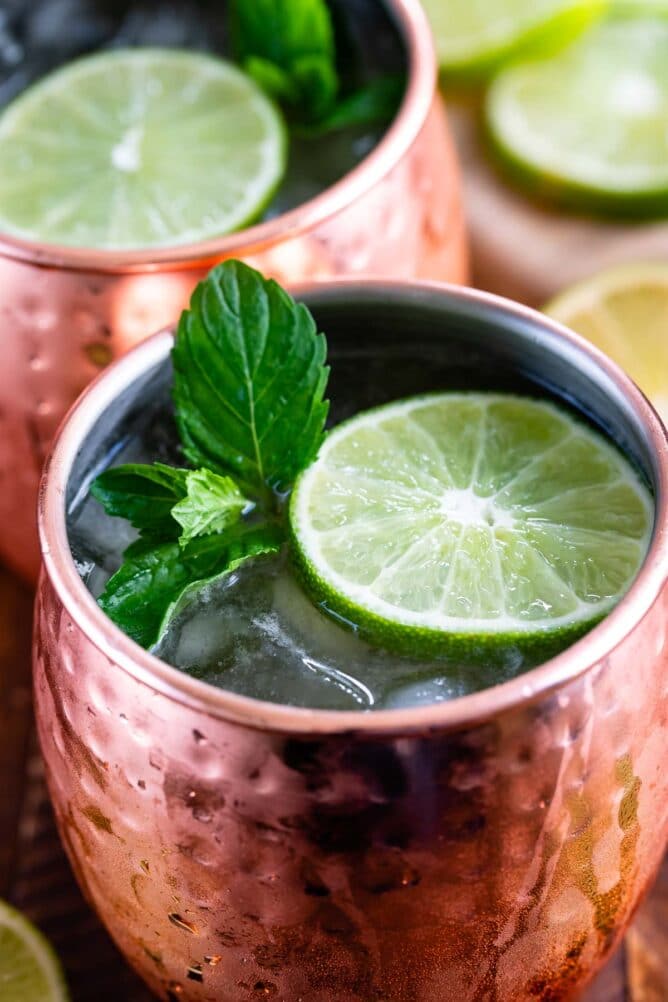 Have you ever had a Moscow mule? It's a really simple drink that I love to sip on, especially when it's warm out. It's refreshing, fizzy, and super easy to make with just three ingredients.
What is a Moscow mule?
Like a lot of classic drinks, it was invented in the 1940s. It's believed that it got its name because it's made with vodka, which is associated with Russia, and the mule part is due to the "kick" the drink has.
A classic Moscow mule drink is made with vodka, lime juice, and ginger beer. There are also many variations of this drink. So, once you give the original a try, it's fun to swap ingredients for different flavors and twists.
Traditionally, the drink is served in copper mugs. They're definitely a fun presentation, but the Moscow mule mugs also keep the drinks cold. You can use regular glasses, but I recommend investing in a set of copper mugs because you can use them for all kinds of drinks.
It's stood the test of time because it's so simple, and the flavor is unique. Ginger beer, which is fizzy and non-alcoholic, has a distinctive flavor that pairs well with lime and vodka. It's one of my favorite cocktails because it's so refreshing and easy to drink.
This is a cocktail that is easy to make as a single drink and easy to mix in a bigger batch. So, it's great for that after-work cocktail at home or a party if you want a drink everyone will love. I'm sharing my best Moscow mule recipe that works either way.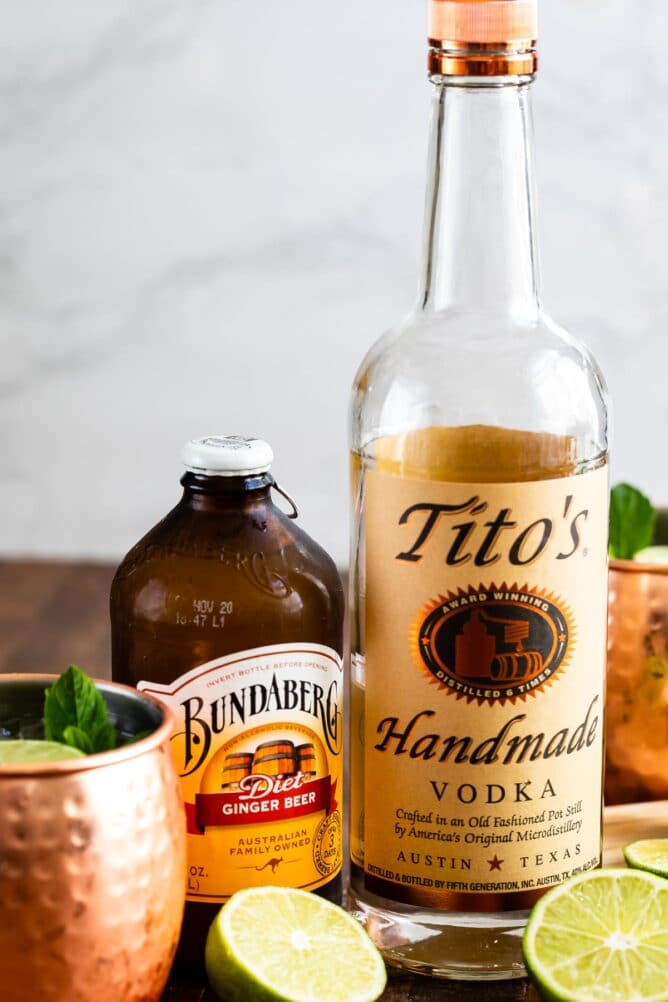 What is in a Moscow mule?
You only need three ingredients: vodka, lime juice, and ginger beer.
VODKA: For the vodka, pick your favorite brand. I love Tito's.
LIME: Use freshly squeezed lime juice or bottled lime juice.
GINGER BEER: There are tons of ginger beer choices (including diet ginger beer), and that's part of the fun of making this drink. Every brand is different – some are sweeter, some are less sweet, some have a kick from lots of ginger, and others are a little more mellow. So, experiment and try a few to find your favorite.
How to Make a Moscow Mule
Single Drink:
1. Fill a glass with ice and add 1 ½ ounce of vodka.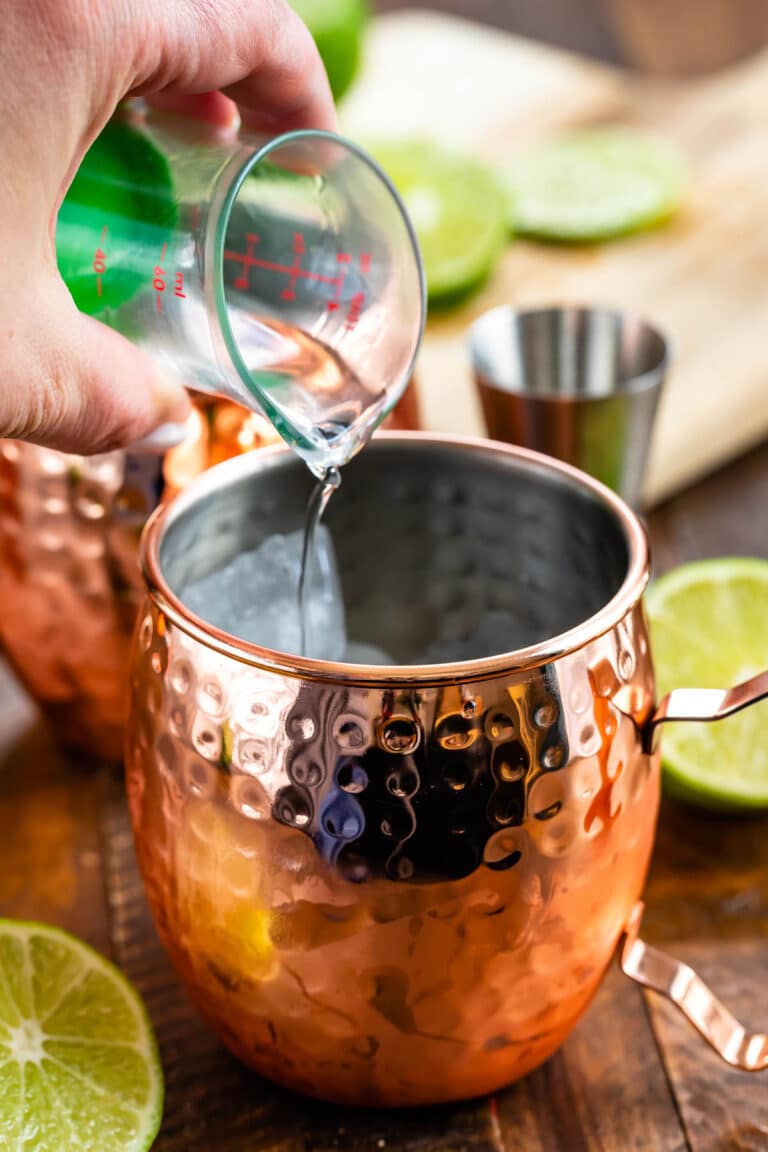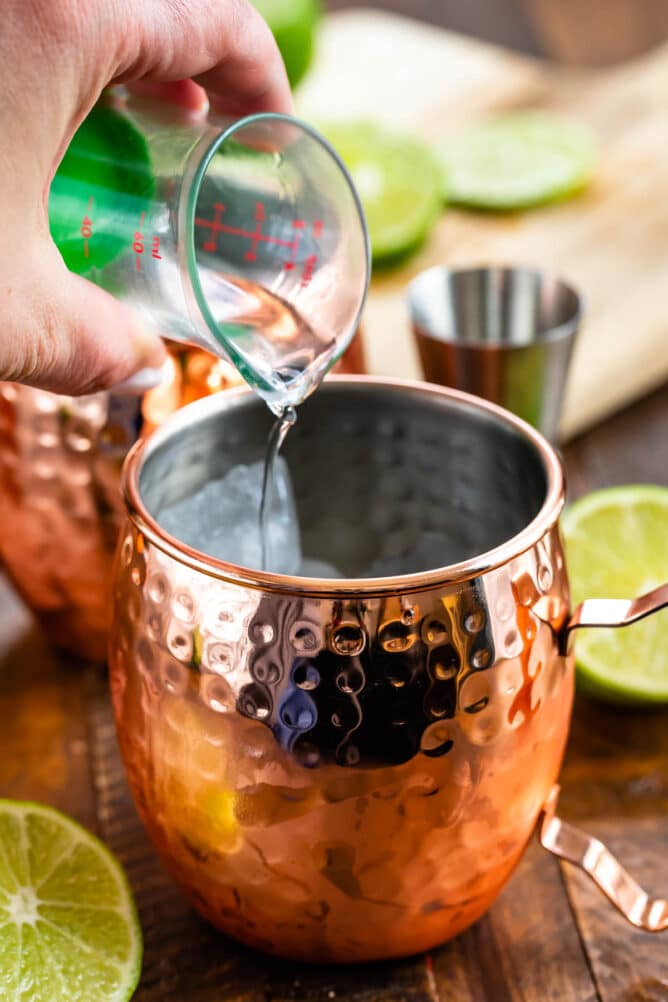 2. Then add 1/2 ounce lime juice.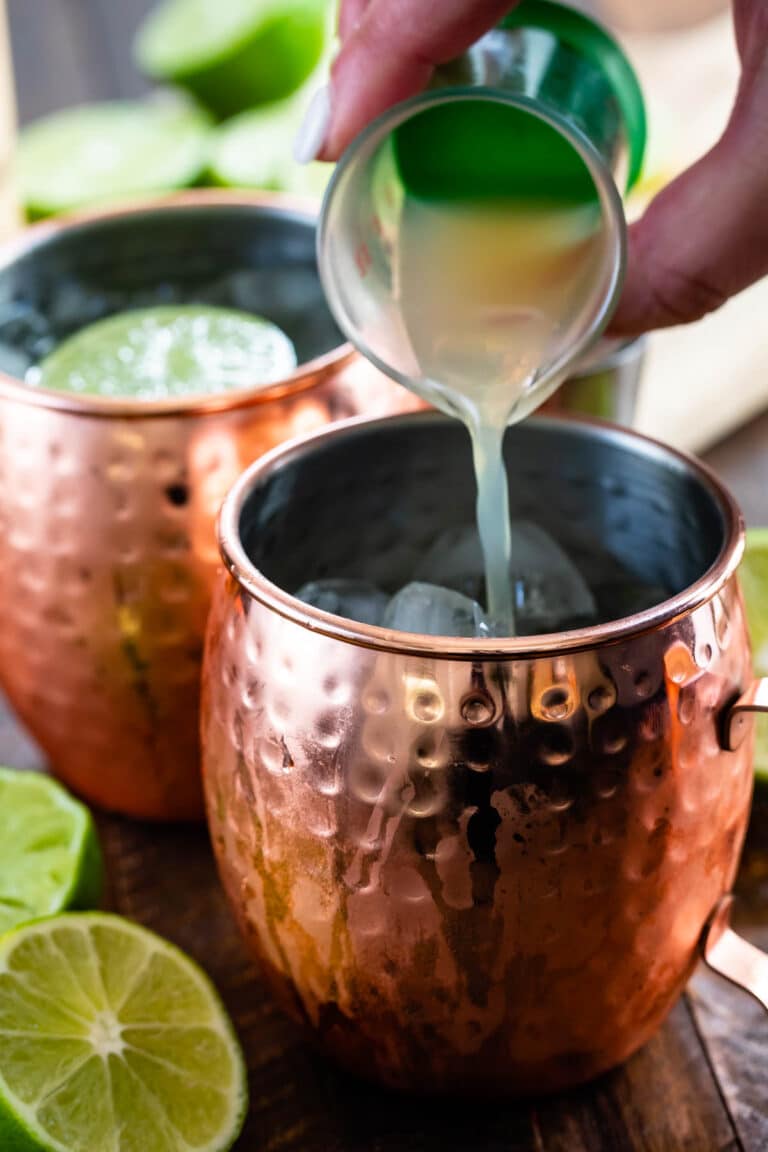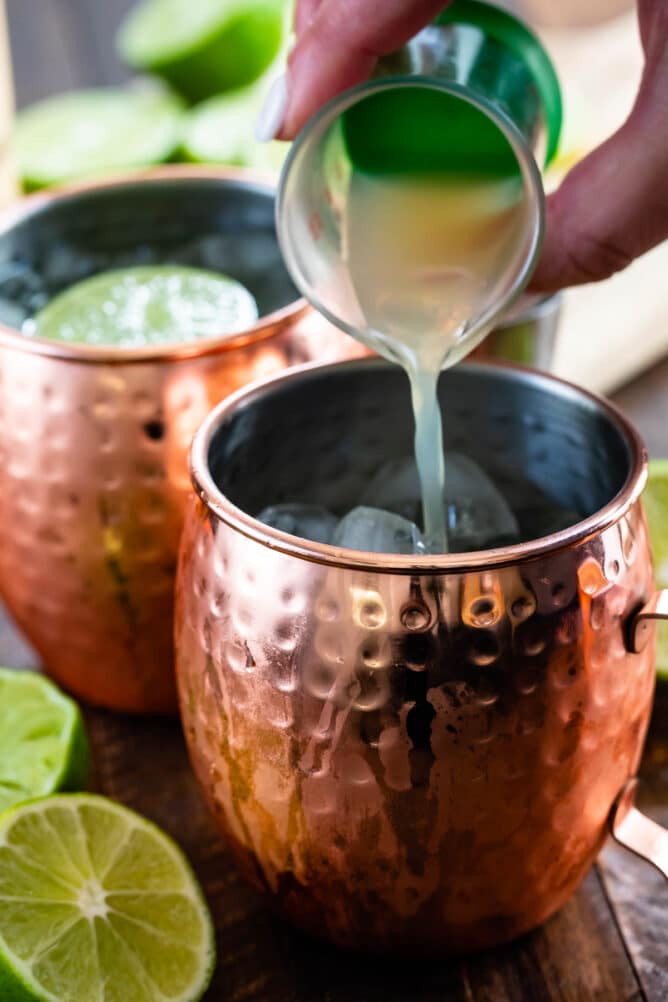 3. Top it off with four ounces of ginger beer and stir to combine.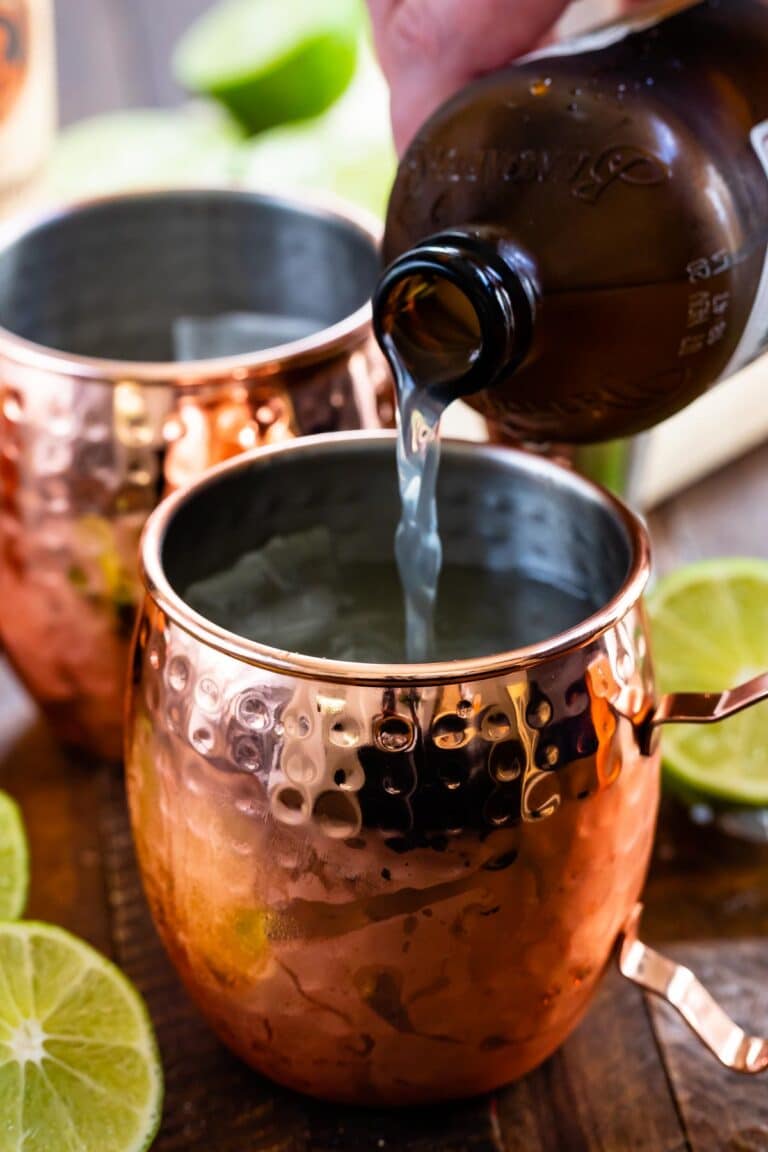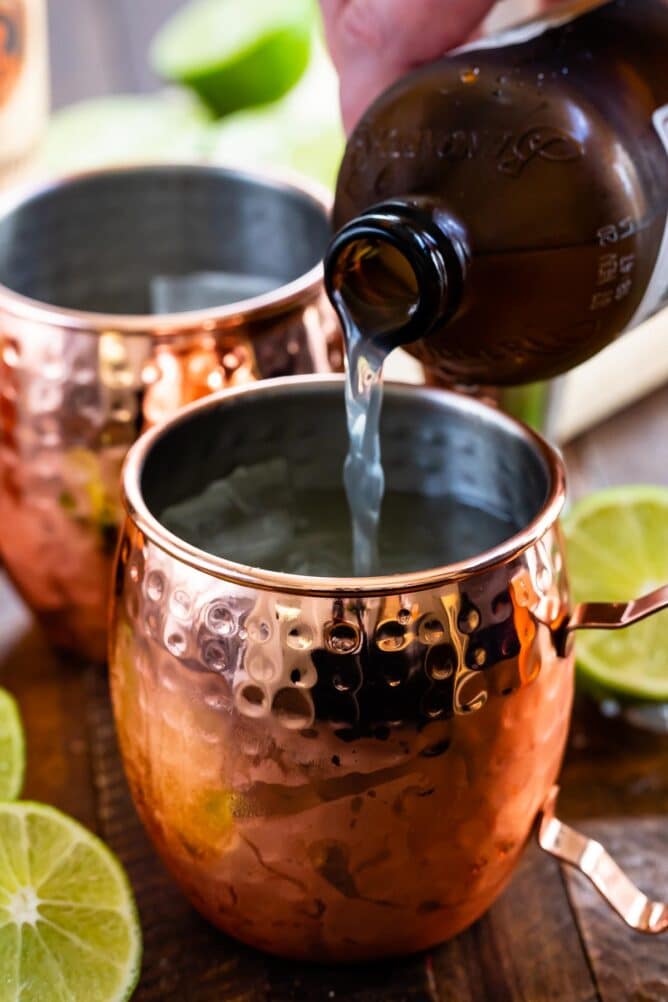 4. Garnish with lime wedges and mint. Sip and enjoy!
How to make a Moscow mule in a pitcher:
Combine 12 ounces of vodka with 4 ounces of lime juice in a pitcher. Just before serving, add the ginger beer and stir to combine.
Fill glasses with ice and pour the drinks. Add lime wedges and mint for garnish, if desired.
Recipe Variations
I love a traditional mule, but it's fun to make variations, too. Here are some ideas you might like to try.
Cranberry Mule: Add a ½ ounce of cranberry juice.
Pineapple Mule: Add a ½ ounce of pineapple juice.
Mexican Mule: Swap the vodka for tequila.
Kentucky Mule: Swap the vodka for bourbon.
Dark and Stormy: Swap the vodka for dark rum.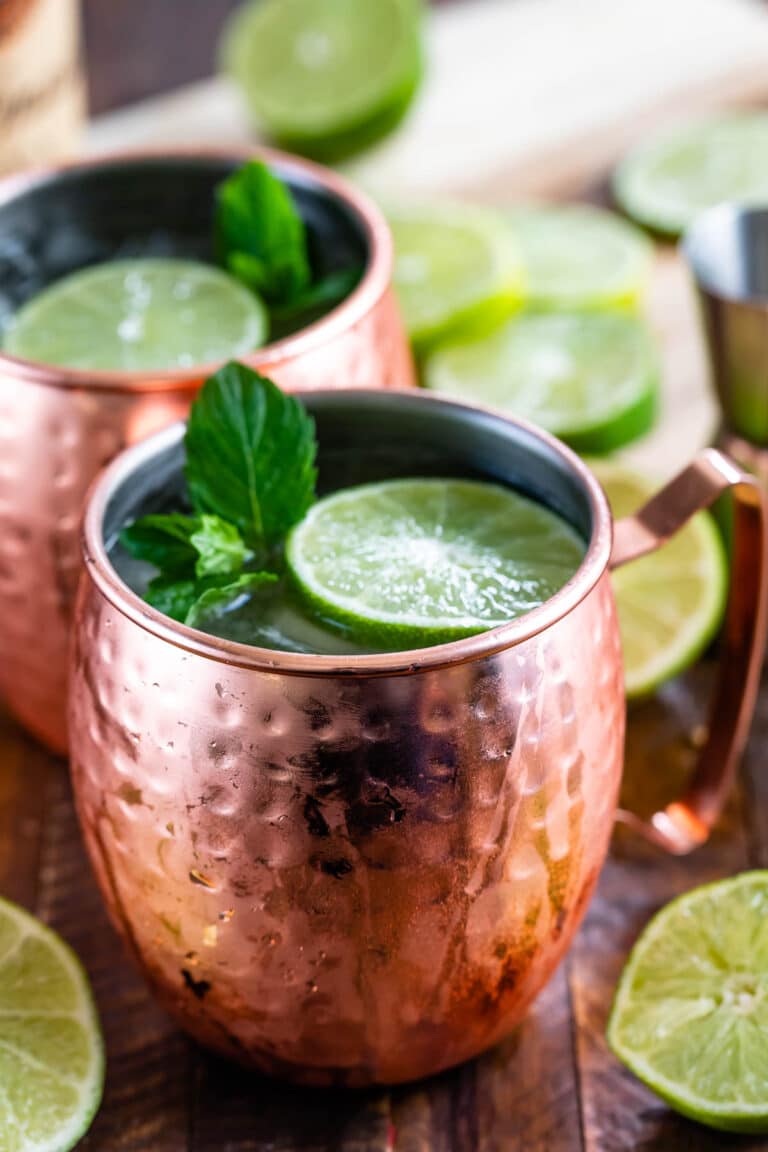 Recipe FAQs
Why does a Moscow mule have to be in a copper cup? It doesn't have to be, but the copper mug does keep the drink cold. I use them all the time for cold drinks, so it's worth having a set.
Is there alcohol in ginger beer? Nope! It's non-alcoholic. It's fizzy like soda and can be enjoyed on its own or used as a mixer for cocktails.
Can I use bottled lime juice? Yes, it will work fine.
What is the best ginger beer for Moscow mules? The best one is one that you like to drink. There are so many options, and they're all different, so find a favorite, and that's the best one to use! I have several brands I like, and I also prefer to use diet ginger beer to save on calories.
Can you make them ahead? If you want to make a big batch, you can mix the vodka and lime juice and keep the mixture cold in the refrigerator. Since the ginger beer is fizzy, you will want to wait to add it until you serve the drinks. Ready to make yourself a cold Moscow mule? If you like vodka drinks, it's a great one to try! I love that it's so easy with just a few ingredients. I think you will, too – Enjoy!
Other Cocktails You'll Enjoy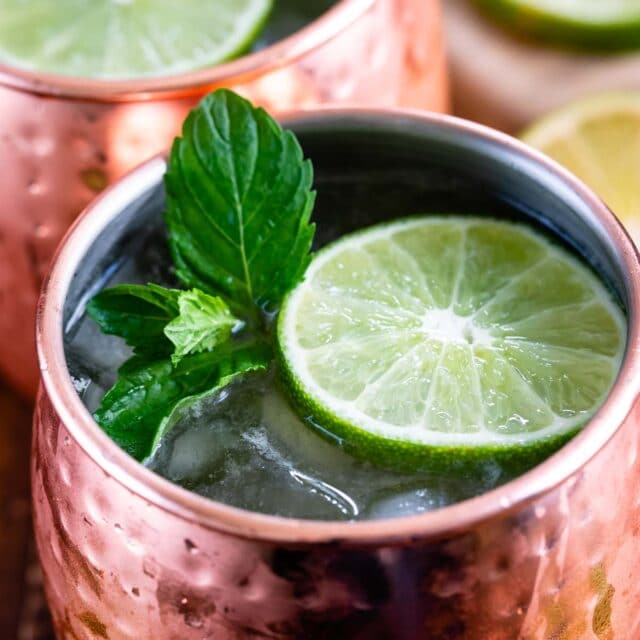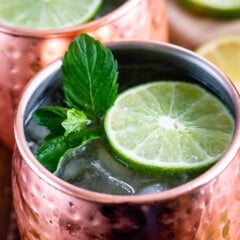 Classic Moscow Mule Recipe
I'm going to show you how to make a classic Moscow Mule! It's an easy cocktail recipe that only uses 3 ingredients.
Ingredients
For 1 cocktail:
1 ½

ounces

vodka

½

ounce

lime juice

4

ounces

ginger beer
For a pitcher (serves 8):
12

ounces

vodka

4

ounces

lime juice

4

cups

(32 ounces) ginger beer
Instructions
To make one cocktail: Fill a glass with ice. Add vodka, then lime juice. Top off with ginger beer. Stir gently. Garnish with lime (and mint, if desired). Serve immediately.

To make a pitcher: add vodka and lime juice to a pitcher and stir. Don't add the ginger beer until right before serving. Place ice in cups and serve, garnish with lime.
Recipe Notes
• If you don't have copper mugs you can make this in any glass, but the copper keeps the drinks cold. I use my copper mugs for lots of cocktails so they aren't just a one-use container.
• You can use fresh or bottled lime juice
• Use your favorite vodka (mine is Tito's)
• I always use diet ginger beer for less calories but use your favorite brand. Most brands are like soft drinks – no alcohol, sold in the beverage aisles with specialty waters and such.
Recipe Nutrition
Serving:
1
serving
|
Calories:
142
kcal
|
Carbohydrates:
11
g
|
Protein:
1
g
|
Fat:
1
g
|
Saturated Fat:
1
g
|
Sodium:
9
mg
|
Potassium:
18
mg
|
Fiber:
1
g
|
Sugar:
10
g
|
Vitamin A:
7
IU
|
Vitamin C:
4
mg
|
Calcium:
6
mg
|
Iron:
1
mg
Nutritional information not guaranteed to be accurate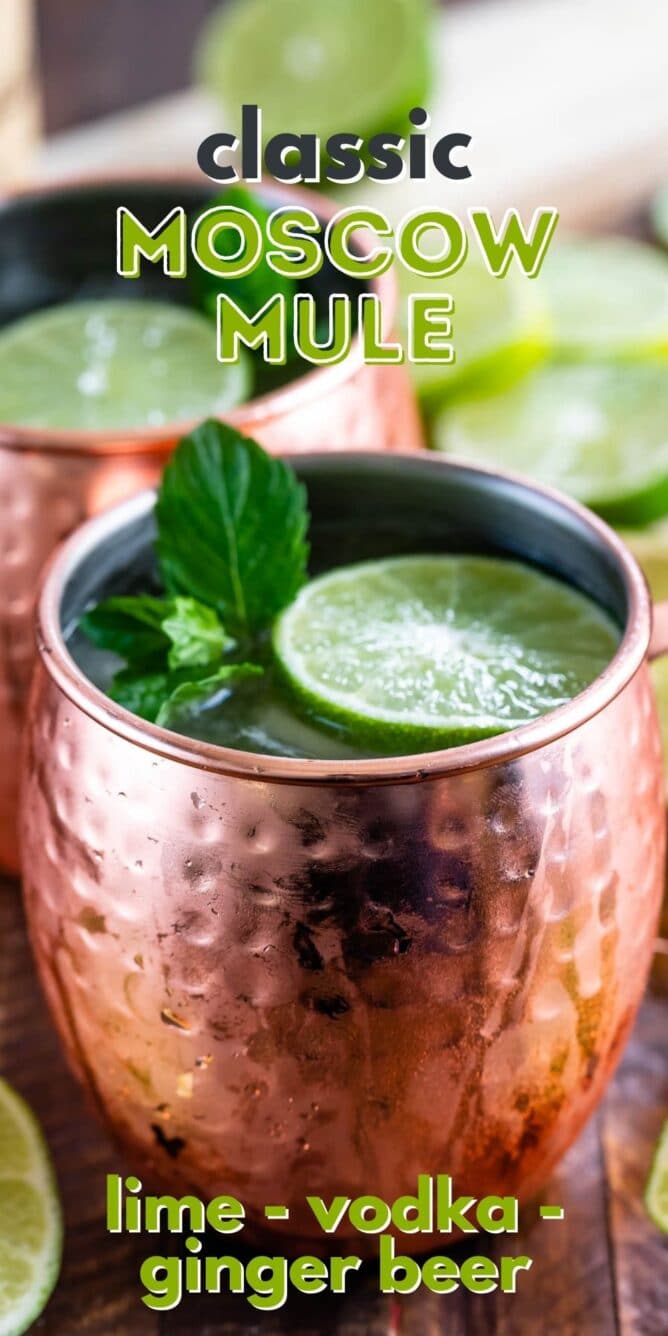 A cold and refreshing Moscow Mule is an easy cocktail made with ginger beer, vodka, and lime juice.