This post may contain affiliate links. For more information, read my disclosure policy.
Mexican Brownies – These are inspired by Mexican chocolate – warm spices like cinnamon and cayenne with rich chocolate fudgy brownies!!
There is nothing I like more than a big plate of Mexican food…except maybe brownies.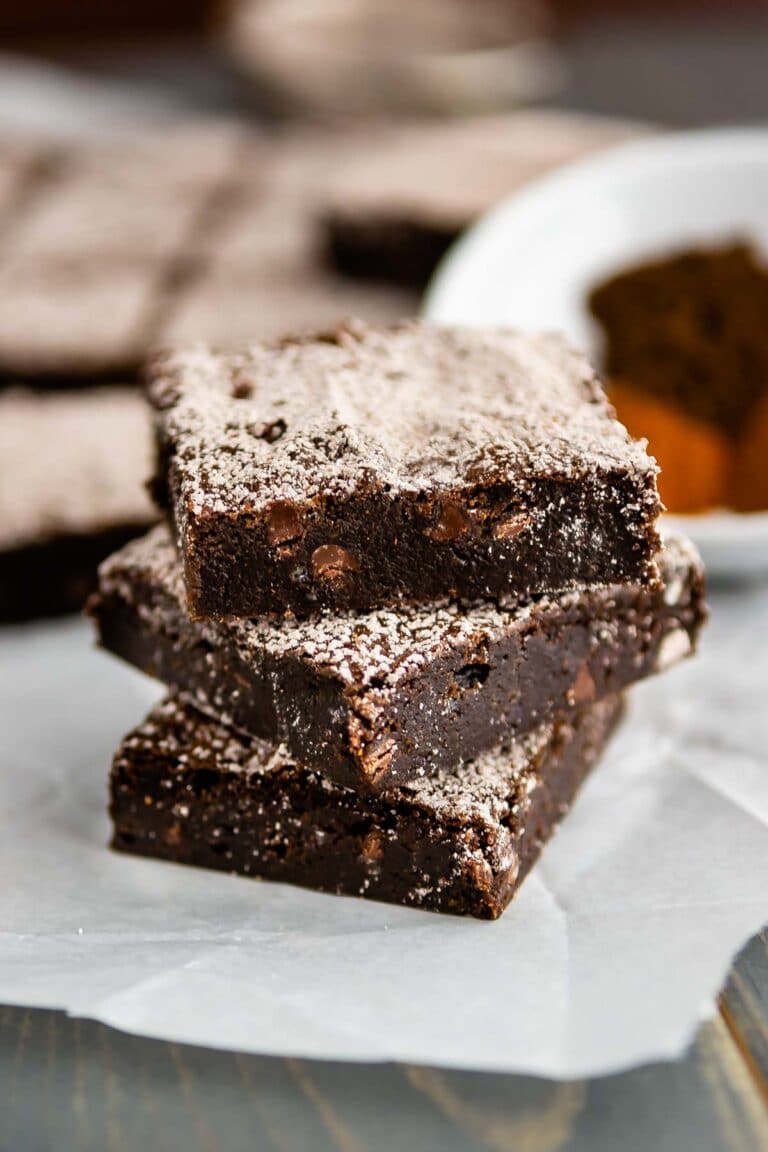 What is a Mexican Inspired Brownie?
These Mexican brownies are the first of a few recipes I have for you this week that are perfect for Cinco de Mayo. I know traditionally we gorge ourselves on beans and rice and chips and fajitas on May 5th, but really, you have to have dessert.
And if you know me at all, you can probably guess Flan is not my thing. *shudder*
I much prefer chocolate…and brownies!
When I lived in the Bay Area we used to go to this Mexican restaurant, Celia's, every almost every Sunday. Sunday was fajita special night. They'd bring out steaming hot (literally) griddles of steak and peppers and onions to go along with huge plates of beans and rice and tortillas. My parents would each order fajitas and I would order a side of beans and rice and tortillas. After all, I was going to eat my weight in tortilla chips – I didn't need to add all sorts of other stuff to it.
Now when I go to Celia's it's super special because we don't live there anymore, and I go all out. Enchiladas, beans, rice, the whole shebang.
The one thing missing on the menu? Mexican brownies. Those would be my first choice every time if they were!
Spices in Mexican Brownies
What makes these Mexican Brownies "Mexican"? Really nothing…except I added some spices: cinnamon and cayenne.
Cinnamon and cayenne work magic when they're combined with chocolate, didn't you know?
Like how adding coffee to chocolate intensifies the flavor, so does adding cinnamon and cayenne pepper. However, unlike the coffee (which you don't usually taste) you do get a kick from the spices. It's one of those things you eat and then after you get this little kick…and you're not sure why.
These brownies do not taste like chili. Much like these truffles, they taste like chocolate. Like they should! But the spice just adds a little something extra, and it takes the brownies to the next level.
I can guarantee that, if you make these and people don't know what's in them, they won't know. They'll wonder, but they won't know.
I used my favorite brownie recipe for these. It's my go-to recipe that I've made so many versions of. All I added were some mini chocolate chips (perfect to give these an extra fudgy chocolatey flavor) and the spices.
By themselves, they're the perfect brownie. But if you're wanting something a little more…maybe you should garnish them.
I sprinkled them with powdered sugar…that had been mixed with cocoa, cinnamon, and cayenne pepper.

Adding the extra sprinkle on the top of these Mexican Brownies intensifies the heat a little. And it makes them prettier!
Now, if you're not much for heat, or you think some of your guests might not be, you can omit the cayenne from the topping. Or just use a pinch. The recipe calls for a pinch up to 1/8 teaspoon. The mix in the photos used 1/8 teaspoon and they had a definite kick. Use less, or omit, if you prefer.
Either way, adding some cocoa and cinnamon to the powdered sugar sprinkle definitely sets these brownies apart.
Mexican Brownies are perfect for any Cinco de Mayo party…or because you need chocolate TODAY.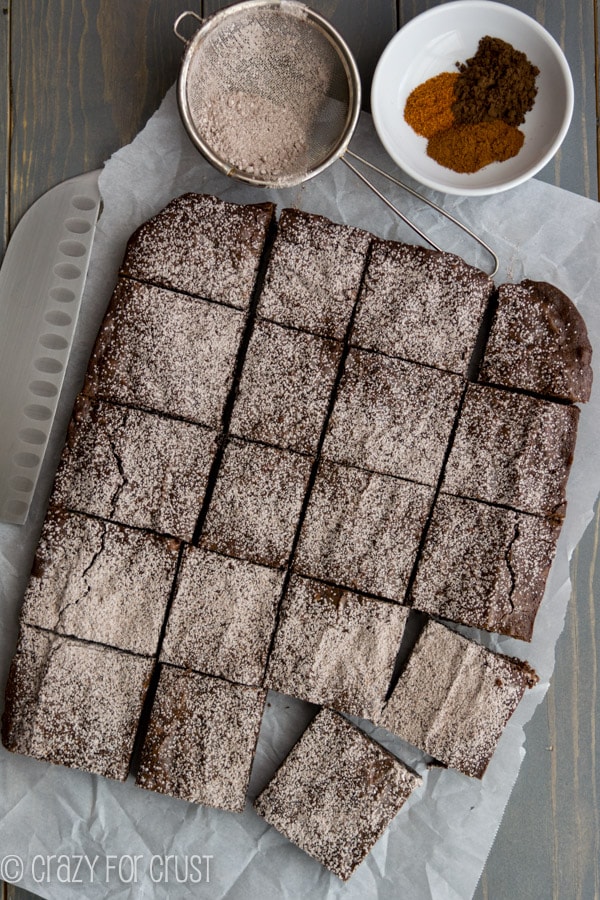 I ate three Mexican Brownies without thinking. Then I shipped them off to school. #imnotstupid #iwouldhaveeatenthewholepan #wishiwaskidding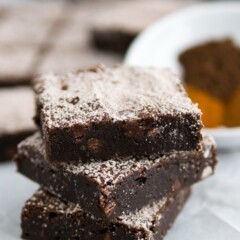 Mexican Brownies
My favorite brownie recipe with some added kick!! Cinnamon and spices make these chocolate brownies perfect for when you want some spiced up brownies.
Ingredients
2

ounces

(57g) unsweetened baking chocolate

coarsely chopped

2

ounces

(57g) semi-sweet baking chocolate

coarsely chopped

¾

cup

(170g) unsalted butter

1¾

cups

(350g) sugar

3

large

eggs

1

teaspoon

vanilla extract

2

tablespoons

+ ¼ teaspoon (12g) unsweetened cocoa powder

I used Special Dark, divided

1 ¼

teaspoons

ground cinnamon

divided

¾

teaspoon

+ ⅛ teaspoon ground cayenne pepper

divided

¼

teaspoon

salt

1

cup

(124g) all-purpose flour

¾

cup

mini chocolate chips

1

tablespoon

powdered sugar
Instructions
Preheat oven to 350°F. Line a 9×13" pan with foil and spray with cooking spray.

Place the two baking chocolates and butter in a large, microwave safe bowl. Heat on HIGH power for 2-3 minutes, stirring every 30 seconds, until chocolate is smooth. Stir in sugar. Add eggs, vanilla, 1 teaspoon cinnamon, 3/4 teaspoon cayenne, salt, and 2 tablespoons cocoa and stir well. Add flour and stir carefully. Stir in mini chocolate chips.

Spread brownie batter in prepared pan. Bake for 20-25 minutes, until a toothpick comes out with just a few crumbs stuck to it. Let them cool completely before slicing into squares.

Whisk powdered sugar, 1/4 teaspoon cocoa, 1/4 teaspoon cinnamon, and a pinch (up to 1/8 teaspoon) cayenne pepper. Sprinkle over sliced brownies.
Recipe Nutrition
Serving:
1
brownie
|
Calories:
164
kcal
|
Carbohydrates:
21
g
|
Protein:
2
g
|
Fat:
9
g
|
Saturated Fat:
5
g
|
Cholesterol:
39
mg
|
Sodium:
424
mg
|
Fiber:
1
g
|
Sugar:
16
g
Nutritional information not guaranteed to be accurate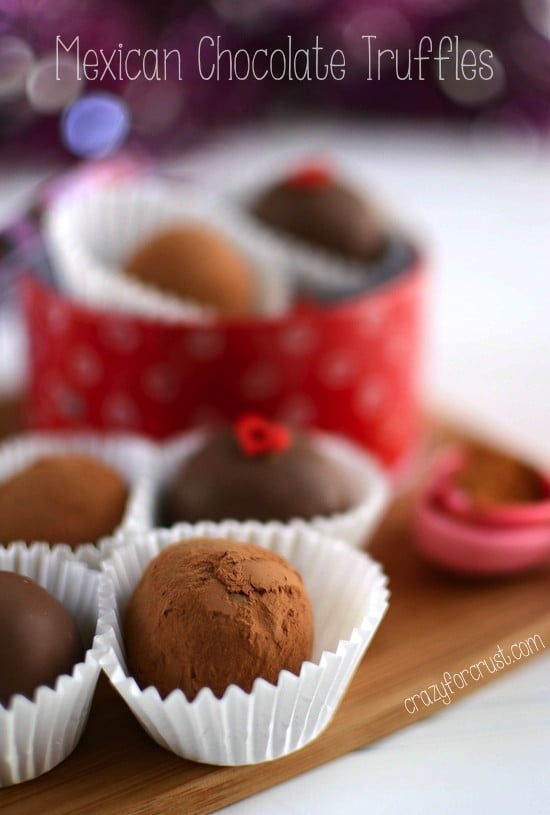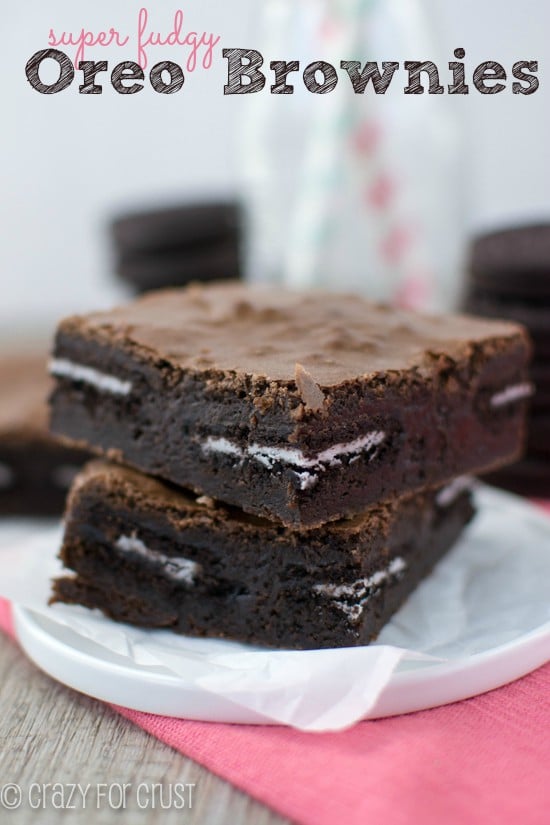 Nutter Butter Truffle Brownies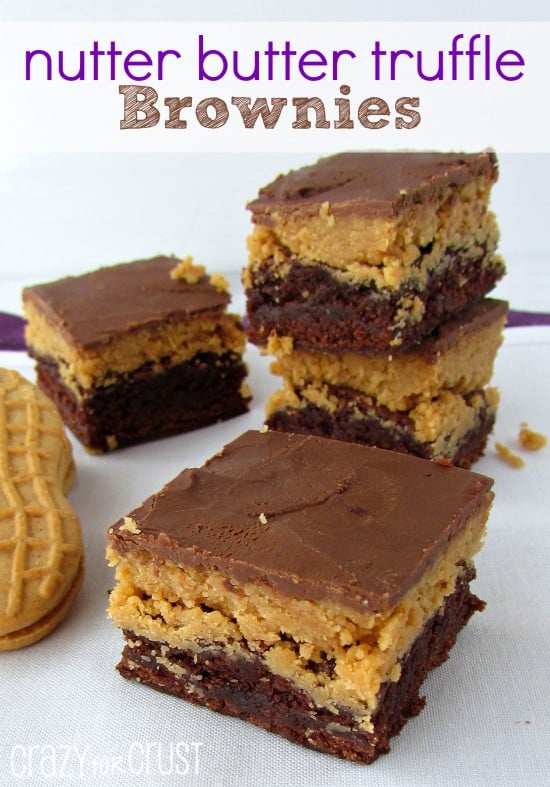 Caramel Brownie Peanut Butter Cookie Bars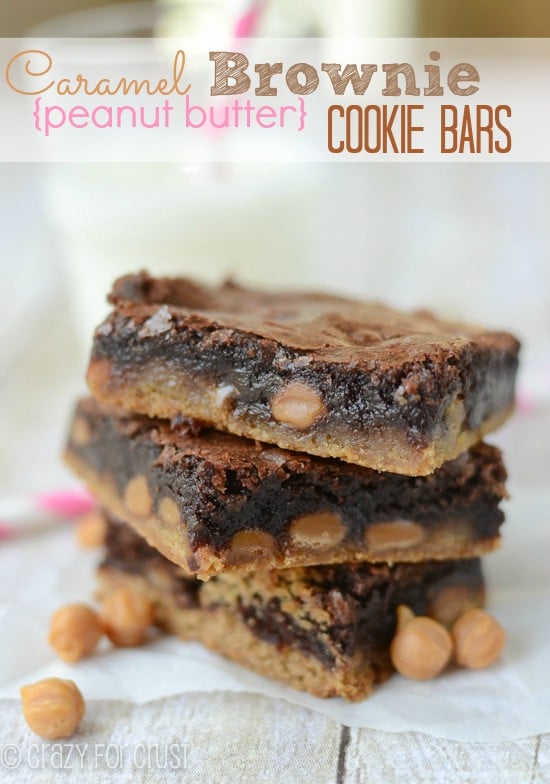 Sweets from friends:
Mexican Hot Chocolate Rice Krispie Treats by Something Swanky
Mexican Chocolate Thumbprints by Wine & Glue
Mexican Chocolate Pudding Oatmeal by Cupcakes and Kale Chips
Last Updated on March 5, 2022