This post may contain affiliate links. For more information, read my disclosure policy.
Hey all you Gluten-Free friends! This post is for YOU today.
Yes, that's right. I made Mud Hen Bars and they're totally gluten-free!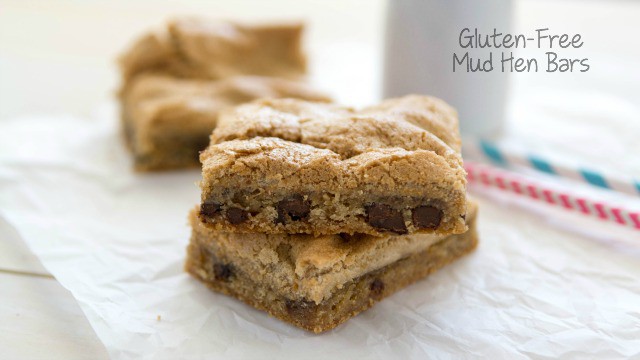 Sometimes I feel really sorry for people with food allergies. I mean, how hard must it be to go through life and not be able to eat something? (Especially if they were able to eat it at one point and then developed an allergy later in life.)
One of Jordan's friends has a dairy-allergy. She copes with it just fine, but it's still gotta be hard to go to parties and school functions and, well, anywhere and have to know you can't eat half (or more) of what's served. Luckily for her, making recipes dairy-free is pretty easy. Whenever she comes over I make sure to have peanut butter cookies or sugar cookies or brownie bites on hand that she can enjoy.
But gluten? Now that's an allergy that's hard to adapt for. Gluten is in…pretty much everything. And flour is not something you can just leave out, and it's not easy to substitute something in it's place. Chocolate chip cookies are probably one of the hardest things to make gluten-free and GOOD, you know?
Until now!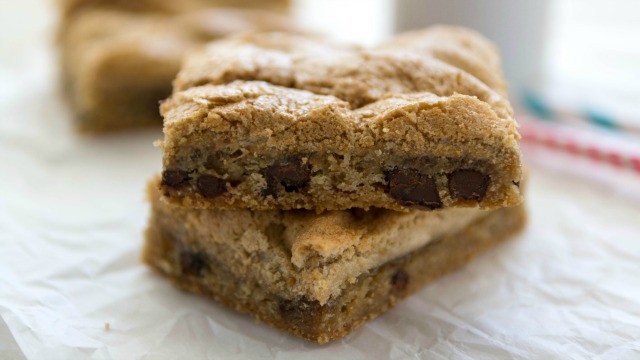 Do you all remember my Chocolate Chip Cookie Mud Hen bars from a few months ago? Those were super fabulous and amazing. Actually, all mud hen bars are amazing. I fell in love with them a few years ago when I made Brownie Mud Hen bars, and I never looked back.
Well, I've managed to turn my Chocolate Chip Mud Hen Bars into a gluten-free person's dream. Because now you can eat them!
It's all done with a little help from Pillsbury. They now make Gluten-Free Chocolate Chip Cookie Dough, did you know that?
I slapped my mud hen (aka brown sugar meringue) topping on their gluten-free cookie dough and BOOM. A gluten-free chocolate chip mud hen bar was born.
You're welcome.
You want the recipe, right? Well, head on over to Pillsbury to get it!
FIND THE RECIPE HERE – CLICK FOR THE RECIPE!
Thanks for reading and enjoy!
Last Updated on September 12, 2022