This post may contain affiliate links. For more information, read my disclosure policy.
If there is one indulgent breakfast I can't get enough of, it's monkey bread. Then I made chocolate monkey bread and all bets were off.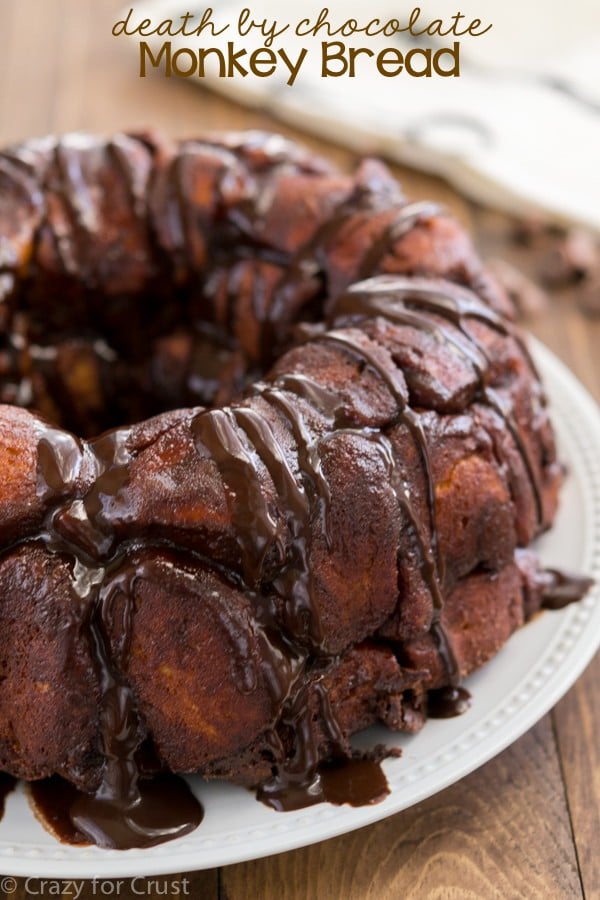 I realized last week that I'm a horrible, horrible mother. I mean, I have my good points like making Jordan monkey bread on a whim, but overall, her therapy bill is going to be outrageous.
Her allergies have been really bad lately and one night last weekend she woke me up at midnight because her cough was keeping her awake. She needed some cough medicine and Sudafed (two industries that I'm keeping afloat thanks to seasonal allergies). Needless to say, we were both pretty tired the next day. And the only thing she was worried about?
"I felt so so so bad I woke you mommy. I'm sooooo sorry!!!"
She probably said that to me 10 times. I think I have a reputation. Possibly it stems from me saying, "Sure, go ahead and eat another handful of jelly beans. But if you wake up sick during the night, don't bother me because it'll be your own doing."
Or, possibly it was the, "Don't wake me unless there is a fire or someone is trying to kidnap you. Otherwise, wake your father."
I'm not a very nice person when I don't sleep. Hence, horrible, horrible mothering.
But at least she doesn't wake me up…really ever. #sortofawin #maybe? #momoftheyear
I make it up to her by making her things like this: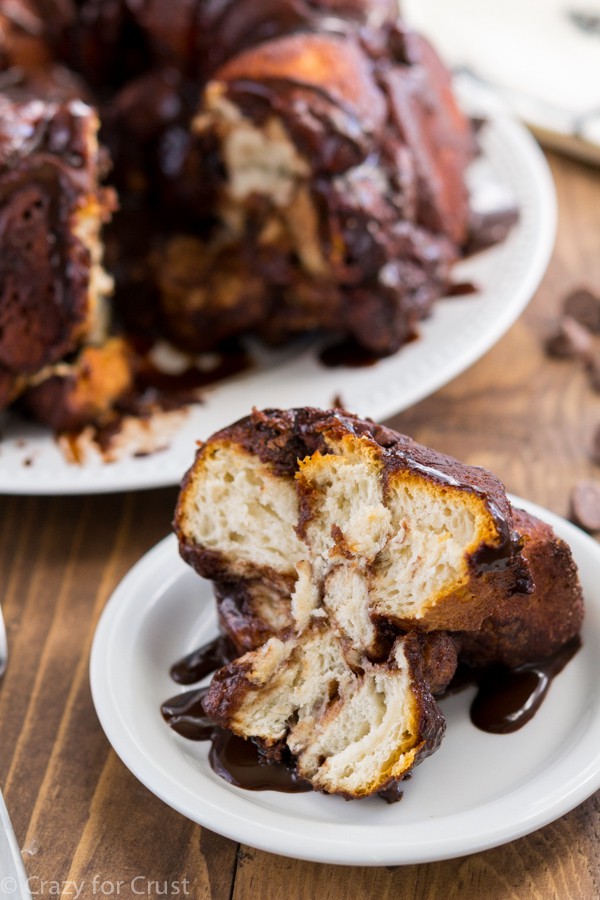 That's monkey bread. That's coated in ooey, gooey chocolate. You're welcome.
In my quest to make some good brunch recipes you could use for Easter or Mother's Day, I thought about Monkey Bread. After all, monkey bread is a major staple in our house. It happens every Christmas. Usually I just use the regular Pillsbury recipe. Sometimes I add peanut butter. Or sometimes I add butterscotch pudding.
But chocolate is just better. Don't you think? #everythingisbetterwithchocolate
This recipe couldn't be easier. You start with Grands! biscuits. Cut them into pieces and coat them in a sugar and cocoa mixture (instead of cinnamon, but you could totally add some if you want). The biscuits are layered in a pan with chocolate chips and a butter/brown sugar/cocoa mixture.
Once it's baked, you turn it onto a serving plate and top it with chocolate sauce. More chocolate > Less chocolate.
Note: I wrote this in the recipe, but it's very important. Make sure you turn out your entire monkey bread onto a serving plate within 10 minutes of it coming out of the oven. Don't serve it in the pan, unless you want to just throw away your pan and start over. Once monkey bread cools it turns into a stone not unlike granite.
This is perfect for a celebratory brunch, like Easter. It's also kind of a dessert because, hello brown sugar + chocolate. And it's an easy enough recipe that your kids can make it for you for Mother's Day. Then you can stay in bed as long as you want.

And that doesn't make you a horrible parent…right?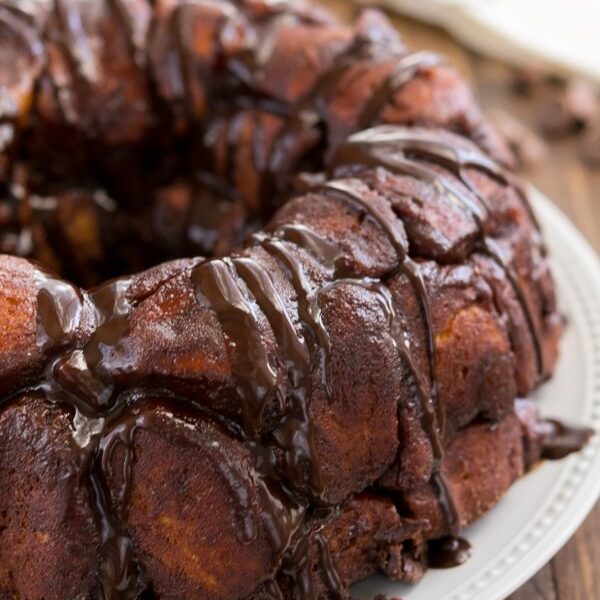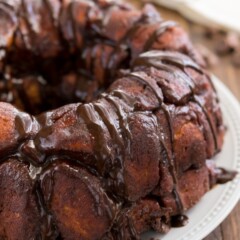 Chocolate Monkey Bread
An easy breakfast, brunch, or dessert recipe that's full of chocolate! This Monkey Bread starts with a premade biscuit and comes together in just minutes. Perfect for any holiday!
Ingredients
2

cans

8-count each Pillsbury Grands Biscuits

1/3

cup

granulated sugar

3

tablespoons

unsweetened cocoa powder

divided

1/2

cup

unsalted butter

melted

3/4

cup

brown sugar

packed

1/4

teaspoon

salt

optional

1/2

cup

chocolate chips
Instructions
Preheat oven to 350°F. Spray a 12-cup fluted bundt pan with nonstick cooking spray (I like using the kind with flour in it).

Open the cans of biscuits and slice each biscuit into 6 pieces. Place the granulated sugar and 1 tablespoon of cocoa powder in a large gallon size ziploc bag. Add the biscuit pieces, seal the bag, and shake to coat.

Mix melted butter, brown sugar, salt (if using) and remaining 2 tablespoons of cocoa in a small bowl.

Place half the coated biscuit pieces in the prepared pan. Top with half the chocolate chips and half the butter mixture. Repeat a second layer of biscuits, chocolate chips, and butter mixture.

Bake for about 30-40 minutes until the top is very brown and the center isn't too jiggly. The top will get crusty so you'll want to take it out when it's still a little jiggly in the center so the top doesn't burn.

Let cool in the pan for about 5 minutes. Place a serving plate over the pan and invert the pan, tap the top a few times and pray that the whole thing comes out in one piece. If it doesn't, just stick the pieces back together, no one will know!

Note: do not let this cool completely in the pan or it becomes like a rock and it will be very hard to clean your pan!

Serve as an indulgent breakfast or dessert. For extra chocolate flavor, top with chocolate sauce.
Nutritional information not guaranteed to be accurate
Click HERE for more Pillsbury Dough Recipes!
Slow Cooker Cinnamon Roll Monkey Bread
Blueberry Monkey Bread Muffins
Cinnamon Roll Pull-Apart Bread
Sweets from friends:
Oreo Monkey Bread by Oh Sweet Basil
Carrot Cake Monkey Bread by Something Swanky
Caramel Monkey Bread by Yummy, Healthy Easy
Last Updated on May 13, 2020