This post may contain affiliate links. For more information, read my disclosure policy.
I'm not done with Buttercream Boards – nope! This is a 4th of July Flag Frosting Board – perfect for celebrating Independence Day. Learn how to make it easily with just a few ingredients – and serve it with cookies!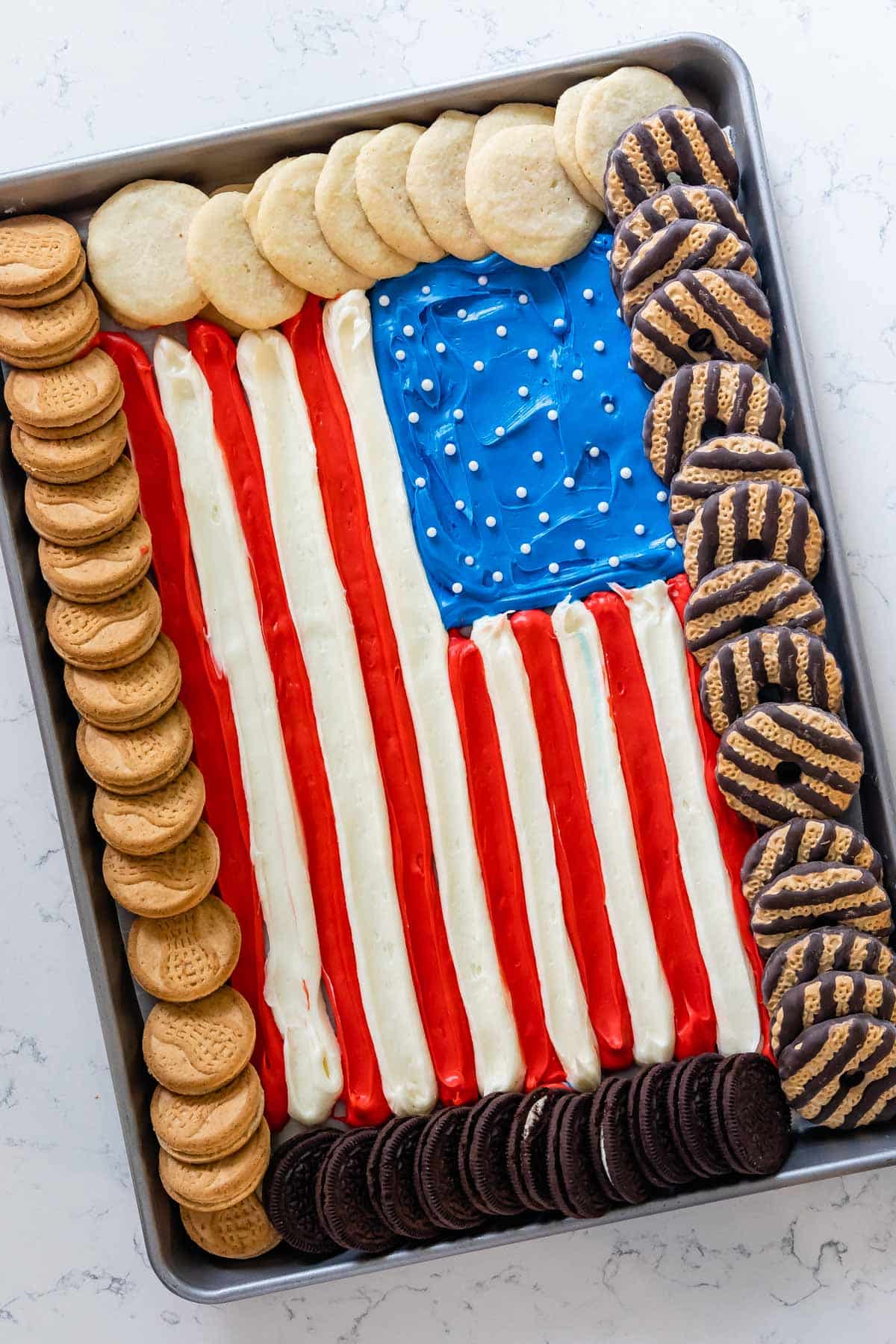 American Flag Buttercream Board
Standing for the flag has never been more fun – well, standing over it, at least. This American flag buttercream board is cute enough to be the centerpiece of your Fourth of July snack table, but don't expect it to stay intact for long! Once your guests get a taste of this festive dessert board, it'll be gone before you know it.
What is a Buttercream Board?
If you haven't been frequenting TikTok as of late, you may have missed the invention of the butter board. The trend involved spreading butter (sometimes salted and seasoned) over a serving board and surrounding it with bread, crackers, veggies, and whatever else you might want to dip in softened butter.
The sweet-tooth-havers of social media saw the savory masterpieces online and decided to put their own spin on it. And with that, the buttercream board was born! Buttercream boards involve piped or spread buttercream frosting over a serving dish, surrounded by brownie bites, cookies, fruit, candy, and whatever else your heart may desire.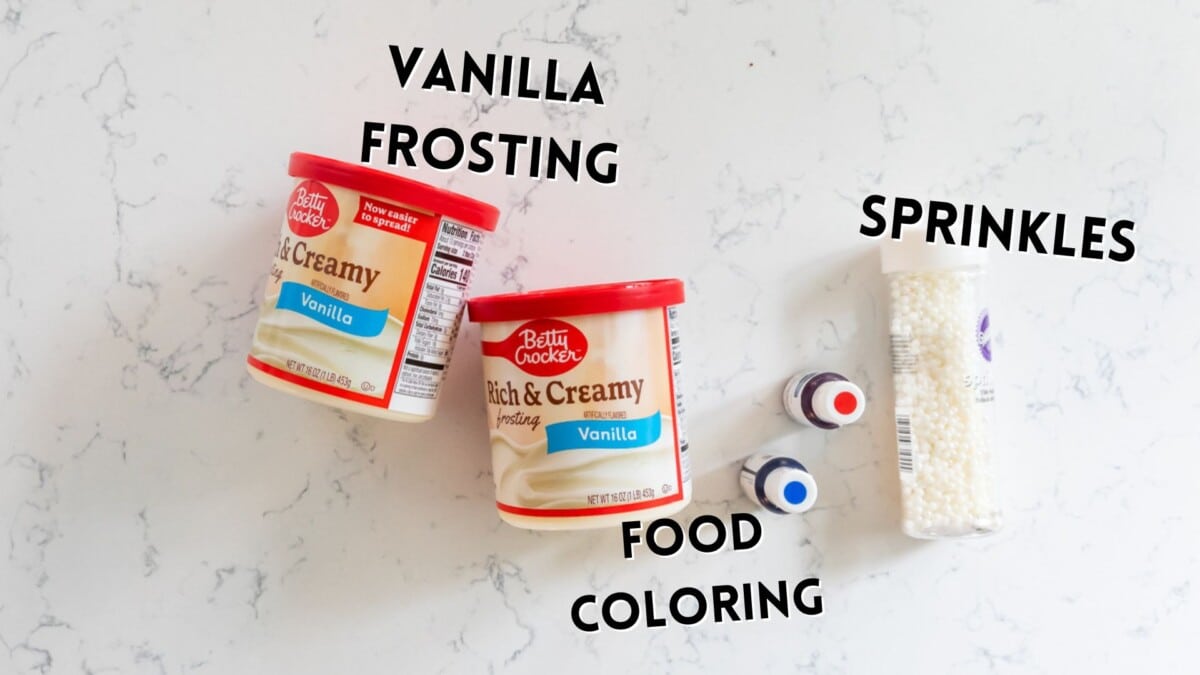 Ingredients Needed
Vanilla frosting – use a can or my vanilla buttercream recipe.
Food coloring – red and blue (gel food coloring is best for vibrant colors).
Sprinkles – white pearls or something similar for the stars.
Assorted dippers – cookies, biscuits, fruit, etc.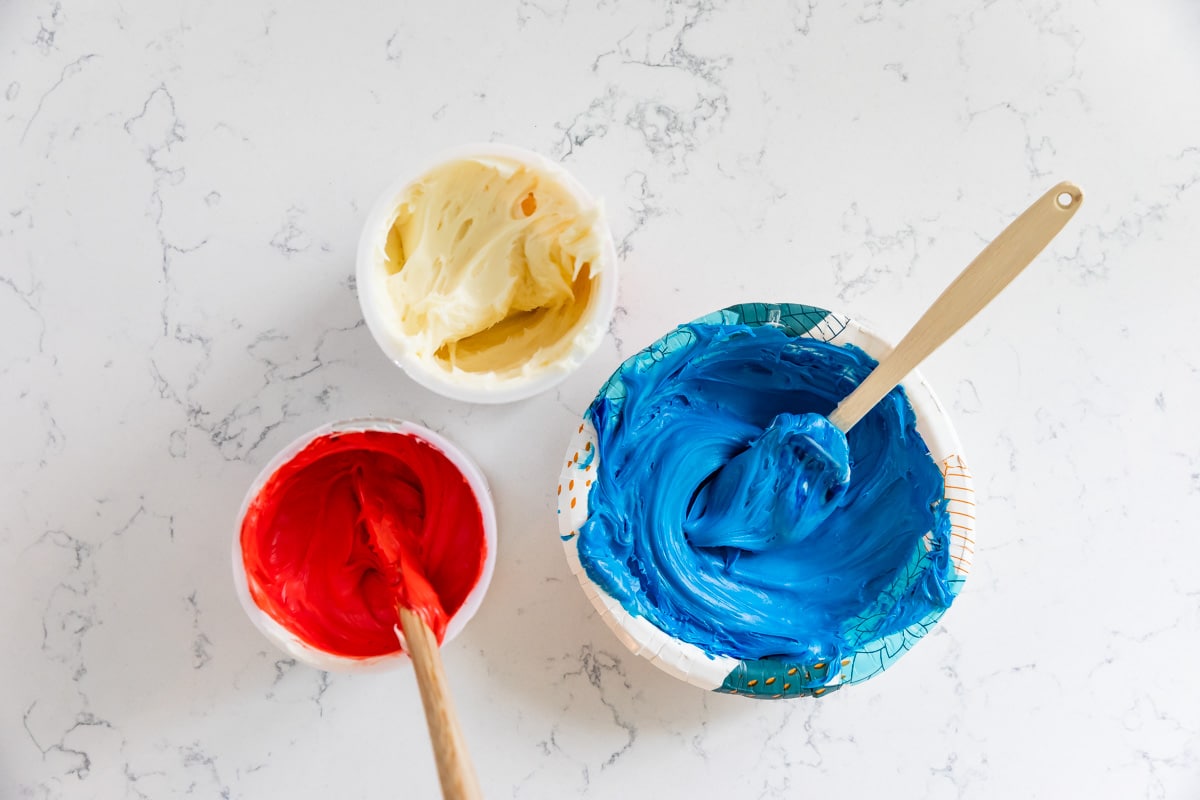 How to Make a Buttercream Board for the 4th of July
Prepare: To make cleanup easier, line your serving plate with parchment paper before assembly.
Color the frosting: In a medium-sized bowl, place ½ of a frosting can and color it blue using food dye. Then, divide the remaining plain frosting in half, placing each portion into separate bowls. Leave one half white and dye the other portion red.
Pipe the flag: Scoop each color of icing into separate piping bags and cut off the ends. Begin making the flag by piping the blue icing to form the top left rectangle of the American flag. Then, pipe the stripes by beginning at the top with the red icing. There should be four red stripes stemming from the blue rectangle and three red stripes underneath the blue rectangle. Then, fill in the remaining area with white frosting stripes.
Top with sprinkles: Using white sprinkles, place them in the blue rectangle to mimick the fifty stars on the flag.
Arrange: Finally, surround the buttercream flag with your choice of dippers. Serve the buttercream board immediately.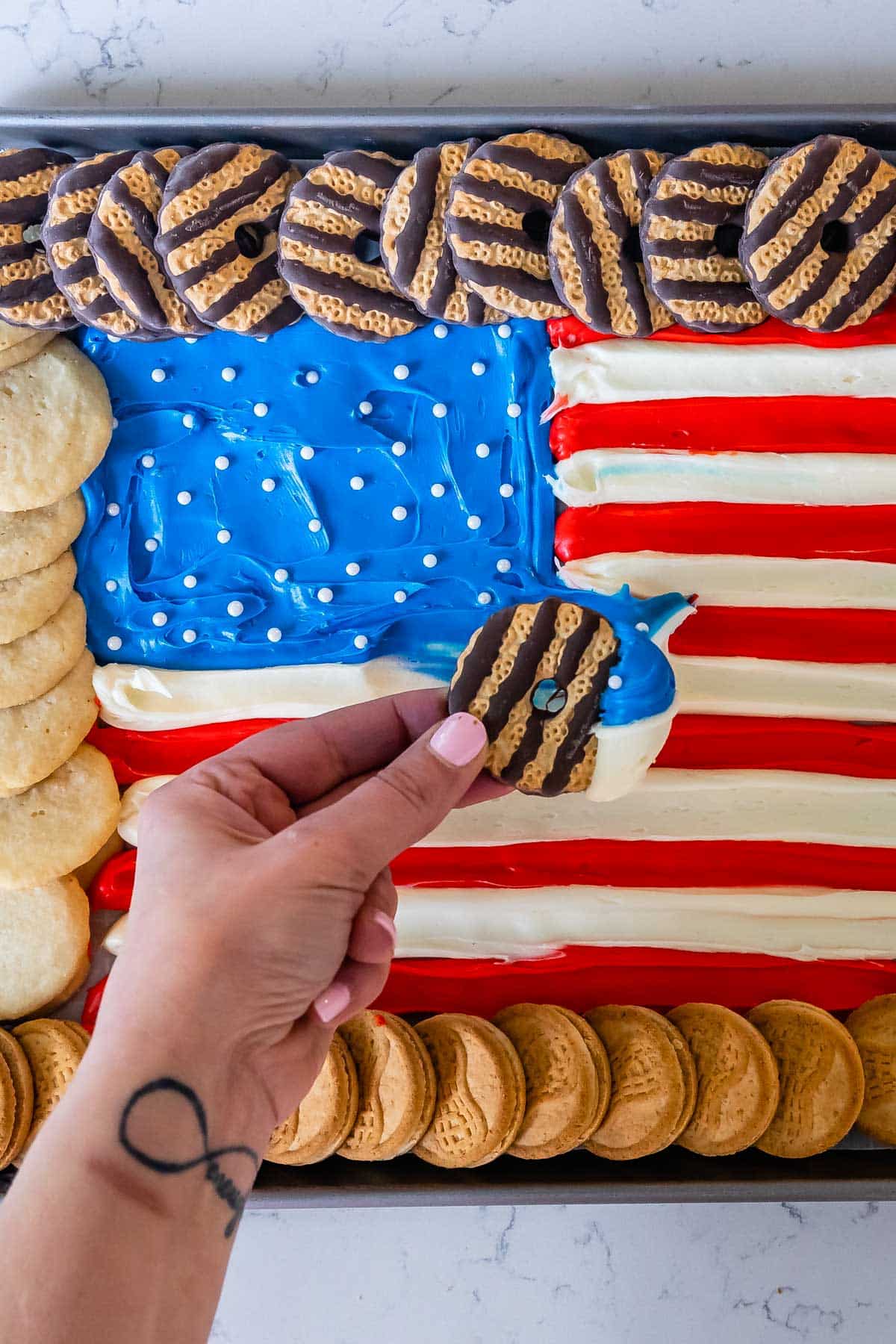 Expert Tips
If you want to go the extra mile, I totally recommend using homemade buttercream frosting. Cream cheese frosting would also be a great option!
You don't have to use a piping tip for this recipe, but you could use one to give your board a more elevated look. If you want to utilize a piping tip, I recommend using an open star or round style.
The options are endless when it comes to choosing dippers for this buttercream board, but I like to accentuate my American flag theme by using treats that compliment the color scheme. White yogurt-covered pretzels, oreos, shortbread cookies, red velvet cookies, blueberries, strawberries, and raspberries are all great options! You'll need at least four cups of homemade icing to fill out your board.
FAQs
Can I use homemade frosting?
Yes, you can use homemade frosting to make this buttercream board. You'll need one recipe vanilla buttercream or cream cheese frosting.
How long does a buttercream board last?
A buttercream board will last as long as your ingredients, including your dippers. As far as the frosting itself goes, buttercream can stay good for up to a month in the fridge or three months in the freezer.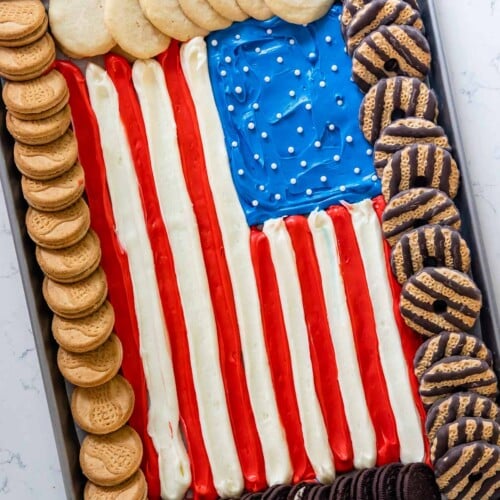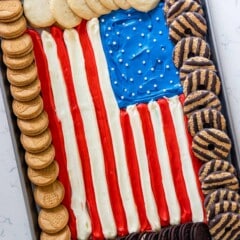 Flag Buttercream Board
This recipe is the best one for a 4th of July party! The buttercream board is so good and so appealing for everyone!
Ingredients
2

cans

vanilla frosting

Red and Blue Food Coloring

Sprinkles for stars

Assorted Dippers
Instructions
Line serving plate with parchment paper for easy cleanup.

Place about half of one can of frosting in a medium size bowl and color it blue.

Divide the remaining frosting into two parts. Dye one red and leave the other white.

Place each frosting in a piping bag and cut off the end (no tip needed).

Create the blue section of the flag in the tip left corner (height is about half the size of the flag and just under half the width).

Start with the red frosting and pipe stripes, starting with red at the top. There are 4 red stripes touching the blue section, then 3 additional red stripes, with the last one being the bottom of the flag.

Fill in with the white frosting.

Place white pearl sprinkles or similar sprinkle for the stars.

Arrange dippers around the edge of the buttercream flag.

Serve immediately.
Recipe Nutrition
Serving:
1
serving
|
Calories:
0.4
kcal
|
Carbohydrates:
0.1
g
|
Fat:
0.02
g
|
Saturated Fat:
0.003
g
|
Polyunsaturated Fat:
0.01
g
|
Monounsaturated Fat:
0.01
g
|
Sodium:
0.2
mg
|
Potassium:
0.03
mg
|
Sugar:
0.1
g
|
Calcium:
0.003
mg
Nutritional information not guaranteed to be accurate