Eggnog Trifle
This post may contain affiliate links. For more information, read my disclosure policy.
This Eggnog Trifle has layers of red velvet cake with eggnog pudding, whipped cream, and white chocolate. You could even add rum! It's the perfect Christmas dessert.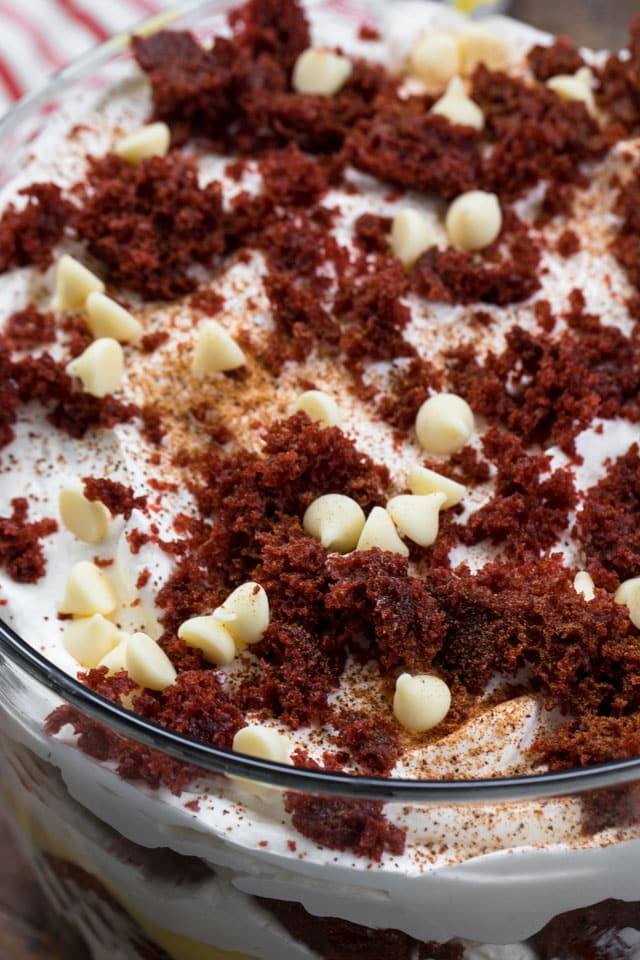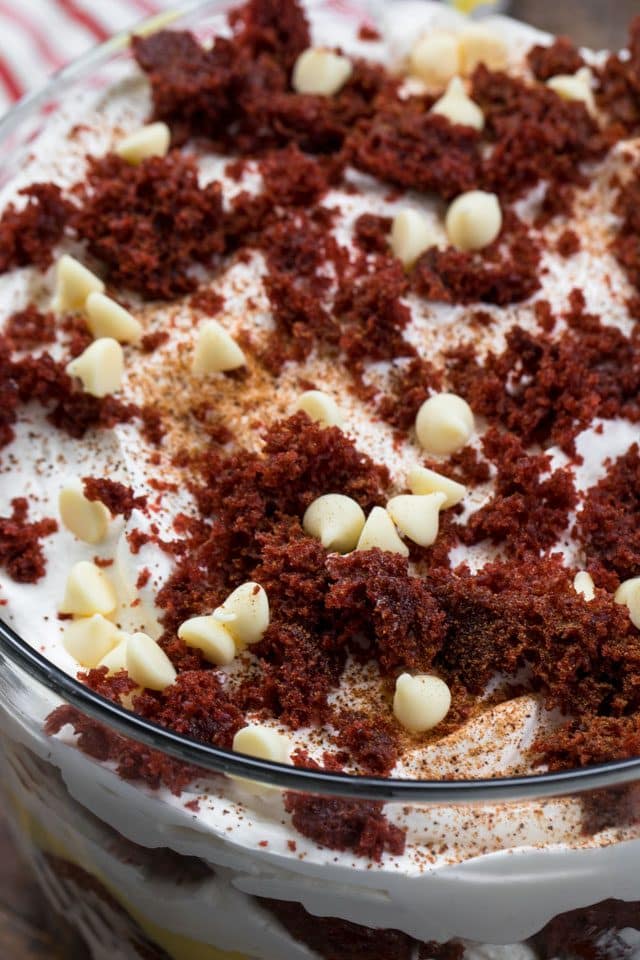 This recipe is inspired by a reader. Joanne emailed me telling me about an Eggnog Trifle she'd had that had layers of red velvet cake, eggnog pudding, and whipped cream. She asked if I had a recipe or could recreate it, so here you go Joanne!
Upon the first reading of the email I was perplexed by the flavors. I would never have thought to pair red velvet cake and eggnog together, but really it's a natural pairing. Red Velvet Cake was traditionally a Christmas or holiday cake, I believe. I mean…it's red. It's perfect for Christmas! And really, red velvet cake doesn't really have a distinguishing flavor, so it pairing with eggnog is actually perfect.
This from scratch trifle has layers of homemade red velvet cake mixed with eggnog pudding and homemade whipped cream, and sprinkled with white chocolate chips. Bonus: you can soak the cake with rum.
You're Welcome.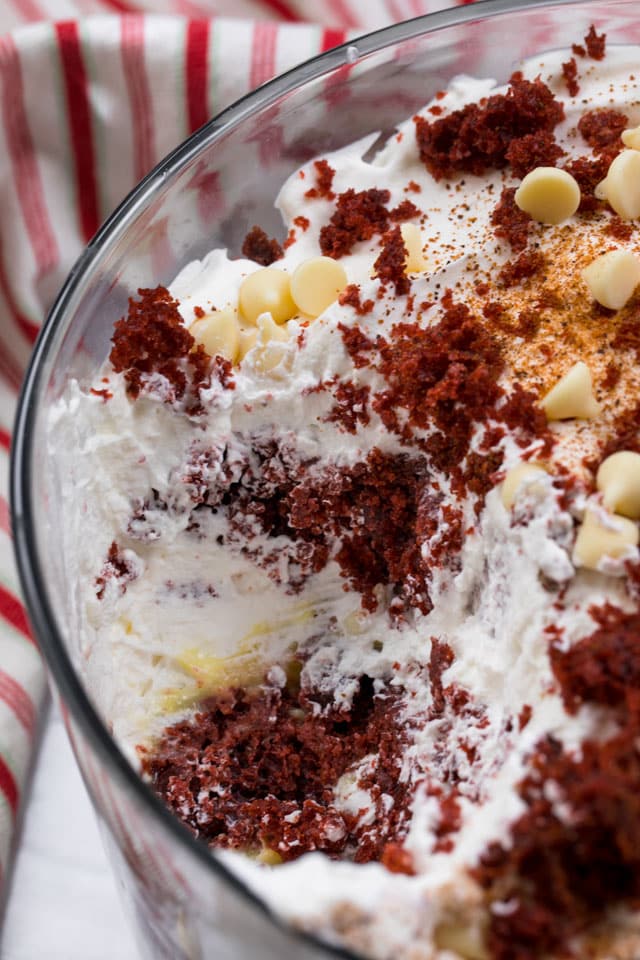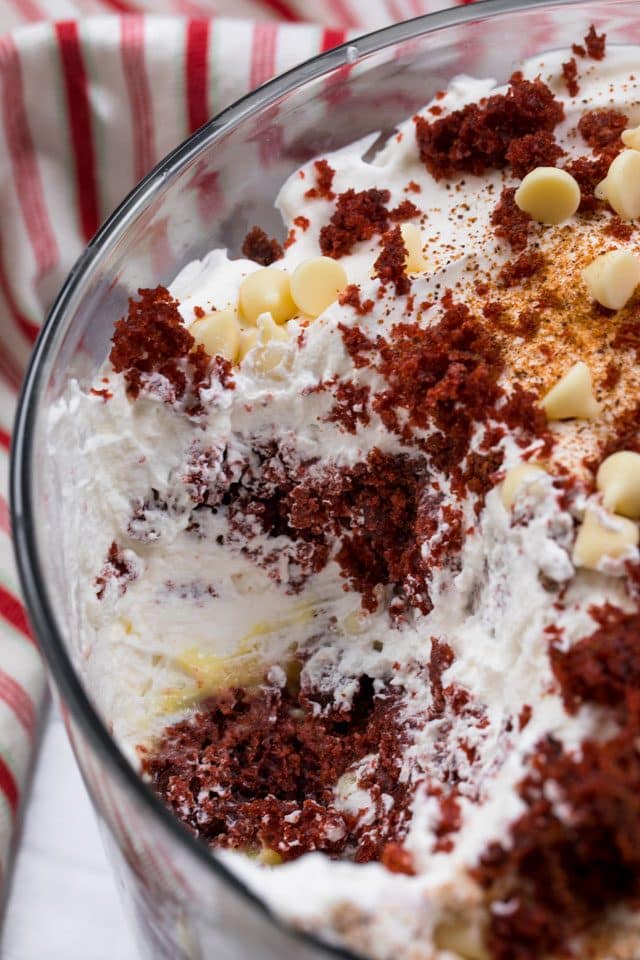 Let's start by taking about the different layers of this easy trifle dessert.
Red Velvet Cake: I made a from scratch red velvet cake using my cupcake recipe. The cupcake recipe is half of a full cake, so it's perfect for the trifle. I baked it in a 9×13-inch pan so it was level and baked flat to cut into squares to make the trifle base.
Eggnog Pudding: I used the base from my Eggnog Pie for the creamy pudding part of the trifle. Two boxes of pudding mix mixed with eggnog make the creamiest eggnog pudding!
Homemade whipped cream is easy to make. Simply beat heavy whipping cream with powdered sugar and vanilla.
White Chocolate: Joanne mentioned sprinkles of white chocolate in the cake. I used white chocolate chips here, but you could substitute shaved white chocolate bars.
RUM: Now, I didn't use rum in this because I had kids over to eat it. BUT – you could soak the cake with rum when you add it to the trifle dish. I think a spiced rum would go perfectly with the eggnog flavor.
There are several layers of love in this Christmas Trifle, but it's still an easy recipe to put together. Plus it's really festive and the perfect Christmas dessert!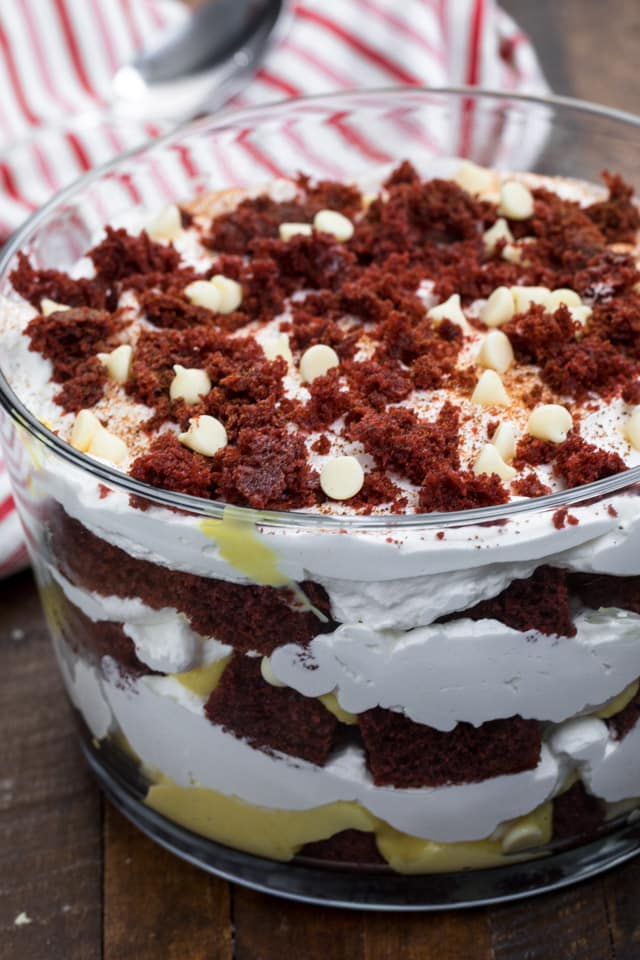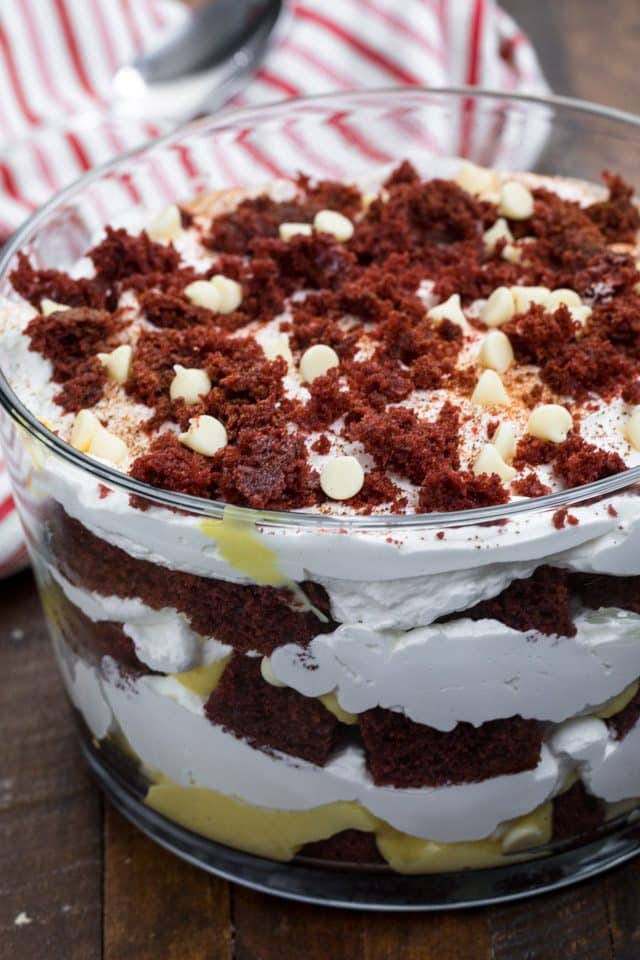 Can you use a cake mix to make the trifle?
Yes, you can. However, my cake recipe makes half a traditional cake mix, so you won't need the entire thing. I suggest baking it in two 9×13-inch pans and using half.
Can you use Cool Whip or prepared whipped cream?
Cool Whip would be fine here. Just skip making the homemade whipped cream and use Cool Whip. However, I do not suggest using canned whipped cream. it will deflate and turn into a soggy mess.
However you make this easy Eggnog Trifle, it's the perfect Christmas dessert everyone will love.
Thanks for the inspiration Joanne!
If you love the flavor of Eggnog Trifle, you'll also love:
Want even more? Subscribe to Crazy for Crust to get new recipes and a newsletter delivered to your inbox. And stay in touch on Facebook, Pinterest, Twitter, and Instagram for all my latest updates.
Servings: 12 servings
Eggnog Trifle
This Eggnog Trifle has layers of red velvet cake with eggnog pudding, whipped cream, and white chocolate. You could even add rum! It's the perfect Christmas dessert.
Ingredients
For the cake:
1 2/3 cups all purpose flour
1 cup granulated sugar
2 tablespoons unsweetened cocoa powder
1 teaspoon baking soda
1/2 teaspoon salt
1 cup buttermilk
6 tablespoons vegetable oil
1 tablespoon white vinegar
2 teaspoons vanilla extract
1 tablespoon red food coloring
For the pudding:
2 boxes instant vanilla pudding mix — 3.4 ounces each
3 cups eggnog
For the whipped cream:
2 cups cold heavy whipping cream
1/4 cup powdered sugar
1 teaspoon vanilla extract
To assemble:
1 cup white chocolate chips
1/2 cup Rum — optional
Instructions
Make the cake:
Preheat oven to 350°F. Line a 9x13-inch pan with foil and spray with nonstick cooking spray.

Whisk flour, sugar, baking soda, cocoa, and salt in a large bowl.

Whisk buttermilk, oil, vinegar, and vanilla in a large measuring cup and whisk into dry ingredients until combined. Stir in food coloring carefully.

Pour into prepared pan. Bake for 20-30 minutes, or until a toothpick comes out clean. Cool completely.
Make the pudding:
Whisk pudding mix and eggnog in a large bowl. Let set up for 5 minutes.
Make the whipped cream:
Beat heavy whipping cream, powdered sugar, and vanilla in a large bowl until stiff peaks form.
Assemble the cake:
Slice the cake into small squares.

Place a layer of cake squares into the bottom of a trifle dish. Optional: brush with rum.

Cover with 1/3 of the pudding mixture and 1/3 of the whipped cream. Sprinkle with white chocolate chips.

Repeat, making about three layers. Top with cake crumbs and white chocolate and a sprinkling of nutmeg.

Chill until ready to serve. Store loosely covered in refrigerator for up to 3 days.
Recipe Notes
You can use Cool Whip in place of the whipped cream. Just skip making the whipped cream and use about 2 (8-ounce) containers of cool whip.
You can use a red velvet cake mix to make the cake, but bake it in two 9x13-inch pans. You'll only need half the cake mix to make the trifle.
Course: Dessert
Cuisine: American
Keyword: cake, eggnog, trifle
Nutrition Information
Amount per serving (1 serving) — Calories: 572, Fat: 30g, Saturated Fat: 19g, Cholesterol: 97mg, Sodium: 374mg, Potassium: 238mg, Carbohydrates: 64g, Sugar: 46g, Protein: 7g, Vitamin A: 15%, Vitamin C: 1.5%, Calcium: 16.5%, Iron: 6%
**Did you make this recipe? Don't forget to give it a star rating below!**
Red Velvet Cheesecake Cupcakes are always a hit!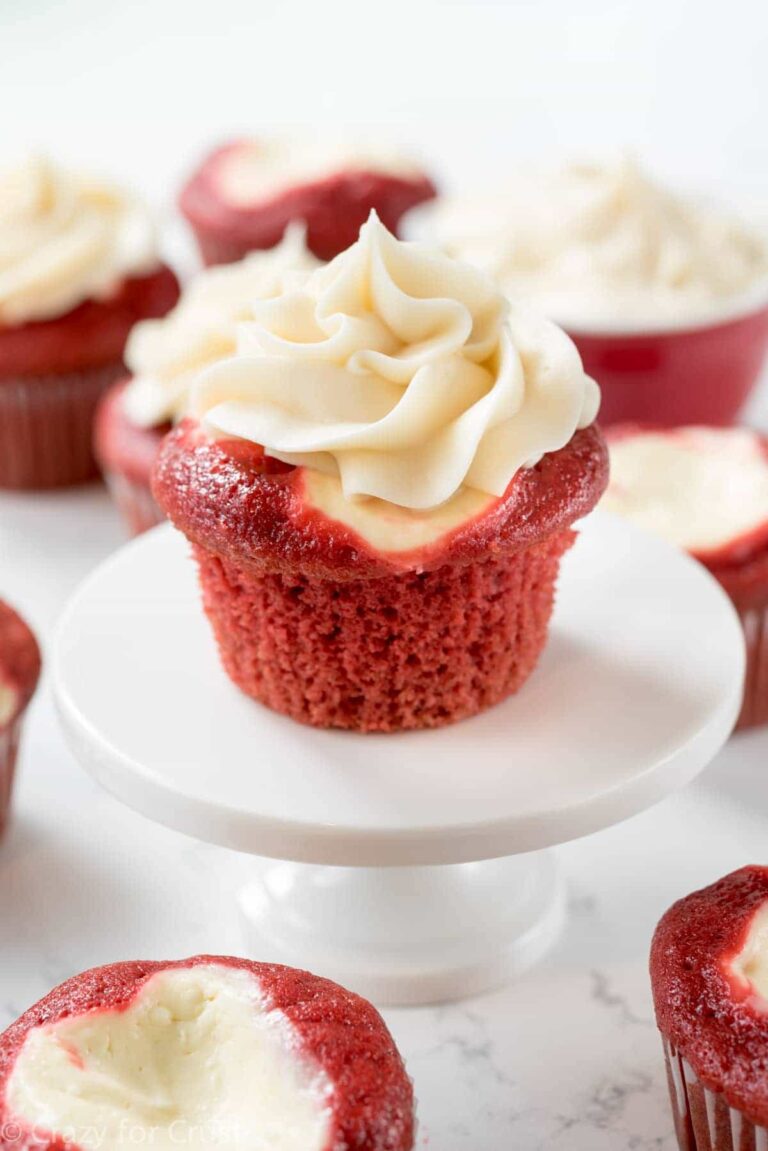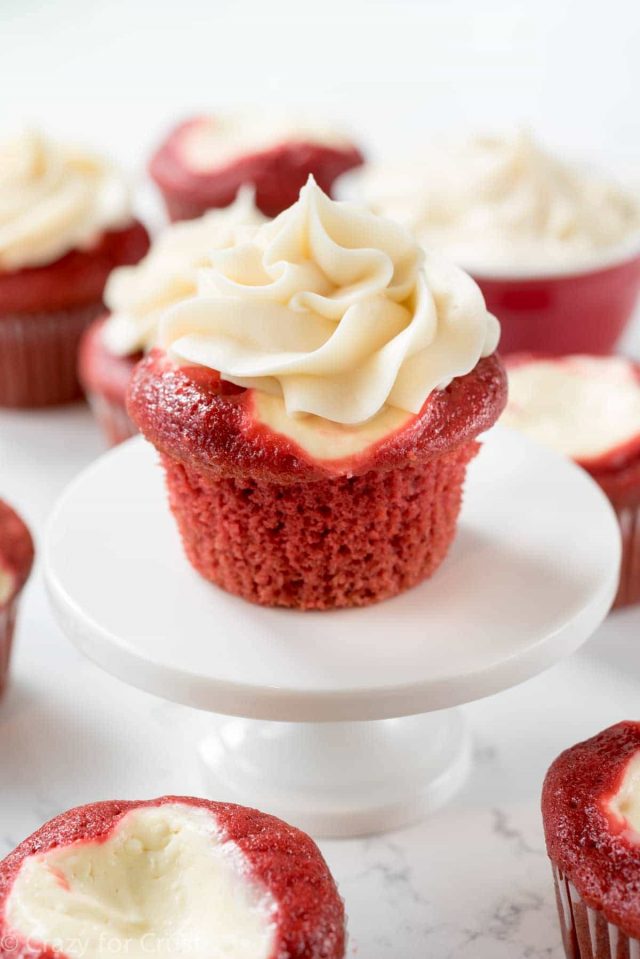 Eggnog Cinnamon Rolls are a favorite too!