This post may contain affiliate links. For more information, read my disclosure policy.
This EASY Pumpkin Pie is the best and easiest ever! It's the PERFECT pumpkin pie recipe and has just 6 ingredients. This is a NO FAIL pie that will be perfect every time!
If you don't think you can make pumpkin pie, think again: you CAN make this one!
This post is sponsored by Sabra, all opinions are my own.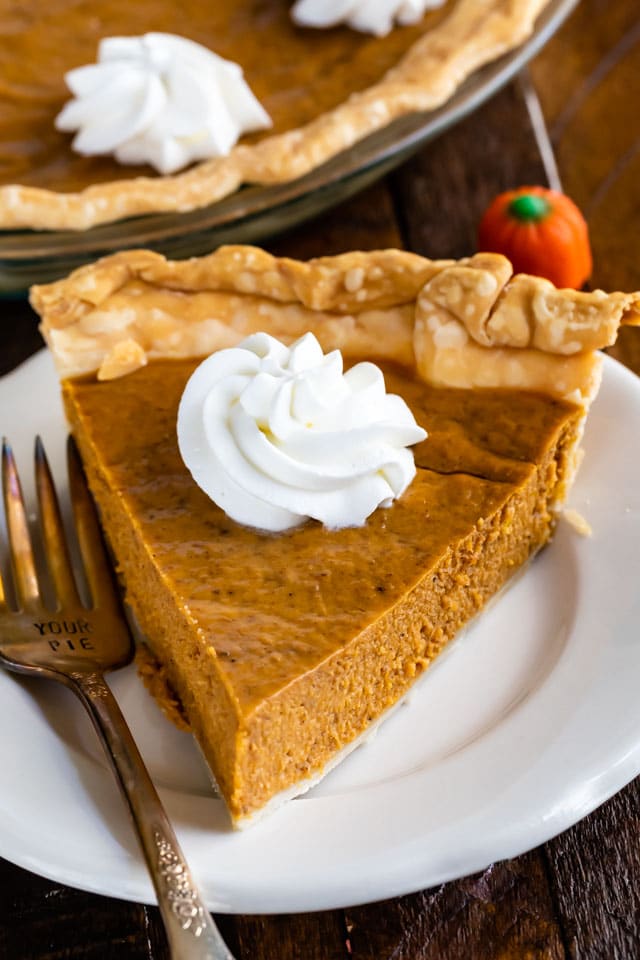 As I've gotten older I've realized how important friends are to my life. Friends are everything when you're young, but as you get older friendship gets harder. Making friends isn't as easy as when you were in school every day.
During our first few years of marriage, Mel and I moved a lot. It made it hard to meet people and develop relationships, especially once I stopped working to stay home with Jordan.
Although I longed for female friendships, I really didn't make many connections until Jordan started Kindergarten. That year I met seven women who I'm still close with today (Jordan is now in high school) and our bonds have only grown deeper as the years have gone by.
Come holiday time, it's really important for me to celebrate with my friends as well as my family, which is why I love hosting Friendsgiving. Have you ever attended a Friendsgiving? Let's be honest: holidays with friends have less drama than those with family, am I right? I look forward to ours every year!
If you're hosting the holiday this year, try this EASY Pumpkin Pie recipe: it's foolproof and you can make it even if you've never made pie before!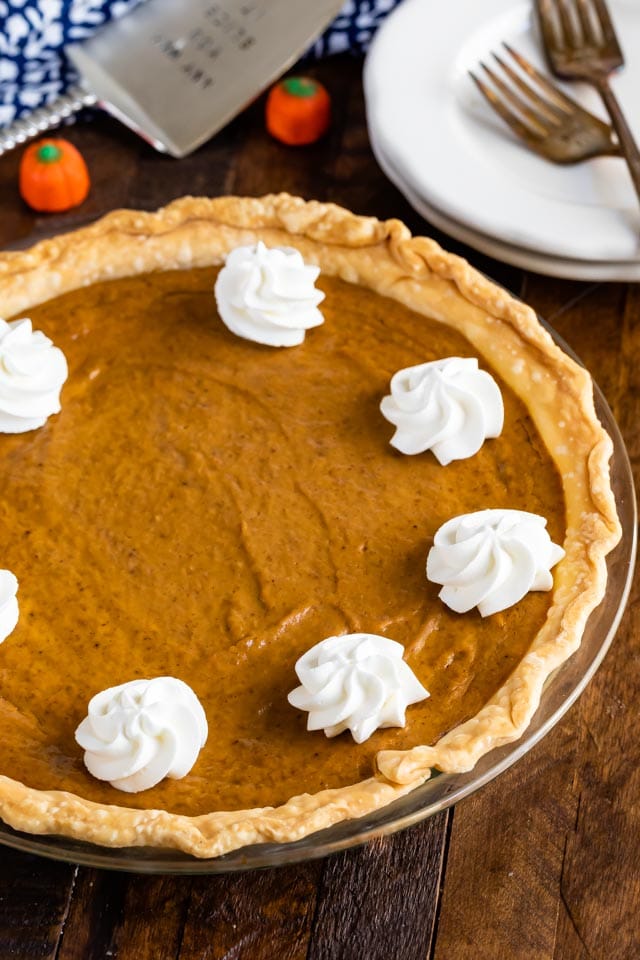 The name of this pie says it all: it really is the easiest pie ever! With just 6 ingredients (including a refrigerated pie crust) it's made in no time at all.
If you think you can't make pie, think again – this easy pumpkin pie will be a success no matter what!
Pumpkin pie is a dessert with a spiced pumpkin-based custard filling. Even if you don't love a cooked custard pie, I urge you to try this one. It's smooth and creamy and more like a thick pudding!
Friendsgiving is a chance to come together with people that you love and enjoy good times around a table filled with good food.Someone has to bring dessert: why not you?
If you're hosting or just throwing together a dessert, this quick and easy pumpkin pie should be your go-to recipe. It's a simple and classic recipe people look forward to every year.
Make easy pumpkin pie with a refrigerated crust for ease.
Honestly, I love my all butter pie crust recipe, but one of the things I hear most often from readers and friends is that pie crust is hard to make from scratch. It's really not that hard if you use my recipe, but I get it.
Plus, if you're making a ton of other food sometimes a semi-homemade option is the way to go: use a refrigerated crust for ease, or even a frozen one.
Refrigerated pie crusts = pie crust success, every time.
Don't spend more time cooking than you need to; Friendsgiving is all about the time you spend with your friends!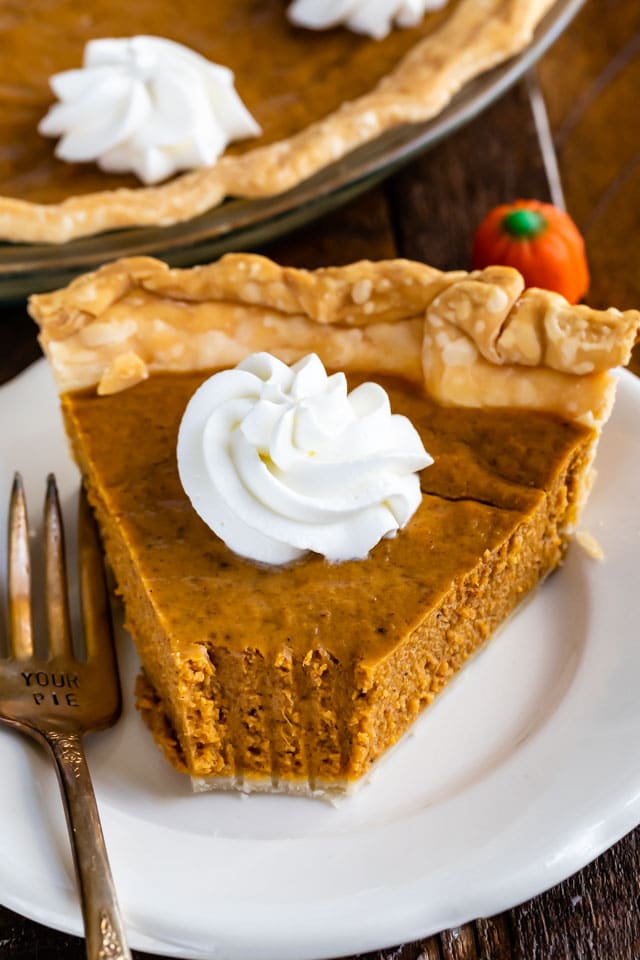 Because it's so easy, this simple recipe is the perfect pie to make for Thanksgiving or Friendsgiving!
A gathering of friends is the perfect time to experiment with recipes and experiment with new flavors and encompass your friends' unique personalities. This year, Sabra is helping you bring your friends together for this new tradition: Friendsgiving.
Sabra wants to help you bring your friends together for an unforgettable Friendsgiving. Visit their Pinterest board for recipes, décor, ideas and more inspiration here.
Every party we have – and really, every day if I'm being honest – is a Sabra day. I love hummus more than any other condiment. (If you know me you know it's true…I don't eat condiments. I only eat hummus!) They have so many different flavors now, one for each of your friends' tastes! Make a cheese board and a pumpkin pie and your friends will be happy.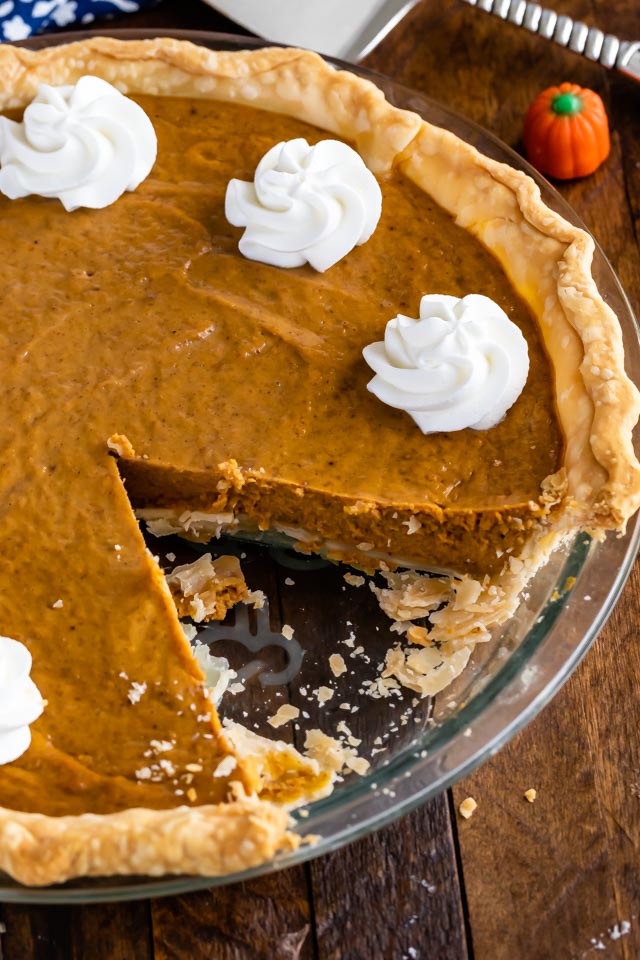 What's so easy about this Pumpkin Pie with sweetened condensed milk?
For one, there are only 6 ingredients. One of those is the pie crust, so the custard filling only has 5 ingredients.
One bowl, one whisk and a pie plate – that's all you need to make this pie!
What is the difference between evaporated milk and sweetened condensed milk? Which one is used in this recipe?
There are a lot of recipes made with evaporated milk, but I made this pumpkin pie with sweetened condensed milk. It combines the sugar and milk component all in one so there's less to measure!
Using sweetened condensed milk in pumpkin pie makes it thicker and smoother than using evaporated milk.

PRO TIP
How do you know when pumpkin pie is ready?
The custard bakes for a long time in this pie, almost an hour! You'll know it's done when the edges just start to puff and crack and the center is no longer wet or liquidy. There may be a little jiggle when it's done, but it will set up as it cools.
To make sure your crust is done completely, it's important that you bake the pie at 425°F for 10 minutes then lower your oven temperature for the rest of the bake time.
I like to use a pie crust shield (or cover the edges of the pie with foil) to make sure the crust doesn't overcook.
Cool the pie completely, then chill it before serving. We love serving it with whipped cream!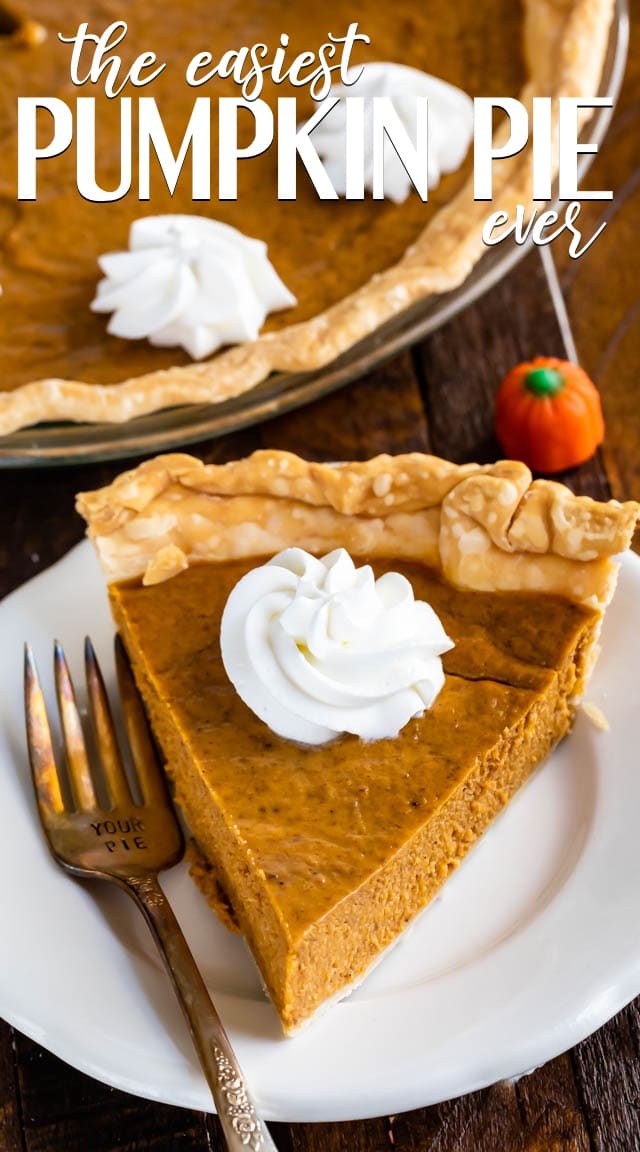 Pumpkin pie is a classic holiday recipe that's perfect for all of your Friendsgiving and entertaining events!
Try my other classic Thanksgiving pie recipes:
These recipes will go great on your Thanksgiving table: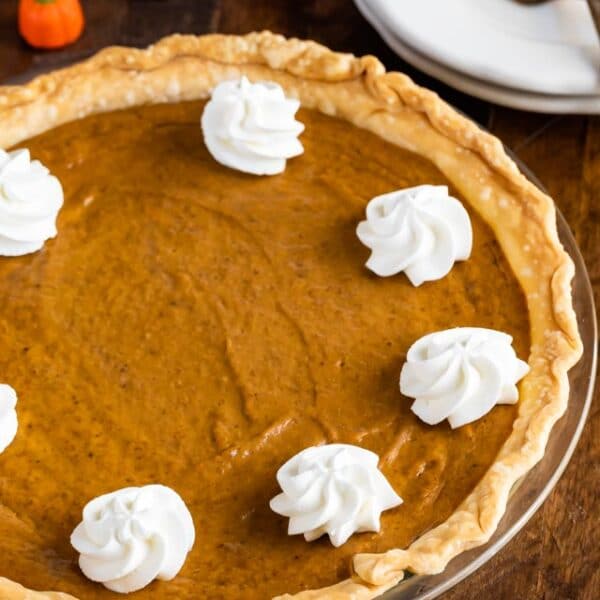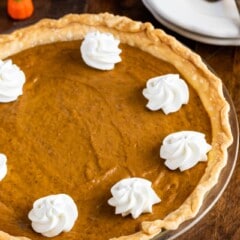 Easy Pumpkin Pie Recipe
This EASY Pumpkin Pie is the best and easiest ever! It's a simple pumpkin pie recipe that's made with condensed milk and has just 6 ingredients! Basically, this is a NO FAIL pie that will be perfect every time!
Ingredients
1

refrigerated pie crust,

from a pack of two (or use a frozen crust)

1

15 ounce can

pumpkin puree

1

14 ounce can

sweetened condensed milk

2

large

eggs

1/2

teaspoon

salt

2

teaspoons

pumpkin pie spice
Whipped cream,

for serving
Instructions
Place pie crust in 9-inch pie plate and crimp edges as desired. Chill until ready to fill.

Whisk pumpkin, sweetened condensed milk, eggs, salt, and pumpkin pie spice. Pour into prepared pie crust. Place pie crust on a baking sheet. Cover edges with foil strips or a pie shield.

Bake at 425°F for 10 mintues then lower the temperature to 350°F and bake for an additional 30-40 minutes or until the pie looks almost set – it will be a teeny bit jiggly in the center but not liquidy. The edges may start to crack slightly.

Remove from oven and let cool, then chill before serving.

Store covered in the refrigerator for up to 3 days. You can freeze this pie for up to one month.
Recipe Notes
When using refrigerated pie crust, be sure to let it sit out for about 10 minutes before trying to unroll it or it will rip. You can also use a frozen crust for this pie, just keep it frozen until ready to fill. Or try a graham cracker crust!
Recipe Nutrition
Serving:
1
slice
|
Calories:
120
kcal
|
Carbohydrates:
11
g
|
Protein:
3
g
|
Fat:
7
g
|
Saturated Fat:
2
g
|
Cholesterol:
53
mg
|
Sodium:
253
mg
|
Potassium:
40
mg
|
Fiber:
1
g
|
Sugar:
1
g
|
Vitamin A:
96
IU
|
Vitamin C:
1
mg
|
Calcium:
15
mg
|
Iron:
1
mg
Nutritional information not guaranteed to be accurate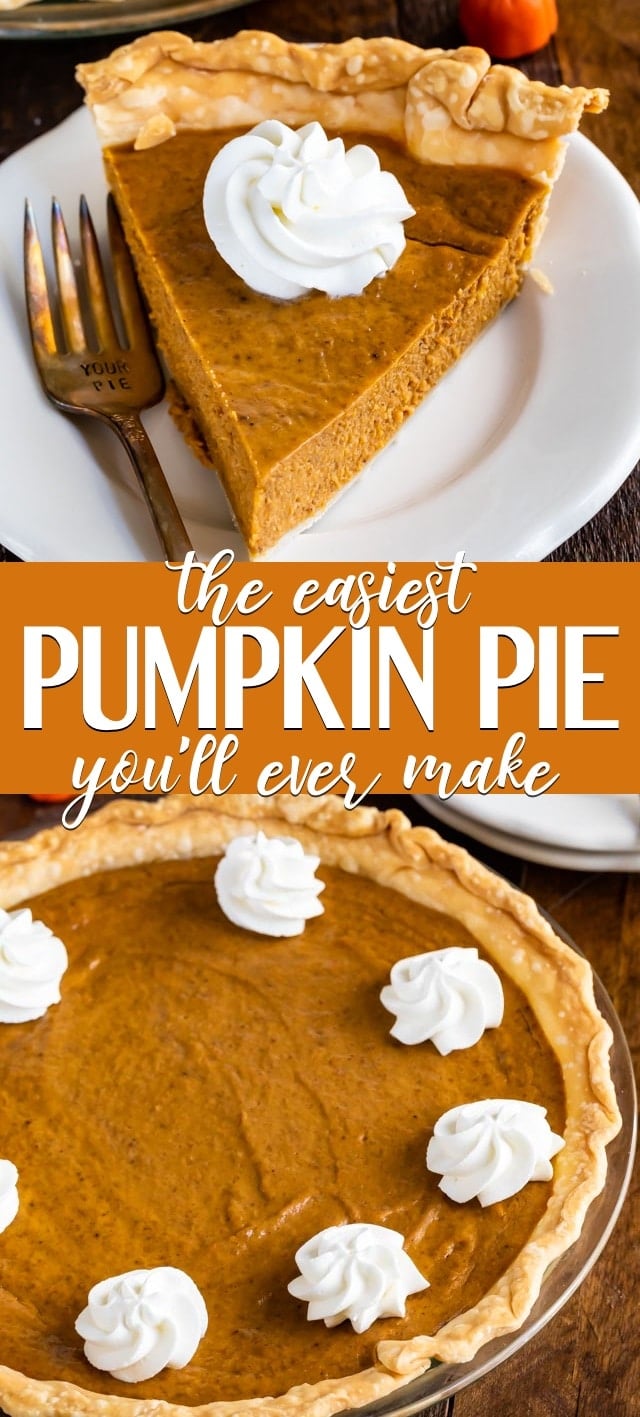 Last Updated on August 29, 2021